Workplace Inspiration
Amazingly Tiny Houses for Your Backyard That Are Affordable
344 Views
Have you been wondering how to spruce up your backyard space? A backyard tiny house is a great idea to fill up that space. The official name for a mini backyard house is an accessory dwelling unit (ADU). This structure can be built or bought. Either way, it's a convenient addition to your yard.  
The purpose and function of a tiny backyard home vary. It can be used for storage when there is less space to work with in the main house. 
Moreover, the small housing units are also used for office spaces. Remote work has become prominent and a backyard office shed is great for getting peace and quiet. 
The reason for adding a tiny house for your backyard doesn't matter. This tiny structure can be a big solution for your needs. You can either build or buy a prefabricated tiny house for your backyard.  
Should You Buy a Tiny Home or Build One?
If you have decided that a backyard tiny house is a way to go, you have two options. You can either build or buy a tiny home. There's no wrong or right choice. Your decision depends on how much time you have and your budget.  
Building Your Tiny Home
Building your tiny backyard home, whether professionally or on your own, works if you have a ton of time to spare. Constructing independently from scratch gives you control over your budget. It also gives you free rein to explore your unique backyard studio ideas. A custom-built home is sure to be done precisely to your needs and style.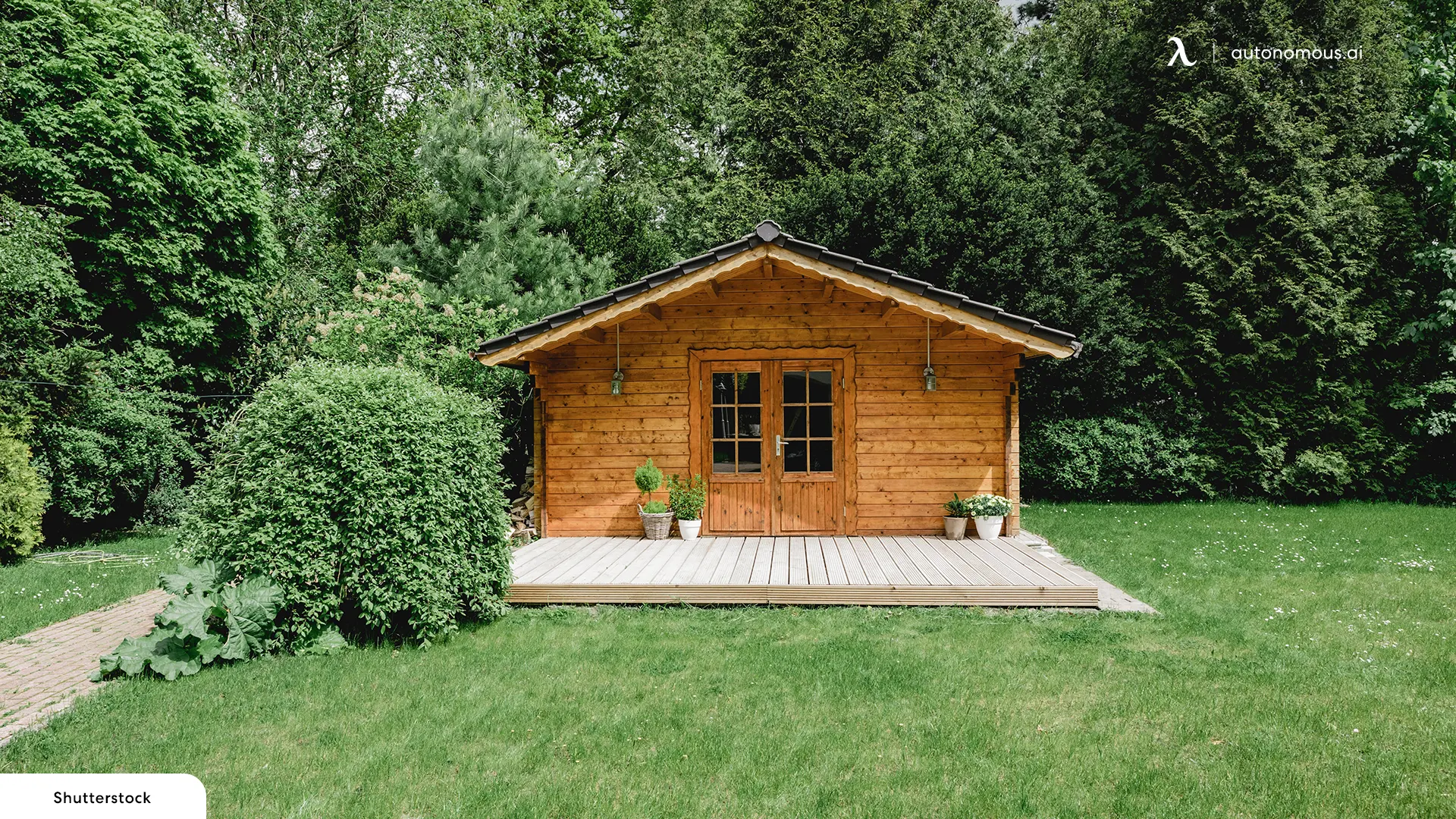 Buying Your Tiny Home
While building your structure from the ground up on your own is fulfilling, you might not have the time or patience. You want your backyard tiny house, but you want it ASAP without the hassle.  
Limited time doesn't allow you to plan, hire a contractor, or build it yourself. Buying one is the best option in this case. 
It's easy to find a prefabricated modular accessory dwelling unit that suits your specific needs and taste. There are so many brands and styles to choose from. Plus, there are plenty of options that will work for your budget.   
20 Best Tiny Houses for Your Backyard
Here are 20 of our top picks: 
1. Autonomous WorkPod
This work pod is the ideal structure for a backyard shed studio. The sound-insulated pod cancels out noises from outside that distract you from getting work done. Furthermore, it comes with just about everything that maximizes productivity.  
Inside the WorkPod are the ErgoChair Pro, the SmartDesk Connect, an anti-fatigue mat, and other conveniences such as a dual monitor arm, a filing cabinet, and a cable tray. Easy assembly takes about one or two days without a headache.  
Dimension
103"W x 142.5"L x 92" - 125.5"H
Material
Exterior: Composite wood
Interior: Plywood wooden frame
Frame: Steel, M300 cement
Include
SmartDesk Pro, ErgoChair Plus, Cable tray, Filing Cabinet, Dual Monitor Arm, Anti-fatigue Mat
Minimum wattage
100W
Weight capacity
2.9 tons
Color
Black, White
Warranty
1 year
2. Autonomous StudioPod
This StudioPod is the perfect mini backyard house. The multi-purpose prefab studio isn't just for work. It facilitates other activities, such as watching or playing games without disturbing others. 
The durable structure is also great for storage and comes in handy as a living space. You can also extend it to accommodate guests. The assembling process is hassle-free as the foundation is adjustable, which makes it easy to set up on any terrain.   
Dimension
106" W - 155"L x 106.3"H
Material
Exterior: Vinyl layer
Interior: Eco-friendly honeycomb paper
Frame: Steel
Include
A closet, desk, bookshelf, TV stand, a foldable coffee table and convertible sofa bed
Minimum wattage
150W
Lighting
3 color modes
Warranty
1 year
3. Thinktanks Compact Pod
The pod will turn your backyard into a multi-faceted leisure or workspace. The simple design is an affordable option to increase living space without the headache of planning and implementing home renovations.  
This backyard tiny house comes wired and fully ready to be used for relaxation or professional purposes. 
It's even big enough to accommodate your workout routine. You can cancel your costly gym membership when you have your own space to stay fit right in your backyard.  
| | |
| --- | --- |
| Dimension | 7 x 7 x 7.5 ft |
| Material | Double laminated tempered glass, R200 aluminum |
| Color | Black, Green |
| Interior | Washable PET Felt |
| Standard outlet | 110-220V |
| Lighting | LED 140W |
| Warranty | 3 years |
4. Prefab Container House
This prefabricated tiny house for your backyard comes with all the modern necessities for safety including smoke detectors, fire alarms, air conditioning, and more.  
It is weatherproof and will endure extreme weather conditions with features such as appropriate insulation, steel panels, and hurricane-resistant windows.  
The mini backyard house is easy to set up and comes with water and electrical connections. It's equipped with a bathroom, bedroom, and kitchenette, so you can use it as another living space for you or your guests.  
5. Allwood Claudia Cabin
This backyard cabin gives the feeling of that cozy, secluded cottage in the woods. It's the perfect space for an office in the backyard or a comfortable leisure area where you can relax and enjoy your quiet time away from the house.  
6. Farmhouse Cedar Shed
If your style is homey and rustic, this tiny backyard house is perfect. With its cabin-like appearance and porch, it's like a home away from home that is right there in your backyard. The spacious structure is ideal for an office, a guest house, or a game room.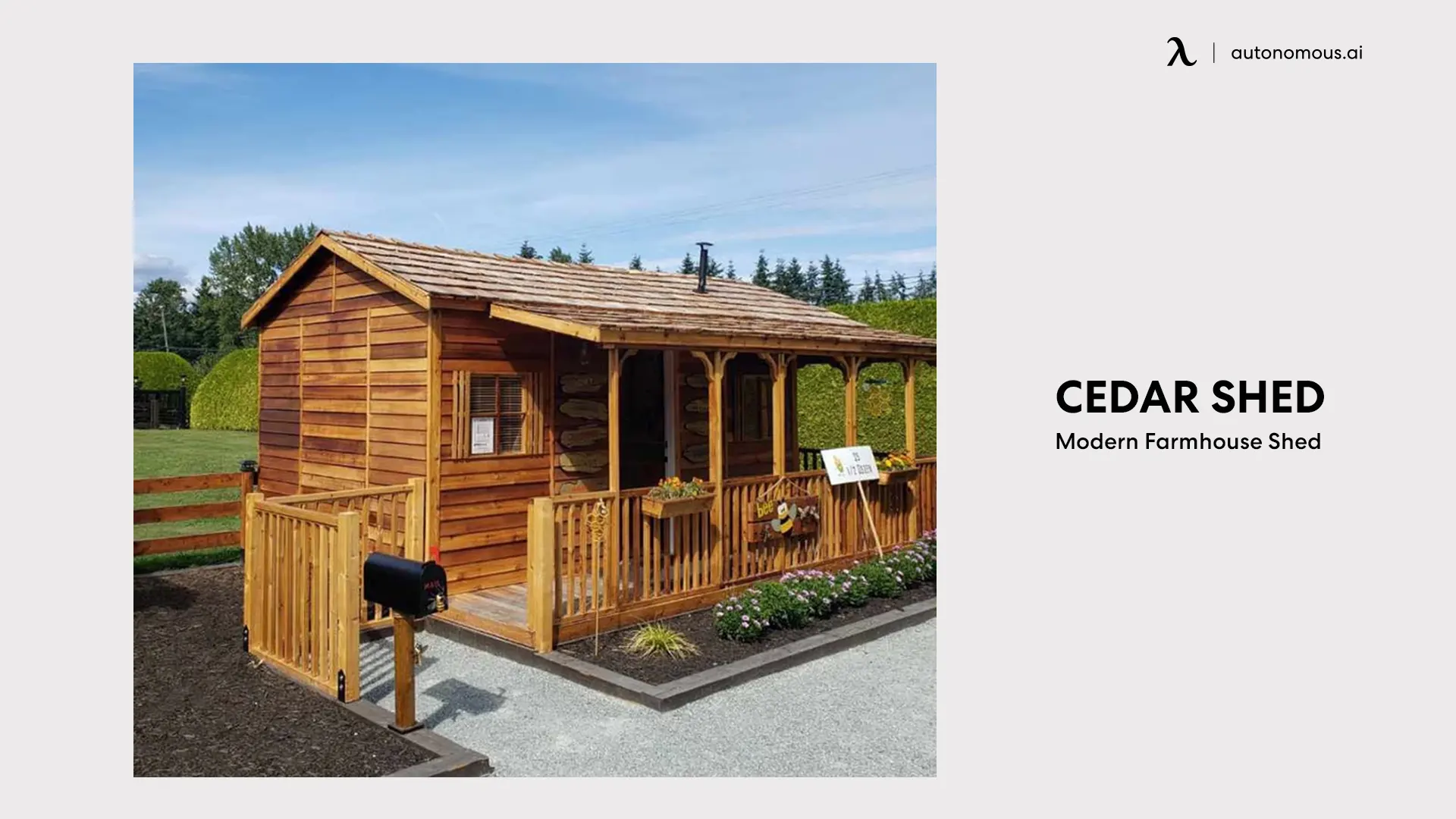 7. Farmer's Rotating Garden Pod
With an innovative sphere shape, this modern garden shed allows you to enjoy your garden from a relaxing space. If you want an unconventional home office, storage, or leisure space, this garden pod steps away from the typical design. Its ability to rotate 360 degrees is an awesome feature for switching things up in your backyard.  
8. Beright Bubble Tent Dome House
An outdoor dome tent is one of the best backyard tiny house ideas. You will feel as if you are in your own private bubble. With a spacious interior, it can hold multiple adults as well as furniture. The tent is well-ventilated and resistant to snow and wind. It's a different take on a backyard tiny house that will add beauty to your property.  
9. Charleston Solarium
This backyard sanctuary can conveniently be left up year-round. While it is set up as an extension of the main building it can still be used as a backyard tiny house. The gazebo structure is durable in all weather conditions and is spacious enough to house several pieces of furniture.  
It is flame resistant for safety and easily accessible with double sliding doors.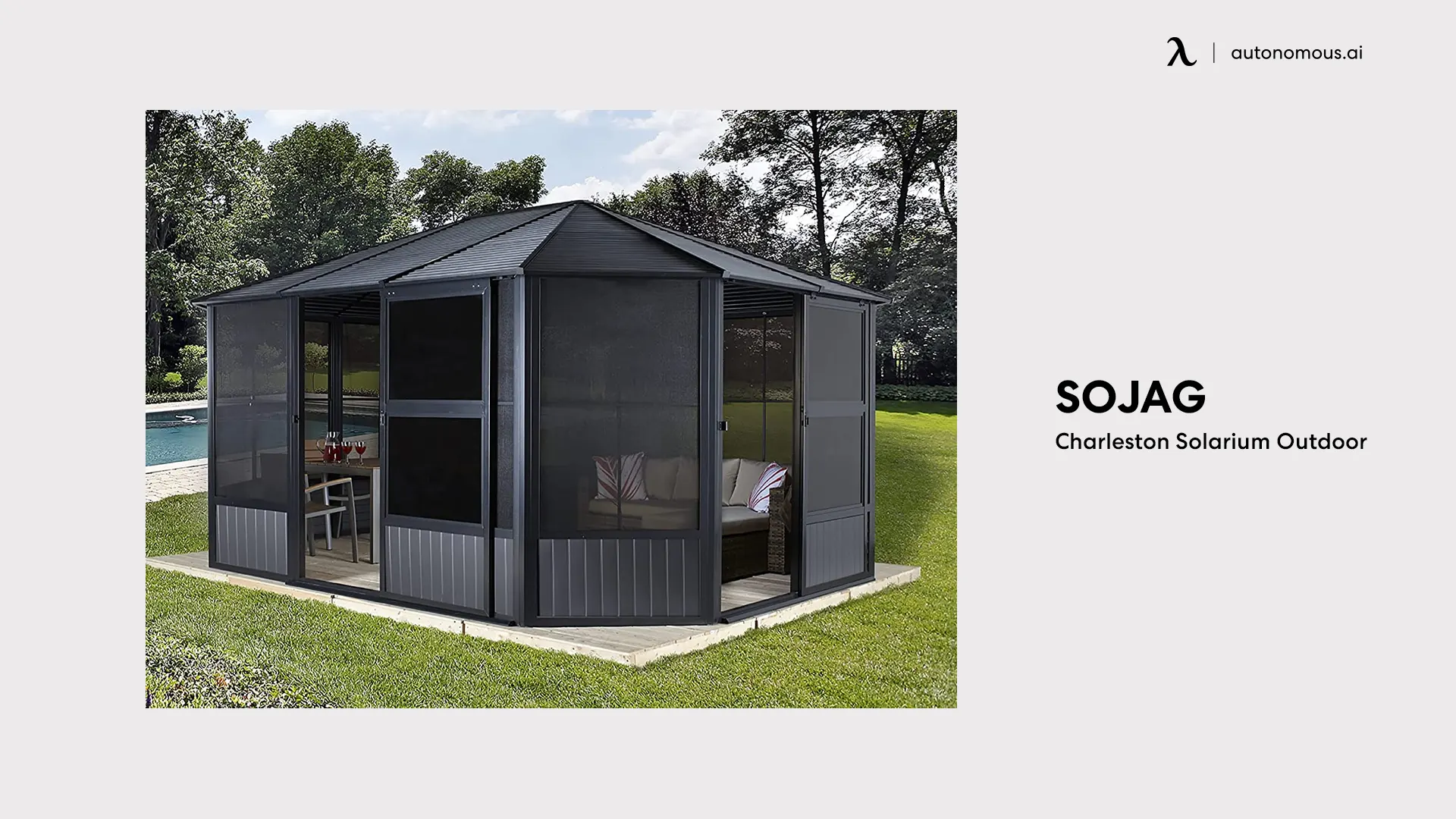 10. Allwood Garden House Cabin
The cottage-like backyard tiny house from Allwood brings a country-like style to the backyard. It is useful for multiple purposes such as an office space, she-shed, man cave, pool house, or storage room. Setting up this solid wood structure takes about two to five days with minimal tools.  
The kit comes with pre-hung (glazed) windows and doors, as well as roofing and flooring construction items. It also comes with pre-constructed gables. All screws, nails, door locks and handles, and all other fixings are included.  
11. Ecospace WorkPod
This is another modern garden shed that is a compact space for a single person. The ergonomically designed structure facilitates working productively without interruptions from your surroundings.  
Comfort and efficiency are utmost with a focus on office technology, ventilation, lighting, and heating. The tiny office space isn't costly and is perfect for year-round use.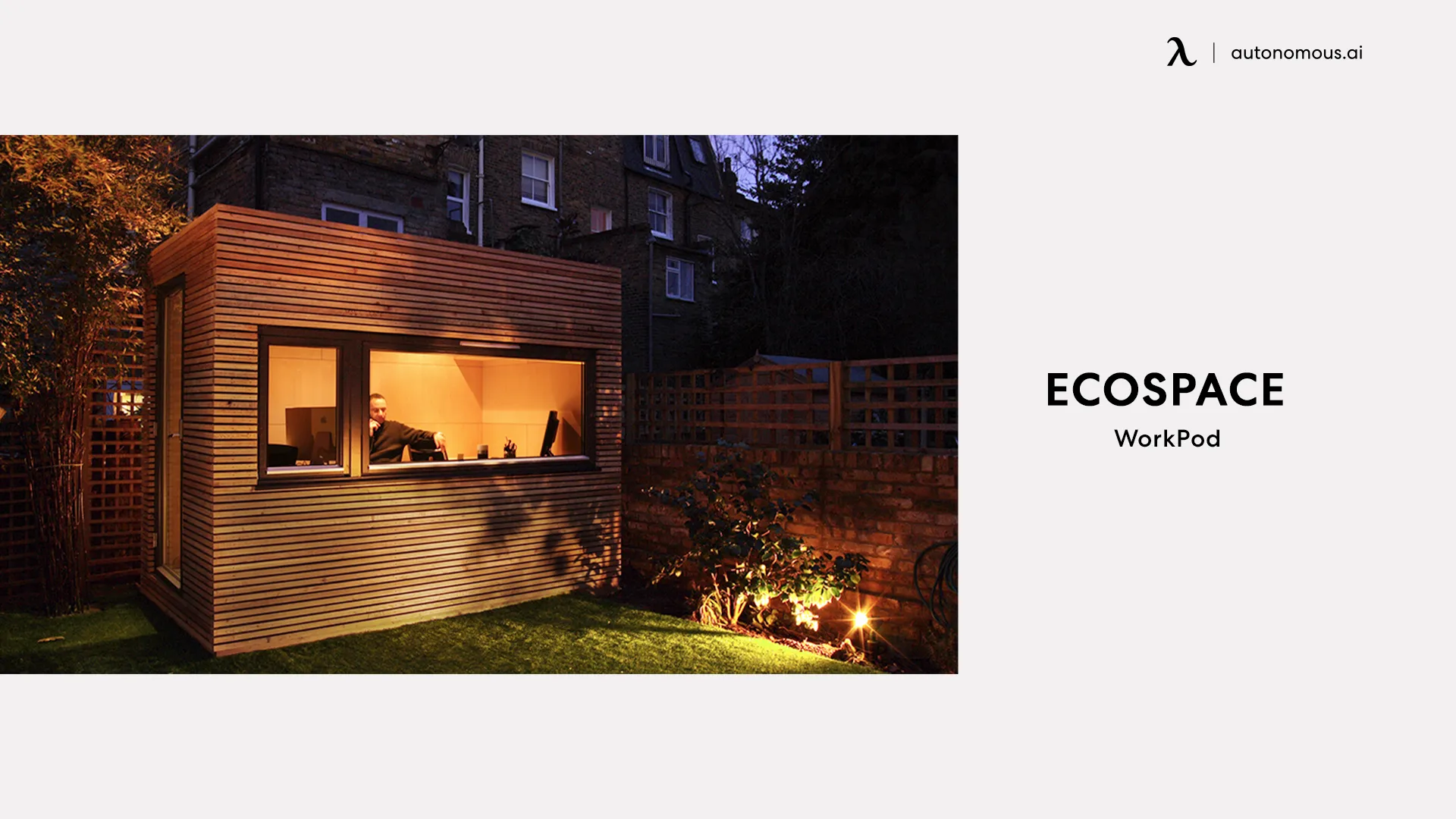 12. Tiger Penthouse
If you're looking for a backyard tiny house suitable for storage or potting plants, this is the shed for you. The many windows allow plenty of natural light, making it ideal for storing your plants.  
It was built to enhance your backyard or garden area, and to endure the elements. You can also furnish the room to be used for a well-lit, private office or leisurely space.  
13. YARADU Backyard Office Shed
This waterproof backyard tiny house is suitable for an outdoor home office. It is quality and comfort, combined with its roomy interior, appropriate insulation, and soundproof features. The design facilitates plenty of natural lighting.  
The single-room pod is perfect for use as an office space, a storage unit, a gym, or to practice your other hobbies in private. Not only does it offer a private space, but it also increases property value.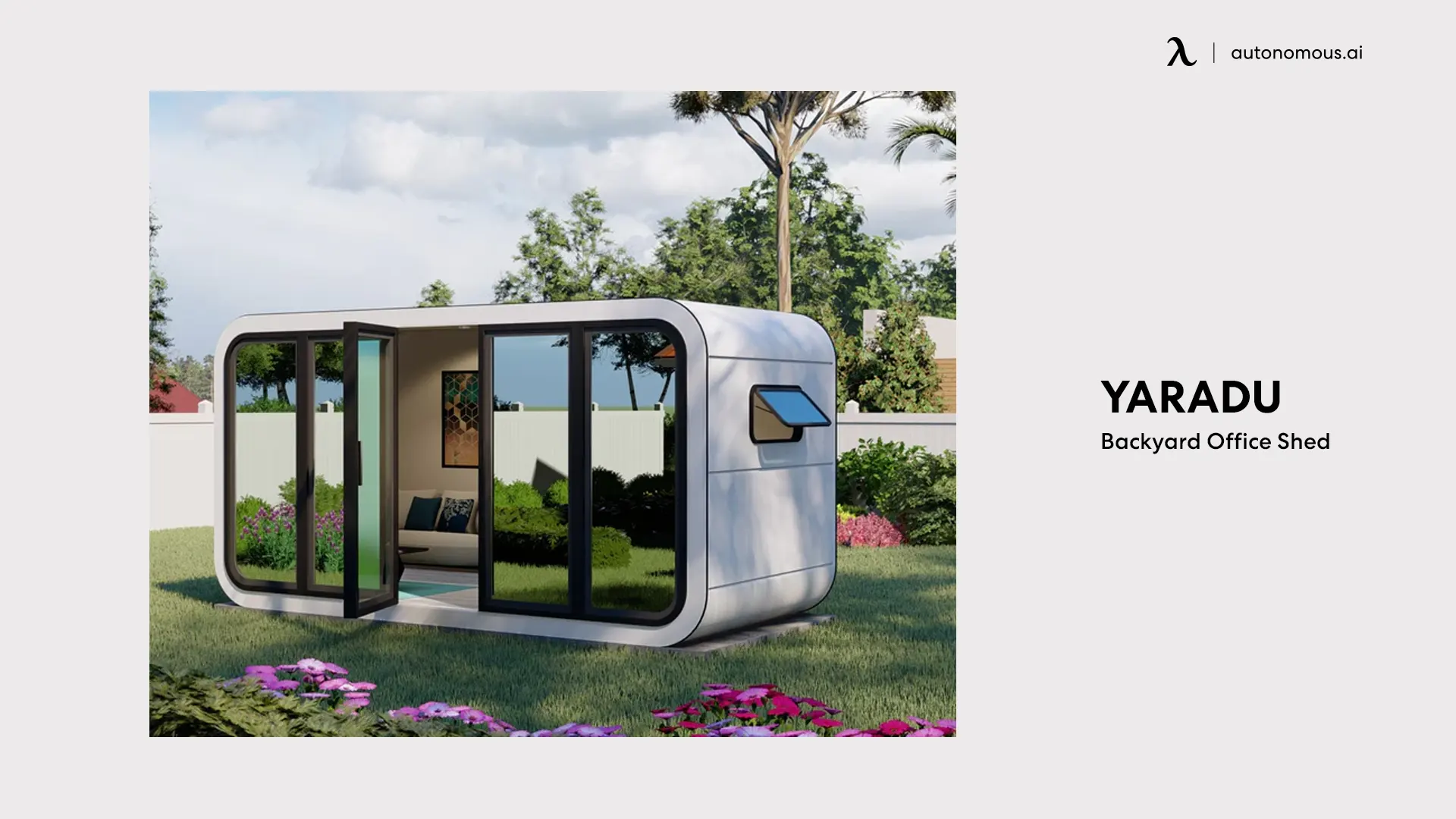 14. Purple Leaf Gazebo
This is a gazebo rather than a tiny backyard home. However, the space can be used for more than a porch area. It's a great addition to your backyard and can function as a recreational space or as a workspace.  
Furnishing the gazebo with office equipment can transform the area into a work area with a relaxing element. It has a durable steel roof, aluminum framed sidings, and a drainage system that keeps it protected year-round.   
15. MODS Tiny Home
A kitchenette, dining area, bedroom, and bathroom with a sink, shower, and toilet gives this container-style tiny backyard home all the conveniences of a house. The unit includes air conditioning and heating for comfort in any climate.  
16. Alvantor Bubble Tent
If you are looking for backyard tiny house ideas that take the least amount of work for set up, a bubble tent may be for you.  
This automatic pop-up tent does not require assembly and is up within seconds. It can also be taken down and put back in its case for easy transport if you want to go somewhere other than your backyard.  
The bubble tent offers privacy for multiple activities such as work, relaxing, or even hosting get-togethers. Water-resistant material and windows make the tent usable in any weather.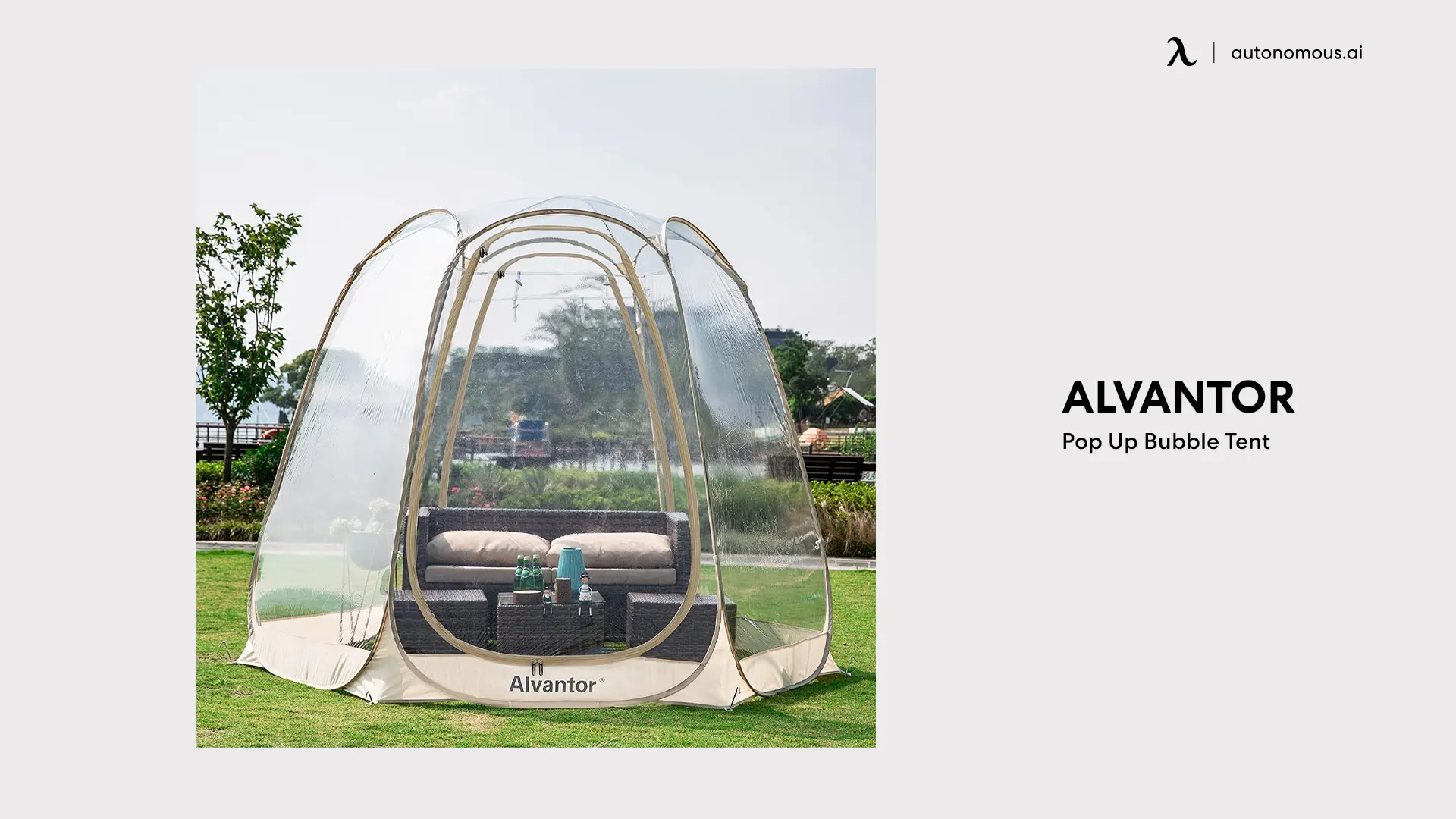 17. Heartland Studio Office Shed
This modern shed provides an attractive, comfortable space for play or work. It's a practical combination of a shed and an office studio with enough space for any activity. The versatility of this space makes it a good choice for a storage room, reading, relaxation space, a gym, an office, a guest house, a private home theater, and more.  
Its features, including a steel roof system, sturdy wall frames, and heavy-duty floor, make this shed safe and durable.  
18. Windemere Wooden Storage Shed
This versatile shed has features that make it an ideal backyard tiny house. It fits your need for a private and comfortable work area, a recreational space, extra storage, or a backyard sanctuary.  
The shed comes with a shelf, a loft, and a workspace that optimizes organization. Moreover, the interior is spacious enough to house multiple office furniture, leisure furniture, or other heavy-duty equipment. The material is treated to safeguard against decay, which makes the shed durable and worth the price you pay.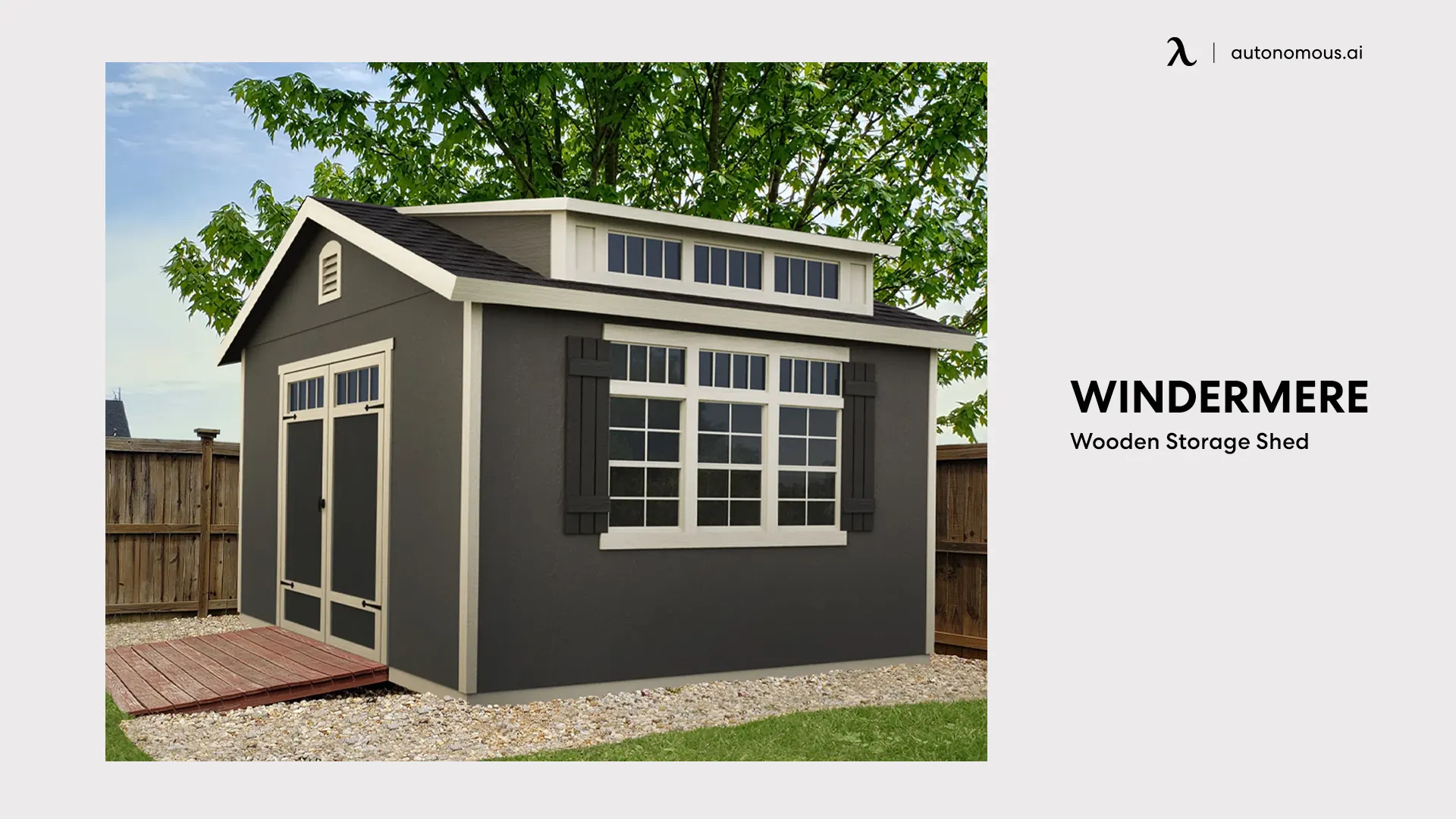 19. Best Barns Wooden Storage Shed
This cypress wood prefabricated shed is made from high-quality material, ensuring that you'll have it for a long time. The backyard tiny house comes with pre-cut doors, trims, and flooring. If you're looking for space and versatility with a simple, natural feel, this is perfect.  
Storage sheds are more than just for garden or household tools. The space can become a sanctuary of privacy for playtime or working.  
20. KidKraft Modern Playhouse
To finish the list is something for the kids. This wooden playhouse is a safe space for the children to play outdoors while you work inside. It has a spacious interior, outdoor seating and models a realistic house. There is even a pretend grill and mailbox. 
Fortified panels resist weathering and other damage, and water-resistant roof panels protect your child from the elements. The environmentally friendly mini backyard house is tested for optimal safety and has features that will keep kids entertained without leaving the backyard.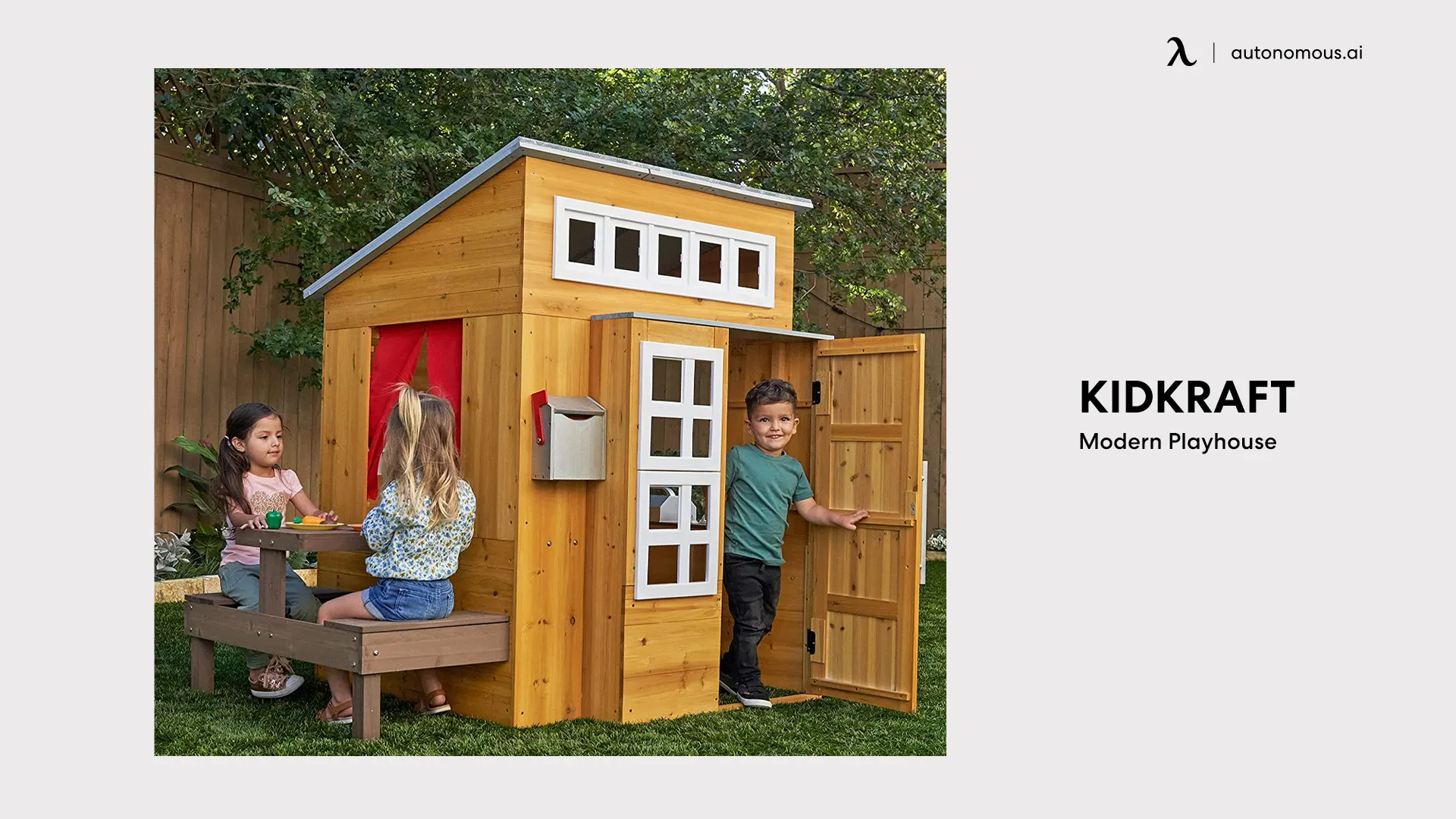 Final Thoughts
Sometimes, the house is just not enough to suit your growing needs. Extra space does not always come easily. Also, some people work from home and want an area separate from the house. Others want a private room away from everyone.  
Regardless of the purpose, a backyard tiny house is the best option if you want to avoid extensive renovations that come with adding on to your home. Expanding can be costly and time-consuming. With a budget and a busy schedule, repairs will be an inconvenience.  
Choosing to go with a tiny backyard home may be the simplest solution. A prefabricated structure is ideal for those who want to avoid a long building process. These miniature houses have everything necessary for assembling within a day or a few days.   
With the numerous types and designs of tiny houses for your backyard on the market, it's easy to find one that suits your needs and tastes. You can design your extra space as you see fit.  
If your tiny home is in or near the garden, for example, you can come up with green home office ideas to keep up with a garden theme. The possibilities are endless with backyard tiny houses.
Keep up with Autonomous news
Stay informed, stay inspired with our new blogs.
WRITTEN BYAutonomous
We build office products to help you work smarter.