Workplace Inspiration
20 Peaceful and Calming Dark Green Home Office Décor Ideas

Autonomous
|
Oct 7, 2021
8,378 Views
In our present times, working from home has become a popular practice. While using dark green home office décor ideas, you will always have a serene environment. Moreover, it will enable you to feel recharged throughout the day.
Also, it helps you enhance your energy levels. These home office décor ideas will freshen up your mind even when you are busy with work. Below we have listed the top 20 green home office ideas to make your work environment tranquil and peaceful.
Top 20 Dark Green Home Office Décor Ideas
1. Reflect the nature with an earthy green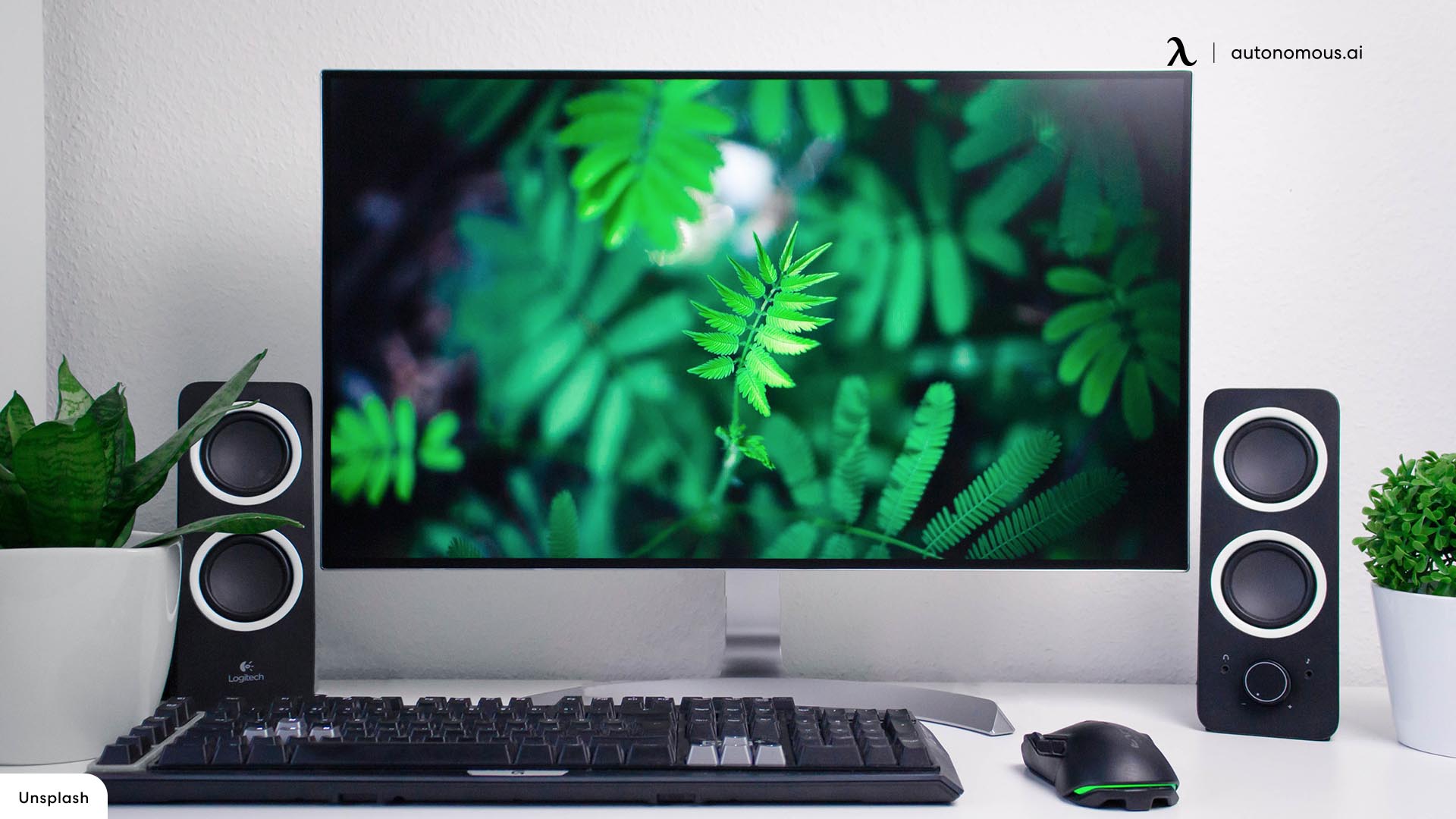 If you use an earthy green as part of your dark green home office décor, it will elevate the look of your office. In case you want to go for a stronger color, you can choose Sap Green. It will give your office a modern mid-century feel. This is the reason why it is one of the best décor small office ideas for work.
2. Use deep green accents
Another unique dark green office idea includes the use of deep green accents to add a dramatic effect. You can pair it along with white walls and wood flooring. It will give your work from home setup the right contrast while enriching the feel and look of your office.
3. Bring in a green sofa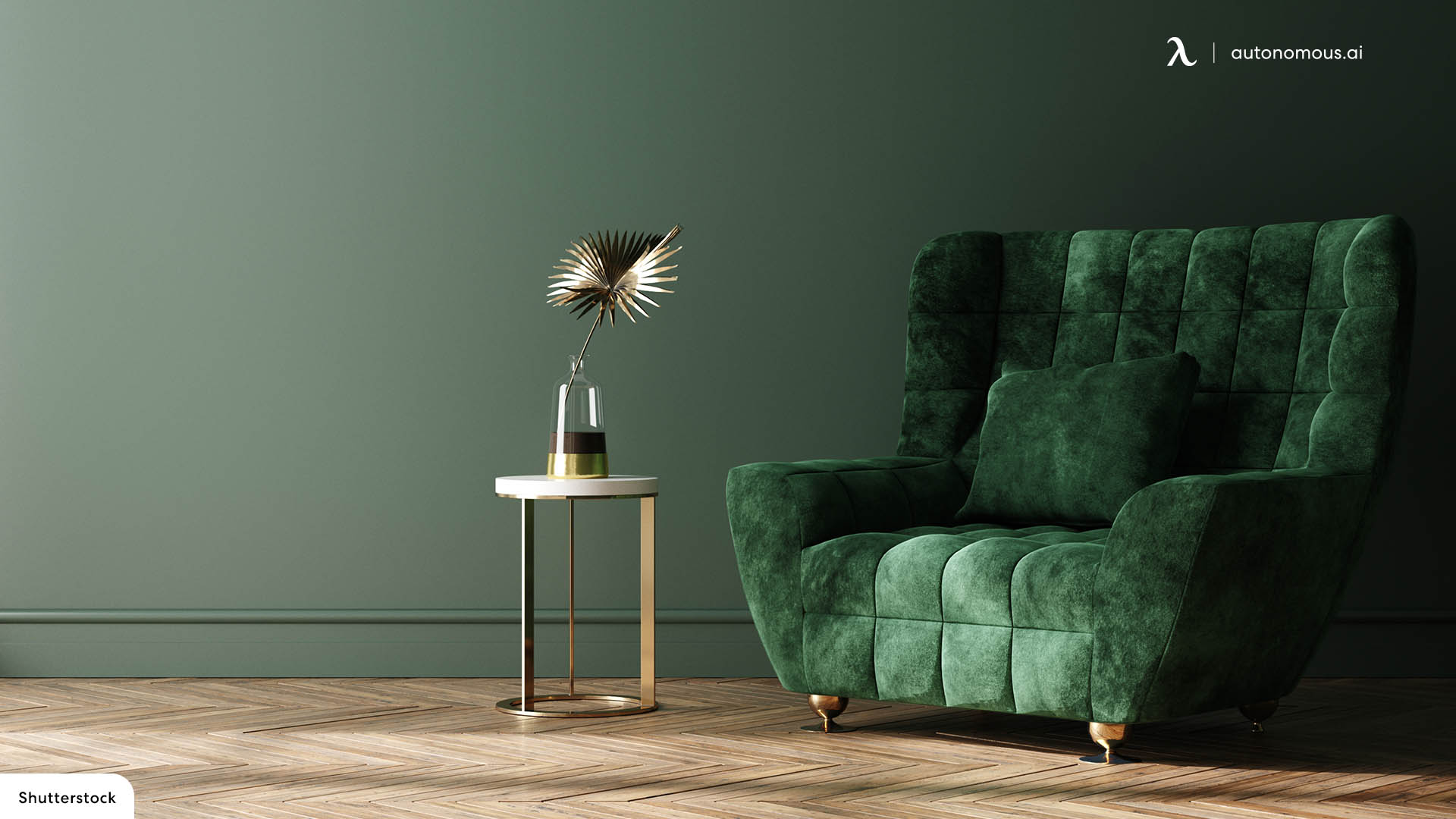 Your office desk placement must be beside a green sofa. When you are taking a break from office work, you can relax and sit on the sofa. Among all the dark green home office ideas, this one will make you feel the most comfortable.
4. Use a subtle touch of green
Working during office hours can be very stressful. This is why you need a subtle touch of green while planning your dark green home office décor. It will make you feel optimistic with its elegant look.
5. Tropical wallpapers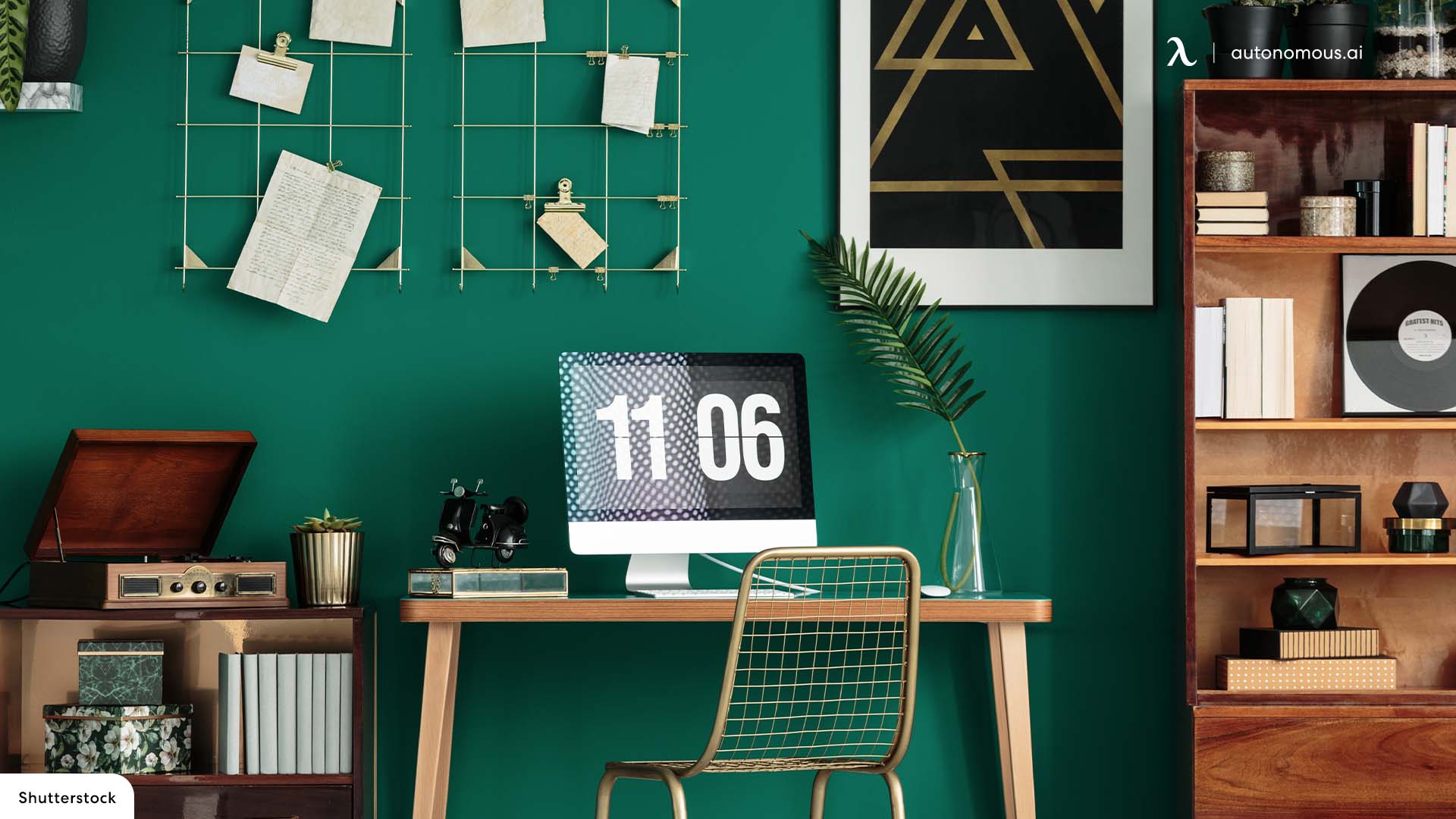 If you need quirky décor green office ideas, then go for tropical wallpapers. This will bring in vibrant shades to your office, and it will help you add more layered woven textures. In the end, your office will stand out.
6. Invest in succulents
Succulents have numerous health benefits. It purifies the air surrounding your office while regulating its humidity. You can keep it on top of a green office chair to add an aesthetic look.
7. Create a balanced atmosphere
You can color your office with forest green as it will help to balance your atmosphere. This will offer you a mellow after a long day of work. Moreover, it is the perfect color for summers and winters.
8. Experiment with color
You can experiment with colors like green for walls along with white textiles. In addition, you can customize your office décor according to your preferences. Green and other light shade colors will offer a calm office environment.
9. Natural light
When you are opting for a green office, go for large windows. This will allow natural light to enter your home. As a result, it will help in boosting your productivity and improve your mood.
10. Make use of plants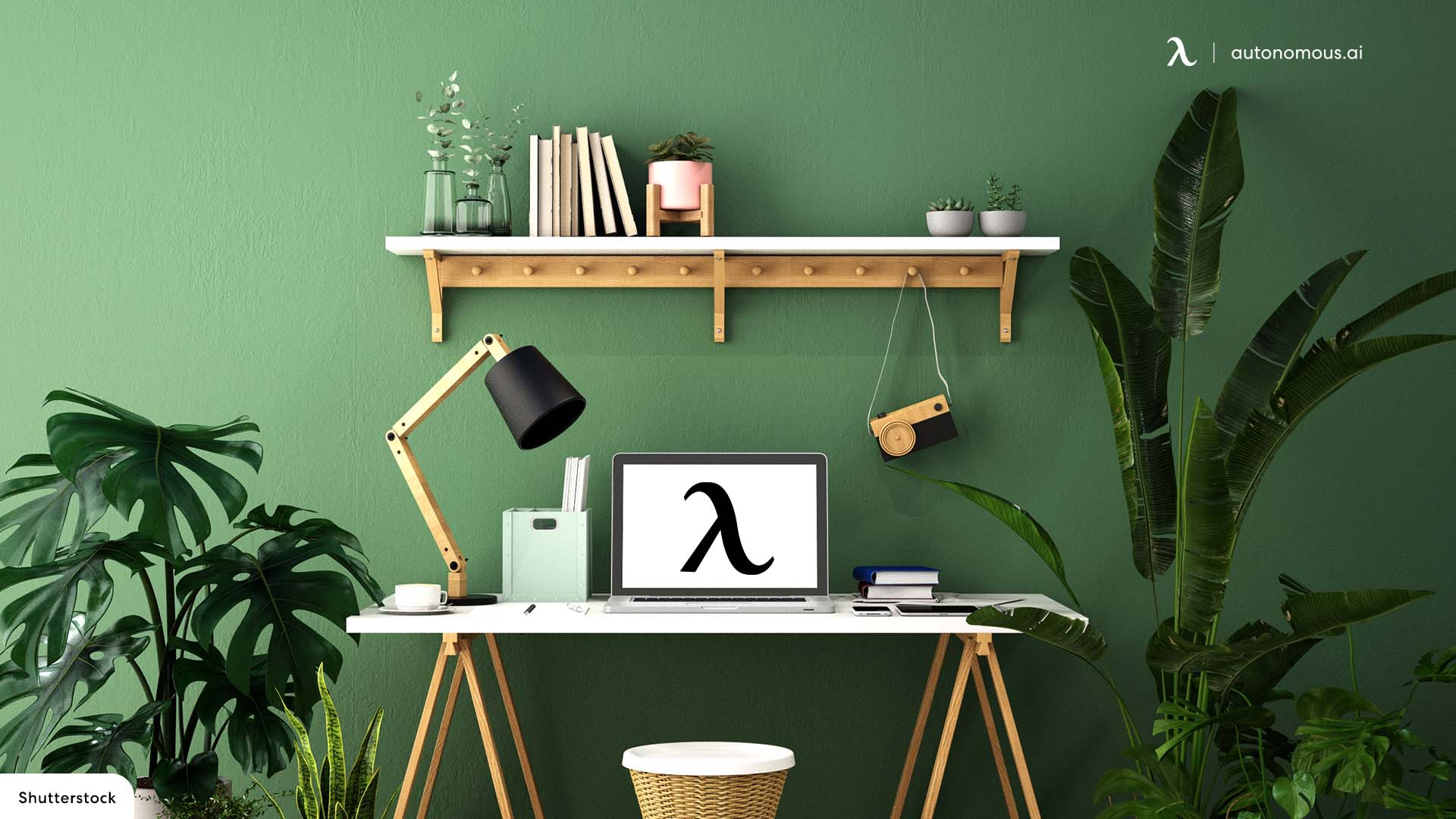 Adding office plants to your green home office will help in eliminating all the harmful toxins from your environment. It will further re-oxygenate your office. However, since you may be busy, go for plants that require low maintenance.
11. Olive green walls
You can complement your olive green walls with a brush of pink in your office. Despite them being on the two opposite sides of the spectrum, they are equally compatible. Hence, they will go well together.
12. Mineral shades
Sky blue and grassy green mineral shades make you feel one with nature. This enables you to take a pause when necessary. And, it also uplifts your overall mood.
13. Unify walls and furniture
When you match the green color of your walls with the green color of your furniture, it will look very soothing. However, integrate them in a way that they appear less imposing and more seamless.
14. Floral designs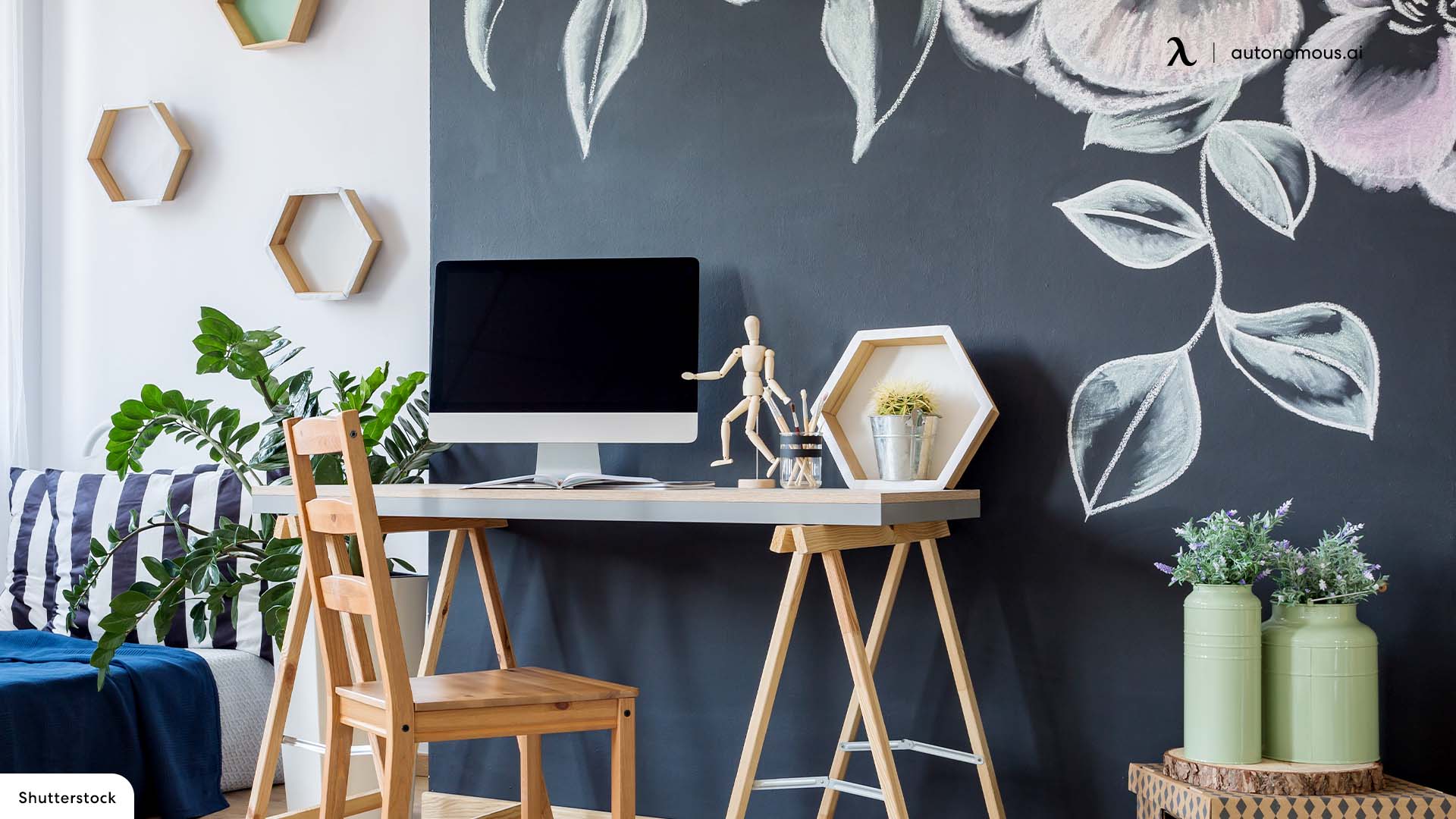 Here is another interesting dark green home office idea. Floral designs with pastel shades are another way of bringing nature closer to you. This will add a sense of exoticism to your office. In addition, it will create a different kind of atmosphere.
15. Pair gray with green
Gray with green offers a peaceful environment for your office setup. Though they are contrasting, together, they provide the right color as well as shade. Hence, you can incorporate these colors as a part of your home office décor.
16. Green walls with glass coffee table
With green walls, you can choose a glass coffee table. It will add a rustic look to your room with its wooden base. At the same time, it will also give your office a modern look.
17. Wooden bookcase
If you are an avid bookworm, you can buy a wooden bookcase. This will make your office look sleek and stylish. In addition, it will allow you to make the best out of a small place.
18. Scandinavian style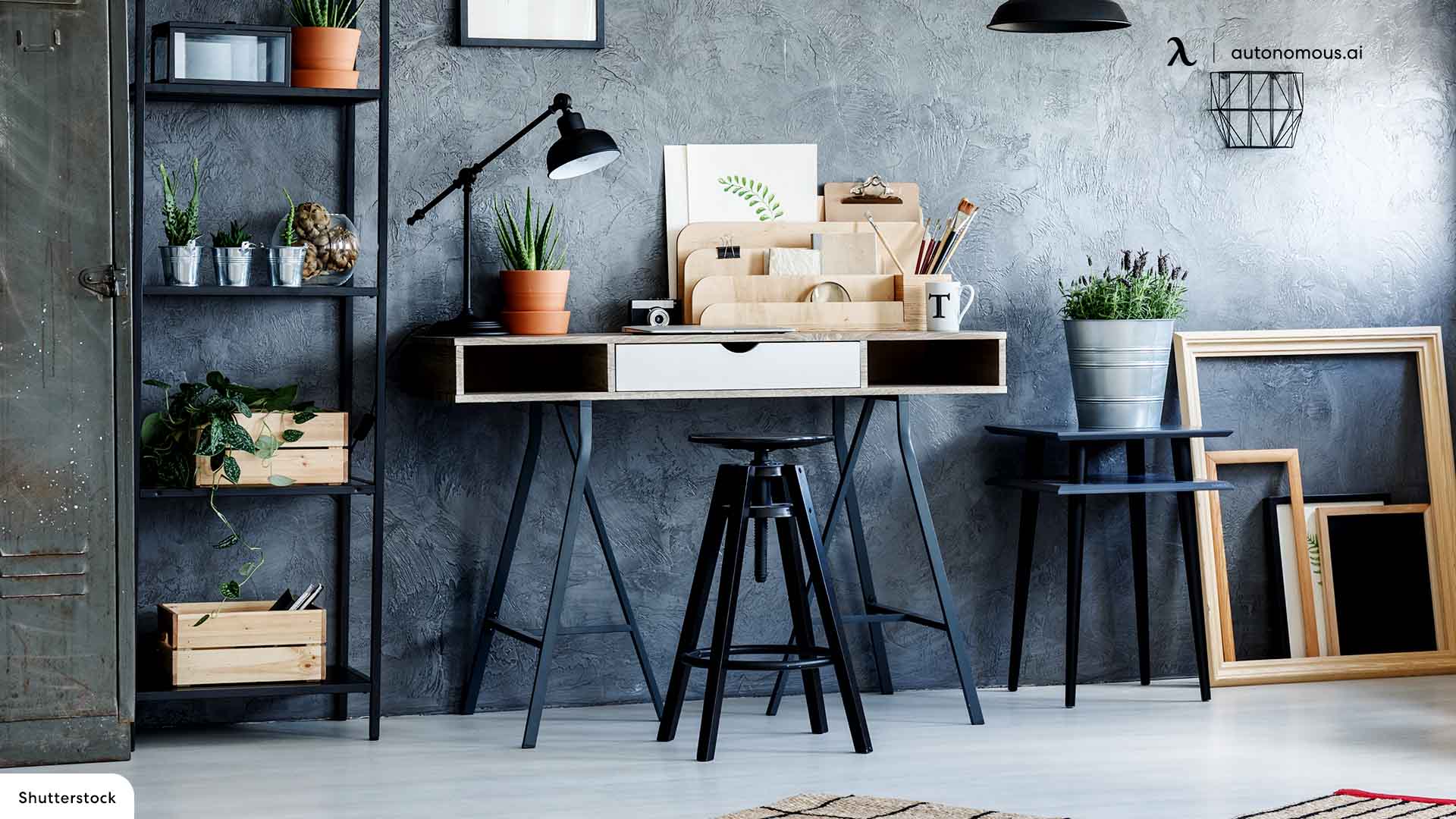 The Scandinavian style is another way to smartly utilize a small space. For that, you can choose modern office furniture that goes with your Scandinavian green office. But ensure that the end result looks refreshing.
19. Color blocking
Color blocking your accent walls will have a big effect on your green office décor. It will make your white furniture pieces stand out. It also makes your office appear as a fun and creative space to be around.
20. Adding a terrarium
If you have a large space to build your office, do not hesitate before adding a terrarium. You can structure it along the wall of your green home office. In case you do not have a high budget, you can go for a painting or mural instead.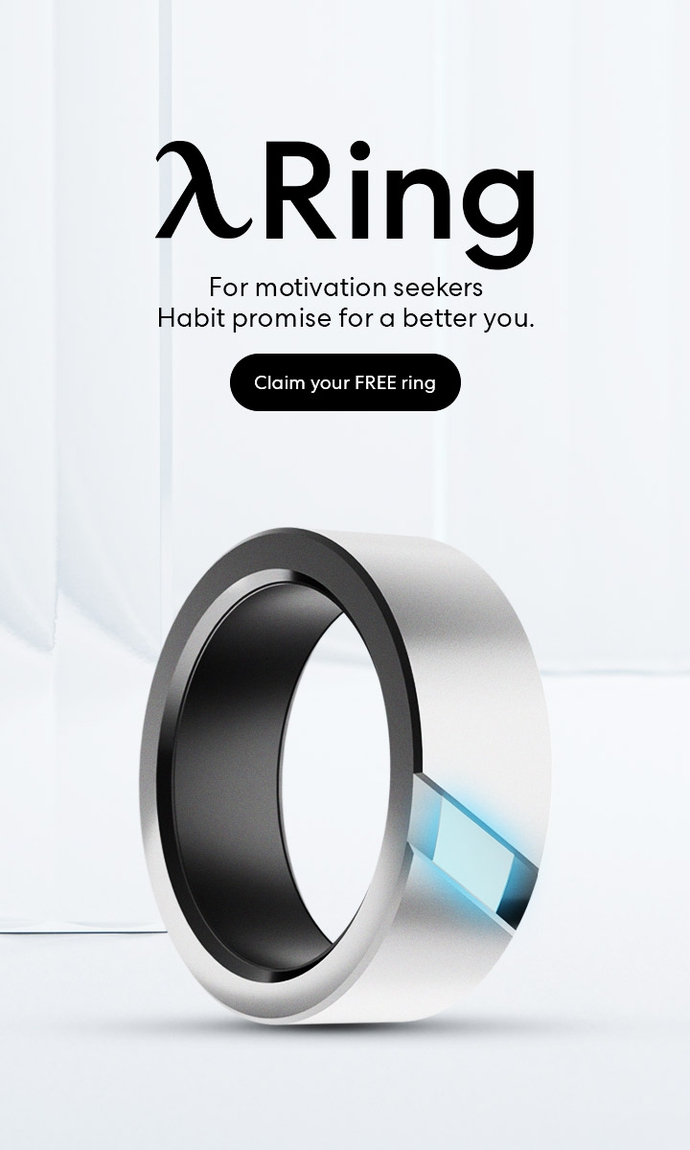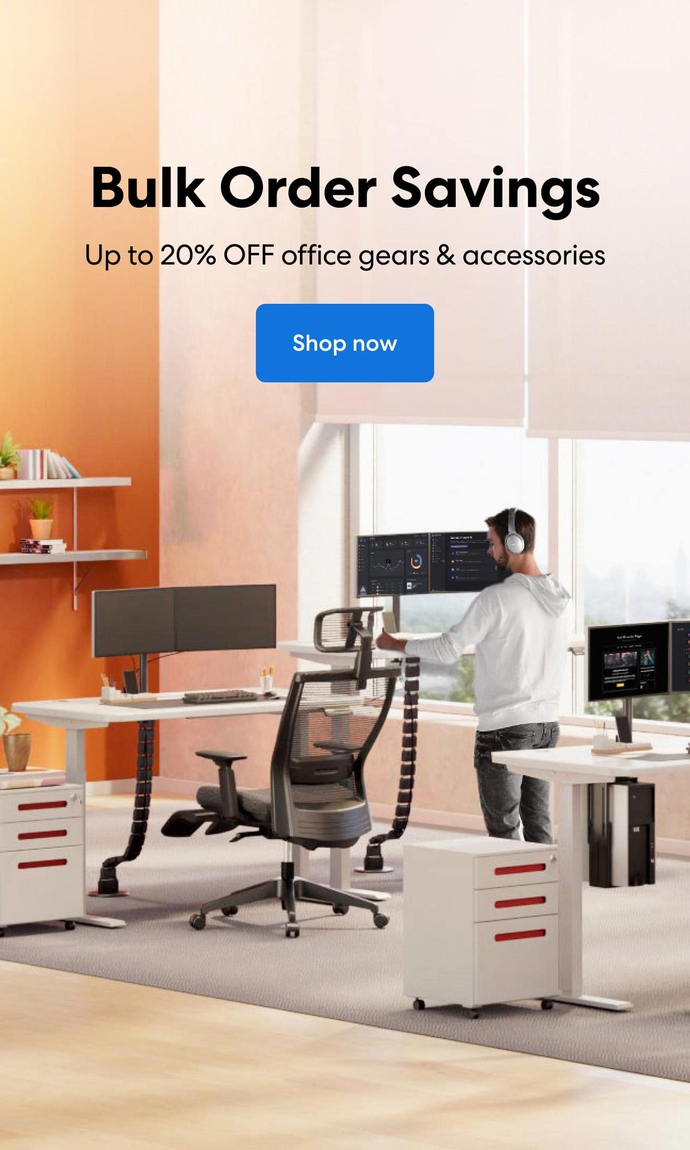 Subcribe newsletter and get $100 OFF.
Receive product updates, special offers, ergo tips, and inspiration form our team.