Smart Products
Modern Prefab Shed Kits For Studios, Offices, Gym, And More
1,757 Views
Building an addition to your home does not have to mean you have to remove one or more rooms for a few weeks or months. Even if you don't change a single part of your existing home, you can still have an entirely new space using a complete shed kit. Prefabricated sheds suit a variety of purposes on your property, including offices, fitness studios, guest houses, and more. In addition, a modern prefab shed kit is often small enough not to require a permit to install, and it can be manufactured off-site and delivered.
What is a Modern Prefab Shed Kit?
In many neighborhoods, you can find an outbuilding behind the house, and depending on how you use it, a premade shed kit can serve as a workshop or storage. A homeowner who needs extra storage space is generally looking for a sturdy yet affordable building. He may benefit from wood prefab shed kits.
Unlike other types of sheds, a pre-built shed kit is already assembled or comes as a kit. The contractor or homeowner does not have to design the shed. You can find prefab sheds in various colors and designs at home and garden centers.
List of Awesome and Modern Prefab Shed Kits You Can Buy Online Now
1. Autonomous StudioPod
Avoid the stress of contractors. Prevent the shock of hidden costs. And save your valuable time. StudioPod is a modern prefab studio shed that's super easy to assemble and comes fitted out with everything you need to live your life. Use your free standing StudioPod as a private office to shut out the noise and knuckle down on work, as an entertainment den to play and create, or as an extra bedroom for friends and family. StudioPod is whatever you need it to be. You could even rent it out as an Airbnb listing. StudioPod is designed to work for you.
You can have a happy life without being disturbed by the rest of your household. It allows you to focus on your work and life without distractions. In addition to everything you need for gaming, StudioPod has room for everything else.
Thanks to our soundproof booth's insulated, climate-controlled interior, your gaming experience will be comfortable all day and night. Organize competitive sessions with friends or provide an easy-to-manage space where your kids can play after school with their friends.
2. Autonomous GymPod
You have a personal, dedicated gym space with GymPod. Focus on your workout without being distracted. The GymPod's exterior lets you enjoy the view while exercising with its glass panels.
With the home gym pod's heating and cooling inputs, you can exercise no matter what the weather is like. Its flexibility and spacious design make FitnessPod more than just a bike stand. Other gym equipment can also be attached to it.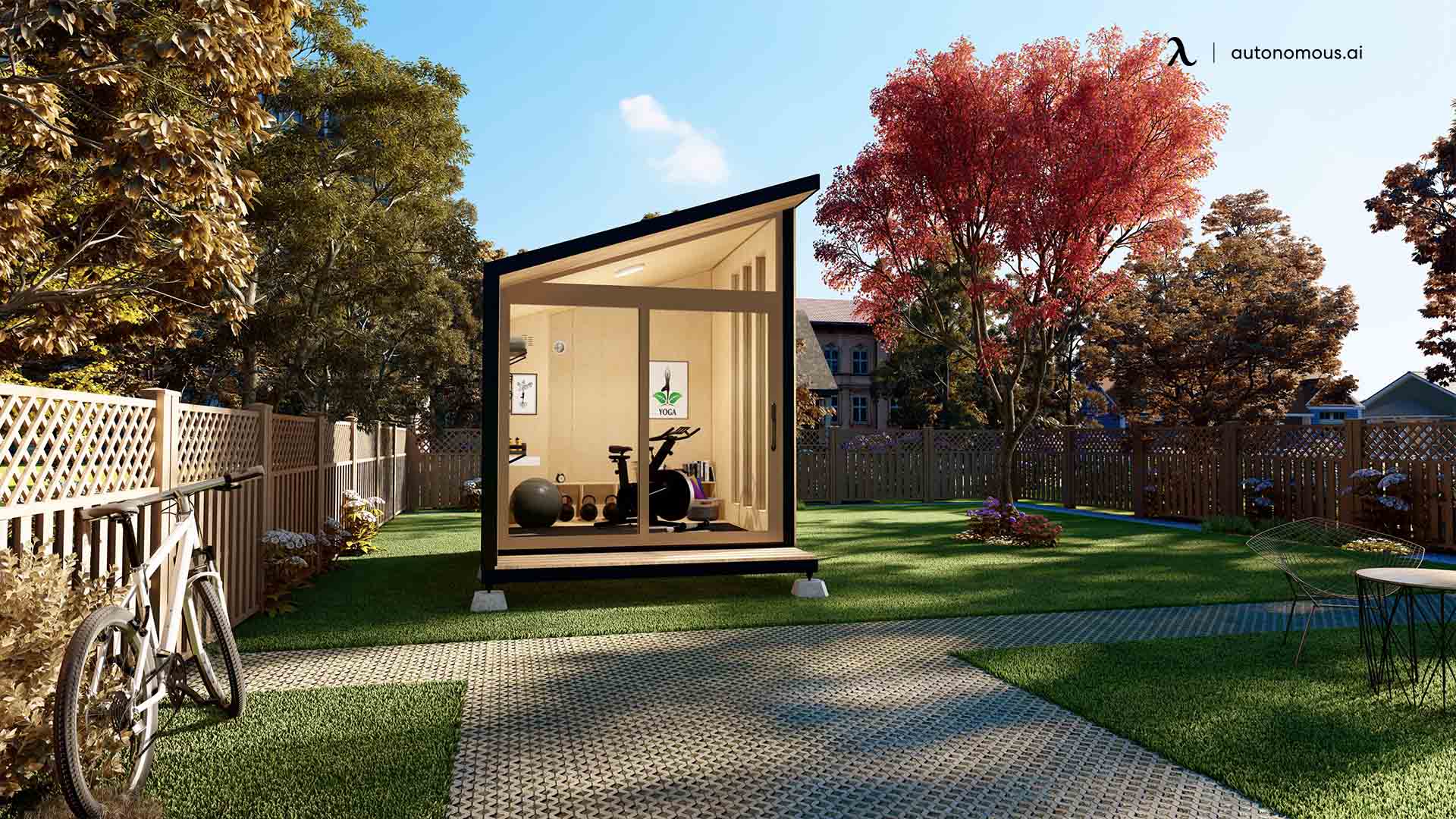 3. Autonomous WorkPod
You can hear yourself think clearly with WorkPod's floor-to-ceiling glass doors. As soon as you leave for the office pod, make your commute as short as possible. You should be able to enjoy your wooden pod for a garden.
In a few hours, the assembly of the ultimate office pod for adults is ready for use. Spend less time and money on the extension by working on it yourself instead of hiring contractors. Air conditioning, warm lighting, and outlets for your electronics and appliances fit easily in the WorkPod, which is pre-wired.
Connect it to a power source to power it up. The fuss-free foundation of WorkPod eliminates uneven floors as well. The shed might weigh up to 4 tons, but it gets evenly distributed across the concrete, gravel, grass, and brick.
Each piece of lumber, every joint, and seal in prefabrication undergoes testing and QC-checks meticulously at every stage. Traditional construction doesn't often does not include all of these checks. Regardless of outside weather, insects, heat, water, and mold won't harm you.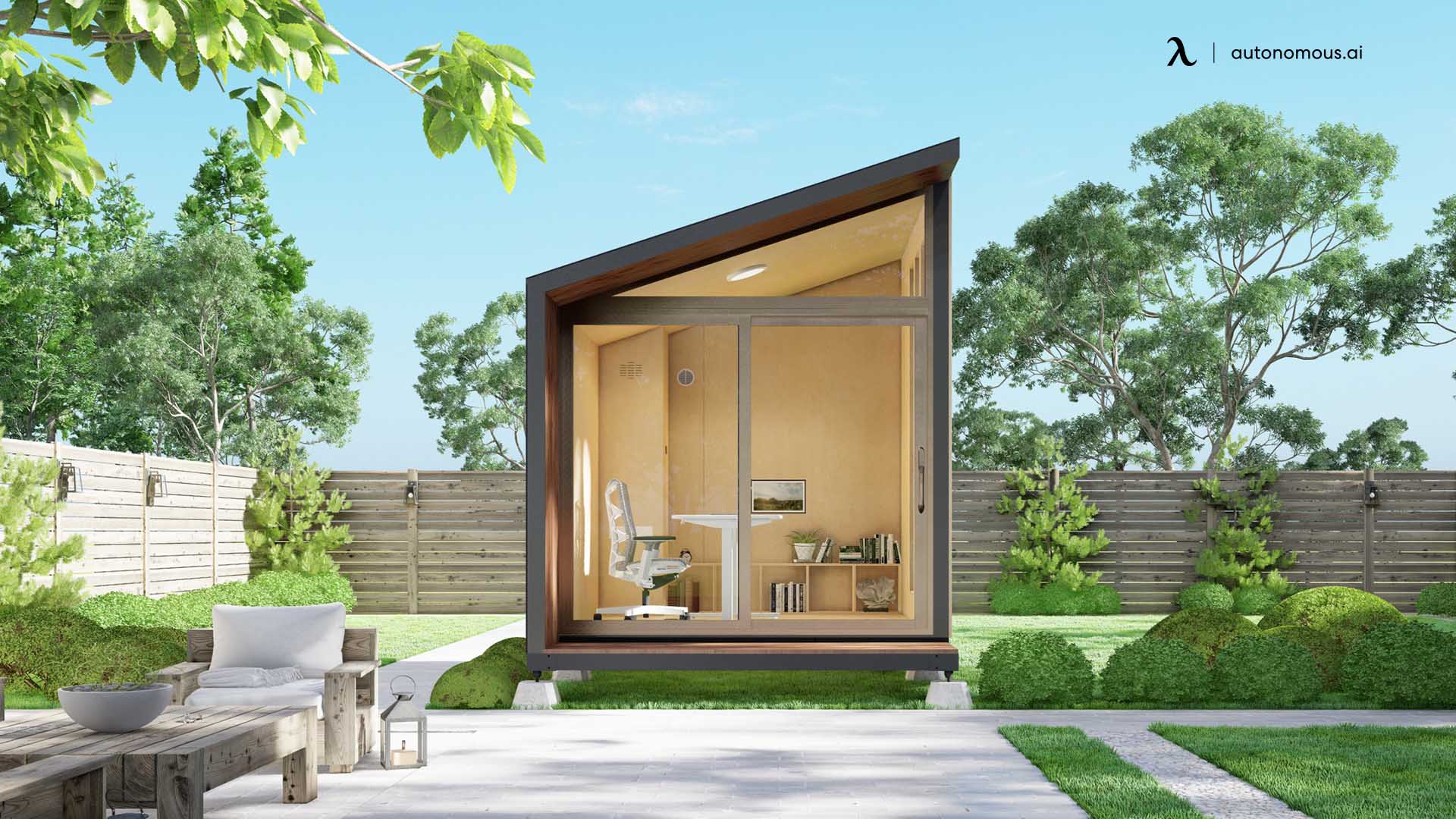 4. Autonomous Pod
It only takes a day to set up and use a Pod on-site. It is easy, efficient, and cost-effective to expand housing with wood pods. Build a multipurpose outdoor room. The wooden pod for the garden provides additional space and dedicated living space at a fraction of the cost of renovations to your home.
Your home office shed prefab will power all your tools, ideas, and tech toys. The new space is perfect for entertaining guests, working on a project, or just relaxing. Maintaining a boundary between work and home life is an advantage of working from home. Here's where the Autonomous Pod comes in.
Plan out all the fitness routines in the Pod, from weight training to yoga to Zumba. This modern prefab shed kit is a great new leisure spot for your home. If you want to create an entertaining area for parties or gatherings, you can enjoy gaming privately.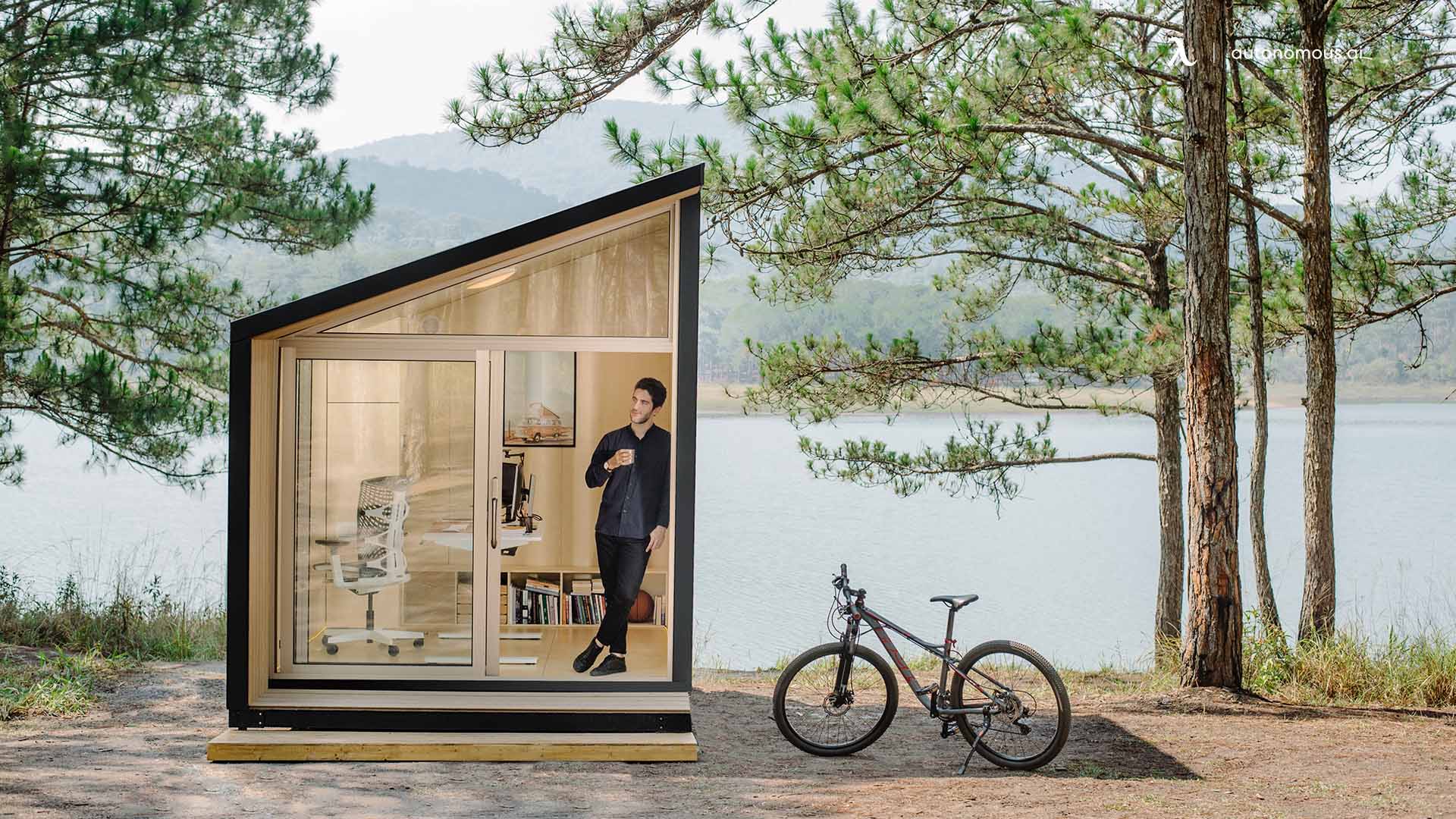 5. Kanga Kwik Room
The Kanga Kwik Room is the DIYers' dream. Their products are shell kits that include everything you need to erect your stylish shed, including pre-framed walls, windows, and doors. The modern prefab shed kits are available starting at $5,000 and going up to over $18,000 (excluding shipping and electrical hook-up). Texas residents have the option of having their shed installed on-site or adding installation extras.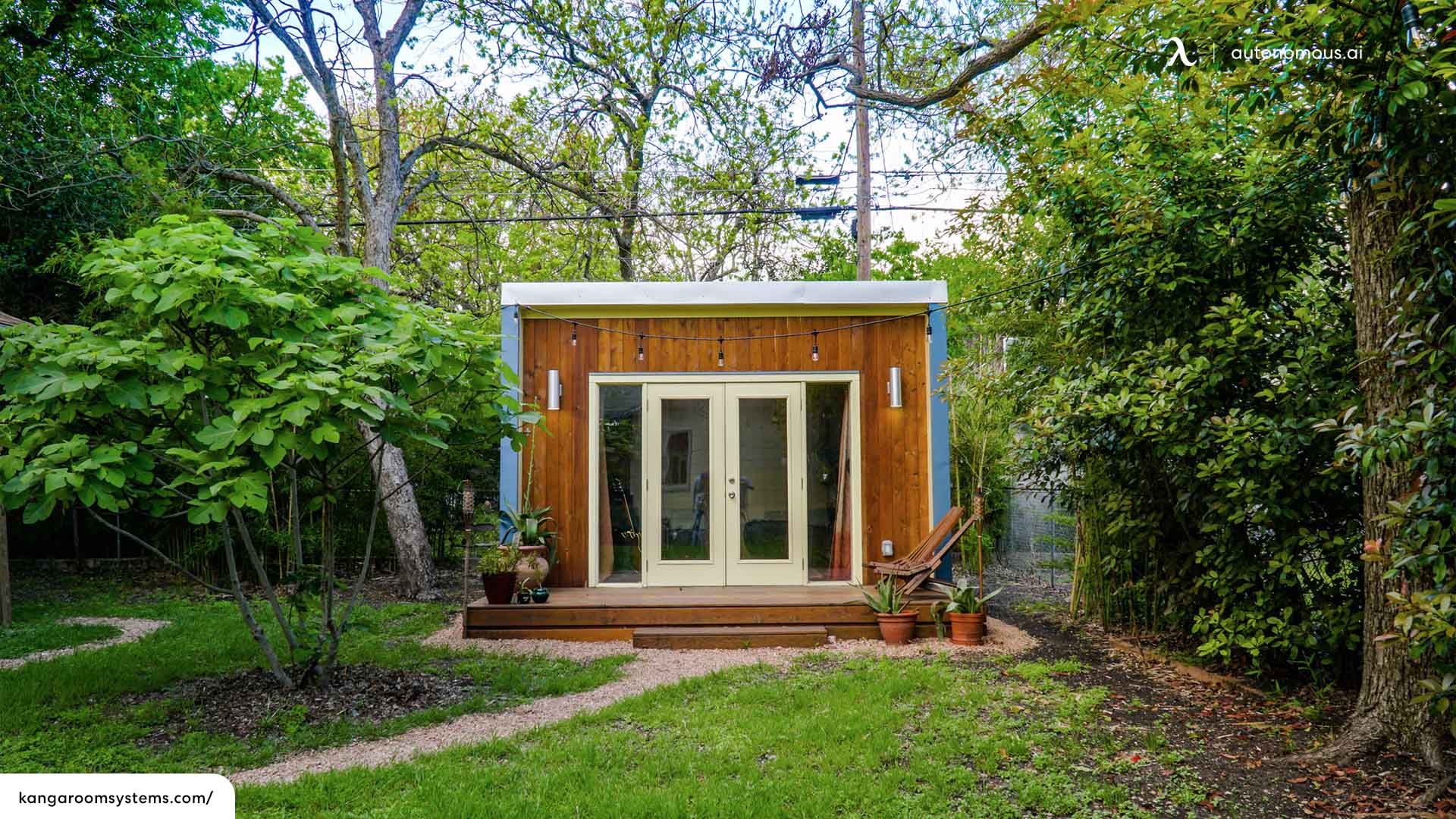 6. LIV Pods
With LIV Pods modular designs for office, you can seamlessly integrate outdoor and indoor living or serve as a cascading office in any backyard. Our prefab backyard studio workspaces offer suitable division, easily assembled in places surrounded by the quietness of the outdoors.
For instance, a desk can fit two people in the POD 1 Liv Simply pod, along with cabinets and shelving to provide storage. You can access a small slatted wood deck through a sliding glass door. There are three different LIV Pods models, priced from $32,000, including an installation fee. Permits are not required, except for custom designs.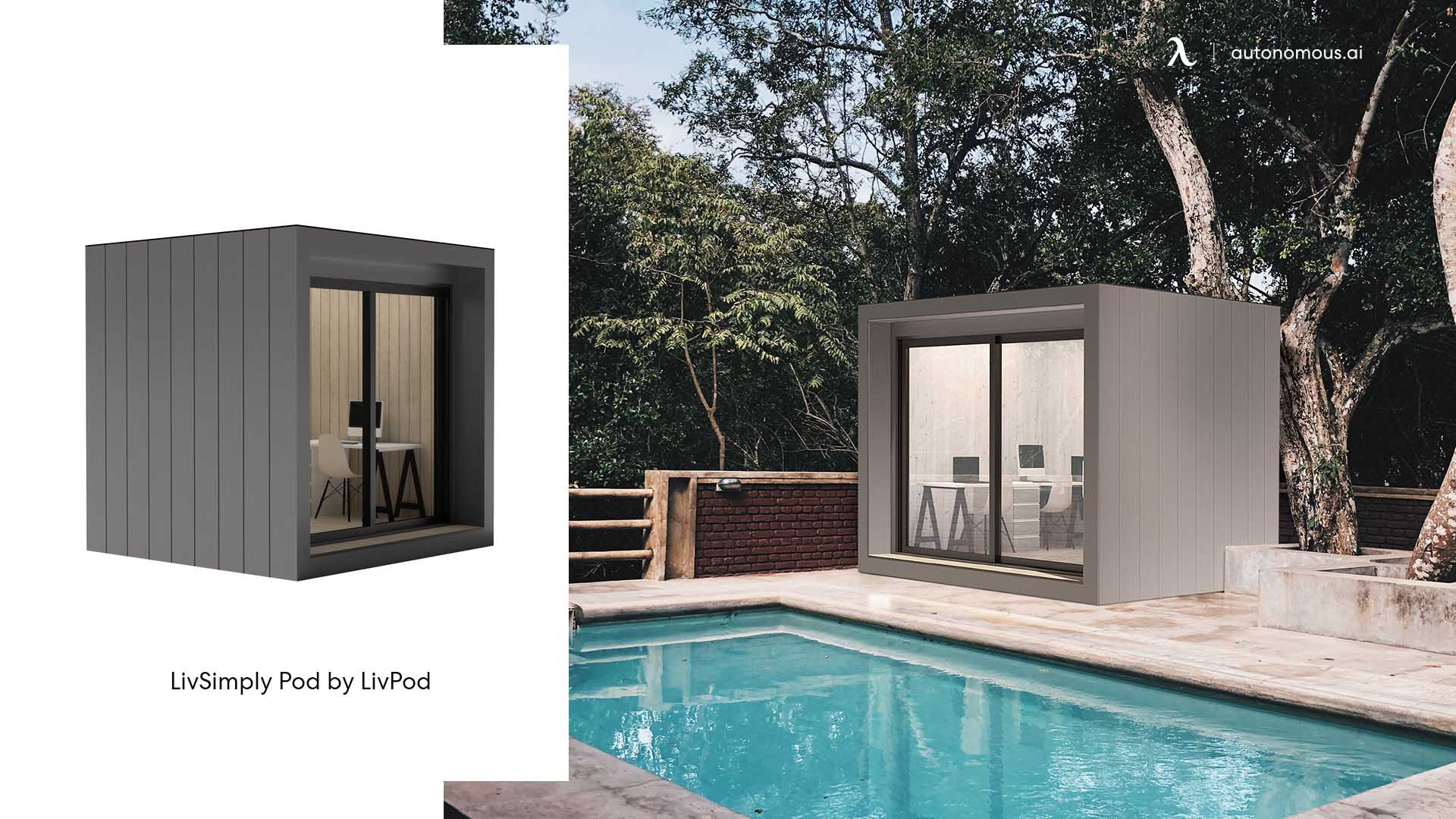 7. Buhaus
Malibu-based Buhaus created an upscale live/work ADU that can be used during the day as an office and later converted into a bedroom at night with a Murphy bed. It exposes in the direction of the outdoors through outsized folding panels and takes advantage of the building's 160 square feet of indoor/outdoor living space. The hefty base price of $96,000 includes all finishes, custom built-ins, and appliances. In addition to being a wildfire-resilient home, Buhaus is also off-grid compatible.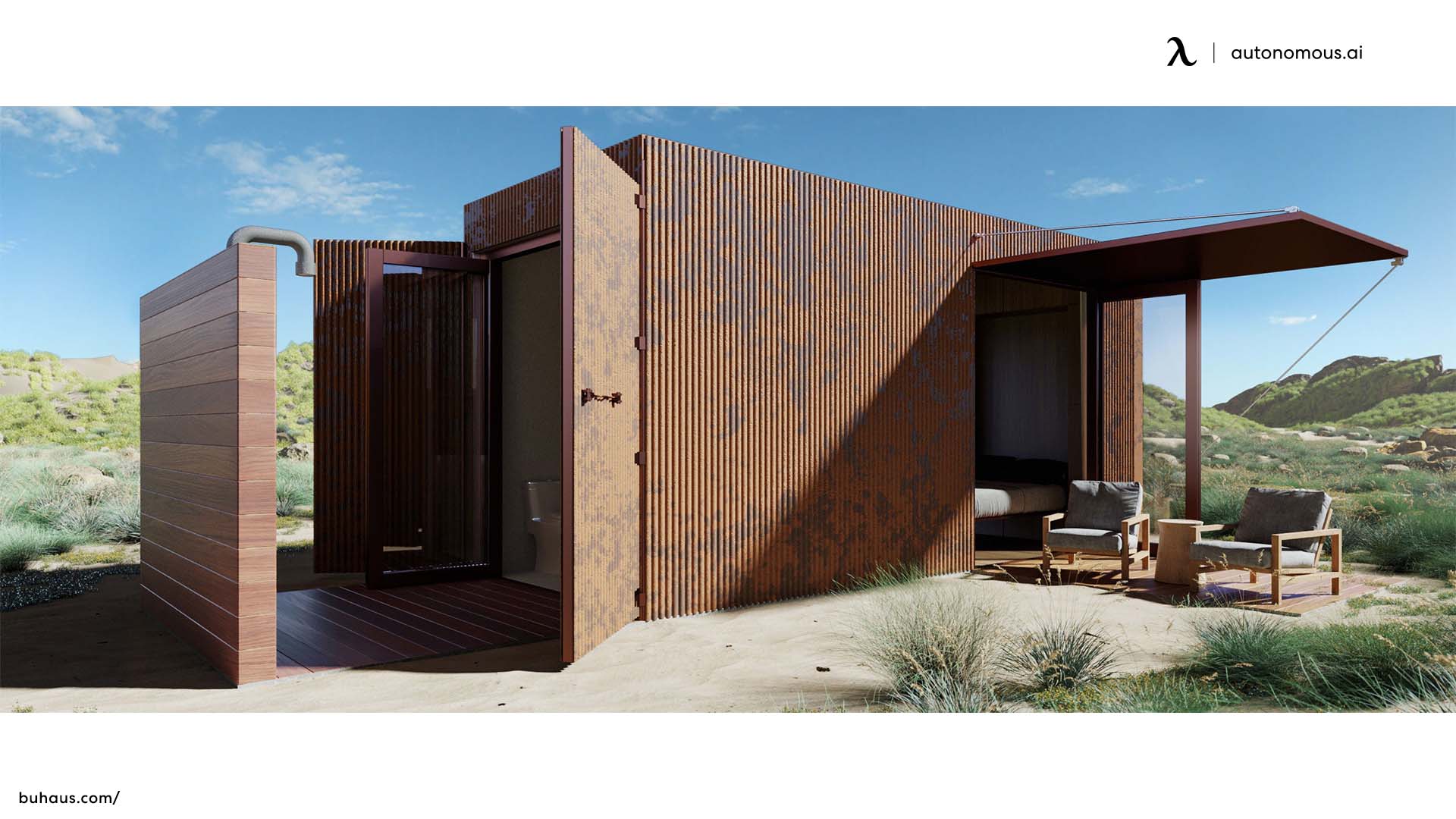 Hey, you have special pricing through your company.
Get exclusive rewards
for your first Autonomous blog subscription.
WRITTEN BYAutonomous
We build office products to help you work smarter.