Smart Products
19 Multi-purpose Modular Sheds for Your Backyard
2,976 Views
Building an addition to your home does not have to mean you have to remove one or more rooms for a few weeks or months. Even if you don't change a single part of your existing home, you can still have an entirely new space using a prefab backyard studio. Prefabricated sheds suit a variety of purposes on your property, including offices, fitness studios, guest houses, and more. In addition, a modular shed kit is often small enough not to require a permit to install, and it can be manufactured off-site and delivered.
What is a Modern Prefab Shed Kit?
In many neighborhoods, you can find an outbuilding behind the house, and depending on how you use it, a prefab modern shed can serve as a workshop or storage. A homeowner who needs extra storage space is generally looking for a sturdy yet affordable building. He may benefit from wood prefab shed studio kits.
Unlike other types of sheds, a modern shed kit is already assembled or comes as a kit. The contractor or homeowner does not have to design the shed. You can find prefab sheds in various colors and designs at home and garden centers.
List of Awesome and Modern Prefab Shed Kits You Can Buy Online Now
1. Autonomous StudioPod
Avoid the stress of contractors. Prevent the shock of hidden costs. And save your valuable time. StudioPod is a modern prefab studio shed that's super easy to assemble and comes fitted out with everything you need to live your life. Use your free standing StudioPod as a private office to shut out the noise and knuckle down on work, as an entertainment den to play and create, or as an extra bedroom for friends and family. StudioPod is whatever you need it to be. You could even rent it out as an Airbnb listing. StudioPod is designed to work for you.
You can have a happy life without being disturbed by the rest of your household. It allows you to focus on your work and life without distractions. In addition to everything you need for gaming, StudioPod has room for everything else.
Thanks to our soundproof booth's insulated, climate-controlled interior, your gaming experience will be comfortable all day and night. Organize competitive sessions with friends or provide an easy-to-manage space where your kids can play after school with their friends.
It only takes a day to set up and use a Pod on-site. It is easy, efficient, and cost-effective to expand housing with wood pods. Build a multipurpose outdoor room. The wooden pod for the garden provides additional space and dedicated living space at a fraction of the cost of renovations to your home.             
Your home office shed prefab will power all your tools, ideas, and tech toys. The new space is perfect for entertaining guests, working on a project, or just relaxing. Maintaining a boundary between work and home life is an advantage of working from home. Here's where the Autonomous Pod comes in.
Plan out all the fitness routines in the Pod, from weight training to yoga to Zumba. This modular shed kit is a great new leisure spot for your home. If you want to create an entertaining area for parties or gatherings, you can enjoy gaming privately.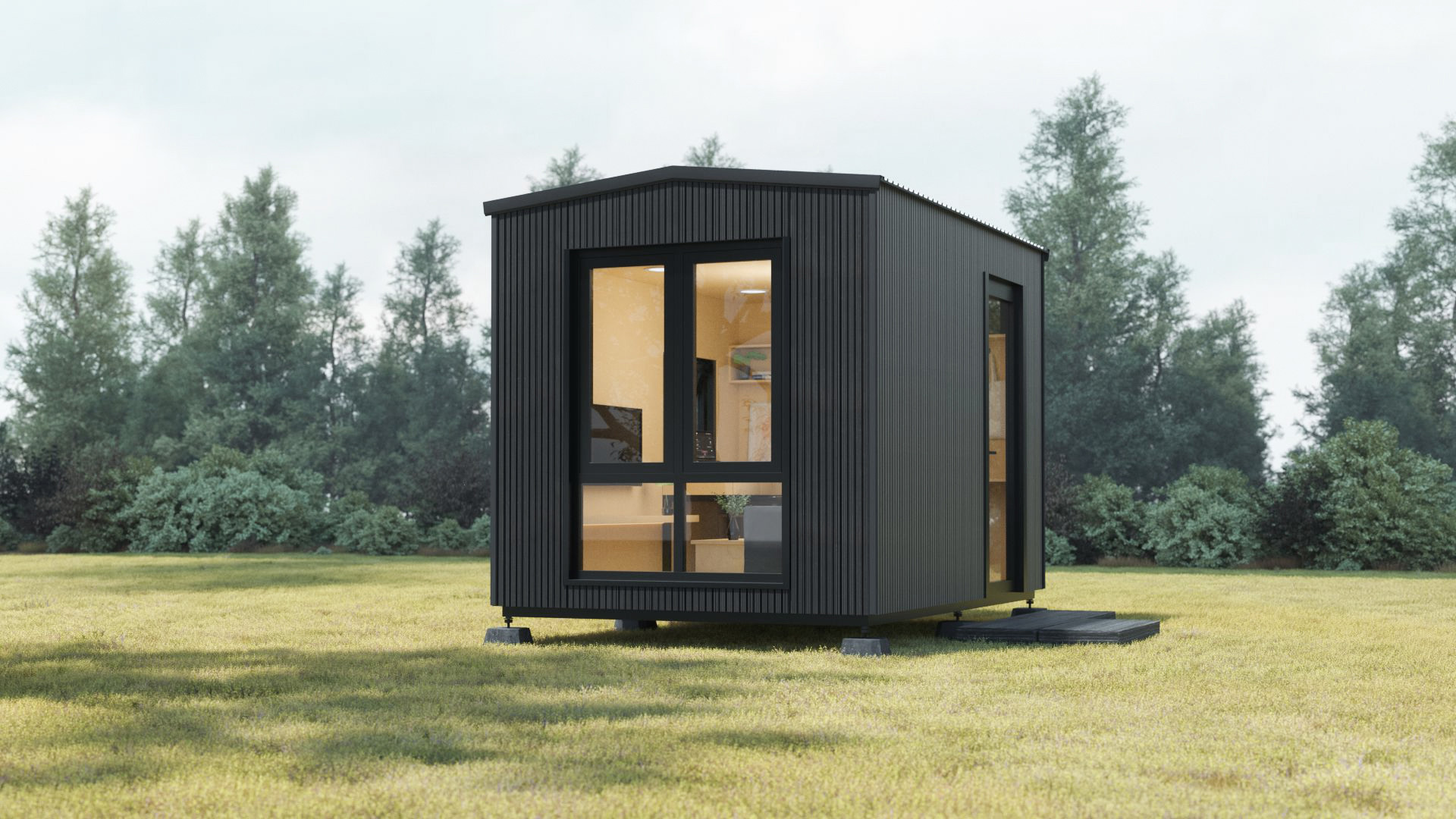 Dimension
106" W - 155"L x 106.3"H
Material
Frame: Vinyl sliding - Housewrap - Bitume - Plywood - Honeycomb paper - Steel frame - Plywood
Basement: Steel, Cement
Include
A closet, desk, bookshelf, TV stand, a foldable coffee table and convertible sofa bed
Minimum wattage
150W
Lighting
3 color modes
Warranty
1 year
2. Autonomous WorkPod Lite
The WorkPod Lite from Autonomous may be compact in design but this mighty multipurpose prefab studio shed has the full flexibility to accommodate any space that life calls for. This freestanding studio is all-weather proof, sound insulated, and pre-wired for instant plug+play power.
Looking to make a little extra income? WorkPod Lite is the perfect blank canvas to create and style a private guest bedroom you can list on airbnb, or a private office/hotdesk freelancers and nomads can book by the hour.
For fitness gurus, WorkPod Lite is great as a fully functional home gym or yoga studio. Or for families with kids, separate their playroom from the rest of the home and enjoy a little peace and quiet. WorkPod Lite is whatever you need it to be.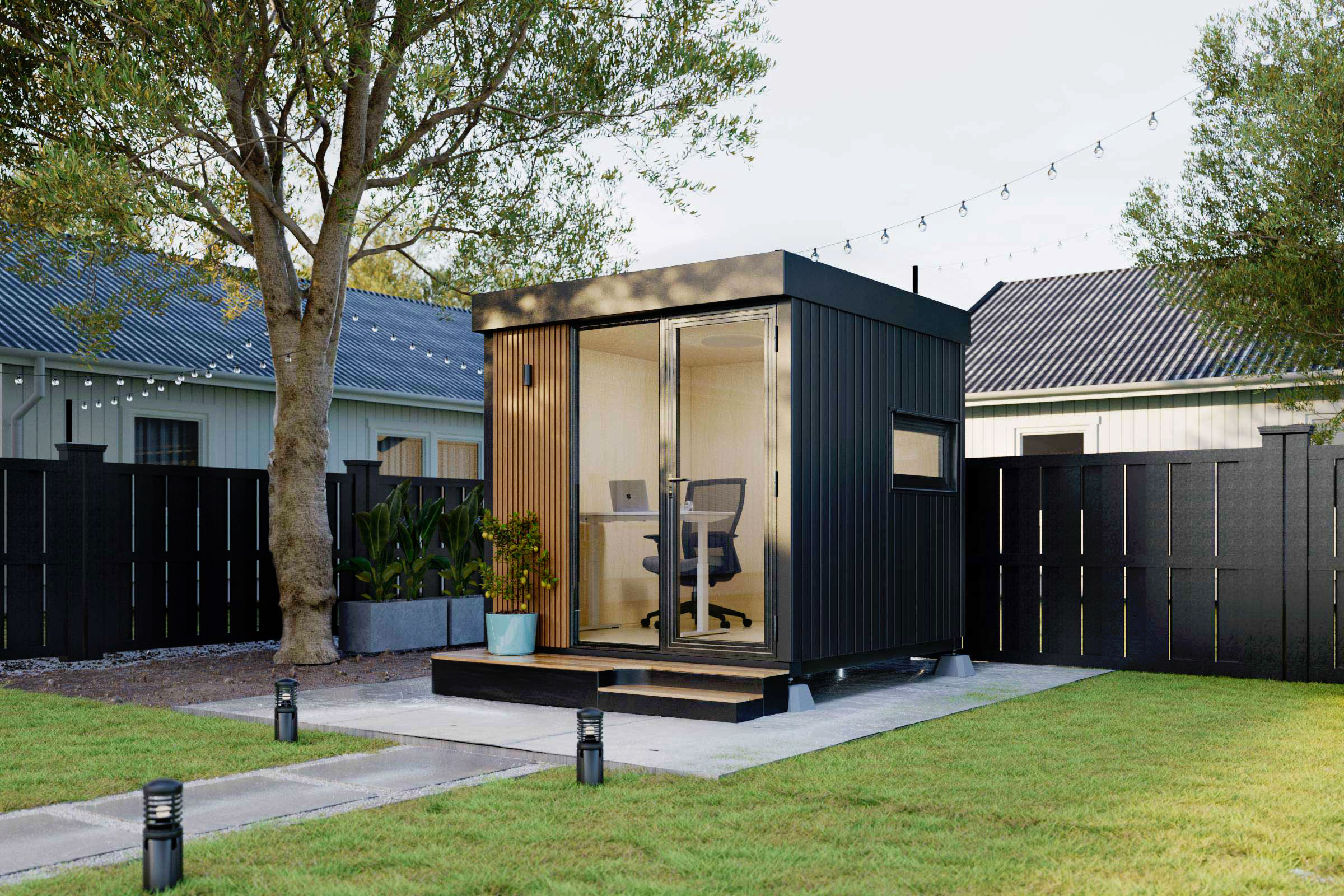 Dimension
8.7 W x 8.12 L x 9.3 H inches
Material
Window and door: powder-coated aluminum, 5/16-inch tempered glass
Siding: plywood 1/2-inch, steel frame, honeycomb paper, plywood 3/8-inch, bitume, housewrap, vinyl siding
Roof: metal roofing
Floor: plywood
Balcony and Pedestal: steel frame and wood plastic composite
Pedestal
24 W x 103 L x 9 H inches
Electrical devices
RCB, Wall outlet, Ceiling light switch, Ceiling light, Wall light, Ethernet wall port, 66ft power cable with 2 connectors
Weight capacity
2.3 tons (including Pod body)
Floorspace
80 square feet
Ceiling height
7.3-inch
3. Autonomous WorkPod
You can hear yourself think clearly with WorkPod's floor-to-ceiling glass doors. As soon as you leave for the office pod, make your commute as short as possible. You should be able to enjoy your wooden pod for a garden.
In a few hours, the assembly of the ultimate office pod for adults is ready for use. Spend less time and money on the extension by working on it yourself instead of hiring contractors. Air conditioning, warm lighting, and outlets for your electronics and appliances fit easily in the WorkPod, which is pre-wired.
Connect it to a power source to power it up. The fuss-free foundation of WorkPod eliminates uneven floors as well. The shed might weigh up to 4 tons, but it gets evenly distributed across the concrete, gravel, grass, and brick.
Each piece of lumber, every joint, and seal in prefabrication undergoes testing and QC-checks meticulously at every stage. Traditional construction doesn't often does not include all of these checks. Regardless of outside weather, insects, heat, water, and mold won't harm you.
Dimension
103"W x 142.5"L x 92" - 125.5"H
Material
Frame: Composite wood - Housewrap - Plywood - Honeycomb paper - Wooden frame - Plywood
Basement: Steel, M300 cement
Include
SmartDesk Pro, ErgoChair Plus, Cable tray, Filing Cabinet, Dual Monitor Arm, Anti-fatigue Mat
Minimum wattage
100W
Weight capacity
2.9 tons
Color
Black, White
Warranty
1 year
4. Kanga Kwik Room
The Kanga Kwik Room is the DIYers' dream. Their products are shell kits that include everything you need to erect your stylish shed, including pre-framed walls, windows, and doors. The modular shed kits are available starting at $5,000 and going up to over $18,000 (excluding shipping and electrical hook-up). Texas residents have the option of having their shed installed on-site or adding installation extras.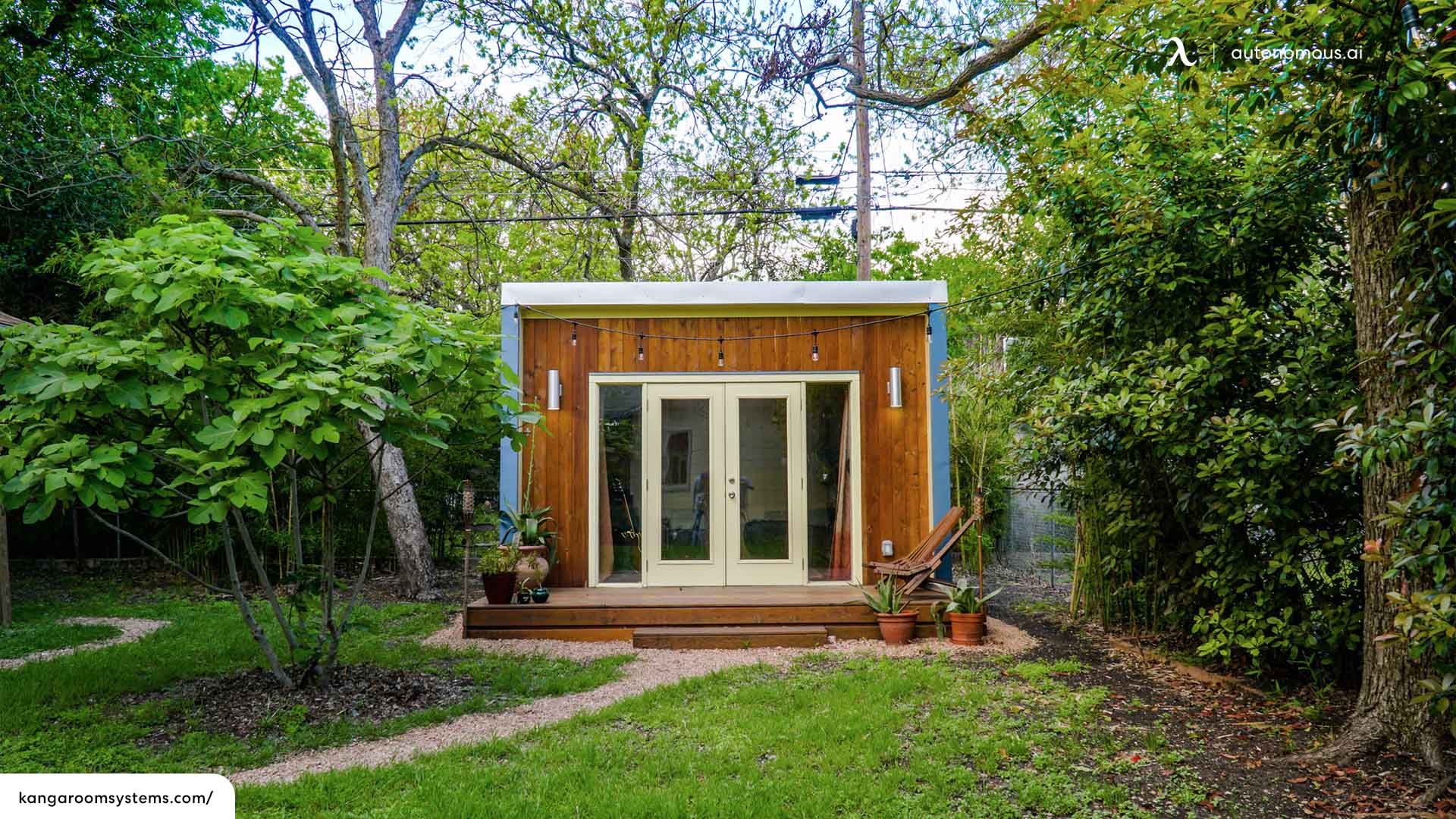 5. LIV Pods
With LIV Pods modular designs for office, you can seamlessly integrate outdoor and indoor living or serve as a cascading office in any backyard. Our prefab backyard studio workspaces offer suitable division, easily assembled in places surrounded by the quietness of the outdoors.
For instance, a desk can fit two people in the POD 1 Liv Simply pod, along with cabinets and shelving to provide storage. You can access a small slatted wood deck through a sliding glass door. There are three different LIV Pods models, priced from $32,000, including an installation fee. Permits are not required, except for custom designs.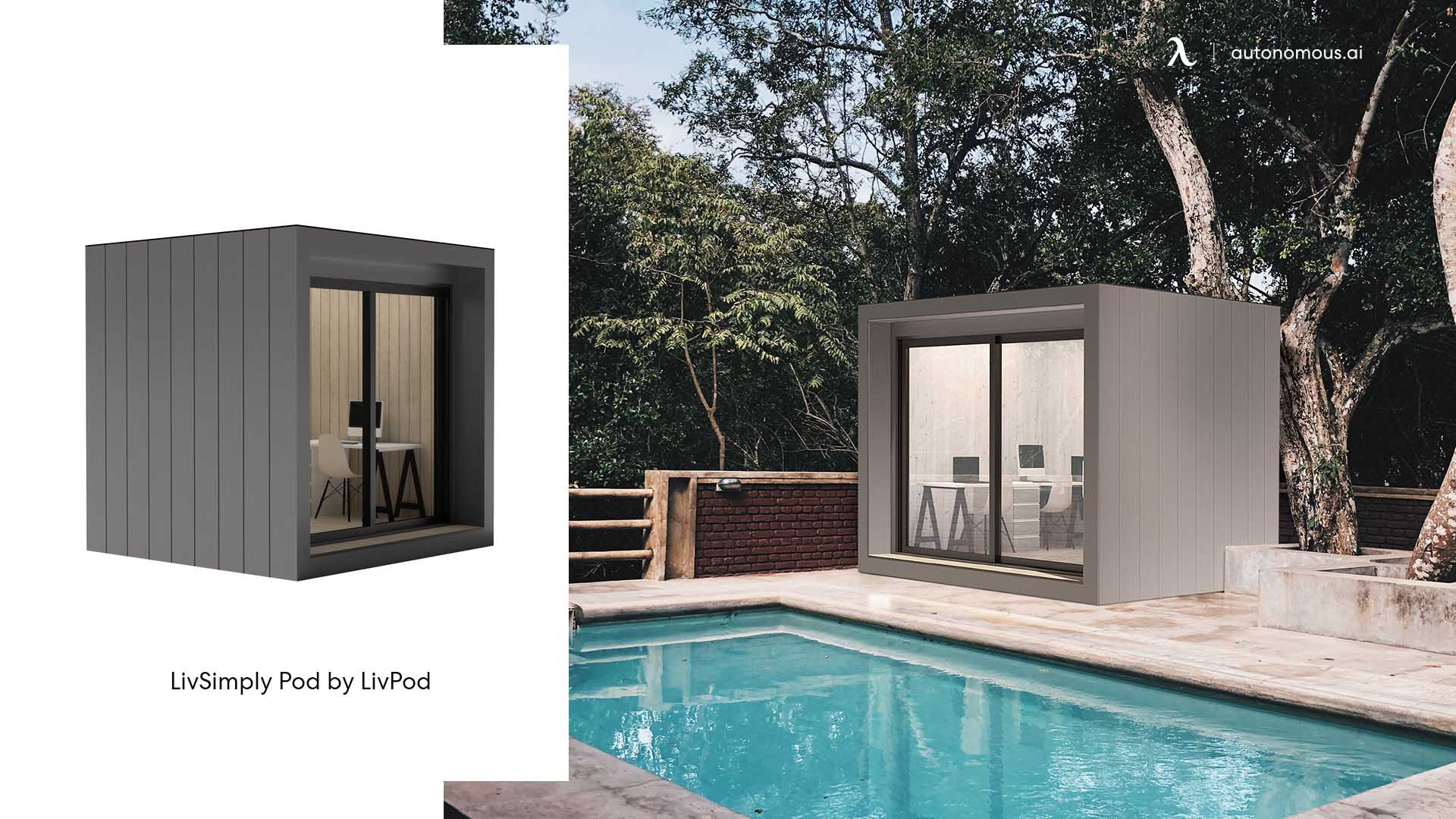 6. Buhaus
Malibu-based Buhaus created an upscale live/work ADU that can be used during the day as an office and later converted into a bedroom at night with a Murphy bed. It exposes in the direction of the outdoors through outsized folding panels and takes advantage of the building's 160 square feet of indoor/outdoor living space. The hefty base price of $96,000 includes all finishes, custom built-ins, and appliances. In addition to being a wildfire-resilient home, Buhaus is also off-grid compatible.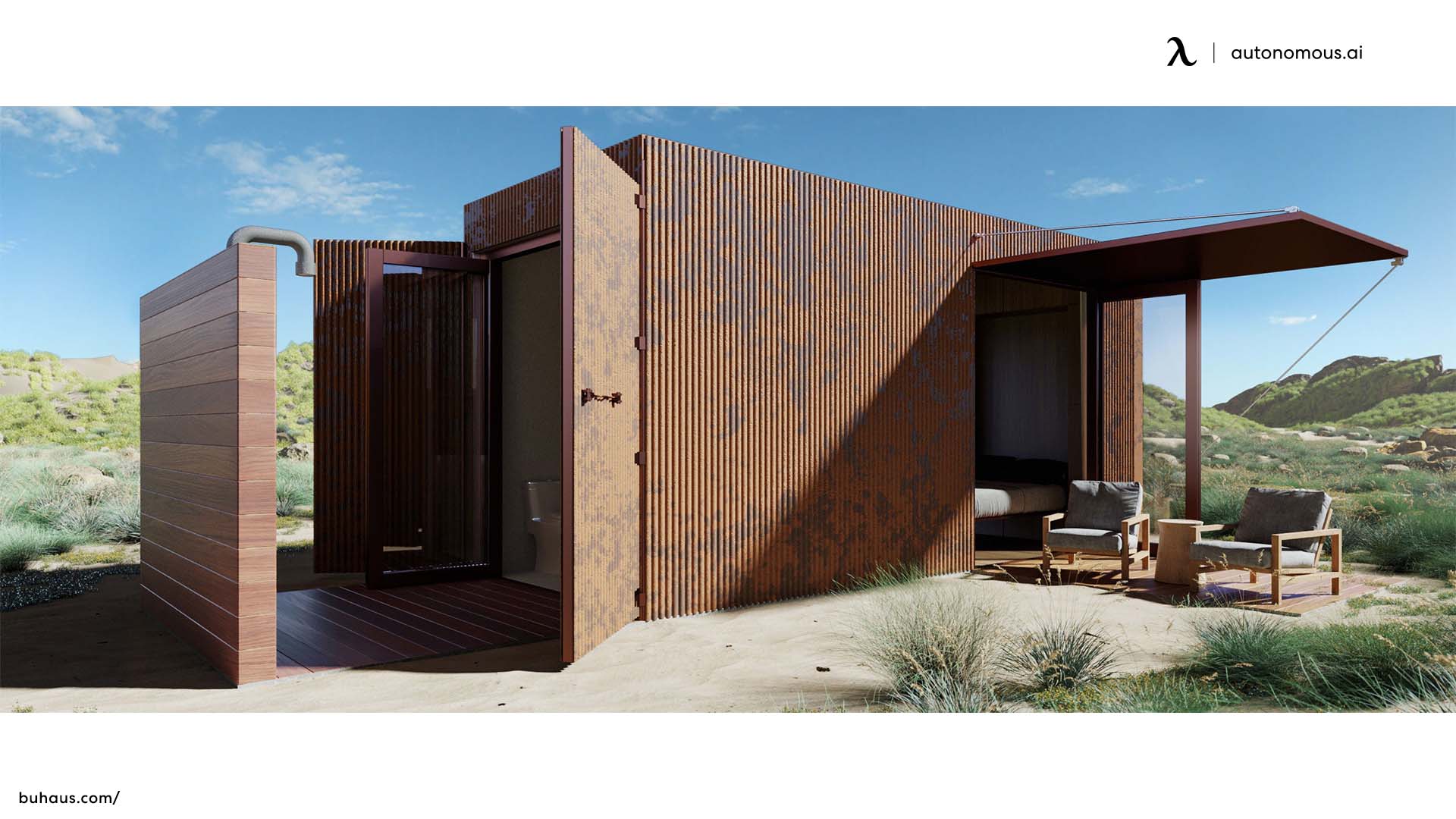 7. Studio Shed
Bring the best of warm cabin vibes to your backyard with a modular shed. It offers both, modern shed designs as well as mid-century interiors and exteriors. Covering up the vast taste of people but not compromising on quality, the modular shed has four popular models covering greenhouse, guest space, and granny flats. Their ready-made sheds are affordable, and you can get large sizes up to 42 feet in width.
8. Summerhouse
Live summer vibes all year long with the wooden style perfect for a guest room outdoor shed by the summerhouse. They offer multiple models to fit your needs, and other than Factory made pre-built sheds, you can also use kits that come pre-cut and only require assembly. If you are searching for ideas on building a shed yourself, you can get it here. Although priced higher, summerhouse sheds offer the best insulation and heating facilities to keep you warm during the colder months.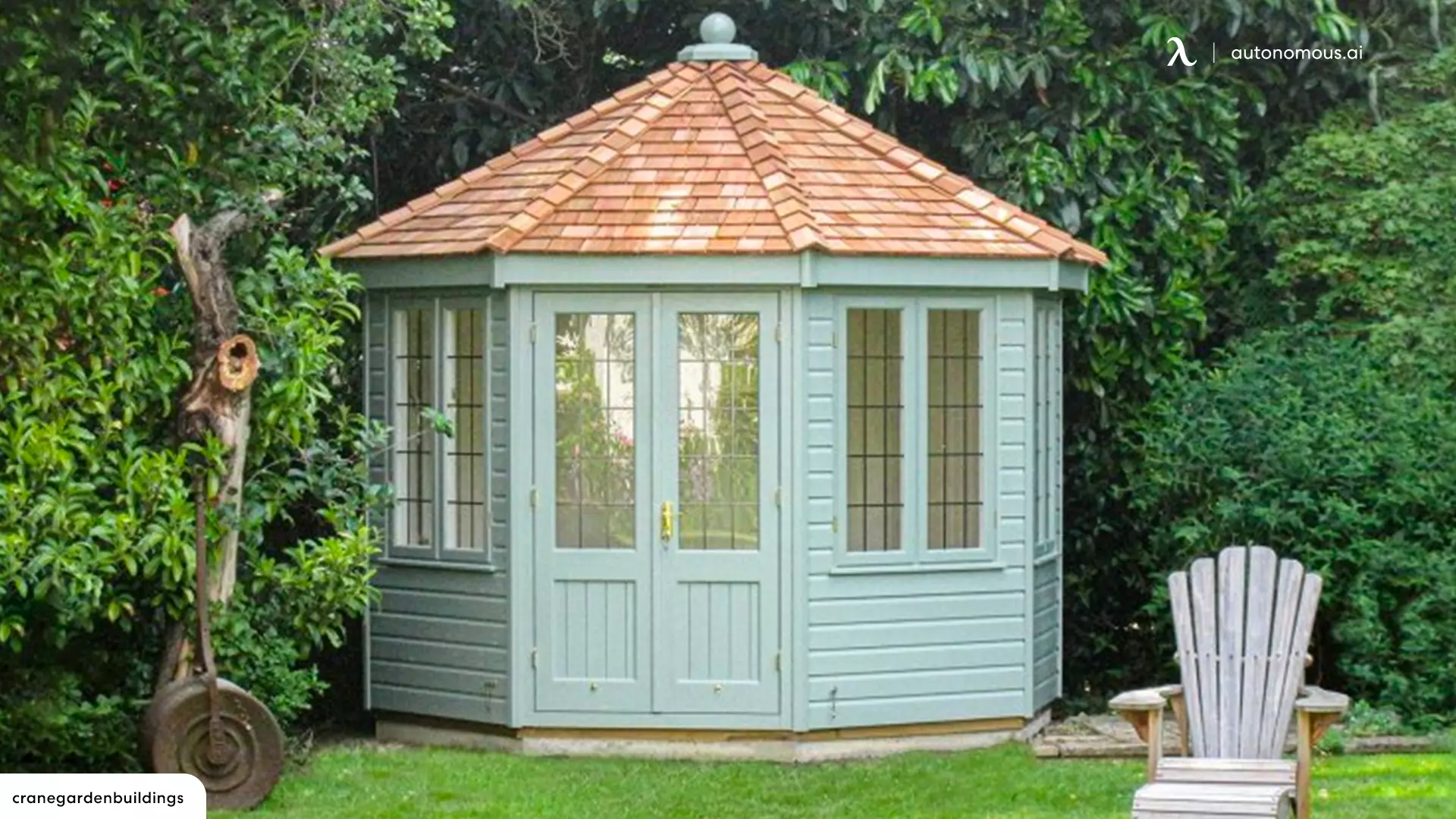 9. Heartland Wooden Shed
This prefab modern shed's 12 by 16-foot size makes it enough for a single person's living needs. The wooden structure is also great for office or temporary private rooms. This shed is perfect for gardening and storage, so it is a multi-purpose, all-in-one shed. The 7-foot-tall walls provide ample vertical storage as well.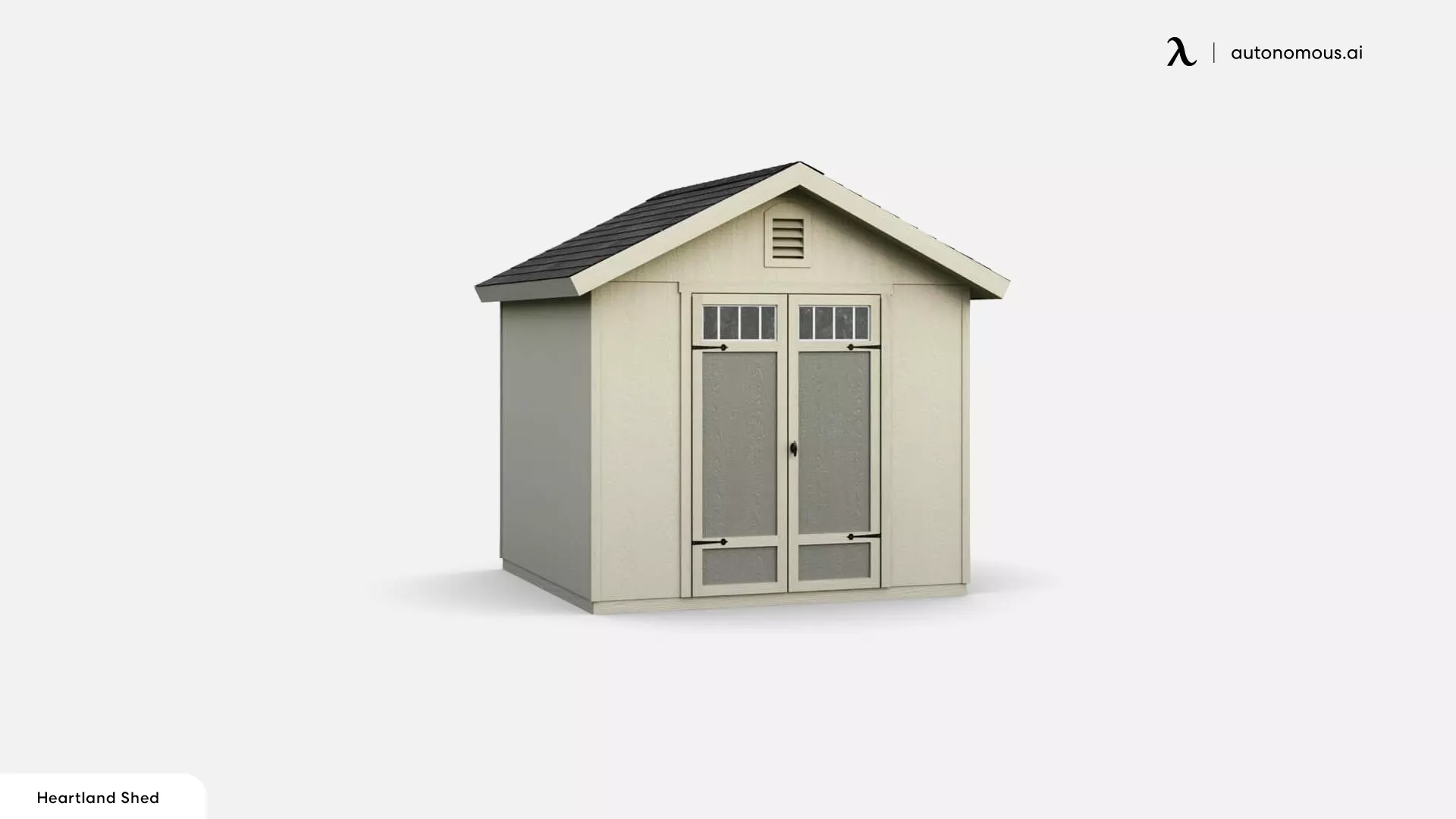 10. Eichler Shed
This modular shed design from Eichler is simple and perfect for minimalism lovers. The shed measures in varying sizes, but they mostly provide a standard option ten by 12 feet which is ready to use. Other sizes can be customized on order. The shed is perfect for an outdoor office, comes with built-in insulation, has glass doors and windows, and the door has a modern sliding look. The price isn't too high. You can also customize it to add skylights or French doors for a more modern vibe.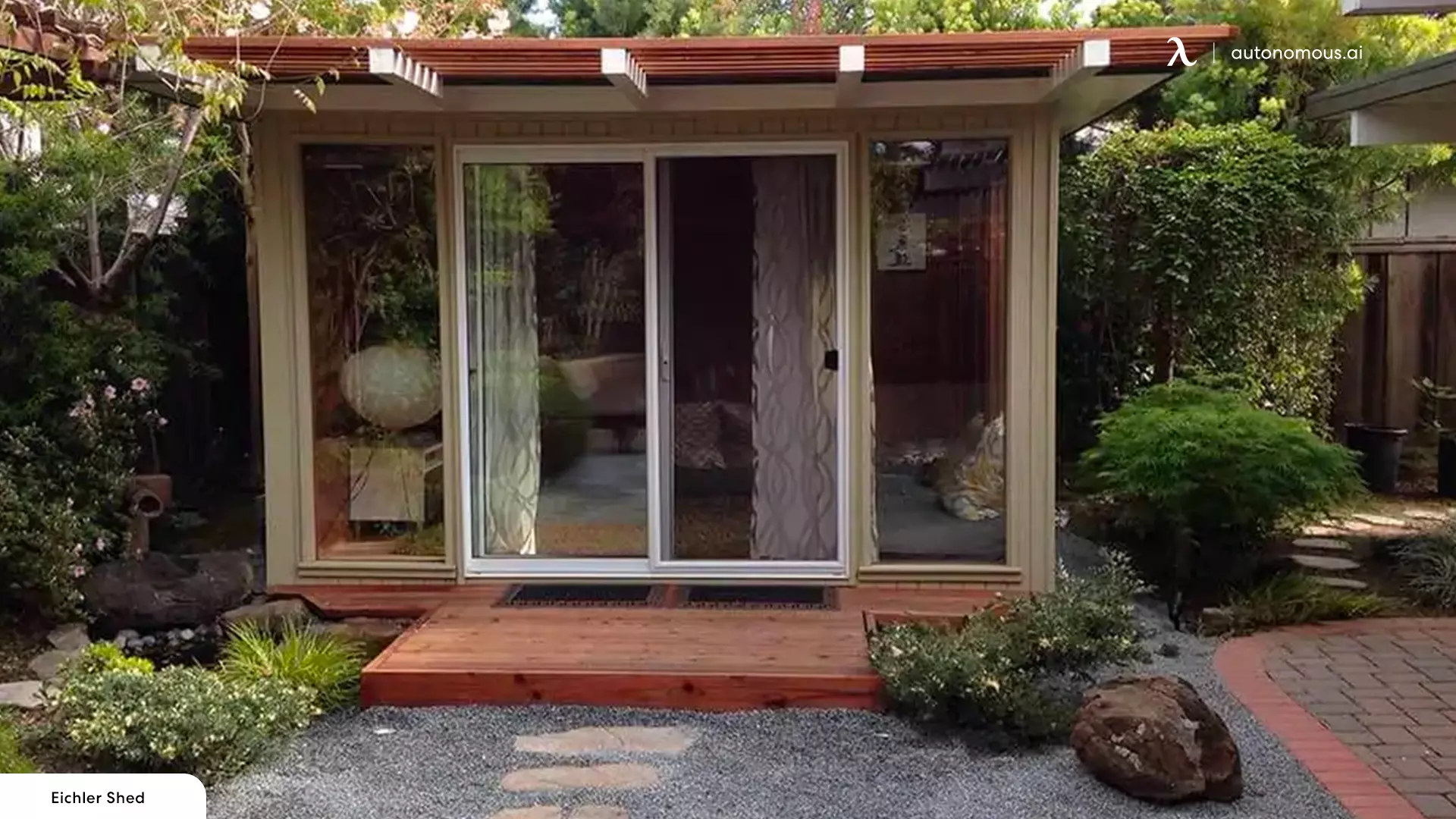 11. Colonial Gable Shed
Whether as a greenhouse or a living space (eliminate the greenhouse insulation), the colonial gable is a modern prefab backyard studio facilitated with the right look, style, and all the amenities. However, this one is not a huge shed but is enough for a backyard home office or your gardening needs. The traditional style glass windows with wooden frames are our favorite look in a modern backyard.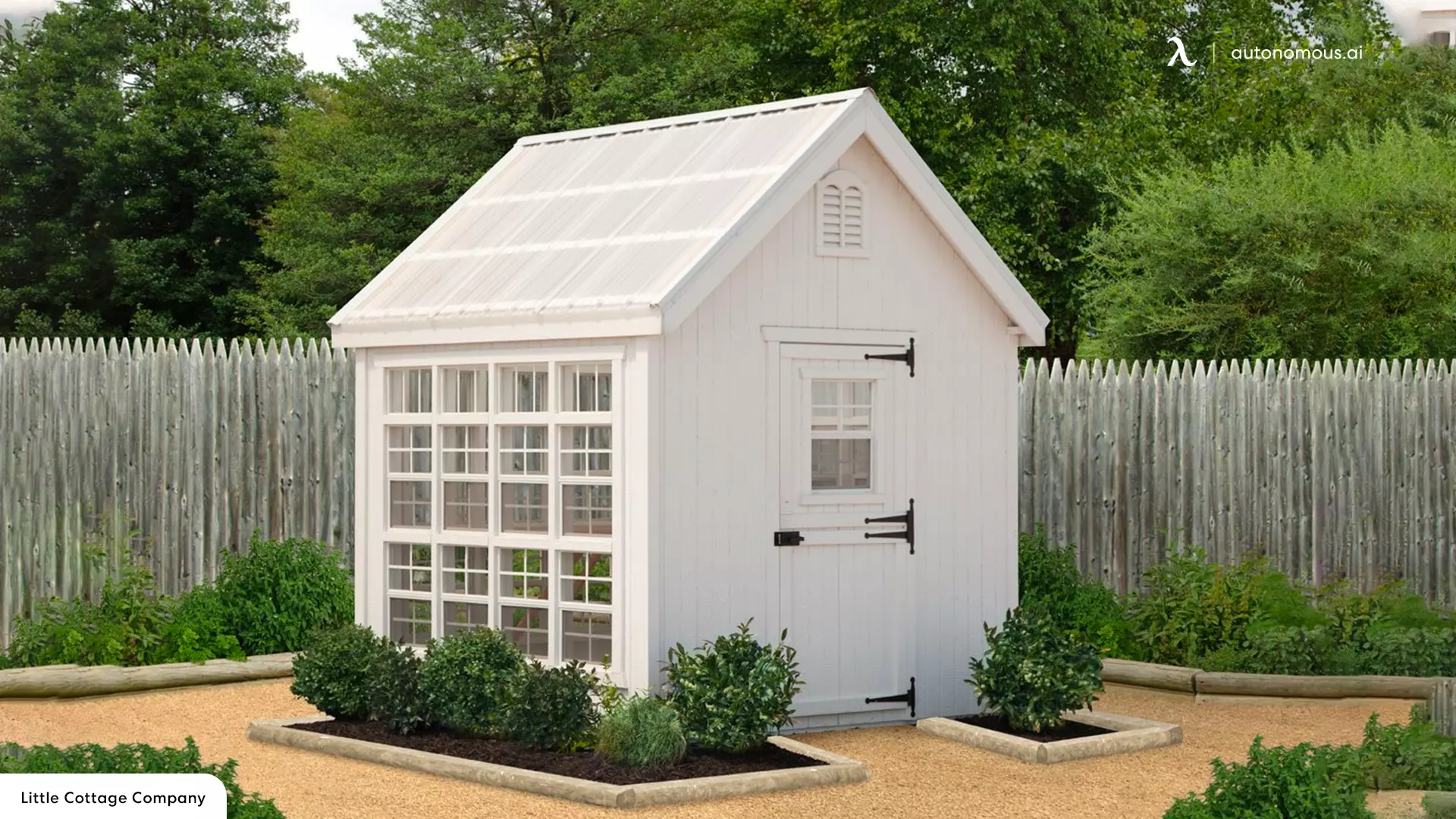 12. Studio Office Shed
Your work from home just got so much better and more productive. With all the facilities needed for a private and focused workspace, achieve the right work-life balance with this portable shed. The studio shed has a wooden exterior with a thick roof. This ensures your shed is resistant to harsh weather changes. Enjoy a great row of ventilation windows that keeps you cool during the hotter months. The glass door offers a complete backyard view while keeping you away from the outdoor noise and chaos.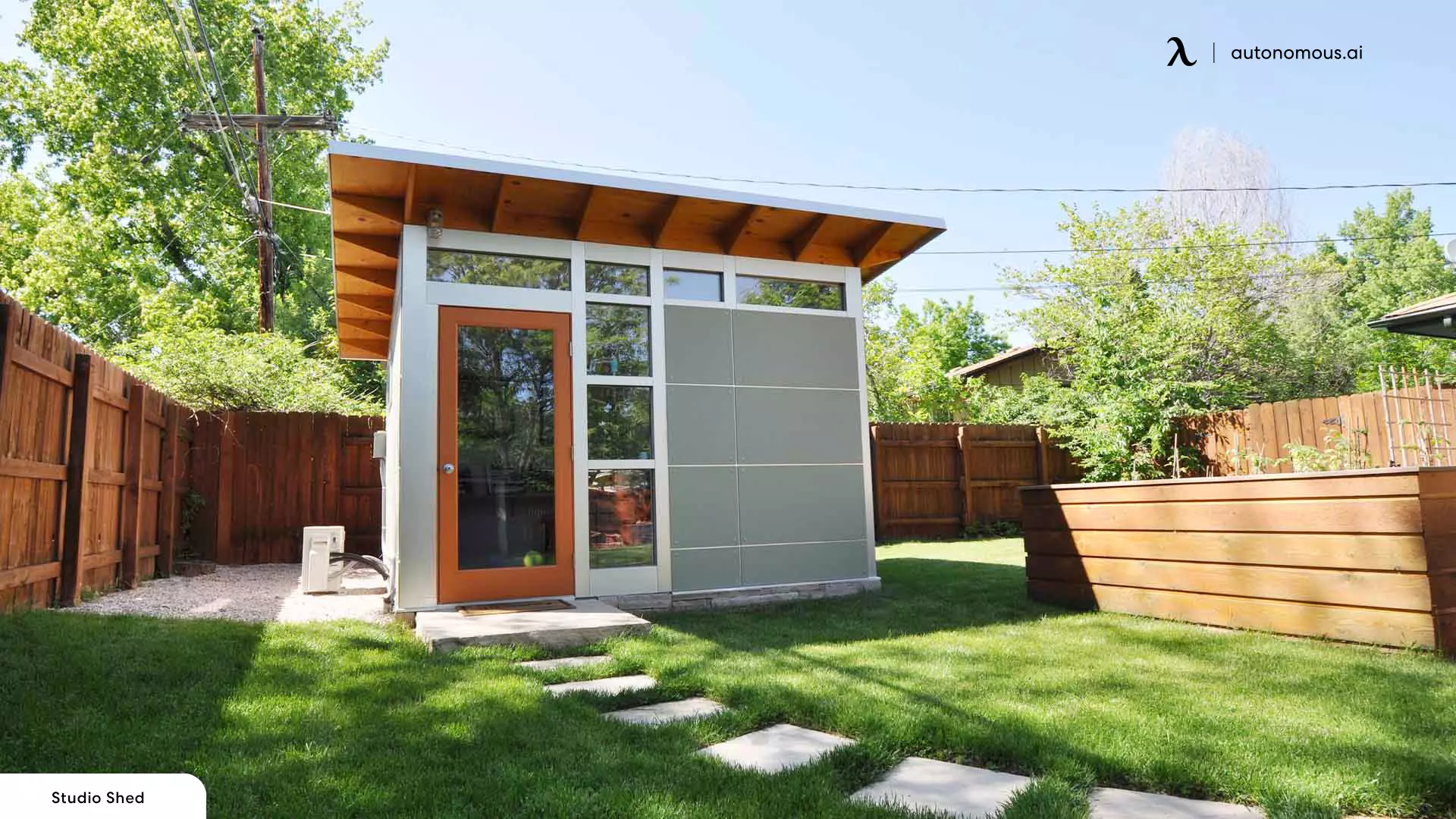 13. Homspark Shelf
Intended for storage, the prefab backyard studio can be customized to a living, or a work-from-home office shed. The resin walls give a sturdy built to last and prevent water damage. Despite having a wooden experience, the shed will remain free from pest attacks. Two doors at the front allow enough light and ventilation for the day to shine through.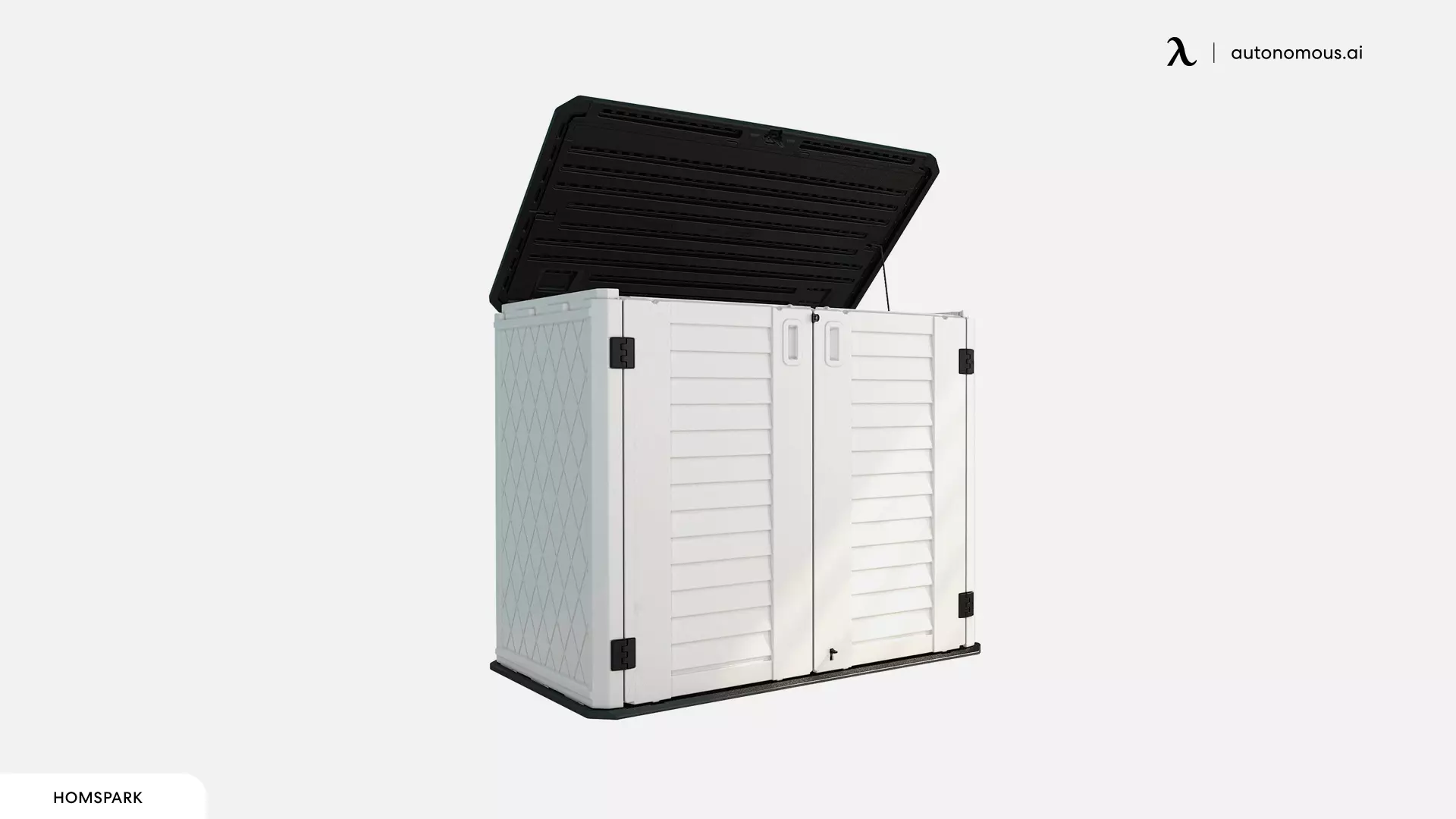 14. Fairmont Shed
Are you looking for modern shed kits? This Fairmont shed offers you multiple avenues of customization, has a weather-resistant exterior, and built-in vents for temperature moderation throughout the year. The Fairmont shed provides a stand-out feature in your backyard and can make your shed private so that you can work, chill or play away from everyone. It is also a great rental opportunity if you plan for an AirBnb setup.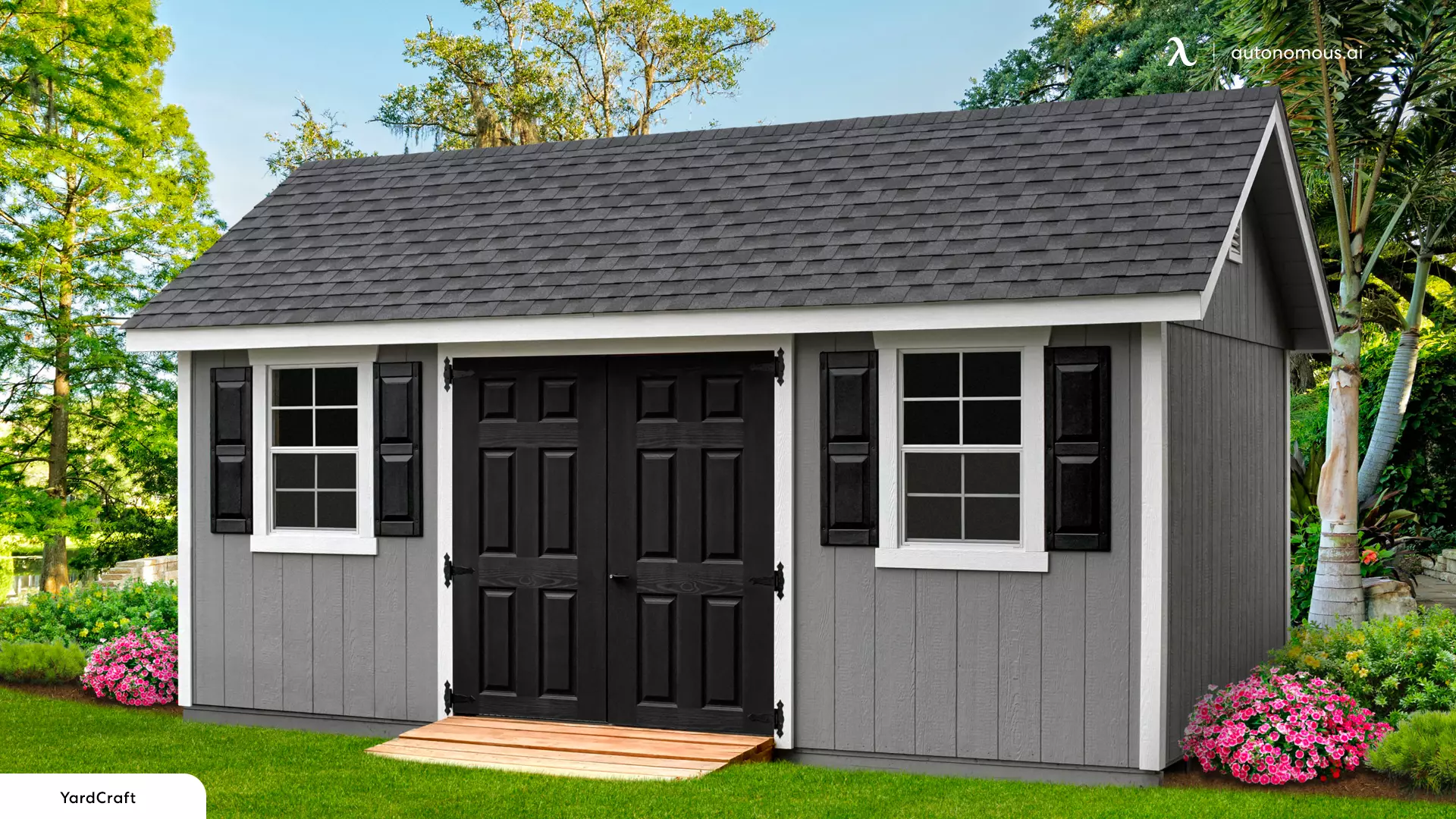 15. Riverside
Are you looking for a backyard accessory dwelling unit in your budget? Well, look no further than the riverside shed studio kit. Besides its stylish structure, the shed offers you many customizable options. It is perfect for your work-from-home projects, your music studio, or a private workspace for your remote office. The box window style is ideal for a modern contemporary look, and if you plan a backyard setting for your guests, they will be impressed with this shed.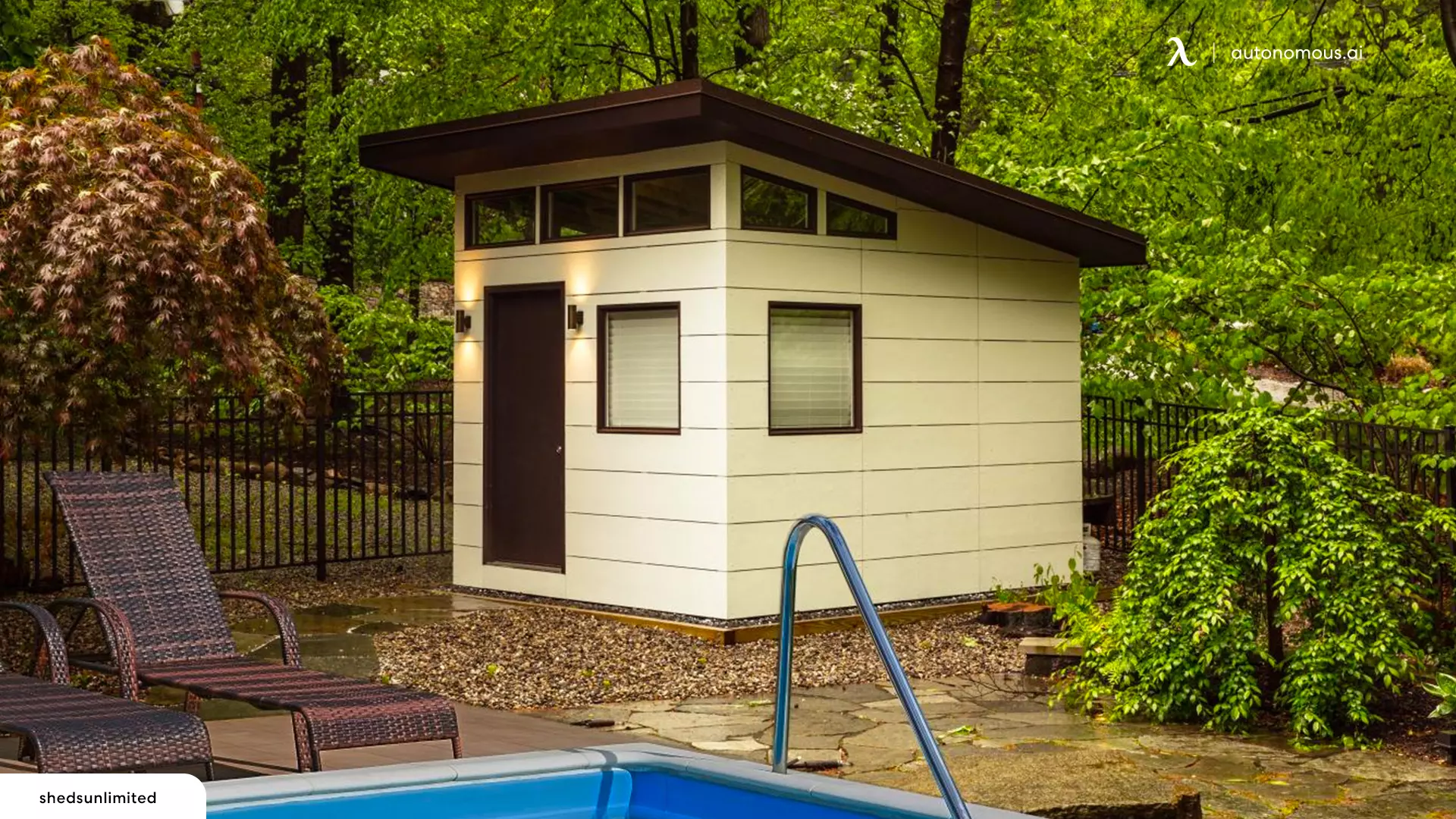 16. Urban 360 Modern Shed
Get this modern prefab modern shed with all the well-equipped features up to the living standard. The shed has two large insulated windows for you to remain heated during winter and keep cool during summer. The shed has a metal roof with a standing seam design made specifically for rainy seasons and thunderstorms. As opposed to common white or brown, the urban 360 shed offers you multiple color options to choose from.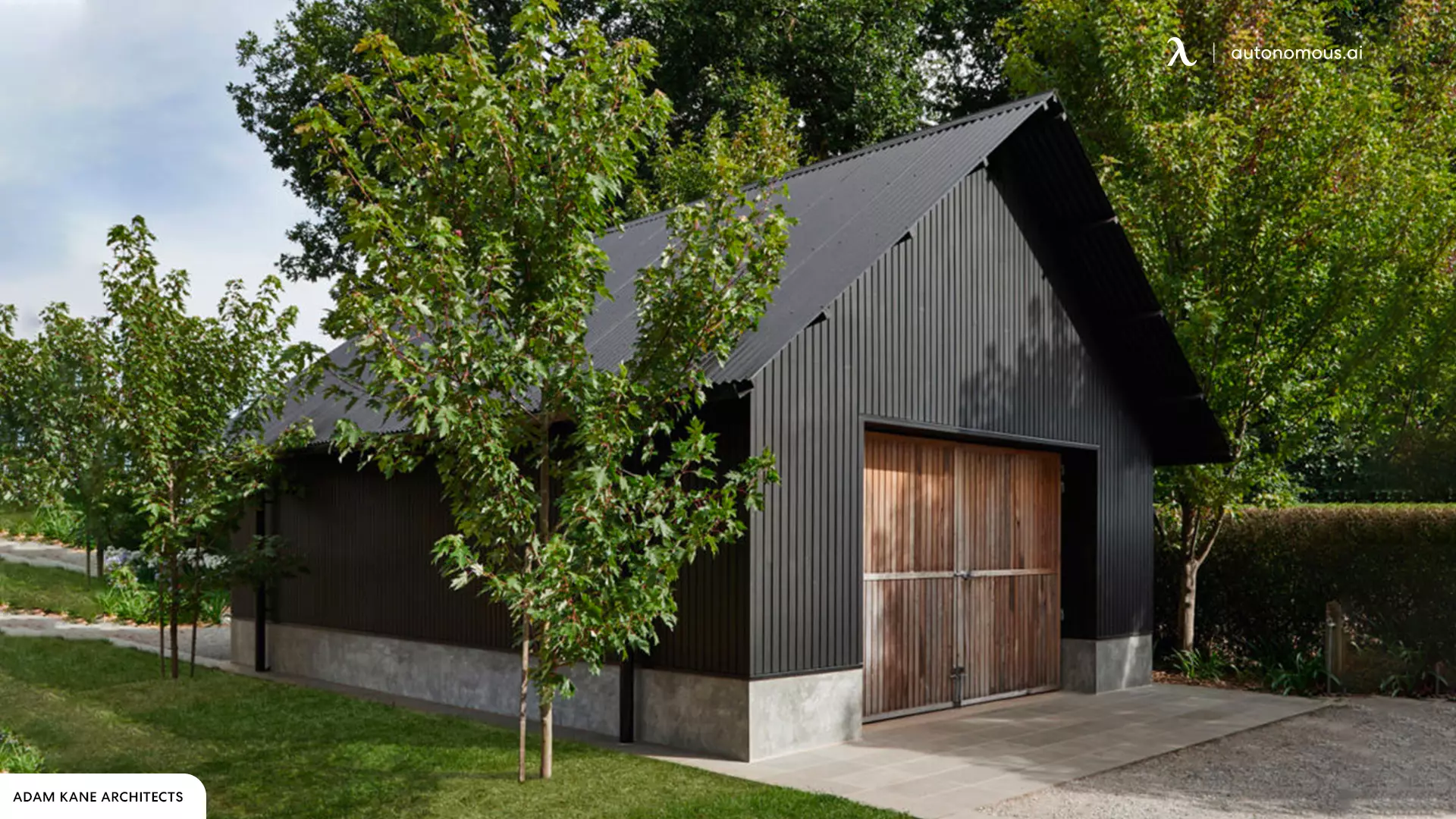 17. Modern Shed
Are you looking for a modular office building that makes a great impression on your clients? Well, look no further. The modern shed offers fast assembly that comes about under an hour and comes in multiple size options. The Pre-insulated walls and wood paneling gives a cabin building kit vibe, so you can enjoy the DIY process without facing too much trouble.
18. Suncast Tremont Shed
Wood or metal sheds might be common, but you don't challenge the strength of resin. This resin Suncast prefab backyard studio has a heavy-duty construction that you can rely on. The gabled roof adds a carriage-style look but remains sturdy during rainy and extreme weather. The shed has two windows, doors, and skylights to give a second-to-none interior look.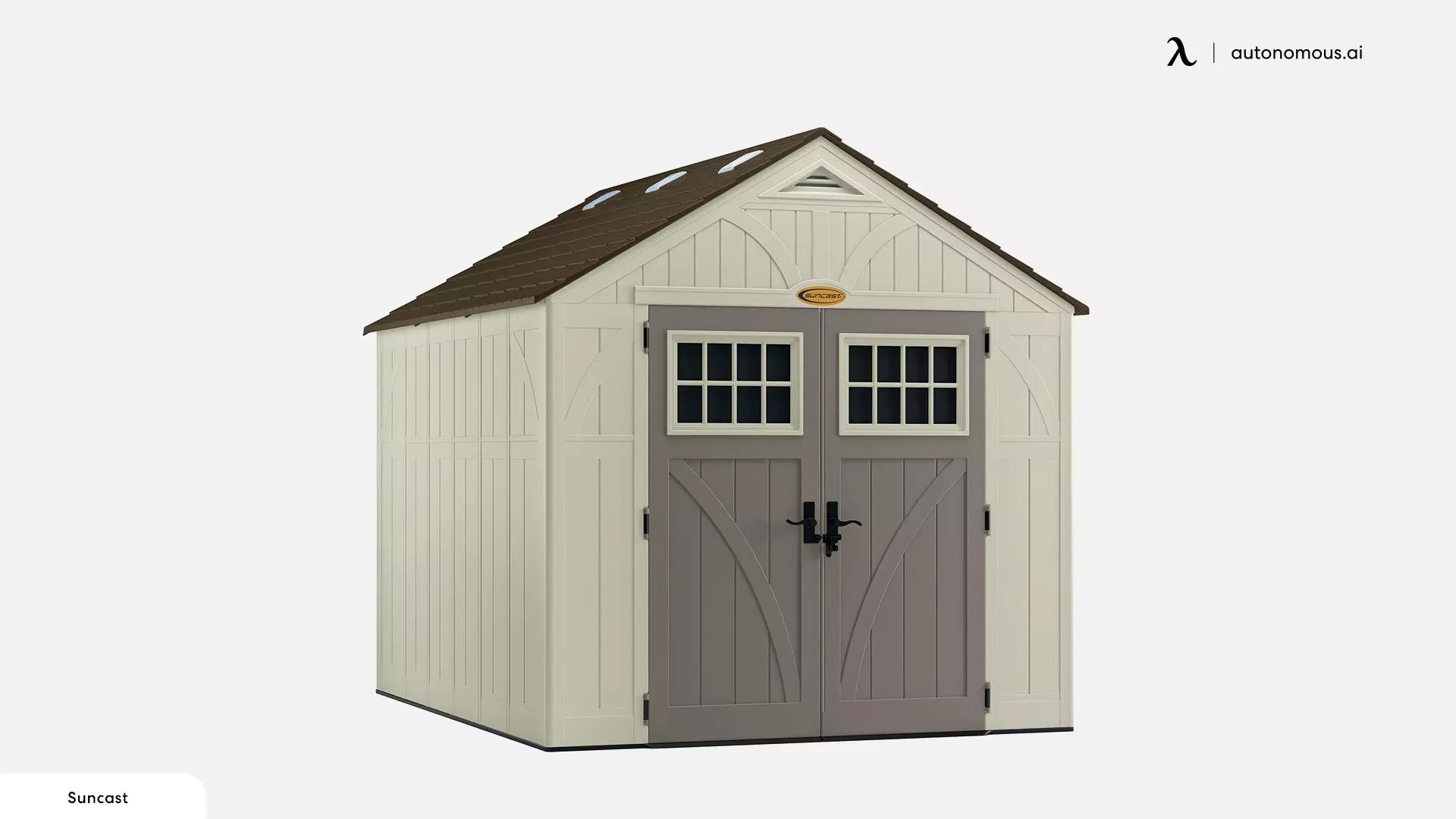 19. Cabana Outdoor Shed
Are you looking for tiny house building kits to give you the DIY kick for your backyard shed? Well, the outdoor cabana shed has got you covered. With a box-style two windows setup, this shed gives a barn-style vibe, but the inside could tell a different story. The rustic appeal, coupled with the modern interior, will make your visitors remain in awe of the shed.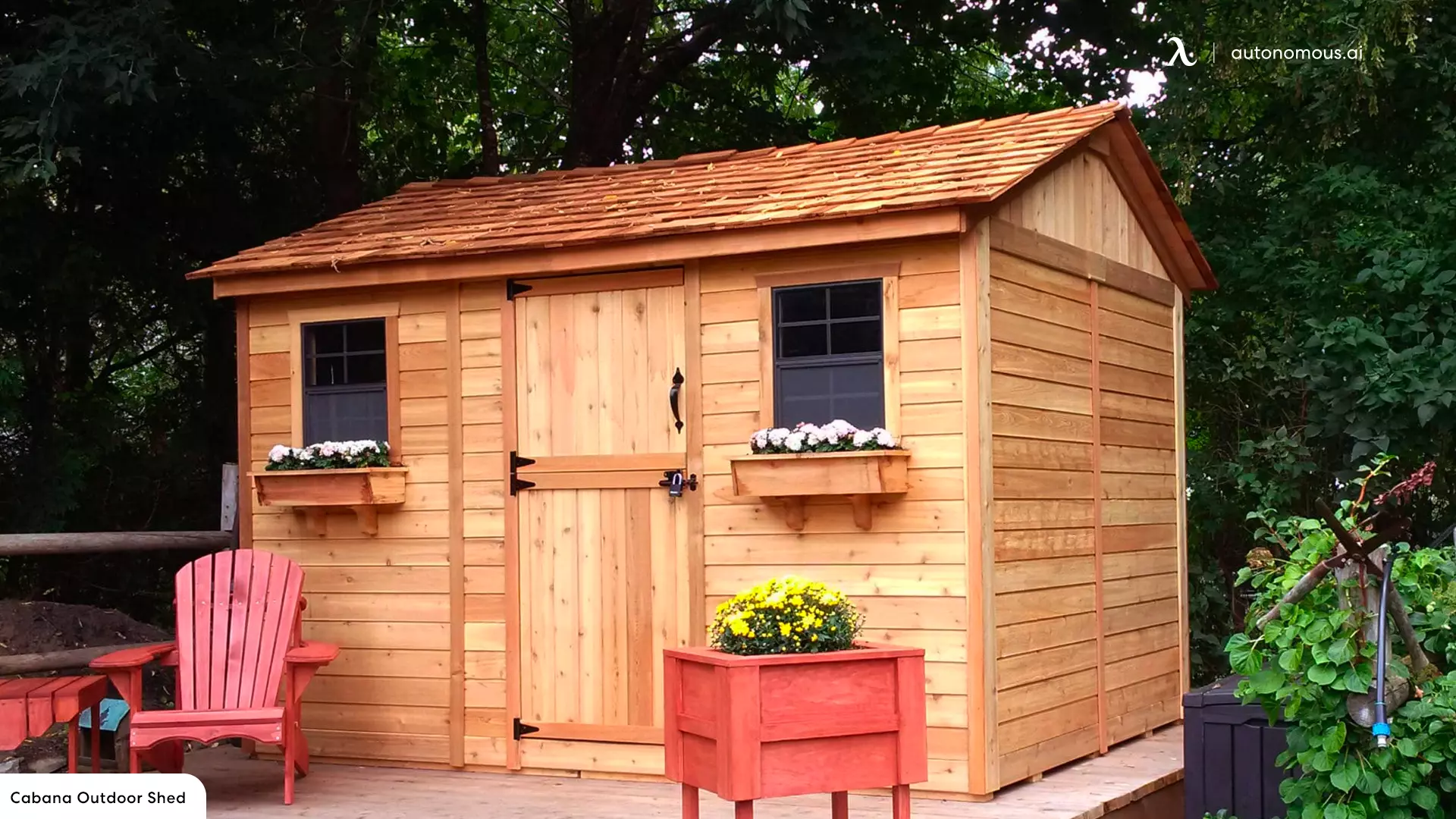 Frequently Asked Questions
Do You Have to Pour a Foundation for a Shed?
The need for a foundation for a shed mainly depends on the size. Larger sheds require support; hence you will need to build a foundation. Any shed larger than six by 8 or 8 by eight needs to be built with a foundation.
How Big Can a Shed Be Without Permission?
A shed size of 200 square feet or less is considered for storage purposes; hence it will not require permission or permit from the government. Any shed size greater than that will need approval from the government and lawmakers.
Is It Cheaper to Buy or Build Your Shed?
Building your own shed is hard work with lots of time required, but it is much cheaper than hiring a workforce to do so. You are not going to pay for labor which charges per hour, nor contractors, or pay for installation fees as well.
Can You Buy an Already Built Shed?
Yes, factory built and portable sheds are common, and you can purchase them for your backyard. These sheds come pre-constructed and ready to assemble.
Subcribe newsletter and get $100 OFF.
Receive product updates, special offers, ergo tips, and inspiration form our team.
WRITTEN BYAutonomous
We build office products to help you work smarter.