Smart Products
15 Prefab Home Offices to Help You Create Your New Backyard Workspace
4,145 Views
In response to the pandemic, you may have noticed a prefab office being set up in your hometown. Many COVID-19 testing sites used prefab structures to quickly and easily set up a workspace where healthcare workers could conduct COVID-19 testing in the wake of the global pandemic. 
The truth is that prefab offices are becoming increasingly popular worldwide as hybrid and remote work models dominate the way businesses run, but what exactly is a prefab home office? How does it differ from a modular construction? 
Here is everything you need to know about a prefab office, as well as 15 of our top picks for you to choose from to transform your backyard into a productive work zone. 
What Is a Prefab Home Office?
A prefab or prefabricated home office offers remote workers an independent place away from the bustle of the home. You may be wondering why you need a prefab when you have a dedicated room in your home for your home office setup. 
However, a prefab office is much unlike a dedicated room within your home. It provides you with the privacy you need to complete your tasks, improving your focus and productivity by blocking out the noise and offering you a dedicated space to work.   
While many office pods have been designed to be used indoors, creating a productive area within the home, there are many benefits to choosing an office pod for outdoor spaces. 
How Does a Prefab Home Office Differ from a Modular Structure?
A prefabricated building, often known as a prefab, is a phrase that contains a wide range of construction methods. Any home can be classified as prefabricated if parts of its framework are built in a factory and then installed or erected on site. 
Like building blocks, modular homes are made up of many components constructed in a factory and then joined on-site to build your new home. As a result, a modular unit is a prefabricated unit. 
Prefab structures have become trendy over the past two years. This is because these structures allow external offices to be set up quickly and easily, which is a benefit that you do not get with modular structures. 
With social distancing becoming the norm and hybrid and remote work models becoming commonplace, we can certainly expect to see more from prefab structures post-pandemic, making the prefab office pod one of the best investments of 2023.
15 Prefab Home Offices to Choose from for Your Backyard
If you are looking for a prefab office pod for sale that is trendy, modern, and functional, you are sure to find what you're looking for on this list. Here are 15 prefab home offices to build your new backyard workspace. 
1. Autonomous WorkPod & StudioPod
The Autonomous Work Pod is the ultimate answer for all your home office needs, offering one of the most sophisticated solutions to the need for a dedicated workspace.  
Get the best view of the natural environment in your location thanks to its glass floor-to-ceiling panels that allow you to enjoy the benefits nature has to offer without any noise distractions. 
You have the option of having your backyard office pod furnished with an ErgoChair and SmartDesk. Thanks to its soundproof construction and numerous useful features such as air conditioning, USB and power outlets, and smart lighting, this pod provides you with everything you need to work successfully.
One of the most important factors to consider when selecting a work pod for your home office is whether it can withstand the elements. Fortunately, the Autonomous ADU has been designed to withstand even the harshest climates. 
Thanks to its pre-designed components, the Autonomous WorkPod comes together quickly and easily like a three-dimensional puzzle, cutting down the time it takes for you to have your new backyard workspace up and running.
Dimension
103"W x 142.5"L x 92" - 125.5"H
Material
Frame: Composite wood - Housewrap - Plywood - Honeycomb paper - Wooden frame - Plywood
Basement: Steel, M300 cement
Include
SmartDesk Pro, ErgoChair Plus, Cable tray, Filing Cabinet, Dual Monitor Arm, Anti-fatigue Mat
Minimum wattage
100W
Weight capacity
2.9 tons
Color
Black, White
Warranty
1 year
Stay away from contractors' tension. Avoid the surprise of hidden charges, and conserve your precious time. The StudioPod is a cutting-edge prefab studio shed that's incredibly simple to put together and is furnished with everything you need to live your life. Use your free-standing StudioPod as an entertainment den to play and create, a quiet office to block out the noise and buckle down on work, or an extra bedroom for friends and family.
StudioPod can be anything you want it to be. You could even use Airbnb to post it for rent. StudioPod is made to function for you.
Dimension
106" W - 155"L x 106.3"H
Material
Frame: Vinyl sliding - Housewrap - Bitume - Plywood - Honeycomb paper - Steel frame - Plywood
Basement: Steel, Cement
Include
A closet, desk, bookshelf, TV stand, a foldable coffee table and convertible sofa bed
Minimum wattage
150W
Lighting
3 color modes
Warranty
1 year
2. LivSimply Pod by LivPod
This 164-foot backyard prefab office features a minimalistic design with smooth white surfaces, cabinets for additional storage, and a large glass sliding door that opens onto a small wooden platform.
One significant advantage of choosing a LivPod prefab office is that it is entirely customizable. However, unlike other prefab backyard offices on this list, LivPod models are shipped and transported as a whole unit by a large crane. 
This means that you do not need to assemble the unit on-site, which alleviates the need for contractors to assemble your new office. Additionally, if you are the kind of person who works at odd hours and tends to disturb your loved ones at night, you can purchase some of LivPod's larger models to fit in a bed.
3. Yardadu Turnkey Backyard Offices
Another pricier outdoor prefab office shed is the Yardadu Turnkey range of backyard offices. These innovative prefab offices come in three distinct versions: the Zen Office One, the Focus Office, and the Productivity Office. 
All Yardadu pods come pre-assembled, with extra space in the larger ones for both relaxing and working. They also have a futuristic, appealing design with large glass panels to allow in as much natural lighting as possible. 
If you don't have the cash upfront, you may be relieved to know that Yardadu offers monthly finance alternatives starting at just $349 per month. They also do free property inspections, so you can have them look over your area to see if there's a good spot for your office pod. 
4. Drop Structures Micro Unit
Suppose you are looking for something a little more budget friendly. In that case, the Micro Unit from Drop Structures may be the one for you. It has a metal exterior with vinyl flooring and a Baltic Birch interior. 
While it is a more affordable option, it is more lightweight, and the metal exterior may not provide many of the weatherproof benefits that some of the other prefab offices on this list offer. 
Nevertheless, several add-on features can improve your experience, and there is also an option to include a glass sliding door to allow you to enjoy the view.
5. Bauhaus Office and Live-in Unit
Those searching for a luxurious, modern, trendy office by day that converts into a stylish and functional bedroom by night thanks to a built-in Murphy bed may just adore the Bauhaus unit. The backyard prefab office is built using a shipping container and includes large folding panels that open up into your backyard. 
You can also opt for stylish cabinetry within this large unit, but it does not come cheap. This prefab office is one of the most expensive on this list. 
6. Modern Backyard Structure from Plus Hus
The Californian prefab unit from Plus Hus has been manufactured with mnmMOD panels that are incredibly durable and energy efficient. It is available in three distinct configurations, and you can choose from several different finishing materials. 
One of the most significant advantages of choosing this prefab office is that it is eco-friendly. It also has a modern and minimalistic design that is sure to make you happy to begin your workday. The prefab office is also delivered and assembled by the Plus Hus team, so you don't have to worry about heavy-duty cranes delivering a pre-made structure.
7. Kanga Room Systems Modern Kwik Room
Those looking for something with a little more privacy can benefit from the Modern Kwik Room from Kanga Room Systems. Like the other units on this list, the Modern Kwik Room comes complete with electrical wiring, lighting, and electrical outlets. 
However, unlike the typical ceiling-to-floor glass door or panel design that most contemporary prefab offices provide, this little outdoor prefab office offers a little more privacy while still including a pair of glass doors and windows to let in some natural light. Unfortunately, this unit only ships to those who reside in Texas. 
8. Prefab Backyard Office Shed from StudioShed
StudioShed's popular office shed is customizable, so you can design your outdoor workspace to suit your needs, preferences, and budget. There are stunning designs to choose from, and these prefab units are constructed using sustainably sourced lumbar. 
Unlike other prefab units, such as the Autonomous Work Pod, these prefab offices take approximately one week to install completely, so you may be in for a bit of a wait before you can enjoy your new workspace.
9. Kithaus K3 Series
These work pods range in size from 81 to 169 square feet and include structural insulating panels or SIP panels. If you are looking for a prefab manufacturer that leaves a low carbon footprint, then Kithaus is certainly one of them, thanks to a multitude of energy-saving features. 
One of the advantages of choosing one of these backyard prefab offices is that they can be customized to include kitchens, bathrooms, and other similar structures, so if you need a home away from home, a Kithaus prefab may provide what you're looking for. However, with prices starting at $31,000, this is one of the costlier options. 
10. Sheds Unlimited Modern Sheds
If you want a prefab office that blends in as a modern shed, then Sheds Unlimited certainly has the perfect options for you. With a clean and contemporary look, these modern sheds have LP Smart Siding, which comes with an impressive 50-year manufacturer's warranty. 
You can choose from custom add-ons like exotic wood for the interior surfaces and rain-screen siding.
11. Premier PRO Studio from Tuff Shed
Tuff Shed is a renowned manufacturer in the field of prefab office sheds. Its sheds require minimal on-site assembly, and the Premier PRO Studio range is priced from $6,407 onwards, making it one of the most affordable prefab units on this list. 
While it is small, there is enough room to fit an office desk and chair, making it ideal for a modest, but respectable backyard studio.
12. LivPod's LivOutside
If the LivSimply was not big enough, you could go for the next size up. The LivOutside has an area of 106 square feet, which makes it ideal for two people to use as an office space. 
Alternatively, you may want to invest in this larger option if you intend to host meetings in your office space. 
13. Essential Eichler Shed by Backyard Eichler
Backyard Eichler lets you personalize your Essential Eichler Shed for your home office by adding French doors, a pop-out nook, a pine ceiling, and a skylight. Standard features include complete electrical wiring, sliding doors and windows, sheetrock walls, and insulation. 
You can also opt for custom flooring and have the shed painted to blend in seamlessly in your backyard.
14. Modern Studio Luxe by Kanga Room Systems
Those who need to set up a large studio in their backyard may need a lot more space than many of the prefab offices offer. Fortunately, Kanga Room Systems have a Studio Luxe option that provides more than 200 square feet of space for you to set up shop. 
15. Fifthroom Deluxe Estate Shed
Fifthroom has over 21 years of experience producing innovative solutions for the home and garden. Its Deluxe Estate Shed provides a large workspace with a sturdy fiberglass double door. Additional windows and doors on the sides and black vinyl shutters, making it a more traditional prefab office structure.
Book an Autonomous Pod Tour Today!
Investing in a prefab backyard office is no small task, and you may be hesitant to invest in an Autonomous Pod before actually experiencing it for yourself. 
Fortunately, you can schedule an Autonomous Pod tour to try out one of our world-class pods. Choose from a Work Pod, Gym Pod, or Game Pod to suit your needs. If you need more information, you can book a call from one of our agents or find answers using our live chat feature.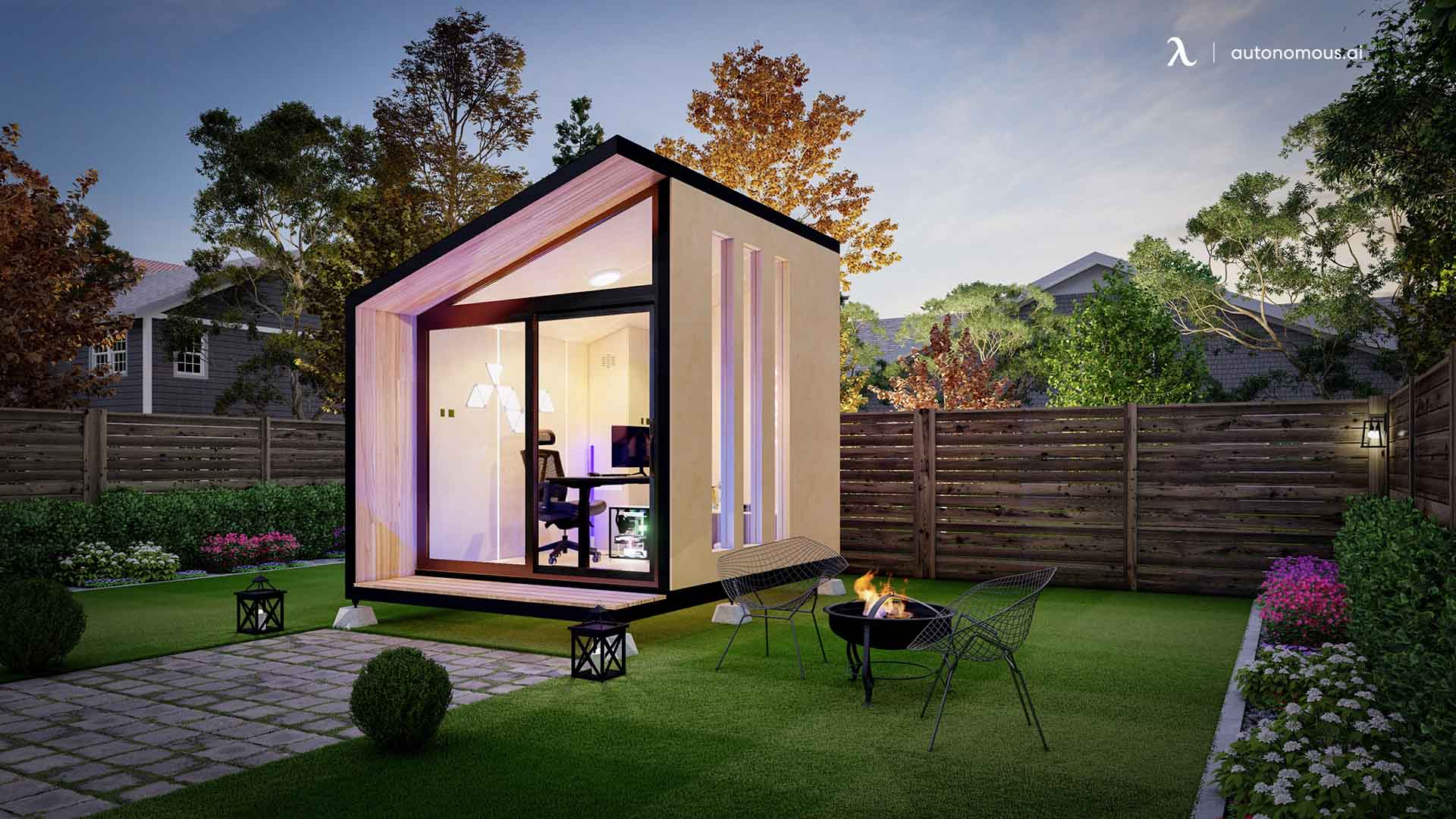 Final Thoughts
The prefab office provides a quiet, dedicated space for you to work productively without the business, noise, and distractions of the outside world. If you are hoping to transform your backyard into a productive work zone, you're sure to find the right prefab office to help you do just that on this list.
Keep up with Autonomous news
Stay informed, stay inspired with our new blogs.
WRITTEN BYAutonomous
We build office products to help you work smarter.