Workplace Inspiration
25 Fantastic Small Backyard Ideas for Fun and Function

Autonomous
|
Oct 19, 2022
1,192 Views
Small backyard ideas are tricky to think of as they require a smart design. Living in an area with smaller outdoor areas is simple for people who practice this on a smaller scale. You can create a fantastic backyard with trees, plants, patios, seating areas, and even water features. 
The little plot of land will transform into a backyard oasis before you know it. Whether you want to host friends or value having a peaceful retreat in nature, you can customize your backyard to meet your needs. 
What Is the Cost of Landscaping a Small Backyard?
On average, homes with a lawn area of 0.25 acres should expect a budget of $10,000 for landscaping that uses a professional design and various materials. There are two methods for landscaping a tiny backyard when you have a smaller area to work with. 
First, having less space to fill can make it simpler to stay within your budget for landscaping. You can significantly change the environment of a small yard without making a substantial expenditure, particularly if you combine perennial flowers, durable xeriscaping components, and DIY projects. 
The other strategy for a tiny backyard is to spend more money on hardscaping elements. Since there isn't much room, excellent gardening can actually serve as the focal point and leave a lasting impact.
How Much Decking Should You Do in a Small Backyard?
While having a stable place to sit is important, make sure to allow as much room as possible for planting. Frequently, borders around the perimeters are harsh, giving the plants little opportunity to grow. It's also great to have a lot of unsurfaced soil for rain runoff to prevent the decking surface from becoming slippery. 
25 Small Backyard Landscaping Ideas
Here are the top 25 tiny backyard ideas that will brighten up your little space and make it appear larger. 
1. Save Space with a Built-in Seating Space
If you don't want to frequently run into lounge chairs while walking in your small backyard, you can save space with built-in seating. You can increase your entertaining options without sacrificing usable center area with built-in seating around the circumference of a deck or of the yard itself. 
2. Backyard Office Pod
Use your personal office to take full advantage of the shift to remote work. Create a backyard office pod that accommodates the office's needs and the casual remote working lifestyle to keep work and home life separate. The office pod will liven the backyard and make it appear bigger. 
3. Define the Space with an Outdoor Floating Deck
Who says a deck must be placed right off the house? You can give the impression of a larger yard by nestling a floating deck into a yard corner. Add a canopy to the level platform for a close-to-home escape or a bistro table and chairs for a cozy spot to enjoy your morning coffee. A simple, 10-by-10-foot wood deck costs approximately $2,000 to build. 
4. Add a Water Feature
Adding a huge swimming pool to a small backyard just for aesthetic purposes is not what we are talking about! An invitingly cool pool with virtually flat edges and surrounding paving will be a great small backyard design. Although you won't be practicing for the Olympics here, it gives the basic courtyard a calm, meditative vibe. 
You can still choose an in-ground option if a hot tub is more practical in your space than a pool. It has the added advantage of keeping the visual space open and giving the illusion that the yard is larger than it actually is.
5. Include a Multipurpose Outdoor Bar Cart
If your backyard is too small for an outdoor bar, do not worry. Use a cart that can withstand outdoor weather conditions to create your own remote drink station. Add your preferred drinkware and refreshments for convenient access during a backyard gathering. 
This temporary small backyard design can be removed by rolling the cart into the garage when you don't need it. Use it as a garden cart when it's time to plant or fill it with food if the children are hungry after a long day of outdoor play. 
6. Small Backyard Design Ideas with Large Plants
Don't be afraid to cover the entire backyard with big plants and leaves. If the boundaries disappear behind them, the space will appear larger. The evergreens will maintain the effect all year long. They will appear much taller and more jungle-like when planted in raised beds. 
7. Design an Entertainment Area
Offering an extra place in your backyard for entertainment is one of the best tiny backyard ideas that expand your home's living space. You can easily create a go-to hangout spot in a tiny space. All you need are lounge chairs, level seating space, and lights. Consider getting a fire pit or having an outside television installed by a professional for better impact when your friends and family have gathered. 
8. Invest in Potted Herbs
We've all come around to the idea of growing our own food, but sometimes there isn't enough room for vegetables. You can always accommodate some potted herbs in your outdoor living area, considering there is sunshine for the entire day. 
Most herbs look lovely, have blossoms that attract bees and other insects, and require little maintenance because they often grow in sunny climates.
9. Create a Vertical Garden
Adding more greenery can brighten a backyard with a concrete driveway or no area for plants. With this small backyard design, you won't have to give up valuable square footage for landscaping in your tiny space. Installing vertical planting boxes in your backyard will help you make the most of every square inch. 
This low-maintenance, space-saving choice allows you to grow flowers, vegetation, or seasonal plants by attaching them to the back of your home or a fence. 
10. Expand your Walkaway Space
If your backyard is too small to use any of these small backyard landscaping ideas, look beyond your yard space. Use the room on the side of your house to expand your garden area, add a walkway, and construct a front privacy fence to make it feel more like a private getaway. 
11. Entertain Your Friends and Family with an Outdoor Kitchen
Outdoor kitchens can cost up to $13,000 on average. However, with a small backyard, your tiny, minimalist kitchen will cost around $4,500. An outdoor kitchen is practical and attractive in all the right ways if you intend to host outdoor dinner parties. 
12. Create a Bistro Corner
A bistro set will make an excellent small backyard design. Even though it barely has room for two people, it's a quiet place to read a book, enjoy some sunshine, or have coffee with your partner. You can elevate any room with this seating arrangement, whether it's perched on a modest patio or an apartment balcony. 
13. Go for a Uniform Look
If you're going to use containers, make sure they are all the same size, color, or material. Otherwise, the area will appear crowded and messy. It is better to use vibrant colors in neutral containers, or if you choose bright containers, keep your planting palette muted. 
The larger the container you can accommodate in your area, the better. If your plants are voracious feeders, like trees and bushes, you can always cover the bottom half with polystyrene.
14. Build Terrace Garden Beds
A tiny backyard can appear even smaller if there is a large slope. Give your backyard aesthetic appeal by hiring a skilled landscaper to build terraces into the slope with suitable retaining walls in place. You can take it a step further by adding flowers or evergreen bushes to the terraces. 
15. Add Some Statement with Lighting
A decent lighting setup will encourage you to stay outside after dark during the summer and will also produce a stunning scene to enjoy during the winter. It will also emphasize unique plants and elements in the backyard. In addition to illuminating the seating area, some lights can also function as infrared warmth and a Bluetooth speaker. 
16. Mix Ground Cover Material
It's time to mix things up if you have a little backyard that is entirely covered with the same kind of ground cover. The yard will feel much more unique and intriguing by visually dividing up the texture of the land cover landscaping materials, including a combination of pavers, rock, turf, and decking.
17. Make Different Entertainment Areas
Consider how your house and yard complement one another and choose how to divide the landscape to best meet the needs of your family. Then, divide up your limited outside space into various zones. You can create a separate play area to keep children safe and add defined seating sections to protect the patio from looking crowded. 
Repurpose unused space by dividing a single area into two separate areas. Separate the deck and patio to create a luxurious lounge or sunbathing area during the day that transforms into a wining and dining area at night. 
18. No-mow Backyard
The grass always looks greener on the other side of the fence, unless you own this no-lawn, no-mow yard, and leisure area with a fire pit. Surround this stylish enclosure with a contemporary black fence and exchange the traditional lawn with gravel turf. 
19. Include a Multipurpose Wooden Pod
You can get a wooden pod for the garden that provides a personal space outside the house, away from the chaos of kids or the stress from work. The pod is big enough to suit your individual indoor workout, whether you're lifting weights, practicing yoga, or taking your preferred online Zumba class. 
20. Add Some Color Pops
Even if your backyard is small, you can still decorate it with colorful decorative items. No matter how tiny the outside space is, functional decor items like patio furniture sets, backyard rugs, and vibrant planters will help liven it up. Don't forget the shade, either! All it takes to avoid the sweltering days is an outside umbrella. 
21. Upgrade the Backyard Landscaping
You can transform a tiny backyard from one zone to another by changing the flooring or landscaping materials. This area can be used as a play area, a gathering place, or a grilling area. 
Gravel and mulch are low-cost options for separating different areas in your backyard. If you're seeking materials that are easier to maintain, concrete slabs or bricks are easy to clean but more costly to install. 
22. Take the High Ground
When you add a raised deck in your backyard, all eyes will be on it. In addition to making a remarkable aesthetic contrast from the surrounding greenery, the elevation, and the roomy area below it provides the ideal environment for homegrown plants to thrive. 
23. Build a Prefab Office Space
There are several advantages to selecting an office pod for outdoor spaces, even though many workplace pods are built to use indoors. However, you can use a prefab office backyard to create a productive environment within the property. 
The past two years have seen a rise in the popularity of prefab backyard studios because these structures offer an advantage that modular structures do not. You can set up and install a prefab studio quickly and easily while making your backyard appear bigger. 
With remote working becoming the norm, it might be a wise choice to invest in a prefab ADU with ergonomic chairs and comfortable furniture. 
24. Use Your Front Yard
The backyard has a lot of appealing features, including privacy for gatherings. However, if you're short on space, consider using the front yard as an additional area. Think about adding an outside swing, a reading nook under a tree in the front yard, or some chairs for a private chatting area. Employ all your outside areas and engage in the bustle of life on the street.
25. Snug Sanctuary
Your yard can always accommodate the conveniences of a home with a patio. Even though this patio will be small, it exudes a regal and peaceful ambiance with raised flower beds to maximize space. Add some unfinished wooden seats with velvety cushions for the extra royal appearance and pamper yourself with refreshments in this area. 
Conclusion
Get working on your small backyard design ideas and take inspiration from our recommendations. These 25 fantastic small backyard ideas, from vertical gardens to no-mow lawns, will offer nothing but excellence to your house yard!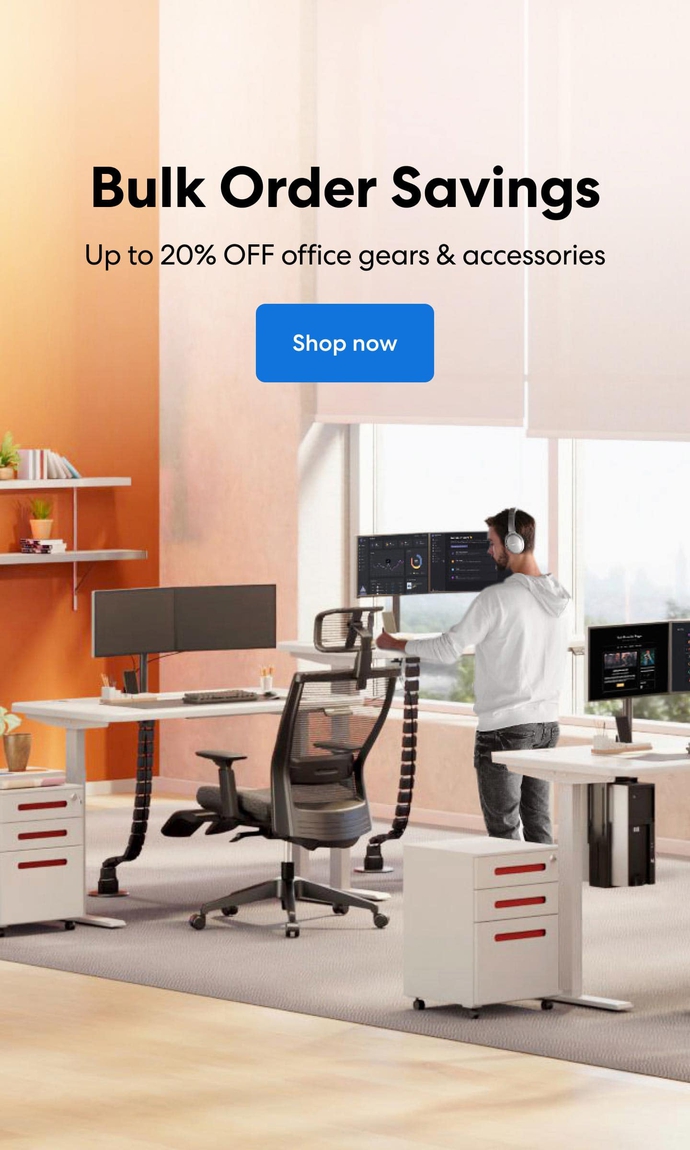 Subcribe newsletter and get $100 OFF.
Receive product updates, special offers, ergo tips, and inspiration form our team.