Smart Products
27 Perfect Outdoor Office Sheds & Pods for Working at Home

Jessica Martinez
|
May 1, 2022
12,295 Views
Working at home means you have to consider many things, including your workstation itself. However, there is an easy solution many workers are going for: having an outdoor office shed. It allows you to enjoy your time outside while you're focused on your job, and it might give you other benefits as well.
A work pod is a versatile, private space that arrives fully equipped and set to use right away. Such units come with acoustic interiors with antimicrobial materials, which can be accessible on one side or entirely sealed on another. Electricity and lights are also provided in the pods. In addition, you can relocate them anywhere you need them because they arrive with their furnishings. And, even if you don't need one immediately, an office pod is a worthy investment.
Although there are various advantages to using an office pod or converting an outdoor shed into an office, the most important purpose is that these allow you to concentrate better. For example, you could prepare presentations in a soundproof office pod while avoiding interruptions such as urgent phone calls or due dates.
A privacy pod will be more effective and productive, but it will also be visually appealing, and it can also save your company money over time. The area would also be ideal for working on presentations. Since these pods or outdoor offices are so simple to use, you can count on them for a long time. This guide offers the best advantages you could enjoy, as well as a list of the top options to go for on the market.
The Benefits of Having a Shed or Pod for Remote Work
With the rising popularity of remote work, it's no surprise that garden office shed options are becoming more famous every day. Many workers want to enjoy the benefits of having a outdoor office shed, which can range from making your life easier to allow you to save some money. Here are some advantages of working in a garden office shed: 
1. It Makes Hybrid Work Easier
Working in a premade shed means you can balance your daily tasks better, especially if you're part of a hybrid workforce. Each time you need to sit down and complete your activities, you can do so while being completely away from your usual surroundings inside of your house. 
Hybrid work means part of the workforce has to go on-premises, whereas others need to work from home. When you're part of the second group, you might need to quickly set up an office that has everything – fortunately, pods make the process much easier. 
2. You Can Build Your Personal Workspace
One of the most important aspects of working from home is building your own workspace. In many cases, people make the mistake of trying to complete their to-do's from bed, wearing pajamas, and putting their laptop over their torso. 
Workers who spend hours in inappropriate conditions may feel pain in their back, neck, shoulders, and legs. At the same time, you might spend a lot more time trying to complete your daily tasks since you don't have everything you need near you. 
With a personal workspace, however, you can easily have access to the items you require to do your job (for example, documents, pens, etc.), and also make sure your body does not suffer in the process.
3. It Promotes Work-life Balance
If you need to work from home, you might not know how to draw a line between your homely surroundings and your work. However, a pod smoothens the process since it lets you delimitate the exact place where you're supposed to do your job, and it contrasts it to other spots where you can enjoy your leisure time. 
On many occasions, assembling a pod in your backyard or garden means you can have a separate space to rest. You can even organize your surroundings to arrange a small lounge area, and whenever you need to take a break, you can sit there and relax for some time. 
4. It's a Low-cost Option
Unlike building an office from scratch, a garden office shed is easy to assemble and usually not so expensive.  
Some workers enjoy assembling their workstations by buying luxurious items, but that is not everyone's case. On the contrary, you might prefer going for a low-budget alternative to make sure you save as much as possible. 
Luckily, an outdoor office shed might be the best option in the long run. Although it may seem like a large sum to pay at first, if you compare it to other alternatives, you may quickly notice that it's more budget-friendly. 
List of Outdoor Office Sheds and Pods
Now that you understand all the benefits of having an outdoor work pod, take a look at the best options on the market: 
1. Autonomous WorkPod
The first alternative is by none other than Autonomous, one of the best brands to give you home office solutions.  
Often known for its high-quality chairs, this brand now offers you a work pod that might be what you're looking for in your garden. The Autonomous Pod comes available in different options, and you only need to choose the one that fits your needs the best.
With this home office shed, all you have to do is get up and start doing your job without worrying about your surroundings. You only need to choose the model you want, which makes the process more fun since you can personalize your results. To know more, you should book an Autonomous Pod tour.
2. Autonomous StudioPod
The StudioPod is a brand-new multipurpose space from Autonomous that can be installed in your backyard. Whether you want a backyard studio for business or gaming, a prefab studio for working out, or a studio shed for the kids to play in, you can pretty much use this prefab shed for anything you can think of. The modern shed from StudioPod also has all the furniture and storage space you could possibly need, and it is totally furnished.
You'll be ready for anything with a wardrobe, a workstation, a bookshelf, a TV stand, a coffee table, and a sofa bed that can be converted.
3. Autonomous WorkPod Lite
First and foremost, for any ADU to qualify and make it onto the list of Perfect Outdoor Office Sheds, it needs to be built to last through the hottest, coldest, windiest, and wettest of seasons. Just like the WorkPod and StudioPod, the latest ADU offering from Autonomous is all weather proof and will protect you from the elements all year round.
WorkPod Lite's prefabricated foundation is expertly crafted out of solid steel framing, 2 layers of plywood, honeycomb paper, bitume, housewrap and vinyl. Vigorously tested and quality checked across multiple checkpoints during production, WorkPod Lite can withstand some of the harshest conditions.
4. Thinktanks Compact Office Pod
5. Thinktanks Quad Pod
6. Garden Studio by Serge Shoemaker Architects
Serge Shoemaker Architects is another brand that offers a garden office shed you should evaluate. In this case, the outdoor office pod is not simply a workstation – it can also be the ideal garden shed, storage place, or study.
The Garden Studio combines sleekness and the best features since its narrow design allows it to be very versatile. At the same time, since it's narrow, it can fit even if you don't have much available space. 
7. Pod Space's Custom Mini Pod
There is something about small, enclosed spaces with elegant designs that attract many people's attention. Thus, the Custom garden office shed by Pod Space is one of the best examples of that since it features beautiful shapes and eye-catching colors, which is one of the main reasons why some customers choose it. 
However, Pod Space's Custom Mini Pod is more expensive than other backyard office pod options, so you should make sure you're confident about your choice before you buy it. Otherwise, you might spend unnecessary money. 
8. Pod by Office in My Garden
Office in My Garden has become so famous that it's now one of the most recognized options to get a custom-made, top-of-the-notch pod for your backyard. With this brand, you don't need to choose among catalog alternatives – instead, you can have professionals build your design. 
Experts behind this brand give you many garden office shed options to choose from, but you can also ask for specific requirements. Most designs combine functionality with elegant lines, so whatever you decide, the outcome might be fantastic. 
9. Green Studios' Garden Office Pod
Green Studios offers some of the best options you might want to look into if you're looking for a modern backyard shed. While finding the best pod for your garden office shed might not be challenging at first, when you're looking for specific styles (for example, a modern look), you may need designs that have certain features. 
The Garden Office Pod uses wood planking, so its design is immensely attractive and eye-catching. Since it's also sturdy and trustworthy, you don't need to worry about it being in danger under poor weather conditions.  
10. Neil Dusheko Architects' Office Pavilion
A simple design can work for anyone, and that's exactly what you can get if you buy Neil Dusheko Architects' outdoor office shed. 
Even though it looks like a straightforward wooden structure, this office pod includes bold glass walls. Thus, they give the garden office shed a contemporary twist, and that might work fantastically if you're aiming for a modern-style office. 
11. Office Shed with Bike Storage by Green Studios
As it was mentioned before, Green Studios outdoor office shed offers more than one outdoor work pod you should check out, especially if you need a workstation that serves different purposes. 
The Office Shed with Bike Storage can become your hub to complete your daily tasks, but it can also be the ideal place for you to store your bikes. Once you're done with work, you can put your sneakers on and ride for some time to relax and unwind. 
12. Wahind Gohil Architects' Garden Office with Green Roof
An office in your garden can always serve more than one purpose, but if you don't have much space available, you might not know how to make things work. Fortunately, with the option by Wahind Gohil, things are much easier. 
This is a garden office with a green roof, so at the very least, you can have a roof garden. Additionally, its color helps isolate the heat, and that's immensely convenient if your pod is going to be under the sun. 
13. Backyard Office by Inoutside
Featuring beautiful wooden planks, Inoutside has a collection of outdoor office shed options, which includes the Backyard Office.  
The Backyard Office has sliding glass doors with black steel frames. Furthermore, it has several windows, and that allows you to take advantage of natural light sources while you're working during the day. 
14. Peter Guthrie's Modern Office Shed
Unlike other extravagant designs, the outdoor work pod by Peter Guthrie is a clean and modern home office. 
It doesn't have any details, colors, or patterns, which might be something many people don't enjoy. However, if you're going for simplicity and functionality, it may be the ideal option. 
With straight lines and sleek wood as its primary material, Peter Guthrie's outdoor work pod might be your favorite since its simplicity is what makes it a truly beautiful option. It doesn't need much for it to be effective – it has glass doors, it's sturdy and can endure different weather conditions, and it's elegant. 
15. Pod Space's Micro Max Pod
The Micro Max outdoor office shed is another garden office shed option, and this one is particularly special since it offers something that most of the others don't: underfloor heating. 
If you want to experience the comfort of working without your shoes on, underfloor heating might be essential. Moreover, the Micro Max Pod offers you other benefits as well, such as a glass door, a window, and a white interior. 
Even so, keep in mind that the Micro Max Pod is smaller than other alternatives. Thus, it might not be the ideal option for you if you need more space, or if you're planning to get big furniture. 
16. KitHaus' Modernist Garden Office
Many contemporary home office sheds might remind you of small houses you've seen in movies. Although it may be hard to believe, KitHaus is a brand that specializes in building these structures, and their Modernist Garden Office has quickly gained popularity due to its fun and beautiful design. 
The Modernist Garden Office is the ideal example of a multipurpose outdoor office shed. You can organize your workstation on the inside and take advantage of the place's roof to assemble a lounge area outside, which might be ideal if you want to take naps while you have your breaks. 
17. BLOOT Architecture's Garden Pavilion
There is one more outdoor office shed on this list, and it's the Garden Pavilion by BLOOT Architecture. It uses sturdy materials to give you a useful and sleek home office shed, so you should keep it in mind and add it to your list. 
This outdoor office shed option is one of the simplest ones you could go for – its wooden planks are a beautiful brown color, it has black metal frames, and it may give you enough space for you to organize all your items and home office furniture. Lastly, it has a cube-like structure, which helps you eliminate distractions!
18. Garden Office by Sett Studio
Another fantastic prefab office pod option is Sett Studio's Garden Office. It's immensely stylish and uses energy-efficient materials, which makes it ideal if you're looking for an environmentally friendly option. 
The beauty of this pod is that it's both simple and elegant, and it gives you the perfect balance between work and leisure time. With it, you can remove distractions, focus on your work, and still rest whenever you need to.
19. Studio Shed Home Office
The Studio Shed Home Office is a modern outdoor office where you can choose to build an external workstation where you can complete your work sessions without being interrupted by anyone or dealing with external noise.
 It is equipped with window and door configurations that allow you to let in some natural lite or eliminate it completely. Furthermore, the company offers the opportunity of choosing third-party vendors if you want to customize the interior according to your preferences. This is one of the most luxurious sheds you can choose from in today's market. 
20. Sett Studio Garden Office
Sett Studio has brought us one of the best outside office sheds you can choose from in today's world. It has a tall window that allows the user to observe the exterior. Furthermore, it has structurally insulated panels (SIPS) integrated, making it an energy-efficient option for those that would like to reduce their carbon footprint but also would like to have a comfortable space to work privately.
This studio is stylish and quite spacious, despite the small look. It was originally designed for a photographer who wanted to work without distractions while also having a space where they would work with their clients.
21. Titania Insulated Garden Office
Another good option for a garden office is this office shed by Dunster House. It is spacious enough for you to keep all the office furniture you need. Furthermore, it has Polyisocyanurate insulation, which can contribute to your comfort in the long run.
In addition, this DIY office pod has a 10-year treated timber guarantee. Hence, your purchase will be protected in the future.
We recommend this garden office pod for people that would like to have some extra security in their external workspace. It includes a 12-point locking system that will keep your outdoor office as protected as possible while you're not home or even while you're using it.
22. Snug Garden Room by Solid Sheds
The next option comes from a renowned office shed brand within the UK. This option has a traditional cottage look, making it attractive for people that prefer a "cozier" appearance.
It's an excellent option for those who would like to acquire an affordable outdoor home office. Don't be fooled by its affordability – this backyard pod is actually quite resistant and very spacious. You won't feel isolated or "trapped" while using it. It's one of the best cost-effective options for an outside office shed you can choose in today's market.
23. Eco-friendly Garden Pod PopUpHut by Summer House 24
Although this outdoor home office pod is advertised as a space where you can rest from the bustle of your everyday life, the truth is that you can use it for whatever purpose you'd like. It has measurements of 13.2 m2 (or 6 x 2.5m), making it possible to build a very spacious and functional workspace with all the necessary things you need.
Whether you'd like to build an art studio, a home office, or perhaps a guest accommodation, this garden pod will provide you with all the space you need. Although it's a bit pricey, it comes with a 5-year guarantee, and it is one of the highest-quality pods we've listed!
24. Garden Pod by Key Studio
This 2.1m2 garden office pod is another great choice for those looking for an outdoor, low-cost home office. It's possible to arrange it as you please. Plus, it's characterized as being extremely durable and rigid, so you can be sure it'll accompany you for several years. It's one of the best options for those who want a private space but are on a budget.
25. The Log Cabin by Solid Sheds
You can choose this option if you want something with a more "traditional style." Although it is a bit pricier than the other Solid Sheds office shed we mentioned, it's still worth looking at. It is also a bit more spacious, allowing you to place more pieces of furniture and play around with the layout with more freedom.
Hence, if you would like a shed that has a cozy atmosphere and allows you to try different workspace layouts, this one might be the one for you.
26. Corner Summerhouse with Side Shed by Waltons
This option is quite spacious. It is a product manufactured in the UK and is FSC certified. Furthermore, it comes with a 10-year anti-rot guarantee, making it a safe purchase.
Although it is relatively smaller than most of the options listed in this post, it can serve pretty well as an outdoor sleep pod. After all, not everything has to be about being productive – we all deserve a break now and then, and this garden shade provides just about everything you need to be comfortable during your free time!
27. Forest Xtend 3.0+ Insulated Garden Office
While this garden office pod is relatively smaller than the other options, it's still a good choice you can make if you're looking forward to having an extra space at home where you can work comfortably without interruptions.
It has SIPs integrated, making it extremely energy efficient. Furthermore, the company offers a 15-year structural guarantee, allowing you to keep it in the best shape possible in case something goes wrong. This outdoor office can serve multiple purposes, and the company also offers installation if you don't want to do it yourself.
Things to Consider When Buying an Outdoor Office Shed
Purchasing an outside office shed is not something you must undertake on the spur of the moment. However, there are several things to think about before you start. If you don't want to come to despise your decision later, keep the following considerations in mind.
Make a Budget
The very first step is to determine how much cost you are willing to invest in your outdoor office shed. If you don't know how you're doing it, you could perhaps encounter situations where you find your ideal structure but probably couldn't afford it. However, you will forgo financial issues and dissatisfaction in the near term if you start with a budget. Your budget would also assist you in determining the size and contents of your new workplace.
Determine the Space You Have
A backyard office is not possible if you have a very tiny area. It would help if you collected some measures before even thinking about acquiring one. Outdoor shed offices may compliment your current landscaping when put in the correct spot. You probably don't think of a pleasant image when you think of a garden shed. Yet, on the other hand, they are much more contemporary and available in various styles.
This implies that you must first choose the appropriate size for your area just before you consider purchasing a garden office. If you select anything overly large, it may take up all of the available space or make the entire area seem claustrophobic.
Determine how you Access the Garden
An outdoor office can be supplied fully assembled or in components. It should also be simple to provide a completely completed garden office whether you have quick access to your yard, such as a huge gate. If the entrance is simply a tiny one, it may have to be delivered in sections. There is no entry in some circumstances. Cranes may be necessary for this situation. You should keep in mind the design specifications since these may increase the expenses. You'll need to set aside money for it.
Whether it requires Construction
You'll need to conduct some little building work to build a garden office. If you want this structure to last the ravages of time, you must have the proper fundamentals. It entails preparing the region in which the system will be erected. To accomplish so, you'll need to research creating a foundation and then get to work. The firm from which you are purchasing the garden office may be able to assist you.
Consider Your Day-to-day Requirements
Remember to check specifically what you want and need an outdoor workspace before deciding on one. If you require the room for work maybe once or occasionally during a week, you may not need to spend the most money on the largest one accessible. Yet, if you plan on spending much time there, you may want a larger place. You'll also have to think about what you'll put in there. The whole of your office furniture and gear must easily fit. If you feel stuck within, it won't assist anybody.
Must Haves for an Outdoor Office Pod
To make your outdoor office shed a functional and versatile space, you must invest in the right kind of furniture, ranging from ergonomically designed desks and chairs to shelving options. You must also make sure that the furniture you choose for your shed is perfect. Here are a few must-haves for outdoor home offices:
Proper Seating
Pain and long-term problems might come from office chairs that don't give adequate support. That's why you should invest in ergonomic chairs such as the ErgoChair Pro that assist people's balance and enable them to customize their seats to their preferences. With so much depending on the sort of seat you select for your crew, it's critical to comprehend the advantages of the chairs you're considering. Make sure to evaluate seat dimensions, adjustment choices, arm alternatives, or any other offered features. You can also get office stools if you are short on space.
Right kind of Desks
The form and dimensions of each office desk will be determined by how you want your workstations to be set up in your business. Corner desks may be the greatest solution for constructing pods of four workstations. You'll also need to know how big every workstation should be to ensure that you can work comfortably. A little bigger desk will be required if users want several displays or room for extra equipment. You can also opt for the SmartDesk Core if you want a desk with numerous adjustability options. 
Appropriate Storage
It's simple for papers and material to start piling up if you don't have anywhere to store them in, which can lead to a dangerous situation at your business. Adding shelving to your garden office shed will keep it neat and clean. Still, it would also help you establish the correct appearance for your entire office accessories, which would be vital if you have customers or other businesses that visit frequently.
Keynote Takeaways
Finding the ideal home office shed requires you to examine different options and choose one that works for your backyard or garden. However, since there are so many fantastic alternatives, compare the 15 best ones on the market and pick the best one for you!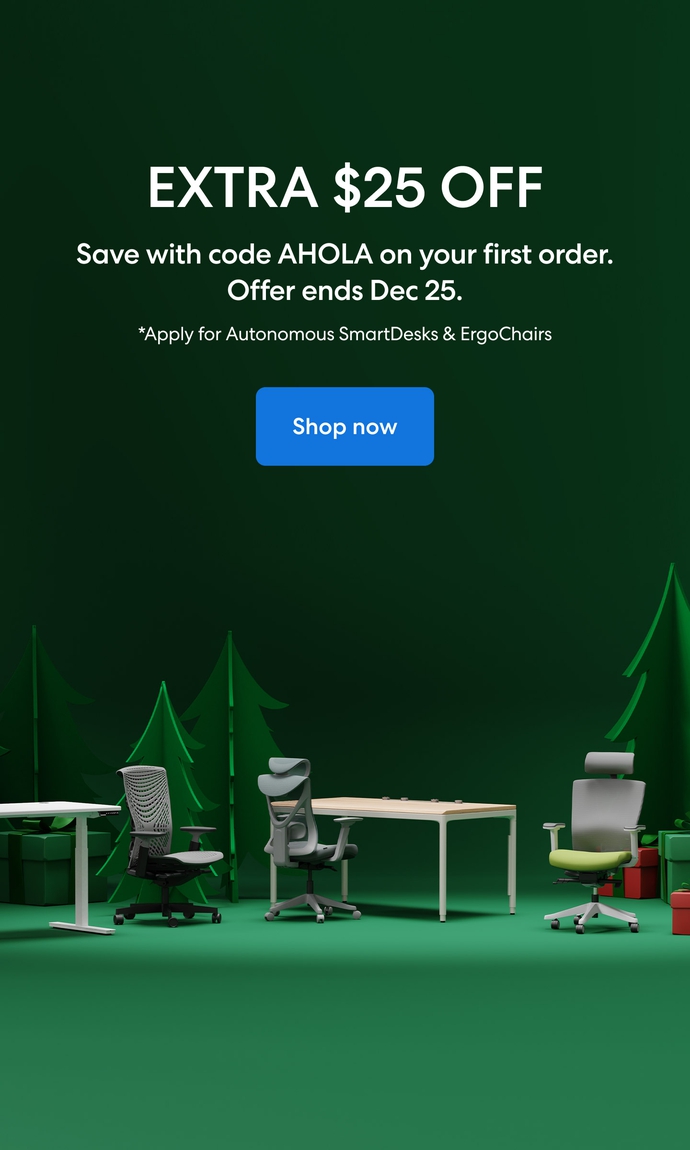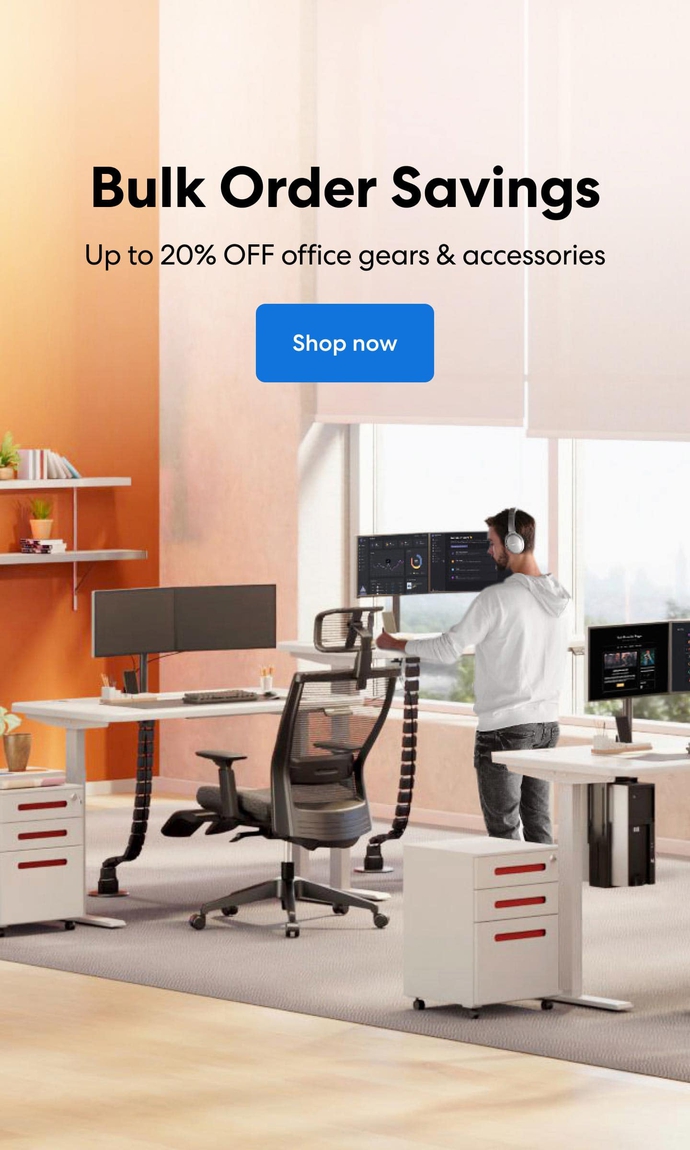 Subcribe newsletter and get $100 OFF.
Receive product updates, special offers, ergo tips, and inspiration form our team.