Smart Products
15 Prefab Office Pods to Setup Your Backyard Office in 2023

Autonomous
|
Apr 17, 2022
15,296 Views
Do you have a home office? If so, you're aware that staying focused might be tough because of so many diversions. That is why it's crucial to have a dedicated workplace like a backyard office pod, ideally independent of the remainder of your house. From our outdoor workspace ideas, a workplace pod is an excellent alternative for a private home office.
The pandemic has ravaged the world in the last two years and has made people re-evaluate their relationship with their working from home office setup. When COVID-19 struck, it sent millions of office workers home for many months, and since the time of writing, not much has changed. You might be wondering how to take advantage of the current situation, which is why this article was written for you today. 
Nowadays, prefab office pods have become much more popular for working remotely and are a new way to filter out interruptions because you can be creative and productive. There are several different types of prefab backyard office pods available, making deciding which one would be right very tough. Therefore, we have listed below some of our favorite office pods for you to try.
What Is the Silver Lining in All of This?
There is an opportunity to build your workspace right at home if you have a big or small backyard. If the thought of taking a 20-step commute and throwing on your leisurewear in the morning sounds like fun, then keep reading. 
In some cases, a home office pod is just a dream for most people, but today, we discuss how to turn your backyard into a workspace for the lucky few who can. Even for those ready to get back to the primary office to meet with the team, this new-age hybrid work model means most time may be spent at home working. 
It might be good to build a well-designed outdoor space that includes furniture for the office pod that meets ergonomic requirements. 
Office Shed vs. Backyard Office
If a prefabricated office pod sounds boring to you, be aware that this term can help you significantly narrow down your search query. These are called backyard office pods, which sounds much more straightforward than the latter. 
Since the pandemic is upon us, we assume most individuals want something in their backyard that is plug and play. It needs to be something that doesn't require contractors, months of planning, and permits. 
One of the best bets is buying a prefab backyard office that can be set up on your own, or it can be shipped fully assembled. In a worst-case scenario, you could set up your new office shed within a few days with the help of a friend. 
Let us give you more information about how a prefabricated outdoor office pod works and view some of the best ones on the market.
15 Prefab Office Pod to Setup Your Backyard Office
We've gathered several of the most stunning backyard office pods and sanctuaries from across the world to inspire you in creating the office of your goals.
1. Autonomous WorkPod
If you are looking for the epitome of excellence, you have come to the right place. The Autonomous WorkPod is the perfect solution for anyone working from home and looking for a quiet place to complete their projects. 
This backyard office pod is 100 % soundproof to ensure no disruptions when working long hours. 
What is excellent about this soundproof workspace is that it comes with a three-year warranty on all its parts. Another incredible thing about it is that it's meticulously manufactured; like all products from the company's factory, you can expect top-class quality. 
Adding an electric standing desk or an ErgoChair Plus to the mix can open up a world of possibilities and ergonomic comfort, so consider this if you have some extra cash to spend. Two people can assemble the prefab backyard office in one afternoon because it comes with pre-cut parts and includes an easy-to-understand instruction manual.
Dimension
8'6''W x  11'9''L x 11'H
Ceiling height
6'10'' to 9'4''
Window material
Wooden frame, 5/16" tempered glass
Door material
Anodized aluminum frame,  5/16" tempered glass
Material
Siding: bitumen, housewrap, vinyl silding
Roof: bitumen, housewrap, shingles roof
Floor: plywood
Balcony: composite wood
Include
Optional: SmartDesk Connect, ErgoChair Pro+, Dual Monitor Arm, Cable Tray, Steel Cabinet, Anti-Fatigue Mat. Always included: Electrical Cabinet & Bookshelf
Floorspace
98 square feet
Capacity
2.9 tons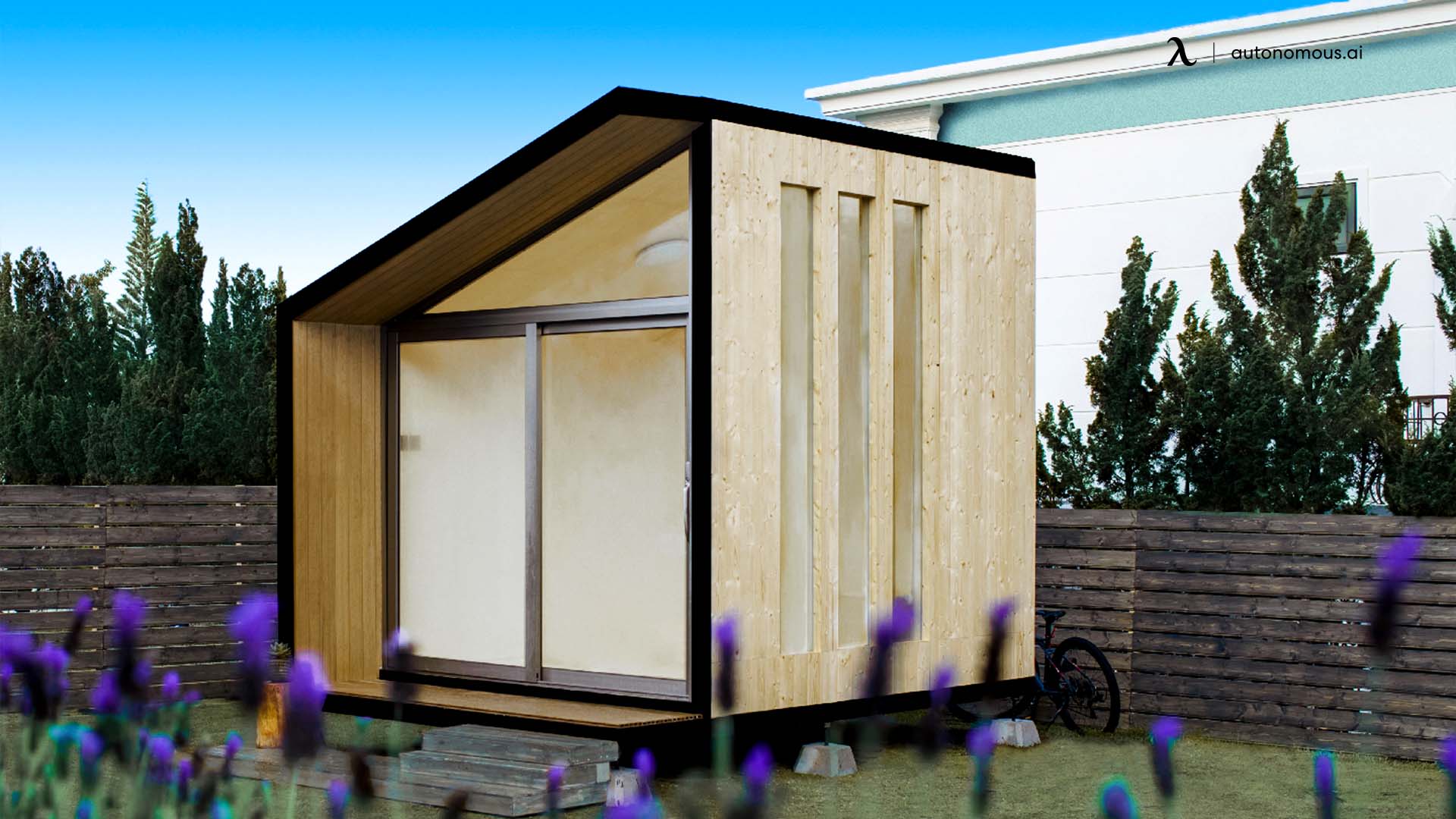 2. Autonomous WorkPod Lite
When planning for a small prefab cabin, the biggest hurdle is usually finding and preparing an adequate space for seamless setup and installation. Not everyone is blessed with a large backyard or an empty block of land that's perfectly cleared, perfectly level, and ready to build on top of. WorkPod Lite's clever design allows the compact ADU to be installed on pretty much any terrain.
While flat ground is always best for ease of assembly, one of the beauties of WorkPod Lite's foundation is its stability, even if the ground is not completely level. Thanks to its 4 height adjustable cement feet, MiniPod is suitable for common surfaces including brick, concrete, gravel, and grass. Its foundation is uniquely engineered to bear a total load of 2 metric tons without the need for ground fixtures.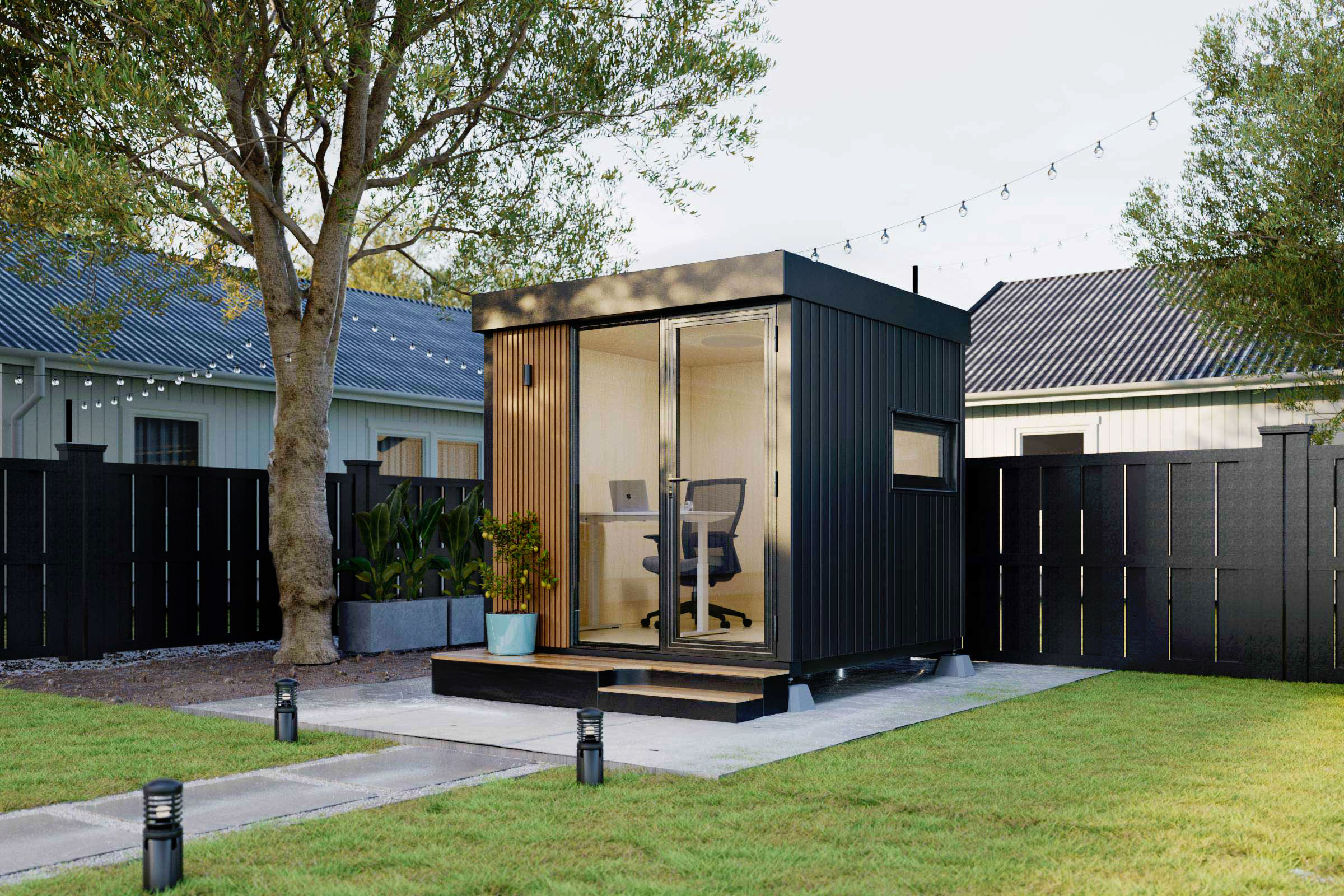 Dimension
8.7 W x 8.12 L x 9.3 H inches
Material
Window and door: powder-coated aluminum, 5/16-inch tempered glass
Siding: plywood 1/2-inch, steel frame, honeycomb paper, plywood 3/8-inch, bitume, housewrap, vinyl siding
Roof: metal roofing
Floor: plywood
Balcony and Pedestal: steel frame and wood plastic composite
Pedestal
24 W x 103 L x 9 H inches
Electrical devices
RCB, Wall outlet, Ceiling light switch, Ceiling light, Wall light, Ethernet wall port, 66ft power cable with 2 connectors
Weight capacity
2.3 tons (including Pod body)
Floorspace
80 square feet
Ceiling height
7.3-inch
3. Autonomous StudioPod
The StudioPod from Autonomous is an all-new multipurpose space that fits right in your backyard. This prefab shed lets you do just about anything you can think of, whether as a backyard studio for gaming or work, as a fitness prefab studio or a studio shed for the kids to play. The StudioPod modern shed also comes fully decked out with all the furniture and storage space you need. You'll be ready for anything with a closet, a desk, a bookshelf, a TV stand, a coffee table, and a convertible sofa bed.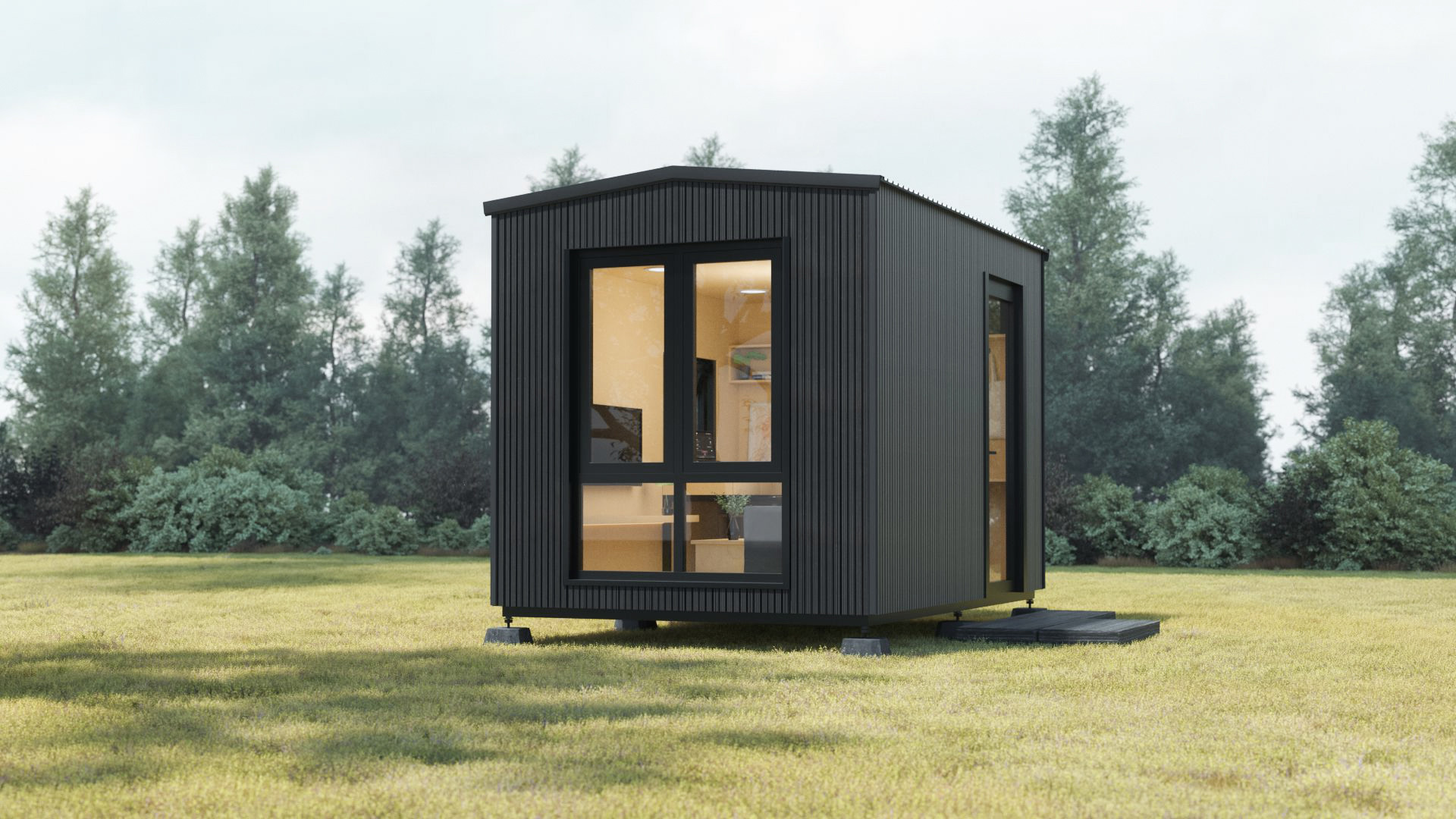 Dimension
8'4"W x 12'6"L x 9'10"H
Floorspace
105 square feet
Ceiling height
7'3"
Weight capacity
2.9 tons
Pedestal
18"W x 43"L x 7"
Window & door material
Powder-coated aluminum,  5/16" tempered glass
Material
Siding: plywood 1/2", steel frame, honeycomb paper, plywood 3/8", bitume, housewrap, vinyl siding
Roof: roof shingles
Floor: plywood
Pedestal: steel frame & wood plastic composite
Electrical devices
RCB, Wall outlet, Ceiling light switch, Ceiling light, Ventilator switch, Ventilator, Ethernet wall port, 66ft power cable with 2 connectors
Include
Optional: Cabinet, Desk, Small & Big Bookshelf, TV Shelf, Foldable Sofa Table, Convertible Sofa Bed. Always included: Electrical Cabinet
Power input
Maximum voltage : 110V AC (US standard)
Maximum current : 25A
Maximum power dissipation : 2750W
4. Quality Shed Studio
These Studio Shed backyard office pod models are from Quality Sheds and sell at a fair price for the modern balanced design. The sizes range from 8 x 10 to 12 x 24 inches, providing a good option for various backyard sizes or office environments. 
Its pricing goes up to $12,000 but could cost as little as $5,600 for the less expensive models, making it more affordable for people on a budget. Installation and delivery of a starter shed costs under $6,000, which is a pretty solid deal for anyone looking to invest in a work pod. 
Although not included in the package, a custom redwood deck can help add a premium look if you are not on a tight budget.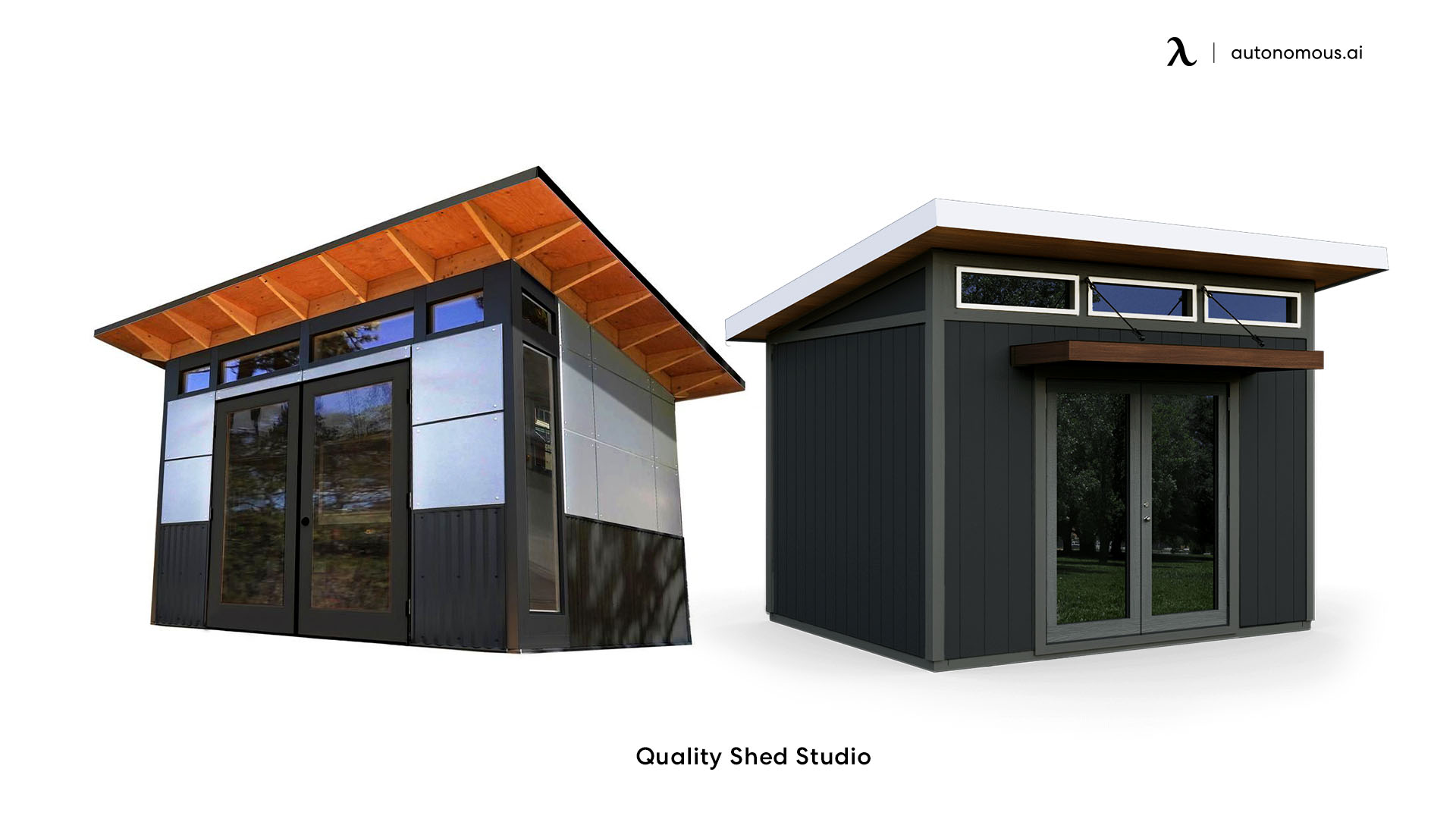 5. Yard Pods
This company is based in the San Francisco Bay Area and offers a massive range of custom or turnkey options to the public. We love the modern and simplistic look of these backyard office pods but bear in mind that the finishing placement options can significantly impact the final style. Be wise when picking a model so that you can get the perfect fit for your backyard. 
However, the Yard Pods don't come cheap, so you can expect a fully installed model to cost around $28,000 in the San Francisco Bay Area.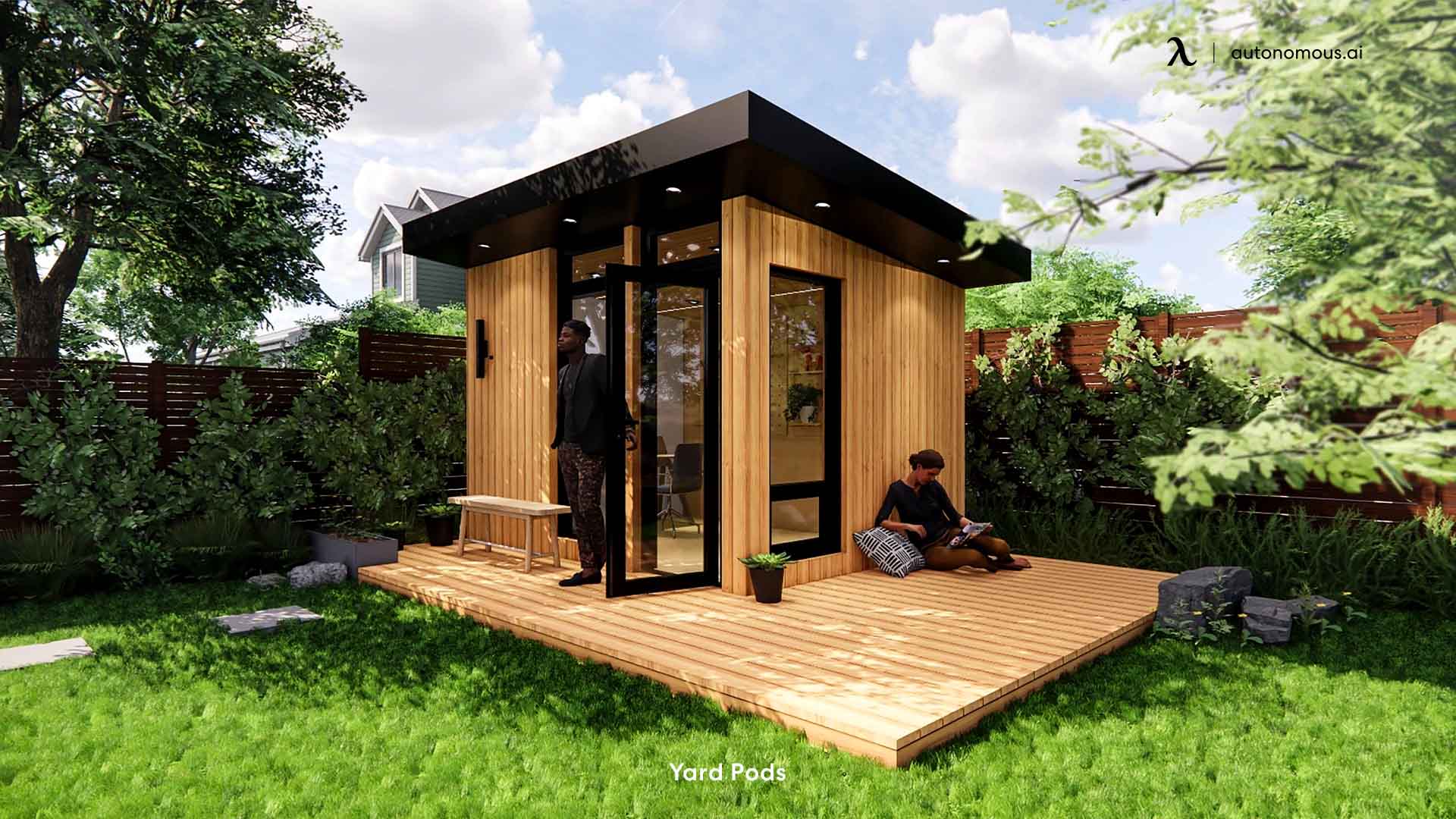 6. Office POD
If you want your home life and work environment separate from each other, the Office prefab office pod provides the perfect solution. The company has hassle-free service deals, including everything from installation to site surveys, which help to give the customer peace of mind when purchasing its new Office POD. Individuals planning to relocate can even contact the company for its POD relocation service, which can aid in moving the pod anywhere in the nation. 
The Office POD is beautifully built but small, so if you want to plop something down and get to work, it's the perfect fit for your tiny backyard. 
There is not much prior planning in most cases, which makes the Office POD the perfect plug-and-play workplace. Even in gardens with difficult-to-access areas, its modular design enables speedy construction with the ability to fit anywhere. 
It has been designed to provide optimal protection whether the Office POD is occupied or empty. The internal and external of this garden office pod look gives the user a great overall experience, and its extensive design turns heads. 
Overall, the backyard office pod's location has been a primary consideration when choosing the materials used to create this product. Sustainable, recycled, or recyclable materials have been used where possible, and manufactured parts are only used when performance requirements dictate. The Office POD passes the strictest energy performance tests with high insulation levels, an innovative cooling system, and low energy consumption.  
In essence, the Office POD is committed to further advancements and improvements; as technology grows, so do its products.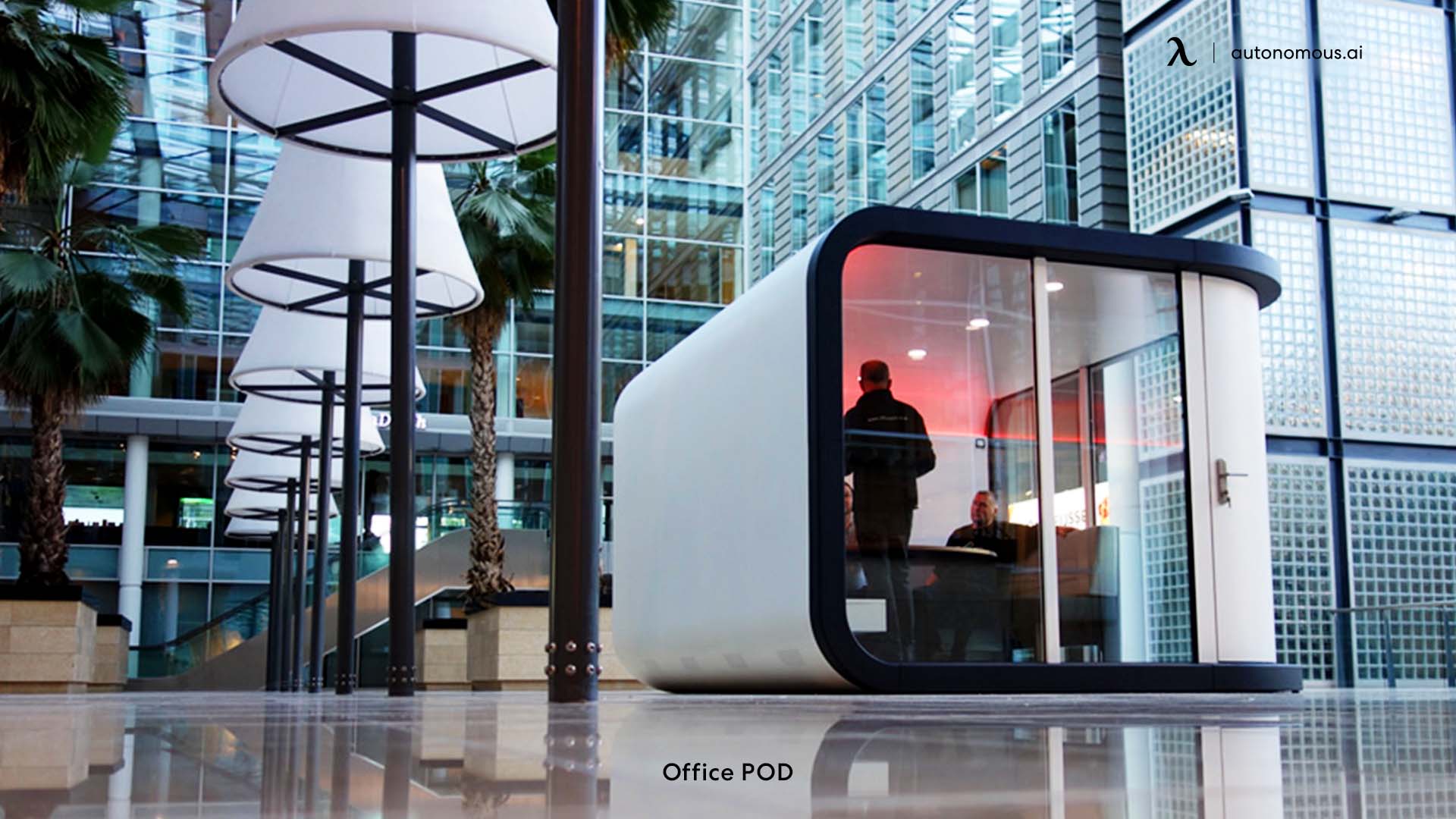 7. ArchiPod
We love the look and style of the ArchiPod because it is both modern and traditionally woodsy at the same time. It looks like a naturally sophisticated creature from out of the forest with its spherical shape and a swing-up door.  
Multiple benefits come from working at home, including saving on office infrastructure expenses, having more time with family, and saving on travel time plus costs. In most cases, setting up a comfortable backyard office pod requires money and ample space, but with the ArchiPod, it is so much easier. 
The ArchiPod is a mobile prefab backyard office that can be set up at the back of the garden or home. Its design, however, remains comfortable, and due to the size, it can even be used as a treehouse, meditation room, studio, hobby room, or playroom for the kids. 
The designer mentioned that the garden office pod is predominantly constructed from insulated timber and surpasses current building regulations. It doesn't matter where you live, as it's possible to fit this pod into the backyard because of its prefabricated sections, which allow you to carry all parts through the house. 
The roof dome's abundant natural light and unique shape make this backyard office pod look more prominent inside than out, which helps make it more inspiring when spending long hours inside of it.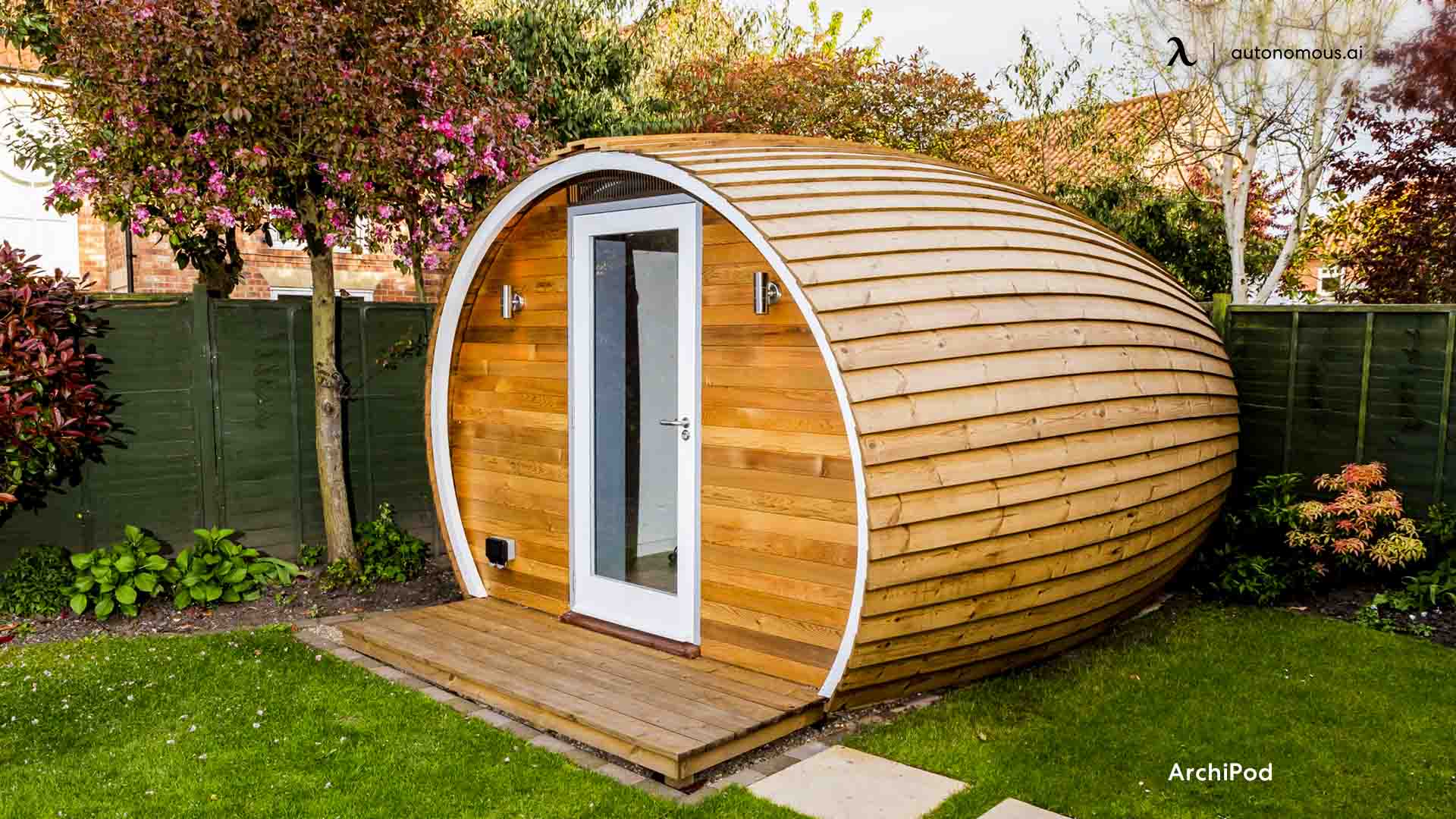 8. Leggo Pods
These Leggo backyard office pods are aesthetically manufactured to fit your home or backyard, providing a warm, vibrant feel for anyone using it. Smooth laminate floors give this outdoor workspace an elegant and natural finish, while Garapa hardwood clad covers the outside of the home office pod. 
This office pod for home is temperature-regulated during cold winter and hot summer months, making it great for all seasons. It manages to allow plenty of natural light in by using every square meter of window space to access the sun's rays. Inside the work pod, there is enough room for a second desk or a two-seater couch if you wish to make things more comfortable and cozier. 
There are charcoal mesh blinds that help stop the sun's glare from shining in your eyes, while the fitted LED lighting can brighten things up in dim conditions. WIFI and electricity are connected directly from the house to the pod and come at the user's expense.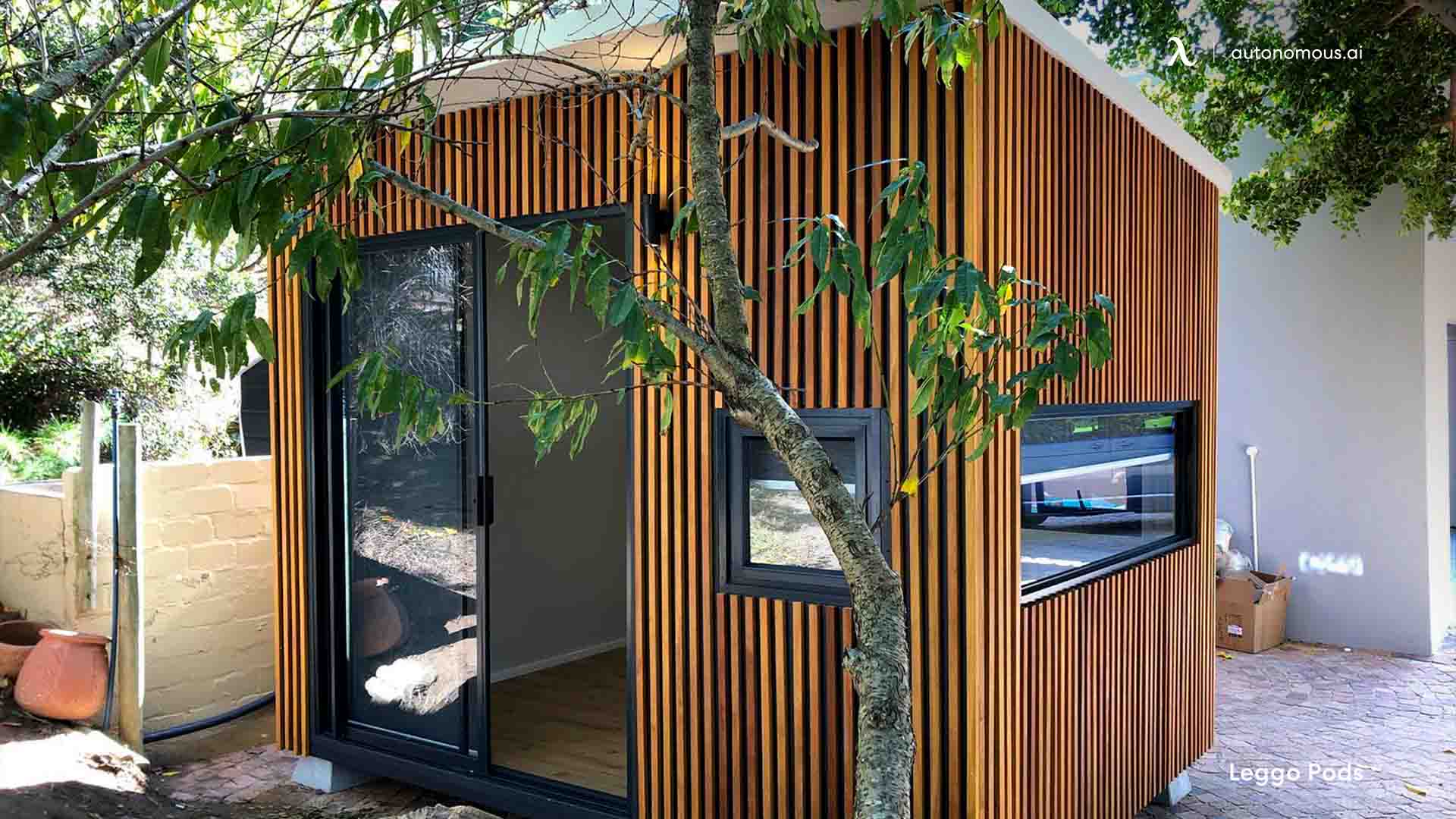 9. Kanga Room Systems
Kanga is a well-known company that is based in Texas. It has been building backyard offices for over 10 years and sells its products to other states in America too. The Kiwi Room was explicitly manufactured as an intuitive yet professional office for the modern-day remote worker. 
Depending on your exact location and requirements, installing the 8 x 10-inch shells can cost anywhere between $11,000 to $15,000. The pod is known as a handy turnkey solution as it offers everything from flooring, lighting, and electrics, which generally costs $6,500 to $8,000 extra. 
If you are looking for the turnkey and installed shell options, for your prefab outdoor office it is unfortunately only available within Texas at this moment, but Kanga can also build shell kits for people outside of the state. 
These kits include pre-cut timber and are segmented into panels, which means installing it at home should be simple for most DIYers.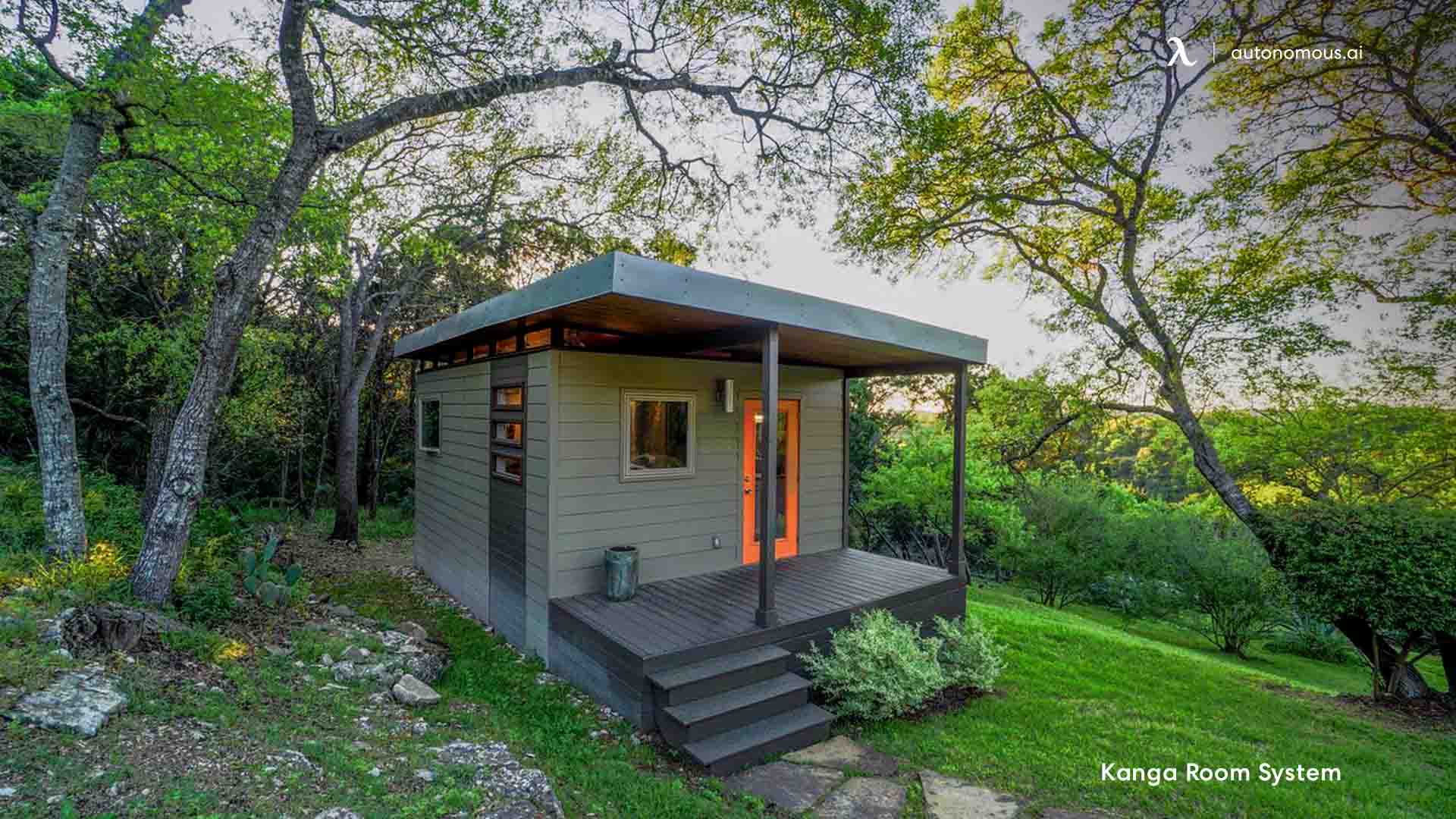 10. Woodtex
Woodtex is a company situated in Franklin. However, it does have a few sales offices in New York, South Carolina, and Tennessee. The company deals with third-party retail stores that supply its products throughout Canada and the United States. 
In other words, if you are looking for a reasonably accessible backyard office, it is easy to buy one from this company. What's excellent about Woodtex is that it has multiple financing options, including a rent-to-own payment plan. 
The shell of this backyard prefab home office is well designed, and you can choose from a variety of configurations on the company's website. People around the world love this work pod for its convenient size and simple assembly.
11. The Bunkie Deluxe Edition
Initially planned as an extra living area on a lovely Canadian bit of property, these prefab outdoor offices have evolved into versatile rooms that you may use for various purposes. These are ideal for installing in a shady part of your yard to provide the ideal blend of illumination and display glare control.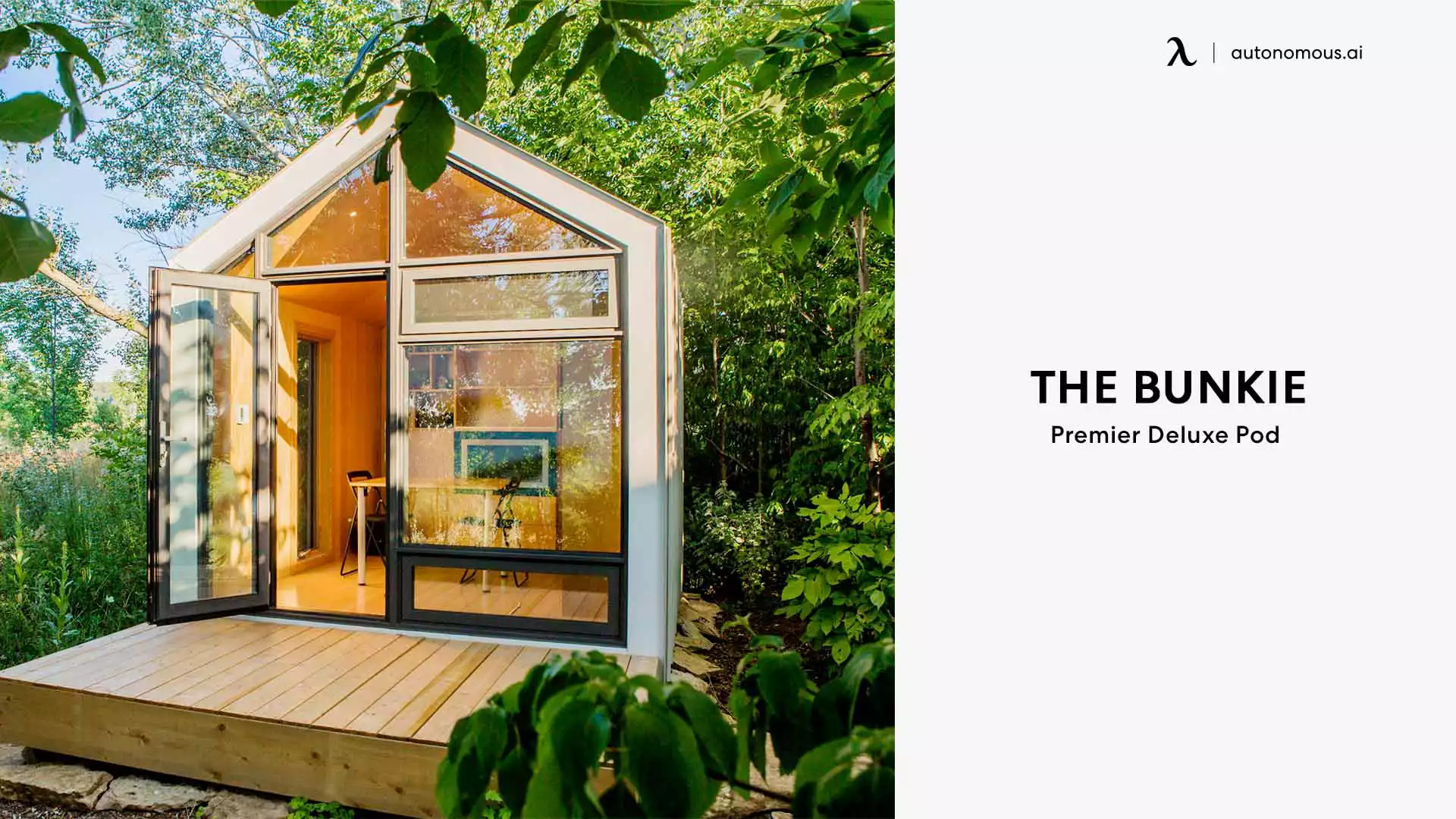 12. Studio Shed by QualitySheds
This shed strikes an excellent mix between modern style and reasonable cost. There are plenty of alternatives for various backyard spaces with various dimensions. A beginner shed for less than $6,000, including supply and installation, is an excellent value.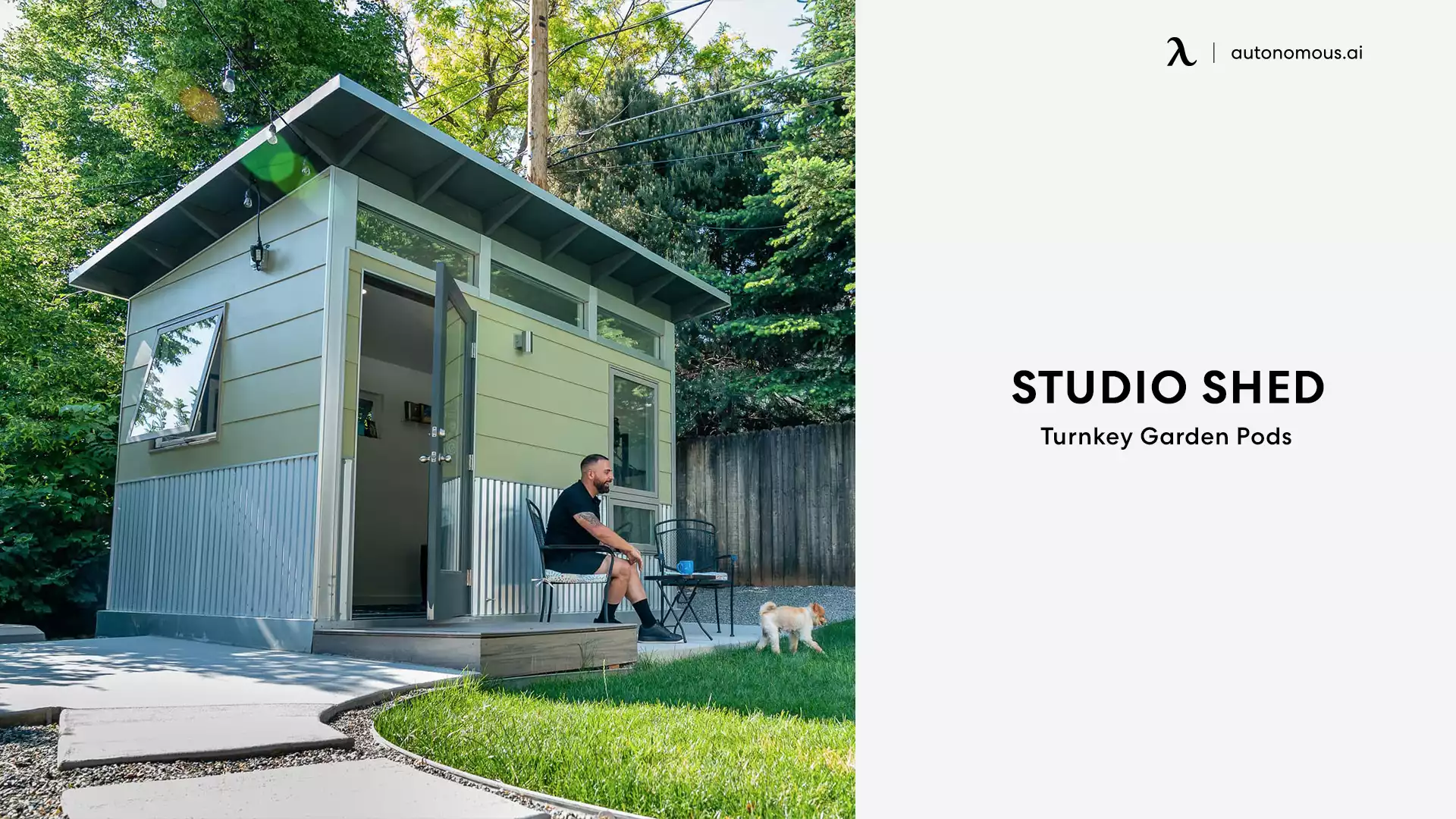 13. YardPods - Turnkey Garden Pods
This garden office pod, located in the SF Bay Area, provides turnkey and bespoke solutions. The majority of them seem to have a contemporary aspect to them, as well as the positioning and polishing options, have a significant influence on the overall aesthetic. So make an informed decision.
14. OfficePOD - Compact Modern Office Pod
In the vast majority of circumstances, this pod is of optimal size, and therefore it does not need planning approval. Its versatility allows for quick building for even the most difficult-to-access landscapes. When unoccupied or filled, the cheap garden office pod is meant to continue providing adequate security. The structure's external and internal appearance, including better user experience, results from a prolonged construction process.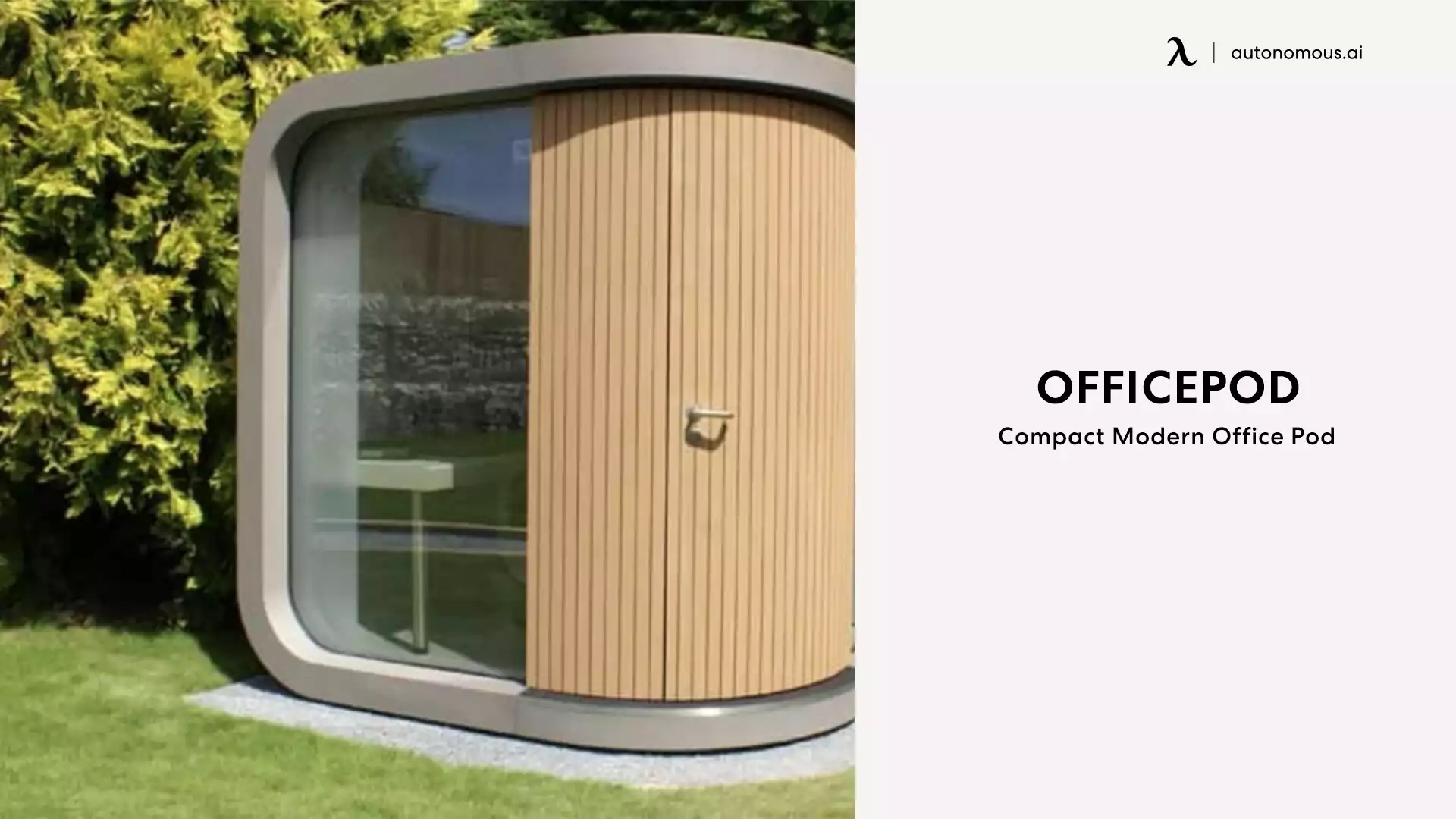 15. Archibald - The Attractive Backyard Garden Office
This DIY backyard gym shed has an appealing design. At the very same moment, it's both traditional and contemporary. It has a swinging door and a circular form, giving it the appearance of a naturally exquisite woodland creature.
Best Place to Put Your Backyard Office Pod
Having a proper home-based office such as a modern backyard studio is quite convenient in today's world. Work, bills, schoolwork, journaling, and many other activities are all accomplished on a private home pc. Having these tasks done effectively if you don't have a separate backyard work area might be difficult. Yet, not all of us have the luxury of a spare room to use as a private home office. The excellent thing is that you are not required to have one.
With some creative space design, there are lots of additional places in a home where you can accommodate a workstation and some storage. The only suitable place to put a backyard office pod is somewhere outside your household. You can use it and build a backyard office pod if you have garden space available, as the name suggests.
Things to Consider When Building a Backyard Office Pod
It may appear that constructing a private pod in your backyard is a huge amount of work, but it is well worth it. Having a separate place to walk away to when you have children walking around the house or a member of the family continually bothering you around the household may be a genuine lifesaver.
The pod office may serve as a haven and a place to work apart from the distractions of the job. It helps you tackle your task in an even more relaxed, private manner. And we frequently discover that it is the most effective method to accomplish any task. It is especially useful if you work as a freelancer and must be completely self-motivated.
However, there are several factors that you should consider before you decide to build a backyard office pod. Some of them are listed below:
Temperature concerns
People frequently worry about various weather variations and their effects on garden pods since garden chambers are outdoor house remodeling. The only way to protect your office pod from extreme weather patterns is to have it thoroughly insulated. You should apply complex insulated layers to the sides, roofs, and floors of your outdoor structures to produce a comfortable inside environment, even if it is snowing outside.
Amount of space required
Your backyard office structure's dimensions will be determined by your specific requirements. A basic garden shed would serve if you only need a place to work alone. All you'll require is a table and a chair to get started. Whether you have the funds, you can have it made out of wooden boards or structural steel, or you might opt for more complex construction. However, if you're running a small business and would like to set up a base in your backyard, you may want to hire some help. It will necessitate a considerably larger office area, so be mindful of planning requirements.
Maintenance and security
To maintain a backyard office pod, you need to make sure that you clean it regularly and keep all your equipment organized to avoid clutter. Ensure you have the required tools to save your office pod from any damage to seasonal changes. As far as the security of an office pod is concerned, you might install modern surveillance systems such as CCTV cameras which you can connect to your phones through apps, and this way, you can keep an eye on your private office sanctuary all day.
Conclusion
If you are looking for a quiet place to work while the kids are at home, it might just be time to look for a backyard work pod. Since the pandemic struck, most office workers have started working remotely, so it only makes sense to kit their home office out accordingly. 
All of these prefab outdoor offices are carefully designed and are the best solutions on the market today. Before making your choice, please consider how to choose a work pod online ahead of the purchase. 
Once that is done, you are ready to order and set up your new garden office pod to enjoy the peace and tranquility it offers.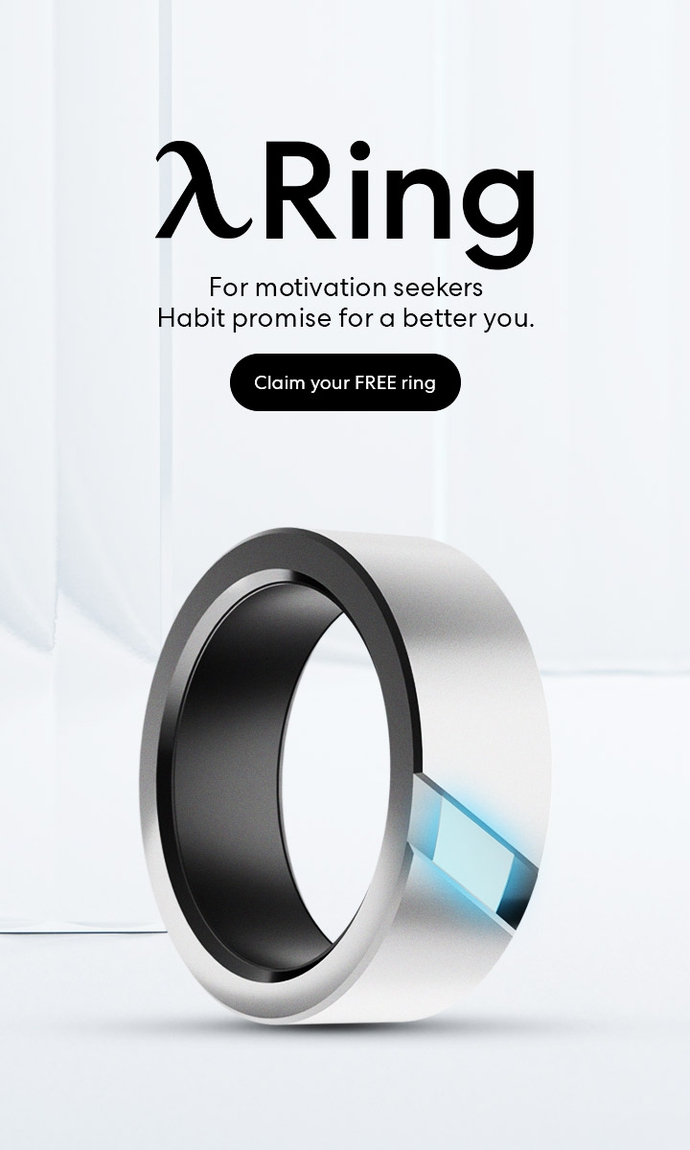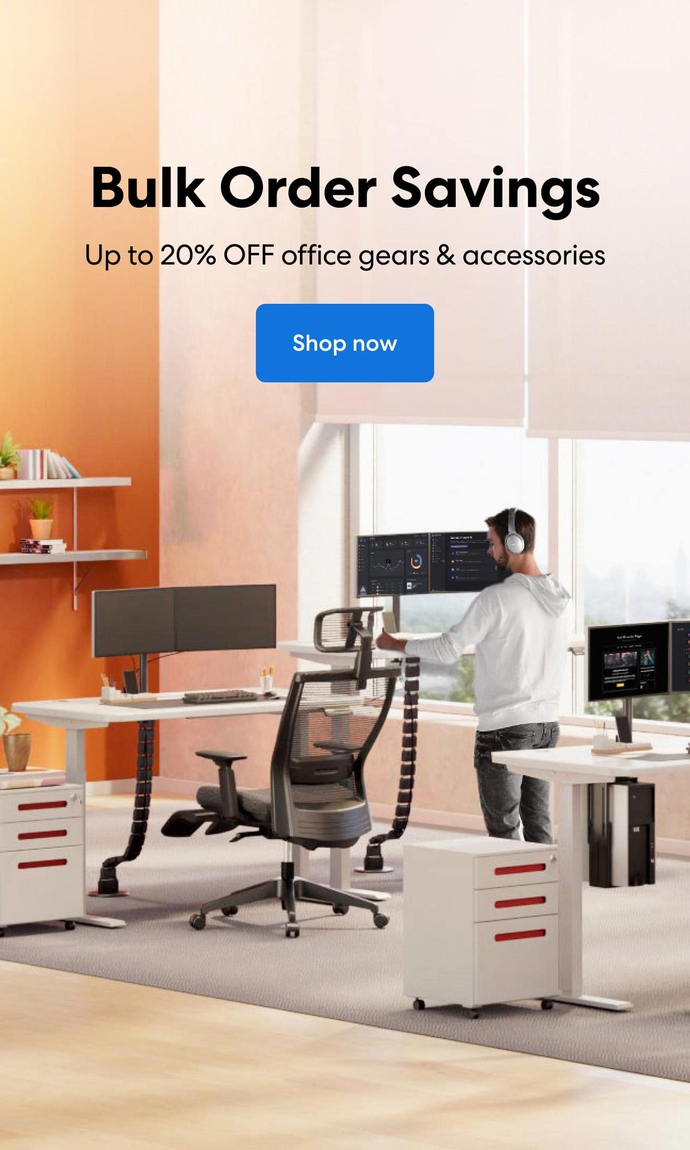 Subcribe newsletter and get $100 OFF.
Receive product updates, special offers, ergo tips, and inspiration form our team.