Smart Products
10 Prefab Office Pod to Setup Your Backyard Office in 2021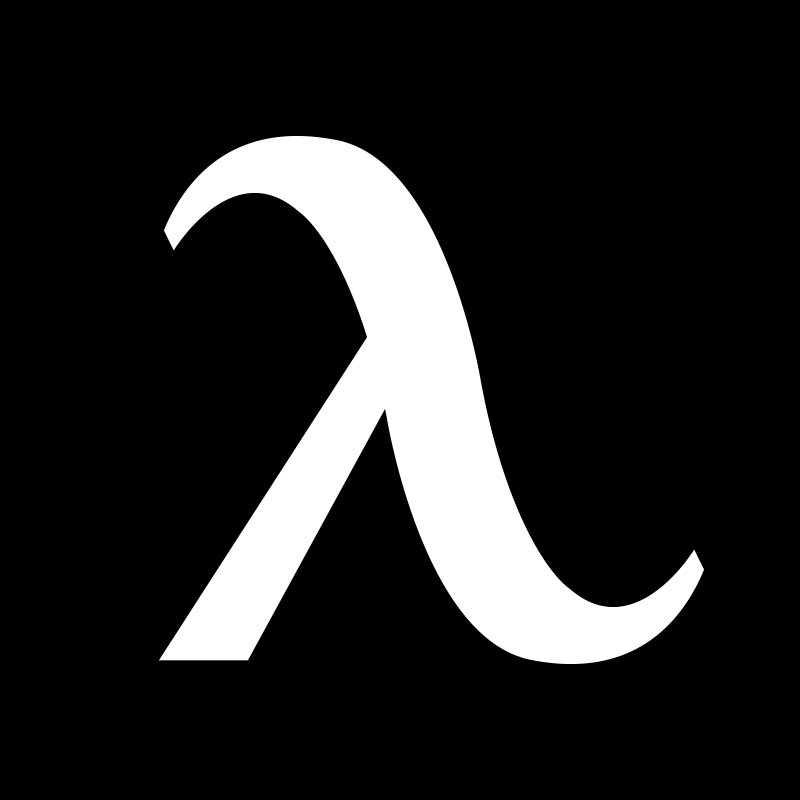 Autonomous
 | 
Nov 17, 2021
The pandemic has ravaged the world in the last two years and has made people re-evaluate their relationship with their working from home office setup. When COVID-19 struck, it sent millions of office workers home for many months, and since the time of writing, not much has changed. You might be wondering how to take advantage of the current situation, which is why this article was written for you today.
What Is the Silver Lining in All of This?
There is an opportunity to build your workspace right at home if you have a big or small backyard. If the thought of taking a 20-step commute and throwing on your leisurewear in the morning sounds like fun, then keep reading.
In some cases, a home office pod is just a dream for most people, but today, we discuss how to turn your backyard into a workspace for the lucky few who can. Even for those ready to get back to the primary office to meet with the team, this new-age hybrid work model means most time may be spent at home working.
It might be good to build a well-designed outdoor space that includes furniture for the office pod that meets ergonomic requirements.
Office Shed vs Backyard Office
If a prefabricated office pod sounds boring to you, be aware that this term can help you significantly narrow down your search query. These are called backyard office pods, which sounds much more straightforward than the latter.
Since the pandemic is upon us, we assume most individuals want something in their backyard that is plug and play. It needs to be something that doesn't require contractors, months of planning, and permits.
One of the best bets is buying a prefab home pod that can be set up on your own, or it can be shipped fully assembled. In a worst-case scenario, you could set up your new office shed within a few days with the help of a friend.
Let us give you more information about how a prefabricated outdoor office pod works and view some of the best ones on the market.
10 Prefab Office Pod to Setup Your Backyard Office
1. Autonomous Sound-Proof Pod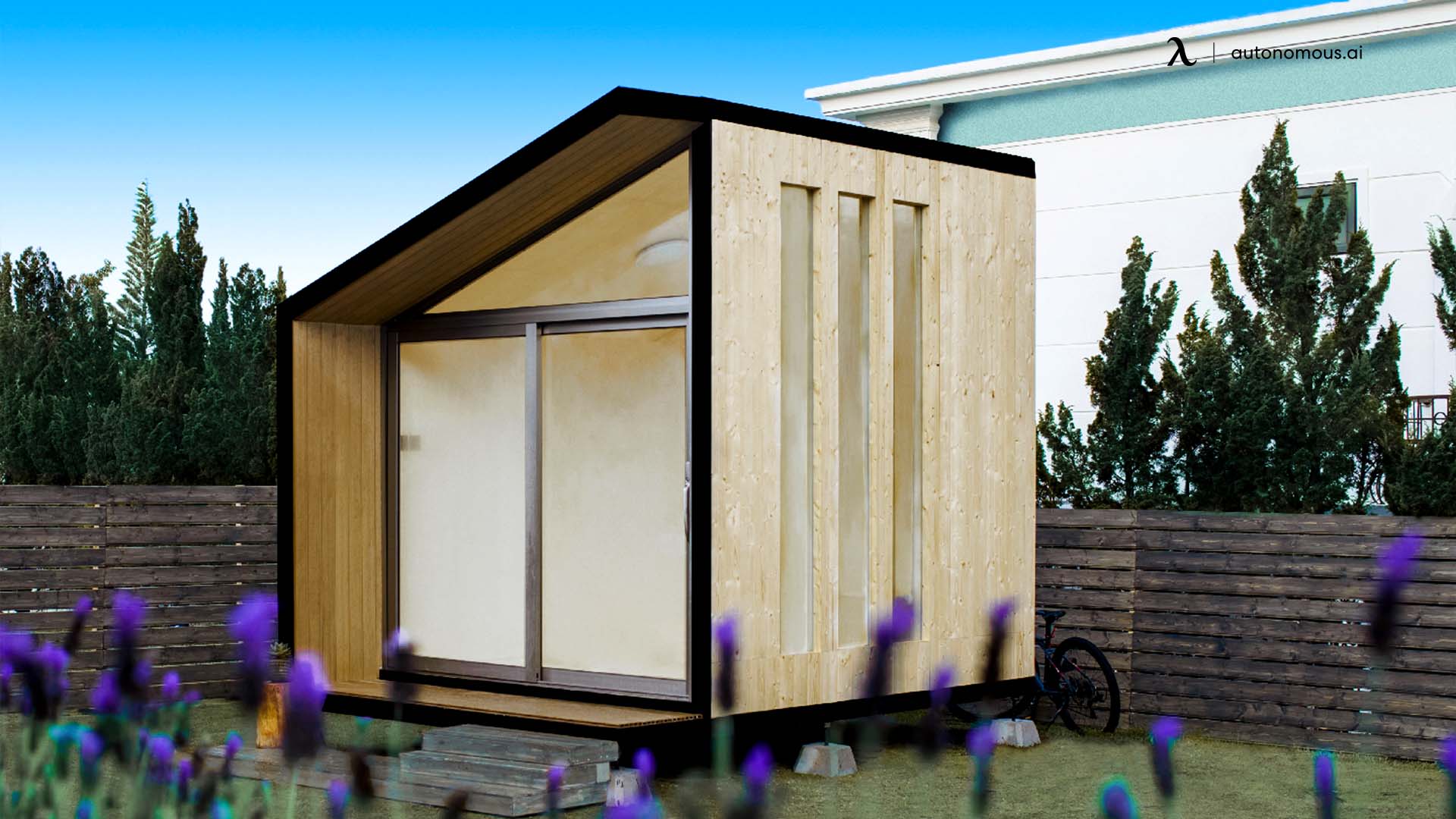 If you are looking for the epitome of excellence, you have come to the right place. The Autonomous Work Pod is the perfect solution for anyone working from home and looking for a quiet place to complete their projects.
This prefab office pod is 100 % soundproof to ensure no disruptions when working long hours.
What is excellent about this soundproof workspace is that it comes with a three-year warranty on all its parts. Another incredible thing about it is that it's meticulously manufactured; like all products from the company's factory, you can expect top-class quality.
Adding an electric standing desk or an ErgoChair Pro+ to the mix can open up a world of possibilities and ergonomic comfort, so consider this if you have some extra cash to spend. Two people can assemble the prefab home pod in one afternoon because it comes with pre-cut parts and includes an easy-to-understand instruction manual.
2. Autonomous Soundproof Work Pod Bundle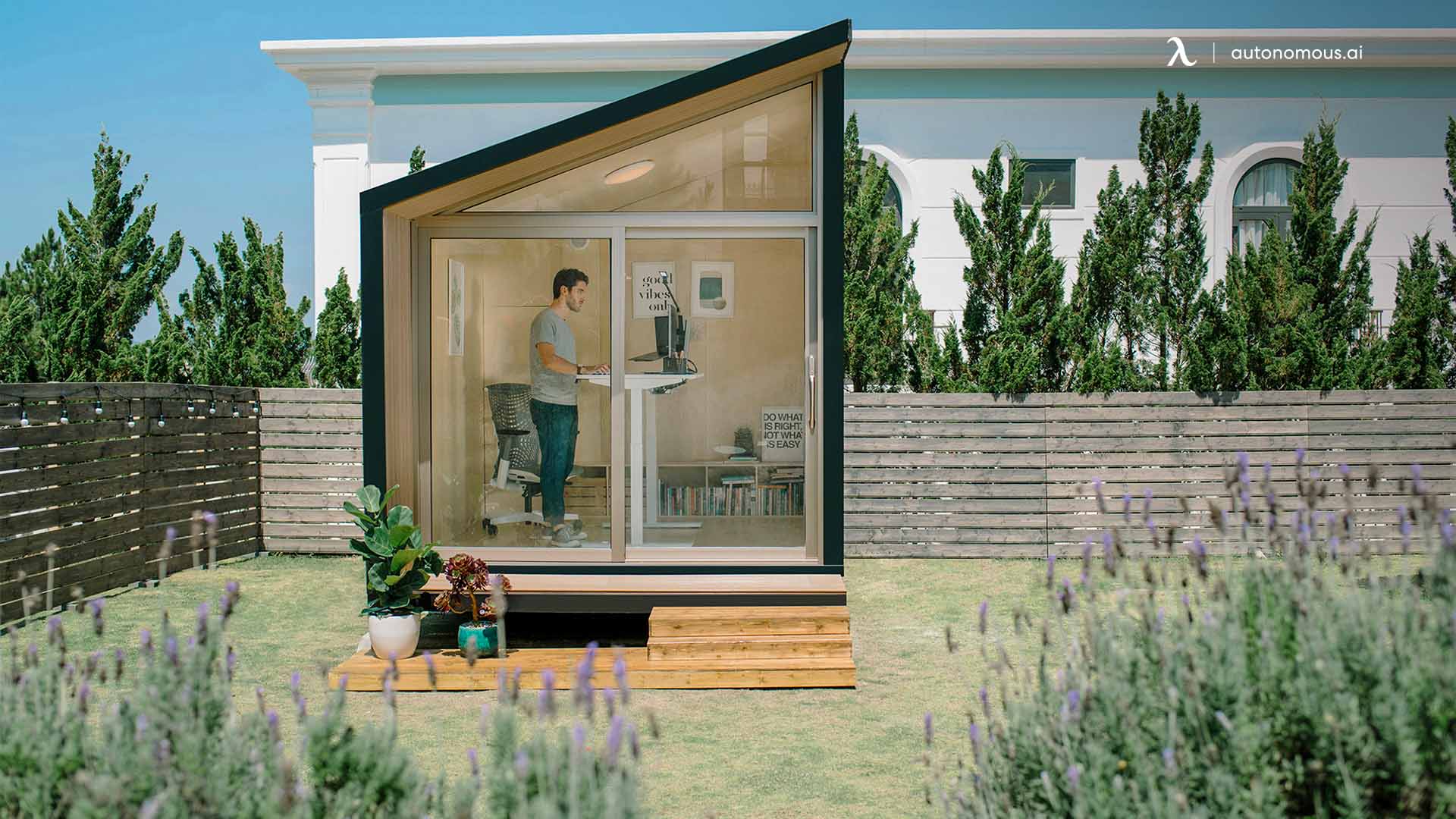 This soundproof work pod comes as a complete package with bells and whistles, including a comfortable ergonomic chair. The office space is excellent for anyone working from home who needs a quiet area to focus on their projects.
What's fantastic about this deal is that an ErgoChair Recline and SmartDesk Core are included in the bundle. Both the added extras are excellently manufactured and offer ergonomic comfort as you have never experienced before.
Enough about the lovely additions; let us talk about the Autonomous Work Pod itself. The prefab home pod is carefully designed and features prefabricated pieces that two adults can quickly put together in a single afternoon.
Its soundproofing is in a class all on its own as it provides the users with 100% silence when it matters most. Each part of this work pod comes with double-layered walls that eliminate the noise and keep the cold out.
Another reason why the Autonomous Work Pod is worth the investment is that it can be placed anywhere due to the adjustable feet included with the package.
This prefab office pod can be used at home or in a shared office space to provide staff with a silent work or meeting area.
3. The Bunkie Premium Deluxe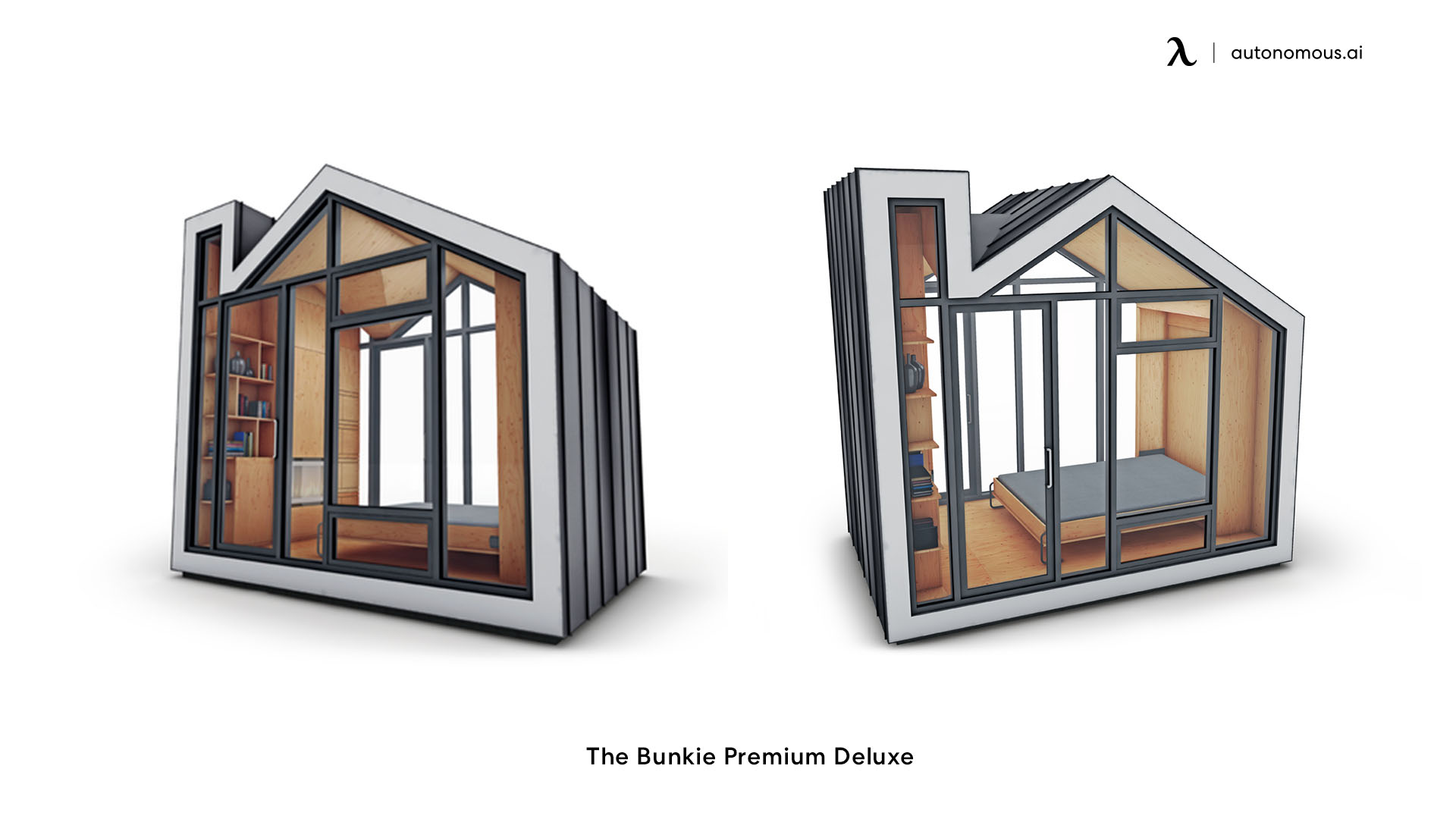 People who like to take architecture seriously are going to love the Bunkie Premium Deluxe work pod. It was initially conceived as a living space on a beautiful American plot of land, but these work pods have become flexible spaces for many uses.
The Bunkie prefab office pod allows you to receive the perfect balance of screen glare reduction and lighting, helping to eliminate fatigue. It has wall-to-wall glass, which is ideal if it's popped under the shade in your backyard. One of the best things about the Bunkie is that it requires no permits anywhere in North America, so you can sleep easy knowing you could work anywhere.
4. Quality Shed Studio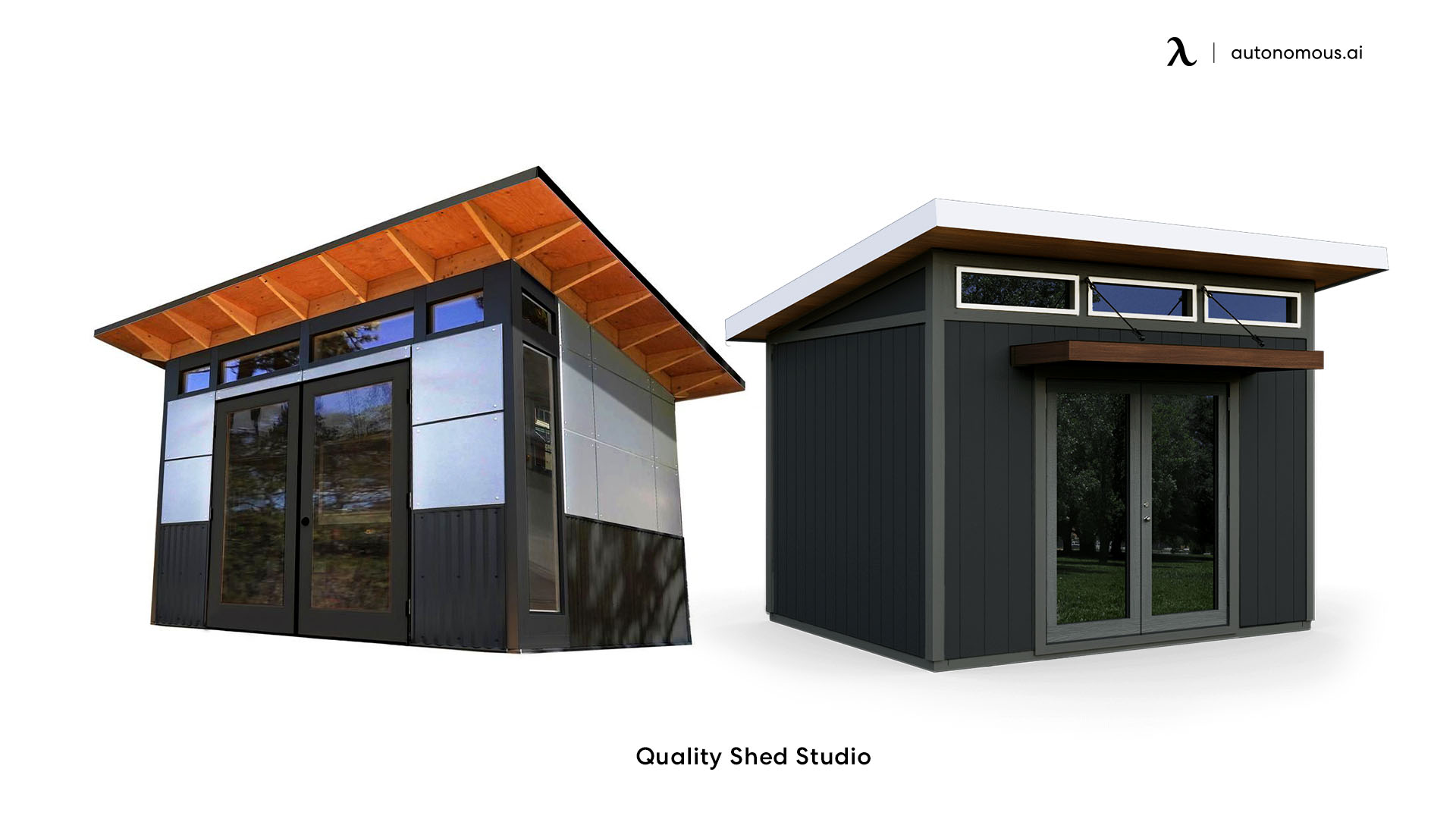 These Studio Shed prefab office pod models are from Quality Sheds and sell at a fair price for the modern balanced design. The sizes range from 8 x 10 to 12 x 24 inches, providing a good option for various backyard sizes or office environments.
Its pricing goes up to $12,000 but could cost as little as $5,600 for the less expensive models, making it more affordable for people on a budget. Installation and delivery of a starter shed costs under $6,000, which is a pretty solid deal for anyone looking to invest in a work pod.
Although not included in the package, a custom redwood deck can help add a premium look if you are not on a tight budget.
5. Yard Pods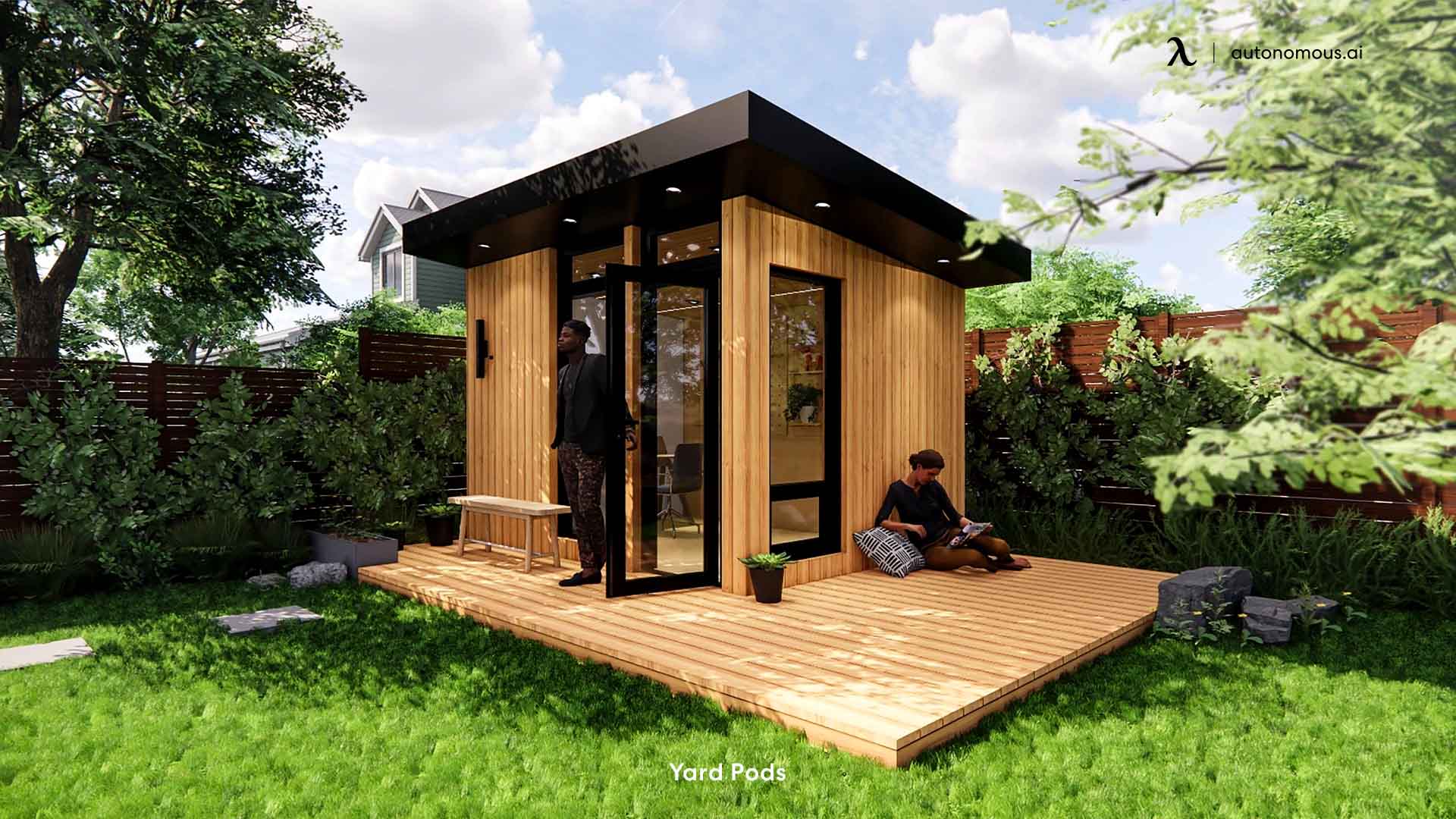 This company is based in the San Francisco Bay Area and offers a massive range of custom or turnkey options to the public. We love the modern and simplistic look of these prefab office pods but bear in mind that the finishing placement options can significantly impact the final style. Be wise when picking a model so that you can get the perfect fit for your backyard.
However, the Yard Pods don't come cheap, so you can expect a fully installed model to cost around $28,000 in the San Francisco Bay Area.
6. Office POD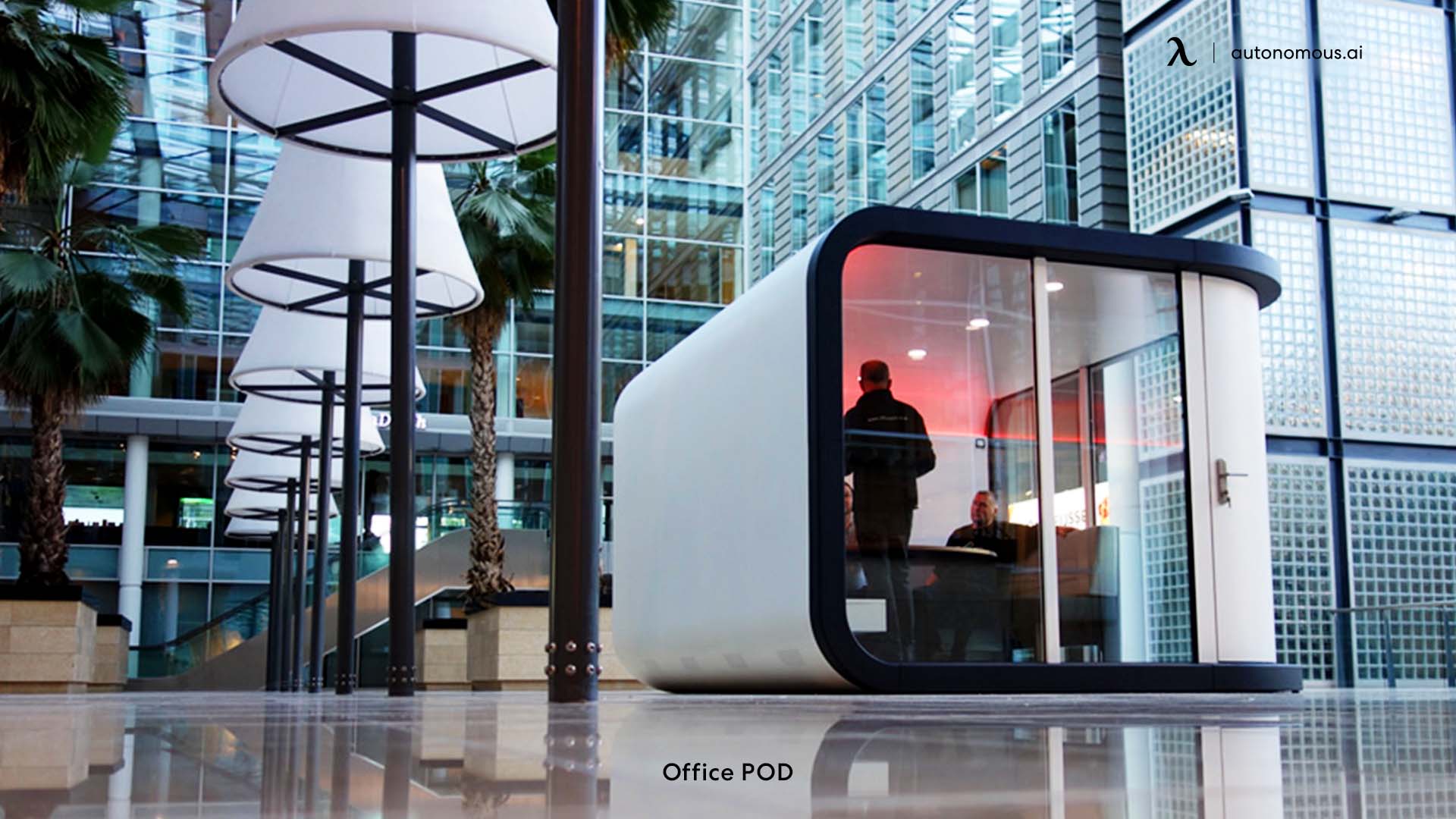 If you want your home life and work environment separate from each other, the Office prefab office pod provides the perfect solution. The company has hassle-free service deals, including everything from installation to site surveys, which help to give the customer peace of mind when purchasing its new Office POD. Individuals planning to relocate can even contact the company for its POD relocation service, which can aid in moving the pod anywhere in the nation.
The Office POD is beautifully built but small, so if you want to plop something down and get to work, it's the perfect fit for your tiny backyard.
There is not much prior planning in most cases, which makes the Office POD the perfect plug-and-play workplace. Even in gardens with difficult-to-access areas, its modular design enables speedy construction with the ability to fit anywhere.
It has been designed to provide optimal protection whether the Office POD is occupied or empty. The internal and external of this home work pod look gives the user a great overall experience, and its extensive design turns heads.
Overall, the prefab office pod's location has been a primary consideration when choosing the materials used to create this product. Sustainable, recycled, or recyclable materials have been used where possible, and manufactured parts are only used when performance requirements dictate. The Office POD passes the strictest energy performance tests with high insulation levels, an innovative cooling system, and low energy consumption.
In essence, the Office POD is committed to further advancements and improvements; as technology grows, so do its products.
7. ArchiPod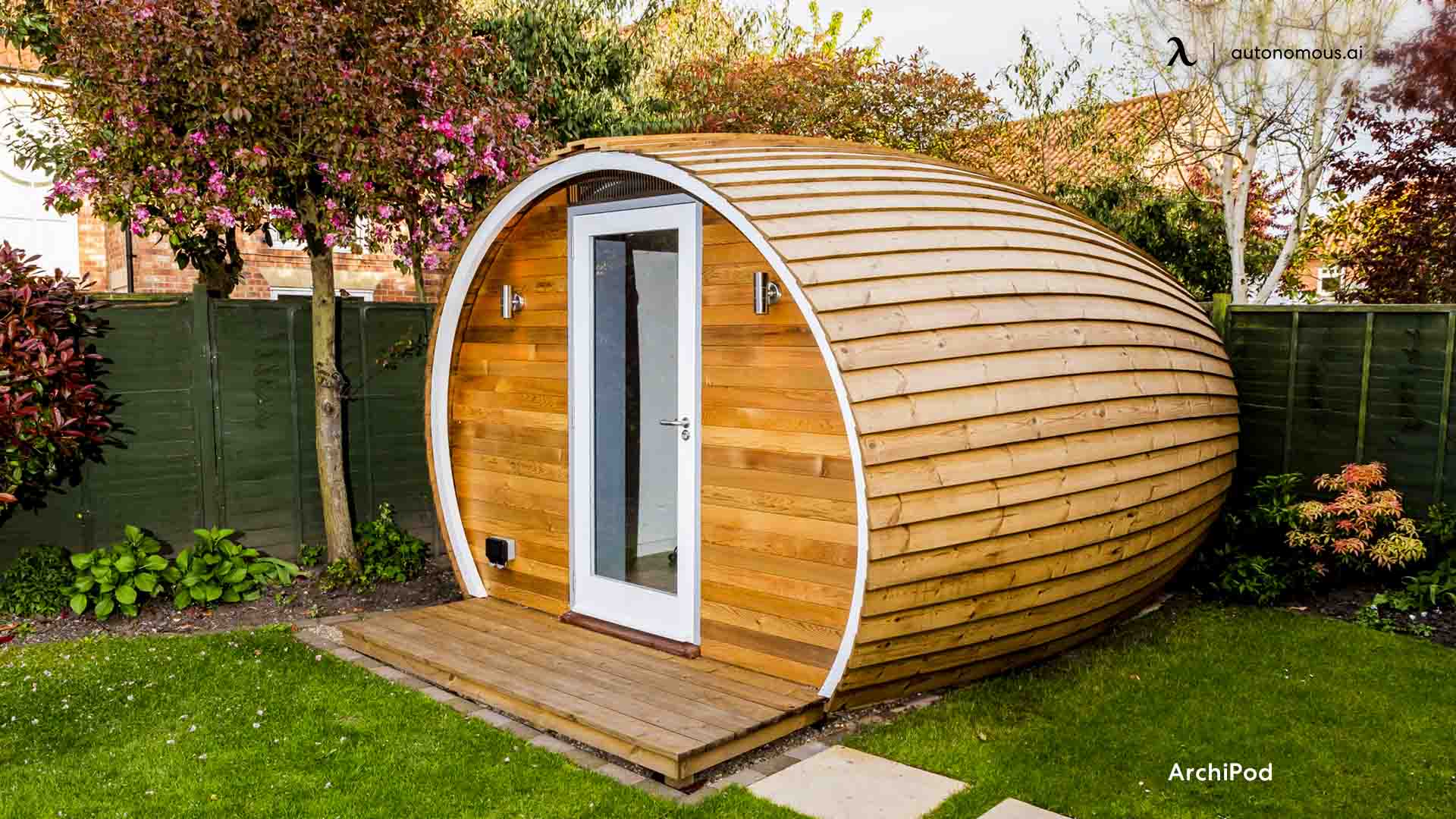 We love the look and style of the ArchiPod because it is both modern and traditionally woodsy at the same time. It looks like a naturally sophisticated creature from out of the forest with its spherical shape and a swing-up door.
Multiple benefits come from working at home, including saving on office infrastructure expenses, having more time with family, and saving on travel time plus costs. In most cases, setting up a comfortable prefabricated office pod requires money and ample space, but with the ArchiPod, it is so much easier.
The ArchiPod is a mobile prefab home pod that can be set up at the back of the garden or home. Its design, however, remains comfortable, and due to the size, it can even be used as a treehouse, meditation room, studio, hobby room, or playroom for the kids.
The designer mentioned that the home work pod is predominantly constructed from insulated timber and surpasses current building regulations. It doesn't matter where you live, as it's possible to fit this pod into the backyard because of its prefabricated sections, which allow you to carry all parts through the house.
The roof dome's abundant natural light and unique shape make this prefab office pod look more prominent inside than out, which helps make it more inspiring when spending long hours inside of it.
8. Leggo Pods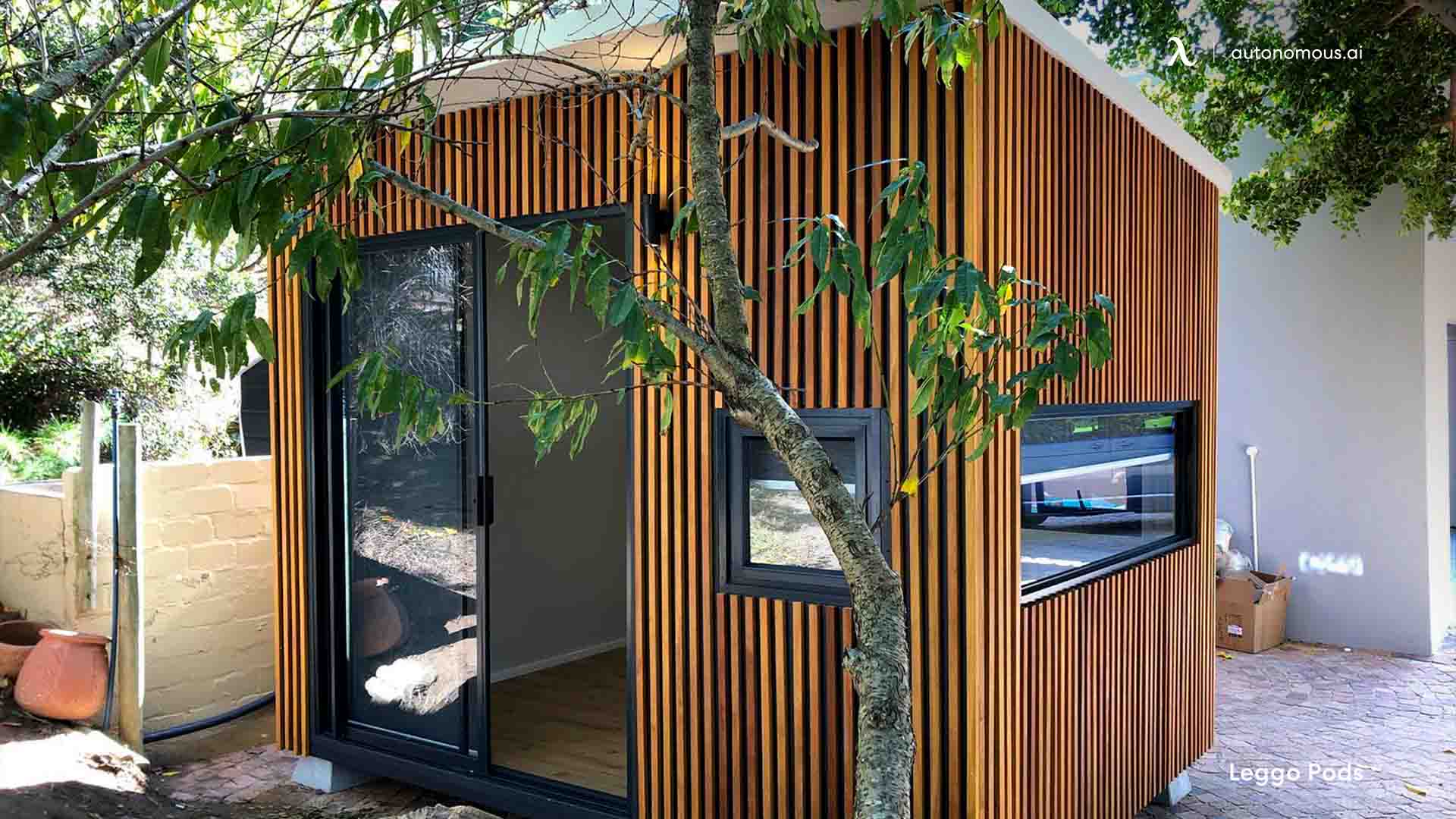 These Leggo prefab office pods are aesthetically manufactured to fit your home or backyard, providing a warm, vibrant feel for anyone using it. Smooth laminate floors give this outdoor workspace an elegant and natural finish, while Garapa hardwood clad covers the outside of the home office pod.
This office pod for home is temperature-regulated during cold winter and hot summer months, making it great for all seasons. It manages to allow plenty of natural light in by using every square meter of window space to access the sun's rays. Inside the work pod, there is enough room for a second desk or a two-seater couch if you wish to make things more comfortable and cozier.
There are charcoal mesh blinds that help stop the sun's glare from shining in your eyes, while the fitted LED lighting can brighten things up in dim conditions. WIFI and electricity are connected directly from the house to the pod and come at the user's expense.
9. Kanga Room Systems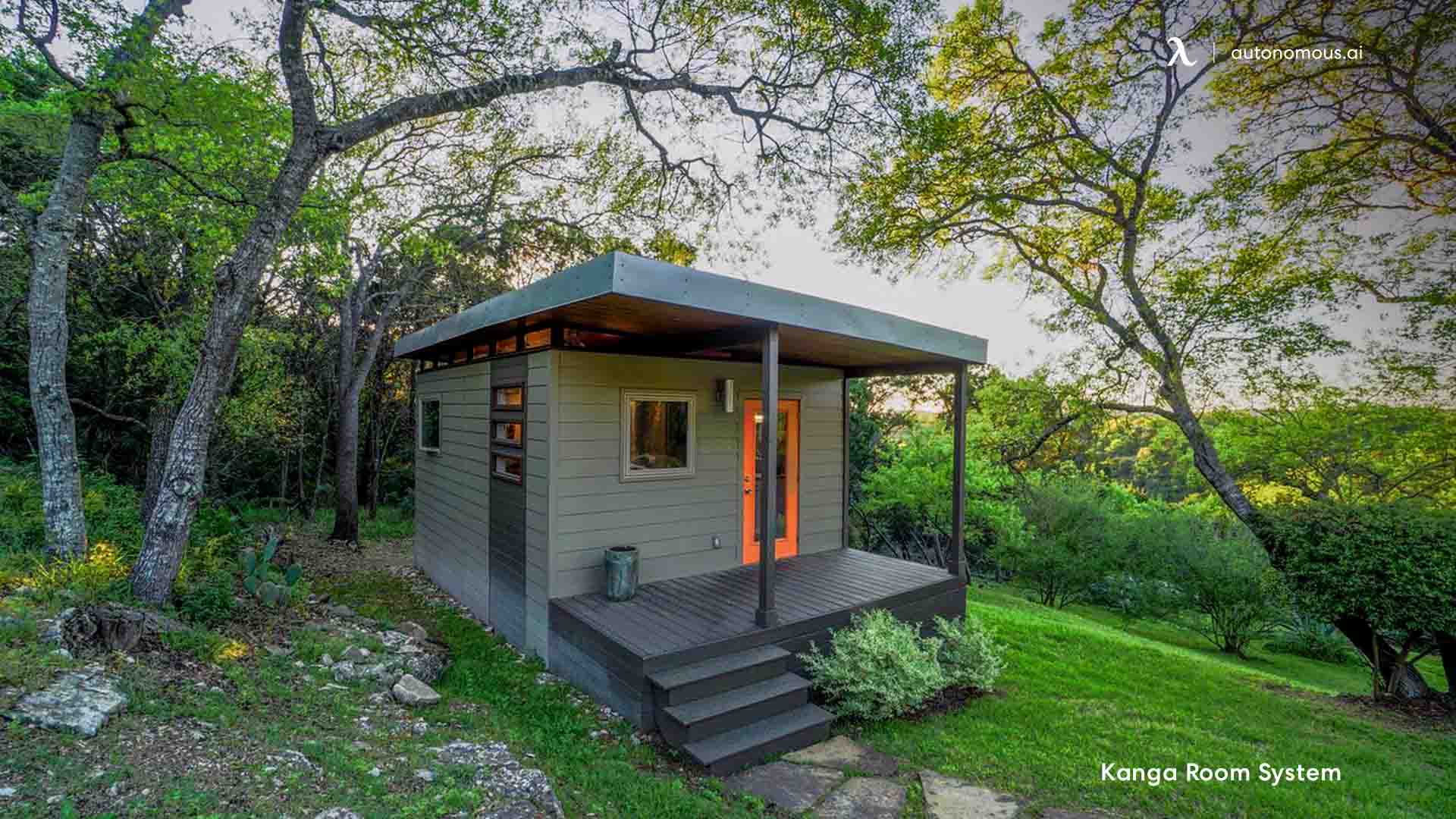 Kanga is a well-known company that is based in Texas. It has been building backyard offices for over 10 years and sells its products to other states in America too. The Kiwi Room was explicitly manufactured as an intuitive yet professional office for the modern-day remote worker.
Depending on your exact location and requirements, installing the 8 x 10-inch shells can cost anywhere between $11,000 to $15,000. The pod is known as a handy turnkey solution as it offers everything from flooring, lighting, and electrics, which generally costs $6,500 to $8,000 extra.
If you are looking for the turnkey and installed shell options, for your prefab home office it is unfortunately only available within Texas at this moment, but Kanga can also build shell kits for people outside of the state.
These kits include pre-cut timber and are segmented into panels, which means installing it at home should be simple for most DIYers.
10. Woodtex
Woodtex is a company situated in Franklin. However, it does have a few sales offices in New York, South Carolina, and Tennessee. The company deals with third-party retail stores that supply its products throughout Canada and the United States.
In other words, if you are looking for a reasonably accessible backyard office, it is easy to buy one from this company. What's excellent about Woodtex is that it has multiple financing options, including a rent-to-own payment plan.
The shell of this backyard prefab home office is well designed, and you can choose from a variety of configurations on the company's website. People around the world love this work pod for its convenient size and simple assembly.
Conclusion
If you are looking for a quiet place to work while the kids are at home, it might just be time to look for a backyard work pod. Since the pandemic struck, most office workers have started working remotely, so it only makes sense to kit their home office out accordingly.
All of these office pods for home are carefully designed and are the best solutions on the market today. Before making your choice, please consider how to choose a work pod online ahead of the purchase.
Once that is done, you are ready to order and set up your new home work pod to enjoy the peace and tranquility it offers.
Get exclusive rewards
for your first Autonomous blog subscription.
WRITTEN BYAutonomous
We build office products to help you work smarter.
Coming at You Live from Autonomous' Social Media!