Workplace Inspiration
5 Backyard Office Ideas for Your Ideal Outdoor Workspace
2,880 Views
As we kick off a brand-new year, we leave certain trends behind and look to what comes next. We also take certain things with us and use the motivation of a new year to take them to the next level. Remote working is one such trend. 
The past two years showed the world just how valuable working from home can be for businesses, families, and individuals. One thing is for sure: remote working is the way forward for many industries and companies, and it is certainly here to stay. 
Working from home has come a long way from a laptop balance precariously on your knee. The importance of having a designated workspace separate from everyday life and distractions is undeniably paramount, and what better solution than a backyard office? 
Ideas for how to utilize your garden as an office space develop further all the time. New design techniques and creative DIY ideas are revolutionizing the home office and taking it outside. 
Here are five outdoor home office ideas that we love, plus five tips on how to turn them into your ideal workspace. 
What Is an Outdoor Office?
Before we take a look at a few outdoor office plan ideas, let us first explain a little more about what it actually is. If you are having visions of an alfresco desk set up at the mercy of the weather, please do not be alarmed. 
An outdoor office pod shed, or studio is a standalone structure in a backyard that offers a fully self-contained workspace at home but not in the home. Rather than integrating your work life with your personal life entirely, you can close the gap between the two but maintain a balance. 
There are various backyard home office ideas and designs to choose from depending on your personal preference, space, requirements, and budget.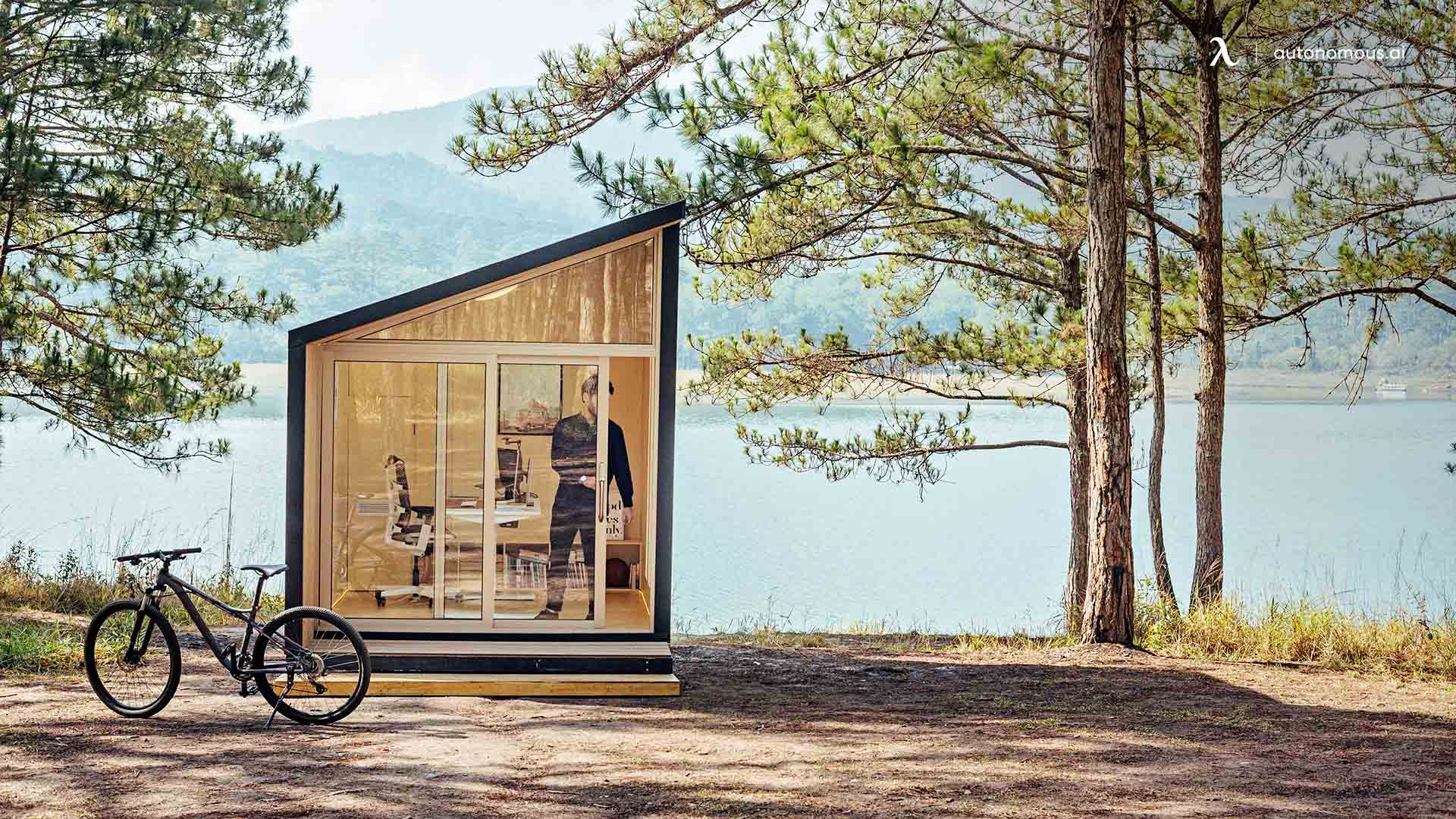 Pros and Cons of a Backyard Home Office
We love backyard offices, but it is worth weighing up the pros and cons before going ahead. Several factors can influence whether or not it can work for you and if you like it. Here are a few pros and cons of working out of an outdoor home office. 
Pros of a Backyard Home Office
You have a completely separate area dedicated entirely to work, so you never need to struggle with maintaining a balance.

There are many distractions at home for remote workers, from the TV to noisy kids and everything in between. Even the sight of your comfy sofa is enough to break the chain of thought. You are free of these distractions when you work in a backyard office.

Backyard office ideas and designs vary greatly, meaning you can adapt them to suit your home. DIY fans especially can enjoy putting it together.

Many outdoor offices allow a lot of natural light to stream in, which is beneficial on many fronts. Natural sunlight is good for mental health and positivity. Being shut inside a dingy home office all day can bring you down. It is also much better for your eyes if your office is well lit, and natural light causes a lot less strain than artificial light.

It can be multifunctional if you want it to be. There is no rule to say that the space must be used exclusively for work, although many people prefer to keep it that way. Maybe you need a reading nook to escape to put in a great 

reading chair. Perhaps you could do with some indoor workout space during 

winter, so why not convert one corner for your favorite exercise equipment? The possibilities are endless.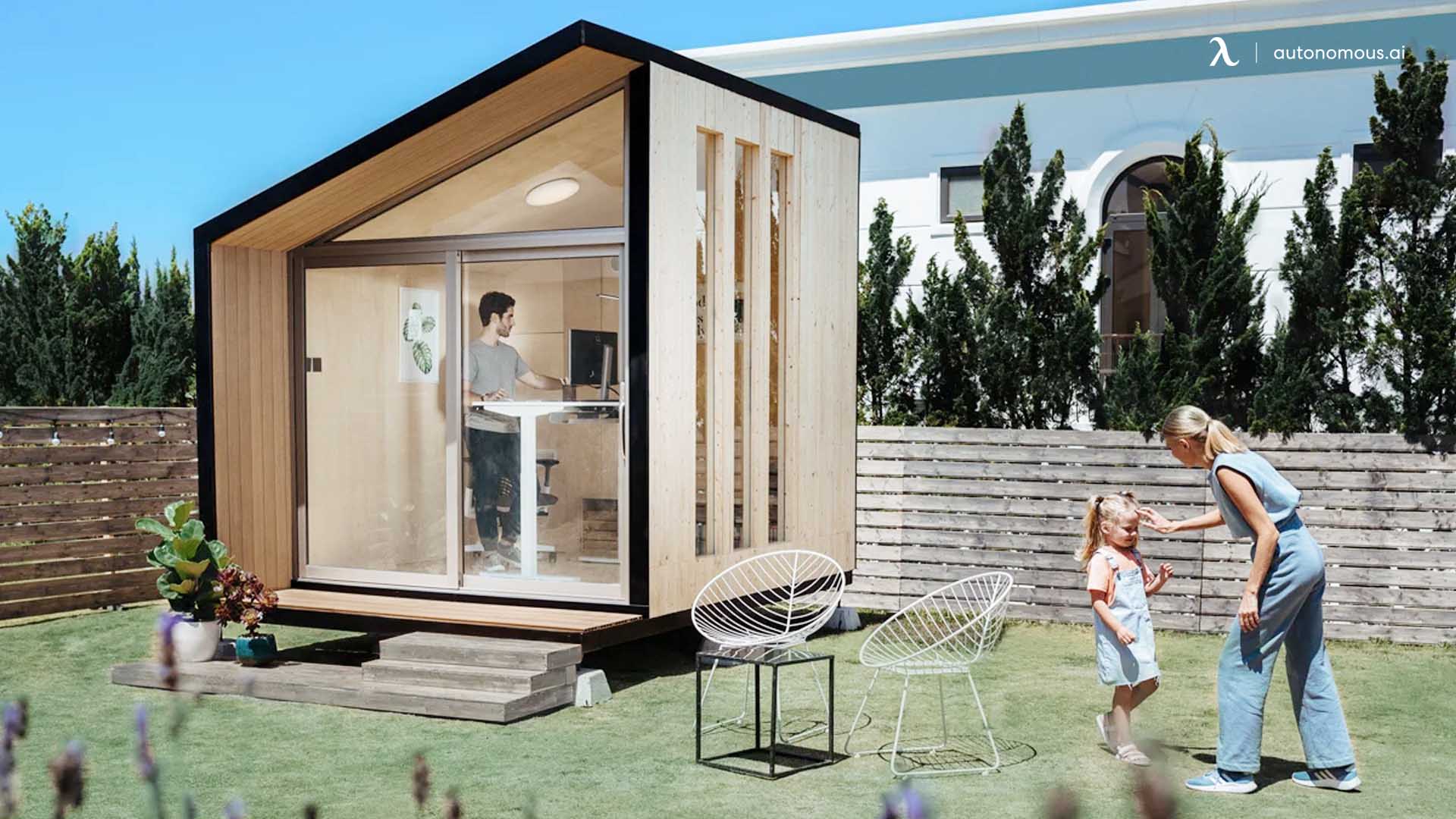 Cons of a Backyard Home Office
Installing an outdoor office can become quite expensive, depending on the style to choose.

You need to take into account the extra energy used to power it and how much it may affect your monthly bills. Some backyard office ideas are far more energy-efficient than others, so be sure to explore your options if this is a concern.

Some people do not like to feel isolated when working and prefer their office to be part of the flow of the house. If this is you, then maybe an outdoor space is not for you. Bear in mind, however, that remote working productivity is proven to increase significantly when people work in a quiet, isolated environment.

If your garden space is limited, you may not want to cut it down even further by building an outdoor office space.

People who live in areas with extremely harsh winter weather may not enjoy the idea of heading outside every morning to sit in a pod in the garden, no matter how cozy or energy-efficient it may be.

 
10 Backyard Office Ideas for Your Consideration
All that said, there are several ways to implement a garden office in your home to work around any set of specific needs or preferences. These five backyard office ideas each qualify as genuinely exciting options for remote workers or anyone who needs their own private space to escape sometimes. 
They are also very different and offer a variety of potential benefits, so scan all the options before you decide on the best one for you 
1. Garden Office Pod
A garden office pod is amongst the most modern and futuristic backyard office ideas. Designed to be self-sufficient and fully kitted out with everything a remote worker could need, these little bubbles of productivity are bang on trend for 2022. 
Once constructed, these pods just need to connect to power and you are set to go. They are perfectly heated and air-conditioned, the lighting is built-in, and the floor is fully insulated. Of course, exact specifications vary from model to model, but the idea remains the same. 
Garden office pods tend to be very energy-efficient and eco-friendly but are not very cheap to build. Somebody with the budget available to spend upfront who wants to optimize energy use long-term could seriously benefit from this type of home office.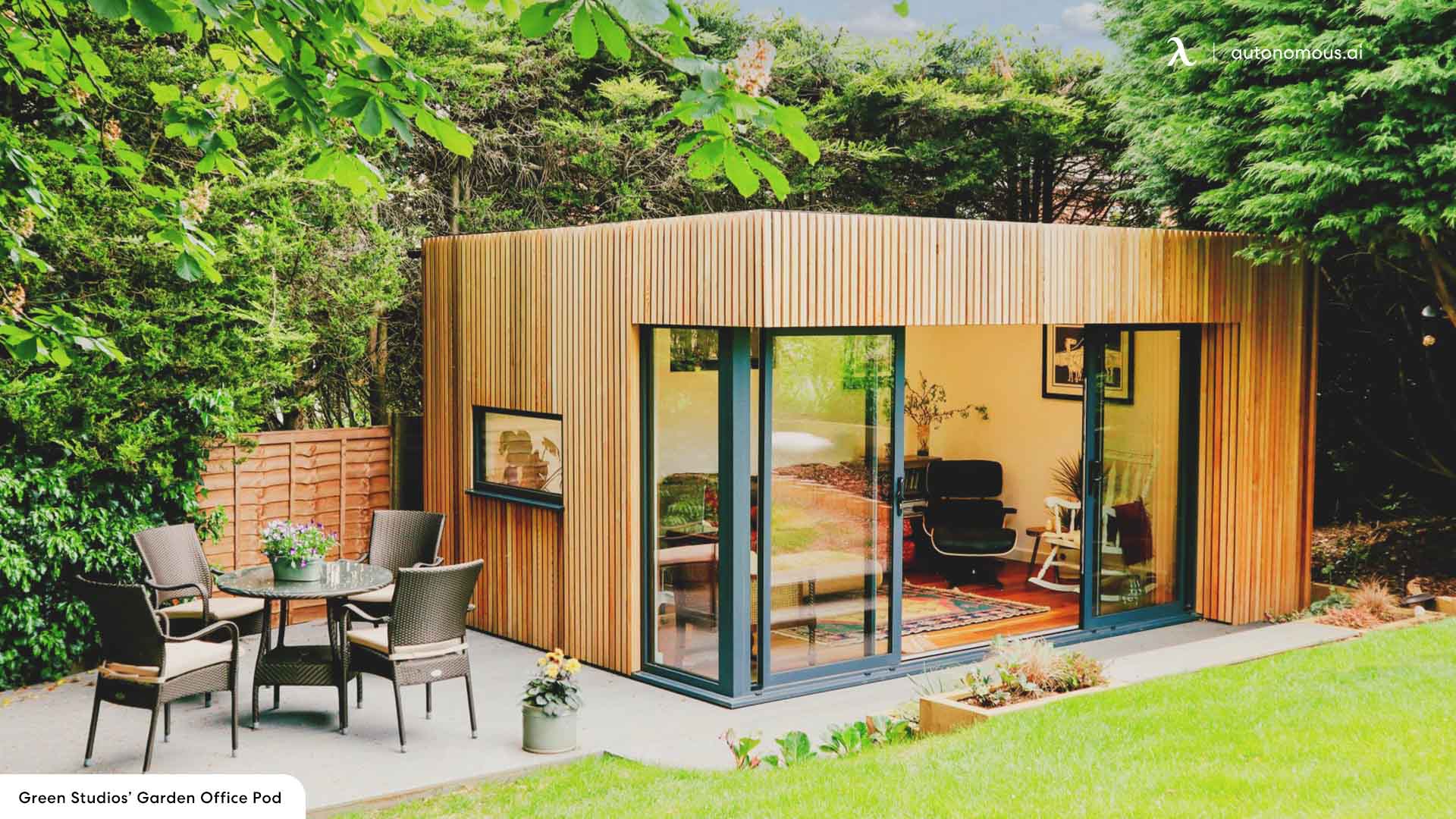 2. Prefab Office Pod
Similar to a normal garden office pod, a prefab office pod is all about modern style and efficiency. They are designed almost the same way, with everything built-in already. What makes a prefab pod different is the construction. 
The pod comes ready-made in several pieces that fit together like a puzzle. You can even disassemble it and move it elsewhere if you move or re-think the layout of your backyard office plan. 
One potential downside of this type of office pod is it may not be quite as resilient in extreme weather and can require more energy to heat. That is not a sweeping statement, as many modern prefab office cabins have completed this, although those tend to cost a little more.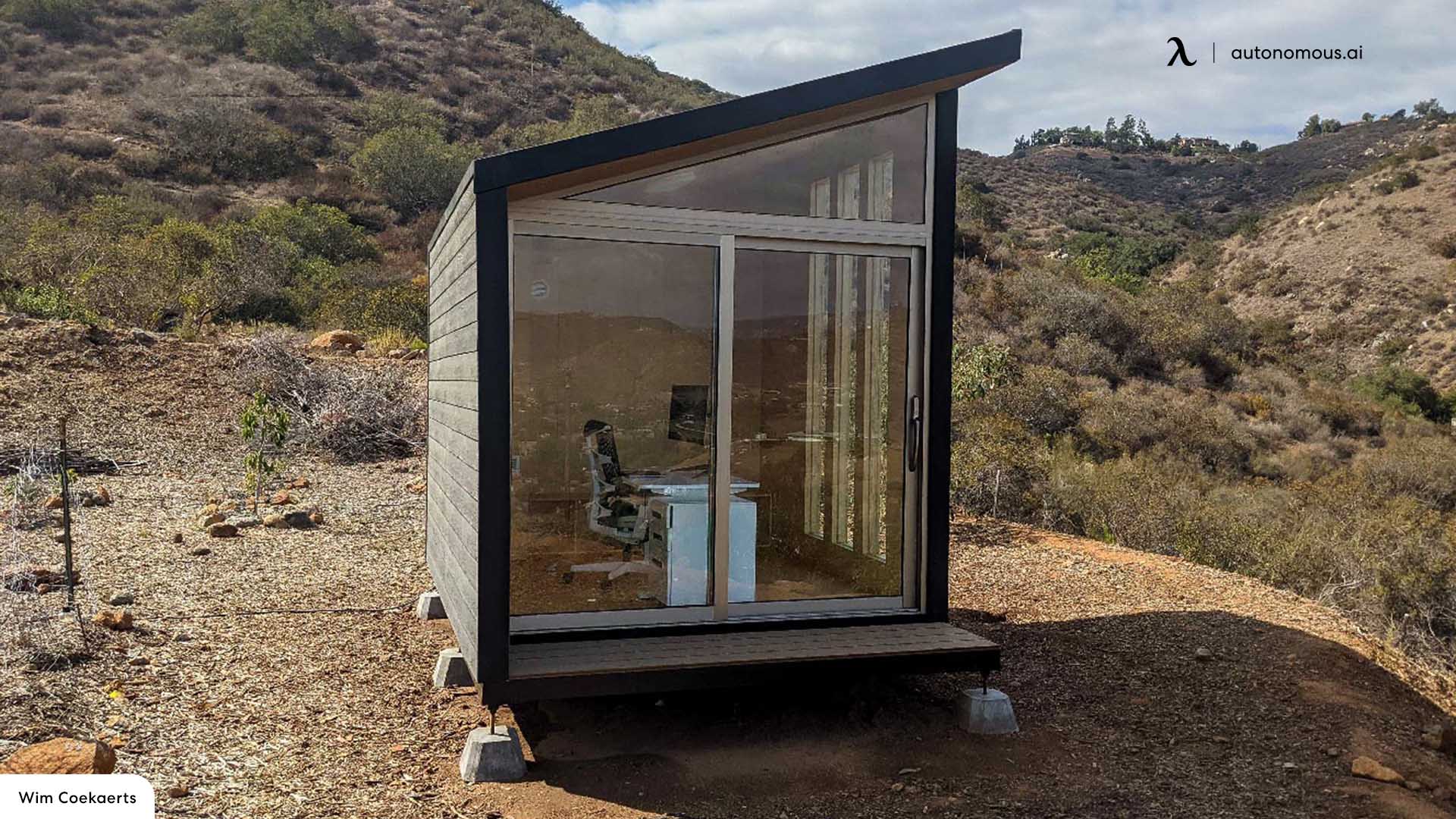 3. Backyard Office Shed
DIY fans, assemble - no pun intended. If you are a fan of a home makeover, this is the one for you. Maybe you already have an old backyard office shed out in the garden, or you are looking to buy a new one. A shed can do far more than hold some logs and your old bicycles- it can be a fully functioning home office! 
Garden sheds come in all shapes and sizes and are much cheaper to buy than purpose-built pods. Of course, they are not set up or equipped to power up your gadget, but that is all part of the fun. If you are so inclined, you can personally transform an average shed into a professional office space with some DIY TLC.  
Add insulation, power points, lighting, and whatever else you set fit to create your own backyard office shed on a budget. Even if you don't have the skills yourself, most decent builders can get it done within a reasonable budget.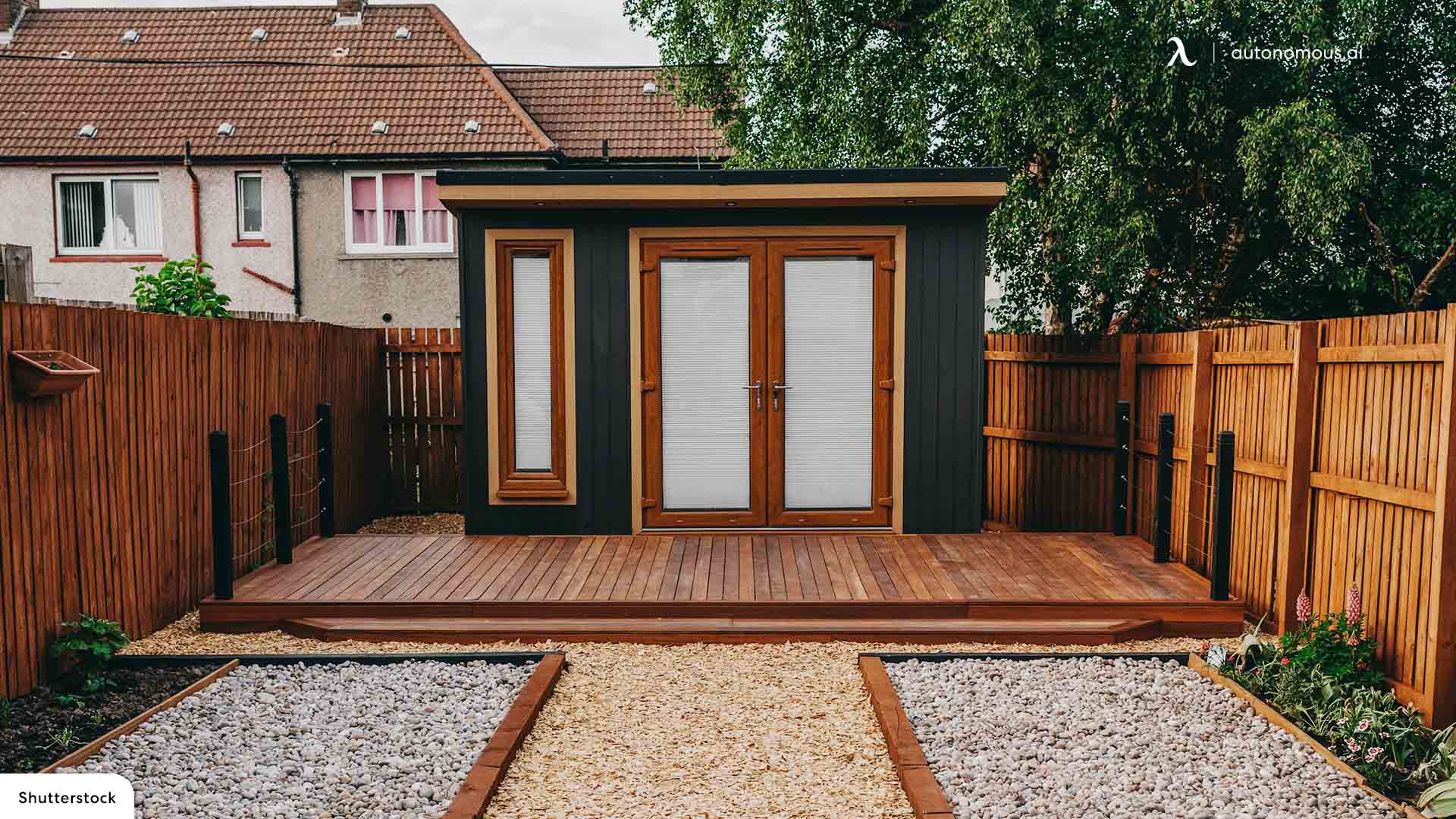 4. Backyard Home Office Studio
The daddy of all backyard home offices is the self-contained studio. We should start by saying that only those with a significant amount of time, space, and money can go for this option. There are cheaper ways to do it, but it is still a budget-busting option. 
Budget aside, a studio office is pretty dreamy for someone who runs a business from home. Why not splash out if this is your company's headquarters- even if it is mostly just you who spends time there. 
Some small family-run businesses are making the move to backyard home offices rather than renting premises elsewhere. Running a remote business from home is a tall order if you don't have ideal conditions to focus and do what needs to be done, which is why a studio is perfect. You have a professional space that people can visit if needs be, and you are not mixing business too much into your home life. 
Depending on the style and size of the studio, you may need planning permission, so speak with your local council before making any decisions. 
5. Office Privacy Pod
An office privacy pod is another take on the garden pod. Rather than being open with a lot of glass paneling that keeps you in tune with the world, they are privacy-focused and limit how much people can see what is going on. 
If your job requires privacy or intense focus, this is a possible option. They usually have impressive security features to match the style of work that many people may require a privacy pod for, so you can take your breaks with ease and peace of mind. 
Privacy pods are specialized, and some places can personalize them to exact requirements. It is worth looking into if security is especially important to you.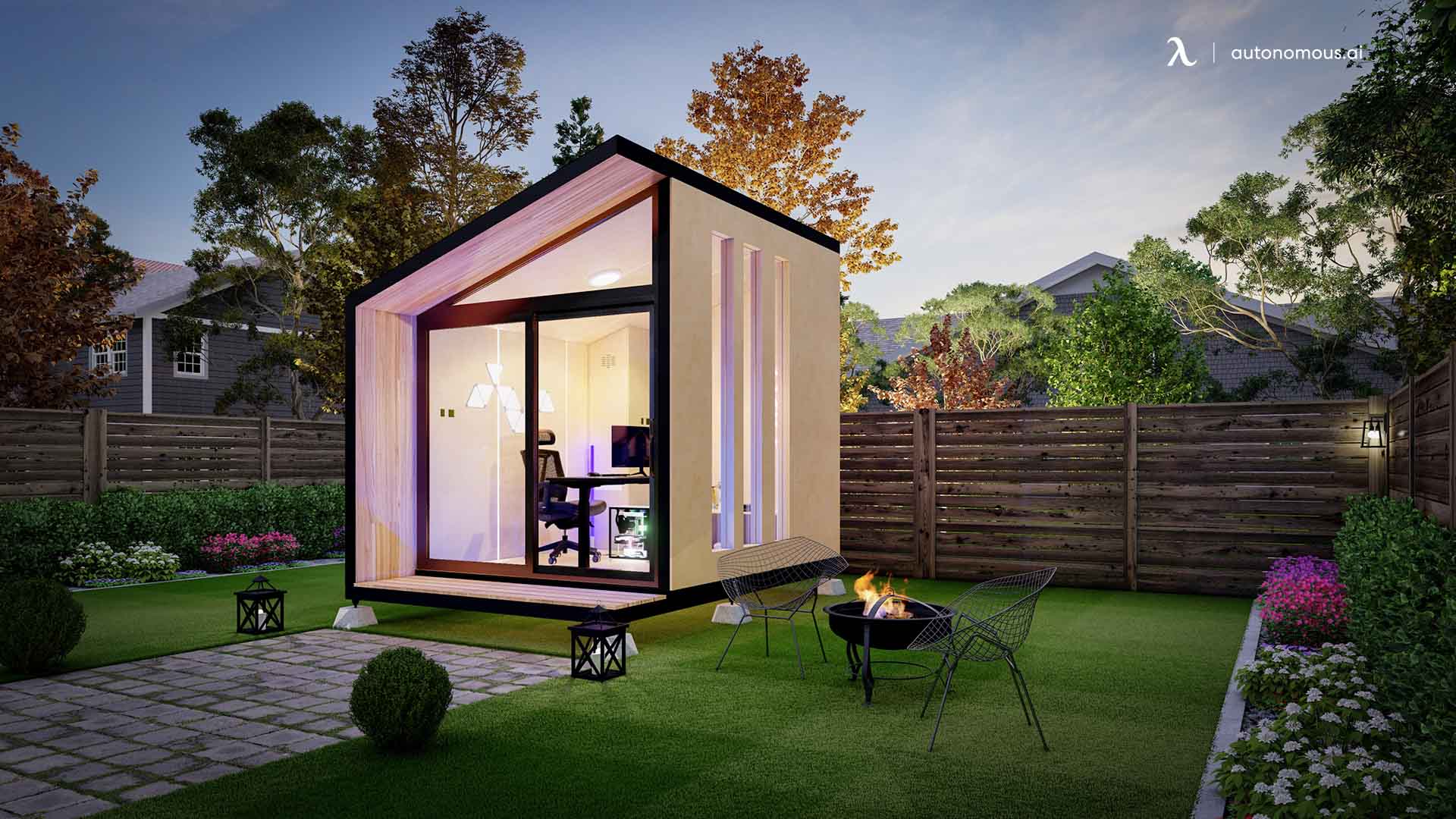 5 Tips for the Perfect Outdoor Office Setup
Once you settle on a backyard office idea, you need to decide how to make it yours. Whether you have a pod, shed, or studio, it is essential that the aesthetic inside is conducive to your productivity and comfort. 
We have lots of excellent advice on every element of office décor and setup for a healthy working environment, so feel free to explore for further detail. First, take a look at our five top tips for styling your ideal backyard office. 
1. Keep It Simple
Simplicity is essential no matter what type of office you work in. Backyard offices tend to be relatively small, so it is more essential than ever to avoid clutter and mess. The more you put in an office, the easier it is for things to become distracting- something you don't need for remote working. 
Follow the minimalist style of decoration in your outdoor home office setup.  Neutral colors, clear workspaces, and just a few key accessories and decorations. Feel free to bring in a touch of your personality but keep it tasteful and don't let it overpower the space.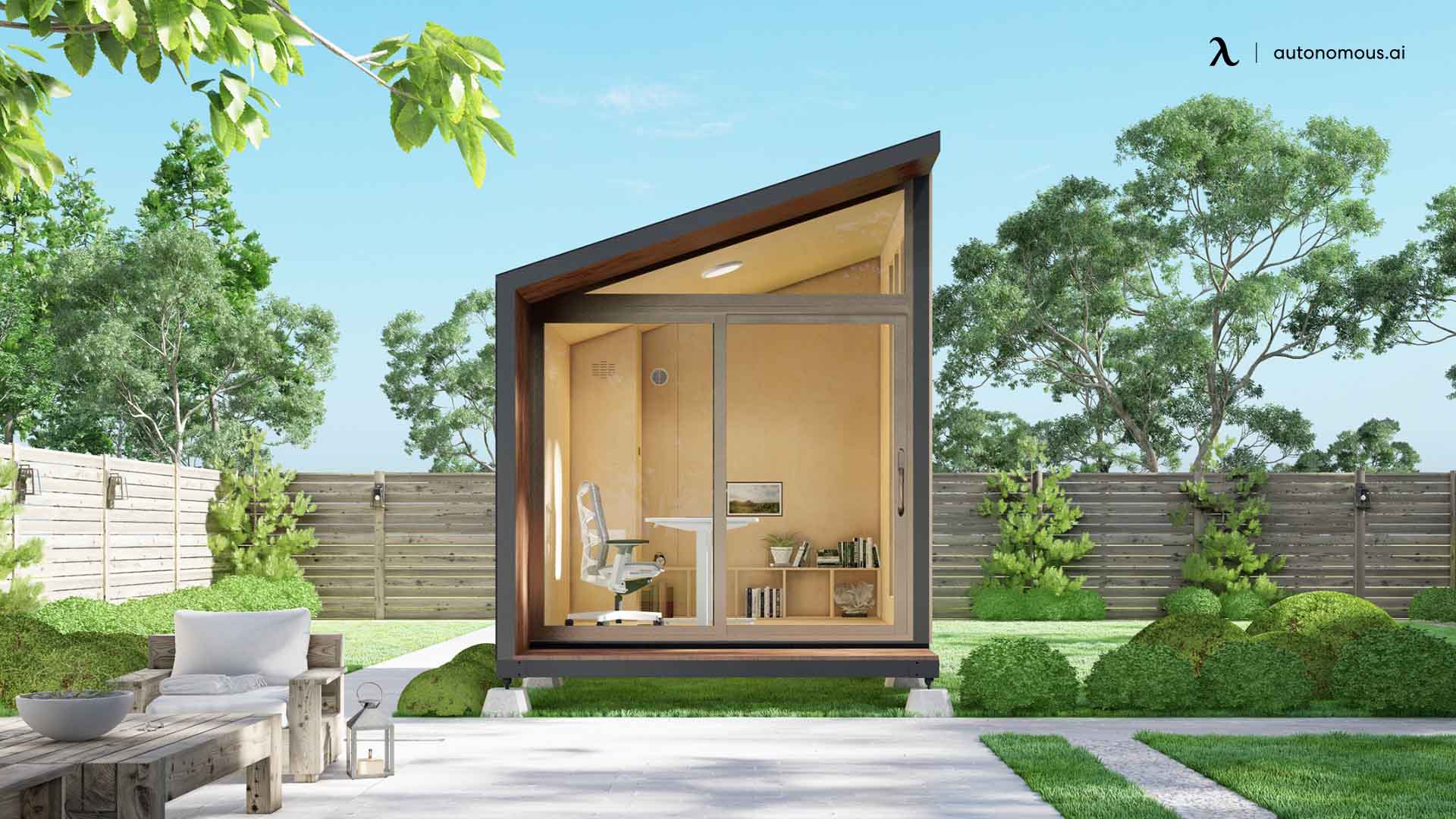 2. Invest in a High-Quality Automatic Standing Desk
Sit/Stand desks are a must in modern offices, at home, outdoor, or otherwise. The health benefits are undeniable, and the added flexibility to working styles is excellent. 
Some automatic desks may cost you a bit of money upfront, but the long-term difference is worth it. Having a standing desk in your outdoor office can instantly increase the style of productivity, as well as improve your posture and mental health. 
3. Bring the Outdoors Indoors
You have built an office in the middle of nature, so why not tie the two together. This is one of the interesting outdoor home office ideas. Adding some plant life into your space is a great way to brighten it up without cluttering, and it can have positive effects on your mood. 
4. Focus on Lighting
Natural lighting is always the best for your backyard office ideas, so position your desk wherever it gets the most. Avoid glare on your computer screen and set up your artificial lighting to mimic the daytime.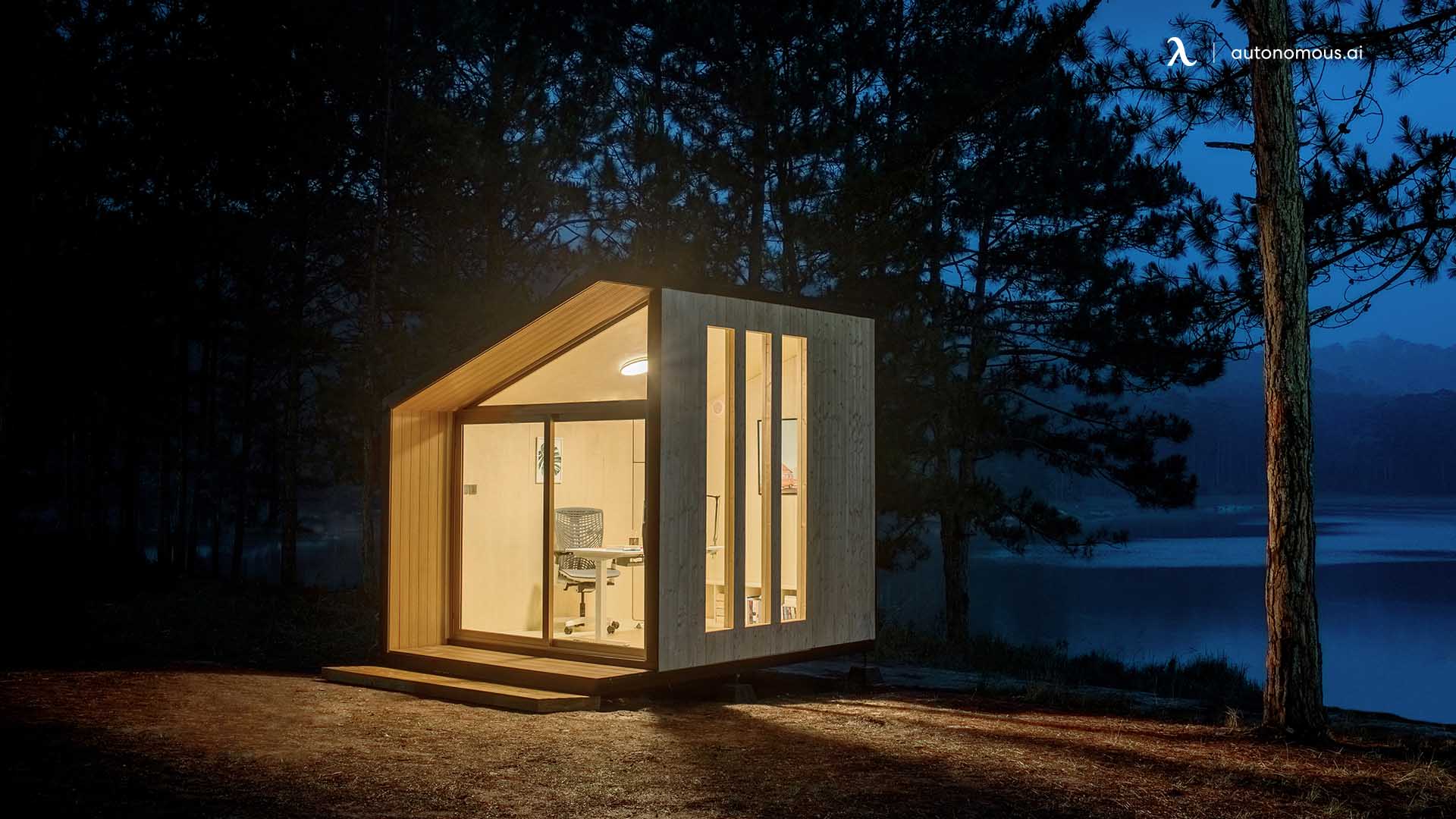 5. Optimize your Use of Space
Gadgets can be both fun and functional if you choose the correct ones. Head over to the Autonomous store to browse some of the best office accessories that can help you make the most of the space that you have. The organization is especially important in small spaces, so focus your attention there.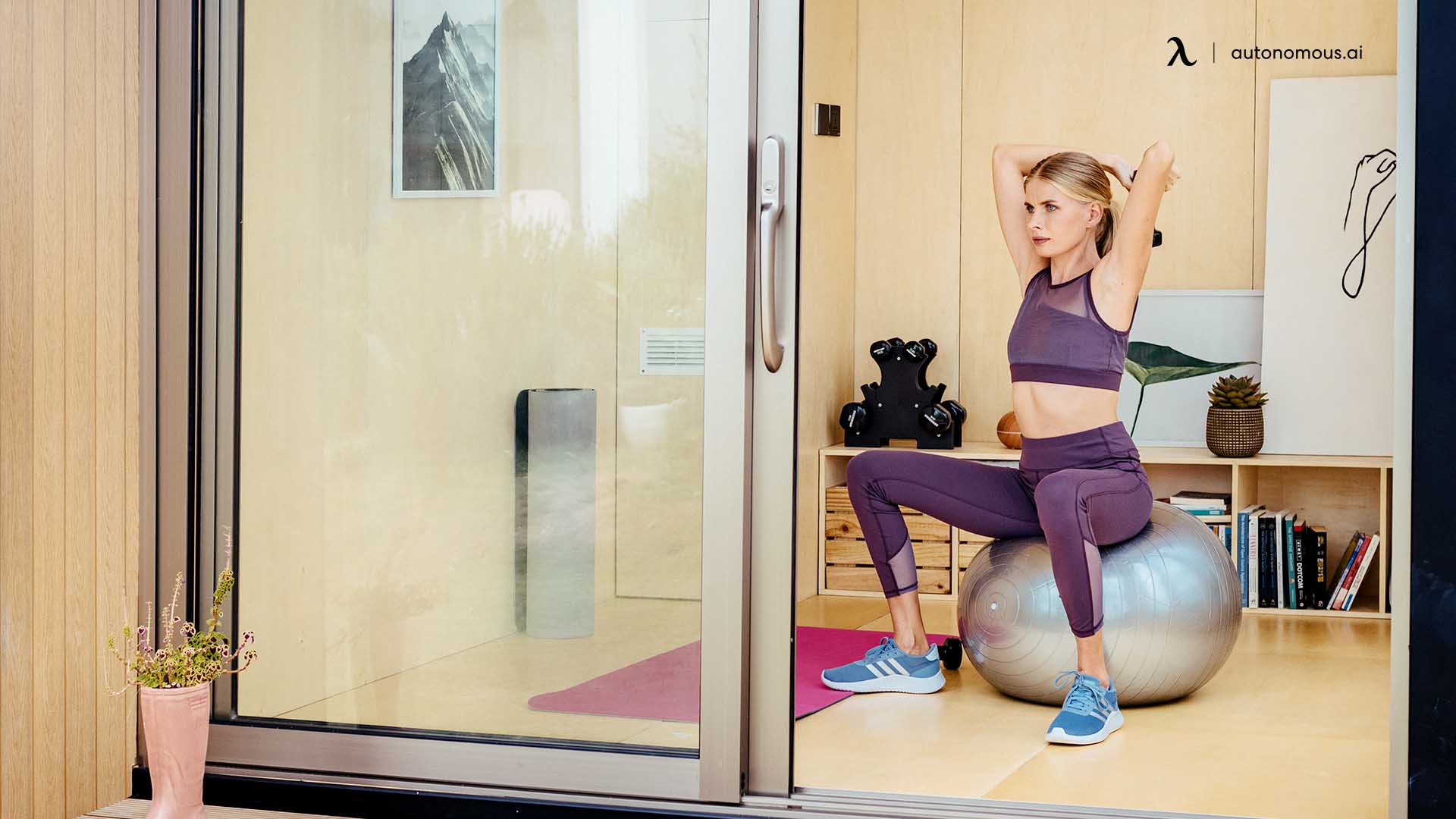 Final Thoughts
A work pod can revolutionize how people work remotely and take their experience to the next level. The Autonomous Pod is one the best examples on the market today. Book an Autonomous Pod tour to get the full experience and see how it could change your life!
Subcribe newsletter and get $100 OFF.
Receive product updates, special offers, ergo tips, and inspiration form our team.
WRITTEN BYAutonomous
We build office products to help you work smarter.