Workplace Inspiration
How Much Does It Cost to Build a Studio Shed?
2,347 Views
If you've ever wanted to build a studio shed but don't know where to start, you must consider all the aspects that may affect the cost of assembling your studio shed. Owning a shed can have several fantastic benefits, especially if you lack space to store your stuff at your home. 
In most cases, building a studio shed can go anywhere from $200 to $30,000, which is why we created the following guide that explains everything that needs to be considered when building a shed and how to lower the price as much as possible. 
Keep reading to learn more about building a studio shed and some best options. 
Factors Involved in Calculating the Cost of a Studio Shed
On average, it will cost to build a shed around $2,500 to build a shed in America. However, this is determined by several factors that will make the price fluctuate. 
Size
It is common sense that larger studio sheds will cost more than small ones. In order to determine the price of your backyard studio shed based on its size, you must consider both its floor space and height, as this will allow you to calculate how many materials you will need to finish the structure.
Materials
Another crucial element you must remember is the materials you will use in your backyard studio shed, as some will be more expensive than others. If you want a simple vinyl shed, you can do it for only $200, but sturdier metal sheds can go as high as $7,000. 
Other common materials are wood and stone, which cost up to $15,000 and $30,000, respectively.
Style
You must also know how the backyard studio shed's style can affect the final cost. Usually, typical garden sheds can go up to $1,000, but storage sheds can cost up to $15,000, and open-stall sheds up to $10,000. However, these costs will also depend on the shed's material and size.
Labor and Permits
Sometimes, your contractors will need certain permits to build a backyard studio shed on your property, which usually costs around $100. This will vary depending on your location, as well as the cost of labor. Still, most contractors charge approximately $50 and $100 per hour.
Additional Costs and Considerations
Although the previously described aspects are the most crucial, several others can also affect the price of building a prefab studio shed on your property. Take a look at the following list to learn more about them. 
Land Clearing and Excavation
One of the most crucial aspects that must be considered to ensure a shed is functional and stable is that it perfectly sits on ground level. Therefore, if anything is obstructing the area where the prefab studio shed will be located, the contractors will need to clear it up and level it, which can cost up to $4,400.
Foundation Building
Another crucial thing to know about sheds is that although not all require concrete foundations, most will. In some cases, this will be a municipal requirement, which is why it is crucial to learn all laws and regulations about prefab studio sheds before starting to build one. Building a foundation for these studio sheds can go anywhere from $4,000 to $12,300. 
Electricity and Plumbing
This aspect will depend on the type of prefab studio shed you'll build. If you're making one to create a home office setup, the chances are that you will need wired electricity to plug in several office appliances and lights. A licensed electrician must do this if you want it to be done correctly, which can cost you up to $2,200.
Insulation
It isn't expected for sheds to need insulation, but if you're going to be making a living inside of them, you will need to get them insulated. However, this isn't too costly, as sheds tend to be small. You can get away with only paying around $200 for this. 
Prefab vs. Original Construction
You don't always need to build a outdoor studio shed from scratch, as you can buy prefab accessory dwelling units from a wide variety of places and get them assembled much faster. These prefab studio shed kits usually cost around $1,500 and $4,000 but remember you will also need to pay a professional contractor to set it up.
Customizations and Enhancements
Finally, the last aspect you need to consider is all the customizations and enhancements you wish to add to the shed. Different sheds with different purposes will need extra enhancements that will vary their price. One of the most common enhancements is playhouse sheds, which cost up to $5,000. 
Shed Types
Many people build outdoor studio sheds to suit their specific needs, but not all of them are the same. Therefore, many shed types aim to satisfy different needs. In the following list, we will go through the most popular types of sheds you can get for your backyard and their costs. 
Storage Shed Cost
In most cases, homeowners will run out of storage space in their homes, which is why they build a storage shed where they can keep all spillover items and equipment. These sheds commonly feature several shelves and other areas where you can easily organize your items, and they can cost anywhere from $300 to $15,000.
Garden Shed Cost
Garden sheds are typically the least expensive ones, as they're relatively small and only consist of a standing wardrobe with several shelves. These outdoor studio sheds are commonly attached to a garage and can cost from $100 to $1,000. 
She Shed Cost
Sheds have become extremely popular in the past few years because they look like storage sheds with several upgrades, such as windows, drywall, and a perfect structure for relaxing or even using as a home office. These sheds tend to cost around $5,000 and $15,000.
Horse Run-in Shed Cost
If you own a horse or another animal, you will need an agricultural shed to protect your animals against harsh weather. These sheds are open on one side so that your livestock is free to wander around however it wishes, and they will cost you up to $10,000 depending on their size and materials. 
Benefits of Building a Shed
Although building an office pod can be pretty costly in some cases, it brings fantastic benefits you may haven't thought of. The best benefits you will get when owning a shed are the following.
Storage
One of the most obvious benefits of building a garden studio shed is an extra storage area for keeping all your tools and equipment. This is especially useful when you have items lying around your house and don't know where else to put them. If you opt for building one of these garden studio sheds, you will need to invest around $300 and $15,000.
Safety
Many people wish to keep their belongings as safe as possible, and owning a shed can help them do that, as they can add all kinds of padlocks and security systems to it so that no one can steal their bikes or other equipment. Some people even choose to add a steel door to prevent thieves from breaking into the modern shed. 
Return on Investment
The final fantastic benefit you'll get from building a garden studio shed is that it tends to raise the value of your home. However, this will depend on several factors, such as the quality of the materials and its curb appeal. The backyard office kits that give a better return on investment can be used like any other room of your home, and you will receive these gains once you decide to sell your house.
How to Save Money When Building a Shed
Although building an outdoor office shed can have several benefits, we want you to be as cost-effective as possible. Therefore, the following tips and tricks will help you save as much money as possible when getting your shed. 
Purchase a Shed Near Your Home
You don't have to build a garden studio shed from scratch. Sometimes, you can find a shed company near your house that offers free delivery. This will save you shipping and manufacturing costs. However, please remember to thoroughly read the instructions before assembling your shed. 
Choose Less Expensive Materials
Another easy way of spending less money on your shed is choosing less expensive materials. Asphalt shingles are much more expensive than tin roofs, while metal roofs can be the costliest. You can talk to your contractor to find the most effective option for your case while considering environmental factors.
Use Skids Instead of Concrete Foundations
In most cases, the best option is to get a concrete foundation, but it is also the most expensive option, as it can cost up to $12,300. However, if your jurisdiction approves it, you can opt for skids, which are much cheaper and save you at least $1,000.
Questions to Ask Your Contractor Before Building Your Shed
When upgrading your home, you need to be aware of everything the contractors will do as much as possible, as this will prevent you from getting scammed later on. In order to do that, you can ask the following questions. 
Who Will Install the Foundation?
Most prefabricated shed kits include assembly in their price, but if they don't, you will need to find independent contractors who can install them for you, which can be pretty costly. 
Will You Provide the Materials and the Workmanship?
Another crucial aspect you must be aware of is whether you will need to purchase the materials elsewhere, as most contractors only cover the workmanship. 
Can I DIY Some of It?
Some people who have previously worked in construction sometimes choose to DIY part of the shed project. However, if this is the case, we advise you to talk it out first with your contractor so that both of you know which part of the project you'll be taking care of and how much money that will cost. 
DIY vs. Hiring a Professional
You must know its implications if you choose to DIY your shed project. In most cases, you must have previous experience in construction and learn all about the materials and equipment you'll be using so that you don't waste valuable money. 
Most people don't have the needed background to execute these projects, so they are better off leaving them to professional contractors. In addition, specific parts of the project, such as installing the concrete foundation, electrical wiring, and other specialized appliances, must be done by a professional to ensure everything is done correctly. 
10 Best Studio Shed Options
Knowing how much it will cost to build a shed from scratch can be important for some people. However, we understand that everyone is not interested in building one when they can find an affordable portable shed online. That's why knowing the details of the most affordable to the most luxurious studio shed choices is vital. You're going to do it once, and you must do it the right way.
So, how much is a shed? And where can you find the best backyard accessory dwelling unit like a modern shed? We know that you must be having such questions floating in your mind. That's why we have shared a list of the best prefab sheds and tiny house building kits below.
Here is a list of the ten best prefab studio sheds that you may try. We have also mentioned their prices simultaneously to help you make your plans accordingly.
1. Autonomous StudioPod
The Autonomous StudioPod is one of the most premium modular office buildings on our list. This 105 sq ft studio shed has plenty of space for your office and even a backyard home gym or living room furniture like a sofa and TV.
Its classic black color makes it look amazing in any backyard or garden. The versatility, spaciousness, and quality of this shed make it bear the price tag of $22,900. You can decorate this shed in innovative ways to make it look great further.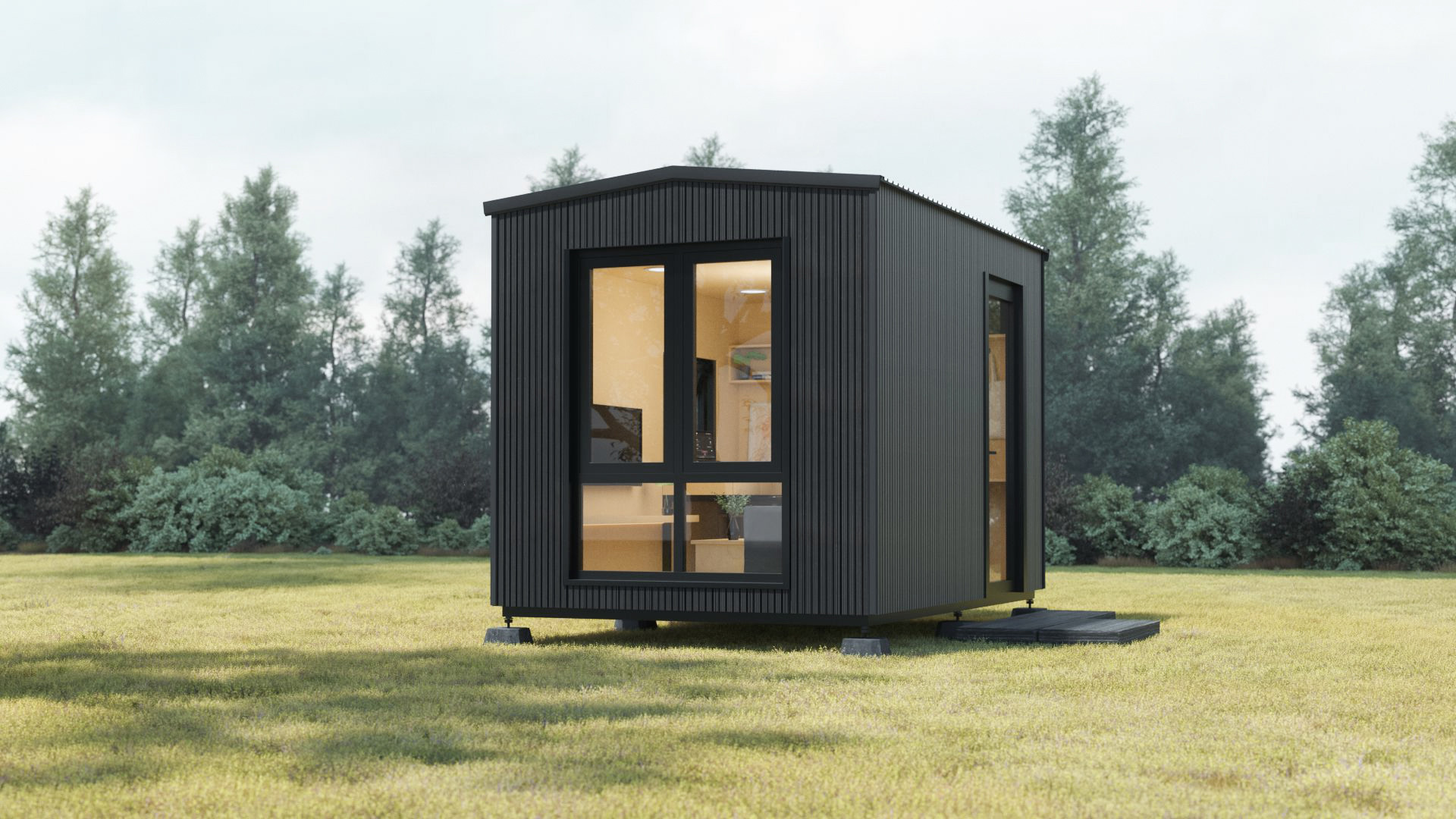 Dimension
106" W - 155"L x 106.3"H
Material
Frame: Vinyl sliding - Housewrap - Bitume - Plywood - Honeycomb paper - Steel frame - Plywood
Basement: Steel, Cement
Include
A closet, desk, bookshelf, TV stand, a foldable coffee table and convertible sofa bed
Minimum wattage
150W
Lighting
3 color modes
Warranty
1 year
2. Autonomous WorkPod
The Autonomous WorkPod is another great shed that Autonomous offers. Like other variants, this shed is also a nice choice for remote workers. The uniqueness of this shed lies in its design. If you look at its sides, you will notice the three large glass windows, which lets plenty of natural light enter the shed. Its aesthetic looks make it cost you less than $20,000.
Dimension
103"W x 142.5"L x 92" - 125.5"H
Material
Frame: Composite wood - Housewrap - Plywood - Honeycomb paper - Wooden frame - Plywood
Basement: Steel, M300 cement
Include
SmartDesk Pro, ErgoChair Plus, Cable tray, Filing Cabinet, Dual Monitor Arm, Anti-fatigue Mat
Minimum wattage
100W
Weight capacity
2.9 tons
Color
Black, White
Warranty
1 year
3. Autonomous WorkPod Lite
The WorkPod Lite from Autonomous may be compact in design but this mighty multipurpose prefab studio shed has the full flexibility to accommodate any space that life calls for. This freestanding studio is all-weather proof, sound insulated, and pre-wired for instant plug+play power. Looking to make a little extra income? WorkPod Lite is the perfect blank canvas to create and style a private guest bedroom you can list on airbnb, or a private office/hotdesk freelancers and nomads can book by the hour.
For fitness gurus, WorkPod Lite is great as a fully functional home gym or yoga studio. Or for families with kids, separate their playroom from the rest of the home and enjoy a little peace and quiet. WorkPod Lite is whatever you need it to be.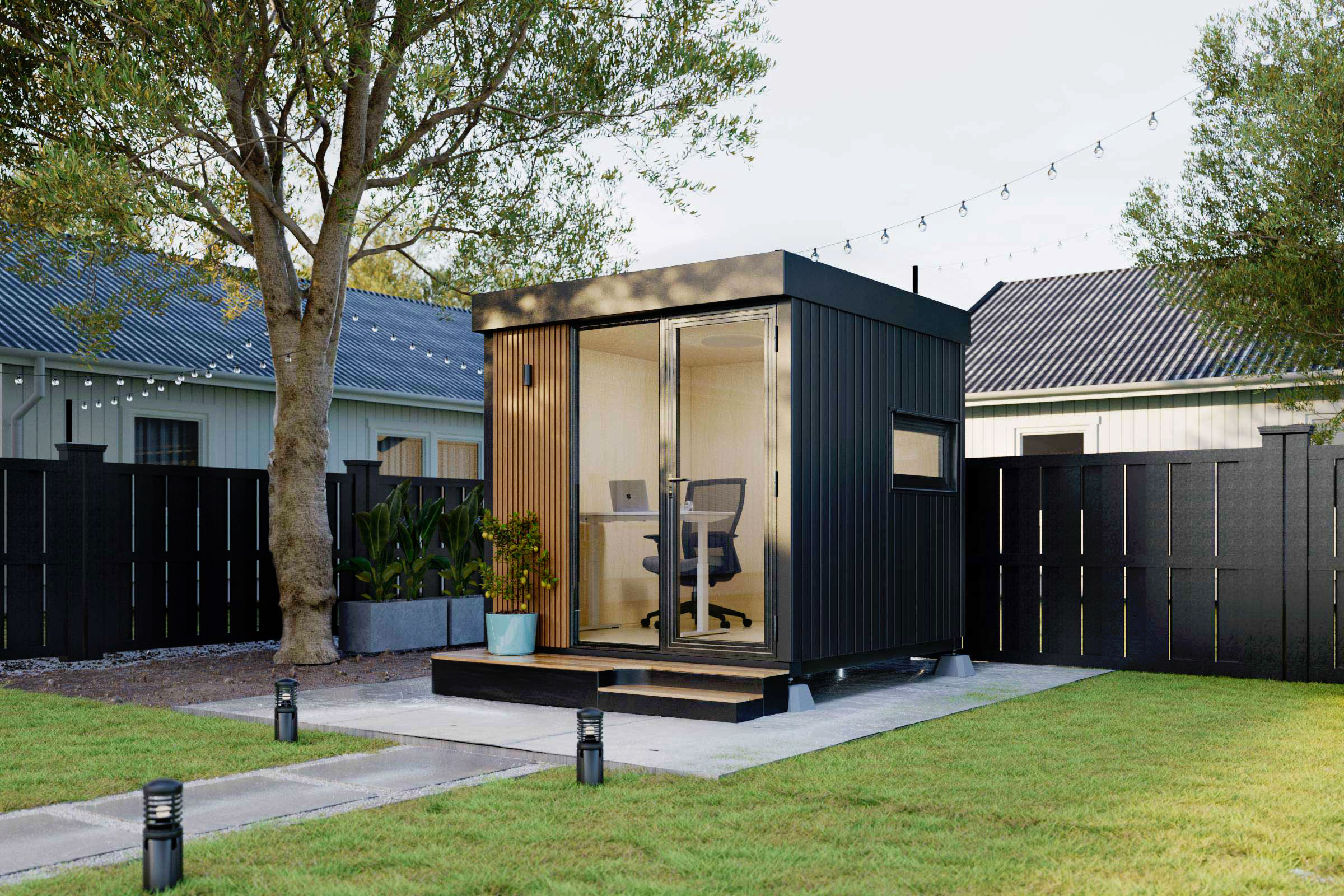 Dimension
8.7 W x 8.12 L x 9.3 H inches
Material
Window and door: powder-coated aluminum, 5/16-inch tempered glass
Siding: plywood 1/2-inch, steel frame, honeycomb paper, plywood 3/8-inch, bitume, housewrap, vinyl siding
Roof: metal roofing
Floor: plywood
Balcony and Pedestal: steel frame and wood plastic composite
Pedestal
24 W x 103 L x 9 H inches
Electrical devices
RCB, Wall outlet, Ceiling light switch, Ceiling light, Wall light, Ethernet wall port, 66ft power cable with 2 connectors
Weight capacity
2.3 tons (including Pod body)
Floorspace
80 square feet
Ceiling height
7.3-inch
4. Sheds Unlimited Urban 360 Sheds
Sheds Unlimited is another company that makes studio sheds variants that come under the budget of $10,000. Their Urban 360 Sheds are available in a range of 8 feet to 12 feet in width. The standard 8-feet wide shed will cost you $8,895, while the price of the 12-foot wide Urban 360 Shed can be around $20,000. People with a lesser budget can think of going for the less expensive smaller variants.
5. Boreas 10 x 12 Shed by STUDIO SHED
If you can raise your budget to $21000, we suggest you go for Boreas 10 x 12 shed by STUDIO SHED. This ideal shed is available at a price of $20,790 at its online store. With a flat roof and sturdy gates, this shed can provide you with a safe and secure space to work remotely on your office tasks.
6. Summerwood MD Urban Studio Shed
Summerwood, MD Urban Studio Shed is one of the most affordable options in the market. The MD Urban Studio Shed is available in a wide range of sizes with a starting price of $8,186 for a prefab version of the smallest 6' x 10' shed. The prices can go as high as $9,376, which is the largest one in this model. People who have a budget under $10,000 should think of going for this shed. It would serve as a great addition to your house at this cost.
7. Solitude 10' x 12' Shed by STUDIO SHED
If you are looking for a luxurious studio, or shed that even features an aesthetic, relaxing porch, think of going for Solitude 10' x 12' Shed by STUDIO SHED. However, you must be mindful that this shed will cost you $23,357. Its entire glass door entrance, unique colors, and durable hardware makes it one of the most premium options in the market. 
8. Kanga Room Systems Modern Kwik Room
Kanga Room Systems design some of the best cabin room building kits. Their Modern Kwik Room is a large 120 sq ft dwelling unit that features a great style, elegance, and design. However, the price tag is too hefty for most people. If you get the installed shell, it features a base price of $24,700. However, the price for turnkey installation is higher, with a base price of $40,600. 
9. Studio Sheds by Modern Shed Backyard Studios
Modern Shed Backyard Studios design sheds in three different sizes: Small, Medium, and Large. Their small studio shed is 8 feet wide, while their medium and large sheds are 10 feet wide. The shed cost for the small size is $10,000. The unique color combination and design of these sheds make them a suitable choice for many.
10. Standard 10' x 12' Shed by Backyard Eichler
The Standard 10' x 12' Shed by Backyard Eichler is the most expensive yet luxurious studio shed. If you think about how much it costs to build a shed like this, you must have a budget of at least $27,000. The specialty of this studio shed is its design, as it comes pre-installed with sliding glass doors and windows.
The company offers you other designs as well, where you have the liberty of choosing skylight and French doors for your shed. The Standard 10' x 12' Shed is priced at $27,000 as a base price. However, the larger units which Backyard Eichler designs have a higher price tag.
So, plan your budget efficiently to purchase the ideal shed for your remote users. And if you feel it right, try building a shed on your own.
FAQs
Now that you know everything you need to know before building a shed, you probably still have some questions that need to be answered before starting your project. That's why you should check the following list of frequently asked questions. 
Is It Cheaper to Build or Buy a Shed?
In most cases, buying a shed or a work pod will be much cheaper than building one from scratch. If you want to build a custom shed, you will need to pay up to $150 per square foot. On the other hand, if you buy a shed kit, you only need to pay up to $20 per square foot to assemble it. 
How Much Does It Cost to Build a Shed?
Considering that most studio shed kits cost from $60 to $150 per square foot, you would need around $8,640 and $21,600 to build a 12-foot By 12-foot shed. 
How Long Does It Take to Build a Shed?
If you hire the right people, it should take them about eight hours to build a 10 by 10-foot prefab studio cabin. However, if they're making it from scratch, it can take more than two weeks to get it done. 
Bottom Line
Building a shed can have fantastic benefits, but it can be a bit costly, especially if you're not aware of everything that comes into play when doing it. Luckily, after reading this, you can check out Autonomous best prefab cabins to improve your home.
Subcribe newsletter and get $100 OFF.
Receive product updates, special offers, ergo tips, and inspiration form our team.
WRITTEN BYAutonomous
We build office products to help you work smarter.