The COVID-19 virus changed the way people do things going into the future. Since the disease has no known cure or end in sight, people have had to adapt to the new normal way of life. All aspects of society have had to change, including the office. Many employees have shifted to a prefab office shed to continue with their work. 
Now, most people are working from home or are hybrid work employees. You need a quiet place to enable you to become productive. A home office pod provides that privacy. In this article, you may find some pods ideal for remote working to consider for your space.
20 Best Budget Prefab Office Sheds for Remote Work
1. The Autonomous WorkPod
This is a soundproof home office pod that allows you the luxury to hear yourself think. The pod has a floor-to-ceiling glass door, making you feel like being outside, so you have no fear of small spaces. It is easy and delightful to set up, so you may need no contractors to build it. 
Autonomous WorkPod is pre-wired and furnished with all the office amenities. It comes equipped with a standing desk like the SmartDesk and an office chair like ErgoChair Plus. The pod needs no prepping, just plug it in, and you're good to go. If you only want the pod, you may go for the Pod version with no equipment. 
This studio office shed's foundation is adaptable to any terrain, be it brick, concrete, gravel, or grass. The WorkPod is resistant to wind, snow, humidity, and rain, so it can withstand any change in weather patterns.
Dimension
8'6''W x  11'9''L x 11'H
Ceiling height
6'10'' to 9'4''
Window material
Wooden frame, 5/16" tempered glass
Door material
Anodized aluminum frame,  5/16" tempered glass
Material
Siding: bitumen, housewrap, vinyl silding
Roof: bitumen, housewrap, shingles roof
Floor: plywood
Balcony: composite wood
Include

Optional: SmartDesk Connect, ErgoChair Pro+, Dual Monitor Arm, Cable Tray, Steel Cabinet, Anti-Fatigue Mat. Always included: Electrical Cabinet & Bookshelf

Floorspace
98 square feet
Capacity
2.9 tons
2. Autonomous StudioPod
The StudioPod from Autonomous is an all-new multipurpose space that fits right in your backyard. This prefab shed lets you do just about anything you can think of, whether as a backyard studio for gaming or work, as a fitness prefab studio or a studio shed for the kids to play.
The StudioPod modern shed also comes fully decked out with all the furniture and storage space you need. You'll be ready for anything with a closet, a desk, a bookshelf, a TV stand, a coffee table, and a convertible sofa bed.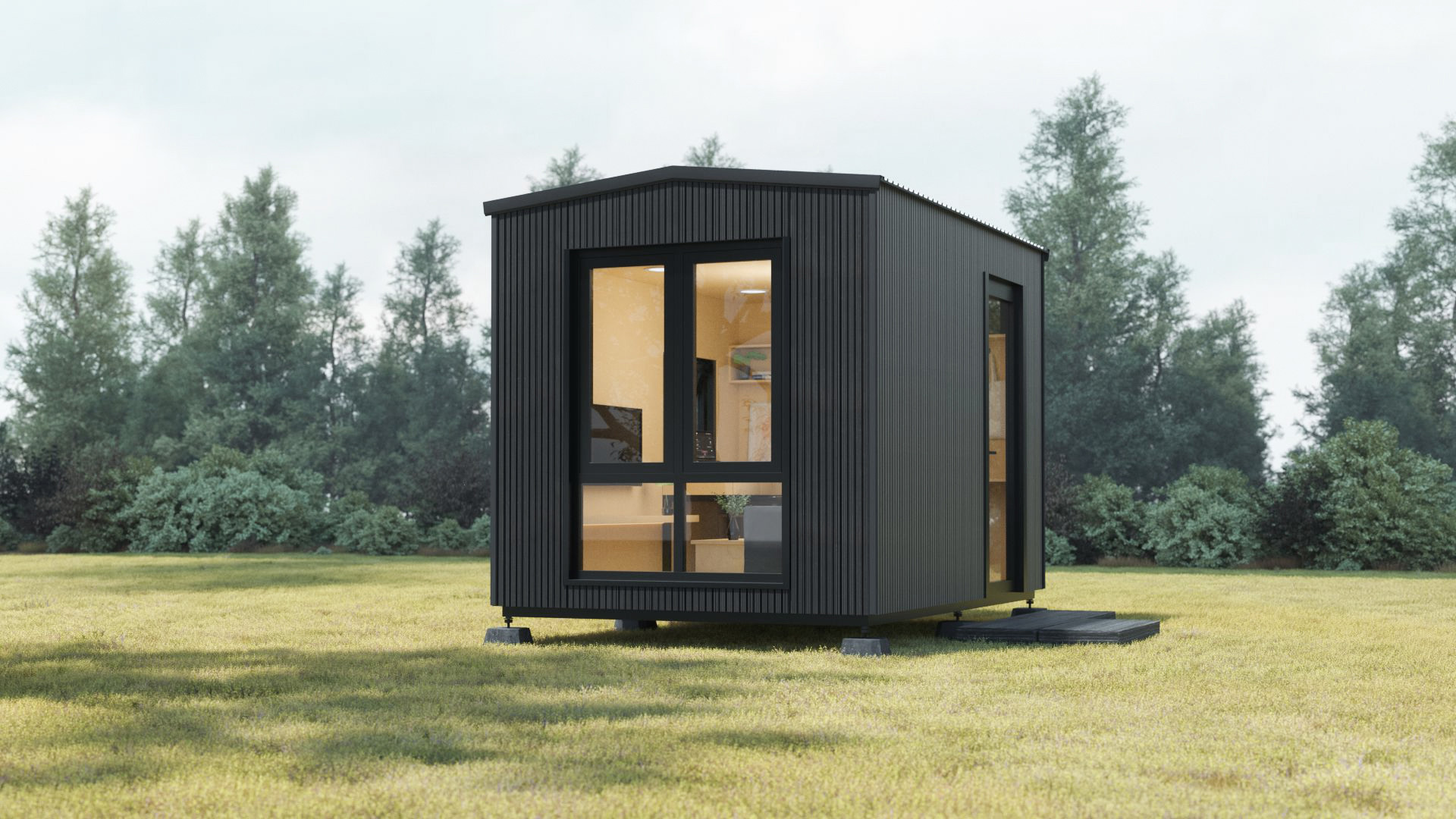 Dimension
8'4"W x 12'6"L x 9'10"H
Floorspace
105 square feet
Ceiling height
7'3"
Weight capacity
2.9 tons
Pedestal
18"W x 43"L x 7"
Window & door material
Powder-coated aluminum,  5/16" tempered glass
Material
Siding: plywood 1/2", steel frame, honeycomb paper, plywood 3/8", bitume, housewrap, vinyl siding
Roof: roof shingles
Floor: plywood
Pedestal: steel frame & wood plastic composite
Electrical devices
RCB, Wall outlet, Ceiling light switch, Ceiling light, Ventilator switch, Ventilator, Ethernet wall port, 66ft power cable with 2 connectors
Include

Optional: Cabinet, Desk, Small & Big Bookshelf, TV Shelf, Foldable Sofa Table, Convertible Sofa Bed. Always included: Electrical Cabinet

Power input
Maximum voltage : 110V AC (US standard)
Maximum current : 25A
Maximum power dissipation : 2750W
3. Autonomous WorkPod Lite
To avoid the stress of outsourcing technicians and the nightmare of electrical complications, WorkPod Lite comes completely pre-wired allowing you to plug-and-play and move in ASAP. Simply connect WorkPod Lite to a main power source via the 66ft power cable provided, and your new ADU is ready to go. With 2 universal wall sockets, ceiling light, and light switch integrated into the build, the compact prefab office shed has the flexibility to transform into any space.
Height adjust your SmartDesk and power up the PC in your new home office, run a mile on the treadmill in your new home gym, watch your favorite Netflix series in your new TV room, or switch off the lights and catch some Z's in your new guest bedroom. WorkPod Lite is whatever you need it to be.
It is an outdoor office shed spacious enough to fit different office equipment. The pod also gives you the comfort and space you need to work. This unique structure complements your backyard and other surrounding buildings with its modern touch.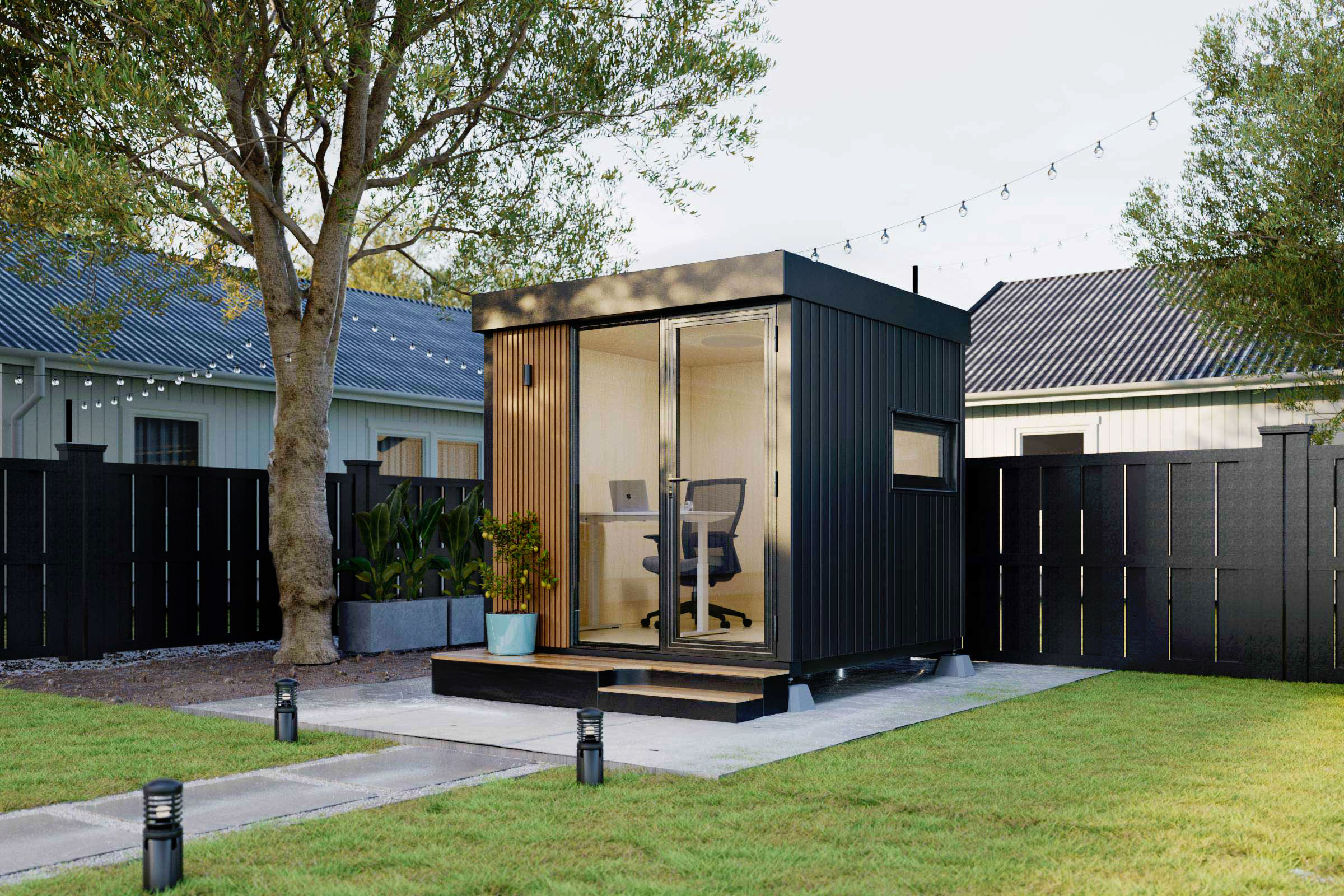 Dimension
8.7 W x 8.12 L x 9.3 H inches
Material
Window and door: powder-coated aluminum, 5/16-inch tempered glass
Siding: plywood 1/2-inch, steel frame, honeycomb paper, plywood 3/8-inch, bitume, housewrap, vinyl siding
Roof: metal roofing
Floor: plywood
Balcony and Pedestal: steel frame and wood plastic composite
Pedestal
24 W x 103 L x 9 H inches
Electrical devices
RCB, Wall outlet, Ceiling light switch, Ceiling light, Wall light, Ethernet wall port, 66ft power cable with 2 connectors
Weight capacity
2.3 tons (including Pod body)
Floorspace
80 square feet
Ceiling height
7.3-inch
4. The Cozy Mini Pod Office Shed
Are you looking for a cozy and comfortable home office shed? Well, this setup is the right choice. Though it's not as affordable as other products on this list, it offers you all the relaxation and comfort you need to work.  
Generally, this pod offers value for your money, being a permanent office space. The good thing is that the shed can act as a business studio. Due to its structural design, the Cozy Mini Pod Office Shed occupies less space than other types of pods. 
5. A Tiny and Efficient Office Shed
Made of style and elegance, this studio office shed is a great choice for your work. Its pre-installed insulated panels make it an energy-efficient building. A big window provides a good view of your garden and your other surroundings. 
The beauty of having this type of backyard office pod structure is that it is a soundproof work pod. Its flexibility makes it easy to expand and have a meeting area or a resting room. Ideally, this office pod is best for developers and streamers who need the minimal distraction possible. 
6. A Narrow Office Shed
If you have a narrow or a small space for your prefab office shed, you can go for the narrow design. Though it takes less space, it is classically made with a custom design. The Narrow Office Shed has a good study and working area, as well as a storage place.  
Apart from being a perfect fit for your backyard space, it has a modern space that matches the neighboring structures. This type of office pod can help you focus and work effectively on your projects. The structure reduces outside disruption and encourages productivity. 
7. Versatile Office Shed
This type of prefab office shed comes with various modern factors. The shed is spacious enough to fit your office equipment. Furthermore, it can also hold a small kitchen or a bathroom. The good thing about this home pod is that it has a good roof and other amenities. Ideally, while in this pod, you don't need to go to the main house frequently. 
8. Harwyn Office Pods
Are you looking for an extraordinary office pod setup? Harwyn is a good option. Its contemporary and modern design makes it look sleek and stylish. It guarantees your safety and privacy while working through its double layer of protection. 
Additionally, the Harwyn Office Pod has a waterproof feature. It also has a variety of other important features that enhance your working experience. The heating panel and remote-control blinds are some of the product's best and most favorable features. This office pod type allows you to play with your setup and make it your own. 
9. Glass Office Shed
If you are a fan of glass structures, natural light, and a great view, this backyard office pod setup is the go-to pod. Apart from having a modern design, it is spacious enough to hold some meetings. Its designs are also good for fitting several office and personal items.  
Though it may not offer the privacy you need, it can help you engage with your environment. It gives you a great view and ample natural light. You can shut the glass walls during the night or when needed. Some features of these setups include shut-out curtains that reduce destruction and a louver system that provides you with maximum comfort. 
10. Shaded Office Shed
When working from home, you get all the freedom to design and customize your office space. The fun thing is that you can create a combined living space to be your working pod. This shaded office pod is common to many remote workers. 
It is easy to design and work in. This cube-like structure enhances your working privacy and concentration. Through its timber facade and the louver system, it prevents you from outside distractions. Working interruptions can affect your productivity and focus. 
11. Comfy Backyard Office Pod
This is a great project you can start during this pandemic period. You can make a good backyard office shed for your work activities. The good thing about this project is that you can make a spacious working pod on a budget. This type of working pod is one of the most comfortable backyard offices sheds you can have. It has a full-height window that allows the entry of natural light. The pod also has microporous paint that makes it beautiful and comforting. 
12. Minimalist Modern Office Shed
This is an outdoor setup that takes the least amount of your garden space. Ideally, the prefab office shed can act as your garden roof and a relaxing area. Regarding this type of garden office pod, you can make it match your garden by adding a green roof. 
You can protect and decorate your garden with this setup and still use it as your work office. It is comforting and fulfilling to work in a natural and beautiful environment. The Minimalist, Modern Office Shed offers you a conducive area to work in. 
13. Private Backyard Office Shed
If you are looking for a private and beautiful home office, this setup is a good option. The Private Backyard Office Shed offers you an opportunity to focus on your work. You can comfortably place your confidential documents in the pod. It ensures safety and security during and after work. The wooden plank makes it look natural and stylish.
14. Whimsical Office Shed
This prefab office shed design is more than just an ordinary working pod. Many people working from home prefer this shed type; this is because of its natural appearance and beautiful design.  
The pod offers you a conducive environment to work in. This office pod is spacious enough to fit your office stuff and furniture. The Whimsical Office Shed offers an aesthetic and relaxing place to work in. 
15. She Shed Office Pod
If you are an art lover and have a touch of creativity, this is the right prefab office shed for you. The She Shed Office Pod is a good choice due to its naturalness and conduciveness to working. Apart from having ample space, the pod provides enhanced privacy and security.  
Its commendable features make the shed beautiful and comfortable. The beautiful door and creatively placed window make it both elegant and beautiful. Setting up this structure is easy and fast.
16. A-Frame Home Office Shed
If you wish to have a prefab office shed that looks like a house, the A-Frame Home Office Shed is the go-to structure. The shed makes you feel as if you are in your main house. Its privacy and security make it a safe place for you to work.  
The pod's A-frame and vinyl shutters make it durable and more appealing. Furthermore, you can make the pod match your bigger house. Constructing this piece is affordable, easy, and it takes less space. Due to its ample space, you can place several pieces of office pod furniture to help you work better. 
17. Modern Office Shed
Are you looking for a modern and well-customized prefab office shed? Well, the Modern Office Shed is a good idea. This pod is made of quality material and a beautiful modern design. You can build a perfect office pod that fits your backyard space; with such a design, you can choose the number of features you wish to have.  
 Give your office pod a relaxing and comforting look with beautiful interiors. Ideally, you can be creative with this type of design to fit your dream office pod.
18. A Friendly Office Pod
This is another cool and beautiful prefab office shed. You can add several advancement options to meet your desires. Furthermore, there is room to improve or add beautiful flooring, windows, and roof. The Friendly Office Pod has an insulated wall that provides warmth. It also keeps the decor and the paint intact for a long time. 
19. Tiny Office Shed
Sometimes, spacious offices tend to get lonely if you are working from home. This tiny prefab office shed design is cozy, beautiful, and engaging. It gives you the aesthetic look you may be looking for and urges you to continue working. The Tiny Office Shed has a natural touch that makes it beautiful. Its candidness and decency give comfort even when you are having a hard time working.  
Apart from eliminating distraction, the outdoor office shed gives you comfort and relaxation when at work. This pod design has a soundproof wall and a sleek interior design that makes it look elegant. 
20. Small and Modern Outdoor Home Office Sheds
You can use your backyard space to your working advantage. This type of modern prefab office shed design offers you an aesthetic and natural feel. Apart from its combined functionality, it is surrounded by a green and beautiful environment. You can create an intimate and fairy-tale retreat area in your work pod. 
This small pod can accommodate several pieces of office equipment and personal items. You can improve your productivity by taking breaks from work and taking naps in your cozy shed.
Conclusion
Work must go on, and people have to adapt to the new way of life, with or without the virus. You don't have to go to the office to work; set up a home office and work as usual. What could be better than a fully equipped outdoor office shed? Go for your taste in a home office pod and continue with your work. 
There are many benefits of a home office shed with an ideal working from home office setup. You may not miss anything you had in a normal working office. In fact, the pod improves your productivity, focus, and wellbeing as it cuts excess noise. It also lowers your stress levels and boosts your concentration.
Video ads for product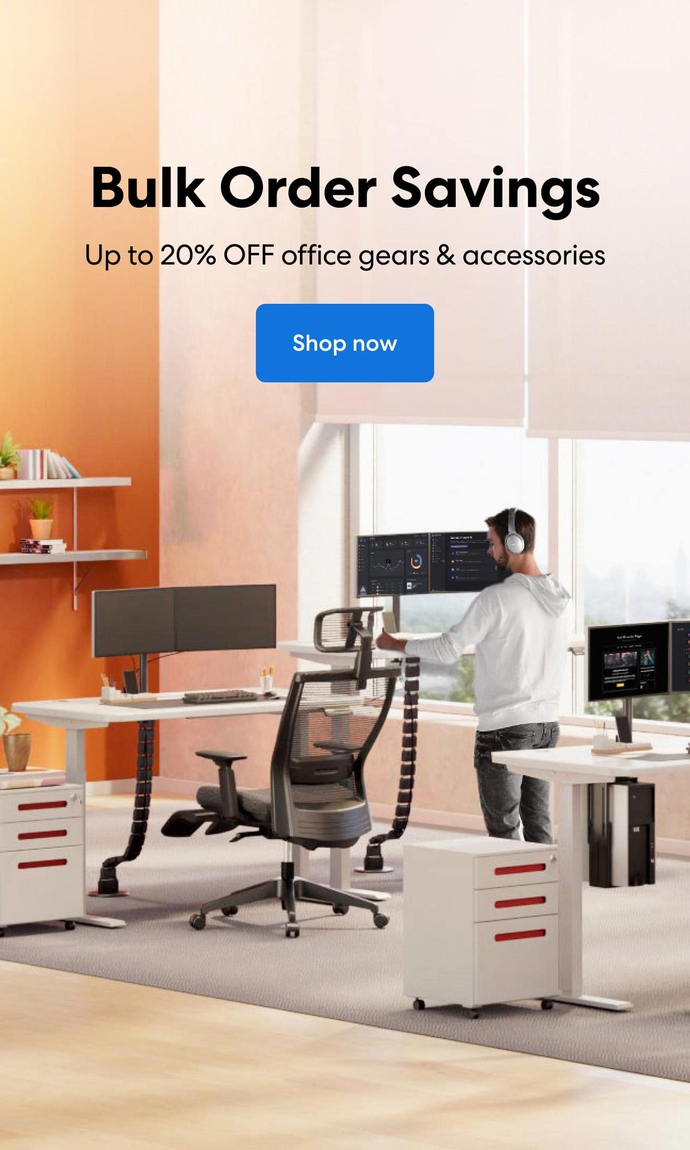 Subcribe newsletter and get $100 OFF.
Receive product updates, special offers, ergo tips, and inspiration form our team.