Workplace Inspiration
What Is a Shed Foundation? Our Top Options & Building Tips

Autonomous
|
Jun 18, 2023
827 Views
The shed foundation may not be the most glamorous part of building a prefab unit, but they are essential for ensuring the structure is safe, stable, and long-lasting. 
Building a work-from-home pod can be a great option if you need extra storage space for garden tools, want a quiet place to study, or crave a cozy retreat.  
Luckily, there are several different types of platforms you can work with, depending on the purpose of the home studio and your budget.  
The 10 Most Popular Shed Foundation Options
Building a shed foundation can give you a sense of pride and accomplishment. However, before starting the construction phase, it's crucial to consider the foundation type to ensure the shed will stand the test of time. 
There are various options available, but in this article, we will talk about the most popular ones. 
1. Skid Foundation
This simple and affordable option involves placing the shed on wooden skids. Such options are perfect for small units. 
The wooden skids are pressure-treated to prevent moisture collection and rot, making them durable and long-lasting. 
If you plan to build a shed on a skid foundation, it is important to ensure that the skids are leveled, well-supported, and spaced correctly.  
You should also consider the size and weight of the prefab pool house you plan to build. Most prefabricated cabins are also built on a skid foundation, making it a popular option.
Of course, not every skid foundation is equal. 
Depending on the size of your shed, you may need to place the bottom of the shed on top of concrete or gravel to ensure proper drainage and stability.
Pros
Most skid foundations are affordable. 

Very easy to install. 

Included with prefabricated units.

 
Cons
Skid foundations need additional gravel or limestone for support. 
2. Metal Jacks
One of the primary benefits of metal jacks is how easy they are to install. Unlike other foundation options requiring skilled labor and specialized equipment, you can install metal jacks with basic tools. 
This makes them an ideal choice for homeowners looking to save on costs.
Metal jacks are also significantly cheaper than other foundation options, such as concrete pads or wooden beams. 
It's worth noting that metal jacks may not be ideal for larger sheds that require significant weight-bearing. In these cases, it's best to consult a professional to determine the appropriate foundation option for your needs. 
However, this shed base is perfect for slightly slanted surfaces. You also don't have to worry about the foundation sinking, as it can easily hold the weight of small studio kits.  
Pros 
You don't have to spend a fortune to afford this platform for a shed. 

Metal jacks are ideal for

small cabin kits for under $15,000. 

This shed base is very easy to install.

 
Cons 
Metal jacks aren't suitable for large prefab units.  
3. Concrete Blocks
This option is great for those who want to DIY the foundation process. Concrete blocks come in various sizes and shapes, making it possible to create a base that suits your specific shed needs. 
With proper planning, a concrete block foundation can provide a stable and long-lasting platform for your shed. 
However, it is important to consider the potential drawbacks of using concrete blocks as a shed foundation. 
The weight of the structure can cause the blocks to compress. Concrete blocks don't work well on wet or soft surfaces, as they can sink or shift over time. If you work with this shed foundation, monitor your unit regularly and make necessary repairs immediately.
Pros 
This is an affordable alternative. 

Concrete blocks are easy to install. 

You can place the slabs on uneven surfaces.

 
Cons 
Concrete blocks are prone to sinking on wetlands.  
4. Pavers
If you're looking for a simple, affordable, and durable foundation option for your new shed, pavers are the way to go. They offer all the benefits of a solid base without breaking the bank or causing inconveniences. 
Pavers offer impeccable stability as well. This platform is usually made of concrete or stone, making it well-known for its strength. 
On top of that, pavers don't require any sealing or re-leveling like other foundation types, making them a hassle-free option. All you need to do is ensure they remain clean and debris-free. 
Pros
It's an easy-to-install shed foundation. 

Pavers lie flat on the ground, ideal for slanted structures. 

This shed base is also affordable.

 
Cons
The tiles may shift over time.  
5. Plastic Grid Base
This new and modern foundation type is an innovative, semi-permeable alternative to traditional options like gravel and concrete. 
One of the best things about plastic grid foundations is their easy installation. You simply snap the panels together and add gravel to fill the gaps. The small stones help with moisture absorption and provide additional stability for your shed.
Unlike traditional foundations that require extensive digging, you can quickly install plastic grid foundations. The semi-permeable design of the base allows water to drain through, which can help prevent moisture buildup and damage to your shed.
Pros
You don't have to worry about moisture buildup and premature rotting. 

Plastic grids provide even support to all parts of the shed. 

This alternative is much cheaper than other foundation options.

 
Cons
You can't install plastic grids on slanted sites.  
6. Metal Kits
Metal foundations are a popular choice for many homeowners because they are affordable. 
Most prefab units feature this foundation option in the package, alongside the manufacturer's instructions and tools. As a result, metal bases are easy to install and cost-effective for those on a tight budget.  
However, it's important to note that metal foundations can be flimsy and may not be ideal for sloped surfaces. While they offer great affordability, they may not provide the level of stability needed for certain scenarios. 
Pros
Very easy to install without professional help.

You can find them packaged with prefab units. 

Metal foundations are affordable.

 
Cons
The shed base can be flimsy and prone to damage.  
7. Deck Foundation
Typically made from solid materials such as concrete, deck foundation slabs cover more surface area than other blocks.  
As a result, this base option rarely sinks. Deck blocks are usually paired with beams. You only need to drill the posts onto the blocks and install the shed. This eliminates the need for excavation.
Pros
Deck blocks are ideal for wetlands. 

You can install them without needing professional assistance. 

This foundation option is affordable.

 
Cons
The blocks can be very hard to move.  
8. Gravel Base
This durable and convenient option is also one of the most economical choices. Whether building a new shed or replacing an old foundation, a gravel pad is a great alternative.  
Unlike other foundations, a gravel pad can be installed quickly and easily without needing heavy machinery or undergoing complicated installation processes. 
However, what is a gravel base, anyway? Simply put, it's a layer of crushed stone laid down on the ground to provide a stable platform for your shed.
Pros
Gravel foundations are ideal for wetlands. 

The crushed stones allow even stability. 

You can install gravel pads on uneven surfaces.

 
Cons
Gravel pads are not frost-proof.  
9. Helical Piers
When building a foundation for a shed, choosing the right base is crucial for the unit's longevity and stability. There are different options available, but one that has gained popularity recently is helical piers (aka screw piles).  
These are essentially large screws that are installed directly into the ground. They are attached to brackets, and skids are fastened onto them. This results in a stable, durable, and incredibly sturdy foundation. 
One of the most significant benefits of screw piles is that you can easily adjust the height of the screws to match the contours of your landscape.  
However, it's essential to note that installing helical piers requires professional help. You cannot do this alone; hiring a contractor is the best way to ensure the foundation is sturdy.  
Pros
You can place screw piles on uneven ground. 

Helical piers can support a large,

modular guest house. 

You can adjust the screws to match the slant of the slopes.

 
Cons
Screw piles are not too affordable.  
10. Timber Frame
Also known as post-and-beam platforms, this foundation option is ideal for large prefab units. It's best to rely on a professional carpenter or contractor for installation since this base type can be hard to DIY.  
Timber frames are ideal for sloped surfaces, given how the beams are paired with deck blocks (as mentioned above). However, note that this foundation option greatly increases the unit's height! 
Pros
Timber frames are more affordable than other alternatives. 

This foundation option is very durable and stable, even on uneven surfaces. 

You can adjust the beams to match the contours of the landscape.  
Cons
You will need professional assistance installing timber frames, which can be expensive. 

 
Tips for Building a Strong Shed Foundation
The foundation is one of the most important elements when building a shed. A strong and sturdy base can ensure the longevity and durability of your shed, whereas a weak and unstable one can lead to all sorts of structural issues.  
If you're a homeowner looking to build a shed in your backyard, there are a few things you need to consider first.  
Location
Before you begin building your shed foundation, it's important to consider where you want to place it.  
Make sure to select a location that is free of any zoning laws or restrictions that may apply in your city or town. Regulations can vary depending on the area, so knowing what rules and clearances you need in your locality is essential. 
Legal Permits
Sometimes, a permit may not be necessary if the shed is smaller than a certain size, but it's always better to know than getting risk fines or the need to tear down the works. You can find this information online or by contacting your local housing society office. 
Materials
The last thing you need is the base falling apart due to the weight of the prefab unit. Make sure to choose a sturdy and durable foundation.  
Concrete blocks

are great for holding heavy weight but can cause the structure to sink gradually. 

On the other hand,

timber frames are ideal on uneven surfaces, allowing you to work with larger units. However, the downside of this option is that it can increase the structure's height, ultimately causing inconvenience. 

The ideal foundation option is a

skid base. You'll be good to go if you're building a small and affordable backyard ADU. However, purchase limestone or gravel separately if you work with skid foundations.
Purchase Affordable Prefab Units
While building a shed foundation from scratch can have gratifying moments, purchasing a prefabricated unit from a renowned manufacturer is usually a better idea. Autonomous is a global brand specializing in ADUs. Our top picks from this brand include the following: 
1. Autonomous StudioPod
The Autonomous StudioPod is a versatile and stylish outdoor living space designed for functionality and relaxation.  
With a built-in closet, bookshelf, foldable coffee table, sofa bed, and more, you can transform this space into a guest house, office, or entertainment room. Plus, universal outlets make it easy to power any device, anytime. 
No need to worry about weather damage either—the vinyl siding layer keeps water out, while the honeycomb paper insulation and soundproofing ensure a peaceful environment.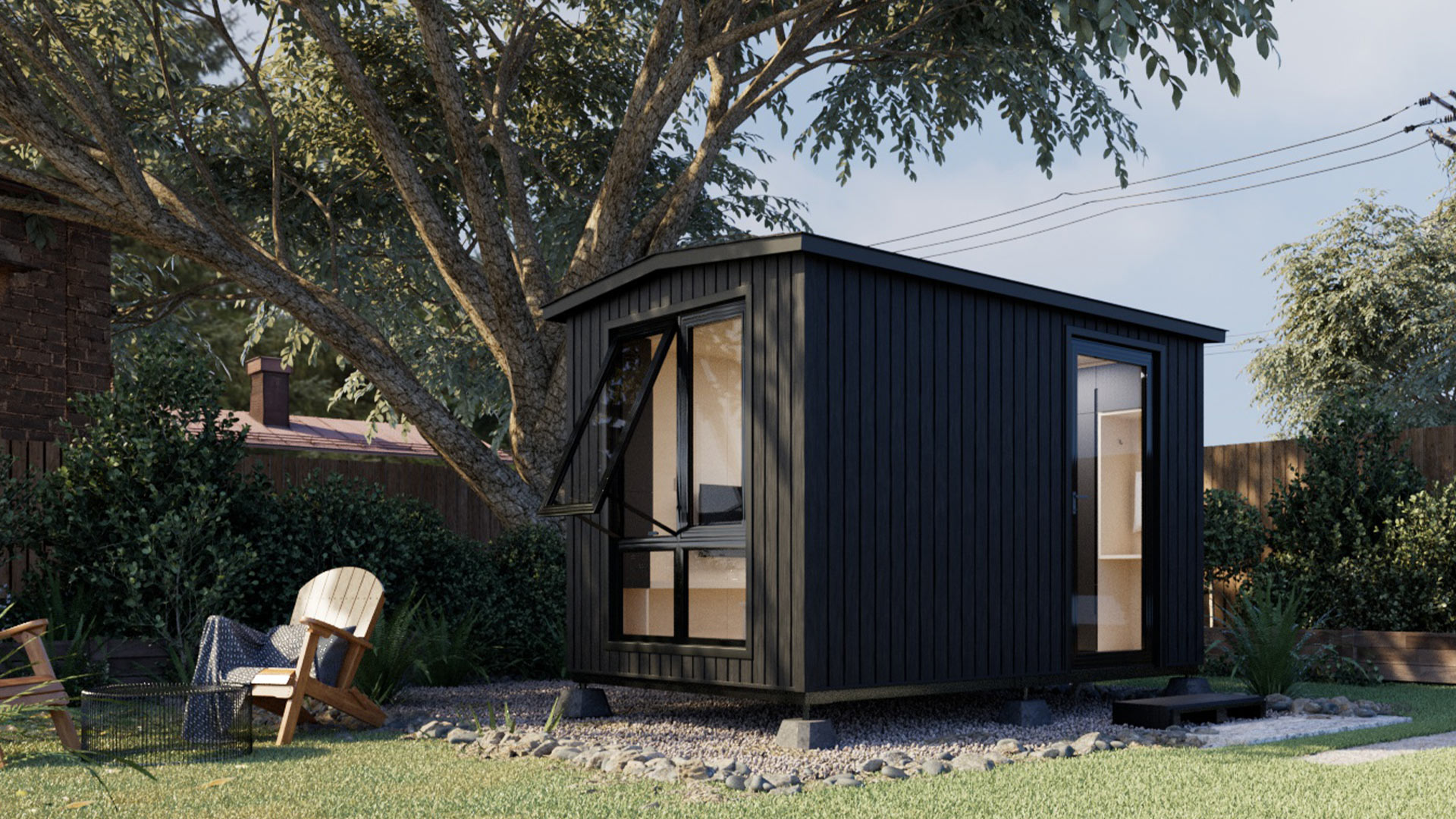 Dimension
8'4"W x 12'6"L x 9'10"H
Floorspace
105 square feet
Ceiling height
7'3"
Weight capacity
2.9 tons
Pedestal
18"W x 43"L x 7"
Window & door material
Powder-coated aluminum,  5/16" tempered glass
Material
Siding: plywood 1/2", steel frame, honeycomb paper, plywood 3/8", bitume, housewrap, vinyl siding
Roof: roof shingles
Floor: plywood
Pedestal: steel frame & wood plastic composite
Electrical devices
RCB, Wall outlet, Ceiling light switch, Ceiling light, Ventilator switch, Ventilator, Ethernet wall port, 66ft power cable with 2 connectors
Include
Optional: Cabinet, Desk, Small & Big Bookshelf, TV Shelf, Foldable Sofa Table, Convertible Sofa Bed. Always included: Electrical Cabinet
Power input
Maximum voltage : 110V AC (US standard)
Maximum current : 25A
Maximum power dissipation : 2750W
2. Autonomous WorkPod
Bigger than the StudioPod, this innovative workspace is perfect for homeowners who want a spacious yet easy-to-assemble backyard office. Plus, it's weatherproof and all-terrain, so you can work in any season and on any surface. 
Not only is the WorkPod humidity-resistant and sound-insulated, but it also comes with floor-to-ceiling windows, allowing you to enjoy the natural light and beautiful views.  
With a bookshelf and cabinet included, you have plenty of space to store your work essentials and keep your office clean and organized. 
Dimension
8'6''W x  11'9''L x 11'H
Ceiling height
6'10'' to 9'4''
Window material
Wooden frame, 5/16" tempered glass
Door material
Anodized aluminum frame,  5/16" tempered glass
Material
Siding: bitumen, housewrap, vinyl silding
Roof: bitumen, housewrap, shingles roof
Floor: plywood
Balcony: composite wood
Include
Optional: SmartDesk Connect, ErgoChair Pro+, Dual Monitor Arm, Cable Tray, Steel Cabinet, Anti-Fatigue Mat. Always included: Electrical Cabinet & Bookshelf
Floorspace
98 square feet
Capacity
2.9 tons
3. Autonomous WorkPod Lite
Looking for an affordable, minimalistic solution for your backyard office? Meet the Autonomous WorkPod Lite.  
This prefab unit is weatherproof and built with durable materials such as bitumen, house wrap, honeycomb paper, plywood layers, and steel frames. It's also easy to set up, thanks to its lightweight body. 
The sleek design seamlessly blends into any backyard, and its compact size allows it to fit in tight spaces.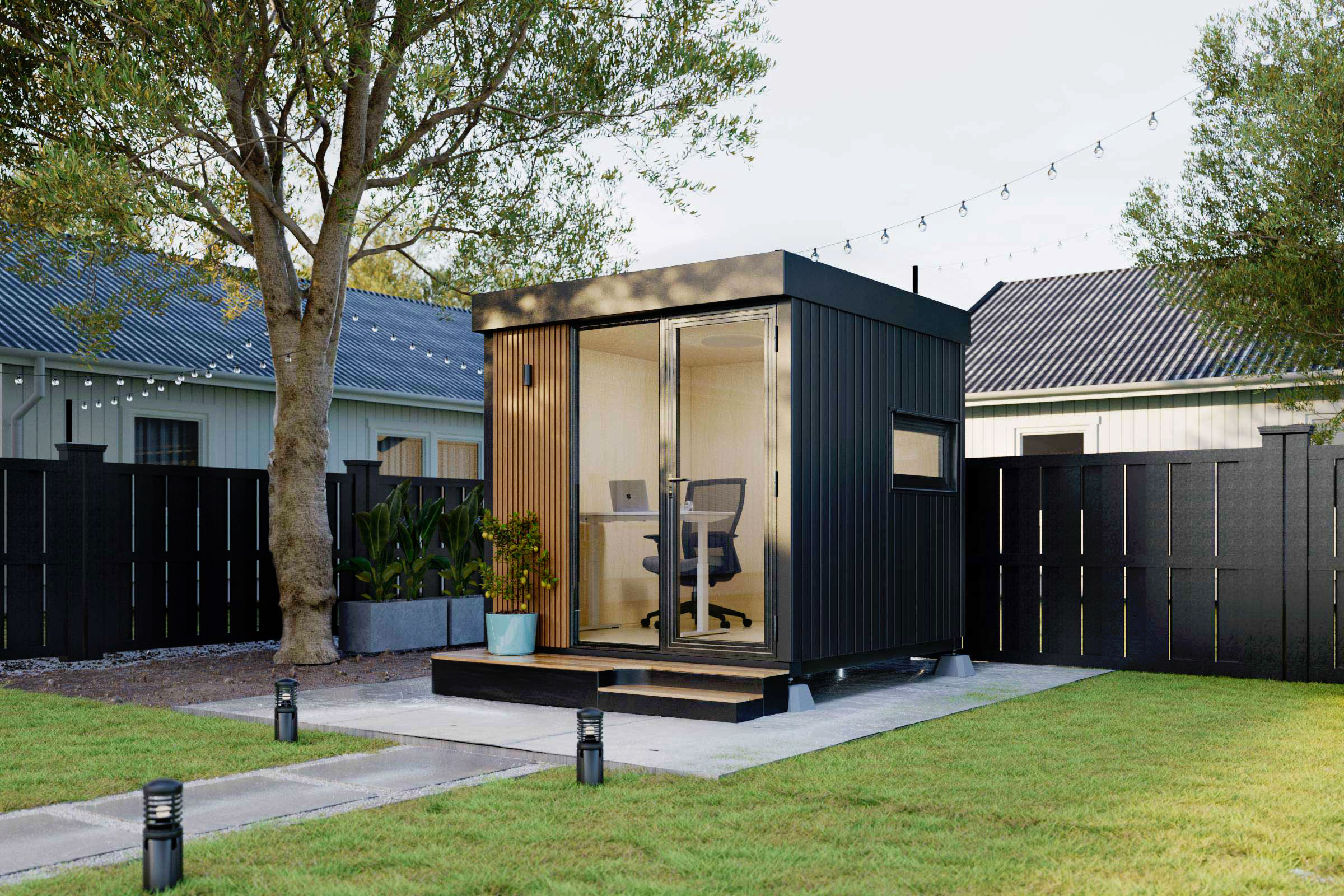 Dimension
8.7"W x 8.12"L x 9.3"H
Material
Window and door: powder-coated aluminum, 5/16-inch tempered glass
Siding: plywood 1/2-inch, steel frame, honeycomb paper, plywood 3/8-inch, bitume, housewrap, vinyl siding
Roof: metal roofing
Floor: plywood
Balcony and Pedestal: steel frame and wood plastic composite
Pedestal
24"W x 103"L x 9"H
Electrical devices
RCB, Wall outlet, Ceiling light switch, Ceiling light, Wall light, Ethernet wall port, 66ft power cable with 2 connectors
Weight capacity
2.3 tons (including Pod body)
Floorspace
80 square feet
Ceiling height
7.3-inch
Final Words
A durable shed foundation provides stability and ensures your shed is level and secure. Without a solid base, your unit will be vulnerable to sinking, shifting, or even collapsing - causing damage to your valuable items inside. 
If you're looking for a more versatile and low-maintenance option, consider purchasing a prefab unit with a sturdy foundation already in place. 
These options often feature a durable and stable surface that can withstand harsh weather conditions and uneven terrains without needing additional foundation work. 
Whether you're a homeowner or an aspiring DIY enthusiast, keeping our tips in mind can help you build a shed that stands the test of time.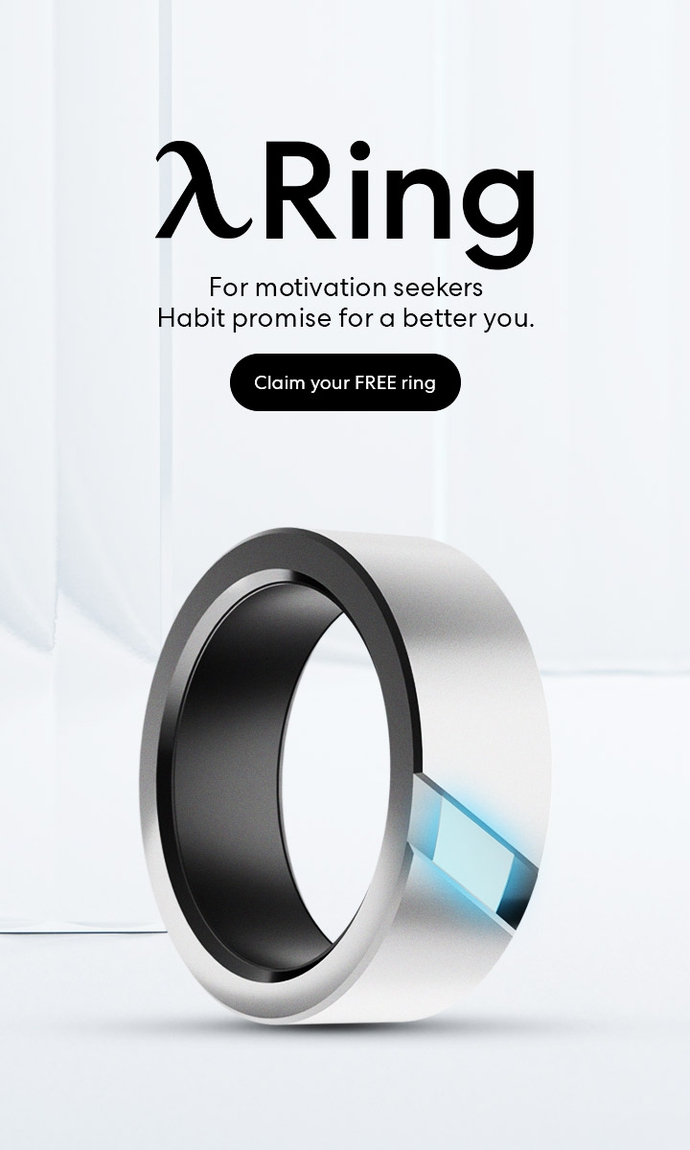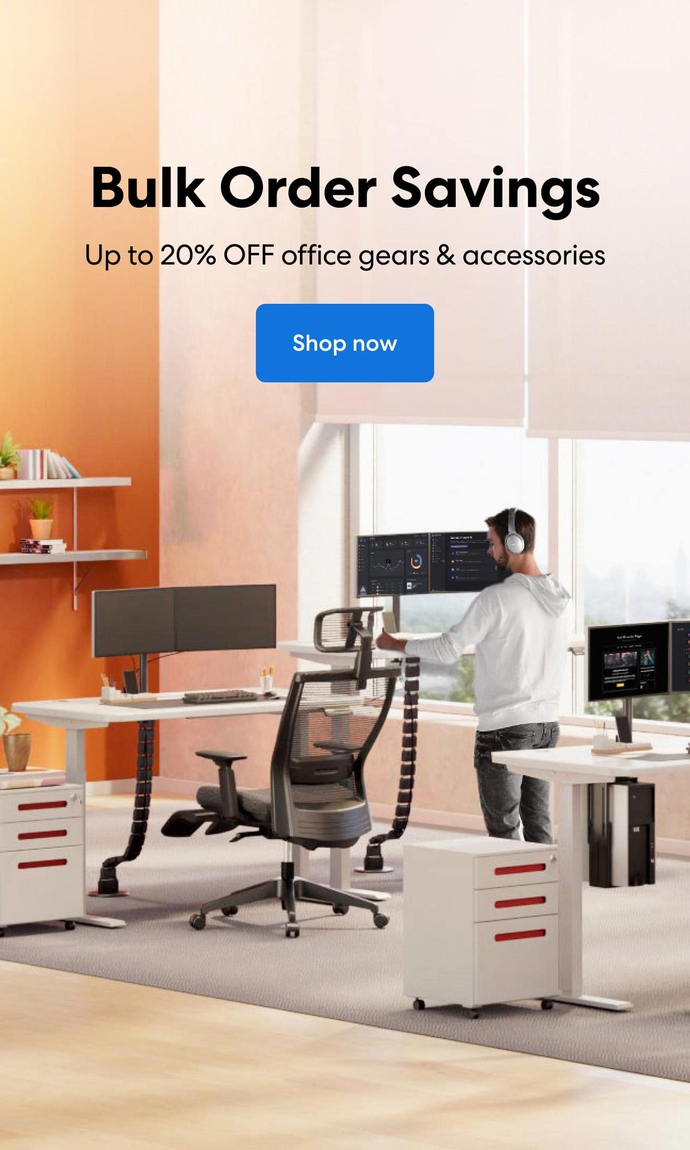 Subcribe newsletter and get $100 OFF.
Receive product updates, special offers, ergo tips, and inspiration form our team.