Workplace Inspiration
20 Relaxing Backyard Ideas to Add to Your Home Yard

Autonomous
|
Jan 15, 2023
886 Views
If you are like most homeowners, you spend a reasonable amount of time at home, especially on the holidays. You might also find yourself among those who wish their homes were more relaxing. We have put together a list of relaxing backyard ideas you can use to make your yard more relaxing. 
The good news about our ideas here is that there's something for everyone. If you have a green thumb or are good with tools, you can embark on a DIY project. If you are not skilled at working with your hands, you can always find someone with the right skills to assist you. 
Most of the ideas here depend a lot on how much space you have available in your yard. Some are easier than others, but all can help a homeowner make their yard more enjoyable. 
Let's get started with the list of 20 relaxing backyard ideas:
20 Relaxing Backyard Ideas You Can Try
1. Get an ADU
An accessory dwelling unit kit is a room or unit that is built in a factory and delivered to your door partially completed. This means that if you want to add an extra space to your yard, you have another option besides the traditional building route. 
With an ADU as outdoor relaxation area, you get many benefits, such as style, speed, modern options, and increased flexibility. You will have greater creative freedom over how the final result will look. 
There are various ways you could use an ADU on your property. Think about a studio, an office, a bedroom, and more. We are going to explore some of the options in this list.
Dimension
103"W x 142.5"L x 92" - 125.5"H
Material
Exterior: Composite wood
Interior: Plywood wooden frame
Frame: Steel, M300 cement
Include
SmartDesk Pro, ErgoChair Plus, Cable tray, Filing Cabinet, Dual Monitor Arm, Anti-fatigue Mat
Minimum wattage
100W
Weight capacity
2.9 tons
Color
Black, White
Warranty
1 year
2. Set Up a Home Office
Do you want to spend more time at home or have a remote job that allows you to work from home? Whether you run your own business, are a freelancer, or have a remote job, you can set up your own home office for added convenience. 
One of the exciting backyard relaxation ideas you can try is to have an outdoor home office. There are many reasons why you might choose to do this. It could be that you do not have enough space indoors. Maybe you want to get away from all your other responsibilities and belongings when you get to work. 
Consider getting a home office pod installed for your new home office. You are going to enjoy the dedicated space for your work. There are many designs to choose from depending on the look and layout you are after. 
There are many available resources if you need assistance with setting up your backyard office pod. 
3. Build a Studio
This is one of the great relaxing garden ideas. Are you into music, painting, recording, or any other creative arts? If you have enough space in your yard, you might want to consider building a studio in your backyard. Your yard can become the place you go to when you want to create and enjoy art. You can even use the studio as a home gym.
Building a studio from scratch could take a lot of time and effort. Our relaxing backyard ideas don't have to take all that. You can buy a modern prefabricated studio shed kit. With this option, the unit is already designed for the most part. 
Once you have selected a style of studio, there is a bit of work that must go into placing it in your yard and getting it ready to go. The whole process doesn't have to take a lot of time, either. 
There are so many great backyard studio ideas you can explore if any of the related relaxing backyard ideas resonate with you. Each prebuilt studio offers something unique, so take your time deciding what you want. 
Depending on the purpose of the studio, you might want to go antique or rustic or have it as a modern backyard studio. You can also go with a cabin look using this studio cabin kit.  
Dimension
106" W - 155"L x 106.3"H
Material
Exterior: Vinyl layer
Interior: Eco-friendly honeycomb paper
Frame: Steel
Include
A closet, desk, bookshelf, TV stand, a foldable coffee table and convertible sofa bed
Minimum wattage
150W
Lighting
3 color modes
Warranty
1 year
4. Add a Bird Bath
There's little else more relaxing than making your yard a place where nature thrives. If you are willing to invest in a bird bath or two, you can soon expect to have more and more birds enjoying your outdoor area. A bird bath is an excellent idea to make your yard more relaxing. 
Imagine waking up to birds singing or doing your bird watching from the comfort of your own home. All this can be possible when you add a place for birds to drink water. You can also get creative and choose a large, beautiful art piece to serve as a birdbath. If you want to take it to the next level, you can even buy a few bird feeders as well. 
5. Plant a Flower Garden
Nothing makes a garden a haven of peace and relaxation more than beautiful plants. Consider planting a garden. You can grow flowers, herbs, vegetables, or all three. 
If you have no experience with gardening, you don't have to worry. There are many free and paid resources available to get you started. You can always hire someone with more garden skills than you to create and maintain your garden for you. 
Suppose you decide to go the garden route. In that case, it's important to pay attention to the weather and the various planting seasons. Each flower, herb, or vegetable does best when planted at the right time of the year and given the right growing conditions.
6. Get a New Pet
Do you have any pets in your garden? It is said that a dog is a man's best friend, and the saying could not be more true. Pets provide company, comfort, fun, and protection and can help you destress. This is one of the best peaceful backyard ideas ever!
Suppose you don't currently have a pet but have the space for it. In that case, you might want to consider it. 
7. Redo Your Lawn
What is the current state of your lawn? If your grass is in bad shape, you might want to think about redoing it. A smooth terrain of well-maintained green grass is one of the best backyard relaxation ideas on this list. 
What's more relaxing than being able to lean back and take a nap on your very own turf? That can only be done when you invest in keeping it in good shape. You might need to uproot it and start over with a fresh lawn. 
Many homeowners are also using artificial grass instead. It is easier than you might think to get this done. You can tackle this project on your own or call in the experts to assist you in no time at all. 
8. Revise the Landscaping Plan
All the amazing yards you have ever visited, with lovely winding paths and interesting water features, have one thing in common: a detailed plan. 
If you have never planned your yard landscape, it's not too late to start. You can work with a professional landscaping company to design the yard of your dreams. After that, they can help you to make it a reality. 
9. Add a Pond
Speaking of water features, it's worth highlighting the power of water when we want to relax and rejuvenate. One of the backyard relaxation ideas you can explore is building a pond. You can also add some fish to your new pond. 
There's so much you can do aesthetically with a pond. You can add some rock features, different types of long grasses on the side, and water lilies if you like. 
10. Include a Water Fountain
Another water feature that can transform your yard is a water fountain. These come in different shapes and sizes, but one thing is for sure. You are never going to look at your yard the same way again. 
11. Build a Treehouse
A treehouse could be a lovely addition to your yard if you live with children or have some friendly neighbors nearby. Not only is this structure so much fun to set up, but there's also a lot of fun to be had by children. We're talking about hide and seek, play dates, sleepovers, and more. 
12. Build a Patio
Do you want to create the perfect outdoor entertainment area? Why not build a patio for an outdoor relaxation area? You can host parties and family gatherings to ensure you put your yard to good use. 
If you are not used to being a host, there are plenty of resources to help you host well. You could start with a theme and invite people over for a meal, crafts, a book club, or a lazy day out. 
13. Set Up a Sports Yard
Whether you are good at sports or not, there's no denying that playing any form of sport can be one of the most fun and relaxing activities available. 
You can do many sports activities in your yard if you have space available. There's badminton, table tennis, chess, basketball, and volleyball, to name a few. 
14. Add Some Unique Backyard Décor
Who said décor was just for the indoors? Make your backyard a beautiful and relaxing place with a few carefully chosen decorative items. There's no limit on what you can do. 
Consider garden gnomes, decorative wheelbarrows, pot plants, and wind chimes. 
15. Create a Meditation Haven
Other fun and easy, relaxing backyard ideas include carving out a spot where you can meditate. There are different ways to meditate, but it's generally agreed that this brings many benefits. 
You can have a meditation chair or bench in your yard or just pick a spot on the grass to do this regularly. Meditation brings physical and emotional health benefits. If you are someone who experiences stress and anxiety, this activity can help you slow down and relax more. 
16. Try Paving Your Yard
We mentioned redoing your lawn, but that is not the only route to explore for most of your yard. Many people have replaced their lawns with concrete, bricks, or gravel. We all appreciate different landscapes, so maybe a paved yard might work for you. 
17. Rent Your Yard Out
If you have a large yard, you could make good use of it by offering it as a function venue or for activities like aerobics, Zumba, and music classes. This is a great idea to make a little extra money. While you might not be involved in the activities, you could still enjoy them from a distance. 
18. Put Up a Picket Fence
There's something about having a cute and dainty fence that could transform your yard into something fresh and new. There are many options available for this. 
19. Learn to Paint
Painting is one of the most relaxing outdoor activities you can do. Whether you are good at it or not, you can have lots of fun and make use of your yard for artistic inspiration. 
20. Move Outdoors
We have spoken quite a lot about ADUs and all the fun and exciting things you can do with them. You can have a studio, an office, or a guest room. One idea we haven't mentioned is that of moving outside yourself. 
If you could use a change of scenery and want to live a simpler or more modern life, you could buy prefab ADU homes. Why not move into your backyard? 
There are multiple possible benefits of moving outdoors in this way. You could make your life more relaxing by pursuing a minimalist lifestyle. You can bring a tenant into your original home and pursue this idea as a financial investment. If you want a change, then investing in a prefab accessory dwelling unit could be just what you need. 
Final Thoughts
Your yard has so much potential. We hope that the 20 relaxing backyard ideas we shared gave you inspiration about what you can do to make this space more enjoyable for you and your family.
Video ads for product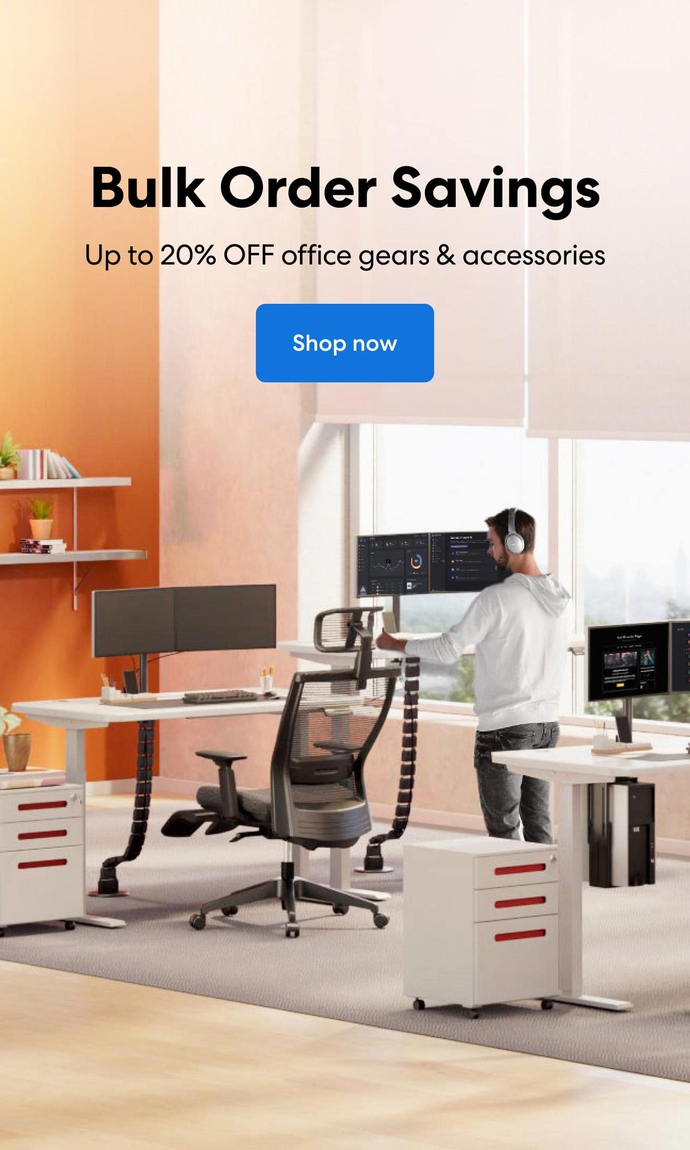 Subcribe newsletter and get $100 OFF.
Receive product updates, special offers, ergo tips, and inspiration form our team.