Comfort at the office is paramount if you want to enhance employee productivity and health. Creating a conducive working environment goes a long way in ensuring that everyone is comfortable. One of the outstanding ways of achieving this need is by having standing desk chairs in the office. 
There are many types of standing desk chairs you can look forward to purchasing for your office, depending on the office and employees' needs. Several companies buy ergonomic chairs for every employee. Some of the reasons for such purchases include helping staff eliminate lower back pain, supporting the body's core, and adding more comfort when working long hours. This piece looks at the 20 most popular standing desk chairs of 2022. 
Top 20 Standing Desk Chairs You Must Have in 2022
1. ErgoChair Plus
This is one of the best chairs for back pain owing to its peculiar fishbone design. The development of ErgoChair Plus as a stand-up desk chair factored in alleviation with consideration to the lower back. The chair follows body contours granting ease of movement. Workers can customize the chair by adjusting the seat and armrest positions to fit the suited body shape. You can attain all-day dynamism using ErgoChair Plus as it adapts to your natural spine curvature. 
2. ErgoChair Recline
Users of this chair have the liberty of instantly reclining to attain their desired comfort. Employees with lower back pain can use this ergonomic desk chair for comfort in the office. The chair's design helps office workers to feel better, work better, and live better. The ErgoChair Recline optimizes your active sitting posture. This chair is an ideal seat considered to be the best computer chair for long hours. The effortless recline and breathable mesh back work wonders when working long hours.
3. ErgoChair Pro
With an adjustable armrest, height, backrest, headrest, and seat tilt, this office chair ranks among the best ergonomic chairs for office workers suffering lower back pain. The sit-stand desk chair has lumbar support that makes it among the best office seats in the market. It comes with a customizable system that allows users freedom of adjusting it to their comfort.
4. ErgoStool
Are you tired of the usual office chairs? If yes, then an ErgoStool is ideal for you. The stool is an item that engages well with your core while working. This ergonomic stool activates your posture and lifestyle by complementing the position of the body to the office desk. There are many types of stools in the market, but ErgoStool stands out among the best chairs for a standing desk.
5. "Ursa" Petite Standing Desk Stool
Considered among the best drafting chairs for standing desks, "Ursa" Petite Standing Desk Stool is a multifunctional ergonomic stool that provides comfort as a standing office chair. Using the chair is ideal with a standing desk as it has wide height and arm length adjustability ranges. The chair's double paddle permits hassle-free angle adjustment and foot ring to a desired maximum comfort. Manufacturing of the chair factored dual-wheel casters attached a firm nylon base. 
6. OHAHO Gaming Chair
This is a revolving gaming chair that provides a more comfortable working posture. It is a reclining computer chair mapped for long working hours where employees are likely to experience lower back pains. The design is a replica of a gaming chair with a swivel and high-density memory sponge seat. It is a preference of most office workers due to its multi-functional purpose. The chair's parts are adjustable to match the body height and shape. Stability comes from a heavy round swivel base supported with a stable metal frame. The sit-stand desk chair has a retractable footrest, adjustable armrests, lumbar cushion, and removable headrest. 
7. Herman Miller Aeron Office Chair
Another best chair for a standing desk is on the list. Investing in an office chair that is worth the cost and offers comfortability while working is the ideal thing to do. Herman Miller Aeron is an ergonomic standing chair with outstanding features that enhances its designs, durability, and comfortability. The common attributes are a sturdy base, mesh back, and a variety of colors and sizes. The sit-stand desk chair offers a tilt adjustment option that allows setting an angle for arms and lumbar rest. 
8. Boss Office B1690-CS Drafting Stool
This is one of the most distinctive office chairs that offer comfortability through its unique design. The Boss drafting stool has strong stability and can handle a maximum weight capacity of about 250lbs. Talk of ergonomic shape, the chair's creation has outstanding supportive materials that help relieve back pains and other strains. This stand-up desk chair permits you to recline and controllably adjust the paddle with ease. One of the appealing features of the chair is its double wheel caster that enhances its incredible movements and soft upholstery. 
9. Black Modway Attainment Drafting Chair
This seat is a stand-up desk chair with a breathable mesh back, providing lumbar support to the lower back. Direction change is effortless via a 360-degree swivel base to support your frequent unhindered movements. The standing desk chair eases your thighs pressure using its padded vinyl seat. A complete sitting experience comes from the existing foot ring with added high gas cylinder and flip-up stuffed arms. This standing-up chair can carry a weight of 330 pounds over a long time without becoming uncomfortable. 
10. Modway Articulate Ergonomic Mesh Chair
To workers who spend long hours in the office, the Modway Articulate chair is the recommended chair for use. The mesh office chair stands out for its design that offers effectiveness and protects the body from back strains. This ergonomic standing chair enhances breathing and the comfort needed for the long hours at work. To support the spine's natural posture, the chair has a mesh fabric that promotes the sitting poster.
11. Humanscale Freedom Chair
This is a standing-up chair ideal for an elevated working desk, designed to offer adaptability and comfort needed while working. The Humanscale Freedom chair helps in enhancing support to normal body weight. The standing desk chair has a reclining feature that enhances its adjustability and curvature to enhance comfort and back support. 
12. Star Deluxe Breathable Armless Ergonomic Chair
The Office Star Deluxe Ergonomic chair is one of the best sit-stand desk chairs that offer comfort to workers and managers with large office spaces. Some outstanding features of the chair are its cost-effectiveness, simplicity, and the provided comfort in the workshop. The standing desk chair offers ideal support to the body posture and lumbar system. 
13. Gabrylly Ergonomic Mesh Chair
At times, focusing on the screen on an uncomfortable seat for a long time is challenging and tiring. Gabrylly Ergonomic Mesh chair is an ergonomic seat that offers proper blood and air circulation and reduces back and neck strains. This standing office chair enhances productivity by encouraging healthy body posture through a set of adjustable features. These adjustable chair attributes include a comfortable headrest, lumbar support system, seat height adjustment, and an armrest. The Gabrylly Ergonomic Mesh Office chair facilitates the long and tiring working hours without having to suffer body pains. 
14. Zipcode Mesh Chair
Here is another best chair for a standing desk. With a weight capacity of 25pounds, the Zipcode Mesh chair stands as a straightforward setup seat. It has a contemporary and modern design with quite a supportive stature rather than being plush. The chair's tilt mechanism permits personal fit adjustability. Overall, this office seat is a pocket-friendly ergonomic executive chair when compared to other chairs. The seat's backrest has a unique curve designed to match your spine. 
15. Tivoca Ergonomic Chair
This ergonomic standing chair has a customized headrest that offers comfort and support to the neck, head, and back strains. The Tivoca Ergonomic chair is the best chair for a standing desk due to its adjustable armrest and utmost support to the lumbar system. A worker who is likely to sit for long hours prefers the Tivoca Ergonomic office chair. The seat soothes the lower back, protects the natural curves and corrects the upper-body posture. 
16. Poly and Bark Correna Drafting Chair
Human body focus while working requires a comfortable and fatigue-relieving chair. Poly and Back Correna chair is an ideal seat to consider to facilitate your long working hours. The standing-up chair offers ultimate back support through the breathable mesh that enhances body posture. This standing desk chair has a comprehensive design that boosts its durability and strength. The chair has adjustable height and a footrest that allows easy body placement and back support. 
17. Alvin 90DH Leather Drafting Chair
Alvin 90DH drafting chair is a common seat known for its durability, comfort, and ultimate leather quality. This chair is one of the best sits and stand-up desk chairs in the market, offering extra thickness that makes it more comfortable. The ergonomic standing chair is a product of quality buffalo leather that increases its durability and enhances effective cleaning. Alvin 90DH drafting chair has significant features that make it more ideal for office use. The leather drafting chair provides a customizable armrest, height control, and other preferred seat adjustments. 
18. LexMod Edge Drafting Chair
This is an artistically crafted seat with a setup that has an ergonomic and eye-catching design. The standing desk chair offers maximum comfort and money value for its durable impact. LexMod drafting chair provides a strong and long-lasting mesh back support that brings comfort all day at work. The chair has flip-up padded arms, an adjustable foot ring, and an anti-tension control knob for effortless back tilting.
19. Star Pneumatic Drafting Chair with Vinyl Stool
The Office Star drafting chair is a uniquely designed seat that is a good fit for a standing desk and ideal for doctors. This seat is one of the best drafting chairs in the market that offers classic styles and adequacy in utilizing the available office space. The chair stands out for its comfortability, durability, and adjustability for the footrest and armrest. 
20. HON Volt Leather Drafting Chair
This standing desk chair type offers an agonizing and classic leather look that is soft and smooth. The HON Volt Leather Drafting Chair has an elegant appearance, detailed hand stitches, and a geometric nature. For maximum comfortability, the chair provides an adjustable height, armrest, and other functionalities. 
Ergonomic Office Chair - The Pros and Cons
What are the benefits of using an ergonomic chair as an office worker spending the bulk of time sitting? You stand to eliminate body discomfort, especially at the lower back, by getting a good posture. The advantages of using an ergonomic office seat include:
Enhanced lumbar support and extreme comfort

Supports your upright spine to sustain your entire body's performance

The chair's adjustability improves employees' moods, increases confidence, enhances self-esteem, creates happiness, and heightens energy levels to increase general productivity.

The standing-up chair enhances office movements. How does an ergonomic chair promote motions at work? The seat's features such as adjustable height, armrests, and a 360-degree swivel enhance this motion.

Why should you use an ergonomic chair to enhance breathing? The seat provides a

correct sitting posture that does not restrict or compress your breathing. A relaxed diaphragm permits taking in deep breaths. You stay alert when using this chair to keep your problem-solving and cognitive process on course.

The seat helps in preventing blood circulation, neck, and back pain issues through its lumbar support, comfortability, and spine protection.

At times, a question may emerge about the ergonomic chair's benefit of preventing poor digestion. How does an ergonomic chair prevent poor digestion? The seat enhances the body's upright posture and assists the proper functioning of the internal body organs. Poor posture may harm the body's gastrointestinal system and metabolism.

An ergonomic standing office chair reduces hip pressure. What does the seat do to reduce hip duress? It provides a desirable seat depth that supports the hips in holding down the body weight.

Using ergonomic office chairs reduces or eliminates worker compensation claims. Medical insurance money set aside may go unutilized when using this seat due to no sitting-related health complication claims.

This is a long-lasting seat that guarantees a lengthy time of use. Your company stands to save on recurrent purchases. Any of the chair's malfunctioning is on the warranty cover you can use to get it fixed or acquire another seat at a discounted price. 
Ultimate Take
Before going shopping, enlist all the needed qualities of an ergonomic chair for your office and employees. You stand to gain enormously by getting the standing desk chair right for both your expenses and health-related complications likely to occur by using the wrong chairs.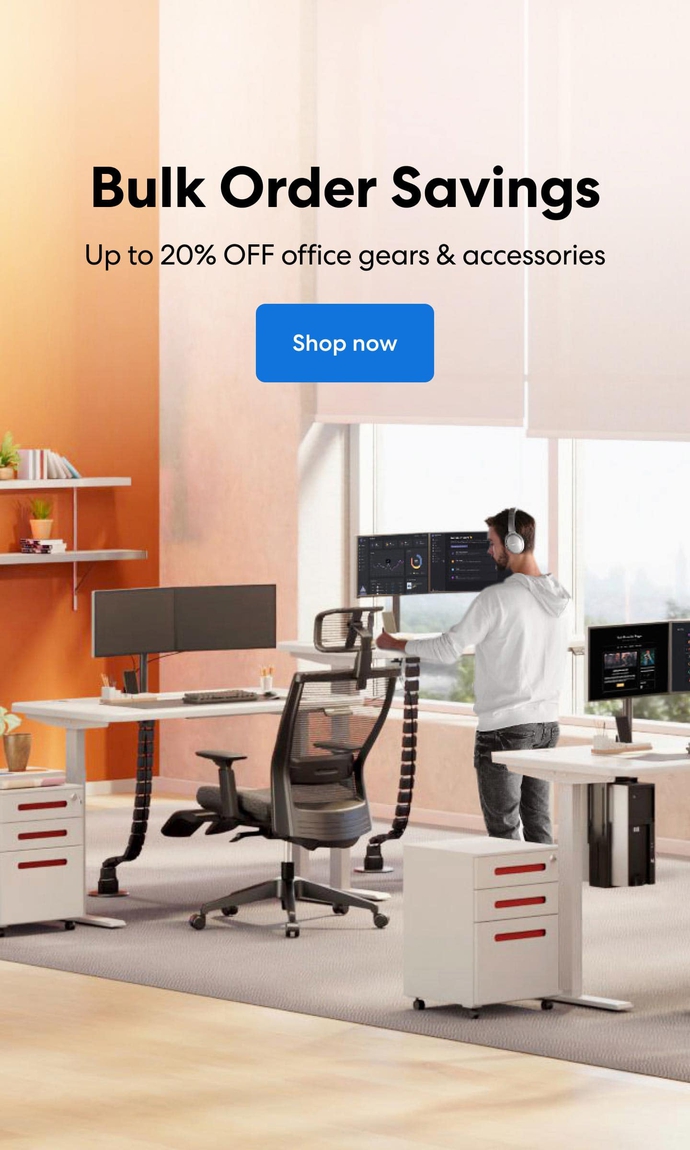 Subcribe newsletter and get $100 OFF.
Receive product updates, special offers, ergo tips, and inspiration form our team.