Workplace Inspiration
30 Small Prefab Cabins 2023 - Perfect for Your Next Getaway!

Autonomous
|
Oct 2, 2022
5,030 Views
Prefab houses are distinctive not only in their appearance but also in the atmosphere they portray. When you want to get away from the bustle of daily life, they might be the ideal escape because they are cozy, welcoming, and calming. 
Sure, looking for a home can be fun, but if you don't know where to begin, it can quickly wear you out. There is no denying that purchasing a home is a big economic decision, and you cannot afford to make a mistake. 
To have your own home office pod, you don't necessarily need a lot of space. As for individuals who prefer to experience nature on a smaller scale or add a prefab ADU to their current property, small prefab cabins are perfect. In order to build a small cabin complex, these prefabricated little homes could be as simple as a single room or as many as two modular cabins placed close to one another.
Some of the top small prefab cabin kits are listed in this article for your consideration. However, before you start your search, take into account the following.
Small Prefab Cabins For Your Consideration
Here are a few of the top small prefabricated cabins available right now. 
1. Autonomous ADUs
The reputed business Autonomous creates an effective StudioPod for the home office by combining clever design and cutting-edge tech. Installing these small prefabricated cabins in the backyard will provide you with a personal workstation.
Aluminum, tempered glass, and quality woods like walnut and oak are used in the construction of the Autonomous pod. Its materials, which are eco-friendly to an extent of about 80%, let you lessen your carbon footprint. Most of these prefab sheds are made of plywood and recyclable industrial steel.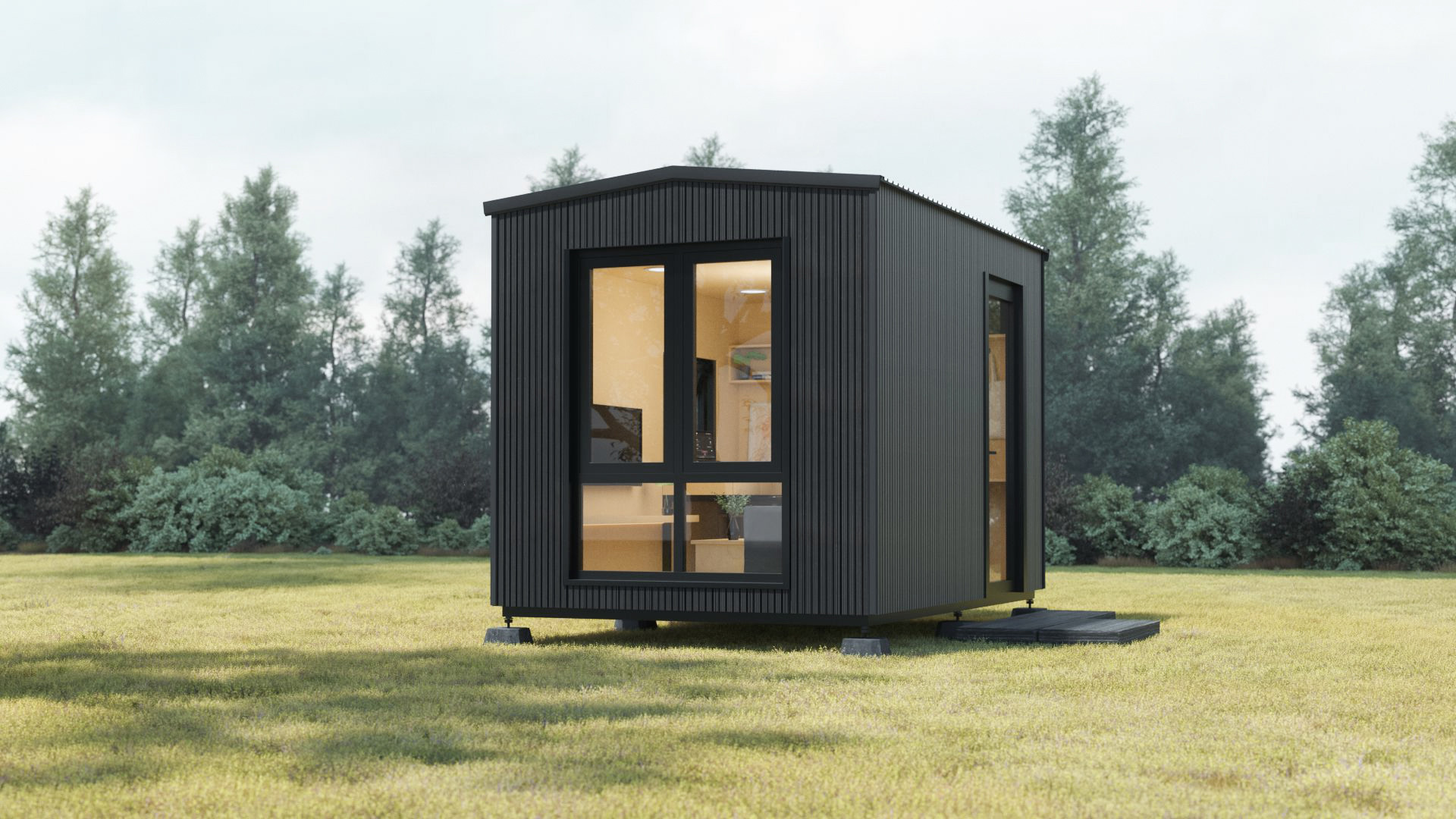 Dimension
106" W - 155"L x 106.3"H
Material
Frame: Vinyl sliding - Housewrap - Bitume - Plywood - Honeycomb paper - Steel frame - Plywood
Basement: Steel, Cement
Include
A closet, desk, bookshelf, TV stand, a foldable coffee table and convertible sofa bed
Minimum wattage
150W
Lighting
3 color modes
Warranty
1 year
Dimension
8'6''W x  11'9''L x 11'H
Ceiling height
6'10'' to 9'4''
Window material
Wooden frame, 5/16" tempered glass
Door material
Anodized aluminum frame,  5/16" tempered glass
Material
Siding: bitumen, housewrap, vinyl silding
Roof: bitumen, housewrap, shingles roof
Floor: plywood
Balcony: composite wood
Include
Optional: SmartDesk Connect, ErgoChair Pro+, Dual Monitor Arm, Cable Tray, Steel Cabinet, Anti-Fatigue Mat. Always included: Electrical Cabinet & Bookshelf
Floorspace
98 square feet
Capacity
2.9 tons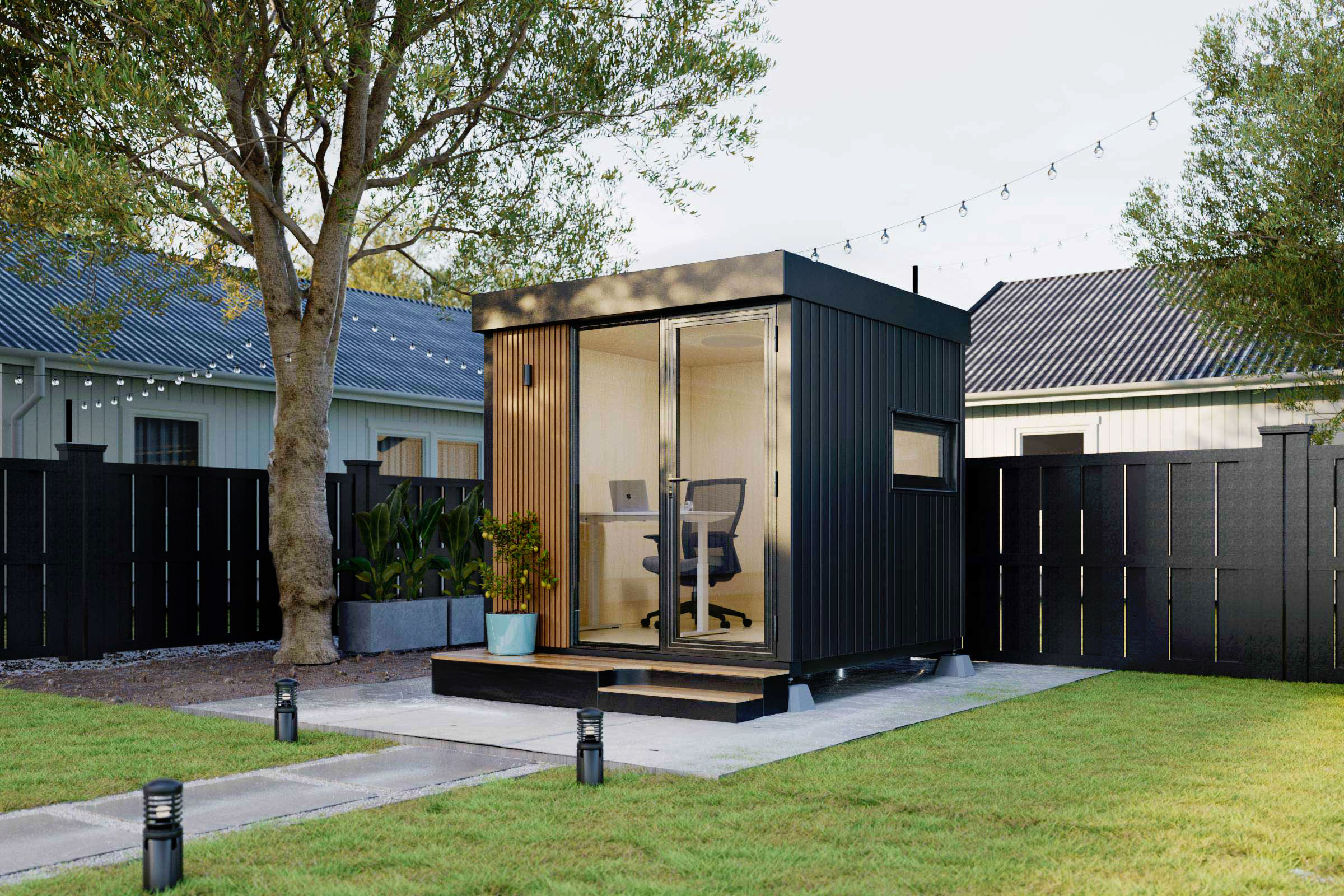 Dimension
8.7 W x 8.12 L x 9.3 H inches
Material
Window and door: powder-coated aluminum, 5/16-inch tempered glass
Siding: plywood 1/2-inch, steel frame, honeycomb paper, plywood 3/8-inch, bitume, housewrap, vinyl siding
Roof: metal roofing
Floor: plywood
Balcony and Pedestal: steel frame and wood plastic composite
Pedestal
24 W x 103 L x 9 H inches
Electrical devices
RCB, Wall outlet, Ceiling light switch, Ceiling light, Wall light, Ethernet wall port, 66ft power cable with 2 connectors
Weight capacity
2.3 tons (including Pod body)
Floorspace
80 square feet
Ceiling height
7.3-inch
When planning for a small prefab cabin, the biggest hurdle is usually finding and preparing an adequate space for seamless setup and installation. Not everyone is blessed with a large backyard or an empty block of land that's perfectly cleared, perfectly level, and ready to build on top of. WorkPod Lite's clever design allows the compact ADU to be installed on pretty much any terrain.
While flat ground is always best for ease of assembly, one of the beauties of WorkPod Lite's foundation is its stability, even if the ground is not completely level. Thanks to its 4 height adjustable cement feet, WorkPod Lite is suitable for common surfaces including brick, concrete, gravel, and grass. Its foundation is uniquely engineered to bear a total load of 2 metric tons without the need for ground fixtures.
2. Koto Abodu Small Prefab Cabin
The Koto Abodu prefab shed represents an attempt to combine the coastal influences of California with the award-winning design of Koto. High-end Scandinavian furniture from Wolf and Fisher & Payket is included in the space's minimalist, timelessly elegant interior design. Other features include landscaping, external docking, and curated furniture. 
You can purchase these small prefab cabin kits for less than $200,000 and have them ready in just two weeks, complete with modern furniture and high-quality appliances. Its glass walls connect the interior and exterior spaces by going all the way up to the ceiling. 
3. Ark-Shelter
Essentially, you can coexist with nature thanks to the Ark-basic Shelter's design and construction. It is transportable since it has no set foundations. There is a living room, a bedroom, and a kitchen. It will be accessible to you in two days. 
You can feel the outdoors from the comfort of your living room thanks to the enormous windows, which, in fact, are the only thing standing between you and nature. 
This cabin is perfect if you care about the environment because it is made to use as little energy as possible, and it has no negative environmental effects. Furthermore, it can generate its own electricity and is built of sustainable wood. 
4. Cabin One
Homes from Cabin One are delivered pre-assembled and in one piece to your chosen location. Nevertheless, you can modify them to suit your particular preferences. They have a kitchen, a bedroom area, a bathroom, clever storage solutions, and built-in appliances. These small prefabricated cabins are built from sustainable materials. 
You will have undisturbed views of the night sky through the skylight above your comfortable bed in the wide, naturally lit daylight bathroom. 
Also, you have the option to include your own furniture ideas. The small prefab cabin's integration of smart controls to accommodate your own tastes is the cherry on top. 
5. Avrame DUO Series
Avrame DUO has an A-frame design and its striking design offers it a unique visual element that is sure to attract attention. There are four different floor plans to choose from (DUO 57, DUO 75, DUO 100, and DUO 120).
From the time the design is chosen until the last day of building, a model will take four months to build. Your living room, kitchen, and bathroom will be on the first floor, and your bedrooms will be in the loft houses. 
Between a regular house and a tiny house, this tiny prefab cabin can be used as a home office, vacation cabin, small office, granny annex, starter home, or coffee shop. 
6. Nodes Trillium Series
Essentially, the goal of Node is to build eco-friendly homes that will ultimately lead to a better planet. The company is known as a passionate advocate of sustainability, and its small, prefabricated cabins are constructed from non-toxic materials. These cabins also have rainwater collection systems and energy-efficient systems. You can now go off-grid while reducing the social cost of carbon thanks to Node's Trillium Series. 
These cutting-edge, ecologically friendly homes are built to last more than a century and are of the highest quality. You can choose from four different room sizes and modify them to suit your family's needs. 
7. Backcountry Hut Company
One of the top small prefab cabin designers in the industry, Backcountry Hut Company, won the Canadian Architect Award of Excellence in 2016 for its home designs. 
These buildings are made with eco-friendly materials and have a straightforward, effective design. You will value the company's zero waste strategy and its dedication to using resources wisely if you care about environmental conservation. 
8. Monocabin
It follows a simple design and uses sustainable materials like hemp walls to build a working cabin with the least amount of environmental effect possible, much like the Ark-Shelter. An alternative source of clean energy is solar power. 
Furthermore, the outside of the Monocabin is finished in dazzling white. There are four design options available to you, but they won't be ready for three months. Through the big windows and skylights that connect the internal area to the outside, you can have close encounters with the natural world. 
9. Everywhere Shelter Co. Ayfraym Cabin
The Everywhere Shelter Co. Ayfraym homes are not modular, as are some of the other cabin choices on this list. However, they make up for it by offering a wide range of products with various pricing points. 
Essentially, the 1,943 square foot A-frame cabin is a common feature of the Ayfraym. Two bathrooms, two bedrooms, three sizable walkout decks, vaulted ceilings, and sizable custom windows are some of its features. You can relax in the top loft on a peaceful afternoon while admiring the scenery outside through the lookout windows. 
Furthermore, the Ayfraym plus model adds a second two-car garage in addition to more room upstairs. A couch and a TV can fit upstairs as well. 
10. M.A.DI. Home Flatpack
Are you looking for a quick modular home installation? After 8 to 15 days on-site, M.A.DI. Home would have quickly installed a luxury modular home for you. 
These homes will fit your vision and price range and they are cozy and flexible. You are free to build a beautiful home wherever you like, whether it be in a metropolis or a rural setting, in the woods or by the sea. 
11. Indigo by Woonpioniers
With the Woonpioniers small prefab cabin, you have more customization options than ever before when building your unique prefab cottage. The prefabricated components have a "moment-fixed" bend, giving floor plan division choices. 
As for further strength, the elements are made of laminated timber beams that have been filled with cellulose. The good news is that, based on your demands, you can create a wide range of design options, from a little studio to a big family house. Numerous finishing options are available for the façade, interior, and roof. 
12. Cabinspacey Cabin One
One is an exposed-wood offering that aims to give locals a flexible place to unwind and rest. In our fast-paced world, the company's goal of providing those who want it with a static living space is admirable, and with unique features like a premium wooden body, a fully integrated daylight bathroom, a lofted sleeping area, and panoramic windows, it might be challenging to find a more appealing tiny home for the price. 
However, the house has more to offer than just its basic features. Inside, you'll discover a fully functional Spruce kitchen, one-of-a-kind designer furniture, and hidden, modular storage options that will give your tiny house the ideal appearance. 
13. Gohome
The two-story farmhouse-style building has three bedrooms, two bathrooms, and a fully equipped kitchen/socializing area, so you may host guests in any way you choose. There are many built-in features inside that can be tailored to your personal preferences, such as furnishings, storage spaces, outcrops, wood stoves, and even an exterior awning to cover a deck adorned with wood, so you can spend an afternoon in nature. 
14. Lake Flato Porch House
Lake Flato's Porch House offers a unique image that is customized to each individual client's preference because it was constructed with modularity in mind. These modular homes use either an entirely prefabricated structure or individual pre-fabricated pieces that are assembled on-site. This enables them to take on unique characteristics that you might not find in other prefab dwellings. 
It also features a variety of custom-designed rooms and dog runs formulated to deal with site restrictions and conditions. Throughout the year, efficiency is maintained by using sustainable materials and textiles, which also encourages a thoughtful attitude toward conventional building techniques. 
15. Node Eco
Prefabricated Eco houses from NODE were constructed with an emphasis on adaptability, sustainability, and accessibility. Each environmentally conscious home is built with energy-efficient technologies, low-impact foundations, and a distinctive building envelope that has been hailed as one of the most cutting-edge in the sector. 
You can tailor the small prefab cabin to your needs or the needs of your family by choosing from a range of floor plans and sizes, while also easily and naturally understanding pricing. 
Depending on the design you like, you can have access to a variety of covered walks, peaceful sleeping places, roomy living rooms, and warm reading nooks. 
16. Key Studio
Essentially, for those searching for a low-cost outdoor office pod, the Key Studio is a perfect option. As for a modern office area, the thermo-wood contrasts with the mono pitch roofline, creating a modern effect. 
You can set up your small backyard shed any way you'd like thanks to its selection of windows and doors. The Key Studio has the same build quality, insulation, strength, and rigidity you'd anticipate from more elaborate designs. 
17. Evolve Garden Pod
Essentially, the Evolve is a little more expensive, but it is still a cheap garden pod. This garden pod stands out from the crowd due to its classic proportions and powerful, simple lines. 
Furthermore, the Evolve garden pod is everything but modest with painted vertical paneling that is available in 16 different colors and a front overhanging canopy. It is one of our most well-liked modern garden sheds, and it will be the newest member of the SMART family. 
18. Belle Garden Pod
The Belle is effortlessly stylish and provides one of the widest choices for garden pod customization. This modern line, which is nonetheless affordable, has a certain charm. It's the ideal spot to be creative because it was specifically created to be a calm and welcoming space. 
There are various colors available for the hand-painted exterior paneling. The Midnight Black, 2.1 m x 2.1 m Belle Garden pod is one of our favorites. This little studio shed is not only useful, but it also oozes modern charm. 
19. Affinity Small Prefab Cabin
The Affinity is an excellent small modular cabin that is a little more expensive but still affordable given the materials used (larch cladding and a beautiful front porch). This modest garden office can't be hidden because of the striking contrast between the warm oak tones and the black frame. 
20. Ultra Prefab Cabin
In the Ultra Garden pod, you'll always feel most productive if you're going for something extraordinary. The spacious black frame and floating cedar panels will catch anyone's eye right away and give the impression of space. 
This Ultra garden pod, despite its diminutive size, is no wimp. It takes the center stage and does so without apology.
21. Sphere 8-Seater Pod by John Lewis
With its unique rotating design and spacious seating, this prefab cabin provides a relaxing and luxurious space for up to 8 people to enjoy the beautiful outdoors. The pod's intricate and beautiful structure is made from the finest materials, making it durable and long-lasting.
Whether you're looking to relax with friends, entertain guests or enjoy your garden in comfort, the Farmer's Cottage Rotating Sphere is the perfect choice for any garden. It will elevate any outdoor space and provide a space for memories to be made for years.
Invest in the ultimate garden experience and buy the Farmer's Cottage Rotating Sphere 8-Seater Garden Pod today.
22. Waltons Corner Summerhouse with Side Shed
You won't find another garden shed just like The Waltons Summerhouse. The generous layout of the Waltons Corner Summerhouse is one of its most appealing features. Having both a primary summerhouse and a supplementary shed will provide you with plenty of much needed room for all of your garden tools and equipment, as well as a relaxing and appealing spot to enjoy your outside environment.
This modular cabin stands out in part due to the quality of its sturdy build. The Waltons' Summerhouse is an all-weather, well-built outdoor retreat thanks to its premium grade wood construction. And lastly, its rustic appearance makes it a great and welcome addition to any garden.
23. Summerhouse Garden Pod by AquaSpa
Unwind in ultimate comfort with the Summerhouse Garden Pod by AquaSpa! Say goodbye to harsh outdoor elements and hello to a beautiful and functional backyard guest house. With its high-quality materials and weatherproof construction, this garden pod promises to provide long-lasting luxury and style. Perfect for those in need of a low-maintenance escape, the prefab cabin will be your go-to destination for peace and relaxation in the comfort of your own backyard.
24. Rotating Garden Pod by CuckooLand
The Rotating Garden Pod by CuckooLand is a true gem among log cabin modular homes. This one-of-a-kind garden pod can be rotated around the full 360 degrees, giving you unobstructed views of your surroundings no matter which direction you turn. The high-quality materials used in the construction of the prefab cabin guarantee its long life span. The sophisticated aesthetic of the Rotating Pod makes it a great addition to any backyard.
25. The Garden Room by Garden Lodges
If you're searching for a chic and practical outdoor living room, go no further than the Garden Room, with its contemporary and minimalist design. Many unique qualities set it apart from competing modular cabins. The Garden Room is constructed with the utmost care and attention to detail, guaranteeing that it will last a lifetime. Second, it can be tailored to your own tastes thanks to its adaptable design. This means that you may choose the materials, hues and configurations that suit you best.
It may function as either a home office or a playroom due to its adaptable layout.
26. Summerhouse24 PopUpHut Pod
There's more to the PopUpHut Pod by Summerhouse24 than meets the eye when it comes to this modular office. Enjoy the benefits of working, relaxing and recharging in this futuristic garden pod. The PopUpHut Pod's sleek appearance and flexible, modular structure make it a great addition to any space. As spectacular as the outside may be, the modular cabin's inside is much more so, with room enough for a desk, seats and everything else necessary for productive work.
The Summerhouse24 PopUpHut Pod is perfect as a home office, a hobby room or a relaxing getaway.
27. The KIPOD Mini Garden Pod
Whether you're looking for a home office, a cozy getaway, or just a place to store your garden tools, the KIPOD Mini Garden Pod is a fantastic choice for those seeking a small yet mighty garden prefab cabin.
The KIPOD Mini Garden Pod is a small garden shed that packs a punch of style and functionality. This pint-sized powerhouse is the perfect solution for those seeking a stylish and convenient outdoor living space. The compact design of the KIPOD Mini Garden Pod makes it an ideal choice especially for smaller gardens, balconies, or patios. Despite its small size, this shed offers ample work, play, and relaxation space.
28. The Garden Igloo 360
If you're looking for a garden shed that's a cut above the rest, get the garden igloo! This stunning garden pod offers a unique, dome-shaped design that will turn heads and provide you with a comfortable and stylish outdoor living space.
Unlike traditional wooden garden sheds, the Garden Igloo 360 is made from high-quality materials built to last. The pod's interior is bright and airy, thanks to the 360-degree transparent windows that let in abundant natural light.
29. The Urban Oasis Garden Room
The Urban Oasis Garden Room is a prefabricated cabin that provides a stylish and comfortable outdoor living space. Urban Oasis Garden Room is an excellent option for those seeking a hassle-free and low-maintenance prefab cabin.
The modular cabin can be customized to meet your individual needs and style preferences, ensuring that it fits seamlessly into your outdoor environment.
30. The Garden Room by Garden Spaces
The Garden Room by Garden Spaces is a highly-rated garden pod that offers a spacious and modern design for a comfortable and stylish outdoor space. It is made of high-quality materials and features excellent insulation, making it suitable for use all year round. The interior is well-lit, with large windows that let in plenty of natural light.
The pod has a clean and simple design with a neutral color palette that will blend well with any garden. It is also easy to assemble and maintain, making it a popular choice among modular cabins for sale.
Frequently Asked Questions
Do modular homes last long?
Modular homes, if properly constructed and maintained, can last for many years, just like any other type of home.
What is a modular cabin?
A modular cabin is a prefabricated structure that combines the comfort and style of a traditional cottage with the benefits of modern construction techniques. Made off-site in a controlled factory environment, modular cabins are built to meet strict building codes and are constructed with high-quality materials to ensure durability and longevity.
Do you need planning permission for a portable cabin?
Whether or not you need planning permission for a portable cabin depends on several factors, including the size, location, and intended use. More minor modular home additions used for storage or as a home office typically do not require planning permission. However, larger structures or those intended for more extensive use, such as a dwelling, may require planning permission.
It's essential to check with your local planning authority to determine if planning permission is required for your specific situation.
Conclusion
To meet the demand for affordable, adaptable cabins, numerous companies have stepped in and are developing innovative designs, cost-effective building techniques, and high-quality materials. Small prefab cabins are currently offered in a variety of sizes, pricing points, and styles.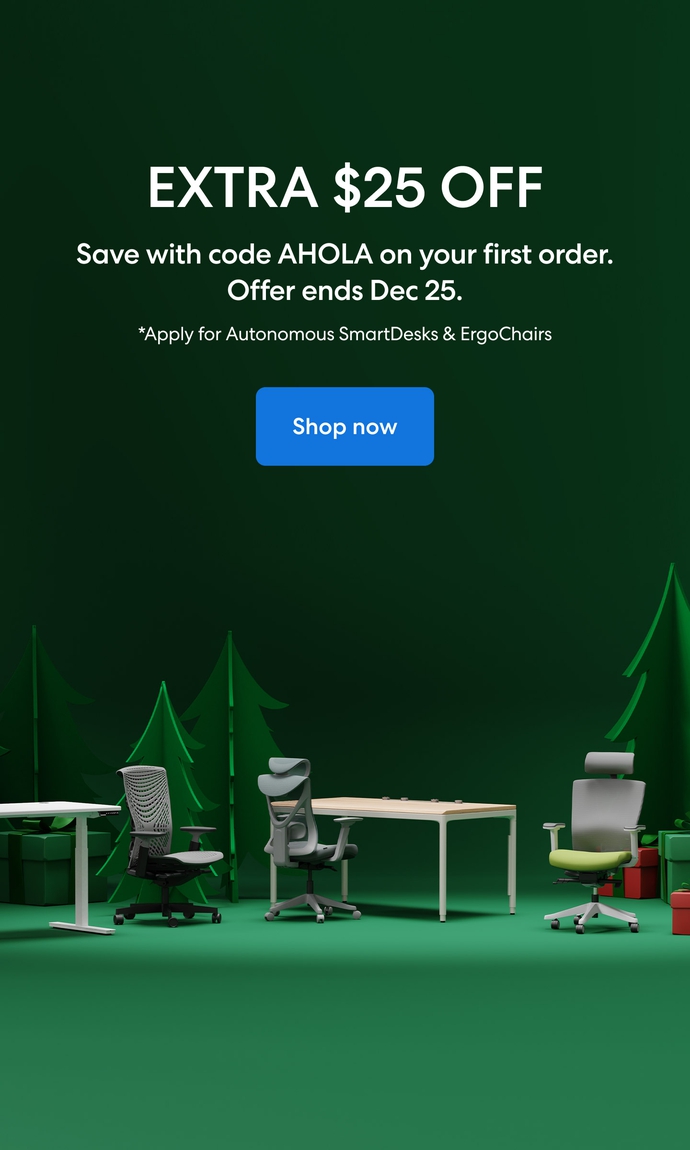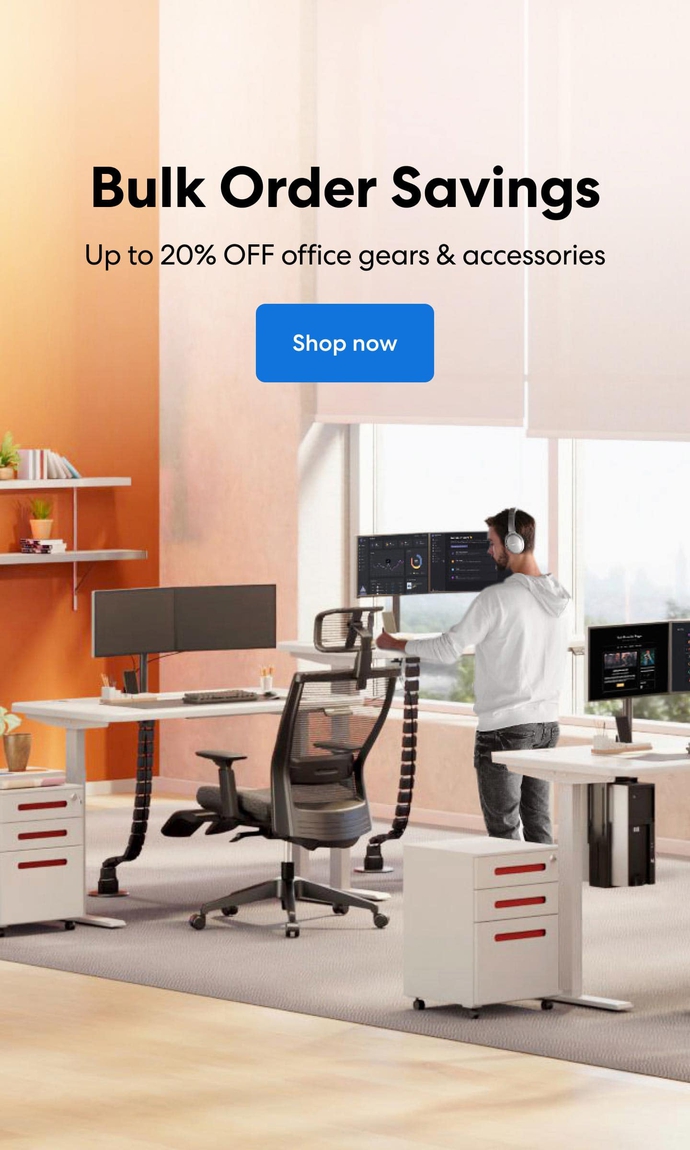 Subcribe newsletter and get $100 OFF.
Receive product updates, special offers, ergo tips, and inspiration form our team.