Smart Products
25 Small White Desk Options for Minimal Space & Maximum Impact

Autonomous
|
May 15, 2022
1,516 Views
We love compact white desks and modern office design, and we believe that small workspaces deserve just as much design and attention as a luxury executive suite. Finding a small white desk for your office is easy, thanks to this list of 25 top picks for 2022. 
Choosing a Desk for a Small Office
Setting on a small desk setup does not have to be so different from that of a more spacious office, but it does need to be better thought out. The use of color, shape, and style in a tighter area is even more important because of how much they can affect the feeling of the space. 
Why Pick White?
Choosing a white desk setup is always an excellent place to start because the color lends itself perfectly to creativity. First of all, white is bright and makes a space feel bigger instantly. Secondly, it is adaptable to any color scheme or design aesthetic you decide to pursue. 
In a nutshell, white desks are chic, sophisticated, and flexible. Many furniture designers use white as the base for their collections, which leaves us with plenty of options when it comes to decorating! 
Top 25 Small White Desk Designs for 2022
If you are looking for a white adjustable desk that can upgrade your workspace without overpowering or cluttering it, you have come to the correct place. Here you can find 25 of the best compact white desk designs for sale in 2022. 
1. Autonomous SmartDesk Core (55" x 28")
Our favorite home office standing desk for 2022 is the SmartDesk Core. Compact, versatile, stylish, and convenient: this design really hit the nail on the head for the perfect white mini desk. Of all the Autonomous SmartDesks, it is also the most affordable. 
It lifts 265 over 18 inches of desk height range, keeping it simple with a streamlined, fuss-free design. The classic top of this small white desk is easy to assemble and to work with, no matter what size or style of office you have.
2. Autonomous SmartDesk Pro (53" x 29")
The Autonomous SmartDesk Pro is the best of both worlds: it is a small standing desk that allows you to optimize your use of space, and it has one of the most impressive and stylish designs of all. 
Height flexibility gets an A+ on this one, with more than 20 inches of one-touch adjustable settings. The sturdy steel frame can lift up to 310 lbs with ease and is compatible with a full range of desktops to suit your style. 
Another benefit of the SmartDesk Pro is the possibility to swap the desktop to a larger surface should you ever move the desk into a more generous space.
3. Autonomous SmartDesk Connect (53" x 29")
It is as practical and convenient a white standing desk as we have come across, and boy does it have style. Although it is a little bit on the pricey side (just under $1000), it is one of the most advanced standing desks on the market today. 
The industry-leading dual-motor design operates quieter than most weaker models while delivering twice the power and control. SmartDesk Connect can lift up to 310 lbs with ease when combined with the ultra-strong steel frame design. You can schedule sitting and standing sessions to keep yourself active and moving.
4. SmartDesk Connect Pro
If you're looking forward to automatizing your workstation, perhaps this small white desk is the best option for you. The SmartDesk Connect Pro allows you to control its height using the mobile app. Plus, it has integrated smart sensors for better performance, as well as an anti-collision feature to prevent potential accidents.
Additionally, it has built-in drawers that you can use to keep your workstation as organized as possible. You will also be able to program sitting and standing sessions, while also adjusting its height from 23.6 to 49.2 inches.
This narrow white desk has a total weight capacity of 310 pounds.
5. Standing Desk by Mount-It! – Touchscreen Keypad
Another good option you can choose for your workstation is the Standing Desk by Mount-It!, which includes a touchscreen keypad that you can use to change its setting at any time. It's an excellent white electric sit-stand desk alternative to automate your workstation.
You can adjust the height from 25.4 to 51.4 inches. Additionally, you can also customize the width of the desk frame, allowing you to build a compact white desk or a larger surface, depending on what you need at the moment. The width of this small white desk is adjustable from 39.4 to 63 inches, giving you plenty of space to build your desired computer setup.
6. SmartDesk Core by Autonomous x Wistopht
This small white computer desk has been designed to provide the user with as much comfort as possible, whether they prefer to sit or stand while working. You will be able to adjust the height from 27 to 45 inches, catering to the needs of people with diverse heights.
Despite being compact, it is capable of lifting up to 265 pounds. Hence, you will be able to place all your peripherals and accessories with ease, not worrying about harming the small white desk or its mechanisms.
The SmartDesk Core by Autonomous x Wistopht is one of the best modern white desks you can choose from in 2022. Not only is it convenient for people who want to lead a healthier lifestyle and boost their productivity in the process.
7. Compact Desk by Wistopht – Wireless Charge Pad
The next option is a tempered glass standing desk that also includes a wireless charge pad. Hence, if you tend to have your phone with you while working and it is compatible with wireless charging, you will be able to use your small white desk to keep the battery working at all times.
Despite having complex mechanisms and features, it is actually easy and quick to install. You'll be using it in less time than you expect!
You can adjust the height of this small white desk from 27.9 to 45.6 inches. It's quite uncomplicated to find the optimal settings you need based on your unique body proportions. Additionally, it has a weight capacity of 176 pounds, giving you plenty of space to place your peripherals, accessories, and other things you may need to go through your work day.
8. Compact Desk by Timotion: Basic Keypad
Next up, we have a Compact Desk by Timotion. It also includes a basic keypad that you can use to tinker around with the options until you find what works best for you. It is height-adjustable within a range of 25 and 45 inches, covering the needs of users with diverse heights.
Despite being small, it is quite resistant thanks to its load capacity of 270 pounds. Furthermore, the electric-dual motor will do its job as quickly as possible, allowing you to switch from sitting to standing in the blink of an eye.
This white mini desk has a quick and easy installation, making it a good choice for people that are trying a standing desk for the first time.
9. Flexispot Standing Desk (48" x 24")
Flexispot's white mini desk is a beauty. The sleek, modern design fits seamlessly into any minimalist office without taking up too much space or overpowering the aesthetic. 
Because it uses gas pistons to control the adjustable height, it is completely free of the floor wiring that many electric standing desks require. It does, however, still come with a built-in cable organizer beneath the desk surface in case you have a lot going on elsewhere. 
10. IKEA Skarsta (47" x 31.5")
The Skarsta is very similar to its cousin, the Bekant (entry number three), except it is not an electric standing desk. Rather than using an electric automatic control, the IKEA Skarsta small white standing desk height is adjusted using a discreet manual lever. 
Almost everything else is exactly the same, and it also comes in a variety of sizes to suit every shape of office. 
11. Artifox Desk in White Oak and Bone (52" x 26")
Artifox is about as stylish a furniture brand as they come. Every design is sophisticated, modern, and just plain cool. The classic Artifox desk does not disappoint in its ultra-contemporary classic look.
It has hanging pegs, a cable grid, and adjustable feet for uneven surfaces worked into the design for convenience, as well as a built-in to docking system for all your devices. Sure, it is expensive, but you are paying for beautiful and intelligent American-made office luxury. 
12. Artifox Desk in White Oak and Bone – Standing Version (52" x 26")
Recently, Artifox has released a standing desk version of its classic design. The features and finishes are much the same, except this version is meant for use in a flowing workspace where standing is the new sitting. 
13. Upper Square White Albin Standing Desk (37.5" x 20.5")
If you are really short on space and need a mini desk that holds its own with the big boys, the Albin Standing Desk by Upper Square is the one. At a little over 37" by 20", this desk can fit into almost any minimal space. 
The wheeled base makes it easy to move around, and a small under-desk shelf is super convenient for holding papers, stationary, or cables. Overall, the design is very simple, but it is made using the best quality materials that can last the test of time. 
14. Grattan Height Adjustable Desk (23.5" x 55")
Simple but effective, the Grattan adjustable desk is a great option for a small office. It is a narrow white desk that fits well into an understated space. The height adjusts manually with a lever at the back of the desk. 
Overall, this is a good choice, but it can only hold up to 100 lbs. If you keep things minimal, that is more than enough. 
15. Inbox Zero Adjustable Height Standing Desk (59" x 23.5")
Inbox Zero is well-known for its streamlined minimalist office furniture, and this desk is no different. It not only looks great, but it is also highly practical and durable. The long, narrow shape makes it perfect for a small office without compromising on the available workspace. 
Ergonomic, robust, spacious, and stylish: this Inbox Zero desk has it all. It also has easy touch buttons right below the desk to change the height settings and a discreet cable tray tucked away but easy to reach. 
16. ERGOBOND Compact Pneumatic Adjustable Standing Desk (24" x 32")
Why should a small office space mean you need to compromise on comfort and convenience? ERGOBOND has provided the perfect solution in the Compact Pneumatic sit/stand desk. It may be small, but it does what it needs to. 
This small white desk has all the same features as a premium standing desk, including top-grade materials, advanced pneumatic controls, and convenient storage attachments. 
17. Wade Logan Hoosier Adjustable Standing Desk (25" x 18")
Turn any space into your office with this ultra-convenient adjustable desk by Wade Logan. It moves with you on durable wheels and is supported by an all-steel frame to keep it in good shape. 
If you work from home and do not have a dedicated office space, this small white desk is an excellent choice. Adjust the height to stand and work in the kitchen, or lower it to the perfect eye level to work from the comfort of your sofa- it is all about convenience. 
18. Symple Stuff Hassen Desk (36" x 21")
Looking for something with a little bit of edge? The Hassen adjustable sit or stand desk by Symple Stuff ticks that box perfectly. Reversible orientation, folding work surface, industrial white steel framing, and a stunning, durable wood top all contribute to the overall appeal of this design. 
19. Inbox Zero Chowning Desk (55" x 23.5")
Combining style, simplicity, and substance in one design is not easy, although it certainly seems that way when it comes to Inbox Zero. The Chowning standing desk with manual height adjustment is effortlessly chic without overpowering a small office space. 
Solid materials, smooth finishes, and a couple of other handy features make this small white desk a winner in our eyes. 
20. Upper Square Margaux Height Adjust Desk (48" x 24")
Fans of minimalist design are sure to fall in love with the Upper Square desk. Smooth, clean lines, no-fuss aesthetics, and an ultra-modern feel are all things we love about this design. 
You can switch between sitting and standing while saving plenty of room but still get the professional feeling you desire from a workspace. 
21. IKEA Bekant (47" x 31.5")
This compact white desk is stylish, durable, and stain resistant. The build is solid and versatile to suit any office space. You can even adjust the feet height to keep the desk balanced on an uneven floor. 
It has a built-in cable tray and is made almost completely from recyclable and renewable wood, making it the perfect choice for an eco-friendly office space! The easy touch button control finishes the whole design off nicely. 
22. Seville Classics Airlift Pro S3 (54" x 30")
Without a doubt, one of the best small white desk designs out there for 2022 is the Seville Classics Airlift Pro. The sleek professional finish is made to last- and to impress. Despite being slightly bigger than most of the other desks on our list, it is an excellent space-saving design. 
It comes with a built-in hidden drawer for light storage, has a cable tidier beneath the desk surface, and includes dual USB charging ports. The whole thing is easy to install and is generally an excellent choice of small white office desk. 
23. MotionWise Small White Writing Desk (48" x 24")
Interested in a bargain? Aren't we all? The MotionWise Small White Desk is a steal, especially when you look at all the tricks it can do. First of all, it is the perfect size for space-saving in your minimal office, and it looks fantastically sophisticated. 
It also comes with a built-in USB charging port, pre-set adjustable height settings, and a smooth and powerful motor. To top it off, you can assemble it yourself in less than 10 minutes! 
24. BilBil Automatic Sit/Stand Desk (55" x 24")
BilBil created this sleek, narrow white desk specifically with home offices in mind. It comes with all the necessary office desk accessories for keeping a well-organized and tidy desk, including side hooks, cable trays, and well-planned dimensions. 
One of the best features that the BilBil Automatic Standing Desk offers is voice-prompted pre-set height settings. You can program in your favorite heights and tell your desk to change whenever you want! 
25. Fezibo White Standing Desk (55" x 24")
If you need a small white computer desk with storage already included, Fezibo could have the one for you. The built-in drawer and desk hooks provide a little bit of flexibility for storing papers and stationery, amongst other things. 
The long, narrow shape fits in well to a smaller room where space is limited, especially if you have a large comfy office chair. It moves on wheels, which is, again, a huge benefit for the space-strapped. Lastly, the discreet automatic controls let you adjust the desk height over a range of almost 20 inches holding up to 150 pounds on the light but sturdy surface.
FAQ
1.  How to protect your white desk top?
Accidents happen all the time, but you can prevent your white desk top from receiving damage by buying a desk mat. The larger it is, the better. It will provide an extra layer of protection to your desk, preventing it from receiving scratches. Some desk mats are also resistant to hot and cold beverages, so we highly recommend you to take into account this factor before purchasing one – especially if you tend to drink coffee or tea while you're working!
2.  What is a standard office desk size?
Generally speaking, computer desks tend to have 50" in width, 28-30 inches in height, and a depth of 25". However, these traditional dimensions are outdated and they may be uncomfortable for smaller or taller people. That is why many people are switching to standing desks, as it is possible for them to modify the height of their work surface and find something that works for their body proportions.
3.  How do I measure my desk size?
Although most desks have similar dimensions, here's what you need to do if you want to find out how big your desk is:
You can find out the width of your desk by measuring the whole piece of furniture from left to right. Try to do so while looking at it as if you were about to use it.

Next up, you can find out the height by measuring the desk from the base to the top.

Last but not least, you can find out the depth of your desk by measuring the surface from back to front, similar to how you were measuring the width.
Autonomous Employee Purchase Program

Are you interested in upgrading your current desk and other pieces of furniture in your workstation? Perhaps you can take a look at Autonomous' Employee Purchase Program.
The employee purchase program allows you to get special pricing and offers regarding office equipment, including ergonomic chairs, standing desks, and many other useful accessories that can make your work-from-home life easier. All you need to do is choose the items you would like to add to your workstation, and we'll take care of the rest along with your manager.
It was never so easy to upgrade your workstation! You can get everything you need to improve your current setup at any time!
Final Thoughts
A small white desk is the best design choice in an office with limited space for several reasons, including style choice and overall practicality. Any of the 25 desks on our list would make great additions to a home office or commercial workspace alike. 
Check the measurements of your office area and be sure to leave plenty of space around for easy movement and a good chair. Overall, find a setup that makes you excited to get to work.
Video ads for product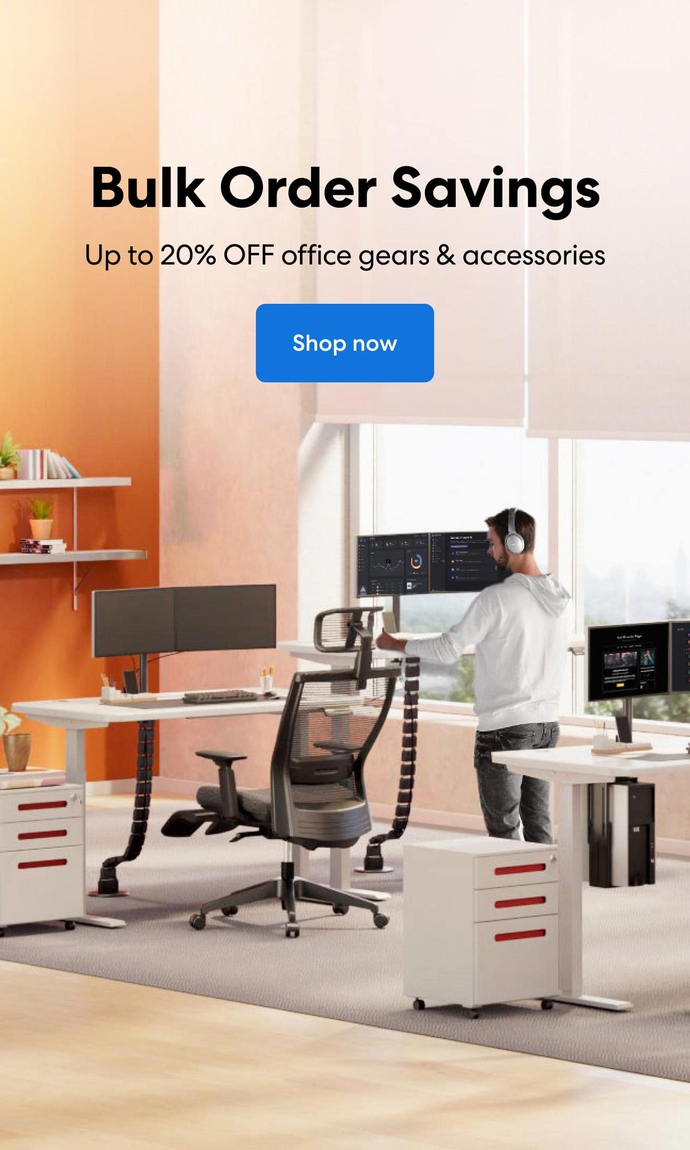 Subcribe newsletter and get $100 OFF.
Receive product updates, special offers, ergo tips, and inspiration form our team.