Smart Products
List of 20 Stationery Items That Make You Productive

Autonomous
|
Oct 18, 2021
2,561 Views
A study suggested that poor posture in the workplace is a root cause of many upcoming health issues. Many similar types of research also presented how a lousy workplace setup can be a great contributor to making a work environment dull and lazy. Our minds are direct results of our environment, so we feel a certain level of peace and calmness in environments like nature and calming colors.
It is also true that workplace efficiency is not just a result of a single factor, but multiple factors all combined to bring the right employee satisfaction. And office accessories or as well call them office stationery items are one such important aspect. The stationery items list for the office isn't just a ruse to spend your money, but many types of research prove how must-have office supplies for employees are essential for a productive work time.
Hence, you need to be careful when selecting stationery items for business as they are an integral driver of motivation to work. Whether working from home or setting up a stationery items office collection, this article will cover some of the home office essentials for an ergonomic workplace.
20 Stationery Items That Make You Productive
1. Desk Pad
Desk pads are an important workplace accessory to set up a clean workstation. Desk pads give a smooth work area thanks to their soft and smooth feel. Many types of desk pads offer multiple features. Desk pads are commonly used to keep gadgets safe and protected from dust and spillage.
2. Desk Organizer
Just as the name suggests, the desk organizer has many reasons to make it to the stationery items list. It keeps your workstation clean and organized. It can stack up all your essentials at a close distance, so you don't cramp your neck or shoulder, reaching for things again and again.
3. Filing Cabinet
Organization in the workplace is important for productivity. An organized workstation gives rise to clear ideas and strong motivation. The filing cabinet is an affordable option to keep all your documents safe and clean. This filing cabinet from autonomous comes with three spacious drawers.
4. Noise Cancelling Headphones
Noise is your biggest enemy especially when you are trying hard to focus. Any good quality noise-canceling headphones will do the job when you combine them with the right technology.
5. Leather Mouse Pad
With the Leather Mouse Pad, you can keep your hand in place. A unique and stylish mouse pad made from a single piece of exquisite leather will be a fantastic addition to your modern workstation. This stationery item is simple but effective design will allow you to browse with ease while using your computer mouse.
6. Desk Drawer
Each feature that is added to the desk raises the overall cost of the furniture. If you cannot afford or don't have a product with enough features, this removable swivel desk drawer is your solution. The tiny drawer can be easily placed under your desk and hold all the essential accessories.
7. Desk Lamp
The clarity and light in the workstation directly affect productivity. Hence it would help if you had a safe light to prevent strain or injury to the eyes. This is where a LED desk lamp comes to the rescue.
8. Mobile Stand
If you have to keep your phone active while working, but it always occupies the work surface area, you need a mobile stand. Just mount your phone and pick up the calls right with a single swipe.
9. Monitor Arm
One of the major reasons for neck cramps or muscle fatigue in the workplace is the improper viewing angle between the user and the screen. To reach a safe level of the screen, monitor arms are a great accessory.
10. Stress Balls
Stress is a common commodity that comes with work. Not many people pay attention to stress; hence they tend to push it back of the mind. But these stationery items can be a good pick for workplaces as they are simple and help energize your mind.
11. Flow Boards
A fun thing to do while working, a flow board is a smart invention of ergonomics. Its micro movement ability ensures the user is under constant movement and you have a safe time while working for hours at a time. Flow boards are a helpful accessory to be used with standing desks.
12. Privacy Panel
Sometimes a distraction in the workplace is the reason you cannot get work done. Privacy panel is an inexpensive solution to separate your workstation into a quiet corner so you can focus properly.
13. Seat Cushion
As proven by recent studies, employee burnout is majorly due to physical fatigue in the workplace. If your chair is tiring or uncomfortable, get yourself an ergonomic seat cushion to rest that back properly.
14. Bluetooth Keyboards
A common mood killer in the workplace is lots of cables. Cable clutter cannot only be unattractive by hazardous too. Hence it would help if you had a Bluetooth keyboard. There is no need to plug in or work at certain distances when you can easily move around with the Bluetooth keyboard.
15. Bluetooth Mouse
Once you are into Bluetooth keyboards, you won't like the wire attached to the mouse. Hence, the Bluetooth mouse is a great addition as it keeps your workstation clean and mess-free.
16. Anti-fatigue Mat
Here is another necessary stationery item in your workspace. If you are using a standing desk, you often complain about lower body pain.This doesn't mean you should throw away the product altogether. Anti-fatigue mats make a subject feel comfortable by encouraging tiny movements in the lower body.
17. Ergonomic Chair
Many people forget to focus on the importance of the right chair when setting up their workstations which are extremely detrimental to health. An ergonomic chair is a must-have for a workplace to be productive and for employees to be healthy.
18. Wire Organizers
These wire organizers can help keep your workspace clean and tidy, especially if you use a standing desk. You can choose from various wire organizers as the stationery items that can stick to practically any surface, including glass, metal, plastic, and wood.
19. A Dustbin
Another stationery item from the declutter family. If you work with writing pads and notes, you need a dustbin to throw away the wasted papers. Piling them up at the end of the table is both unpleasant and messy for the mind.
20. CPU Holder
It makes the most of your available space. A CPU holder might help you preserve space at your workstation if you have a limited amount of it. Because you can install your CPU under your stand-up desk, you won't have to put it on top of your desk or the floor.
Video ads for product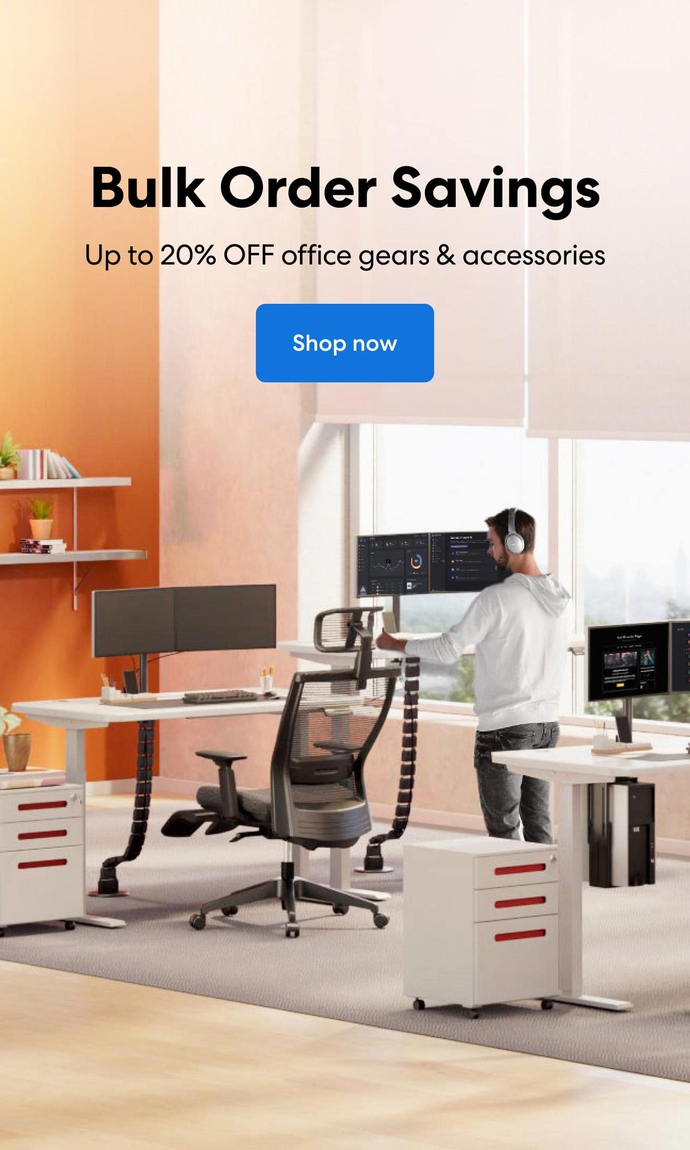 Subcribe newsletter and get $100 OFF.
Receive product updates, special offers, ergo tips, and inspiration form our team.