Workplace Inspiration
20 Ways to Carve a Closet Office | Easy and Stylish

Autonomous
|
Sep 25, 2022
821 Views
As the traditional home office setting continuously evolves, it is important that you adapt to your current space in a way that will keep you organized, productive, and ready to work. While a majority of us don't have the luxury of a spare room to convert into our dream office, carving out a space on your kitchen counter or on your dining room table to create a workspace is not the answer. If you have a spare closet, then you will have enough space to create an easy and stylish closet office space. 
What lies ahead is 20 ways to carve a closet office in which you can conduct business in the comfort of your own home, or should we say, in the comfort of your own closet. 
What Is a Closet Office?
If you find yourself with an unused or spare closet, then why not convert it into an office space? As functional as it is trendy, a closet office is proof of human brilliance when tasked with a seemingly common problem of not having enough space. No longer will you need to shuffle papers at a dining room table or balance your laptop on your bed. With a closet office, you will finally have a professional-level, personally designed home office of your very own in your closet.  
With that being said, we welcome you to the ingenious world of DIY closet offices. The following 20 best closet office ideas have been listed to serve as your inspiration for your own small office design layout. 
Regardless of whether you are looking for a minimal office design or something more inclined, like a modern interior office design, this is your chance to seize the unused closet space in your home and fulfill your purpose under your very own roof. 
1. Closet Office Nook Ideas
Literally, any unused closet is able to be used to create your very own private office nook. This can be anything from a small reach-in closet to a large walk-in one with a window, as these under-utilized areas are extremely easy to turn into your own little office cubicle. 
All you need for this type of closet home office is a dose of office cubicle decor inspiration along with a work surface and a comfortable chair to sit in. 
The closet you choose to transform into an office will depend on the size of the home you live in and the people you happen to share it with. To illustrate, if your bedroom has more than one closet, then consolidate your clothes into one closet and use the other one as a closet home office. 
Alternatively, if you only have one closet in your bedroom, you can purchase wardrobes for your shoes and clothes and use the closet as an office. The same goes for a guest bedroom that is rarely used. By upgrading your guest closet into an office, you can easily turn it into a dual-purpose space, and if you have overnight guests, you can simply choose to close the closet door on your office. 
Closets that are located in your living room can also easily be transformed into a stylish closet home office. Even if you are currently using this space for storage purposes, it is relatively easy to find another place for the current contents of your closet. Groceries can be moved into your kitchen cabinets, coats can be hung on a coat rack, and linens can be stacked in bathroom cupboards or on your bathroom shelves in baskets. 
Once you have chosen the location of your closet office, it is time for you to shift your thoughts toward its design. What exactly do you need to create a productive and stylish work zone? What fabrics, colors, furniture, and desk decor will go well with your existing home aesthetic? 
2. Built-in Closet Office Ideas
A built-in compact desk is a great way to maximize the potential of your closet office. Custom fitting all the components of your closet office and incorporating them into the design of your home, you are easily able to maximize the number of gaps and wasted spaces that a standard small standing desk or a filing cabinet may create. 
3. Walk-In Closet Office Ideas
Instead of designing a small office nook, designing a walk-in closet is more like designing a small room. These spaces will often have enough room to incorporate both your clothing storage as well as your office. Although it takes some planning to pull this off, it is worth the effort. 
Once you have found a way to keep your clothes and shoes out of sight and organized, you can use the rest of the space to design your office getaway. 
The key to making a walk-in closet work is to create zones. If your closet does not come with built-in wooden shelves, cabinets, or drawers, then you should take a look at purchasing a standing desk with a drawer. 
4. Lighting Ideas for Your Closet Office
Having adequate lighting is a must for all work areas. If your closet already has a light fixture, then you should try to use it. You can replace a bare bulb with a multi-light fixture that is aimed at specific zones in your workspace. Alternatively, you can simply add a nice shade or globe to soften the shadows created by a single-light source. 
5. Closet Office Door Ideas
Similar to lighting, your existing closet office door can be of use to your new closet home office. However, you might need to consider the alternatives. As with most home design decisions, your choices for a closet home office door will be limited to your DIY skills, as well as your budget. You need to consider the footprint of your home before you settle on a home office closet door. 
6. Closet Office Ideas for Shelving
Generally speaking, a DIY closet office is usually a tight space. This is why it is so important to utilize every inch of your wall space. One of the best ways to add a ton of storage to your nook is to add shelving. 
Luckily, a local home improvement store offers thousands of easy-to-install solutions for shelving. These range from minimalistic floating shelves to rows of perfectly fitted book-height planks. It is most likely that you will be able to find a shelf design that is perfect for your space. 
You can paint your shelves the same color as your walls, or you can even cover them in wallpaper. Let's say you found a beautiful desk with a wood-stained desktop, then, you can easily have real wood shelves installed to match. 
To make your office space more appealing to the human eye, you can alternate shelves with file baskets that hang on the walls. You can also set baskets on the shelves themselves to keep eyesore items out of sight. 
7. Closet Office Ideas for Storage
Another essential element in most closet home offices is cabinets. However, a smaller fitted closet may not have the space to accommodate any type of cabinet; a majority of closet office spaces will have the room for at least one decent set of drawers. Under the desk is the most logical place for a small cabinet. 
Cabinets are not as easy to install as shelves when it comes to doing it yourself. However, just about anyone can tuck an already made file cabinet or unit beneath their work surface, or they can simply purchase a standing desk with drawers. All that is needed is for them to measure their space carefully before offering any type of desk or cabinet. 
In terms of other small office supplies, you can utilize a variety of boxes, jars, and bins to store them in. Not only does this help with storage, but these storage pieces are also a fantastic way to inject your personal touch into your work zone. You can make this as minimalist or as busy as you please. It is also useful to note that a flat letter-sized decorative tray is just as helpful for your paperwork organized in a home closet office as it is in a place of business. 
8. Closet Office Ideas for Seating
When choosing a seat for your DIY closet office, comfort should always be your primary consideration. You need to consider the number of hours you will likely be spending in your new nook because this indicates that you will need something great to sit on. It is easy to find a smaller-scale office chair that will have all the features of a larger model and still fit into your repurposed coat closet. 
9. Creative Paint Jobs Ideas for Your Closet Office
A creative paint job is not reserved for your full-sized rooms only. You can just as easily infuse a much-need style into a tiny closet office. The best part about this idea is that it only takes a few cans of paint to create something as stylish as an ombre closet-turned-office. 
10. Closet Office Pegboard Ideas
Let's say you want smaller items such as paper supplies, crafting tools, and colorful pens within arm's length, but you would prefer not to clutter your desktop with them or hide them away in storage bins, then a pegboard is exactly what you need. A pegboard serves as a catchall for all your office supplies and maybe even photos of inspiration without taking up the valuable desktop surface in your tiny office. 
11. DIY Shelf Desk Ideas for Your Closet Office
We have spoken about shelving as a storage solution, but a shelve can also be a solution for those with a narrow closet. It can prove to be a really difficult task to fit a full-sized desk into a narrow closet without it poking out in all the wrong places, so why not install a strategically placed shelf as a desk instead? A single shelf at hip height can easily make for the perfect computer desk and closet office workspace. 
More easy and stylish closet home office ideas for you to try: 
Create a co-working space for two or maybe even three people
Make it an extension of your home rather than hiding it behind a closed door
Keep a light and airy color pallet, as many can feel dark and dingy without a window
Consider using wallpapers instead of painting
Invest in a drop-down desk
Bring in some potted plants
Get a mirror to give off the illusion of a bigger space
Attach your monitor to the walls 
The Bottom Line
Your cloffice, while mainly being a workspace, is also considered to be your personal space where you will spend most of your day and maybe even some nights. Feel free to decorate it however you see fit because, ultimately, it is all about what you like when you envision your own closet office and what will make you happy.
Video ads for product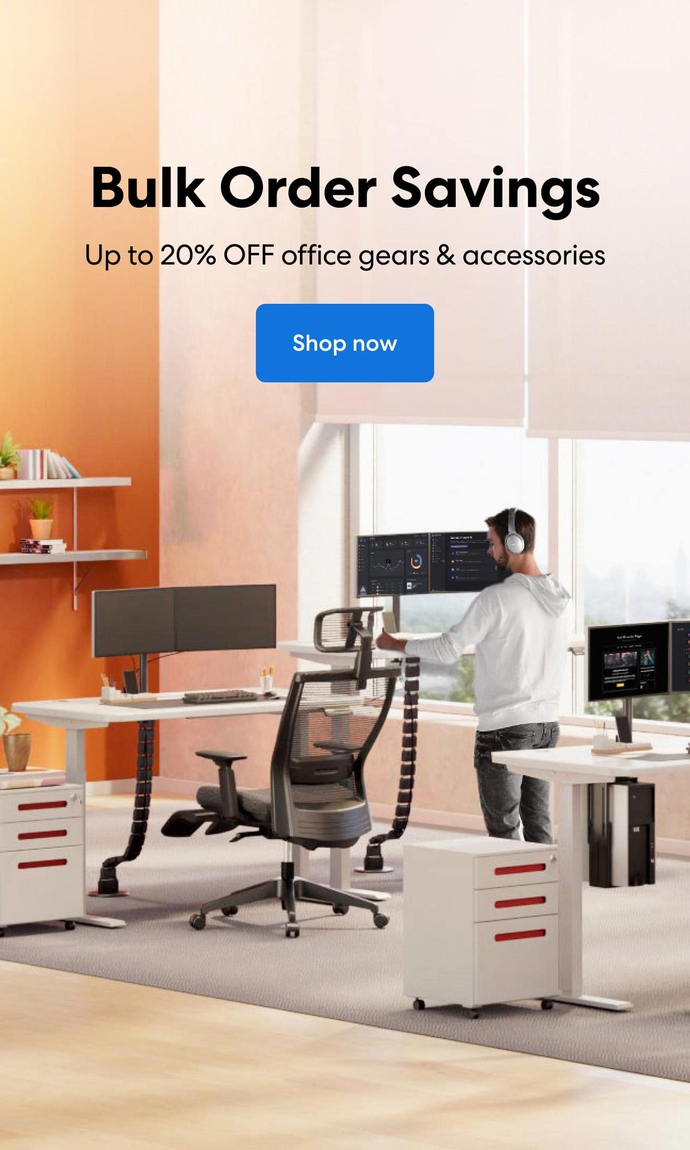 Subcribe newsletter and get $100 OFF.
Receive product updates, special offers, ergo tips, and inspiration form our team.