Not many office workers give too much thought to their office setup. As long as these workers have a decent chair and desk, they may be ready to move on with their day. However, what if we told you that there are many ways to optimize your workspace and make it more appealing to your needs? 
Office chairs have evolved a lot over the past decade. Today, there are hundreds of different models you can purchase. Thanks to the arrival of the ergonomic office chair, people now have several adjustable features to make their sitting experience much more comfortable. 
On top of that, ergonomic chairs have given us a wide range of options when it comes to color. One of the most commonly requested colors for ergonomic chairs is the white and grey office chair since it fits most work environments with ease. 
However, when it comes to a grey or white ergonomic office chair, there are also dozens of options you can purchase, making the decision a bit harder for those who don't know where to look. If this is your case, this guide is for you! 
Today, we're going to cover the top 20 white and grey computer chairs you can currently purchase on the market. Keep in mind all of the options on the list are great, so make sure you choose the one that best appeals to your needs. 
What Is an Ergonomic Chair?
An ergonomic chair is a product that features several features that allow you to adjust your body to a healthier sitting position. Overall, ergonomics is a trend that studies the human body's natural working position and focuses on coming up with modern ways to make people feel more comfortable while they work. 
In the case of the grey mesh office chair, its primary purpose is to help you sit in the right posture, avoiding health risks like back pain or muscle straining. As you may already know, improper sitting for too long can lead to chronic health problems, which can become a big issue in the future. 
It's important to note that not all ergonomic chairs come with the same features, and others may focus on one thing at a time. A back support office chair mainly focuses on giving you the optimal sitting experience without harming your back, whereas a tall office chair focuses on giving you a wider range of seating adjustments. 
You may choose the product you want based on what you need the most at the moment. However, if you have the budget for it, you may also purchase premium chairs that come with all of the features stated above. In conclusion, if you buy an ergonomic chair, you're going to have a much easier time working. 
What Features Should You Look for In a White and Grey Computer Chair?
If you're going for a grey office chair, you must be aware that not all of the products on the market may offer you the benefits you're looking for. There are hundreds of grey chairs out there, but not all of them are ergonomic. 
Generally speaking, the white and grey office chair may offer you some of the following benefits: 
Adjustable seating

Adjustable height

Adjustable armrests

Back support

Leg rests

Head support 
If you want to go for the most basic version of the ergonomic chair, going for adjustable height and back support is what most people decide. Still, remember you're investing in your comfort while working, so if you have the budget, try to invest in something that has as many features as possible. 
Keep in mind that working comfortably promotes productivity and concentration, meaning that you must ensure you're working in an office environment you feel safe and calm in. 
Is the Grey Ergonomic Office Chair the Only Thing You Should Buy?
Ergonomic chairs are only step one of making your working life easier. If you truly want to enjoy the best working setup you possibly can, it would be a great idea to pair up your ergonomic chair with a good white desk setup. 
Modern desks mostly involve standing desks since they allow the worker to promote better blood circulation on the legs while working. Standing desks come with an adjustable height feature that allows people to change from sitting to standing within a few seconds. 
Thankfully, ergonomic desks can also be found in a wide range of colors for you to enjoy, so it's only a matter of looking carefully and choosing something that works for you. If you're also looking for good ergonomic desks, you may check Autonomous' catalog and go for the option that feels the most appealing to you. 
Why Use White and Grey for Your Chair?
You may be wondering why going for a white and grey office chair is a good idea. Overall, you may go for any color you like, but if your goal is to keep your office setup as clean as possible, going for these neutral colors may allow you to make the room look more professional. 
White is often associated with cleanliness, simplicity, or freshness, whereas grey represents balance and neutrality. If those are the factors you're looking for in your office, make sure to go for these colors in your office equipment; not just your chair. 
Moreover, it's much easier to find a reliable white or light grey office chair than a red or blue chair. If you want to look at a wide range of options first, going for these colors may give you that. 
Is Choosing Different Colors Worth Your Time?
Most people don't pay attention to the color of their chairs at first. While colors don't make that much of a difference at first, it can be the best idea to consider if you want to have a much nicer office environment. 
Keep in mind that some workers are uncomfortable with their working setup, and they don't even notice their job performance is decreasing until it's too late. While getting nice colors for your office doesn't seem like that much of a deal, it can make you feel happier while working, which translates to better productivity during the day. 
Additionally, it's great to focus on purchasing office accessories in the same colors. If you get both a white desk and chair, the combo is going to look amazing for anyone passing by, which may also boost your mood. 
Top 20 White & Grey Office Chairs for Your Workspace
Now that you know everything about the white and grey office chair, it's time to take a look at some of the best options you can find on the market today. Remember that all of these products are of high quality, so make sure you go for the ones that best suit your needs. 
1. Autonomous ErgoChair Pro
The ErgoChair Pro is likely one of the most balanced white and gray computer chairs you can get on the market. Aside from being fully adjustable and breathable for your body, you can also purchase it in a 'Cool Grey' color, which gives your office a stylish look. 
2. Autonomous ErgoChair Plus
Overall, the ErgoChair Plus takes everything one step further from the ErgoChair Pro. It features earth-friendly TPE with 10x durability, frameless construction, and promotes natural mobility for users. If you're looking for the best option to purchase today, this is it. 
3. Gray Manager's Chair – Realspace
This grey computer chair comes from the brand Realspace. The most remarkable feature about this chair is that it comes with bonded leather, which promotes a much higher degree of comfort for the user. Moreover, it comes with a rotational swivel that promotes free movement. 
4. Bernot Task Chair
If you're looking for an affordable design for your white and grey office chair, this may be it. Overall, it features padded armrests and tilt controls that allow you to adjust the chair in any way you consider appropriate. 
5. Modway Escape Office Chair
Modway is known for making some of the most comfortable chairs on the market, and this isn't the exception. This light grey office chair excels due to its leather fabric, which makes it much more comfortable than other products on this list. 
6. Latitude Run Mesh Task Chair
As its name implies, this white and gray computer chair uses mesh as fabric. Thanks to this choice of fabric, people can promote better breathability for their back. However, keep in mind this chair may not be the best choice for people looking to work for too many hours a day. 
7. Three Posts Executive Chair
The most remarkable thing about this product is that it's stylish and provides a lot of great ergonomic features for the user. Overall, you can enjoy from height to tilt control and back support. 
8. Laura Furniture Empire Management Chair
If your goal is to get a modern and stylish office chair, this may be the one for you. Aside from coming in a cool grey color, it comes with a one-piece frame with reclinable features, allowing your body to relax. 
9. Branch Ergonomic Chair
The best thing about the Branch gray ergonomic office chair is that it's perfectly affordable for most people, and it also provides a lot of adjustable features for the user. If you're on a budget, this may be a great option to consider. 
10. Steelcase Leap
In case you're experiencing a lot of back pain, the Steelcase Leap grey desk chair may be the right one for you. Overall, this chair is made from microfiber and aluminum, and it also comes with live back technology that adjusts as you move. 
11. Techni Mobili Office Chair
This product uses modern upholstery and comes with a wooden frame that enhances its look. Moreover, it features a 360-degree rotating swivel, which promotes an excellent range of movement in any work environment. 
12. Furmax Office Chair
Overall, the Furmax chair is another good option for those on a budget. It features a breathable mesh back and lumbar support, which is great for those who want to target their back pain. 
13. AmazonBasics Classic Chair
This chair always finds its way in top-tier lists because of how simple but effective it is. In essence, this white and grey office chair comes with adjustable height and tilt tension, but it also comes with a microfiber cover that helps avoid sweat marks. 
14. Gates Genuine Leather Executive Chair
If you like leather chairs, this gray ergonomic office chair may be the one for you. It comes in a beautiful, dark grey color. Moreover, it comes with full back support, tilt options, and many more features. 
15. Veer Drafting Stool
This product is for those who want to have a slightly different sitting experience without sacrificing comfort. Overall, Modway's Veer drafting stool provides style, comfort, and adjustability in the same product. 
16. Inbox Zero Grey Ergonomic Chair
Overall, this is the most affordable grey desk chair on this list. If you're on an extremely tight budget, this chair may offer you the basic features you need to optimize your sitting experience. 
17. Grey Racing Chair by Rimiking
Whether you're a gamer or not, this grey ergonomic chair looks beautiful in any office setting, allowing you to work much more comfortably than before. 
18. Zipcode Design Grey Mesh Chair
This is a basic ergonomic grey desk chair that promotes better back breathability through its mesh back. Consider getting this one if you're experiencing back problems. 
19. Rimiking Grey Massage Gaming Chair
The main difference between the other Rimiking white and grey office chairs and this one is that this one offers much more padding and lumbar support, promoting a healthier back while working. 
20. Ebern Designs Gray Task Chair
If you don't mind not having armrests, this grey desk chair may be a great fit for you since it offers one of the most comfortable designs on the market. 
Bottom Line
There are many options you can consider today if you want to get the optimal white and grey office chair. Still, make sure you take your time and look at all the options these different products have to offer. Once you're sure of your decision, go on with your purchase. 
Still, if you want to ensure high quality throughout the years, going for one of Autonomous' chairs may be a wise choice for you. Make sure to check the company's catalog when you get the chance!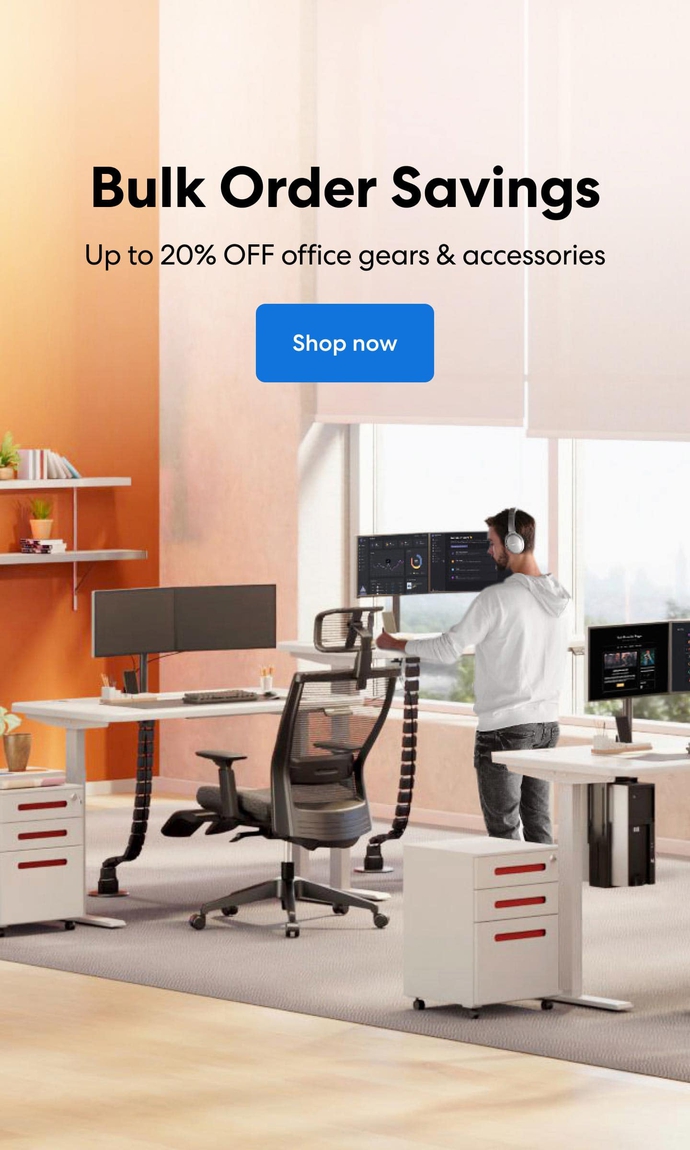 Subcribe newsletter and get $100 OFF.
Receive product updates, special offers, ergo tips, and inspiration form our team.