Smart Products
20 Best White Corner & L-shaped Desks for Office in 2022
2,512 Views
You might have a corner in the office that you want to fill with a white L-shaped desk, but choosing a white standing desk could prove difficult.
There are many reasons that you might want to use an L-shaped desk, and it can surely boost your productivity.
Any files and folders can be stored in an area of the desk that is unused, and more often than not they include multiple storage compartments. It can eliminate clutter and any other distractions you might have while working.
Sometimes a traditional desk can get messy, so using an L-shaped desk gives you more freedom to get your work done.
It can also be a massive benefit if used by multiple people, as the desk can accommodate both left and right-hand users.
The best white L-shaped desks for the office in 2021 get reviewed in today's list.
20 Best White L-shaped Desks for Your Office
1. Autonomous SmartDesk Corner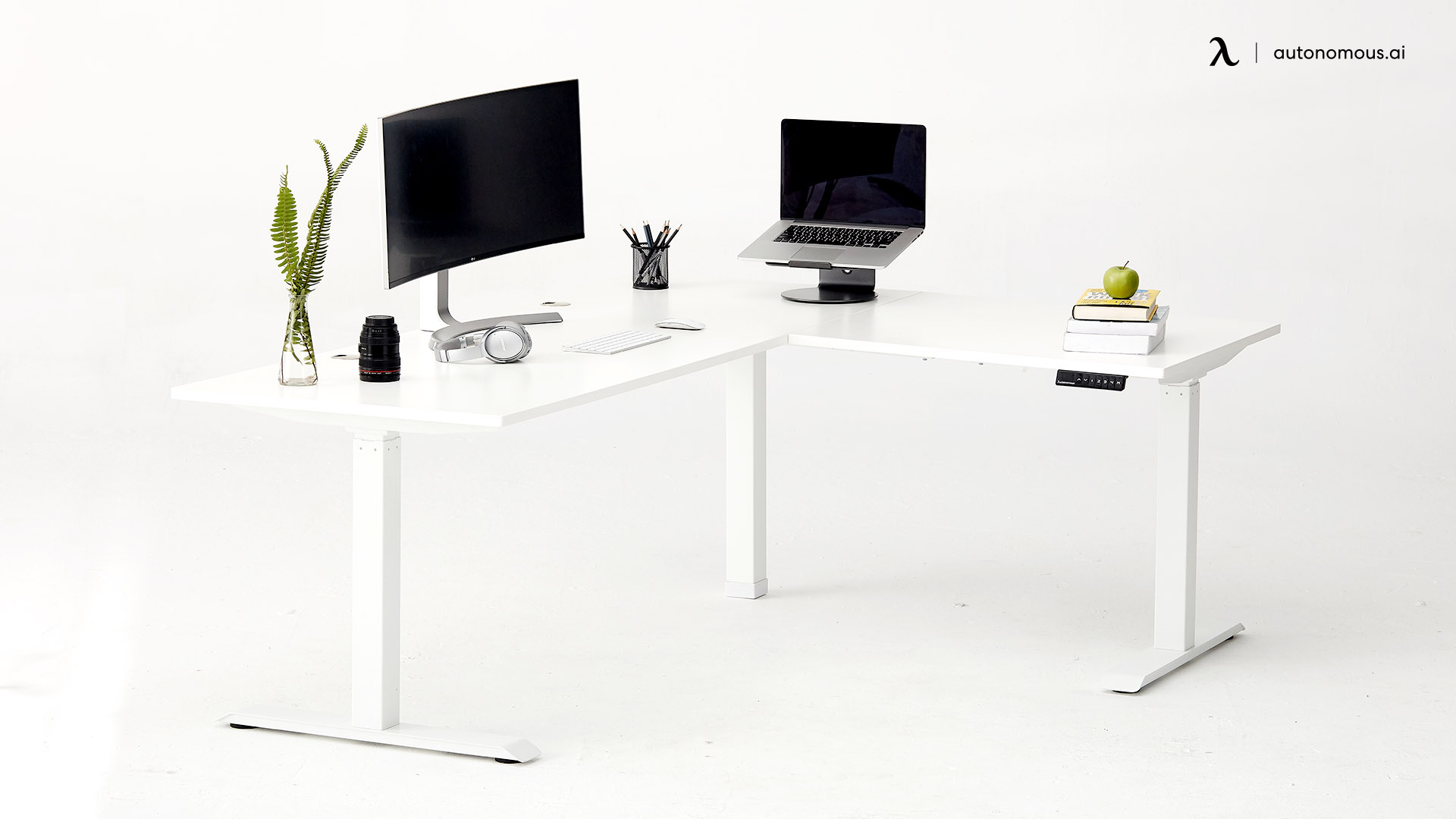 This L-shaped standing desk features a sleek design with advanced features like one-touch height adjustment.
Its modular design is perfect for segmenting the desk so that it can fit in any corner.
Height adjustment is taken care of by whisper-quiet triple motors and has four programmable settings. This desk is perfect for a triple monitor desk setup. The steel frame is ultra-high quality, and you receive a five-year warranty when you purchase this standing desk from Autonomous.
Everything that comes out of the Autonomous factory is meticulously designed, and you can expect the best from them.
It is a modern white L-shaped desk with loads of desk space and can support up to 400lb. Adding one of these to your office space improves office ergonomics, giving you the ability to work, standing or sitting.
2. Cassaottima L-shaped Desk
The surface of this white L-shaped desk is anti-scratch, heat-resistant, and waterproof.
It is similar in design to the previous corner desk mentioned. The sleek look of the Cassaotima has a significant rounded edge at the back, perfect for routing cables behind the desk.
This white corner desk comes with a three-year warranty and includes a removal shelf if you want to add extra space.
The futuristic design is modern and has a lot of desk space. It can fit around three to four monitors and store your files or folder too.
3. Green Forest L-shaped Desk
The Green Forest has a moveable shelf and a computer stand, making this white wood L-shaped desk design incredibly flexible. The computer stand is excellent for keeping your PC towers off the ground.
It is fully waterproof and easy to assemble, making this white L-shaped office desk a favorite amongst office workers.
While it can be used in an L-shaped format, you can also break it apart so that you have two smaller workstations.
4. Monarch Specialities Corner Desk
This modern white L-shaped desk wins the prize for storage as it has ample space to keep important documents. It also has two shelves, two drawers, and a cupboard.
It has a glossy white finish that is minimalistic even though there is so much storage space. The white desk setup has an executive feel with high end finishes that is bound to look snazzy in the office.
This white wood L-shaped desk fits exceptionally well into any office space and is an excellent white L-shaped desk that gives you plenty of options to add your work items.
5. Ameriwood Home Dakota Desk
A spacious desktop with a load of storage capacity - that's what the Home Dakota desk is. It is made from particleboard, and each side measures 51 inches.
A two-tiered shelf gives you space to store your books, souvenirs, or photos of your loved ones.
It is a desk for someone who wants a modern white wood L-shaped desk with lots of storage space.
6. Inbox Zero L-shaped Desk
The Inbox Zero desk has a metal frame that makes it extremely sturdy. It is made from recycled materials making it cheap to produce.
The tabletop sits on top of the metal frame, which gives it superior support. It can support up to 300lbs and has plenty of surface area to arrange all your work items.
There is a shiny white finish giving this white L-shaped office desk a sleek and beautiful appearance.
7. Cubiker L-shaped Corner Desk
The minimalist design is high quality and modern, providing enough space to store your essentials. It is made from laminated wood, which gives this desk a smooth finish.
This white L-shaped office desk is available in various colors and has a sliding keyboard tray to hold the keyboard and mouse.
It comes in at a great price and brings a minimal modern look to your office space.
8. Conner L-shaped Executive Desk
This functional desk inspires you to get the job done.
It is beautiful, has clean edges, is simplistic, and has stability. Two small drawers are attached to a thoughtfully designed desk space.
It is excellent for multiple monitor desk setup or your laptop and has a perfectly straight elongated side for you to do your work.
The desk comes with effective cable management and comes with a five-year warranty so that you can use your corner desk with peace of mind.
9. Bush Furniture Cabot L-shaped Desk
One of the pricier white wood L-shaped desks on this list, the Bush Furniture Cabot, provides 60 inches of workspace on each side. A built-in USB hub contains four ports, and the corner desk has wire management features.
It offers storage in the form of a file drawer, box drawer, and a concealed file cabinet. There are also a few open storage shelves where you can keep your reference materials or office supplies.
This modern white L-shaped desk meets all standards for performance and safety, allowing you to focus on what needs to get done.
10. DlandHome L-shaped Desk
The Dlandhome is a sizable reversible office desk but can be folded up to a smaller size. It is also possible to separate the desk so that you have individual places to work.
The design is simple but effective and offers tons of desk surface area to store your office supplies. It is an excellent white corner desk that supports a load capacity of 300lbs and only weighs 53lb.
It is designed with both left and right-handed people in mind, and it effortlessly adjusts to meet the needs of each individual.
Overall, it's a suitable desk that provides ample desktop space for your computer, documents, and even some decorations.
11. Mr. IRONSTONE L-shaped Desk
This white L-shaped desk comes in at a great price and a lightweight design.
It is made from a high-quality MDF Board and offers plenty of space. Holding this corner gaming desk up is a sturdy metal frame with anti-skid feet that help avoid scuffing your floors.
If you are looking for some extra space, you can add the optional monitor shelf, and it would still fit perfectly in your office cubicle.
Each side of the desk is the same length, which makes swapping between the two an easy process.
It is a suitable desk for people on a budget who want something reliable, sturdy, and has extra space as an option.
12. Bizzoelife Large L-shaped Corner Desk
This white L-shaped desk has a simplistic design with plenty of top surface space. There are two shelves on the side of the desk for you to store your files and folders.
The desk is perfect for doing homework, writing, school projects, and so much more.
You can store your office stationery in containers on the desktop as there are no drawers.
A bonus that comes with this modern white L-shaped desk is a moveable computer stand. You can shift your computer around from side to side depending on your preference.
13. Travis Modern L- Shaped Corner Desk
It's a corner desk with a modern design that has rounded edges. The white L-shaped desk is an excellent fit for any bedroom, study, or workplace.
The tabletop is made from particleboard and is sturdy and super durable.
Held up by a thick steel frame that can bear 450lbs, it can support up to four monitors.
It can be assembled in an afternoon, which is what makes this desk a tremendously attractive option.
It has enough space to fit a few monitors on the surface of the desk. Stationary and other office items fit perfectly on the tabletop too.
14. LUFEIYA L-shaped Corner Desk
It's a beautiful white corner desk with black steel legs that give this table a sturdy feel and look. There are soft rubber feet that keep it in place, and extra frame support provides stability.
Included is an additional monitor stand which can be used for a monitor or a laptop. There are no shelves or drawers, but there is ample space for storing things.
You receive a two-year warranty when you purchase this white L-shaped office desk, and it's a wonderfully priced desk for what it offers.
15. Homieasy L-shaped Corner Desk
This small white corner desk has many great storage options, such as an additional hanging side drawer to store files. There are two shelves where you can keep your books or other desk accessories.
The cute little desk has a specially designed steel frame that supports the wood top perfectly.
The Homieasy is the ideal corner desk for someone with a small office space or cubicle. Another reason they are great is that the company has 24-hour customer service if you are having any problems with your desk.
16. Raamzo L-shaped Corner Desk
It's a minimalist desk with two shelves to place your necessary accessories on, and this desk is perfect for being used in a small office cubicle. It has a lovely simple design that provides enough workspace to get your things done.
The Raamzo can be used for writing, research, and other projects that require your utmost attention.
It is made from quality hardwood and a metal frame, so you can expect a desk that is as sturdy as it looks.
17. Coleshome Extra Large L-shaped Desk
This extra-large white L-shaped desk is modular, making adjustability quick and easy. It is a simple task to assemble this unique desk, and it even comes with additional shelving to support your figures or another monitor.
The customer service is exceptional, and you can get a fast and easy replacement if your product is faulty.
What makes this desk unique is that it can be used as an L-shaped and a U-shaped. It is a welcome addition to any home office or workspace.
18. NOXU White L-shaped Desk
It's a large modern desk that is great for gaming and office use. The design is intuitive and reversible so that this modern white L-shaped desk can fit in any corner.
It comes in a flat pack and requires some assembly which can be a little tough, but there are plenty of instructional videos online to help you with the process.
The heavy steel frame gives it the sturdiness it requires for all your work items. There are two shelves that you can store books or a filing tray. They have also included a computer stand where you can safely keep your computer out of the way.
All in all, it's a perfect buy for someone that wants a simple white L-shaped desk for their home office.
19. Monarch Specialities L-shaped Desk with Tempered Glass
The final entry is a fancy one and includes a tempered glass section to do your writing work. It comes with two drawers and a cupboard that gives you enough space to store all those important documents.
This white L-shaped desk can fit into any office with its contemporary look and simplistic design.
20. SHW Vista L-Shape Desk
One of the cheapest desks on this list has the weakest structure.
It has a metal frame with rubber feet that hold up a computer and a few books without a problem.
There is also the option of adding a monitor stand, but it is not recommended as this desk cannot support much weight.
You can add two monitors on top of the table, but unfortunately, it doesn't work. It doesn't include any shelving or drawer space either, so keep that in mind when considering this one. This corner desk is for someone on a budget and wants a workplace that can fit in their office cubicle.
Why an L-shaped Desk Will Make You More Productive
Ensure your home office supports your working from home. An excellent white L-shaped desk should be on your shopping list. Putting off creating a workstation in your home until you return to the office may be a mistake. The time has come to make your home office a good white L-shaped desk workstation. Despite no end in sight to working from home, you must have a home office that supports your best work.
Make sure that you have a dedicated work area in your house to focus uninterrupted and with few distractions. You must have a space for your white L-shaped corner desk that promotes organization, productivity and efficiency.
A desk that can support all the tasks you do in a day and help the kids with homework when they get home from school is necessary. In any office, home or otherwise, an L-shaped white corner desk is a good anchor. The ergonomic design of the white wood L-shaped desk provides an abundance of workspace, storage, and comfort that improves the quality of your workday at home.
A Large Desktop for Monitors
A modern white L-shaped desk provides generous work surfaces with two large desktop sections. If you handle paperwork and files, work on your desktop or laptop, or handle large documents - or any combination of these! This L-shaped white office desk space will accommodate all your needs.
Multitasking is easy with an L-shaped white office desk because of its ample space. A second monitor can help you organize the second set of invoices, books, or ledgers. On one arm of the "L," place your stacks and piles of essentials, and on the other, conduct computer work. It offers plenty of versatility and space so you can get your work done without feeling overwhelmed.
A work-at-home spouse or colleague can share space with you. Virtually, you will have two workspaces, L facilitates meetings and collaboration-shaped desks, which can handle a wide variety of tasks throughout your workday. You will be more productive if you have a comfortable space to multitask.
Plenty of Storage
In addition to helping you stay neat, high-quality L-shaped desks can also keep you organized. Think about drawers for cable management, cabinets with doors for privacy, and drawers for keeping your long white desk surface free of clutter.
You can install rolling storage beneath the desk to provide convenience and legroom without compromising the area beneath the desk. If your CPU tower is on the ground, think about hidden storage options like cubbies and keyboard trays - some large enough to hold a graphics tablet.
Space-Saving and Efficient Option
L-desks are ideal for maximizing room space because they fit perfectly in corners, leaving plenty of room for other furniture and decor in the office. Whether you have two screens or three, the large corner desk provides extra tabletop space, which means there's more room to keep your favorite notebooks, sketch pads, or even furry office buddies.
It is natural for L-shaped configurations to demarc office space boundaries, with the L-part defining your territory if you share an office or need more space in your office. You'll be able to dedicate more time to clear up other types of chaos in the office once you've organized the physical space.
Cost-Effective Alternative
L-shaped desks are often more economical than you think. They provide more space, efficiency, and comfort than traditional rectangular desks, making it worth the little bit more you spend.
You can maximize both your vertical and horizontal workspace with an L-shaped desk, as well as its long-term versatility and durability. It's a smart investment to invest in an L-shaped desk. In addition to creating a more productive and permanent working environment, this is the best bang for your buck.
Professional Looking
It is true what they say: a clear desk, a clear mind, so L-shaped desks are the best way to banish those tangled wires from your sight. If you want to use L-desks in corners, there are many options for cord management clips. The ideal corner desk will feature two grommets for cable management - one on each surface!
When you can't reach everything on a big desk without straining your body - or having to walk around to the other side - having an enormous desk of the conventional variety is pointless. This ergonomic desk has everything within reach, thanks to its L-shaped surface.
Which Color Best Combine with White to Get an Aesthetic
Chair
Combining white with an ultra-light wood stain can add a feeling of natural elegance to your home. This look is sometimes referred to as "the Scandinavian look." If you want to paint a white table, you need to pair a very light wood wash.
With a white table, you're able to create a more natural look in your home while keeping the light and breezy atmosphere that comes with it. Working with wood stains is an excellent choice because it gives your home a very natural feel.
Others claim it adds warmth to your room as a decorative choice. With just a few additional touches, you can create a modern and uplifting look to your table that is both efficient and pleasing to the eye.
Lamp
If you combine yellow with lots of white, any room will look stunning. Take a look at this designer. Colors such as white and yellow make a room appear larger, as well as improve the mood. This color scheme for office interior combination tends to reflect the light bouncing off of yellow, so your dining area will appear warm and inviting.
Whenever you want to add some cheerfulness to your home, you can use yellow with white. Additionally, this furniture color will also be helpful to families who would like their room to appear bigger.
Accessories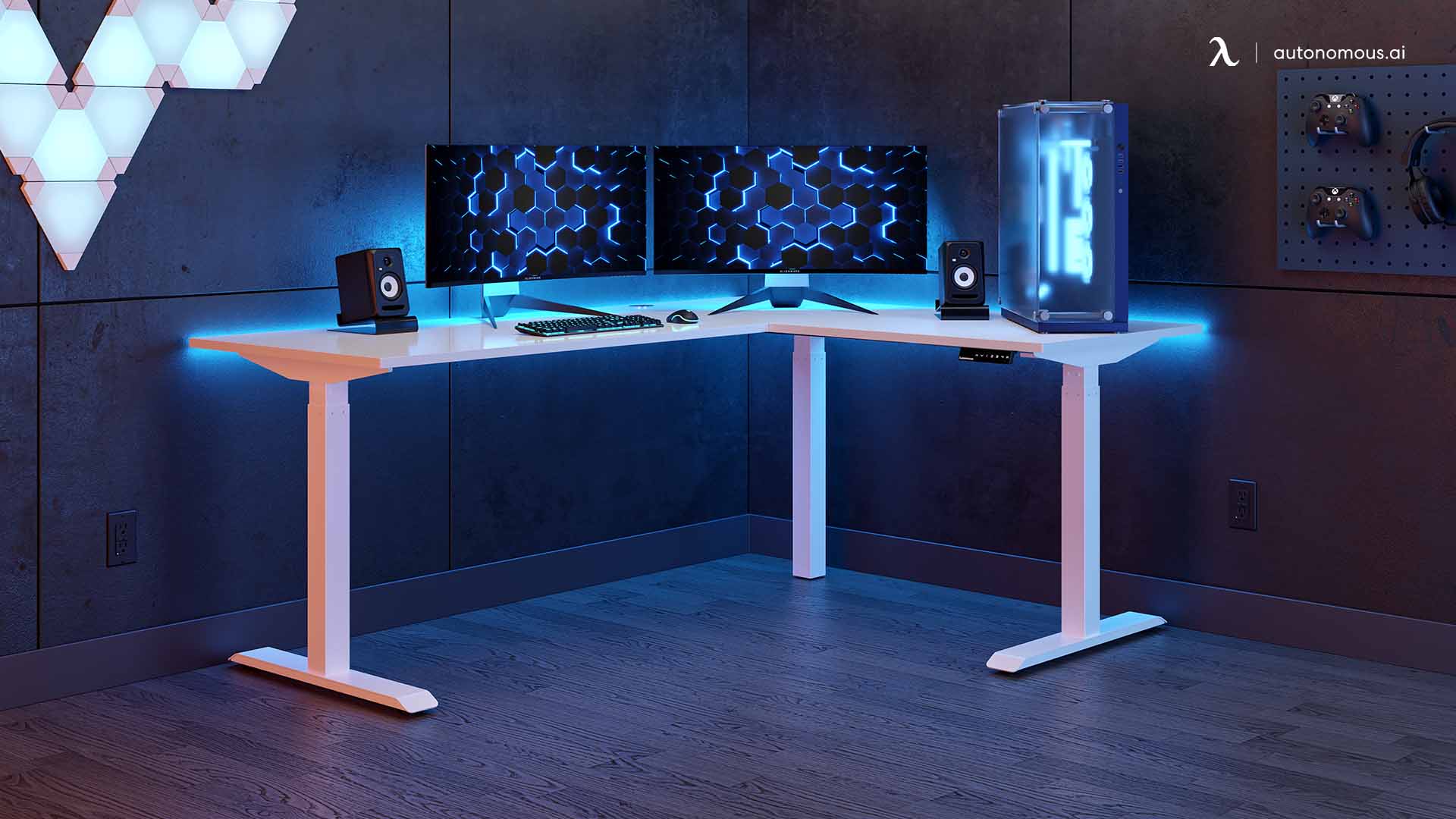 Grey makes a bold contrast while being less obtrusive than black. In addition to being trendy, grey is also traditionally associated with this decade's "it" office furniture color. If you add black accents alongside the grey and white colors, your room will take on a monochromatic look.
The undertones in this combination look great in rooms that have a strong emphasis on modern comfort. You may want to consider how other shades of grey will look in your room, as true grey can sometimes look shady depending on the lighting.
This color family is a staple in interior design because blue is always in style. If you have white, blue is going to be the best color to pair with it. This is close to being a perfect match. Blue and white complement each other beautifully and add a sense of freshness to a room.
The same is true when you have a deep royal blue or a light pastel blue. These kinds of blues go well together as well. There is nothing unusual about seeing white tables and blue office chairs in parts of the world like Greece. As such, you could consider this idea to be Mediterranean chic.
Final Thoughts
Using a white L-shaped standing desk is probably the best thing you can do for your posture. It can help you to avoid ergonomic injury and also make your office look very stylish and modern.
Suppose you purchase an adjustable standing desk that makes life even easier, allowing the desk to be used either standing or sitting.
If multiple people are using the white L-shaped office desk, it can be adjusted to suit each individual's needs.
Whatever desk you decide to choose, remember to consider your height. It is also good to compliment one of these white corner desks with an excellent ergonomic chair.
Hey, you have special pricing through your company.
Get exclusive rewards
for your first Autonomous blog subscription.
WRITTEN BYAutonomous
We build office products to help you work smarter.