Working out at a gym promotes your mental and physical health, and it's something everyone should try at least once in their lives. However, some people don't feel comfortable working out with others around, so they prefer working out at home. If you are one of those people, you need some workout room ideas to start exercising at a home gym. 
One of the things that makes workout room décor interesting is that you can use several tools and accessories to make your home gym look how you want and adapt it to your taste and needs.  
Regardless of that, not everyone knows what home gym ideas are best for their house, so it's more difficult for them to feel comfortable in their own workout station.   
If you are looking forward to creating a new home gym or improving your current workout space, this is the page for you!  
Dive into this page if you want to learn all the things you need to make your home gym a comfortable and fun place to exercise at. 
20 Inspirational Workout Room Ideas for You
1. Get the Essential Workout Equipment
Although you want your gym room to be different from the average gym, most workout room ideas lead your home gym to be like one. Having some things in common with regular gyms is not something bad since all home gyms use the essential gym equipment used for most workout routines.  
Thus, you should invest in a proper walkable treadmill and any other piece of home gym equipment you ever need.   
These are some of the essential gym equipment from Autonomous you should get for your home gym: 
Ovicx Indoor Cycle
BODYGYM 2.0 All-In-One Home Gym
WAATR CRAZYCAP 2.0
Bellabeat Yoga Mat
Walkingpad Foldable Walking Treadmill
2. Decorate the Place 
While many people take this for granted, working out at a place you visually like can encourage you to keep working out there and even make you feel more active overall. 
On the other hand, you may feel bored and more tired than usual if you work out in a boring place you don't like. Hence, you should invest as much money as you can in the workout room décor. Try buying anything you know will make your workout room a more inspiring place for you to work out there.   
3. Get Speakers
Speaking about feeling motivated and inspired to work out, not many things encourage and give you as much energy to keep on with your daily workout routine as listening to the right music playlist to work out.
Regardless of that, wearing earphones or headphones while working out can be a bit uncomfortable and impractical, so it's best for you to get some Bluetooth speakers for you to pair with your smartphone and play what you feel like listening to when you hit the gym.
Getting speakers is one of the essentials for people trying new workout room ideas, so it should be one of your main priorities.
4. Use a Smart Watch
Smartwatches are one of the best gifts for gym rats you can find on the market, and getting one for yourself is one of the best exercise room ideas you can invest in.  
Watches such as the Hybrid Smartwatch or the HEALBE GoBe 3 help you keep track of the calories you burn, keep an eye on the drinks you take, and even analyze your sleep patterns.
5. Wear Comfortable and Stylish Shoes
Working out requires you to move a lot, and this can be a bit tiring if you are new to gym workouts. Therefore, you need to wear the most comfortable shoe you can get to avoid suffering from sore feet in the future.  
6. Buy a Smart Water Bottle
If you are not used to working out or going to the gym, you may not be aware of how much smart water bottles can help you. Smart water bottles such as the CRAZYCAP 2.0 sanitize your water with built-in UV light and keep it cold for you.  
Other smart water bottle models, such as the DYLN Alkaline Water Bottle, focus on tracking your daily water intake and reminding you to drink water.
7. Create a Sports Zone
Playing sports is fun, and many people have been playing at least one sport since they were kids. 
Adding a sport you like playing to your daily workout routine keeps you from getting bored of your home gym and makes your workout sessions more fun and engaging. Things such as a basketball hoop are perfect for the matter.  
8. Make Your Home Gym Kid-Friendly
You may not be that interested in making your home gym kid-friendly if you don't have children, but doing so can help you a lot if you already have a kid to take care of.  
Working out with your kid will not only help you bond with them but will also make them develop a taste for playing sports and staying healthy in the future, which is something you always want as a parent.  
Since kids can't work out as adults do, you can create a kids zone where they can play some sports with you or by themselves while you keep going with your workout routine.
9. Get a Gym Partner
Shy people don't often like gyms because they don't like talking with other people while working out. However, exercising by yourself can become a bit boring at times, so you should get a gym partner to work out with you every now and then.  
Going to a gym with a dozen strangers is not the same as staying home working out with a friend, so it's one of the best home gym ideas you can use for your home workout station if you tend to feel shy at the gym.  
10. Add a Sauna
Not many things are as relaxing as getting into a sauna after working out, and it's one of the things people miss the most when they start working out at home. However, there's no reason why you shouldn't install a sauna in your house and use it to relax after you finish exercising.
11. Use Your Garage or Attic
We don't recommend using a bedroom or something of the sort as your new home gym since those kinds of rooms don't always have enough space for all your gym equipment. Garages or attics, on the contrary, are often perfect for the job.   
12. Adapt Your Office to Work as a Home Gym
Although there are many home gym ideas you can try to make your home gym setup look better, some people struggle with not having enough space for all the workout equipment they need at home. Fortunately, there's a way to help you stay at home while making your workspace a more dynamic one.
It may sound odd to some people, but turning your office into a home gym can help you optimize your house space like you never did before. We understand if you worry about your office looking unprofessional or disorganized, but everything will be alright, as long as you get a stylish workout room décor.  
On top of all the merging, your workout room with your office helps you exercise more while working if you have the right desk workout equipment.
13. Buy a Smart TV
Smart TVs can prove themselves more useful than many people would think when it comes to working out, so you shouldn't forget about them when thinking about workout room ideas for your home gym setup. 
Apart from being excellent for playing music, you can use your smart TV to watch different workout videos to learn how you should do some exercises. There are hundreds of workout routine videos on YouTube, so you can spend all the time you need looking for one that adapts to your gym goals. 
14. Keep Up with Your Workout Routines with a Chalkboard Wall
Getting a chalkboard wall for your home gym is a creative way of keeping track of the exercises and reps you have to do each day, so it's an excellent idea for people designing their own workout stations.
15. Install Several Wall Mirrors  
Mirrors not only help you see the results of what you do in your daily workout sessions but also make you notice if you are misdoing an exercise and what you need to change about them, so they are an essential product for home gyms. 
16. Hire a Gym Coach
Not everyone has the same goals while working out since, while some only take it as a hobby, others want their bodies to undergo a true change. If you are part of the latter, you may need the help of a gym coach. 
Hiring a gym coach is one of the best investments you can make if you work out at home since most people who exercise at home gyms don't have anyone to tell them what they do wrong and how to improve their workout routine.
17. Add a Relaxation Zone  
Although you need to save as much space as you want for your gym machines and anything else you need to work out, adding a relaxation zone is one of the best home gym ideas you can try for your new workout station.  
We understand not everyone wants to take some minutes before and after each workout routine to stretch, but doing it brings you excellent benefits. You can use your relaxation zone to meditate, try yoga, or do anything that helps you stay relaxed while working out.  
18. Try Getting an Indoor Pool
Swimming is one of the best sports you can practice if you like going to the gym since it helps you train all your body. Getting an indoor swimming pool can be excellent for warming up before starting your daily exercises.   
19. Get Boxing Bags
As we mentioned before, playing sports can help you make your workout routine more fun for you and any gym partner you have. Nonetheless, not many think about how fun it is to get some time with your boxing bags after or before working out.  
The reason not many people take boxing classes or try boxing is they are scared of getting hurt, but you don't have to worry about that if you only see boxing as a hobby. 
Get some boxing bags for your home gym and see how interesting and fun your workout routines become!
20. Save Some Storage Space for Your Gym Equipment
Saving some storage space for your garage gym equipment is the last workout room idea on this list, but it's one of the most important things you should do if you are planning on turning your garage or attic into a home gym.  
If you are going to work out at home, you want all the things you use to exercise to be at the same place at the time since looking for them elsewhere can make you lose a lot of time in the future. Therefore, try to make some space to store all your gym-related belongings.  
Wrapping Up
As you could see, there are many things you can do to make your home gym better, so you just need to pick the workout room ideas that best fit you and make a workout station you will love.  
All the ideas in this article are excellent for both beginners and people with some gym experience, but you can try some ideas of your own if you feel confident about them.
Video ads for product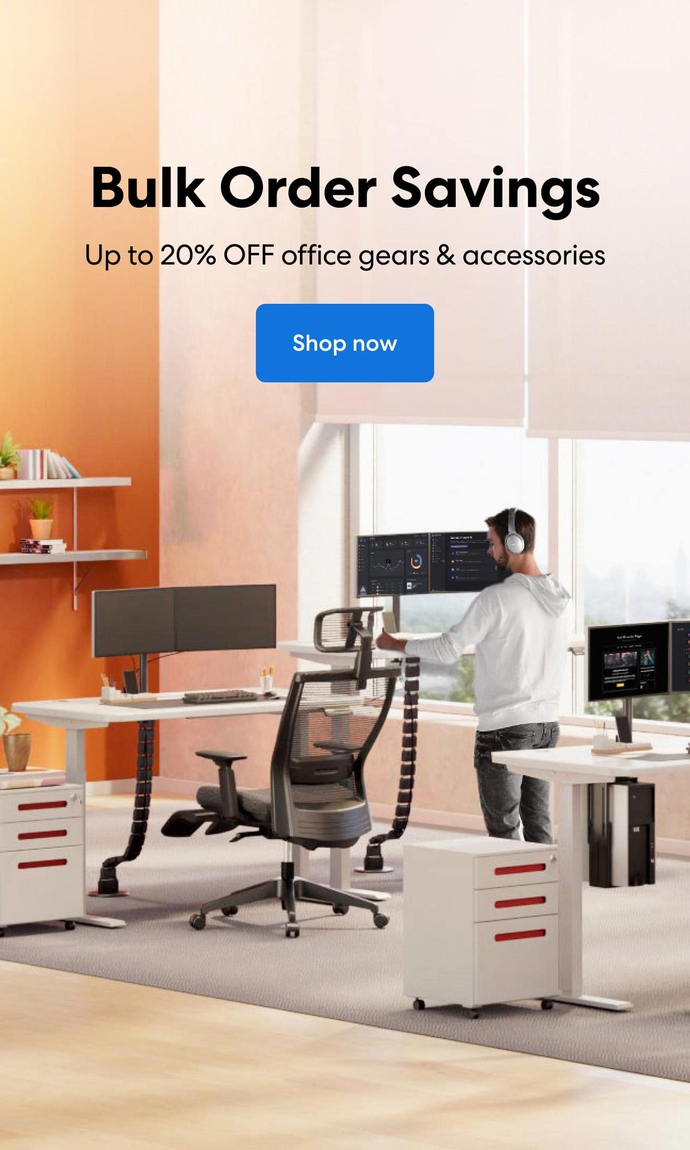 Subcribe newsletter and get $100 OFF.
Receive product updates, special offers, ergo tips, and inspiration form our team.