Smart Products
25 Best Monitor Arms Review - Ergonomics, Durability, and Budget

Autonomous
|
Nov 25, 2022
1,575 Views
Research has shown the detrimental effects of spending long hours behind the computer.  
Tilting your head or leaning forward strains your neck and back and is terrible for your eyes. Your workspace affects your well-being and effectiveness at home and the office. It has to be functional and ergonomic. 
A monitor arm raises your screen to bring it to eye level, which eases the strain on you and saves space on your desktop. 
This article looks at other benefits and suggests 25 products to help you find the best monitor arm on the market.
Review of 25 Best Monitor Arms in the Market
1. Autonomous Monitor Arm
This is one of the best monitor mounts from Autonomous. An adjustable monitor arm helps relieve eye and neck strain, maintain good posture, improve mood, increase blood flow to your brain, and sharpen your focus.  
Use the Autonomous monitor arm to make the most of your desk space, tidy your workspace, and work more productively. The dual monitor arm is ideal for multitasking or jobs that need attention to detail. 
| | |
| --- | --- |
| Dimensions | 18"L x 19"H |
| Colors | Black |
| Materials | Aluminium |
| Weight capacity | 26 lbs |
| Item weight | 6 lbs |
| Warranty | 2 years |
2. EUREKA ERGONOMIC S05 Single Monitor Arm
With this best monitor mount, you may swivel 180 degrees, tilt up 90 degrees, and spin 360 degrees to improve your view. Your single monitor arrangement is safe thanks to the sturdy gas spring and clamp/grommet base. They are durable and long-lasting.  
The monitor mount's 27.3-inch extension is ideal for wider desktops.  
Its c-clamp or grommet mounting base keeps your workspace neater and more organized. This feature can save more than 80% of desktop space.
| | |
| --- | --- |
| Dimensions | 18"L x 19"H |
| Extension | 27.3" |
| Colors | Black |
| Materials | Aluminum |
| Weight capacity | 20 lbs |
| Warranty | 3 years |
3. FinerCrafts Monitor Arm
FinerCrafts' gas spring monitor arm enables you to adjust your screen till you find the ideal display position. This is in contrast to conventional monitor arms that have terrible adjusting mechanisms. Th9s best monitor mount is flexible, stylish, and reliable.
| | |
| --- | --- |
| Dimensions | 38.66"W x 20.1"H |
| Extension | 20.63" |
| Colors | Silver, Dark Gray |
| Materials | Aluminium |
| Weight capacity | 17.78 lbs |
| Warranty | 3 years |
4. R-Go-Tools Zepher 4 C2 Circular Monitor Arm: Ergonomic
This adjustable monitor arm's height, depth, 180-degree swivel, and 360-degree tilt are all done with simple adjustments. It enables you to position the screen well.  
The circular monitor arm setup includes modules that can be added and removed, such as a document holder, laptop holder, safety screen, or smart bar. This feature makes it simple to dismantle and clean the monitor arm.  
This best monitor wall mount has a built-in cable tray to help you organize wires neatly.
| | |
| --- | --- |
| Depth | 7.87" - 22.05" |
| Screen size | ≤ 40" |
| Item weight | 18 lbs |
| Warranty | 5 years |
5. Mount-It! Triple Monitor Arm: Full Motion
The triple monitor desk mount helps to lessen glare and eye strain and allows you to tilt and position your screen. Easily switch between portrait and landscape modes to meet your changing professional demands.  
You can adjust its height to convert your workspace into a sit-stand environment. This feature has a lot of ergonomic benefits for the user.
| | |
| --- | --- |
| Screen size | ≤ 32" |
| Extension | 29" |
| Materials | Aluminium |
| Weight capacity | 22 lbs. per arm |
| Warranty | 10 years |
6. Burotic Ergonomic Dual-Monitor Arm: 360° Rotation
The Burotic DIY monitor arm is essential to any ergonomic workspace. It gives you the ability to adjust your monitors to your level.  
A streamlined installation process and included equipment enable you to set up two monitors in less than five minutes.  
Its cable management is in-built to conceal any connections leading to your monitors.
| | |
| --- | --- |
| Screen size | ≤ 32" |
| Extension | 29" |
| Compatible desk thickness | 0.39" - 2.75" |
| Weight capacity | 19 lbs |
| Warranty | 1 year |
7. Modernsolid Single Monitor Arm: Full Motion
The Modernsolid monitor has an adjustable arm that allows you to adjust your viewing angle to lessen the effects of long work hours on your neck and back.  
Transparent cable clips on the monitor arms help manage the cable connected to the screen.
| | |
| --- | --- |
| Dimensions | 19.71"L x 4.53"W x 12.01"H |
| Screen size | ≤ 32" |
| Materials | Aluminum alloy & Steel |
| Extension | 19.71" |
| Item weight | 6.05 lbs |
| Weight capacity | 30.8 lbs |
| Warranty | 2 years |
8. Northread Dual Monitor Arm: Cable Management
Northread monitor arms raise your displays off the desk to provide more workspace for better posture and productivity.  
Moving displays are simple with its tension adjustment. It takes only minutes to install the dual-monitor arms.  
Office accessories and devices from Northread are VESA-compatible.
| | |
| --- | --- |
| Dimensions | 20'' H x 39.37'' W |
| Screen size | ≤ 27" |
| Materials | Metal |
| Colors | Silver, Gray |
| Weight capacity | 20 lbs |
| Warranty | 3 years |
9. Ergotron LX Desk Mount LCD Arm
Ergotron's LX full-motion desk mount is completely VESA compliant and can support monitors up to 32 inches and 20 pounds.  
You may quickly switch between landscape and portrait perspectives by rotating the screen 360 degrees in addition to the many other configurations.  
Some users consider it the best heavy-duty monitor mount for holding enormous computer screens. 
10.  Mount-It! MI-7C12
MI-7C12 is a reasonably priced arm with choices for single or dual monitor use. It supports screens from 13 to 27 inches, allowing portrait and landscape positions.  
The best monitor stand is excellent for people who need to set up several screens for immersive gaming or for building team workstations. 
11.  Atumtek Dual Monitor Arm Stand
This product is one of the best dual monitor arm options in terms of value for the money. The Atumtek monitor arm is an excellent dual stand for under $100.  
It can handle a monitor up to 32 inches and is VESA compliant.  
You get a three-year warranty for buying this monitor. This is a testament to its longevity. 
12.  Jarvis Dual Monitor Arm
This is another best dual monitor arm for you. Your laptops and monitors fit well on this Jarvis stand when used simultaneously. 
It can extend up to 19 inches to accommodate various displays.  
You may tilt and rotate it whichever you choose because it has four swivel points. Additionally, the hefty 15-year warranty makes the offer even sweeter. 
13.  Ergotron MX Wall Mount LCD Arm
The MX Wall Mount LCD Arm from Ergotron is what you need if a wall-mounted monitor is more your style. It is the perfect choice for business and home entertainment because it can support up to 30lbs of weight from a 42-inch screen.  
Additionally, it comes with everything you require to install, including a VESA plate. The MX LCD arm is undoubtedly one of the best monitor wall-mount solutions.
14.  Kanto DMS2000 Dual-Monitor Desktop Mount
This best monitor arm from Kanto elevates things to the next level by enabling you to install two 32-inch displays on a single pole.  
You can attach it to any table by screwing through the grommet or clamp.  
Both screens can rotate 360 degrees to enable viewing in portrait or landscape. You can adjust the height to add 9.5 inches for standing desk workspaces.
15.  3M Dual-Swivel Monitor Arm
The 3M dual swivel is made of durable aluminum and metal alloy. This top-of-the-line dual monitor arm can support two VESA-compatible displays up to 27 inches and 20 pounds each. 
It allows you to switch between landscape and portrait modes by turning each screen 360 degrees and adjusting it in every way imaginable, including height.  
The product is one of the best monitor arm for two monitors options out there.
16.  Vivo V102AM
Vivo produces the V102AM as one of the few monitor arms which support two ultra-wide screens up to 38 inches wide each. 
That makes it ideal for those who enjoy immersive ultra-wide gaming or watching movies in a theater.  
Additionally, the Vivo best monitor arm doesn't compromise functionality, offering portrait and landscape orientations and 180-degree tilting for both panels.  
It is a top monitor mount for ultra-wide monitors. 
17.  NB North Bayou Monitor Desk Mount Stand
This best monitor arm costs $60, and despite having a slightly less attractive appearance, has the same functionality as desk mounts that cost three times as much.  
You may rotate your screen backward 85 degrees for standing postures, watch it in both portrait and landscape orientations, and effortlessly move several joints thanks to gas spring technology.  
At this pricing, things don't get much better.
18.  Duronic DM352
This is another best dual monitor arm in the market. The Duronic DM352 is one of the least expensive dual-monitor desk attachable arms on the market, yet that doesn't imply it is feature-free.  
It costs roughly $75 and is VESA-compliant. Monitors on this mount can rotate 360 degrees in portrait or landscape.  
19.  Chief Kontour K1D Dynamic Desk Clamp
Chief Kontour's designs are innovative and under constant development. They are not merely in the attachable desk monitor arm business to make a quick buck.  
The K1D model offers a rapid slide-in-out release at the VESA mount in addition to smooth gas-spring and locking mechanisms. This dual-screen variant, which scales to four screens, makes it one of the best monitor stand alternatives.
20.  VARI Dual Monitor Arm
The Vari dual-monitor arm is toolless with a smooth and stable positioning. It also looks fantastic and performs well, giving a premium feel.  
You can use it to hold panels between 13 and 27 inches wide. It allows you to adjust your monitors into any configuration. 
21.  Ergotech Freedom Arm
Try out the Freedom Arm from Ergotech if you have a lightweight monitor but still think it takes up too much space. The device is compact and sleek without adding much bulk because of its streamlined design and high-quality construction. 
Furthermore, the arm can spin 360 degrees to face any position you want. It has built-in cable clamps to prevent interruptions from wires connected to the displays.  
However, the vertical height of this best monitor arm is limited due to the shorter pole that comes with it.
22.  Huanuo Dual Monitor Mount Stand
The HUANUO Dual Monitor Mount Stand is an excellent choice if you're looking for reasonably priced monitor arms with exceptional flexibility.  
Surprisingly this inexpensive monitor arm is easy to assemble. Additionally, each extension can support a good 14 pounds in weight. 
You can use a clamp or drill a hole in your desk to mount these twin-monitor arms. The latter requires less work, but the former is more stable. This guarantees that your monitor height is adjustable. 
The Huanuo best monitor arm is versatile and affordable for people on a low budget.
23.  Atumtek Dual Monitor Arm Stand
Atumtek's dual monitor arm stand has six top joints and rotates 180 degrees. If you wish, you can tighten them to make the arms more immobile or flowing.  
You have ample room to adjust the monitors into the most convenient viewing position. 
The monitor stand's arms each have a weight capacity of 17.6 lbs. It has a gas spring monitor riser that keeps it sturdy and exceptionally safe. This is also due to its aluminum die-casting construction.
24.  Eveo Dual Monitor Stand
The EVEO Dual monitor stand with USB attaches to your display using either a desk clamp or a grommet. It is a beautiful and incredibly sturdy two-monitor stand. 
Having support for your back, neck, and shoulders is beneficial. Most monitor stands on the market are too low, which can compel you to have crooked necks all day. 
25.  ErGear Dual Monitor Stand Mount
A twin monitor-stand mount with an ultra-wide screen of 13 to 35 inches is called the ErGear. It has a powerful premium gas spring support that can hold up to 12 kg of weight apiece.  
Similarly, this best monitor arm has a higher arm reach that is optimal whether sitting or standing. 
If you elevate the screen by 21 inches or more, you can work while standing. You can adapt the screen to your needs. You can see more clearly if you move the screens forward by 25.6 inches.
Why Do You Need a Monitor Arm?
There are several advantages to replacing your standard stand with a high-quality arm that you may or may not have thought about: 
Improves Your Health
You can use a monitor arm for standing desk or regular desk setups. By adjusting the height, depth, and, in most cases, tilt, you can place it in the most comfortable position.  
It will enhance your ergonomic posture whether you are standing or sitting and lessen eye strain, back, and neck problems.  
Your eyes should be around an arm's length away from the monitor. 
Effortless Adjustment and Versatility
The large range of adjustment of a monitor arm makes it simple to cooperate with coworkers and share information.  
Many monitor arms also let you easily move from landscape to portrait position in addition to the usual monitor adjustments such as height, depth, and angle.  
Monitor's arms are an excellent alternative for shared workplaces because they let you customize your desk and working style. 
Maximize Your Workplace
You may free up your precious workspace by using a monitor arm, especially in smaller workspaces, which can help you stay organized and be more productive.  
Cable management mechanisms included in monitor arms help you avoid tangles all day. 
Increase Productivity and Performance
You can use numerous screens to run different programs and view more display content. It can reduce the time wasted switching between documents and apps by viewing documents side by side. 
Others provide cable management and other features to enhance work. You can even find a monitor stand with USB connection.
Conclusion
Mountable arms are your best option if you need a monitor stand for a desk environment in your house or business.  
They add unmatched versatility and positioning, enable several displays to be mounted on a single pole, and save space. This results in a relaxing, effective, and beneficial working or gaming environment.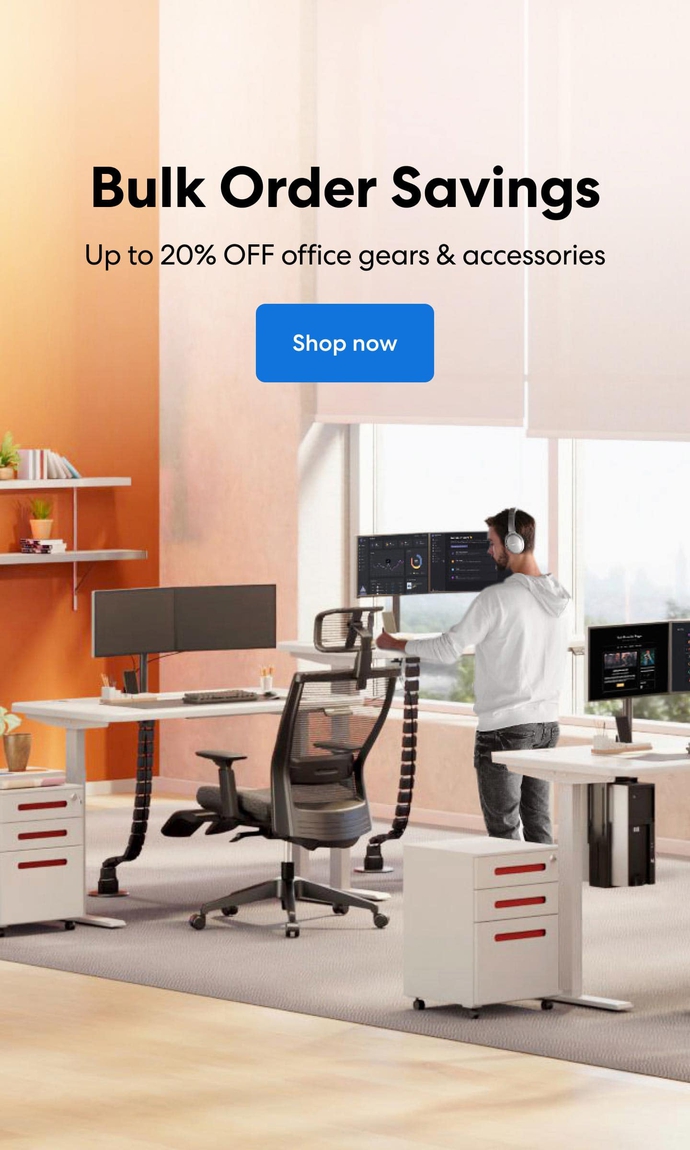 Subcribe newsletter and get $100 OFF.
Receive product updates, special offers, ergo tips, and inspiration form our team.