Smart Products
The 25 Best Ergonomic & Stylish Office Chairs Reviewed in 2023

Autonomous
|
Oct 31, 2022
1,066 Views
If you've ever worked hard at your job in an unpleasant sitting position, you know a high-quality chair is a must. An excellent seat is one of the few things that can protect you from back and shoulder pain. Moreover, getting a stylish office chair with a great ergonomic design to support your body will boost your productivity. 
An office stool can be perfect for your health, and it also brings beauty and professionalism into your workspace. However, the main goal is to have your spine set in a natural position so it can rest comfortably. 
The 25 Best Stylish Office Chairs for Your Office
1. Autonomous ErgoChair Recline
When you want to get your work done or chill for a bit, this ergonomic chair recliner is there to help. It's fantastic for your spine and relaxation. The comfy seat is made of the same responsive mesh as the backrest and is subtly arched to keep the natural curvature of your spine. You can easily adjust it and settle down when it's time to rest. 
2. Autonomous ErgoChair Plus
The ErgoChair is one of the best ergonomic chair options that supports motion. You can twist around, stretch to the side, lean back, and still be safely working hard on your seat. Responsive webbing is lusher in key regions such as the lumbar area, with the perfect amount of flex to support the shape of your spine. 
Adjust pressure to your preference across 26° of recline, with 11 lockable positions. Other chairs define the perfect posture. This one lets you discover your own. 
3.  Autonomous ErgoChair Core
Not all recliners are created equal, but this computer ergonomic chair reacts to your body weight and stabilizes your spine so you can move safely and freely without straining your arms, shoulders, and back. 
This is the most user-friendly and stylish office chair with two intuitive levers that support any posture and lets the body move as it wants—the chair's designed for max airflow, woven for strength, and BIFMA-tested for durability.  
4.  Autonomous ErgoChair Pro
If you want to buy an ergonomic chair that contributes to your health, the ErgoChair Pro is perfect for correcting your posture and features adjustable tension and a 22° recline. This model has five lockable positions, each created to stabilize your spine and support your lumbar area. 
The back and seat of this stylish office chair move in sync at an ergonomic 2:1 ratio, so you can stretch and recline without putting tension on your thighs, legs, and lower back. Both the angle and height are adjustable to prevent straining your neck. 
5.  Autonomous AvoChair
The Autonomous AvoChair is an eco-friendly office chair that's elegant, practical, and stylish. Its minimal, clean, flowing lines are inspired by nature and carefully created with health in mind. It merges the artificial and the organic for a current sitting solution that enables healthy posture. 
The chair's airy elastomeric mesh back provides plenty of spinal support and comfort. The stylish office chair design idea was to clear hard edges, resulting in a soft waterfall-style roll-off at the front and smooth ellipsoid arm pads. 
6.  Autonomous ErgoStool
This ergonomic stool is intended to help you improve your spine and core. Its heavy base provides excellent grip on various surfaces when seated, allowing for a full range of motion. This stylish office chair also encourages Dynamic Sitting, which mimics the numerous posture adjustments we do while standing and aids in increasing both our mobility and energy levels. 
7. KERDOM Ergonomic Chair: Advanced Contoured Seat
The ergonomic chair's contoured seat cushion offers four support points (hands/buttocks/back/head), alongside excellent lumbar support. KERDOM's headrest, height, and backrest are easily adjustable to meet different needs. 
The wheels are made of industrial-grade steel, durable polyurethane casters, and precision ball bearings. It will not scratch, damage, or stain your floor. Even on your carpet, you can slide carefree and safely. 
8.  KERDOM Ergonomic Chair: Double Lumbar Support
This is another best stylish office chair for you. This KERDOM model offers five support points (feet/hands/buttocks/back/head) and amazing lumbar support. It's easily modifiable to meet different needs and features 3D adjustable armrests. 
The chair can also reach 10 cm in height and lean back to 95°, 110°, and 130°. The premium backrest and cushion made from mesh fabric allow you to keep your back and buttocks sweat-free and to sit comfortably. 
9.  Techni Mobili Modern Studio Office Chair
This lovely modern high-back chair combines design and functionality. It boasts a cushioned foam seat, back support, and fixed ergonomic armrests for ultimate comfort for long-hour sessions. For your convenience, the chair has a tilt pressure control knob and an adjustable height lever that lifts 200 lbs. of weight. 
10.  KERDOM Office Chair: Waterfall Seat Edge
This best stylish office chair has modern ergonomics and allows you to sit longer and still feel comfortable. It has a sleek design that matches various decorative styles, making it fantastic for offices, homes, and any room in general. 
The chair's backrest fits the natural curve of your lower back, which relieves the pressure from your spine. You can even flip the arms up and put it under your desk to save more space. 
11.  KERDOM FelixKing Office Chair: Elastic Mesh & Adjustable Backrest
The FelixKing has an excellent ergonomic design, making it easier to relieve stress and soothe muscles. It is so comfortable that you won't get tired even after sitting for a long time. 
With this unit, you will never sweat since it has a high-elastic double-layer mesh fabric that is highly breathable. In addition, it also has native sponge-filled seat cushions that are comfortable and anti-collapsible. 
12.  KERDOM Comfy Swivel Task Chair
This stylish comfortable office chair has great ergonomics that provide three support points (hands/hips/back) and proper waist support. Its height is easily adjustable to meet different needs, and it has such high stability that even lying down won't make this seat fall. 
Apart from stability, the chair features lumbar support and breathable mesh, bringing comfort and safety to your back. Armrests can flip up at 90° and allow you to save some more space in your room.
13.  Northread Ergonomic Swivel Mesh Desk Chair: Lumbar Support
The Northread Conference chair has breathable and transparent mesh across the back allowing air to ventilate to keep you cool. Expect your posture to improve with the built-in lumbar support that prevents muscle fatigue and back strain. 
With a stable framework and a mid-back design, the chair offers excellent ergonomics and comfort for the user while working on essential projects.  
14.  Techni Mobili Deco LUX Office Chair
This Techni Mobili Deco model is popular for its comfort and sleek aesthetic. It's crafted from the finest elastic mesh back and back support materials. 
The stylish comfortable office chair has two rotatable sticks from both sides; the right adjusts the back tilt tension, and the left handles the reclining lock. Deco LUX features 3D adjustable armrests, breathable elastic materials, and a two-year warranty. 
15.  Techni Mobili Mid Back Office Chair
The Techni Mobili chair has a removable material back cover that fits the seat cushion fabric, designed to provide two unique looks. This model also has a definite white frame, durable armrest, and white painted nylon base. 
It has a pneumatic adjustable seat height that's raised or lowered by pulling a leveler. Techni Mobili also offers a one-year warranty and even ships in one box. 
16.  Logicfox Ergonomic Office Chair: Saddle-shaped Mesh Seat
This Loxifox model is a full mesh chair that has high elastic and saddle-shaped mesh material, making it more suitable for your thighs and hips. It has a solid and durable frame and elastic adjustment, enabling more comfortable leaning. Your head is not left out because this stylish home office chair has a headrest made of a sponge that conforms to your skin. 
17.  Logicfox Ergonomic Office Chair: Double Lumbar Support
This perfect lumbar support office chair will save you space and keep your room clean and organized. It has an adaptable 2D lumbar support and a wide range of four colors that are all eye-catching. The armrests on the chair flip up, so you can fold them and place the office chair under a table or desk. This stylish home office chair has a 3-year warranty and can support up to 330 lbs. 
18.  US OFFICE ELEMENTS High Back Big & Tall Office Chair: Headrest
This corporate mesh office chair has excellent back and neck support, which keeps you cool and relaxed all day. This stylish home office chair is simple to install and features a robust, long-lasting chrome base. 
Additionally, it has a soft, comfy seat and non-scratching polyurethane wheels. You will also get a one-year warranty on the chair. 
19.  The Office Oasis Ergonomic Chair: Hardwood Floors Caster
This office chair was carefully created for maximum comfort and had the same premium materials from well-known brands that are impossible to obtain for less than $1,000. From several arm adjustments to a lockable reclining feature, the model has customizable comfort at your fingertips.  
20.  Duramont Ergonomic Office Chair: Adjustable Desk Chair
The adjustable lumbar support mechanism and recline function of the ergonomic chair allows you to choose whether to lean back or sit up straight. This stylish home office chair model is manufactured from the best materials and has a maximum weight limit capacity of 330 lbs. 
It has a soft cushion, firm armrests, and a comfortable headrest. Additionally, the rollerblade caster wheels make it easy to move around the workplace. 
21. Northread Ergonomic Mid Back Swivel Black Mesh Desk Chair
Whether working on a project or gaming at home, the Northread Ergonomic chair provides comfort throughout the day. The 3D arms of this stylish ergonomic office chair are easily adjustable and provide excellent ergonomics. It has a built-in lumbar cushion for extra support and comfort, which helps prevent work-related injuries and also lowers stress.
22.  Techni Mobili Mid-Back Task Office Chair
This Techni Mobili Office model is excellent and light. It has height-adjustable padded arms that fit beneath a tabletop and a breathable mid-back mesh material to prevent sweat. It's ideal for people looking to complete their tasks and enjoy comfort throughout the day. The Techni stylish ergonomic office chair has a pneumatic height adjustment from 19" to 23.5". 
23.  Techni Mobili Home and Office Chair
The stylish, comfortable office chair looks more like it's meant for gaming. It is built to imitate an ergonomic style, made with rich PU and segment padding, which provides lasting lumbar support. It features TechniFlex upholstery, sturdy back support, white trim detail, a tilt pressure control knob, fixed duo-tone armrests, a racer-style design, and an adjustable seat height.
24.  US OFFICE ELEMENTS Conference Chair: Lumbar Support
This stylish office chair provides excellent back support and encourages proper posture. Thanks to the adjustable height, your arms and hands align with your desk, allowing more comfortable working because of the breathable mesh. It also has a 360° swivel, and the instructions for this stylish home office chair are simple to understand.  
25.  Techni Mobili High Back Executive Mesh Office Chair
The breathable mesh surface of this ergonomic high-back office chair is combined with adjustable armrests, headrests, and lumbar support. It keeps you cool with its breathable open back and seat mesh and offers a pneumatic height adjustment lever with a tilt mechanism and a tension lock.
How to Pick the Best Stylish Office Chair
Since many people work long hours at a desk, having a desk chair isn't just a tangential piece of furniture. A stylish, comfortable office chair connects with the entire body and offers needed ease for a smooth working experience. As a result, picking the best one requires time researching the essential elements of a supportive seat. 
Comfort
The comfort level is possibly the most specific marker of an excellent office chair. Whether you're looking for a plush or a firm seat, ensure you're getting the correct one since you'll be sitting on it for several hours a day. 
Support
This is a vital element in an ergonomic office chair that goes hand in hand with comfort. A good ergonomic and stylish office chair comes with numerous points of support. It offers adjustable lumbar support that adapts to different postures and might feature height adjustment, movable armrests, tilt, headrests, and more.  
Material
The two main options for standard chairs are mesh and cushioned. Mesh chairs are more flexible and breathable that easily adapt to your body's shape. Some might be rolling, but many come with built-in lumbar support. 
Cushion chairs are more elegant than mesh and are better to sit in for long periods. However, you will miss out on the support from a mesh-back chair. This means while you're comfortably sitting on the cushioned chair, you're at a higher risk of back pain. 
Conclusion
A stylish office chair contributes so much to a person's health in the office. Even though many features and accessories seem great, buy an ergonomic chair that's comfortable for your back and bottom that keeps you seated for hours.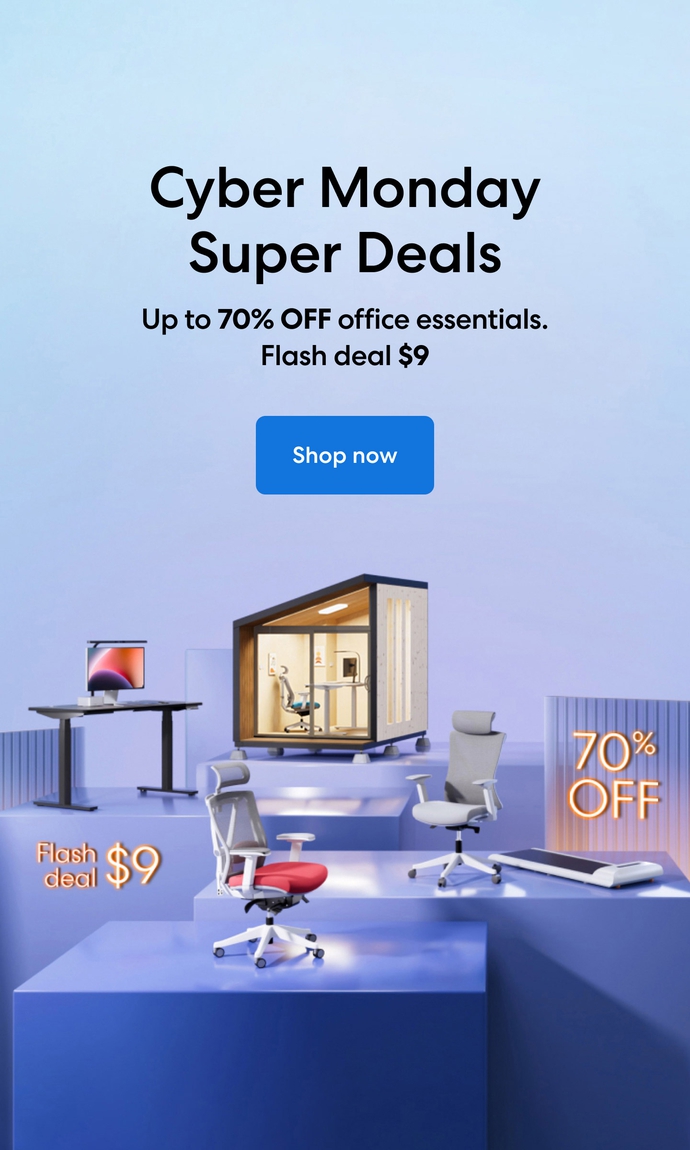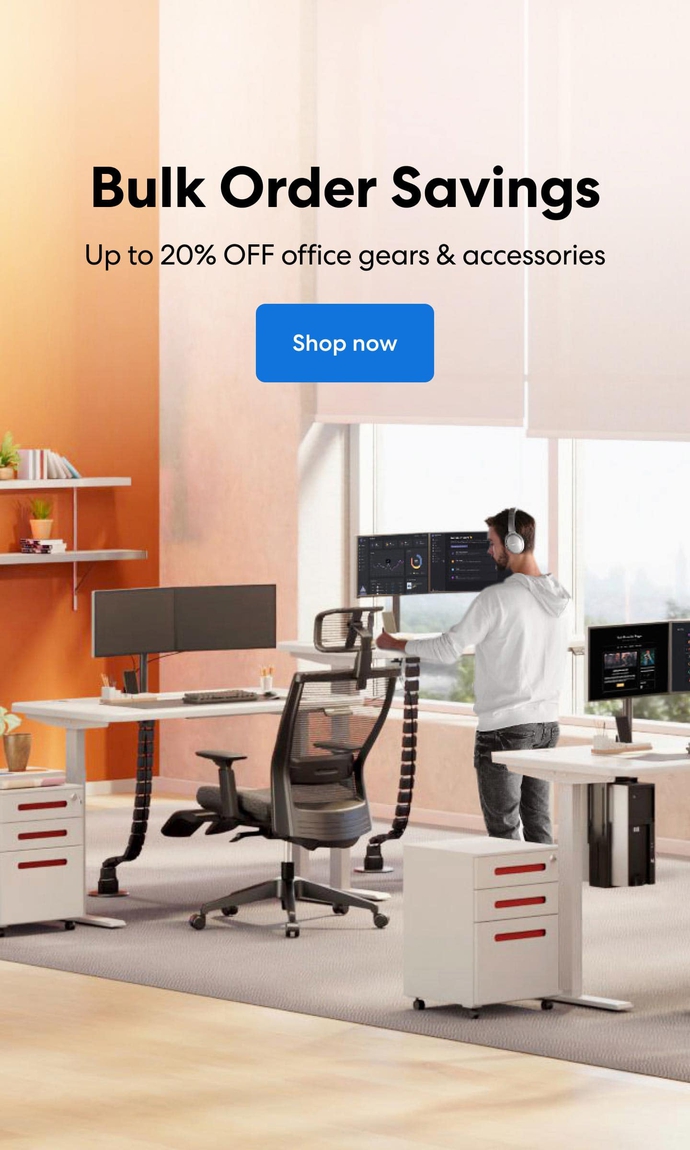 Subcribe newsletter and get $100 OFF.
Receive product updates, special offers, ergo tips, and inspiration form our team.