Smart Products
25 Ergonomic Laptop Stands for Desk to Work More Comfortably

Autonomous
|
Nov 11, 2022
1,272 Views
If you're like most people, you use your laptop on a daily basis. Whether you're working from home or catching up on emails at the office, it's become an essential part of your day-to-day routine. Using your laptop for extended periods of time can be taxing on your body, especially if you're not using the proper equipment. That's where ergonomic laptop stands for desks come in handy. Check out our list of 25 best laptop stands to find the perfect one for you!
Top 25 Ergonomic Laptop Stands for Desk
1. Autonomous Monitor Arm
2. FENGE Monitor Stand No Assembly with Drawer
3. Mount-It! Corner Desk Monitor Stand: 3 Height Settings
If you work from home, you know that it's not always possible to have the perfect setup. Your laptop might be in an awkward position or your monitor might be too low. That's where the MI-7362 laptop stand for desks comes in. It raises your laptop or monitor off your desk, creating a more ergonomic workspace and helping to reduce neck and back pain. Because it's made of metal, it's sturdy and won't wobble like some other laptop stands for desks. Plus, its slim design means it won't take up a lot of space on your desk. The sleek and stylish MI-7362 is the solution for your desk space needs. With three adjustable height settings, this Mount-It! corner desk monitor can fit any laptop or screen on today's market with ease! The brushed aluminum stand will complement all environments while still looking elegant in its own way too - you're guaranteed not to find anything quite like it anywhere else!
4. R-Go-Tools Ergonomic Laptop Stand, Aluminum Laptop Mount
R-Go's ergonomic raisers are an easy way to bring your laptop screen up close and personal. With features like adjustable lightweight aluminum, made in the Netherlands with a 2-year warranty this little guy will be there when you need them most!
5. Uncaged Ergonomics WorkEZ Cool Adjustable Laptop Stand
The WorkEZ Cool Laptop Stand provides an elegant and functional laptop stand for desks that works everywhere you do - sitting or standing at a desk, lounging on the couch (or sleeping), and even lying down in bed. The aluminum panel has two fans to keep things cool for your computer while it charges via three USB ports which provide enough power whether used simultaneously by multiple devices such as smartphones & tablets! It also includes a padded mouse platform so working from home doesn't have to be uncomfortable anymore; simply stretch out under this comfortable desk whenever desired.
6. Uncaged Ergonomics WorkEZ Executive Ergonomic Laptop Stand
This is definitely one more stand from WorkEZ. It looks like a robot dog with its widely spread paws. Though it's similar to the previous product's described features, the mechanism is slightly different. This workstation features an ergonomic design that allows it to be used in several different ways. One of these is the ability for users' laptops and other devices alike, as well! When you're done using your computer, set up time on this sleek little stand then simply close off any openings with one quick movement so there's nothing blocking airflow or making noise -you'll never have trouble finding space again thanks to its compact size when stored away.
7. Mount-It! Two Tier Monitor Stand with Shelf
If you're looking for a laptop stand for desks that's a little more advanced, the MI-7361 from Mount-It! is a great option. This slim metal riser creates a more ergonomic workspace due to the extra shelf, allowing you to keep your laptop at eye level and reducing neck and back strain. Some of its core features include the ability to support most laptops or monitors on the market, its perfect fit in any corner, and the fact that it's lightweight and easy to transport - making it a great option for laptop users who travel frequently. Plus, it comes with a 10-year warranty!
8. Mount-It! Portable Folding Laptop Stand
Looking for a laptop stand that you can take with you on the go? Look no further than Mount-It! Portable Folding Laptop Stand. This laptop stand for desks is made with portability in mind, with a lightweight and foldable design that makes it easy to take with you wherever you go.
Despite its compact size, the Mount-It! laptop riser for the desk is still adjustable, with 5 different height settings to choose from. Plus, the open design helps to keep your laptop cool, while also contributing to a modern look. This laptop stand is compatible with laptops 10"-15" in size, as well as most tablets. Whether you're working from home or traveling for business, Mount-It! Portable Folding Laptop Stand is good to create an ergonomic setup and prevent laptop overheating.
9. Mount-It! Laptop Tray with Cooling Fan & Mouse Pad
This is another incredible monitor stand for desks. This portable laptop tray also includes a cooling fan! It is also lightweight, perfect for travel or at-home use with an attachable mouse tray. Its core features include:
Dimensions: 19.25" x 10.9"

Tray Dimensions: 16.5" x 10.9"

Height: 1.75" - 18.75"

Swivel: 360° on 1 pivot points, 180° on one pivot joint

Load Capacity: 30 lbs laptop stand for a desk, which is the perfect way to use your laptop on the go. The built-in cooling fan keeps your laptop from overheating, and the attachable mouse tray makes it easy to use your laptop with an external mouse. The height-adjustable legs of this laptop desk stand allow you to position the laptop tray at the perfect height for you, and the 360-degree swivel ensures you'll always have a clear view of your laptop screen. 
It is completely adjustable and ergonomic that can free your desk space with an all-in-one desk mount that elevates both your laptop and secondary display. The laptop  tray with fan is a great way to save space and get more productivity out of your day!
10. Mount-It! Black Mesh Computer Monitor Stand W/ Two Drawers
11. Mount-It! Laptop and Monitor Stand
Do you ever feel like your laptop is just too low on your desk or that your neck is starting to hurt from looking down at your screen all the time? If so, then you need a laptop stand! Mount-It! Has a great laptop stand for desks that is completely adjustable, so you can find the perfect position for your laptop. With this laptop and monitor stand, you'll never have to worry about your work ever feeling better!
The construction of this computer stand for desk is durable as well. features include rubber feet for maximum stability on any surface plus there's a swiveling arm so it can fit in around corners easily without blocking other areas of the desktop - perfect if someone needs extra space while they're using their computer at home or during office hours. It also has a built-in monitor mount, so you can raise your secondary display up to eye level. This will help reduce neck and eye strain and help you be more productive.
With the cable management system, your workspace will be calm and collected. Now you can finally get rid of those cords from around here too - because we know how much trouble they cause us sometimes.
12. Enkel Studios Laptop Stand: Solid Birchwood
Enkel Studios is all about providing high-quality pieces that are both functional and aesthetic. Their Birch Wood Laptop Stand for desks definitely hits the mark on both counts. This wood laptop stand features an S-shaped platform that allows for better ergonomics while holding your laptop safely and securely. Plus, it's made with non-toxic natural materials from solid birchwood and finished off with non-scented protective oils.
If that wasn't enough, the materials are sourced ethically and the soft protective feet prevent your desk from getting scratched. Oh, and did we mention that Enkel Studios has partnered with One Tree Planted to donate one tree with every purchase? This will make you feel really good about yourself when you buy this laptop stand for desks.
14. Enkel Studios Monitor Stand: Natural Birchwood
Enkel Studios aims to provide high quality pieces with functionality and aesthetics in mind. This natural birch wood stand has all of the same options but comes in an earthy brown color. This computer stand for desk adds aesthetics and functionality to your workspace. Raising the monitor screen will help obtain an ergonomic viewing height.
15. Enkel Studios Birchwood Clamshell Laptop Stand
This Birchwood Clamshell laptop stand for desks is also from Enkel. With features like great ergonomics and solid birch wood materials, it's no wonder this product has gained so much popularity among users! The design of this product also differs slightly compared to most of its competitors.
16. Enkel Studios Enkel Studios Home Office Work Smarter Set: 2-piece
If you're looking for a perfect laptop desk stand combo, then Enkel 2 Piece home office setup is perfect. The Work Smarter Set features both the sleek LCD computer desk as well as an adjustable ergonomic holder so that your gadgets can stay right where they belong - on top!
17. AOTHIA Aothia Laptop Stand
This unique computer stand is Compatible with 10-15.6" Notebooks! Why is it one-of-a-kind? Well, it's because each display shelf can look different from one another and show natural color irregularities due to the wood grain! A great cool gift for yourself or friends who love their notebook computers as much as you do (or maybe even your boss).
The Aothia Laptop Stand is a simple and durable design that won't damage your desktop or notebook while it's being used. Its anti-slip surface can effectively prevent the computer from sliding around on top of you, which saves space under monitors for other items like keyboards; gaming consoles; cable boxes; DVD players; books notebooks etc. This laptop desk stand also features an ergonomic design to make sure everything fits where it should be without taking up more than necessary with no installation needed!
18. AOTHIA Aothia Large Dual Monitor Stand Riser
We all know how handy a good stand can be. Who says you can only have one? With the Aothia Dual series, you can have two! The Aothia Dual series is great for organizing your workspace. With two PC/TV screens, this dual-screen monitor provides an ergonomic lift along with ample space under your desk where you can store office essentials while it sits cleanly in front of any workspace!
19. The Office Oasis Bamboo Computer Monitor Stand: Lasts a Lifetime
The Office Oasis Monitor stand is a perfect dual monitor set-up, but it also provides space for a printer station and additional storage! Save valuable office real estate by placing your printers on top of this sturdy bamboo monitor stand with stainless steel legs. There is a deep tray to catch any debris from falling off the edge while working underneath at an adjustable height that fits most people well (and can be adjusted even lower if needed), there's no need to worry about neck strain or mouse clicks getting heard around other desks thanks as they're all outta sight right under where you're working now.
20. The Office Oasis Dual Computer Monitor Stand
One more great Dual series, and this time it's from The Office Oasis. This dual stand is a good solution for those who want to be more productive. The dual monitor stand can be used not just for your computer screens. With a printer station stuck on top, you can save space and continue using the lower section of this office storage device to store anything else in need!
21. Mount-It! Bamboo Laptop Tray Bed Stand
The great thing about this laptop stand for desks is that it has a safety slider to prevent your computer from sliding off and a large enough surface area where you can put down even more items like coffee mugs or books. The Mount-It! Bamboo Laptop Tray Bed Stand is ideal for working in bed. With its sleek design comes many benefits such as keeping mosquitoes away due warm temperature when touched by metal parts; preventing sound reflection through outer surfaces so there are no distractions during those long hours at work (yes days seem longer after graduation); plus most importantly we get better posture which means less back pain down the road.
22. EUREKA ERGONOMIC S05 Single Monitor Arm
The Eureka Ergonomic S05 360° monitor arm is a great fit for anyone looking to optimize their posture and ergonomics while working at the office. This sleek, aluminum-made device comes with an adjustable height that fits most monitors ranging from 13' - 30'. With its rotating function perfecting any angle you're sitting down in front of your screen or behind it!
23. FENGE Storage Monitor Stand: Length-adjustable
Use this laptop stand for desks as one of the best investments you can make for your laptop, especially if you use it regularly for work. By raising your laptop to eye level, you can reduce the amount of strain on your neck and shoulders, and also help to prevent headaches. Additionally, this FENGE laptop stand can help to increase under-counter storage space, as well as improve the look of your work area. If you're looking for an ergonomically-designed portable laptop stand that will help to reduce work stress, then be sure to check out this monitor stand. Length-adjustable stand board makes it perfect for both short and long desktops.
24. Rain Design Inc mBase for iMac 24" White: The iMac matching stand
Finally, The iMac matching stand, mBase minimalist stands, sits discreetly under your computer and raises the screen so you can work more comfortably. Its white aluminum body color matches perfectly with Apple's sleek design features like bezels or keyboard & mouse; no one will ever know it isn't part of this electronics!
25. Mount-It! Metal Mesh Computer Monitor Stand and Riser with Pullout Drawer
Many of us spend the majority of our days sitting at a desk, so it's important to make sure our workspace is comfortable and conducive to productivity. A cluttered desk can lead to a cluttered mind, so it's important to keep things tidy. This space-saving laptop riser for desk frees up valuable desk space, organizes your desk accessories by its pull out drawer. The laptop stand for desk provides a sturdy and stable platform for your laptop, while the computer stand for desk keeps your desktop free of clutter. This way, you can maintain a clear mind and productive workflow. Plus, the sleek and stylish design looks great in any office.
Conclusion
We hope you found this post helpful and that it gave you some ideas for finding the perfect ergonomic laptop stand. Be sure to check out our other posts for more tips on staying healthy and productive while working from home.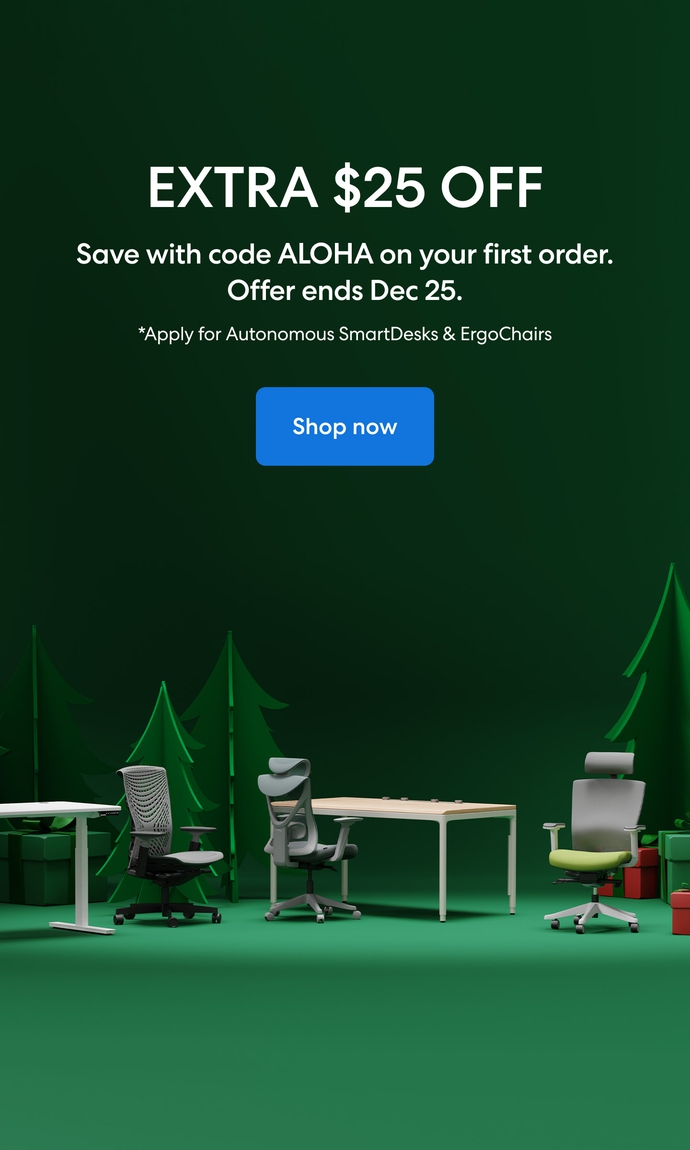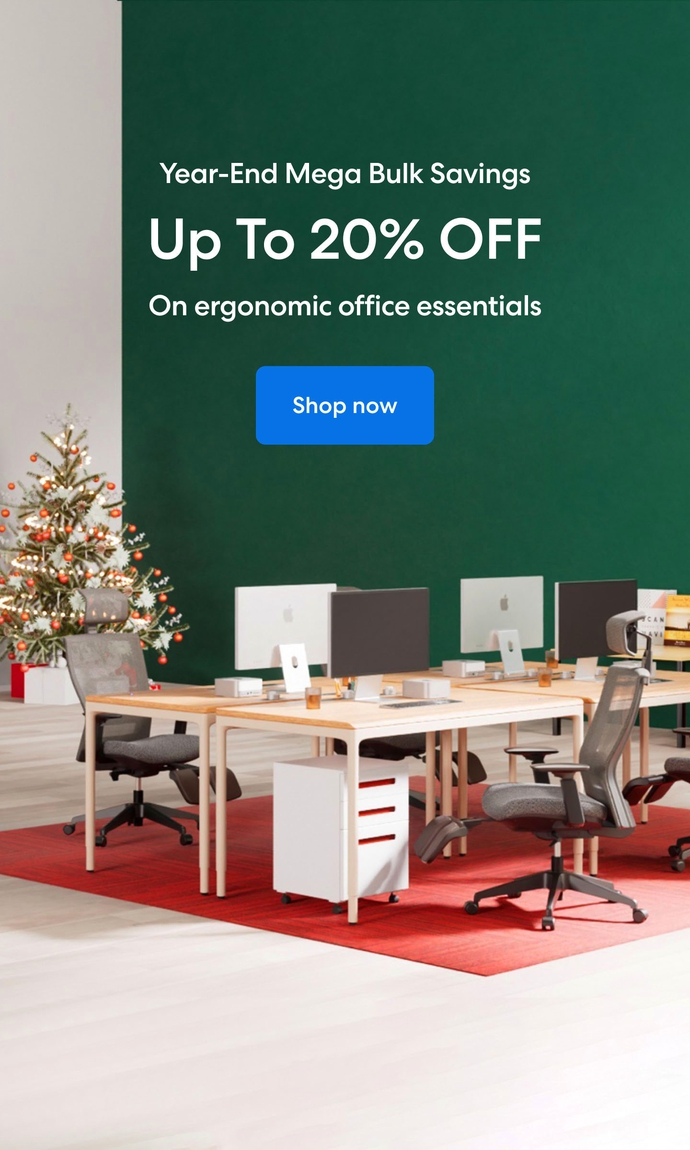 Subcribe newsletter and get $100 OFF.
Receive product updates, special offers, ergo tips, and inspiration form our team.