Workplace Inspiration
25 Fabulous Room Divider Ideas to Get the Most Out of Space

Autonomous
|
Oct 7, 2022
1,861 Views
Forget drywall; a simple yet fashionable home divider is one of the easiest methods to define space in your house. A divider may be one of the best wall divider ideas for you if you want to create privacy or separate areas for different uses. 
While giving the illusion of additional space, it can help you create a lovely bedroom in a studio apartment, a reading nook in a comfortable living room, or a home office in a bedroom. Even better, DIY projects can be inexpensive to design and install. 
The materials you may incorporate into your room divider to add flair are limitless and range from salvaged windows and folding doors from thrift stores to fabric, rope, office wall decor chicken wire, plywood, macrame, and succulents (one of many indoor plants that add warmth to a room!) 
You can also get a couple of desk accessories to add flair to your FineCrafts standing desk!
25 Fabulous Room Divider Ideas for You
1.  Partial Glass Wall
The Natalie Chong-designed guest bedroom in a Toronto loft has glass dividers that extend between the partial wall and the ceiling to give the space a sense of isolation and privacy from the rest of the house while letting in natural light. 
2.  High-Gloss Rolling Doors
With the help of this do-it-yourself home divider made from a thrift store folding door that was given a fresh coat of glossy white paint, your area will sparkle. Casters make moving around a breeze. 
3.  Free Standing Shelves Home Office Room Divider
It's really easy: use your storage unit as a wall instead of placing it up against the wall. An etagere or other open shelving unit like the desk riser shelf will preserve the feeling of space between the "offices," whereas a unit with a closed back will provide privacy. To use your shelves as a freestanding divider, make sure they are strong enough. This is a brilliant home office setup! It would also be great to add some gold desk accessories for an aesthetic look. 
4.  Floor-to-Ceiling Rope Wall
Essentially, with a DIY vertical jute rope home office room divider like this one from The Brick House, you can add texture and flair to your area. It's a fantastic option for people who want to define spaces while maintaining visibility and light. 
5.  Salvaged Window Room Divider
With a salvaged window room divider idea, you can add character and history to your setting. This one is quite easy to DIY: Install two eye bolts on the window to use as mounting points. Screw similar eye bolts into a ceiling beam. 
Then, suspend the item from the object with a wire or chain. The window will allow light to enter while creating distinct spaces. This is a great option if you're looking for gaming setup ideas.
6.  Marimekko Fabric Screen
Using fabric with a green and white design and hanging it from a mobile, PVC pipe frame, Marimekko Fabric Screen creates a bohemian room divider. 
Use simple and entertaining instructions to put your old curtains or fabric scraps to use. This colorfully patterned screen divides spaces while also adding color and flair to your house. 
7.  DIY Wood Folding Screen
A sunroom's three-panel room divider idea is made of stained wood with opaque white inlays. Try this craft from blogger Wendi Wachtel if you're handy. She started with a blank wood frame and added opaque acrylic light panels to create a transparent screen that doesn't block light. 
8.  IKEA Frosted Glass Home Office Room Divider
With this smart hack of IKEA's sliding wardrobe doors, you can convert your studio flat into a one-bedroom. This door's frosted glass provides a privacy panel without reducing light. 
9.  Macrame Room Divider
A three-panel folding screen made of natural wood with macrame inserts can be used as a room divider. Another brilliant Ikea hack creates a wooden folding screen from pieces of a well-known pine storage system. 
Macrame can be used to dress it up for a trendy, boho-chic aesthetic. This is one of the best room divider ideas. 
10.  Geometric Room Divider
A simple stack of plywood and 12 planks is all that's needed to create this eye-catching DIY room divider. When necessary, its six-foot-tall paravent design partitions an area effectively, and it folds up quickly for convenient storage.
11.  Gold Fretwork Room Divider
The geometric rectangular motif used in this DIY fretwork screen is both timeless and fashionable. By painting your screen with beautiful gold, you can give your room an instant boost of glamor. 
12.  DIY Upholstered Room Divider
As for comfort and style, this room divider's multipurpose side is padded and upholstered. It converts to a chalkboard for writing messages and hanging amusing photographs with just one simple flip. 
13.  All Things Heart & Home
This is one of the interesting room separator ideas for you. This project is for you if you appreciate the look of a country farmhouse. The worn pallet wood and chicken wire used to create this unique room divider give it a rustic look. 
14.  Wood-Slatted Partition
A room divider is made from horizontal wood slats spaced one inch apart and fastened to two floor-to-ceiling poles. 
As for the maximalist decorator, this wood-slatted room divider can be adorned with artwork and plants; in case of the minimalist, it can be left in its plain state. Use this item as a headboard or to split a space into two. It's definitely one of the top room divider ideas! 
15.  Hexagon Folding Screen
Folding doors coated in hexagonal peel-and-stick wallpaper were used to create this DIY room divider's neutral geometric style. To make this a cost-effective project, look for salvaged folding doors from your neighborhood Habitat for Humanity or other architectural salvage yards. 
16.  Create an Entryway
If there is enough room, build a modest makeshift entryway with a floor-to-ceiling folding screen if your front door opens directly into the living room. A tiny, private sitting area was created by designer Juan Carretero using the textural interest of a screen that was inspired by a collage of various objects. It's the ideal location to welcome visitors as they enter the building. 
17.  Drapes
Hide your workspace or bedroom behind a wall of lovely drapes. This clever design makes it easy to completely vanish behind the divider for total privacy. Installation is very similar to installing a curtain rod. 
Make sure the curtains you choose are long enough to reach the floor. In this way, almost all of the light can be blocked. These stunning, heavy navy-blue drapes are a great option. You could simply use hangers, but drapes with built-in grommets add a little more polish. To prevent your curtain rod from sagging, be sure to include the center support. 
18.  Origami Hanging Room Divider
Your guests will be in awe of this design. Its aesthetic beauty makes it appear to be a piece of art. It's one of the best room separator ideas. Using silver hardware, this design is suspended from the ceiling. The white facets are placed in a star pattern, one on each side. 
These facets may also be rotated, which disrupts the pattern and gives the design an intriguing texture. This would look amazing in a home with a modern or contemporary design or in large, open spaces that need to feel cozier. 
19.  Portable Wall Divider Ideas
This is another room divider idea for you. With a room divider that is portable, you are not obligated to keep it in one place. Roll the mobile room divider out of the way for sections that you might want to keep open at times. 
Although the wood and pipe in this design are unfinished, you could easily leave them that way if you wanted a more industrial vibe. The fact that this do-it-yourself project functions as a wardrobe is also amazing. 
You can use the rod to hang clothes and the base to store shoes if you take the dividing curtain off. Nothing makes your DIY heart smile like multifunctional furniture! 
20.  Sliding White Shiplap Barn Door Divider Wall
Minimalist? Farmhouse? Just adore the way wooden planks look? Then, you'll love these room divider ideas. The barn door design is stylish and useful. It conserves space and resembles a textured wall when the barrier is open. 
The shiplap is a lovely addition that breaks up the stark white tone without obstructing the wall and ceiling's natural movement. This is a fantastic way to incorporate a very huge divider without being overwhelming. Best of all, it can always be "undone" by simply sliding the door to the side. 
21.  Zen Rotating Picture Frame
With this room divider, the conventional three-panel "screen" style is given a fresh spin. Each panel features four customizable inset frames that can be used to display images or other objects. The design has a fairly distinctive, bold aesthetic that would look best in a minimalist or Asian-inspired environment. Furthermore, the ability of the frames to rotate gives the divider's otherwise elegant appearance an additional point of interest and prevents it from becoming too simple. 
22.  Cubicle Office Divider
This is a fantastic concept for a room partition for a home office, office space, or utility room like a craft room. Although they aren't the most appealing of the bunch, they do the job. The minimalist gray design is neutrally aggressive. 
It is effective in reducing noise and creating privacy because it is designed to define a space in an open floor plan. You might paint these or add some artistic elements to give them some flavor and personality. They also have leveling guides, so you can line them on uneven floors, which is a useful feature. 
23.  Laser Print Floral Room Divider
This interior panel has a very cute and vintage feel to it. The pattern is a modern, simple, angular flower motif that is laser-cut into plastic. It's exceedingly lightweight and simple to set up, making it ideal for apartments or rental homes where there are restrictions on what may be built or hung. 
The simple white design looks wonderful with modern sleek furnishings, but it would also look adorable in a room with a more retro 50s or 60s aesthetic. You have options because it may be hung from the ceiling or the wall. Even better, hang it from a movable rod attached to the wall, so you can swivel it into place as a room divider whenever you need one! 
24.  Daisy Pattern 3D Privacy Panel
With something so positive in your home, it would be difficult to be sad. This room divider has an extremely sweet, stained-glass-like daisy blossom pattern. The design and colors are absolutely beautiful. It normally works best in an eclectic-styled home, but it might also be a stunning accent piece in a simpler design scheme.
25.  Macrame Hanging Curtains on a Rod
Keep curtains in mind while coming up with office divider ideas. Curtains are great room dividers and not just for windows! A hanging rod is all you need to create a room divider very quickly. 
This stunning macrame is a fantastic option since it has the appearance, texture, and pattern of macrame yet is substantial enough to offer some degree of privacy. Since they are curtains, you can easily pull them aside to make a room more open when necessary. This is a beautiful, simple, and discreet solution. 
Conclusion
What do you think of these options for a home divider? Which ones are your favorite? How will you customize them? Room dividers can be used in a variety of ways to create the unique, comfortable, and personalized space of your dreams. A few simple tools, like a drill, screwdriver, pliers, wrench, and a sense of adventure, will be helpful for most of these room divider ideas. 
If you're uneasy about your room divider, choose a curtain style that can be altered afterward. Until you find the perfect look, you can easily switch out the curtains. Be sure you're in love with the design before you commit to something like barn doors because they require a considerably higher commitment.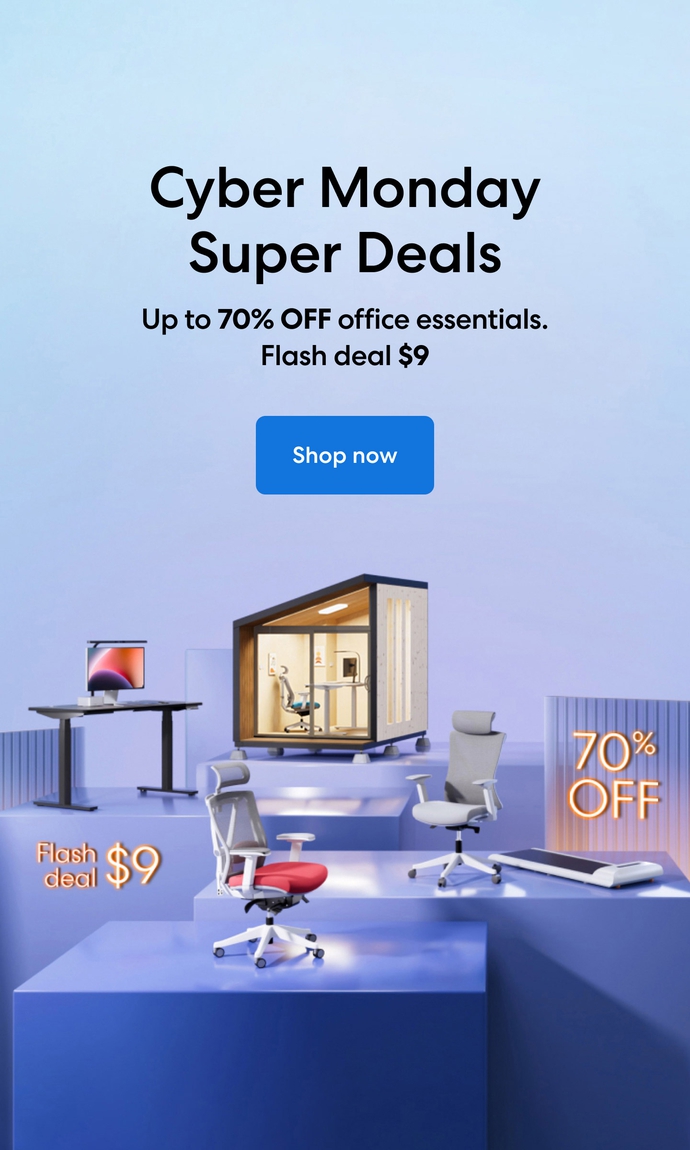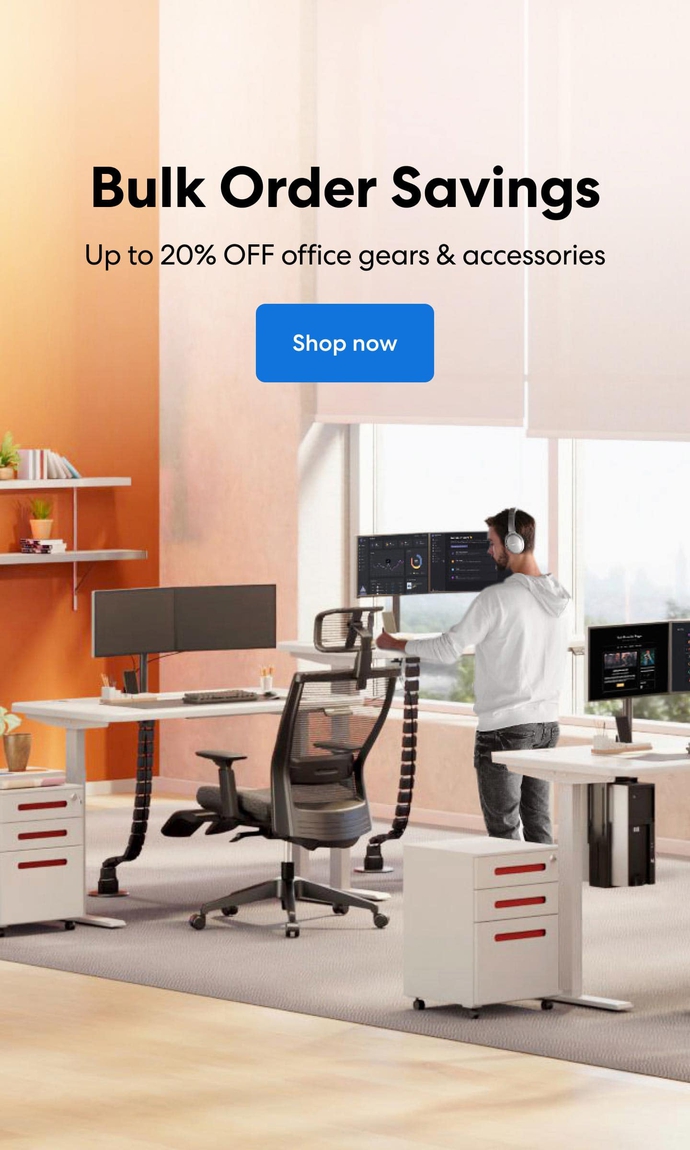 Subcribe newsletter and get $100 OFF.
Receive product updates, special offers, ergo tips, and inspiration form our team.