Having a mesh office chair can be a game changer! Furniture made from this material offers many benefits to workers, especially those who spend long periods sitting in front of their computers. 
Also, they can be both effective and comfortable. Mesh office chairs usually have a flexible structure that adapts to the back for better support and, of course, allows air to circulate to keep you cool during long work sessions. 
However, there are many office chairs out there, and finding the right option can be a bit tricky. That's why you should check this list of top-rated alternatives and discover the best mesh office chair on the market. Are you ready? Keep reading! 
Advantages of Mesh Office Chairs over Leather Chairs
Which one would be the winner in a mesh vs. leather chair competition? Unlike alternatives made of leather, all mesh office chairs offer greater ventilation and easier maintenance. In addition, these examples are usually cheaper. Let's check out these features in-depth! 
Ventilation and Touch Feeling
The mesh office chairs have designs and structures that facilitate ventilation. In addition, they are made of materials that promote air circulation and disperse the heat accumulated when someone spends a long time sitting there. 
In other words, you won't break a sweat even if you spend the whole day working from home or playing your favorite video game! 
Easy to Clean and Maintain
Mesh office chairs are also the best options for neat freaks who love to see their workspace clean and tidy. 
They are easy to clean, do not accumulate dirt like fabric, and do not require special care like leather. Plus, they're super lightweight. You can pick them up or move them around when you have to sweep the floor or redecorate!
Cheapest Price
Another great advantage of mesh office chairs is their price. Furniture made from this material usually costs much less than those made from leather. 
You can find a wide variety of mesh office chairs for really affordable prices, so they are an excellent option for startups looking to equip their workspaces or for remote workers on a budget. 
List of the 25 Best Mesh Office Chairs You Can Find
Now that you know the main differences between a mesh task chair and a leather office chair, it's time to discover the best options currently available. Find them below! 
1. ErgoChair Pro by Autonomous
If you are looking for the best ergonomic chair, you've come to the right place! The first item on this list is the ErgoChair Pro by Autonomous, a brand focused on comfort for office and remote workers. 
This mesh office chair is fully adjustable and can be adapted to the needs of each user. Plus, it has everything you need: headrest, armrest, backrest, and seat tilt.
Autonomous ErgoChair Pro is made from 100% earth-friendly materials and is super breathable. Therefore, it's a good option for those looking for furniture for long work sessions. It will keep you cool no matter how many hours you spend sitting. 
2. ErgoChair Plus by Autonomous
Are you an active person with many tasks to do during the day? If so, you need a motion-inspired full mesh office chair such as the Autonomous ErgoChair Plus.
It's the most dynamic chair of the brand and has been engineered for those who want to move more and stay busy while working. Plus, you don't have to worry about durability, as it's made with earth-friendly TPE that's 10 times stronger and holds up to 300 lbs. in weight. 
3. ErgoChair Recline by Autonomous
It's the best ergonomic mesh office chair you can find if you are looking for options to keep you comfortable. The manufacturers thought about your needs when they designed this model and created a piece of furniture to help you rest when you are tired but far from home. 
With this reclining office chair, you can just lay back, relax, and put your feet up whenever you need to! In addition, it has an adjustable headrest and leg rest, lumbar support, and armrests for added comfort. 
4. Autonomous ErgoChair Core
Do you think there could be an all-mesh office chair more comfortable than your sofa? Yes, it does exist! Autonomous ErgoChair Core is a healthier alternative to your traditional office furniture, as it provides back support and has adjustable features, so you can feel as comfortable as ever. 
Also, it comes with adjustable height, armrests, back recline, sea pan, and lumbar support to help you customize your gaming or work experience!
5. Logicfox Ergonomic Office Chair: Saddle-shaped Mesh Seat
This list should also include the Autonomous Logicfox Ergonomic Office Chair. It's a saddle-shaped seat made with highly elastic mesh material that is more breathable and skin-friendly than other options on the market!
Additionally, this mesh office chair adopts grid-weaving technology and provides ample support, adequate cushion for thighs and hips, and a soft recline for a comfortable fit. In addition, it has 3D adjustable armrests and a sponge headrest for added comfort. 
6. Ergonomic Office Chair by Ticova
This full mesh office chair is a very good option because it is durable and sturdy. Also, it has an extra lumbar cushion and several adjustable features to provide high levels of support and comfort. However, it is a bit pricey if you are on a tight budget! 
7. Mesh Office Chair by MOONSENG
If you care about accessories because you are looking for maximum comfort, you should take a look at the mesh office chair from MOONSEG.  
It has a mesh headrest and mesh-made back that provide the necessary support for long work sessions and keep you cool all the time. However, it is not as sturdy as other options you can get for the same price. 
8. Partial Mesh Office Chair by SMUGDESK
An all-mesh office chair is a great alternative for people looking for breathable, easy-care furniture. However, if you don't want to give up completely on regular cushioning, you should consider this option. SMUGDESK's office chair isn't as adjustable as you might like, but it's comfortable. 
9. KERDOM Office Chair: Elastic Mesh & Adjustable Backrest
Did your day just start but you already feel the tension in your body? Don't worry! There's a piece of furniture that can help you relieve stress and relax your muscles: the KERDOM Office Chair.
If you use this mesh office chair, you can be sure that you will never get tired, even if you spend the whole day sitting in front of your desk or computer. It has an ergonomic back that protects your posture, fits the human body's S-shaped curve, and helps relieve stress on key points, such as the spine, waist, chest, and shoulders. 
10. Tall Mesh Office Chair by SMUGDESK
Another SMUGDESK alternative is this tall mesh office chair. The brand designed this model as the perfect combination of price and quality.  
It's durable and has a mesh back and headrest that feels good to the touch and ensures air circulation. However, it is not that adjustable and does not come with an extra lumbar cushion, which seems very necessary if you buy it. 
11. Logicfox Ergonomic Office Chair: Adjustable Breathable Mesh Seat Depth
There's another Logicfox Ergonomic Office Chair worth checking out. It has a highly elastic tensile mesh breathable seat embedded in a durable frame that adopts grid-weaving technology and provides ample back support.
Plus, it has multifunctional flip-up armrests that can be adjusted up and down until you find the perfect position to sit and work! 
12. Mesh Office Chair by HOMEFUN
If you are looking for a more modern option because you don't want boring, dark furniture anymore, you should consider buying this one. HOMEFUN has designed a striking chair with an original and sharp shape and an elegant white color for those who want to create a contemporary or futuristic environment. 
13. Herman Miller Aeron Mesh Office Chair
This all-mesh office chair is available in three sizes and can support up to 350 lbs. In other words, it's a great option for older people looking for sturdy, durable, and comfortable furniture. 
14. Small Mesh Office Chair by SMUGDESK
If you don't want something big and think a small mesh task chair might work for you, this alternative by SMUGDESK is what you've been looking for. It is affordable and can be taken almost anywhere without any hassle. However, it is not very adjustable or supportive like other designs. 
15. Mesh Office Chair by B2C2B
Many think that armrests are not necessary, and they may be right sometimes. If you are one of them, you should take a look at the full-mesh office chair by B2C2B. It's durable, sturdy, and affordable. However, the seat lacks adjustable features. 
16. KERDOM Ergonomic Chair: Breathable Mesh Cushion
Do you live in a hot city? Don't worry. This piece of furniture is what you have always needed. The KERDOM Breathable Mesh Chair is an ergonomic alternative with proper lumbar support and adjustment options to meet different needs.
This is its biggest highlight: it has a premium backrest and cushions with flexible mesh fabric to keep your back and buttocks sweat-free. You will feel comfortable even if you have to sit on this ergonomic mesh office chair for hours! 
17. Serta Essential Mesh Low-Back Mesh Office Chair
It's another armless mesh office chair to consider if you are looking for a traditional option with an increased motion range for home or commercial use. The brand behind this piece of furniture is popular for its ergonomic designs. Therefore, you can rely on its seat for comfort while you work. 
18. Northread Ergonomic Swivel Mesh Desk Chair: Lumbar Support
The Northread Swivel Mesh Chair if you prefer simple yet fully-featured and highly functional options. Do you want to improve your posture? It has built-in lumbar support that prevents muscle fatigue and back strain.
Besides, this ergonomic mesh office chair has a breathable mid-back design that promotes air circulation to keep you cool while you work or rest. 
19. Modway Articulate Mesh Office Chair
It's one of the best mesh office chairs when it comes to features and price. In addition, it has a breathable backrest and built-in lumbar support for added comfort. What about the accessories? It also comes with padded armrests! 
20. Sihoo Ergonomics Mesh Office Chair
This full-mesh office chair is all you need if you're looking for comfort, as it has an adjustable headrest and customizable lumbar support. In other words, you can adapt its features and layouts to make you feel comfortable when you work. 
21. Big and Tall Mesh Office Chair by BestOffice
Are you looking for an ergonomic mesh office chair for big and tall people? This BestOffice alternative may be the perfect option for you. It supports up to 400 lbs. and has height adjustments up to five inches. Additionally, it comes with adjustable lumbar support for all users. 
22. Flash Furniture's Mid-Back Black Mesh Office Chair
This mesh office chair has a large seat height range where you can sit for hours and feel comfortable. Also, it comes with three-way adjustments for the back, seat, and armrests. However, it has a low weight capacity of only 250 lbs. 
23. Nouhaus Ergo3D Mesh Office Chair
While it mimics the look of an executive seat, this all-mesh office chair has everything modern furniture needs: a 135-degree angle recline, a fully adjustable armrest, and a padded design. However, having a footrest would have made this alternative much better. 
24. Mesh Office Chair by Devoko
It is a good option for the average person, as it only supports up to 280 lbs., but it has flip-up padded adjustable arms for those looking for a wider motion range. This mesh office chair is basic but can be a good option if you have a reduced budget. 
25. Ergonomic Mesh Office Chair by Vnewone
While its design is simple, it's another wallet-friendly mesh task chair you can have at home or in your workspace to feel comfortable and relaxed. Plus, it has a 30-degree recline functionality for those who care about ergonomics. 
Final Thoughts: What Is the Best Mesh Office Chair?
Choosing the best mesh office chair depends on the needs and preferences of each person. However, as you can see on this list, there is an ocean of options you can choose from. 
Do you care for your mesh chair's durability? Look for alternatives with resistant structures. However, if you prefer an ergonomic mesh chair, you should look for furniture with adjustable features and a design focused on your comfort. 
Finding the perfect mesh office chair is completely possible! You only need to be clear about what you need and do a little research.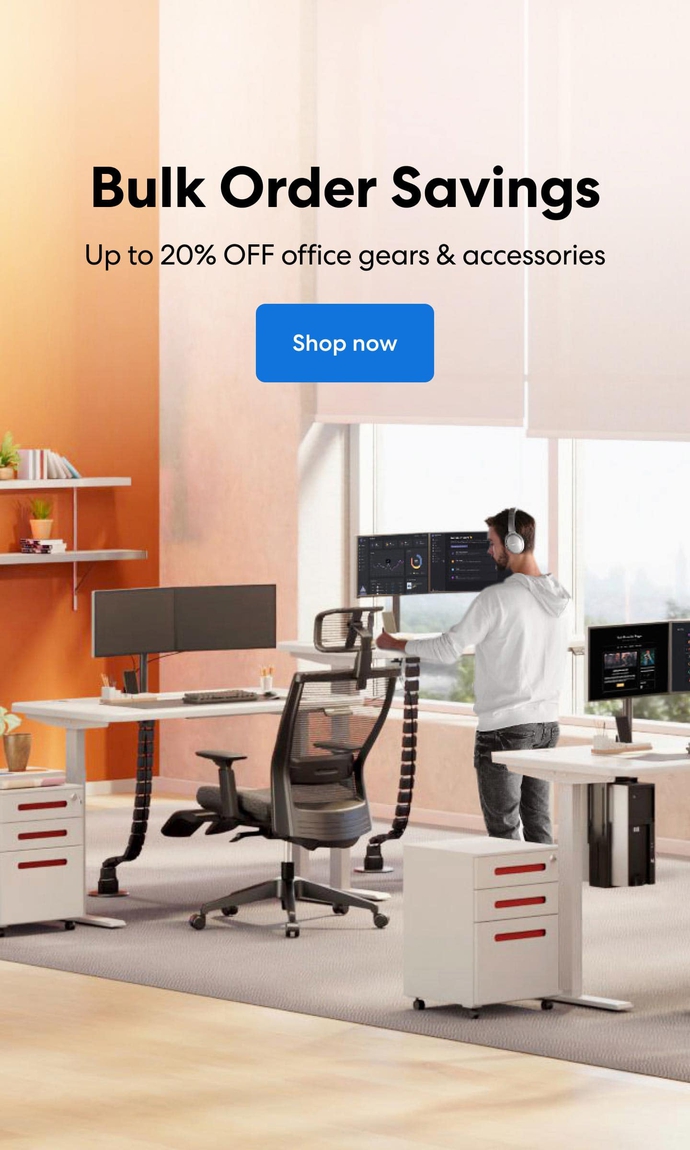 Subcribe newsletter and get $100 OFF.
Receive product updates, special offers, ergo tips, and inspiration form our team.