The pandemic has made remote work an integral part of our lives. Now accountants and other kinds of office professionals do what techies and bloggers once did. Gifts for a home office is a good way of increasing employee morale in a remote work environment. 
Working from home is here to stay, and experts expect many individuals to continue to work from home, even once the pandemic ends. 
It's cheaper for companies, but it implies greater flexibility, family time, and less travel. Many organizations are beginning to realize that they don't need enormous corporation buildings to have successful staff. 
Some researchers suppose there might be some meetings and rented space in the future for people who want to go to an office. However, remote work may continue to be the norm for the foreseeable future. 
To be productive and to find that the elusive balance between work and life might be difficult. It's a constant struggle, but with a few good tools, one may easily do it. 
Looking for gifts for people who work from home is ideal for the current climate. This article looks at some fantastic work at home gifts for you or your co-workers. 
26 Amazing Work from Home Gifts to Upgrade Workspace
1. Ergonomic Office Chair
Everyone who works online or in a bureau knows that back discomfort and improper posture are constant threats to overall health. Spending long hours seated behind an office desk can lead to severe health issues. 
The lower lumbar support, padded seat and padded arms rests may not be aesthetic. Still, investment in a solid ergonomic chair for your table would aid in maintaining good health. 
2. Standing Desk
Like your office chair, a strong desk makes your job more comfortable and enjoyable. You can sit or stand on a standing desk so that you can take a little of the pressure off your back during the workday. 
Although quite expensive, it is a valuable investment for everyone who plans to work from home and needs a dedicated, flexible workspace. Ergonomic office accessories are perfect gifts that may be organized around a standing desk. 
3. Anti-Fatigue Mat
If you have a standing desk, ensure that you have fitted an anti-fatigue mat. This can prevent your feet from becoming uncomfortable, enhance your posture, and reduce fatigue during the day. 
If you are on a budget, a piece of carpet can help if your back and feet need a good mat. This may be an ideal work from home gift for office workers. 
4. External Mouse and Keyboard
Here is another work from home gift idea for you. Working on a laptop and trackpad can lead to carpal tunnel. It is also not suited for process optimization, as an external keyboard and mouse improve efficiency. 
Install a wireless mouse and Bluetooth keyboard to enhance your workspace productivity. A mouse and keyboard increase your workflow and prevent repetitive strain injuries in your wrists and hands. 
5. Noise-Cancelling Headphones
Many distractions at home might detract from your productivity, this ranges from screaming children to barking pets and transport outside. These distractions can occur in the best home office setups. 
Invest in a nice pair of headphones as gifts for home office to help you keep on track (and remain sane). There are various noise-cancelling headphones available on the market. It is advised that you view reviews and ratings before purchasing. Many modern noise-cancelling earphones are rechargeable and sit comfortably in your ear. 
6. Permanent Scratchpad
Many employees need a notepad or notebook to jot down crucial information. It may be a random idea, telephone number, or a reminder to purchase food. Nothing is improper, as taking notes by hand increases your memory and prioritizes talents, creativity, and focus. This is a perfect work gift idea for a friend or co-worker. 
With a nifty dry-erase clipboard, you can help yourself by reducing waste and cleaning the working place. It is long-lasting, reusable, and compact enough to save your desktop space. 
7. Light Therapy Lamp
The winter blues is a real issue and negatively impacts an individual's mental health. It is often called seasonal emotional disorder (SAD). 
It is a sort of depression that has implications over the colder months of the year on about 10 million Americans. If not dealt with, your physical and mental health may be adversely affected. You could also be more disengaged, resigned, and less productive. 
Light therapy lamps are fundamentally good light, which complements the winter's shortage of sunlight. As a result, you can help regulate your circadian rhythms or sleep disorders. You can boost your moods as well. 
8. Webcam
Video conferencing is here, unfortunately, to stay. That does not mean that on the next video call, we should not look professional and presentable. 
The installations of a webcam are not based on the uncertain and uncomfortable quality of built-in computer cameras. A camera can increase video quality, and certain types integrate microphones to enhance audio transmission. It is such a perfect work from home gift.
9. External Monitor
Although we are all familiar with the smaller laptop displays, they can occasionally benefit from a larger monitor. This is especially true if you spend every day with your computer. 
An external monitor may attach to your laptop and provide you with a larger screen to work on, enhancing your vision and posture in the process. A 27-inch monitor gives you twice as much space without breaking the bank. 
10. External Hard Drive
There is nothing more catastrophic than losing your data for individuals who work online. While some keep files on the cloud digitally, a physical backup is no brainer for your workstation. 
After all, you are only a cup of coffee spill away from losing it all. Purchase an external hard drive and get used to back up your device each week. Therefore, you may not have to start from scratch if something happens on the laptop. 
11. Door Hanger Dry-Erase Whiteboard
You might have a housemate barge in your office at some time when you are working from home. Simply closing your office door is a technique of solving this problem. Obviously, not everybody may stick to it, and knocking can be enough to distract you even if they do. 
A dry-erase board has been invented, which you may hang at your entrance. It allows others to know that you are busy and should not be disturbed. This work from home gift instructs them not to knock or to keep noise levels down. 
12. Laptop and Screen Cleaner
Your computer is a hotspot for dust and filth, together with your phone and tablet. It can even be a breeding habitat for bacteria to overheat your devices, drain your battery or get stuck between buttons. 
Most of us have not thought much about this; your employees or co-workers are likely to be grateful for a screen cleaner. A fingerprint and smudge from the displays can be removed from a microfiber cloth on one side of the screen cleaner. The other side features a brush for dirt or dust removal. 
13. Plants
Any workspace can use the addition of office plants. Most essential, contaminants are removed from the air and productivity, and contentment is increased. 
You would also like to send an easy-to-maintain plant small enough to accommodate any desk or office area. 
14. Timed Water Bottle
Since it is not possible to drink unlimited quantities of coffee all day long, you can get a water bottle to ensure you stay hydrated.
Dehydration makes you fatigued and foggy. Most of us don't drink enough water throughout the day. Purchase a motivational water bottle as a work from home gift to ensure that you and your team are hydrated appropriately and meet your health objectives. 
15. Blue-Light Glasses
These glasses promise to avoid eye strain from the everyday use of a computer screen. While the science is still premature, many users have documented the immense differences experienced after using blue-light glasses. 
It's worth checking out if your eyes are unusually fatigued, driven, and/or tense. Prices start as low as $25 a pair. 
16. Virtual Private Network (VPN)
While many of us use VPNs to protect our data abroad, most of us don't use VPNs in our homes, even if we should. 
A VPN safeguards your information and privacy. You wouldn't leave your house or car open all day, so why do you open your digital doors? Keep secure with VPN. 
17. Meditation Mat
Purchase a meditation cushion and mat so you are regularly out of your workspace to rest your brain and body. Just 10 minutes after a day, and your state of mind can perform wonderfully, help you recover, and reduce your tension. 
Keep them at your desk so that you are more likely to regularly use them. Also, download a free timer for your meditation so that you may track meditation times. 
18. Yoga Mat
Another excellent tool for stepping away from the laptop and getting your blood circulating is a yoga mat. 
There are hundreds of free yoga videos on YouTube for short or lengthy sessions, making this an easy and economical option to integrate more exercise into your day. 
19. Dry-Erase Wall Calendar
A dry-erase calendar is a requirement for anyone who wants to remain organized. These wall calendars are great to track major meetings and offer you a fast summary of the whole month. If you battle with time management, add a calendar to your wish list. 
20. Ring Light
Invest in an essential ring light if you are going to make lots of social media videos or Zoom calls. This ensures that your videos and calls are illuminated appropriately and improved video quality (especially on social media). 
This is one of those added touches that people note and distinguish you from the competition. 
21. LED Light with Charging Port
Here is one of the necessary work from home gifts. If you require a light for your desk, you could consider acquiring a light with an integrated USB charger. Thus, without leaving a coveted electric outlet, you can simply charge your phone, tablet, external battery, or any of the other desk accessories. 
22. Laptop Stand
Whatever type of desk you work on, consider buying a laptop stand if you use a laptop for business daily. You should be gazing straight ahead rather than down towards your computer. 
This can prevent neck pain, strain, and assist in improving your posture. They are affordable and have a tremendous impact on your work. 
23. Laptop Bed Tray
Make your life easy and buy a laptop tray you can use on your couch or bed. Although not necessary for 100 percent, this is one of the prize goods that make it easier to live when you want to use your laptop outside your workplace.
24. Three-in-One Charging Station
This loading station offers enough room to charge a phone, AirPods and an intelligent clock simultaneously. Suppose you have all the accessories and are a die-hard Apple lover? 
In that case, this charging station is necessary, so you don't continuously struggle for space. A standard WLAN charger may do the trick if you don't need a three-in-one charging station. 
25. Maps and Art
Many photographers sell their pictures, and on sites like Etsy, you can discover all kinds of unique maps and artworks. Take a while to browse photos, art, and maps to lighten your home. It can change the whole environment. 
26. Support Cushions for Posture
The lumbar support cushion is another present idea that can help someone sit in a healthier position and minimize pressure on their body. 
This is because it allows them considerably more lumbar support by placing one of these coils between their lower back and workplace chair, and it makes it easy to sit on your back, neck, and shoulders with an S-shaped curve, reducing any strain on your back and neck. 
You can match this with a coccyx seat cup if you want to help relieve numbness in your glutes. 
Conclusion
Work from home should only rise in the years ahead. These work from home gifts can help you establish an atmosphere of comfort and functionality, build healthier habits, stay healthy, and always do your best. 
Many companies offer employee purchase programs to aid employees in affording home office design trends. As it seems like several months might pass before people return to the office, now is the moment, if you haven't previously, to finally take a leap with some of these products.
Video ads for product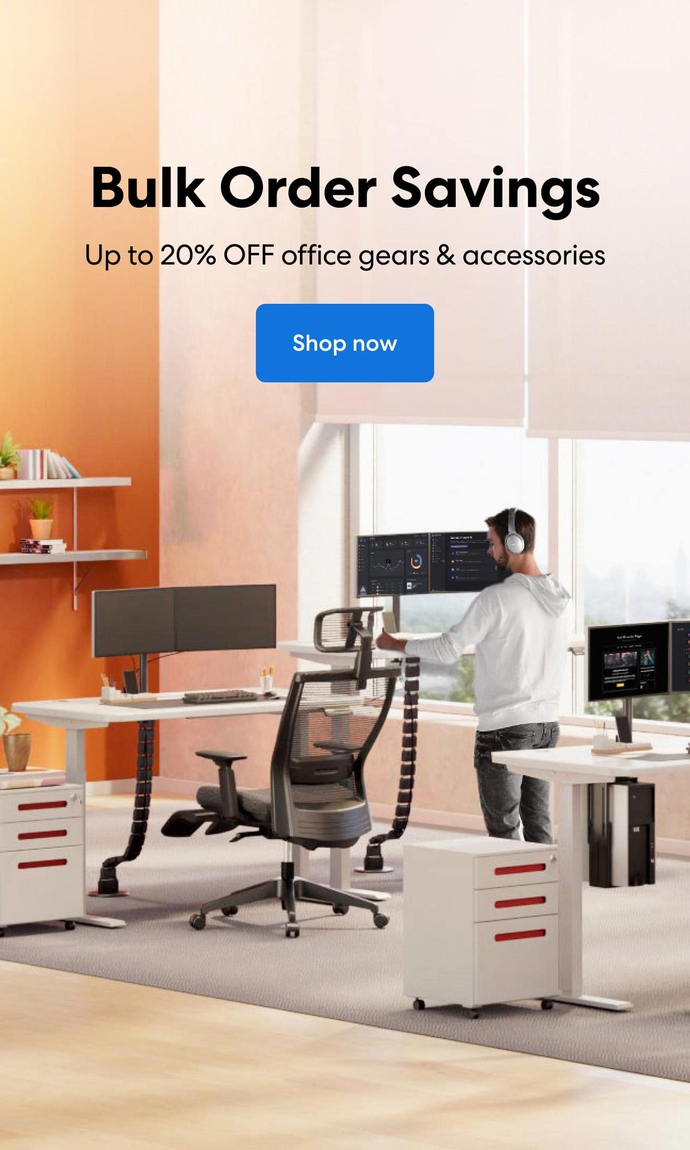 Subcribe newsletter and get $100 OFF.
Receive product updates, special offers, ergo tips, and inspiration form our team.