Latest Updates
Top 30+ Black Friday Electronics Deals & Sales in 2023

Autonomous
|
Oct 6, 2022
1,052 Views
If you sometimes come across some awesome products that you really need, but are over your budget, just know that in this tough economy, you are not alone. Maybe now it's time to take advantage of some of the amazing black Friday electronics deals available at Autonomous. 
With so many great products available at an absolute bargain, it would be a shame for you to miss out on such an opportunity. This is your chance to finally get that desk you have had an eye on for some time, at the Black Friday adjustable desk sale. 
Are you wondering what all the fuss is about the Autonomous Black Friday sale? Read on to find out more about this special day for consumers, and what products are available for you to choose from. 
Take a Look at These Awesome Black Friday Deals
If you are looking for some awesome black Friday electronics deals, look no further than the following items available from Autonomous. 
1. SmartDesk Core
There are not many desks out there that can rival the SmartDesk Core in terms of functionality. With adjustable electric height control and an easy-to-use control panel, this is a must-buy item this Black Friday. Get a great low-priced piece of furniture that comes with an awesome warranty from Autonomous. 
2. ErgoChair Plus
The perfect partner for your SmartDesk Core is this ErgoChair Plus from Autonomous. If you are buying a standing desk, it means you care about your health and posture. If that is the case, then take advantage of this year's electronic Black Friday sales and get your hands on one of the best chairs on the market. 
3. SmartDesk Corner
This is another best option for your Black Friday adjustable desk. When space is an issue then the best strategy is to make full use of the corners of your room, which are usually left bare. The SmartDesk Corner will fit snuggly out of the way, while giving you all the important standing desk functions, such as adjustable height and electronic control panel. 
4. Monitor Arm
Some of the most expensive items these days are computer accessories. In fact, if it wasn't for these Black Friday electronics deals, it would be difficult for most people to buy something as simple as a monitor arm for their computer. However, if you spend a lot of time working on your computer, this is something you definitely need. 
5. SmartDesk Pro
Like other SmartDesk alternatives, the SmartDesk Pro has all the regular features that you would expect to find on an electric standing desk. However, where it excels is the ultra-quiet motor which makes it great for open-plan offices. It is also quite sturdy, and able to withstand up to 300 lbs of weight. 
6. ErgoStool
Another item you cannot miss in the Autonomous Black Friday sale. Are you looking for a great chair but you have limited space to work with? Then hurry now and get your hands on the small but strong ErgoStool from Autonomous while stocks last. 
7. SmartDesk Connect Pro
The SmartDesk Connect Pro is a smart product produced by Autonomous. This provides extra storage space for your office accessories while keeping them within easy reach for use at any time.
8. AvoChair
If you are looking for a great blend of electronics and comfort, look no further than the Avo Chair, which is available for a very low price at one of the many Black Friday electronics deals from Autonomous. 
9. Eureka Ergonomic Standing Desk
Style meets functionality in this electric ergonomic standing desk from Eureka. The electric motor and control panel means it qualifies for the massive black Friday on electronics deals from Autonomous, which is great news for sharp-eyed customers looking for a good deal. 
10. ErgoChair Pro
With a strong frame capable of carrying even the largest office workers, and a height that can be adjusted at the touch of a button, you can't go wrong with the ErgoChair Pro. Furnish your office in style with this great Black Friday deal.
11. Hisense 50" Class 4K UHD Led XClass Smart TV
Have you had an eye on this beauty for a while now but couldn't afford it? Now is your chance to get the TV you have always wanted. The Hisense 50" Class 4K UHD LED XClass Smart TV is available at a steal this Black Friday. 
12. Anti-Fatigue Mat
Some office items seem like luxuries, which makes buying them on regular days a bit too much for a modest budget. However, thanks to these electronic Black Friday sales, you have you chance to get your hands on these items, such as an anti-fatigue mat. 
13. Hassen Adjustable Desk
The Hassen Adjustable desk is usually too expensive for most people to afford. This Black Friday, however, you can get one at an unbelievably low price, but only if you hurry because a lot of people have their eye on this beauty. 
14. Pixio Monitor
Very few monitors can bring visuals to life in quite the same way as the Pixio monitor. This year's electronic Black Friday sales give you the chance to finally have one sitting at your desk.
15. Roku Streaming Stick
Gone are the days of renting DVDs at the video store. It's all about digital and live streaming these days. Join the revolution with a great deal on the awesome Roku Streaming Stick. 
16. RapidX Charger
Fast, safe, and efficient wireless charging has never been as cheap as it is this year. The RapidX Charger is available at Autonomous at such low prices that you will be tempted to buy one for your friend too! 
17. Fire TV Blaster
Who would have thought that one day we would be able to use voice control to adjust the volume or change channels on our TVs? It is all possible with the Fire TV blaster, a hand device built to work well with Fire TVs and Alexa devices.
18. Cloud Nine Keyboard
If you have ever had to spend all day working in front of your computer, you know the importance of a good ergonomic keyboard. Protect your wrists from Carpal Tunnel syndrome using the split Cloud Nine keyboard.
19. Beams Outdoor and Indoor Lighting
You can never go wrong with some good lighting fixtures. These outdoor and indoor lights from Beams are a good way to brighten up your home as you settle in for the December festive and winter period. 
20. Wireless Charger
Traditional forms of charging your mobile devices are quickly becoming a thing of the past. Step into the future with one of these awesome wireless charger Black Friday deals this holiday season. 
21. Ring Alarms
One area you cannot afford to compromise is the safety of your home and your family. Thanks to these Black Friday electronics deals you can finally beef up your home security with one of these ring alarms.
22. Wall Mount Wireless Charger
Even though it is not portable, this wall mount wireless charger is strong enough to make sure your device is fully charged every time you leave the house. Don't worry about the price as long as you buy it on Black Friday. 
23. Beats Fit Pro Noise Canceling Earbuds
Stylish Earbuds have quickly become a regular accessory for most celebrities. Join the trend with these Beats Fit Pro Noise Canceling Earbuds available cheap this Black Friday. 
24. Webcam With Wireless Microphone
Are you a serious gamer? Then you know that to fully enjoy online multiplayer games, a webcam with a wireless microphone is a must. There are many available at Autonomous this Black Friday. 
25. Sony Wireless Headphones
The best way to fully enjoy your favorite tunes is through a pair of Sony wireless headphones. On a normal day, these headphones are expensive, but if you rush to the Black Friday electronics sales, you will get one at a bargain. 
26. Computer Mouse
One thing that is normally overlooked but is important for working efficiently is a computer mouse. However, you will be surprised at how much easier it is to get a lot of work done with a responsive mouse in your hands. Get yourself one of the best brands at Autonomous' electronic Black Friday sales.
27. Ultra Wide LED Desk Lamp
28. Power Outlet
29. Mount-It! Triple Monitor Arm: Full Motion
30. R-Go-Tools Ergonomic Break Compact Keyboard with LED Signals
31. Kerdom Wifi + Bluetooth Projecter: 1080p Native Player
32. Lamp Depot Foldable Bluetooth Keyboard
33. R-Go-Tools Zepher 4 C2 Circular Monitor Arm: Ergonomic
34. Echo Show 8 with Blink Mini
Combine the power of voice activation and the convenience of Alexa software using the Echo Show 8. If you add the Blink Mini webcam, then you will have a versatile gadget for communicating and organizing your business. 
35. Gateway 11.6" Ultra Slim Notebook
The ultra slim 11.6" notebook from Gateway is a powerful little machine with amazing processing power. With a huge amount of storage space and a super fast CPU, this is the best option for handling any amount of work you throw at it. It is usually quite costly on most days, but not this Black Friday! 
36. Scepter 40" Class FHD LED TV
If high-quality videos are what you are after, then the Scepter 40" Class FHD LED TV will do the trick. It is very affordable on Black Friday and comes with an impressive warranty to guarantee your peace of mind. 
37. Bose Quiet Comfort 35 Wireless Headphones
There are few wireless headphones with better quality or a stronger reputation than a pair of Bose Quiet Comfort 35 headphones. The good news is that if you wait for Autonomous Black Friday electronics deals you do not have to exceed your budget to get them.
When Is Black Friday 2022?
In the United States, black Friday always comes after Thanksgiving Day, which is one of the country's most popular holidays. Thanksgiving is held every year in the fourth week of November, meaning black Friday is always between the 23rd and 29th of November. 
This year, Black Friday falls on the 25th of November, 2022. That means if you had not started preparing for this day by saving up a few extra bucks, there is still some time left before the day arrives.
Why Is It Called Black Friday?
In the 1950s, the term black Friday was used to refer to the Friday after the Thanksgiving holiday, a day on which many workers decided to call in sick and miss work. 
Historically, sales in most retail outlets were usually low on this day, due to most customers having spent the previous day celebrating well into the night with family and friends. 
However, in recent times it has been used to refer to what is quickly becoming the busiest day of the year for most businesses because of the massive sales and discounts being offered by  most businesses. 
Sales on this day, such as the electronic black Friday sales from Autonomous, are so popular that many other countries have begun to adopt the same tradition. If you are looking for the best black Friday electronics deals, you are in the right place! 
Is Shopping on Black Friday a Good Idea?
Every year sees bigger and bigger electronic black Friday sales as businesses compete with each other. If you are thinking of buying a few items during this year's Black Friday deal on electronics, here are a few things to keep in mind: 
Pros 
You can get the cheapest prices you will ever come across

Some businesses reserve their best merchandise for black Friday

You can shop online

It's a good way to enjoy the beginning of the festive season 
Cons 
Some business don't really discount their products on Black Friday, they only pretend to do so

The shopping experience can be very frustrating due to the overcrowding and long lines at the tills

Some people have been injured in the past while rushing for the best black Friday electronics deals
Final Thought
With the best Black Friday electronics deals available at Autonomous, there is no reason why you too cannot get your hands on any of these great products. It has been a tough year for most people due to the poor economy, which is why you can't afford to miss out on a day such as Black Friday!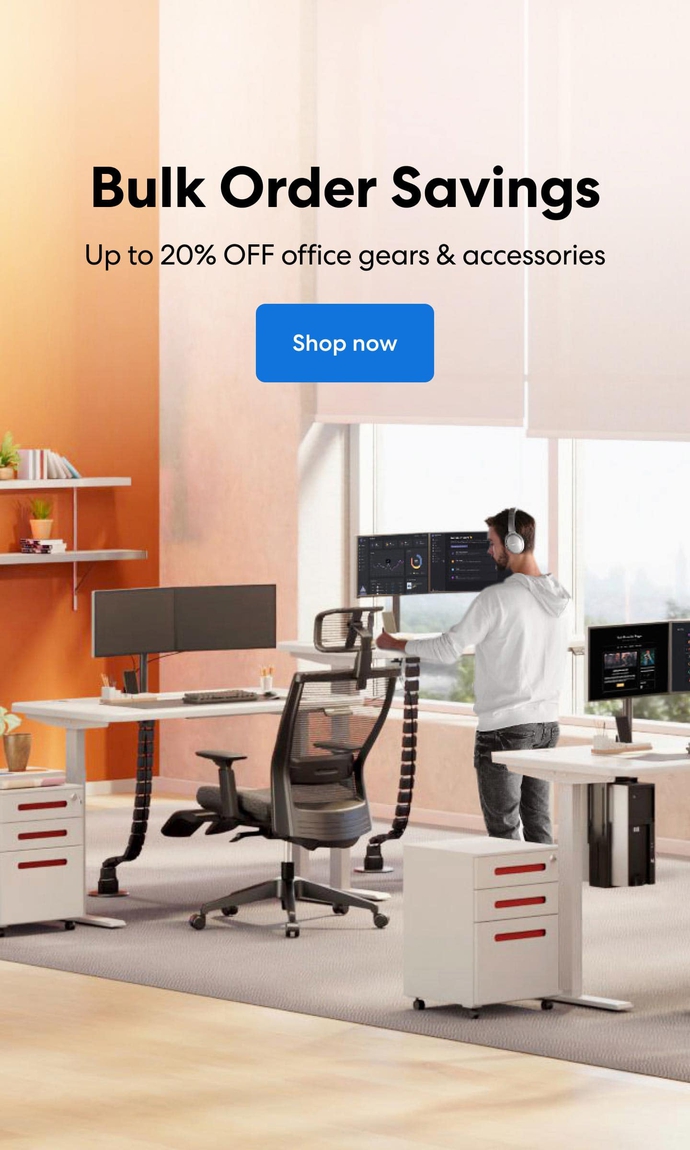 Subcribe newsletter and get $100 OFF.
Receive product updates, special offers, ergo tips, and inspiration form our team.