When working from home, it's important to have a top-notch desk lamp. By keeping one of these on hand, you can prevent straining your eyes, which often results in headaches and migraines. 
You might believe that choosing the right desk lamp is merely a matter of preference, but that is simply incorrect. The best cool desk lamps stand out from the crowd by having additional features. 
As an example, people with smart homes may want their cool desk lamps to be compatible with their system and have a convenient USB outlet for charging, while other fancy desk lamps will feature motion sensors to conserve energy. Some lamps will automatically change their brightness based on the time of day and ambient light. 
Naturally, you don't need all these features to get a top-notch desk lamp. In fact, we looked into the top options the market has to offer to help you make your decision. Furthermore, the best fancy desk lamps are these:
35 Cool Desk Lamps for Your Home Workspace
1. Autonomous Light Bar
| | |
| --- | --- |
| Dimensions | 31.5"L x 1.8"W x 35.4"H |
| Colors | Black |
| Materials | Die casting Aluminum & Metal |
| Input voltage | AC 100 - 240V 50/60Hz |
| Brightness | 1200 lm |
| Light colors | 3000k, 4000k, 5000k, 6000k |
| Lamp lifetime | 50,000 hours |
| Item weight | 12.56 lbs |
| Warranty | 1 year |
2. Autonomous LED Desk Lamp
| | |
| --- | --- |
| Dimensions | 21"L x 3"W x 7.5"H |
| Colors | Black |
| Materials | Die casting Aluminum & Metal |
| Input voltage | AC 100 - 240V 50/60Hz |
| Brightness | 600 lm |
| Light colors | 3000k, 4000k, 5000k, 6000k |
| Lamp lifetime | 50,000 hours |
| Item weight | 18 lbs |
| Warranty | 1 year |
3. LumiCharge LED Desk Lamp: with Smartphone Control
The Lumicharge LED Desk Lamp: with Smartphone Control does a great job as an LED desk lamp. It is adaptable and offers a variety of features.
Furthermore, the Lumicharge includes an adjustable arm with an incredible range of motion and requires no setup. The arm itself may be tilted 120 degrees up or 90 degrees side to side, while the stem can be rotated 145 degrees. Lumicharge's lamp has LED bulbs that are protected by a plastic diffuser, which helps soften the lighting.
| | |
| --- | --- |
| Dimensions | 16" L x 8" W x 4" H |
| Colors | Black |
| Materials | ABS Plastic |
| Input voltage | AC 110 - 240V 50/60Hz |
| Compatible devices | Qi-enabled device |
| Item weight | 3 lbs |
| Warranty | 6 months |
4. Gingko Portable Cool Desk Light
To achieve its modern industrial design, the Octagon One Portable desk lamp blends the best of a natural wood effect and a marble finish. It makes an excellent cool desk light because you can position it at any one of its four angles and get a direct, bright light without disturbing other people in the room.
| | |
| --- | --- |
| Dimensions | 85mm L x 40mm W x 380mm H |
| Colors | Aluminium Silver Grey, Ash, Black, Black Marble, Walnut, White, White Marble |
| Materials | Aluminium, ABS in matt white finish |
| Input voltage | max 4W |
| Color temperature | 3700K |
| Item weight | 745g |
| Warranty | 1 year |
5. LumiCharge-Mini-7in1 LED Lamp Phone Charging Stand
This sleek, all-in-one Lumicharge Mini LED desk lamp illuminates your desk while wirelessly charging your iPhone, Airpods, and Apple Watch keeping your devices charged and ready for action. Wireless LED lamps are the best for smart homes!
| | |
| --- | --- |
| Dimensions | 4.5" L x 2.5" W x 11" H |
| Colors | Black |
| Materials | ABS high gloss metallic finish |
| Input voltage | AC 110V 50/60Hz |
| Brightness | 1200 lumens |
| Light colors | Daylight, Warm Light, Cold |
| Lamp lifetime | 50,000 hours |
| Item weight | 1.5 lbs |
| Warranty | 6 months |
6. Stella Lighting Wireless LED Task Lamp
Dimensions
11″ W x 9.25″ D x 5.5 lbs
Colors
White
Materials
Aluminum, Alloy Steel, Silicone, Plastic, Rubber
Input voltage
12V DC, 1.5A
Light colors
Warm White (2800K)
Pure White (4500K)
Cool White (5500K)
Lamp lifetime
50,000 hours
Warranty
2 years
7. Lumicharge LED Lamp with Wireless Charger & Speaker
| | |
| --- | --- |
| Dimensions | 8"L x 8"W x 15.8"H |
| Colors | Black, Silver |
| Materials | Aluminium + ABS |
| Input voltage | AC 100 - 240V 50/60Hz |
| Brightness | 850 lumens |
| Light colors | Yellow 2800-3200k, Soft White 3750 k-4250K, Bright White 5500K -6000K |
| Lamp lifetime | 50,000 hours |
| Item weight | 3.75 lbs |
| Warranty | 6 months |
8. Ocushield All Day, All Night Light - Oculamp
| | |
| --- | --- |
| Dimensions | 56.2 x 6.5 x 2.1cm |
| Colors | Silver, Gold |
| Materials | Aluminum Alloy + Sillicone |
| Input voltage | 5V/1A |
| Light colors | 3100k, 4200k, 5400k |
| Warranty | 1 year |
9. Simple Designs Lantern
The best cool desk lamps mimic technology products more than furniture. However, the Simple Designs Lantern desk lamp places a higher priority on style thanks to its exposed industrial-style hardware and clear glass shade. As a result, unlike with a typical downward-facing LED bulb, the light won't be focused on just your desk. However, it will look fantastic and offer excellent accent lighting for any room. 
10. Govee Smart Lamp
Govee's low blue light lamp stands out for being fun to use. It can voice-control Alexa and Google Assistant and connect to your smartphone via Wi-Fi and Bluetooth. There will be a tone that works for you depending on whether you're working or reading because the app offers 16 million color options. 
Additionally, you can set it to sync with your music, which will allow you to enhance movie nights or parties. 
11. Brightever Industrial Lamp
This type of light, in contrast to some others, uses a touch sensor that allows you to switch the bulb on and off and control its three brightness levels (low, medium, and high). It is easy to charge your phone and other electronic gadgets while you work thanks to its two built-in USB ports. 
12. Mercury Row Aislinn Desk Lamp
The metal construction and matte black drum shade of this desk lamp by Mercury Row give it a polished and elevated look to fit a modern aesthetic, even though it is a bit of an investment.
13. Article Fila Lamp
This style from Article is the most suitable lamp for smaller desk setups. Thanks to a 7-foot chord, the Scandinavian-style lamp is simple to put together and install. Additionally, there are three colors available, so you can pick the one that best matches your room. 
14. Pillowfort Desk Lamp
The Pillowfort style lamp is one of the best cool desk lamps to take into consideration if you're looking for a new desk lamp that is less expensive than other styles. This lamp, which comes in four colors, offers a gentle glow for desk work and reading. 
15. BesLowe Industrial Touch Control Lamps
If you prefer options with USB ports, this pair of industrial-style desk lamps from BesLowe is the ideal choice. Each of the funny desk lamps has two ports in addition to an AC outlet, allowing you to equip your desk with all your essentials.
16. OttLite LED Desk Lamp with Wireless Charging
The most funny desk lamps, like this one from OttLite, have wireless charging features. Thanks to a wireless charging base, you can just place your phone on the lamp to recharge as you work. 
17. Deeplite Battery Desk Lamp
You can't go wrong with this choice from Deeplite for a cordless design. Essentially, you don't need to be close to an outlet to set up the light, because it runs on a built-in battery.
18. Kary LED Desk Lamp
The best lamp for desks that are too small or crowded to hold a lamp is this Kary LED desk lamp. This LED desk lamp with wireless charging has a strong metal clamp that you can use to attach it to your desk, allowing you to brighten your area without using up any surface space. 
19. Lamps Plus Hammond Green Glass and Brass Table Lamp
Consider this glass desk lamp from Lamps Plus to bring some classic, retro charm to your workspace. This lamp is one of the best cool desk lamps since it is functional and fashionable with a pull chain and a tilting bright green glass shade. Additionally, you can have more space for your computer accessories if you choose this unique desk lamp. 
20. Mercer 41 Cianca Adjustable Desk Lamp
Add this Mercer 41 brass desk lamp to your home office for a more luxurious look. If you prefer an elegant, contemporary design, this desk lamp is one of the best options because it provides the perfect balance of lighting and aesthetics. Even though there are no adjustable lighting settings, you can use the arm to raise and lower the head to the ideal position.
21. Cumka Desk Lamp Clip
Choose this clip-on desk lamp, which has 10 brightness settings, to get the ideal amount of light for your needs. This Cumka clip-on light is the perfect desk lamp for the job, whether you need bright light for detailed tasks or warmer illumination to read a book before bed. 
22. Dreamholder Desk Lamp
If you're looking for a cool desk lamp that doubles as storage space, the Dreamholder desk lamp offers three slots to hold your electronics while they charge. You can simultaneously charge all your devices with this lamp's five charging options—three USB connections and two 3-prong AC outlets.
23. SIN MIMA Lamp
The SIN Handmade MIMA ultra-wide desk lamp is so beautiful it might be considered a piece of art, and it is small enough to fit on almost any desk. You can rest assured that the lamp won't take up much space on your desk because it is only 4 inches tall, 4 inches wide, and 3.5 inches deep. 
24. Himigo LED Desk Lamp
Essentially, you can't go wrong with the Himigo LED desk lamp if you're looking for a lamp that seamlessly blends style and function. It has a contemporary design made with an LED panel that might not be to everyone's taste but certainly delivers on brightness. 
This lamp can be easily adjusted to your preference thanks to a rotating arm. You can get the ideal lighting day or night thanks to its five color modes and five brightness levels.
25. Pottery Barn USB Task Lamp
The lamp has a swing-arm design, which means that the two separate bars that make up its base are joined by a hinge. You can lengthen the lamp to make it taller, or you can contract it to provide a more focused spotlight since this hinge is fully adjustable. 
26. Anglepoise USB 90 Mini
Anglepoise's cool desk lamps even come in mini little versions for smaller desk layouts that need a tiny lamp to match. Compared to the 75, this one has a slightly tapered shade, but it also has the advantage of not taking up space. When you need to turn the light on, simply place the USB into your computer.
27. Halotech Desk Lamp
Although a halogen version of this lamp has a long history of good performance, you should probably invest in this energy-saving LED version instead because it looks much more expensive than it actually is. It also has a crane-like tilting neck for swooping down on your finest work and uses elegant counterbalances to stay aloft. 
28. Fully Beam
Fully Beam uses an extra-slim, bending arm to focus light in exactly the right arc, and an eco-friendly LED bulb that switches between four brightness and warmth settings until you find the best combination for completing your task. 
29. Quattro Unique Desk Lamp
The Quattro task light can pivot at a 90-degree angle, exactly like any other industry lamp, thanks to its movable arm that keeps its place by internal compression mechanics. 
30. In Common with Arundel
If money is not an issue, the peak of stylish lighting may be found in In Common's cool desk lamps. It doesn't have a lot of adjustability features, but its long neck casts a wide arc to light up anything you're studying or reading. If you're craving something jazzier than the monochromatic look, switch out the shade and base colors for some eye-popping contrast.
31. BenQ eReading
The level of customization provided by the BenQ eReading makes it the ideal LED desk lamp. Depending on whether you're trying to focus on work or reading a book, you can change how warm or cool you want the lighting to be. 
It also adjusts itself thanks to built-in smart technology, which detects the amount of ambient light in the room.
32. Lepower Metal Desk Lamp
The Lepower metal desk lamp is the only budget desk lamp you need if you want something that appears more stylish than its $25 price suggests. Due to the matte finish's historic yet contemporary tones, it will work in a variety of situations. Additionally, practically any lighting angle you could need is covered by its adjustable neck.
33. Dyson Lightcycle Morph
Because of its unique design and cutting-edge technology, Dyson's Lightcycle Morph desk light made the list. This arch table lamp may be modified in terms of temperature and brightness using the controls under the lamp head when it is connected to your smart device. 
It also automatically adjusts its brightness based on the time of day. The head can even be docked into the stem for storage or to create a lower ambient light. It also has a 3-point revolve motion, which gives it great versatility. 
34. OttLite Dual-Shade
Why buy a single desk lamp when two can be built into one? That is what the OttLite Dual-Shade LED desk lamp provides: two built-in LED lighting prongs with shared touch and temperature controls on a single base. This allows you to shine light simultaneously on two different workspaces, such as your laptop and the documents you're trying to review.
35. Govee Ambient RGBWW
With the Govee Home app on your smartphone, you can choose from 16 million different light colors for this portable table lamp. A single button on the base can also be used to control it; however, the available color options are limited. 
It has fun features like the ability to sync the light to music and a scene option that lets you pick an experience and modifies the color and tempo to reflect it, such as festivals, candlelight, and fireworks. 
Conclusion
Your workspace can be improved with a fantastic desk lamp, both aesthetically and functionally. It can improve your ability to see what you're working on, reduce eye strain, and create the ideal environment for productivity. We hope this article has helped you find the best LED desk lamp for your office!
Video ads for product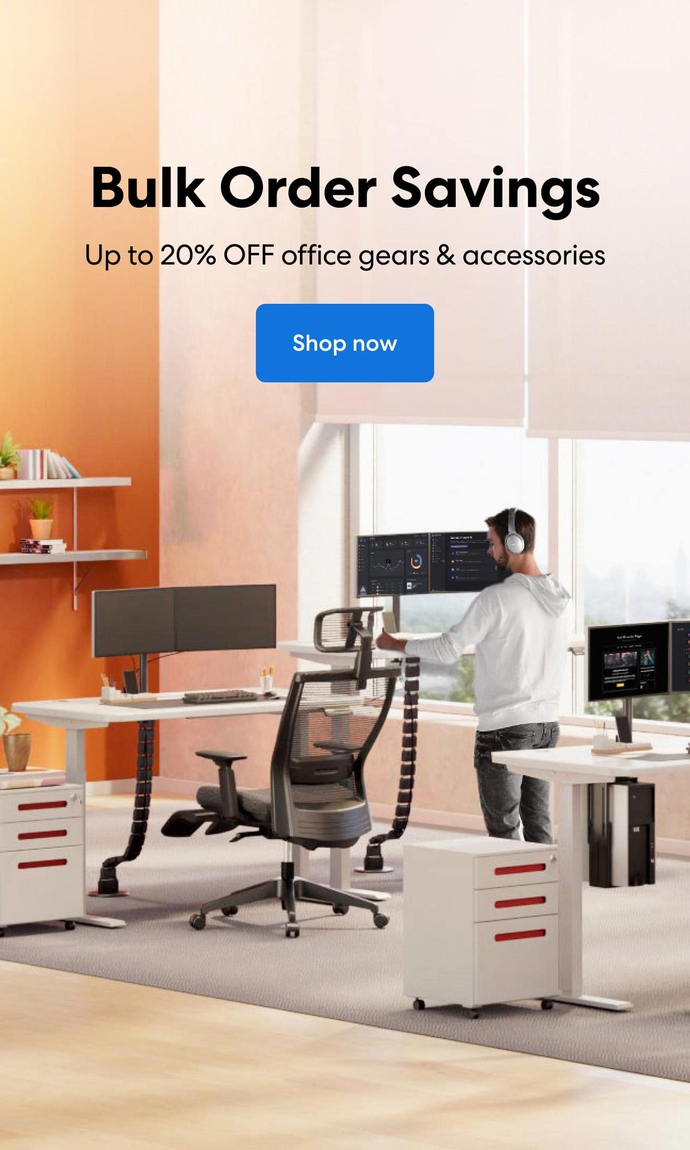 Subcribe newsletter and get $100 OFF.
Receive product updates, special offers, ergo tips, and inspiration form our team.