University students must balance a great deal of commitments between their studies, extracurriculars, a job or internship, and personal life. This can lead to a stressful environment for students, especially if they are doing it all remotely this semester. If you wish to show some recognition and appreciation for your friend or loved one in college, why not send a thoughtful gift for Easter?
Whether you are in a relationship or just want to show some love to a friend or family member, young people will appreciate this Easter surprise. The past school year may have been particularly stressful with distancing or remote learning restrictions, which can make it hard for a university student to stay productive with their school work, maintain focus on courses and clubs, and be able to fully unwind and relax in the downtime. A gift that understands their challenges right now and shows empathy will be much appreciated this Easter.
If you would like to show appreciation for the college student in your life, check out the list of gift suggestions below to set them up for success as much as possible. Look for a gift that is personal, original, and would actually be used and appreciated by them. These ideas seek to make the student's life all the more productive, healthy, and happy as they navigate the rest of the semester and beyond.
Flowers
Typically associated with Valentine's Day, flowers are a great gift for any occasion. So why not Easter? A colorful arrangement can brighten up even the grimmest of dorm rooms or study areas, and make the room smell fresh and clean. A flower delivery always feels special, and you can tailor it to your loved one's favorite color or type of flower.
If you'd like something longer-lasting, go for a potted plant to brighten up the room (as long as your student is confident in taking care of it). It's a great way to usher in that springtime feel to any dorm room.
Calming Candle
Alleviate some of the stress of homework with a soothing scented candle, which can brighten up (literally!) a dim study session. If you're not sure of your loved one's scent preferences, you can go for a classic like Vanilla Bean or Cinnamon Apple, or get a variety pack with a few smaller candles with varied scents.
Folding Portable Keyboard
A compact, pocket-sized keyboard pairs with a smartphone or tablet via Bluetooth and folds in half for easy portability. Small enough to take along in a coat pocket or purse, the keyboard is ideal for composing lengthy e-mails or word documents that would be annoying using a phone's regular tiny keyboard. This is especially convenient for a student who is always 'on the go.'
MasterClass Subscription
For a university student struggling to keep up with schoolwork, it can feel like all the fun and excitement has been sucked out of learning. Remind your student about the joy of learning a new skill with a subscription to an online learning platform like MasterClass, where the student can learn from celebrity experts on tons of subjects. You can give a single class as a gift or a subscription for all of them. (And they can also save it for summer break if it's too busy during the semester.)
Standing Desk
With many university students studying from home while courses are done remotely, it's time to think about an ergonomic workspace. Standing desks have been found to boost productivity and concentration for many people, they are better for your health, and they make it much easier for you to concentrate. If you'd like to make a big impact on the student's health and focus, a standing desk like the Autonomous SmartDesk 2 can make a big difference since it has the best of both worlds of sitting and standing and makes it super easy to switch modes. This desk will keep your student healthier by optimizing for blood flow and movement breaks.
Desk Organizer
For the student spending hours working at their desk, help them stay organized and feeling motivated with a cute organizer to store pens, pencils, scissors, and any other desk items they might need to keep tidy. There are organizers for every sort of size and personality, such as a sleek rose gold organizer or even a dinosaur organizer.
Notebook
A classic student gift, but nevertheless always useful. Help your student feel motivated and excited about their upcoming courses with a unique notebook, such as a leather journal or fabric bound diary.
Cozy Socks
Because who doesn't love snuggling up in warm socks while studying? A pair of fuzzy socks will provide a bit of comfort when your student is feeling homesick or stressed. (And they're the perfect thing to pad around in when they're rocking sweats and dirty hair after a late homework night.) Look for socks that fit their personality, since cozy socks can feature every design from animals to superheroes to quirky patterns.
College Merchandise
If your university student has been learning remotely it may be hard for them to feel connected to their college community. Getting them merch like a college sweatshirt, a t-shirt, or sweatpants will remind them of school spirit and hopefully keep them motivated. This is especially true for schools with a big sports team since the gear can double as a tailgate outfit!
Portable Phone Charger
Let's face it, young people are rarely ever without their phones these days. But a dying or dead phone battery might not just be upsetting to their social life—it could mean missing an important tool for their education, since many remote learning platforms are phone-accessible now. They may need to follow along with a group conversation, participate in live class Q&As, set calendar reminders for assignments, or simply use the calculator function quickly.
Keep your student well-charged and happy with a high-quality portable phone charger, which is available in a variety of price points with differing lengths of charge time.
Noise-Cancelling Headphones
Remote classes are all the more challenging to follow with the family dog barking or a noisy neighbor in the background. Students will also need this once they are back on campus since dorm rooms and other public spaces are not always quiet enough for studying. Keep your student's attention on their education with noise-canceling headphones, which are of course also useful for music and video streaming.
Ergonomic Chair
Hours of class time and homework time means plenty of sitting—often with poor posture and back support. Although the student is young and bounces back quickly now, their body will thank you later by setting it up for a lifetime of strong shoulder, neck, and back support.
An ergonomic chair can improve health and productivity during long sitting periods, since they are specifically designed for ergonomic sitting positions. The Autonomous ErgoChair 2 is one of the best that works well with any desk type.
Chair Pillow for Back Support
If you are not sure the student will like a full ergonomic chair but still want to provide them with better back support, give the temporary fix of a chair pillow specifically designed for back support. Your loved one will thank you for the comfort of a chair pillow with a lumbar support feature or a chair with built-in back support.
Extra-Long Charging Cord
Keep your student charged up even as they switch from the couch, to the table, to the bed, back to the couch. An extra-long charging cord ensures they will stay charged even if there are sparse outlets in the dorm or not enough chairs next to an outlet at the library.
Candy
A classic college care package staple—for a reason! Teens and young people love candy, and it's a perfect fit for the theme of Valentine's Day. Choose a selection of your loved one's favorite candies to send, which can be a lovely addition to another gift or stand alone. If you're not sure of their candy preferences, go for a variety including the classics like chocolate candies, sour candies, and nutty candies.
Care Package Subscription Plan
As with many things in life, sometimes it's best to leave it up to the experts. Especially when those experts will do all the work of creating and shipping monthly care packages. With a care package subscription plan, you get to choose how many monthly packages you want to send, and for which months, all to show support and recognition to your college student.
Fashionable Laptop Case
A laptop case with a handle allows your student to easily transport their precious laptop around campus or to their favorite coffee shop. Look for one lightweight enough to carry solo or slip into a backpack for class.
Single-Serving Coffee Maker
If your loved one needs a caffeine kick in the morning before classes, a personal coffee maker is perfect for ensuring they get their favorite flavor, strength, and amount on time. (While saving money in the long-run on coffee shop purchases.) There are even single-serving versions for a compact dorm or bedroom.
Computer Monitor Arm
Students will end up spending hours at a time—if not the majority of the day—on their computer screen during the university semester. However, it can be difficult to manage getting the right position of the screen, especially as light angles change throughout the day.
Many majors will force students to stare at small details on their screen, such as Art History students studying a painting or Economics students building detailed spreadsheets. When paying attention to details, monitor glare can be disastrous since it can hide important details or alter the overall look of web pages and images. Not to mention, glare is a key factor in the headaches and neck pain caused by eye strain. A monitor arm makes it easy and comfortable to adjust the computer screen so that your student's studies and writing are as productive as possible.
Daily Planner
When the student is living their full university life from home, the days can run together and make it difficult to stay organized and productive. A cute or quirky day planner will help them keep track of classes, assignments, and academic appointments—in addition to their social life and hobbies. Look for a planner with sections for scheduling, taking notes, making to-do lists, or even writing daily journal entries.
Laptop Cooling Pad
A USB-powered cooling pad will keep their laptop from reaching soaring temperatures while writing that last-minute paper. Plus, the cooling pad has three ultra-quiet fans that won't make a ton of noise while in use.
Stainless Steel Water Bottle
An insulated stainless steel water bottle will keep their coffee hot for hours or their iced tea cool while your student is hammering out a term paper. Look for one that is BPA-free, durable, and spill-proof for when it's inevitably thrown in a backpack.
To-Do Notepad
A notepad with a pre-written template for to-do lists will keep your loved one on track when it comes to errands, chores, and emails. Now they won't forget to send in that assignment.
College Cookbook
For the student living away from home, it can be intimidating to regularly cook meals—a major reason that instant noodles are the 'classic' student meal, since they are so easy and cheap to make. Luckily, bonafide chefs are creating cookbooks specifically for college students with relatively cheap and easy meals, many of which can even be made just in the microwave. Most importantly, these meals are much healthier than the instant noodles, keeping your student energized and able to focus on their studies.
Desk Lamp
If your university student is like most, there will be some late nights of finishing assignments and getting a project in at the last second. Help your student stay productive through the evening with a stylish, functional desk lamp.
Blue Light Glasses
Between hours of watching class lectures over video conference apps, researching projects, and writing papers, your students is getting a lot of screen time. (And let's be honest, that doesn't include Netflix time on tv screens or social media time on phone screens.)
All of this screen time can lead to headaches, eye fatigue, and neck pain caused by eye strain. Your student will appreciate a pair of blue light glasses—which happen to be quite trendy now—to minimize their blue light exposure from screens, remain healthy and productive, and keep their eye sight strong for the rest of their life.
Bedside Caddy
A bedside caddy lets students keep important items next to their bed, even if they don't have a bedside table (as is often the case in cramped dorm rooms). Most have different compartments for a phone, laptop, books, and pens. The caddy comes in an assortment of colors and simply hooks over a student's bed frame.
Workout Clothes
In between classes, homework, and a social life, your student may very well put off going to the gym. Encourage them to stay healthy and energized with comfortable and trendy workout gear.
Desk Succulents
Dorm rooms can be pretty depressing when there aren't decorations. Give your college student some fresh air and a pop of color on their desk with beautiful baby succulents to stare at between essay pages.
Magazine Subscription
You can't go wrong with a magazine subscription that fits your student's interests! You can always select a magazine related to their studies if you'd like to remain on theme (for example, Architectural Digest for an architecture student), or find a magazine related to their personal interests such as cooking, fixing up cars, abstract art, music, or any other hobby.
Video ads for product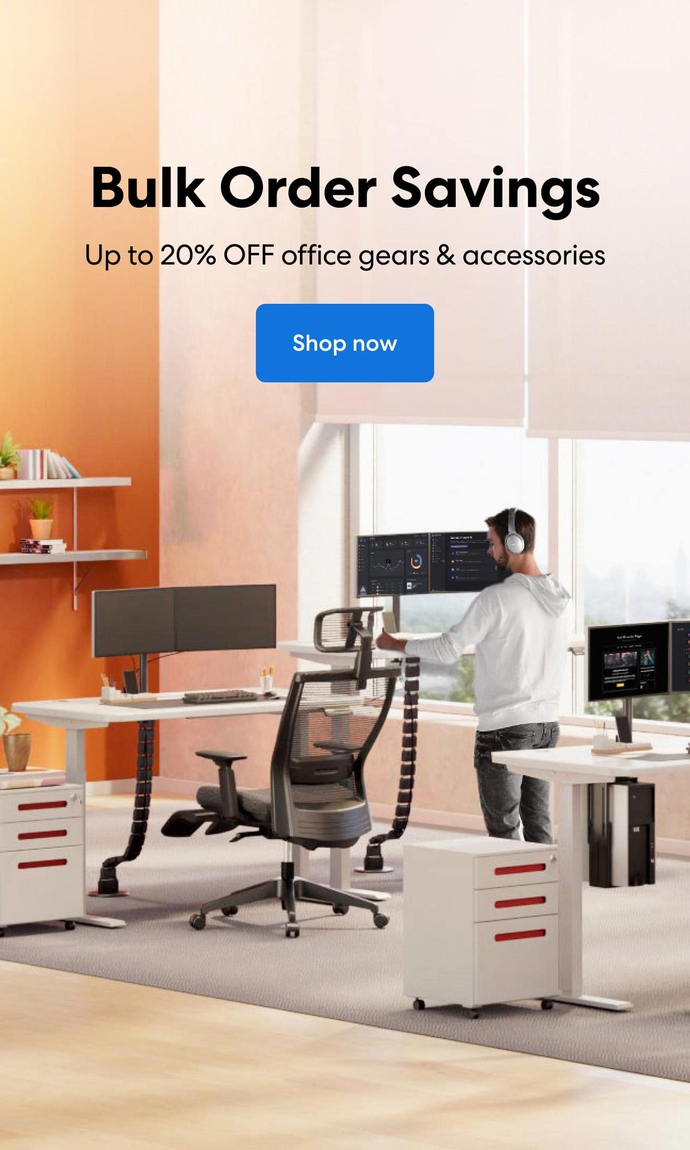 Subcribe newsletter and get $100 OFF.
Receive product updates, special offers, ergo tips, and inspiration form our team.