Smart Products
30+ Essential Items to Set up an Outdoor Office Space

Autonomous
|
Sep 11, 2022
1,335 Views
Having an outdoor office space offers the perfect midpoint between working from home and being at a traditional office. 
If you're at home, then you may find it a bit hard to focus, considering you've mentally associated the space with relaxation. Additionally, the lines between work time, lunchtime, and personal time can get seriously blurred. 
If you work from a traditional office, then the biggest drawback is going to be commute time and the possibility of having to deal with traffic. You also must couple that with the expectation of acting in an "acceptable" way. 
If you are going to be using an outdoor workspace though, you need to ensure that you have all the required office accessories and other essentials. That's why you're here today to get a high-level overview of a collection of items you should think about when setting up your outdoor home office.
31 Necessary Items for an Outdoor Office Space
1. Cable Tray
A can table tray allows you to maintain a neat workspace by offering proper cable management. Depending on the orientation of your equipment, you may wish to run it along the underside of the front, back, or side(s) of your office desk. 
2. Filing Cabinet
This is another piece of office equipment that has utility for some people while having none for others. If there is a lot of paper involved in what you do, being able to organize and store it easily is highly valuable. Alternatively, you can use a filing cabinet in conjunction with an organizer as a storage space for your accessories. 
3. Monitor Arm
If you use multiple monitors and want to recapture the tabletop real estate that their stands use, consider using a monitor arm to suspend them in the air. Additionally, the rotation functionality and freedom of movement make optimal positioning more of a reality than ever before. 
4. Laptop and Monitor Stand
If you are using a laptop with a second screen, then this laptop and monitor stand from Mount-It! is made for you. It offers the suspension functionality of a monitor arm while providing you with an area that you can incline for comfort and place your laptop on. 
5. LED Desk Lamp
A desk lamp allows you to compliment natural lighting when it's available and replace it when it's not. Check out this Autonomous LED desk lamp that offers a tremendous level of coverage, as well as adjustments to positioning, temperature, and more. Don't ignore the lighting element of ergonomics as so many others do.
6. Ergonomic Chair
Being able to work for as long as is required without compromising your short or long-term health is a blessing. Having a proper ergonomic chair with adjustable areas such as seat height, tilt tension, armrests, lumbar support, and more, is a great start. Check out the Autonomous ergonomic chair options to find the one that fits you. 
7. Standing Desk
A great adjustable standing desk is arguably the centerpiece of your entire outdoor office space setup. Sitting all day is terrible for you, but so is standing all day. The healthiest approach is to find the midpoint by using sit-stand sessions, where the desk is supported by a solid ergonomic chair. Again, Autonomous has a series of designs that are more than worth looking into. 
8. Autonomous Office Pod
You need a structure to hold the whole arrangement together, and the Autonomous Office Pod is the first such prefabricated adu option. It's affordable, flexible, and simple. 
The team visits your location and assembles it in two days, and the best part is that it even supports uneven terrain. Weather and humidity resistance are also built into the design, and a weight capacity of 2.9 tons is nothing short of superb. 
9. Autonomous WorkPod
The WorkPod is exactly what the previous entry was, but there are a couple of extras to make things even better. Along with the structure, you get an Autonomous SmartDesk and ErgoChair combo, which means you don't have to think about finding them on your own. 
10. Autonomous Studio Pod
The final option is the Autonomous StudioPod, which offers a convenient setup for many different contexts. The structure includes tremendous ventilation, a bookshelf, TV stand, closet, desk, convertible sofa bed, and even a foldable coffee table. 
11. A Decorative Element
This is probably the most obscure entry here. Essentially, you want to find something decorative for your home garden office that makes it visually attractive. 
For one person, it may be as simple as a plant. Another may wish to place a family heirloom somewhere in the office. Of course, there is nothing wrong with multiple decorative elements. 
12. Blue Light Filtering Glasses/Software
If you're using screens all day long, then eyestrain is most certainly a serious concern for your outdoor office space. Many office workers get their hands on a pair of blue light-filtering glasses to address this problem. Alternatively, you can use the built-in blue light adjustment options on your PC or get the help of a third-party piece of software such as F.lux. 
13. Paper Shredder
Not everyone will find a paper shredder useful. However, if your line of work requires you to deal with confidential documents, then throwing them out when they are no longer needed can be dangerous since you never know how and when malicious entities will get their hands on critical information. Opt for a paper shredder instead for complete destruction. 
14. Essential Oil Diffuser
A great-smelling office translates to a relaxing one and one that you look forward to being in. Getting an essential oil diffuser allows you to control the aroma of your small and enclosed space. They're cheaply available and typically come with a host of scents for you to choose from such as lavender and spearmint. 
15. Water Bottle
There's a reason why it's a legal requirement for coolers to be in office spaces. Being hydrated is non-negotiable. Have a water bottle that's easily reachable so you can take a drink when needed. If you can get a metallic one, that's even better, as you don't have to worry about BPA plastic concerns over time. 
16. Software
Any general or special purpose software needed to get your job done falls under this category. For example, you may need the Microsoft Office suite for your document, presentation, and spreadsheet needs. It's also your responsibility to ensure that you reach out to the necessary parties to get any special programs your company requires installed on your remote device. 
17. First Aid Kit
Hopefully, you'll never have to use this, but it doesn't hurt to have one. Try to get even a basic first aid kit in your office space that has a couple of band-aids, gauze, and something to clean wounds. You should be able to get a ready-made one easily enough, but you can make one if you so desire.
18. Printer/Scanner/Copier
This is another outdoor office space element that may not necessarily apply to everyone. While some people may need to physically print documents, others don't. If you are getting a printer though, try to secure one that has all-in-one functionality, so it can support you as a photocopier and a scanner too. 
19. Internet Connectivity
Your internet connection must be up to par in any outdoor office space. Typically, once you have a download speed of at least 15 Mbps and an upload speed of at least 10 Mbps, you should be fine for most applications. Standard internet service providers will be way above these numbers, but it doesn't hurt to check. 
20. Power Strip with USB Functionality
The chances are that there are several items at your desk that need to be plugged into an electrical outlet. A power strip turns one wall outlet into several conveniently located ones. It helps to have a couple of USB ports present as well to charge mobile devices. 
21. Mouse
If you are using a desktop, this one goes without saying. Laptop users get the benefit of a built-in mouse pad, but the flexibility and comfort of a traditional mouse make it a better choice. Try to make it a wireless one, as you get more freedom of movement, and you don't have to worry about the clutter that cables introduce. 
22. Keyboard
A keyboard is pretty much in the same boat as a mouse. The spacing and key positioning offered by traditional keyboards make them more suitable for use than laptop keyboards. Get one with wrist support to prevent repetitive strain injuries, and backlighting is recommended for low light conditions. 
23. Monitor
There's a similar story here, as desktops mandate monitors. While laptops have a built-in screen, they are usually too small to stand on their own. In any case, though, having two screens is recommended for greater flexibility. When you use extended displays, you can review two windows simultaneously, which makes many daily tasks a breeze to deal with. 
24. PC/Laptop
Choosing a laptop or PC for your home garden office is an important step. Ideally, you want to align the machine specs with the tasks you expect to be carrying out, leaving a little bit of breathing room. Typical office needs don't require anything too powerful, for example, while video editors may need a PC on the beefier side of the spectrum. 
25. Notepad
This is another thing that not every office worker will see the need for their outdoor office space. Many people use PC or mobile applications to take notes these days. However, if you do happen to be a traditional notetaker, then you may find a notepad to be incredibly effective. Ensure that you get one that's big enough to last you for a while. 
26. Stationery
The scope of stationary is vast. Depending on what you do, you may find pens, paper clips, pencils, etc. Incredibly useful. One of the important things to remember is to always keep spares handy. The last thing you want is your stationary running out when you need it the most. 
27. Cell Phone Holder
It's very unlikely that your mobile device is going to be anywhere else but on your desk. Having a cell phone holder gives it its own designated space, which means you will never be wondering about where it is. Additionally, being suspended vertically means you can snooze alarms, answer calls, etc. Without having to physically pick up the phone. 
28. Desk Pad
Mouse pads have seen office use for many years, even before laser mice became mainstream. However, desk pads sweeten the pot by giving you your standard mouse pad functionality while offering a greater surface area that prevents your keyboard from causing any scratches on your desk. 
29. Webcam
One thing that's synonymous with remote work is virtual meetings using software systems such as Microsoft Teams or Zoom. Whenever these meetings take the form of video conferences, a webcam becomes necessary. Try to look for one that offers HD functionality. Lighting is important too, which makes models such as the Razer Kiyo with its built-in light highly desirable. 
30. Speakers
Typically, there aren't any job-related functions that require speakers. If you are in a meeting, for example, you will likely be using headphones to prevent an echo whenever your microphone is active. However, listening to music while working is a very common practice, and having a good pair of speakers that fills the room with sound is a great way to do it. 
31. Noise-canceling Headphones
Headphones serve the same purpose as speakers in outdoor office space, though they offer greater privacy by preventing anyone who may be in the vicinity of your outdoor home office from hearing what you're listening to. Again, whenever you have applications that require the simultaneous use of an output and input device, having headphones eliminates the potential of an echo. 
Additionally, the noise canceling element allows you to block out whatever distractions may be around you. 
Final Remarks
Not all outdoor home offices get to be modeled after a dream setup. Certainly, you should think about the kind of items that are appropriate to your line of work and those that may make you a bit more comfortable. 
Nevertheless, all the entries above form a tremendous baseline to get you started. You're covered from the structure to just about everything you need to put in it to hit the ground running. With that, you should find your outdoor working space to be very comfortable and productivity fostering.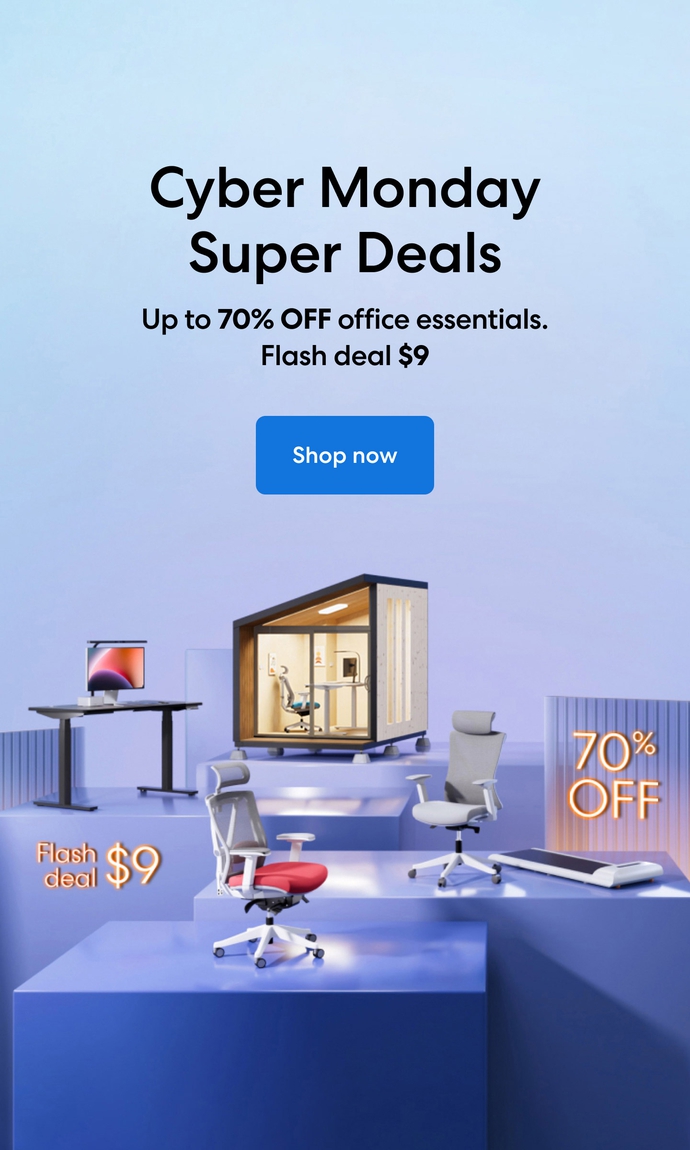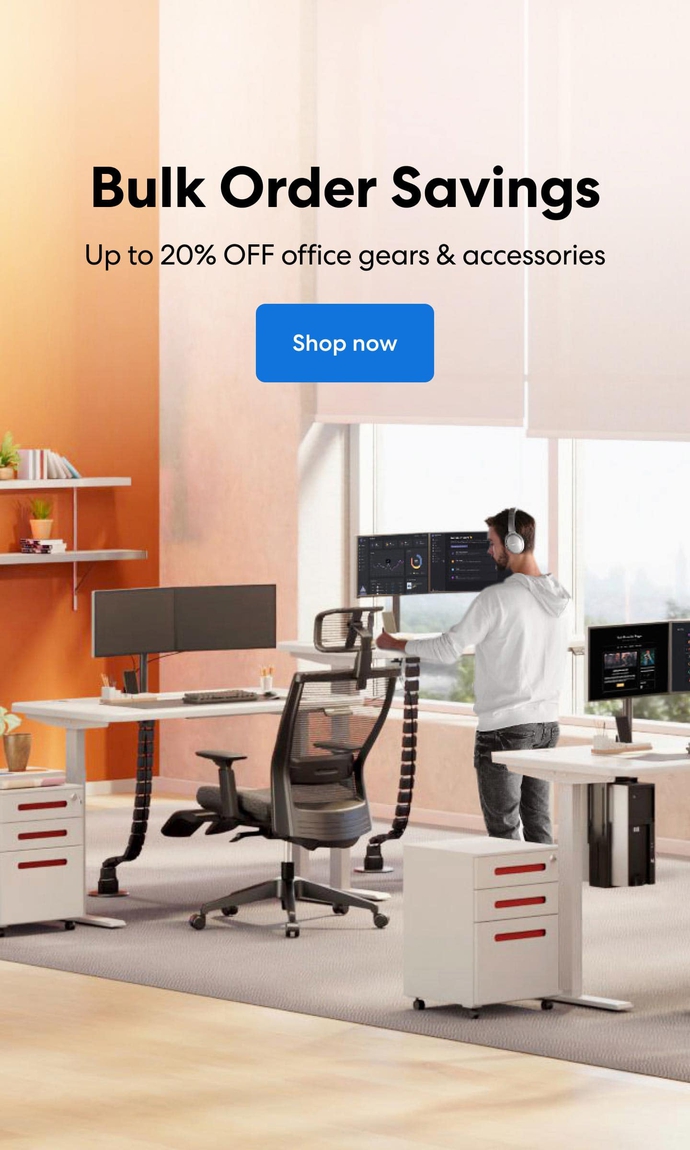 Subcribe newsletter and get $100 OFF.
Receive product updates, special offers, ergo tips, and inspiration form our team.