Workplace Inspiration
30+ Wall Decor Ideas to Refresh Your Working & Living Space

Autonomous
|
Sep 2, 2022
1,108 Views
Looking for wall décor ideas for your room? Those empty walls are full of opportunities, and a few upgrades may transform a house into a home. Continue reading if you're prepared to transform those boring, bare walls into chic focal points. No matter your taste, we have the skills to accentuate your walls and highlight your uniqueness. Whether you're a bookworm, a nature lover, or an art collector, you can personalize your walls to display the things you admire. Find 33 wall décor ideas that can give your home more style. 
33 Wall Decor Ideas To Upgrade Your Home & Office
1. Large Scale Art
In a tiny room, a large artwork or image will draw attention and set the mood. Consider adding color with a vivid abstract piece, or try a black-and-white photograph in a minimalist setting. 
2. 3D Wall Panels
Paneling walls have held a special place in the decorating routine for a while, and 3D wall panels have been in high demand because of their superb ability to complement the décor of any space. This is a very reasonable option for both inside and exterior wall art.
3. Gallery Wall
Can't decide between one piece of art?; perhaps, you would prefer a well-designed gallery mix? Create an art gallery display on your wall. 
If the frames are equally spaced, with the same size, color, and same backing, an asymmetrical display design is enhanced. 
Go against the grain, though, and combine a ragtag group of framed images, paintings, and illustrations at various scales for an eclectic fusion.
Play around with print media, and take calligraphy with you! The artistic calligraphy includes Japanese brush typefaces, Chinese characters inspired by nature, and Islamic metal inlays on marble, all of which are excellent options for wall décor.  
4. Accent Wall
Create an accent wall using a vivid and striking paint color, or introduce patterns using wallpaper, stenciling, or other artistic accent wall ideas. (While you're at it, consider changing your ceiling!) In a compact area, these office wall painting ideas can make a bigger statement. 
5. Showcase a Fabric
A tapestry or wall hanging can give a neutral room a soothing touch and a splash of color and pattern. Think of framing old scarves or other lovely textiles for wall décor ideas. Bonus: When it comes time to move to your new house, these are far simpler to more than framed paintings. 
6. Mount Mirrors
Mirrors bounce light back into the room, making a tiny space appear bigger and brighter. Try hanging a large mirror or arranging a number of little pieces salon-style. 
7. Build Shelves
Take your library to the wall if you've run out of room on the floor for shelves. Install floating shelves to hold hardcover books, miniature sculptures, and other various items. You can also look at other types of office wall décor.
We enjoy having bookshelves filled with fantastic stories that transport us to far-off places. 
What better way to decorate a wide white office wall than to place a classy bookcase there? 
Traditional antique bookcases are great office wall décor ideas because of their complex frames and open shelves. Add a sliding ladder to a floor-to-ceiling library for a bookcase that seems like it belongs in a Thomas Hardy novel. 
Put your bookshelf on a diet, and choose stacked shelves without backs for a feature wall that is airy and modern. 
8. Hang Plates
When you can display your exquisite china, why keep it hidden in the cabinet? To display your finest serving platters and dishes, use wire plate hangers. This might be the move for you if you're a design item collector — we've even seen breadboards displayed as works of art on the walls of a Brooklyn brownstone. 
9. Sculptural Sconces
Without taking up room on the floor or a side table, sconces add an additional source of light. To add elegance and light, pick a striking design that also functions as a wall sculpture 
10.  Greener Is Better
Plants don't only have to be window-sill decor. To add some greenery and wildlife to your walls, try hanging or wall-mounting planters above your standing desk. If you're not a big fan of water, you might choose a great artificial plant. 
11.  Macrame
Essentially, the macramé wall hangings from the 1970s are making a major comeback for wall décor ideas. Its weavings give the cold walls texture and warmth. You can purchase them on Etsy or try making your own. 
12.  Beaded Wall Art
The Maasai beading tradition was used to create this wall hanging. We adore its simple black and white design. The magnificent object was crafted by hand in Tanzania using Czech glass beads. 
13.  Oversized Wall Calendar
A huge calendar looks great on the wall of a kitchen or office. Keep track of your events while including a unique element to make your place come alive. To create a modern design and add a splash of color, choose colorful calendars with fonts. This can be placed next to your ergonomic chair for easy access. 
14.  Hang Baskets
Add baskets to your wall for yet another geometric wall idea! An assortment of baskets in various sizes and textures can add life to any empty space, whether you want to go colorful or neutral. 
15.  Use a Chalkboard
A large board is a useful addition to any area, including a kitchen, a playroom, and an office. Also, a whiteboard is a contemporary alternative to a chalkboard and doesn't have to be white; they come in a range of colors and patterns. A chalkboard adds a rustic feel to any space. Take it a step further by using WriteWallPaint, which produces a writable surface, to paint a whole wall. 
16.  Keep Track of Your Journeys with a Map
Make a big world map a part of the decor of your room. A customized map of a city, state, nation, or the entire world can be customized in almost any color theme. By placing pins to the locations you've been to or intend to go to, you can make it extremely personalized. 
17.  Mount Your Television
A flat screen can be an excellent way to enhance your wall, free up space above your media cabinet, and change the look of your living room or bedroom. Additionally, certain televisions, such the appropriately called "The Frame," are designed to look like works of art when turned off. You can use Samsung and ambient mode to display the photos you want on your television. 
18.  Hang Your Bicycle
Essentially, you'll have more floor space and a more attractive focal point on your blank wall if you design a chic and sophisticated wall-mounting system for your bikes. One of the coolest and most useful office wall decor ideas out there is exactly this. 
19.  Removable Wall Art
Removable wall art for adults that is elegant and sophisticated is widely available in online stores. The adhesive murals are available in many different styles and feature a nice matte finish. If you're renting and don't want to harm the walls, removable wall art is ideal. 
Grass cloth readily adds numerous textures and dimensions to the wall while being more environmentally friendly because it is made from natural reed. 
Due to the allure of craftsmanship and tradition, wall murals are experiencing a rebirth this season, including elaborate abstract paintings, plaster sculptures, and archival frescos. 
Let your next Zoom meeting be stylish! 
20.  Get an Ethereal
A hanging light mounted against a wall is a lovely example of how form and function can coexist together. They provide an unexpected design feature that gives a room an enticing soft-focus feel in addition to illuminating it. 
21.  Put Rugs on the Wall
Found a rug that's too gorgeous to be stepped on? Hang them up! 
We adore great rugs, especially those with abstract patterns. They look fantastic on the floor and also serve as a great option for wall décor ideas. Picks that are two by three feet stand out when they are hung above a fireplace. Alternatively, you could go bigger and cover more area. The possibilities are endless and unexpected, and we're here for it. 
Rugs that are woven, braided, or knotted have gorgeous textures, complex patterns, and vibrant colors that make them the perfect canvas for wall art. 
A floor ornament mounted on a wall will also undoubtedly impress and attract the visitors' interests. 
Also, excellent discussion starters are native or vintage tapestries that tell a story. Exquisite silk rugs are highly popular as drapery.
Feeling a little bohemian? A distinctive wall hanging could be a patchwork quilt or a quirky tasseled blanket. There are some lovely decoration ideas on Etsy.
22.  Taxidermy
Purchase a head made of grass and palm stems. The one-of-a-kind piece is made by hand in Morocco and comes in the form of an elephant, a sheep, or a goat. No animals were injured in the development of this beautiful interior décor. 
23.  Constellation
Make a little universe to hang above your headboard. This looks like it could easily work with any age when placed in a kid's bedroom. These are simple but effective DIY wall décor ideas: Simply make a template, attach it to the wall, and space roofing nails with white thread (paint it white to resemble stars). 
24.  Be Creative
Really, anything may be used as wall decor. Consider this amusing trio of skateboards. The vibrant color combination is ideal for a contemporary design and will add energy to any space. 
25.  Hang Hats
No more closet space? Why not build a useful display with eye-catching displays while displaying your finery? Hang hats in a group using hooks or a pegboard. 
26.  Shiplap
Shiplap paneling will give your room a light, coastal vibe, and it looks great in any room. Consider adding the wooden boards generally used as exterior cladding if the walls of your dining room, bedroom, foyer, or even bathroom need to be renovated. 
27.  Photo Collage Wall
It's easy to reproduce this memory wall, and it lets you honor all your cherished family members. Simply print your images, then hang them using thumbtacks in a neat rectangle. 
28.  Temporary Wallpaper
Temporary wallpaper is the best way to add flair to a space in less than a day. You'll be able to see how a combination of patterns and colors next to neutral wallpaper can instantly make a space pop. 
29.  Blend and Match
Gallery walls can include more than just framed images and posters. Some owners can create a beautiful, little composition on the pink wall of their living room using fabric hangings, pennants, tassels, and other trinkets. They can also use twinkle lights and a beaded curtain to make a unique, entertaining backdrop for their television. 
30.  Pile on the Textures
A certain approach to embracing maximalism is to decorate your walls with pieces that go with the rest of the room's decor. Throw pillows and rugs, for instance, can complement the colors and patterns in wall art. 
31.  Hang Picture Ledges
Looking for a chic way to display and store some of your most priceless possessions? Pictures ledges are surprisingly inexpensive and instantly transform your prized possessions into pieces of art, like this wall of cameras on Alt for Damerne. These are great if you're looking for large wall décor ideas. 
32.  Paint a Wall Motif
Are you looking for a creative project you can do on a rainy weekend? Just as Laura did on "A Beautiful Mess," create your own statement wall using a few pieces of cardboard and paint pens. 
33.  Décor on Console
In the foyer, living room, bedroom, or in front of an empty wall, the adaptable console table is always a go-to for large wall décor ideas.
Instead of leaving it empty, arrange the art frames in a stack for your guests to browse, or attach them directly over the console. You can even scatter beautiful planters and elegant lanterns on the table, but not all of these at once. 
Thus, consoles have the power to create a "moment" that forces you to pause and gaze! 
Conclusion
Now that you have an overall idea of how to decorate your blank wall and some wall design ideas, you should start shopping! Autonomous also has a great variety of office accessories if you're wanting to make your life simpler.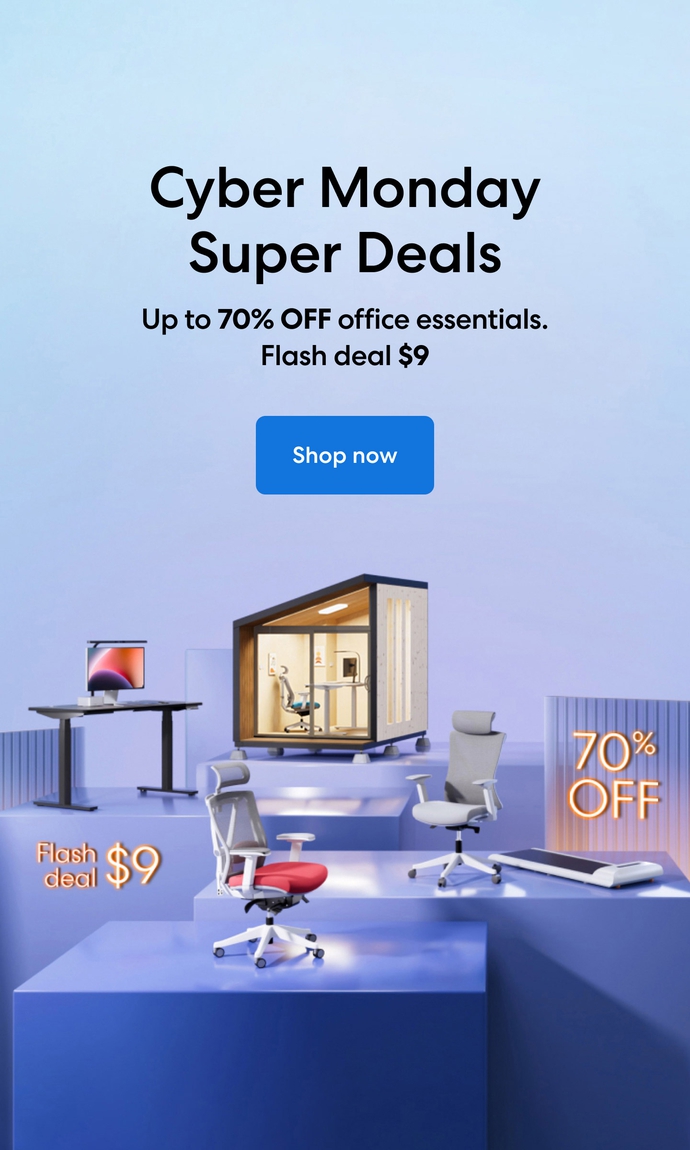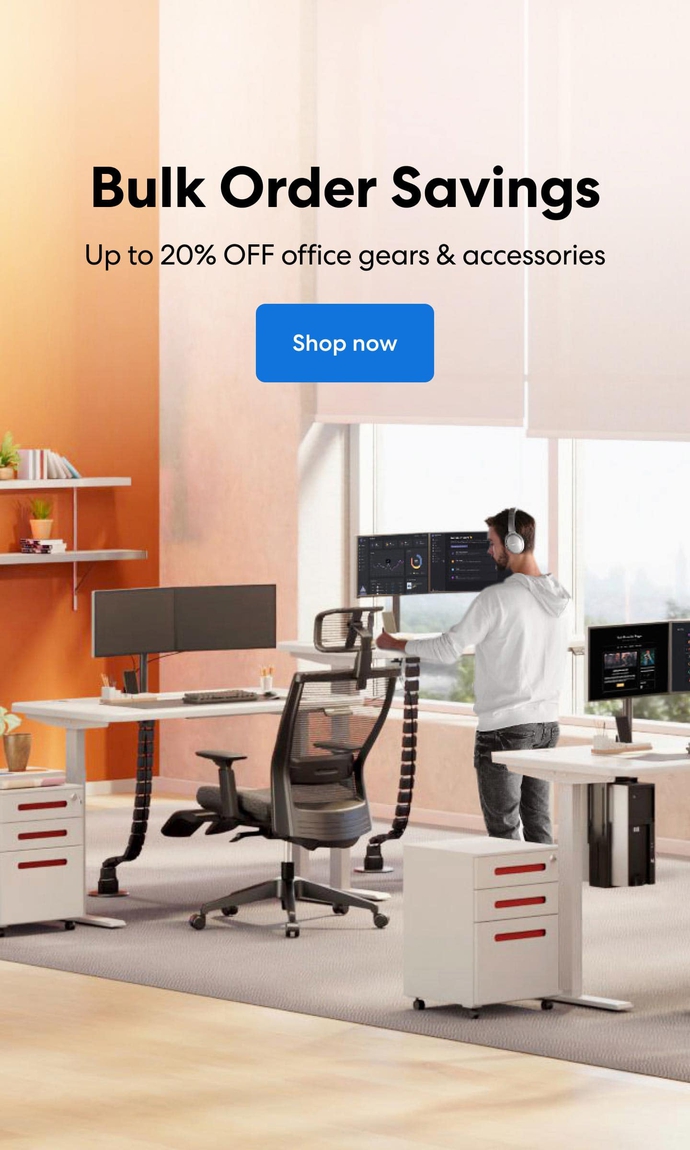 Subcribe newsletter and get $100 OFF.
Receive product updates, special offers, ergo tips, and inspiration form our team.