Smart Products
4 Best Artist Chairs for Drawing & Painting in 2023
2,496 Views
Art is quite the expression of what one may visualize or feel internally. However, the person creating it must remain comfortable if the finished product is supposed to be of the highest quality. So, you can imagine that the presence of a stellar artist chair can never be overestimated.
To scope things effectively, this is not necessarily referring to those who do traditional paintings. Make no mistake as these people are also extremely talented artists worthy of every single accolade they receive. However, this article focuses on digital ones.
Whether it be an independent business or an artist who is creating various pieces for someone else, one cannot deny the importance of certain tools. Sure, the profession may not necessarily demand the chair as it does a graphics tablet or a PC, but having a solid one still contributes to a winning piece in the end.
So, what can you expect to understand here where artist chairs are concerned? Well, first there are the considerations that you want to bear in mind if ever you find yourself selecting one.
For example, the chairs on this list are not necessarily expensive by any stretch of the imagination. It's very unlikely that you are buying a chair for any workspace at all with the expectation to replace it anytime soon.
Some investments such as these are meant to be for the long term, meaning that your initial selection must be effective. Being damaged and becoming inoperable before the useful life even begins is one potential scary thought.
Beyond that, you could have no failures at all but find yourself in another position that is arguably equally undesirable. Picture this for a moment, you've purchased an ergonomic chair and you're ready to start creating some beautiful visuals.
Upon sitting on the artist chair, it seems as if everything is fine. Some time passes, and you find that the dimensions are not necessarily working with you. The lumbar support is too high, you're too close to the ground, etc. Now, you would think that you would have purchased an adjustable unit, however, you were quite misinformed and opted for a statically built unit instead.
To what extent do you think you can visit that manufacturer and communicate that you bought a chair that is working perfectly fine, but you want to return it because you are not necessarily a fan of its dimensions and The fact that it's not adjustable?
That's not to say that some vendors would not accommodate you, but it's not a mandatory thing. It's typically governed by policies, and if no policy covers you, then it becomes a discretionary matter.
For example, some vendors have decided that they have a no refund or exchange policy on items that don't have some kind of discernible fault. Remember that in this example everything is technically working fine.
It's just a matter of your being displeased with the features. So, how about you avoid that entire situation and ensure that your digital artist desk setup features something that is known for being ergonomic for artists and anyone else who may need to use it?
What Artists Should Consider When Choosing an Artist Chair
Backrest
The backrest is undoubtedly one of the most critical parts of any ergonomic artist chair. After all, it is the piece that's going to support your entire back, which is likely the largest surface area of your body that's making contact with the unit.
It's more than an area for you to lean back against or just one that happens to be touching you. Instead, it is supposed to be offering you incredible comfort. Digital art is a discipline of patience, meaning that you could potentially be sitting on this chair for a very long time during a single work session.
The more uncomfortable the unit is, the more of a difficulty that's going to present. That's why when you choose to buy an ergonomic chair, you should keep an eye out for details. Luckily, the information being presented here gives you a clearer picture of what those details should be.
Beyond the level of comfort, there is also the matter of support. Even if a chair were to feel incredibly plush, you cannot base your entire decision on its softness. Guess what? If you do and that's all it brings to the table, as soft as it is, you are going to be suffering from back pain.
So, what you want to do is pay special attention to ensure that you do get a backrest that is soft enough to the touch, but at the same time, it happens to be firm enough to support your back, keeping it in an upright and neutral position.
Lumbar Support
Technically speaking, lumbar support of the artist chair is found along the backrest, however, it is often sought as a separate feature, particularly because it tends to be its own mechanism, even featuring its own adjustability control whenever present.
The lumbar or lower spine is seemingly the most physically compromised area among office workers. You would be surprised to know just how many people there are suffering from some kind of low back pain, from moderate to severe. You may even be dealing with a spot of that back pain yourself, considering the prevalence indicated.
Your spine has a natural curvature, and even though human bodies often feature the same parts, not all of them are designed similarly. So, what you may find is that static lumbar support is spot on for one person, but the next struggles to use it because the curve is angled differently.
So, the point here is that you want to keep an eye out for adjustable lumbar supports, just in case those factory settings are not hitting the mark.
Material
There are two layers to your material selection if you want the best chair for drawing. First, there is comfort. Again, you are going to be on this thing for however long, so you might as well be comfortable doing it.
Mesh backrests, for example, may be incredibly comfortable for you to sit on because of the texture. Additionally, since the holed pattern creates a well-implemented continuous course of airflow facilitating, it becomes that much harder for you to build up heat and start perspiring throughout the workday.
Certainly, the feeling of sweat as you're trying to get some work done cannot be appealing in the least.
Apart from comfort, there is also a durability element to this. So, how long does the PU leather last? What about the mesh? Additionally, remember everything that you find under the backrest or even along it. How durable are the casters? Is it easy enough to ascertain the frame's sturdiness? Should you ascertain it, is it something that you are satisfied with?
Adjustability
You should never buy an ergonomic artist chair if it doesn't feature proper adjustability features. Remember that the very definition of ergonomics is the fit between a person, the equipment being used, and the environment.
Therefore, if you cannot tailor the unit to your needs, can you say it's the best chair for an artist? The general rule of thumb here is that the more adjusting you can do to the chair, the better it's likely going to be for you.
The best chair for an artist needs is the one where you can adjust the lumbar support, back tilt tension and angle, seat height, and even your armrests. Sure, some manufacturers throw in additional bells and whistles to make their offerings more appealing, but this is all that is needed right now.
You're encouraged to brainstorm what an ergonomic artist chair would look like to you. Think of all the moving parts and which ones are most relevant to you. All of them should probably either be one size fits all or adjustable such that you can make it desirable.
If ever you find yourself looking at a chair that is missing the mark, then it is probably in your best interest to go on to the next one.
Armrest
This one is arguably more important for artists than it is for a lot of other groups. Considering the slow-moving style of art production, especially with one hand just barely changing position periodically, while it's outstretched.
You can imagine that every so often you want to rest your elbows on your forearms on your armrest and dispel some of the fatigue that you may have built up.
Again, this is an area where you do not want to go for the static armrest unless you happen to be there exact body type that fits the default positioning,
To this end, you are going to need to vary things up a bit. Some armrests of the artist chair offer vertical adjustment only, and they can be very good. However, some take it a step further offering 3D or even 4D adjustment styles.
Honestly, even if a static armrest setup works for you at its default position, what happens if you want to rest your arms slightly differently? In such a case you'd be out of luck, because your chair simply doesn't support that kind of configuration.
Best Chairs for Artist Needs
1. Autonomous ErgoChair Pro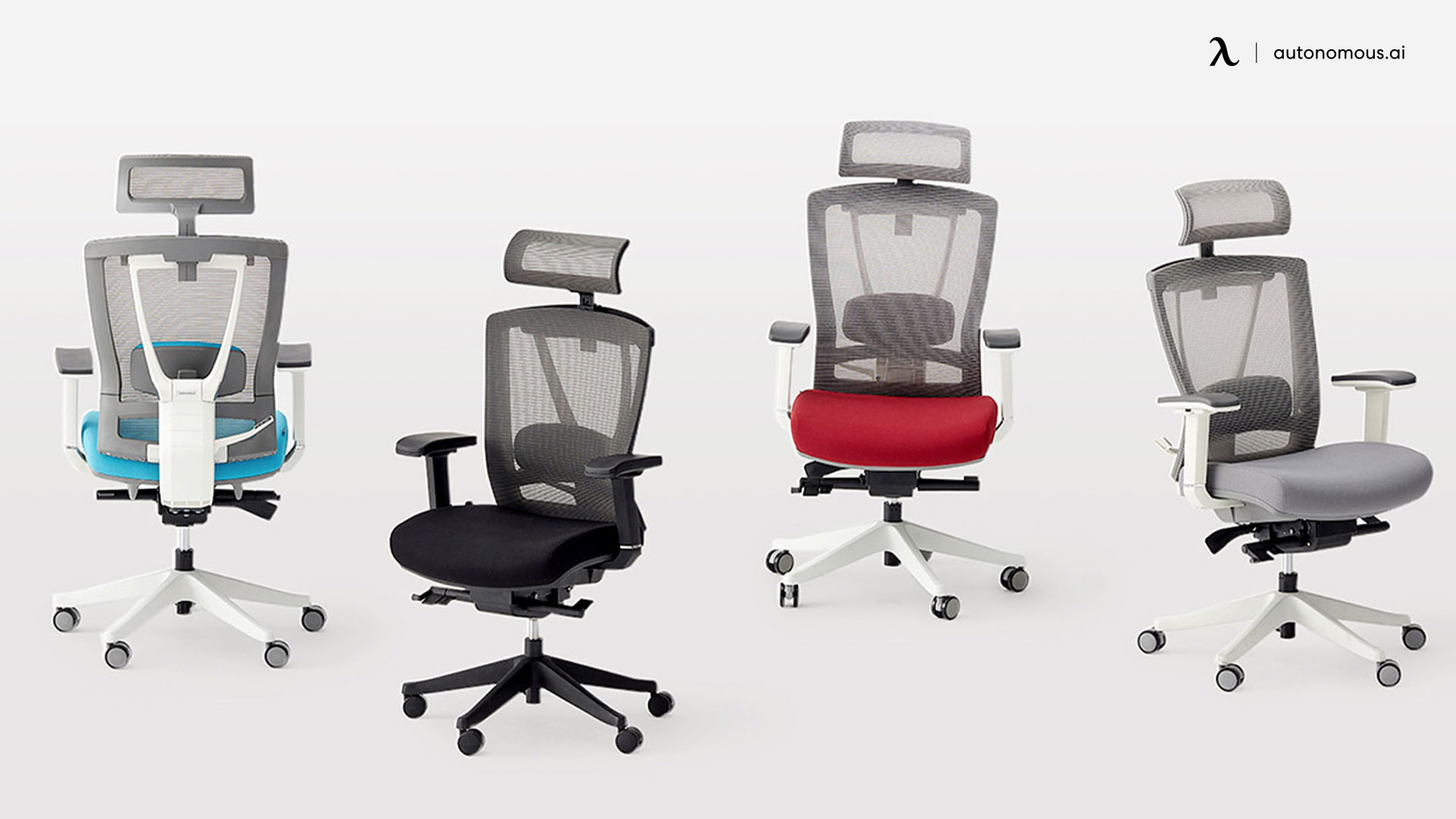 If you're looking to buy an ergonomic chair, then the Autonomous ErgoChair Pro is a wonderful place to start. It shows Autonomous' incredible attention to detail and ensuring that different people of all shapes and sizes can enjoy a design.
The major selling point of this chair for digital artists here is the multiple adjustable features, including seat height, lumbar support, recline, tilt tension and angle, armrest, headrest, etc.
Beyond that, the build quality is incredibly stellar, bringing together comfort and superior quality in the material choices. On top of that, you can purchase it in a few traditional and extra normal colors, which means that you should be able to fit one into any ergonomic office space with no problem.
2. Autonomous ErgoChair Pro+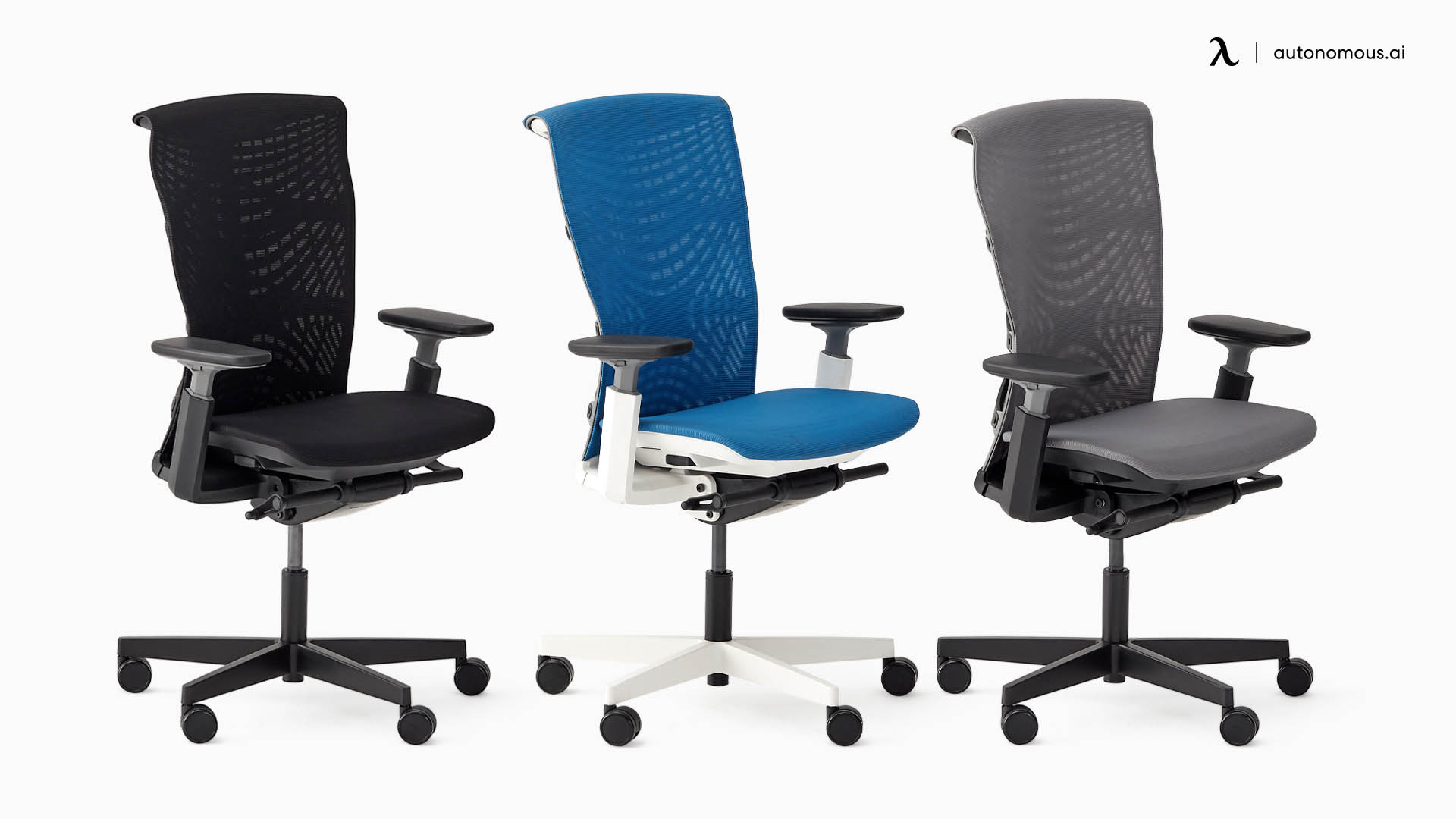 Next on the artist chair list is the Autonomous ErgoChair Pro+, which is the next step up from the previous model. This is Autonomous' pinnacle of ergonomic design, built on the principle of unrestricted movement. You don't often see a frameless backrest.
This is especially true for one that somehow manages to adjust as you move, wrap around your back's contours, and subtly force you into the correct sitting position. Again, the design features materials of superb quality, and you are likely to be smitten with the experience you get from using one of these.
3. Steelcase Leap Chair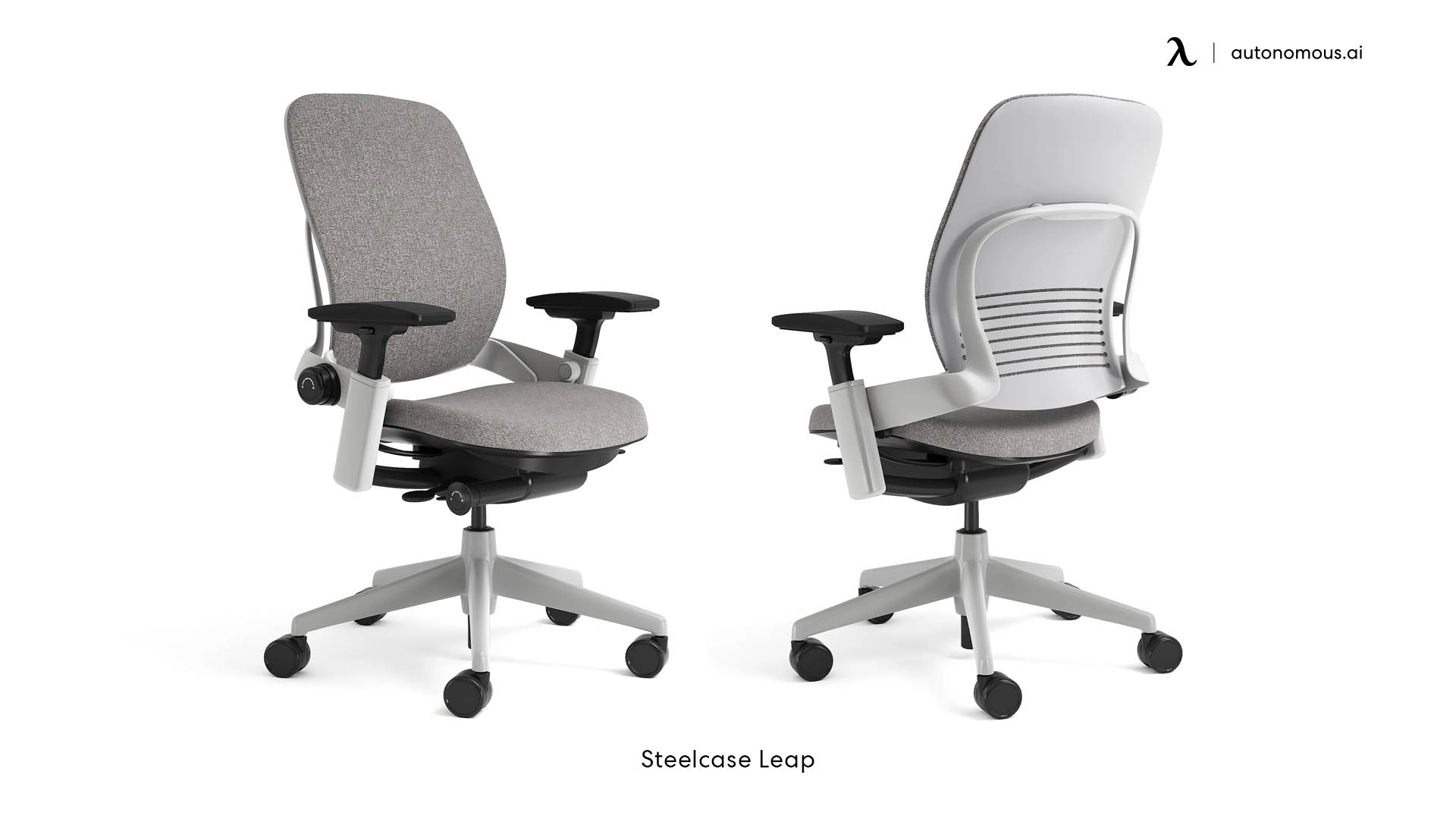 Steelcase is another highly regarded brand, and it's no surprise that it finds itself here with its tremendous Leap design. The best way to describe this artist chair is that the entire chair is adjustable.
It doesn't necessarily have a traditional look, featuring a seating pad with a curved cavity in the middle, as opposed to your standard style. Nevertheless, it can provide you with the support you need to demonstrate your artistic flair.
The materials used in the build quality of this chair for digital artists are solid, and its footprint is not necessarily the largest. Note, however, that the cost can be a little on the prohibitive side.
4. Flash Furniture Drafting Chair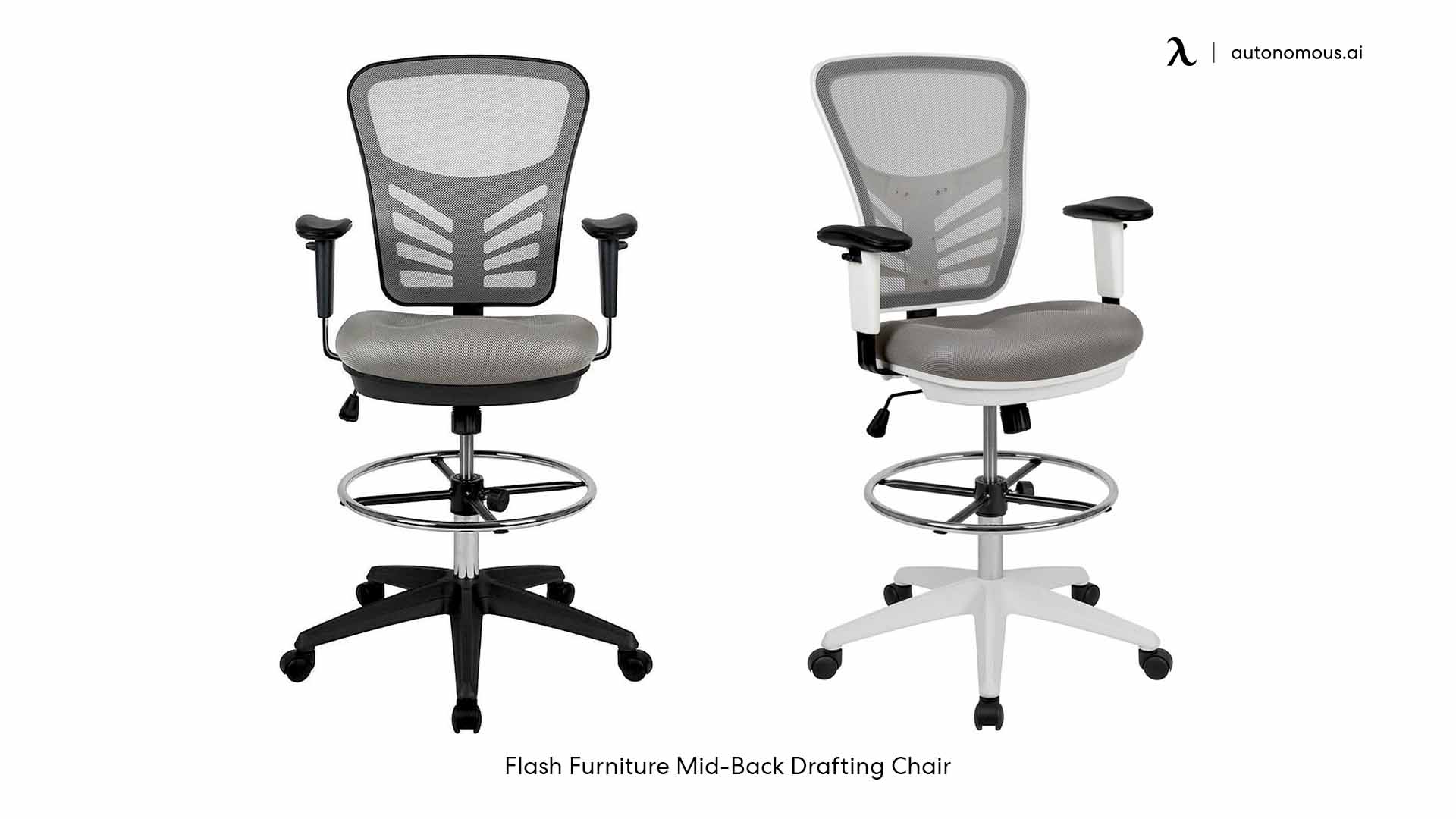 This chair almost reminds you of an artistic stool almost, with quite an interesting design. It's very aesthetically pleasing, has numerous color options, and is even more comfortable than it looks.
If nothing else, it helps you to maintain your posture tremendously. Additionally, though you may not get that vibe from looking at it, the backrest is more spacious than you can imagine, so sitting at your drawing table for long periods should be no problem, regardless of your size.
The backrest of this artist chair is made of mesh, allowing for easy airflow. Additionally, the rest of the materials used, such as the heavy-duty plastic in the base, create a durable design for you.
Final Remarks
So, now you're a bit more in tune with the features that matter. Additionally, you got to see some pretty great recommendations where models are concerned. The best part is that you can see where they embody some of the principles discussed earlier, such as the need for adjustability.
There is no doubt that you are now able to effectively select your seating option.
Hey, you have special pricing through your company.
Get exclusive rewards
for your first Autonomous blog subscription.
WRITTEN BYAutonomous
We build office products to help you work smarter.