Over the last years, we have realized one thing to the core: health and wellness importance in our lives. The need for a healthy body and mind was always understood, but until we were quarantined into our homes for more than 10 months, we didn't realize the role a healthy lifestyle plays in our growth and wellness.
This is particularly because of the realization that one cannot feel healthy If they are not healthy, regardless of the type of health involved in the discussion. This focused on a healthy body and a proper mind that is positive and free from any stress and works calmly in tense situations like uncertainty. To achieve wellness in the chaos, many people opted for routines like proper home office setup where they could work peacefully and attain proper work-life balance, as well as home workout gym setups to ensure their physical body is well taken care of.
Having such practices in daily routine plays out to the benefit in many ways, but most importantly, it makes one realize that they can achieve a perfectly healthy life on their own through their homes. Hence you will find many people involved in workout routines from home and even proper meditation sessions. If you also know someone serious and keen about improving their mental and physical health, then there is no better option for them than healthy lifestyle gifts. This article will cover the top healthy lifestyle gift ideas that make a wonderful addition to their healthy routine. 

Top Gift Ideas for Healthy Lifestyle
Leading a healthy lifestyle is not as hard as one would have thought until one practiced following it. In most cases, you don't even need a partner to follow the health journey with you; in some cases, you can carry a healthy lifestyle without much equipment involved. But for health-conscious people, there is no better gesture of love than you showing the care you have for their health and wellness. Here are our top picks for gifts to promote a healthy lifestyle.
1. Indoor Cycling Bike
Cycling is wonderful and one of the easiest ways to burn calories. Even if you don't have a long road to cycle on, you can always turn on the music, hop on an indoor cycle, and imagine your journey towards your goal weight and body. An indoor cycling bike makes one of the best home gym equipment and a healthy lifestyle gift.
This OVICX indoor cycling bike is the modern world of fitness from home because it is an amazing machine to workout, and you can connect it with a workout application to follow a proper workout routine.
It offers Bluetooth connectivity for music control and even a tutorial on how to pace yourself up. The smooth drive system requires your muscles to work but not even put an inch of stress on your joints. Moreover, you also get a tablet or phone holder to keep track of your important calls or watch a video as you work out.
2. Massage Gun
A massage gun is a must-have in the cupboard for people who work out and indulge in sports often. Since our muscles only can take so much and might start aching badly if they are not relaxed after an intense workout. This ultra-portable OVICX deep tissue massage gun works on muscle relaxation to a deeper level. It is highly useful for athletes and professional bodybuilders because you can get everything from basic to extreme.
The massage gun works on battery and can give an action time of 7 hours per charge. You can use the 4 intensity levels and 4 massage heads to achieve the right results and massage intensity per your needs.
3. Foldable Treadmill
You might have passed many treadmill options for healthy lifestyle gifts for your wellness enthusiast buddies, but a folding treadmill makes you look twice. This is ideal for their compact homes and home gym setups. The WalkingPad A1 PRO foldable walking treadmill is a modern solution for tiny homes that could use a proper workout time. This treadmill is an incomparable gift for many reasons, but its patented foldable technology makes it suitable for every home.
It has a 4-layered structure for sturdy and pain-free movement, and this feature makes it highly suitable for people with complaints about joint pain. It can be connected with the walkingpad KS fitness app, so you can track and even take control of your workout routine. If you are looking for even an advanced version, you can also check the WalkingPad R1 Pro, a foldable treadmill with similar and better features. And even though the price tag doesn't matter when it comes to gifts, these come with a discount when you purchase with an employee purchase program.
What to Look for in A Healthy Lifestyle Gift?
Finding the perfect present for a friend or family member who enjoys working out can be difficult because they probably have their routine down to a science, are outfitting their homes as gyms, and have a tonne of elaborate playlists saved on their phones. Receiving one of the greatest fitness presents can help keep your favorite fitness enthusiasts motivated, whether they never skip a session or prefer to alternate their classes throughout the week. Here are some things to remember when buying something for a fitness lover.
Practicality
Unlike a showpiece, fitness equipment needs to be useful because they cannot just put it on display and let the space be occupied. Make sure you choose a gift that caters to the type of workout they love and follow. Gifting something related to pilates only workouts on machines doesn't seem wise.
Quality
If it is about workout equipment, you cannot settle for a piece of machinery with loose nuts and bolts that makes a screeching sound every time someone steps on them. Be aware that you will need to spend some money and hence opt for quality over quantity in this case.
Thoughtfulness
When it comes to buying a gift for someone, thoughtfulness is imperative. Think about what they need. Maybe they work out the best but don't consider keeping themselves hydrated or well rested. A water bottle or a massage gun can be a good way to let them know they deserve to remain healthy and well rested.
Video ads for product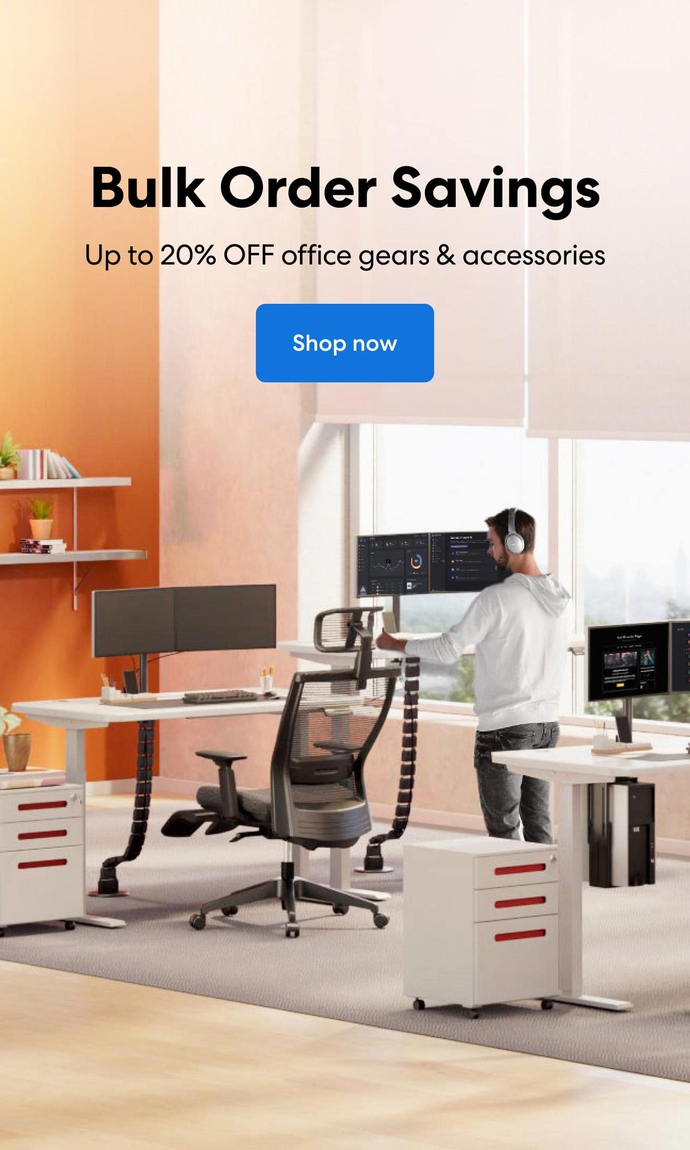 Subcribe newsletter and get $100 OFF.
Receive product updates, special offers, ergo tips, and inspiration form our team.