Workplace Inspiration
4 Work from Home Setups for Productivity Boosting

Autonomous
|
Oct 4, 2021
1,363 Views
Did it ever occur to you that the reason behind your unproductivity or inability to work the best isn't because of the workload or type of work? Most of us claim work stress as a major reason for not being able to perform. However, while a toxic workplace, in many ways, affects the morale and efficiency of the employees, it isn't the only factor that makes a person lazy or unproductive.
The truth is when we talk about work, there are several factors at play, especially for work from home desk setups. And you cannot ignore the fact that everything from the type of work from home setup to the choice of office chair will greatly impact the final result. This also includes the laptop you are using or even the application of ergonomics in the work at home desk setup.
Even if you are going for a minimalist work from home setup, you cannot ignore the important features or must-haves things in your work from home desk setup ideas. Not to worry, this article has some of the best tips and tricks to make work from home office setup ideas that are productive and light on your pocket too.
Set up a Routine
Do we all think about when we used to get up by 7, get ready and reach office on time? This seems like a distant memory, especially if your office has shifted to a remote work arrangement entirely. Routines are hard but once made; they seem too natural to proceed with. And a little disruption in routine can affect everything hence the depression or hard time we all face when transitioning to work from home.
Now, as we all are set, we have become too comfortable or even lazy to get up from our bed and work properly. This has led to many issues, such as back pain and posture problems. Even though you don't have long hours to commute to work, set up a routine that will set you to work on time.
It is ideal for making a checklist of things you need to do before you sit on that workstation. For example, if you own a standing desk, then an ideal routine would be to switch between sit and stand positions or even take a little walk around at regular intervals. Routine will help you establish discipline, and soon you will find yourself ready to work during the set hours.
Workstation Setup
Workstation setup starts when you search for the right laptop and ends at the last accessory for your work desk. Start with buying a table that fits your home office size, needs, design, and theme. If you are short on space, you can also get a corner desk to make things work at the corner. Pair it with the right ergonomic chair once you are done with the desk, so your posture or health is not compromised.
Moving on, you need to get on board with technology. There is no full stop to technology in the market, but you have to look into various factors such as needs and price. A Macbook work from the home setup is common as it gives the due amount of productivity and equips you well with the technology you need.
Once you have bought the right laptop or even a computer setup, now is the time to accessorize your desk. You can get items like a monitor arm if you need to set up a multiple monitor system. Another great idea is to invest in a cable organizer, so your wires and cables aren't tangled, and you aren't greeted at a messy workstation.
Once you are done with cable organizing, go on efficiently with arranging files and documents. In such cases, a filing cabinet can be a great helping hand to give you access to a bunch of files right by your side. Later on, you can constantly upgrade the accessories depending on your needs and requirements.
A Focused Workspace
Setting a boundary between work and life balance is as important as it gets. The great thing about physical offices is that once you step out of the door, it's you and your family time. But with working from home, the work doesn't just end. This is also a major concern amongst the employees in the early days of work from routine. Some employees felt a loss of work-life balance as they were constantly connected to their bosses or superiors through 24/7 virtual connection.
Create a quietly focused work from home desk setup if you have the luxury of setting boundaries and working hours while at home with family. Find a clean and organized room or area at home that the family doesn't use regularly. A standing desk or elevated office may be the ideal solution if you're used to walking from meeting to meeting, allowing you to walk in the place and reducing the amount of time you spend sitting during the day.
The right work from home desk setup also includes a spot for your headphones, allowing you to keep them nearby for those moments when you need to block out the noise. It is also wise to choose a corner with maximum natural light to avoid strain on the eyes. The wise way is to get a desk lamp to cover up the loss of light as well.
Encourage Connectivity
Even if we are hundreds of miles apart from one another, this doesn't mean we cannot connect at all. The shutdown of the office has been unfortunate for people who had a friendship with colleagues. Sitting by the water cooler or chatting during the coffee break could all be very beneficial in relieving work-related stress. But, unfortunately, most of us feel isolated at home when no one is to discuss and have that office chit-chat.
But thanks to virtual connectivity tools in your work from home desk setup, you don't have to be miles apart just because you cannot be together physically. Make sure your workstation is all equipped to have those chats. Get a pair of headphones if you need to call your co-worker in the middle of the day.
You can also get some notepads to note down important points during the meeting as if you were listening and attending a real conversation. Of course, using sticky notes and posting them can give you a real workplace vibe too.
Video ads for product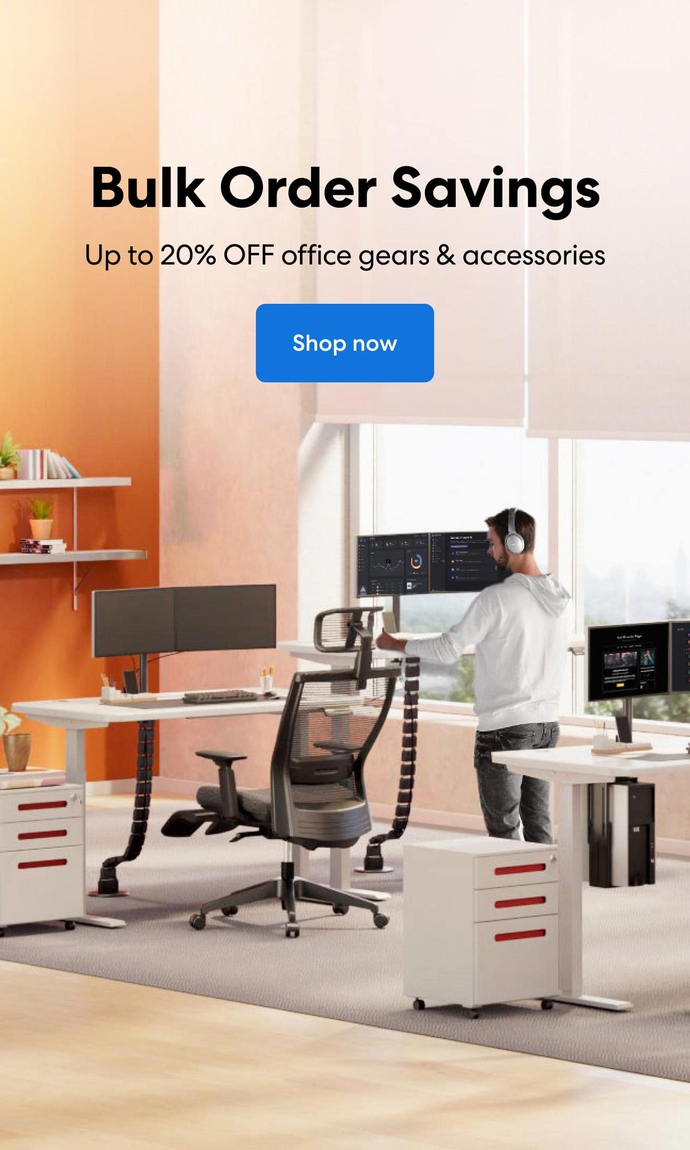 Subcribe newsletter and get $100 OFF.
Receive product updates, special offers, ergo tips, and inspiration form our team.