Smart Products
40 Most Modern Office Chairs of 2023 for Contemporary Space

Autonomous
|
Dec 28, 2021
1,515 Views
Modern office chairs are essential in this new work from the home time that the world is going through. When sitting in the office for an extended period, it is quintessential that you are supported ergonomically to avoid injury. 
Ergonomic ailments are the leading cause of injury in office workers worldwide, with statistics proving that more than 70% of employees suffer. Today's article displays the 40 most modern office chairs of 2022 that can fill your contemporary space.  
Let's get started and learn more about these comfortable chairs and highlight their ergonomic office chair features.
40 Most Modern Office Chairs for Your Contemporary Space
1. Autonomous ErgoChair Core
The ErgoChair Core is the entry-level chair from the Autonomous range, perfect for anyone looking for a modern ergonomic chair with support and comfort. It comes with a five-year warranty and a 30-day return policy for your peace of mind.  
Every product that comes out of the company's factory is meticulously manufactured to last for years and is perfect for someone who wants comfortable products. 
2. Autonomous ErgoChair Pro
Autonomous is a name known for the quality products that it manufactures. The ErgoChair Pro is no exception and is one of the best chairs for customizability. This chair can fill your requirements with lumbar support, height, and armrest options if you need additional adjustability solutions.  
Purchasing this chair gives you superior support and unique ergonomic options unlike any other on the market.  
3. Autonomous ErgoChair Plus
This chair is for someone with a little extra cash to splurge, has a modern standing desk, and wants the epitome of ergonomic excellence plus support. An adjustable lumbar support system molds your spine's natural curvature and is inspired by movement. 
If you want something solidly built and can fit in any office environment, the ErgoChair Plus is the ideal solution. 
4. Autonomous ErgoChair Recline
Autonomous knows how to deliver when it comes to getting the job done! The ErgoChair Recline means business, but when it's time to chill, you can lie back, put your feet up, and relax. 
It has an adjustable armrest, lumbar support, recline, and height, making it ideal for someone who loves customization. The supportive and comfy foam seat of this reclining office chair is perfect when sitting or working on an extensive project for long hours. 
5. Tulip Chair
This modern computer chair has a solid plastic base with a 360-degree swivel function for those who move around the office. Even though there is not much in ergonomics, it still makes for a highly comfortable chair no matter where it's placed. 
The design has been streamlined, giving it more contemporary and minimalistic looks whether placed in a remote or traditional office space.  
6. Wishbone Chair
A stylish contemporary design with static ergonomic features and a unique seat design to keep you comfortable is what the Wishbone all modern desk chair delivers. The design incorporates a bentwood armrest, a pronged wishbone shape, and a beautiful silhouette that gracefully fits any office space. 
7. Ming Chair
This traditional design takes us back to the Ming dynasty in China from 1368 to 1664. Even though the style is old school, it still delivers a contemporary feel for the office or home environments.  
These modern office chairs' joints are put together without nails, and the unique curved back gives you superior lumbar plus mid-spine support. 
8. Eames LCW Chair
Another static model wooden seat is the Eames LCW chair with its curved seating arrangement that molds perfectly to your buttocks. It is one of the more expensive modern office chairs on this list, but without a doubt, it adds that extra bit of contemporary flair to your minimalist workspace
9. Eames Lounge Chair
If elegance and style were a chair, it would be the Eames lounge chair! This all modern desk chair is the epitome of comfort and comes with unique reclining office chair features and soft fabric covering the entire unit.
The chair style is close to Herman Miller models, but the pricing is anything but that! You can expect to receive a pre-assembled chair that is well priced and delivers exceptional ergonomic comfort unlike any other. 
10. Navy Chair
This simplistic basic modern office chair is excellent for someone who wants a navy-style unit in their workspace. A design once used on warships has lasted the test of time and entered the new digital work from home space. 
The design is solid yet lightweight and gives sitters the chance to maintain their posture healthily. 
11. Phantom Chair
These curved plastic seats look aesthetically pleasing, but they also have ergonomic qualities. Its back is flexible, meaning that you can stretch your spine with ease after working at the desk for long hours.  
The natural curve built into the backrest also supports your lumbar region and cradles your pelvis for all-day support 
12. Louis XIV Armchair
Going back to the days of King Louis, this all modern desk chair brings a sort of elegance to your workplace that you can't find anywhere else. The print of the fabric looks like it's something out of medieval times, plus the curved armrest is perfect for someone who wants to buy an ergonomic chair.  
13. Louis XV Armchair
The Louis XV is an upgraded version of the above, which includes curvaceous shapes, cabriole legs, and a diagonal base plus back. Overall, this all modern desk chair is perfect for someone who wants an elegant old-school look for their home office. 
14. Louis XVI Armchair
The final seat in the Louis range is the XVI. This office chair modern design is characterized by its rounded seatback and other curves for comfort plus support. Its core is plush and covered in a classical print that resembles Roman or Greek decorations. 
15. Yoruba Chair
This is one of the best modern office chairs in the market. This design turns heads and has intricate details that represent the Yoruba tribes of Western Africa. The seat comprises over 110,000 beads applied by hand to the core, essentially designed for ceremonial purposes. 
16. Cesca Chair
First introduced in 1925, this chair's design is exceptionally contemporary and consists of a steel tubular base and soft seating arrangement. Users worldwide adore the simplistic format that provides the perfect amount of comfort without sacrificing support.
17. Butterfly Chair
This best modern office chair may amaze you. This looks more like a camper chair but comes manufactured with elegant soft leather that wraps around your body while seated. Its design is old school, making it ideal for someone looking to fit it into a contemporary office space. 
18. Womb Chair
The womb chair cradles your pelvis, buttocks, and lower back region to provide you with optimal all-day support plus comfort. It is priced relatively high, but that does mean you should ignore this chair. 
A design released in 1948 has stood the test of time and comes highly recommended by office workers worldwide. 
19. Barcelona Chair
This modern office chair was manufactured to fit royalty, but it remains modern and aesthetic at the same time. It comes in a leather chrome design which includes a soft memory foam cushion to support your lower back and buttocks. 
20. Louis Ghost Chair
The Ghost chair is ultimately see-through and is perfect for someone that wants to add a contemporary look to the office. Its static design provides comfort and ergonomics without the hassle of adjusting the unit to find your sweet spot. 
21. Chiavari Chair
Manufactured in Italy, this modern executive chair has a graceful shape and lightweight design that is modern plus simplistic. If you are after something with a more vintage look, the Chiavari Chair is the best option. 
22. Windsor Chair
Characterized by its spindled backrest and historic United States design, the Windsor modern executive chair is the most suitable fit for your home or office. If you want something stable and made from genuine American wood, choosing this modern office chair is going to fill your requirements. 
23. Era Chair
This was a modern office chair that was essential in any restaurant or dinner environment back in the day. It is durable and lightweight, making it superb for commercial or home office setup. 
24. Hoffman Side Chair
This modern office chair is perfectly balanced and has a woven wooden backrest for additional support and flexibility. It was designed by Josef Frank and Kosef Hoffman way back in 1925, and it is a style that is still widely accepted today. 
25. Bistro Chair
A classic bistro chair is what you may require in your contemporary office. This modern executive chair style is minimalistic, but it still has the comfort you are looking to receive. It comes in various colors, making it easy to fit in your office no matter what the color scheme is. 
26. Monobloc
Monobloc chairs can be stacked on top of one another and offer a modern minimalistic style for your office or outdoor area. These chairs have been used for decades to help people sit comfortably wherever they are situated.  
27. Series 7 Chair
The series seven was designed by Arne Jacobsen in 1955, and the style is still present in a variety of models on the market. It has a dipped seating arrangement that provides additional lower back support, plus there is a curved mid backrest that allows for stretching when working for long periods. 
28. LC3 Grand Modele Armchair
This seat is more like a couch with three legs. The office chair modern design is great for a lounge office. What's great about this chair is that it can be used for work purposes and lounging and watching TV. 
29. Sacco Easy Chair
More of a bean bag than a chair, the Sacco easy chair can be moved around easily due to its lightweight. The modality of the seat makes it great for people of all sizes looking for comfort when working or lounging around the office. 
30. Office Chair by Pierre Jeanerette
This static model office chair is made from wood and has a solid construction for stability. If you work in an administration building, you probably recognize this style, but if you have a contemporary home office, you may want to include it as part of your equipment. 
31. Chaise A
This simple metal office chair fits perfectly no matter where it's placed. The design has been used for years by various office workers and delivers an unprecedented amount of natural comfort and ergonomics.
32. Aluminum Group Management Chair
It is an aluminum modern ergonomic chair made from metal and soft faux leather. Five easy-glide wheels make moving around the office simple, plus you get pneumatic height adjustment for your convenience. 
33. Aeron Chair
Herman Miller is a name synonymous with comfort and exclusivity, and the Aeron chair is not an exception to that statement! With a host of ergonomic adjustability options, you are going to be hard-pressed to find a better unit on the market.  
34. Wiggle Side Chair
This uniquely designed cork finished chair is perfect for someone looking for ergonomic support. The backrest is perfectly shaped so that it cradles your spine's natural curve and promotes a healthy posture. 
35. Poang Armchair
A wooden office chair covered in a breathable fabric is ideal for modern office workers. It was created by a Japanese designer and sold millions of units each year. What are you waiting for? Buy this chair to create a more contemporary look in the office. 
36. Zig Zag Chair
The Zig-Zag modern ergonomic chair is a static model that demands attention. Its straight backrest forces the spine into its natural position, while the wooden base can support up to 300 lbs making it great for more significant adults 
37. Eames Molded Plastic Armchair
The Eames molded plastic chair's wood base and steel legs provide the epitome of comfort. Its seat is made from memory foam, meaning that it can develop ideally for whoever uses it the most. 
38. Adirondack Chair
A chair designed with nature in mind is the Adirondack modern ergonomic chair. It is made from pure hard and features a reclining backrest so you can take a well-deserved break after working for long hours. 
39. Egg Chair
The name of this chair gives the style away, as it looks like a reclinable egg! Four scratch-resistant feet hold up the seating arrangement and support 250 lbs. It is covered in premium leather, giving you an elegant and executive office chair feel no matter where in the office it's placed. 
40. Aalto Stool 60
This contemporary stool is perfect for office spaces with multiple workers. They can easily be stacked on top of one another to save space and store them out the way. It is the perfect solution if you want something simplistic and modern for your office workers. 
 Conclusion
Contemporary has become mainstream in today's fashion as well as office designs. By choosing one of the above seats, you add modern ergonomic chair comfort to your workspace and give it a fashionable look that is bound to turn heads.
Video ads for product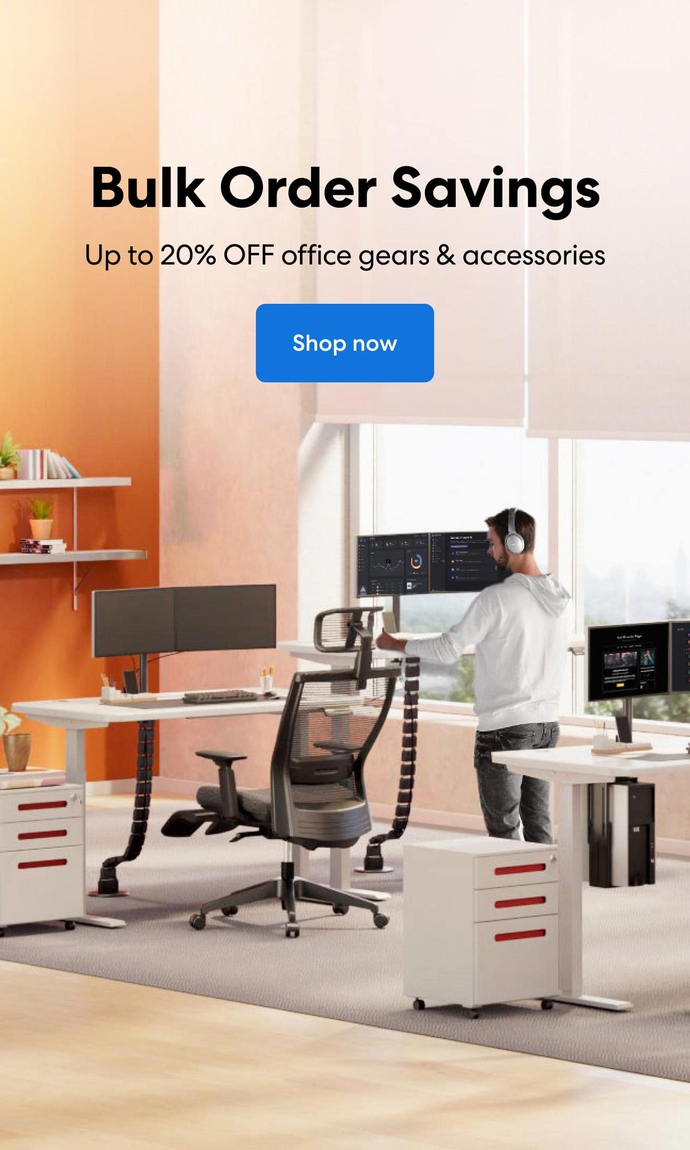 Subcribe newsletter and get $100 OFF.
Receive product updates, special offers, ergo tips, and inspiration form our team.