If you live in the UK, you might ask yourself where to buy standing desk products in your area. Remote workers often use standing desks to increase their work efficiency. If you are tired of sitting in a chair working long hours, consider getting a standing desk in UK stores.
The UK is a diverse country full of natural landscapes and cities; needless to say, you need to narrow down nearby areas to buy a standing desk. With this helpful guide, you can find yourself the best place to buy standing desk products.
Benefits of a Standing Desk
First and foremost, a standing desk reduces the health risks associated with long-term sitting. Remote workers suffering from sedentary lifestyles are more likely to obtain obesity-related illnesses. These typically include heart and respiratory problems. However, a standing desk allows remote workers to move around more freely. They can improve their energy as a result, which also enhances their work productivity. Here are some advantages and disadvantages of purchasing a standing desk:
Benefits of a Standing Desk
Promotes a healthier lifestyle in the long term.
Allows for more physical activity with your legs.
Standing desks are height adjustable for your convenience.
Most use electric motors to power the lifting system.
Improves work productivity with better mood and energy.
Most standing desks require assembly by yourself.
Products vary based on the location.
Before you buy a standing desk in UK markets, you need to find the best place to buy standing desk products. Below are five locations within the UK you can go to for standing desks. Without further ado, here are the five areas to do your shopping:
Where to Buy Standing Desk in UK 
1. Autonomous
In terms of variety, many remote workers consider Autonomous to be the best place to buy standing desk products. They also offer office chairs and accessories to complement standing desks. Autonomous often gives bundle savings so you can purchase items all at once. From the SmartDesk DIY Kit to the SmartDesk Core, there is plenty to choose from. They also currently offer new year resolutions for several ergonomic products.
In particular, their office desks are powerful. They use a dual-motor system to operate your desk silently. Each of these desks is fully adjustable to your height preferences and have reset memory levels. You can expect long-term usage of these products.
There are also several articles written on their main website. You can access them for ergonomic tips and tricks to a better workstation. They even have articles on standing desk benefits so that you can give it a quick read.
Autonomous is trusted by over 130,000 companies worldwide, such as Amazon, Disney, SpaceX, Tesla, and Nasa. They offer high-quality brands with their products, especially with their top-of-the-line manufacturing. If you're a remote worker who values craftsmanship in their standing desks, Autonomous has you covered.
2. Varidesk
If you want to upgrade your personal workplace, Varidesk has what you need. They offer work-from-home solutions to everyday problems. From adjustable standing desks to office furniture, you can set up a workstation that prioritizes efficiency.
Varidesk uses quality products tested for high industry standards. You can also buy now and pay later with monthly payments. Among their best sellers are their electric standing desk, which you can use with their dual-monitor arm and active seat. These are good products if you value clean, corporate, and cutting-edge environments.
3. Humanscale
Humanscale is a manufacturing company that offers ergonomic products like the standing desk. They mainly focus on selling products for the WFH market, otherwise known as Workers From Home. Humanscale works directly with corporations to ensure their employees are comfortable in their workstations. They also provide ergonomics training and resources for managers looking to improve their team's overall productivity.
4. Yo-Yo
The Yo-Yo Desk company is a multinational one working within the UK. They sell different ergonomic products, one of which includes standing desks. From the DESK 32-S to the DESK 36, they are all under $500. Yo-Yo mainly focuses on classic designs with slim appearances. As a result, you can maximize your workspace with Yo-Yo standing desks.
Yo-Yo also offers special deals, such as free mats and $25 off any purchase. The mats vary in size, ranging from miniature to large. You can take advantage of these small deals while they last. These award-winning mats are good compliments to the standing desks.
5. FLYTTA
FLYTTA uses electronic standing desks with upgraded technology. Their height-adjustable desk uses a high-grade frame made of durable steel, which allows for a solid foundation. FLYTTA also offers digital displays on their products, such as a memory switch option. Their ergonomic features tend to be rated exceptionally well, given the simplicity of their use.
The term FLYTTA is actually the Nordic word for "movement." Their standing desks are one of Best Buy's top-rated products in the ergonomic category. FLYTTA won an independent newspaper award for their standing desks due to high-performance marks.
Find Yourself the Best Place to Buy Standing Desk
Now you know where to buy standing desk products within the UK region! These five companies claim to be the best place to buy standing desk products, especially within the ergonomic marketplace. Standing desks provide several benefits, which include reduction of health risks such as obesity and diabetes. If you need to find a standing desk in UK stores, these five companies are the best places to look.
Every remote worker should take care of themselves with a standing desk. If they want to increase their work productivity, they can't go wrong with a standing desk paired with office chairs. Take the time to do your research and create your personal workstation. A standing desk is a great way to stay motivated while you work.
Video ads for product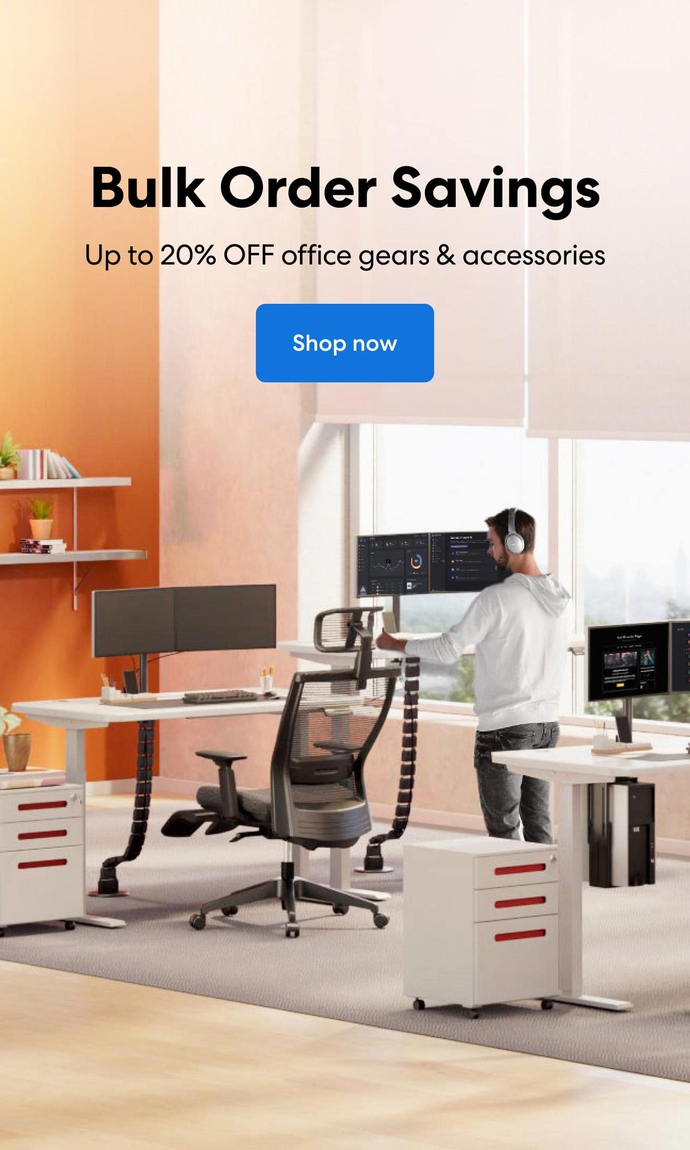 Subcribe newsletter and get $100 OFF.
Receive product updates, special offers, ergo tips, and inspiration form our team.