Office workers have a hard time if they don't have a proper desk to use while working. Many people use standard desks because they think that any desk could be a decent fit for them. What they don't know is that using a traditional desk can produce severe back problems, neck pain, and other health issues.  
That happens because using standard desks makes you adopt a bad posture. Office workers tend to work for extended periods, so they stay in that position for hours. Adjusting your schedule to work less time doesn't help since you can still develop back pain in the long run.  
What you need to do to avoid back and neck pain is purchasing a standing desk! Standing desks allow you to work while standing, which is the ideal position that your body should adopt. That doesn't only prevent health issues from happening but also improves your productivity and well-being.  
Yet, buying standing desks is not as easy as getting a standard one. You need to get a desk that meets all your needs. Buying a desk that doesn't have the essential features that every desk should have could make you lose tons of money for nothing. We want to help you buy the best ergonomic standing desk! 
Do you wonder where to buy a standing desk? Dive into this page to know the five best standing desk store brands of 2022 as well as some information about standing desk reviews!  
Why Should I Get a Standing Desk?
There are many reasons to get a standing desk. The benefits these products give you represent a positive investment that can bring you profitable advantages in the long run. That's because standing desks boost your comfort and promote physical health.  
Working under more comfortable conditions reduces anxiety, stress, and mental exhaustion. The reason that happens is that physical pain and stress worsen your work performance and productivity. Decreasing productivity makes you lose money in the long term.
Regardless of that, if you have a home office standing desk, you can forget about all those problems. Since your ergonomic desks prevent you from suffering from physical pain, you get to focus on your work without that kind of distraction.  
As we mentioned before, standing desks also help you reduce mental health issues such as anxiety and stress. That makes you feel happier and more active at work. Working in a decent mood makes you more productive and boosts your creativity. 
Apart from that, like other ergonomic products, most standing desks allow you to customize them and modify their functions. That makes buying them easier since you don't have to waste time getting a desk that doesn't fit your body characteristics or something similar. Yet, you need to find the one that best suits you and your workspace.  
What to Look for In a Standing Desk?
Before getting information about which standing desk store you should buy, let's look at some standing desk features. Standing desks are excellent ergonomic products. Yet, it needs some fundamental features to give its users all the health benefits of the standing desk we mentioned on this page. You should take all the time you need when looking for a standing desk since buying a product that doesn't have what you need can make you lose your money.
Yet, it's difficult to know what you need on a desk if you haven't purchased ergonomic products before. We are here to help you get the best standing desk you can get! Here are the essential features that every standing desk should have to be considered an ergonomic desk:  
Height Adjustability
As we said before, ergonomic desks and chairs let you customize their functions to meet your body characteristics and personal choice. The main adjustment you should be able to make is height.
Height adjustability is what makes these desks so good for office workers. Since you can change it anytime you want, you can decide between working while standing and sitting depending on what you want at the moment. That's also helpful if you want to adapt your desk to meet your chair's height.  
Working in the same position or hours can make working a boring activity, so we recommend you shift between standing and sitting from time to time.  
Strength and Space
This can seem kind of obvious, but your desk has to be strong enough to lift everything you need to work. However, it doesn't matter if you have a desk with the greatest lift capacity on the market if it doesn't have enough space for your working gear.  
It's not common to see a desk that doesn't have enough lift capacity to lift everything its user needs. Yet, many people tend to buy a standing desk that doesn't have enough space for them. That makes them buy more things to store their items or use lesser items than they should.
If you are buying your desk at an onsite store, you can check its size and see if it's enough for you. When online shopping, make sure to see if the desk's specifications are shown on the page or website you are visiting. If it's not there, we recommend you look for other options instead of making a blind decision.  
Noise
Noise is an issue that many standing desks have. The noise sounds when the user tries to change its height and things of the sort. While seeming like something unimportant, it can be a serious nuisance for people who don't like hearing noises when working or who get distracted easily. 
The best way to check if the desk's noise can be a nuisance or not is by trying it yourself! You should be able to try those things before buying the desk. If you are online shopping, the most reliable desk brands let you know those things, so that shouldn't be an issue with them.  
What Are the 5 Best Standing Desk Brands of 2022?
Now that you know everything you need on an electric desk, it's time to know where to buy a standing desk! There are tons of brands that offer you unique desk models with innovative designs and features. Yet, not all of them are as great as they seem.  
It's easy to get confused and buy the most inexpensive standing desk you can find. There's nothing wrong with inexpensive desks, but they are not as good as they seem all the time. You don't have to worry about that, though. Read this list of the best standing desk brands of 2022: 
1. Autonomous
Autonomous is the overall best ergonomic product seller worldwide and a famous standing desk brand. That's because this standing desk store offers an excellent variety of ergonomic products that aim to make the working experience a more comfortable one. It sells desks, chairs, and many accessories that you may need to work.
One of the Autonomous top advantages is its design variety. This company doesn't only offer you top-notch desks and chairs but also has different products available for you.
Regarding standing desks, the best option Autonomous has is the SmartDesk Core. With this desk, Autonomous focuses on improving your well-being and boosting your productivity and overall work performance. Naturally, the SmartDesk Pro has an excellent range of adjustments, lifts 265lbs with ease, and doesn't make a lot of noise.
The desk also has enough Core strength. Going to another feature, the product's controls are simple, so it's not a difficult thing to adjust it. The aesthetic is one of this desk's strong points. This is one of the best places to buy a standing desk.
The pros and cons of Autonomous are:
Pros and Cons of Autonomous
Excellent variety of products and designs.
Whether you want an expensive and luxurious desk or a budget-friendly one, it has it.
It has free shipping for several places.
It tells you everything you need to know about the product on its website.
It focuses on comfort and productivity.
Most of its products are adjustable, so you have to set them up.
Even though they have budget-friendly products, they are not as inexpensive as they could be.
2. Fully
If you don't know where to buy a standing desk, let's flick through this standing desk store. Even though it is not as popular as Autonomous, Fully has excellent top-tier products that can meet all your needs. This standing desk store focuses on creating a flexible environment that allows you to move while working and shift your position from time to time. That's the reason its desks are excellent standing desks that allow you to adjust their height with no trouble.
Fully is known for Jarvis, which is its most successful line-up so far. The Jarvis series has desks, accessories, and even innovative items you can attach to its desks. However, we are here to talk about desks, and Fully's desks have many things to appreciate.
The Jarvis Laminate Standing Desk is the best example of what makes Fully an excellent standing desk brand to get your ergonomic products. This eco-friendly desk offers you a resistant and waterproof product that allows you to switch between sitting and standing with no trouble.  
This Jarvis desk makes your workplace look like a classy and sophisticated place. Being available in black and white, you can choose the alternative that best matches your office's aesthetic. Yet, the most remarkable thing about this desk is how resistant it is.
Pros and Cons of Fully
It has many eco-friendly products.
Its products are resistant.
Even though they are mostly adjustable, its products are easy to assemble.
Its products don't have many color options available.
It doesn't have a significant price range for its products.
Not all lineups are as good as Jarvis.
3. Herman Miller
Another best place to buy a standing desk is Herman Miller. It is mostly popular for its outstanding ergonomic chairs. However, its catalog also has room for desks, so there are some interesting options that are excellent for office workers.  Of this standing desk store The products are some of the most expensive on the market, but that means that they are made with the finest materials.
Herman Miller doesn't have as many desks as the chairs it offers, but some of its greatest desks are the Renew Sit-to-Stand Tables. As its name suggests, this lineup has different standing desks for office workers, programmers, and everyone who needs a height-adjustable desk.  
The Renew series desks' height adjustability is highly intuitive and quick, so switching from standing to sitting only takes a few seconds. Its design is elegant and made for formal offices. This brand's standing desk review is very good. These are some of the standing desk store's pros and cons.
Pros and Cons of Herman Miller
You can easily switch from sitting to standing in seconds.
Its desks don't make a lot of noise when switching.
Herman Miller's products are highly expensive.
It doesn't have as many options as others in this list.
4. Humanscale
Most ergonomic brands sell all kinds of ergonomic products including desks, chairs, and office gear. Humanscale is one of the standing desk stores since it has a decent selection of office ergonomic items available for you. This standing desk brand's products are quite innovative when it comes to design and functions.
Its best desk series is the QuickStand Lineup. What makes these desks interesting is that they have innovative alternatives such as the QuickStand Lite, which has monitor support. Here are Humanscale's pros and cons.  
Pros and Cons of Humanscale
It has innovative models.
It has some budget-friendly options.
Apart from the QuickStand's, it doesn't have many alternatives available.
It doesn't have an extended color availability.
5. Uplift
Getting to the last of this standing desk store list, we have Uplift. Variety is not an issue with this brand since it has tons of different models available for you to choose which suits your office best. Uplift has from ping pong desks to curved standing desks, so take all the time you need to see their catalog. Uplift is rated as one of the best places to buy a standing desk.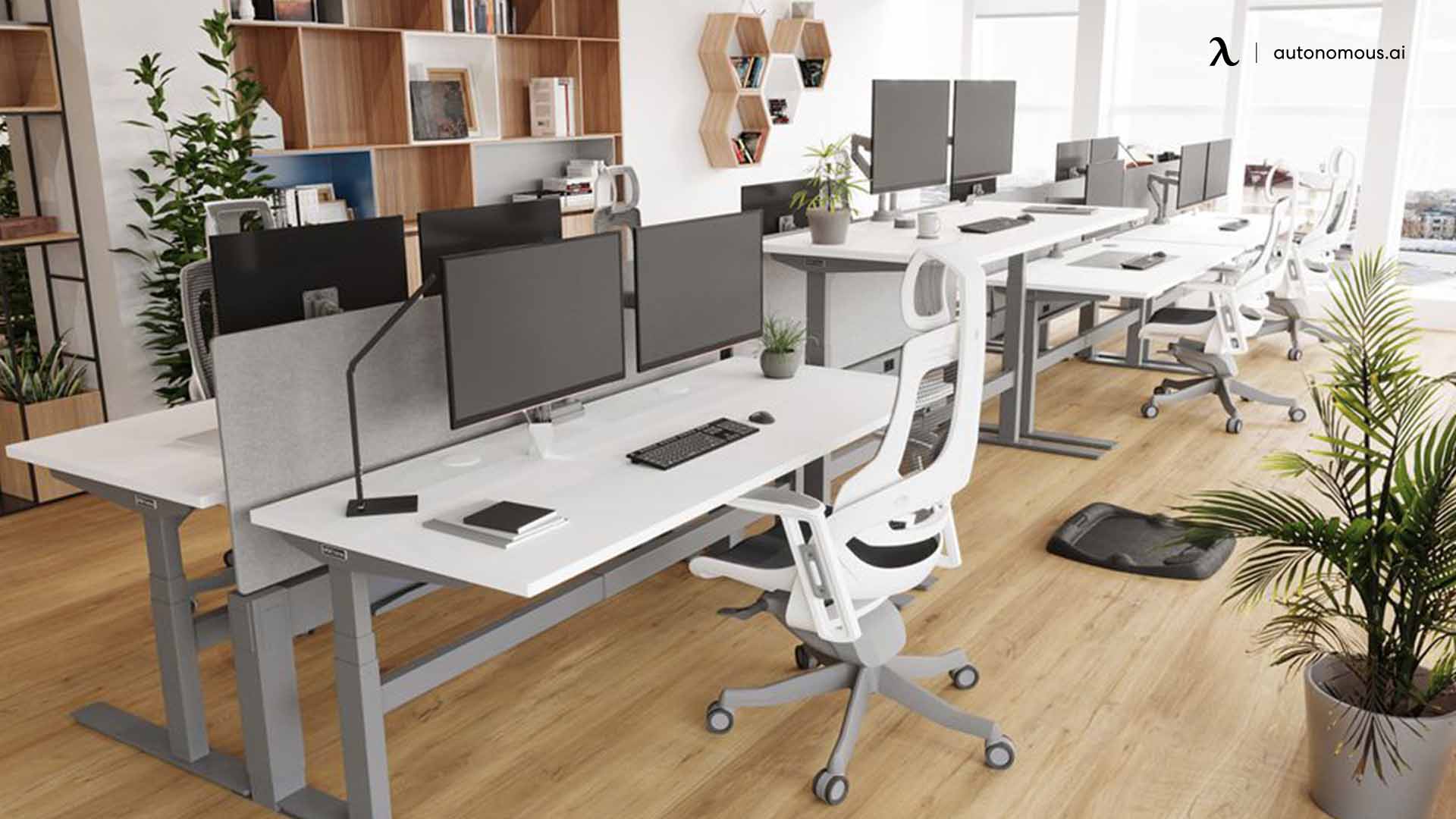 Its best product is the Uplift Standing Desk V2. This desk is excellently stable and durable, so you can be sure that buying it assures you a long time of working or experiencing your ultimate desk setup for gaming without the fear of getting back or neck pain. The pros and cons of this brand are: 
Pros and Cons of Uplift
It has a decent variety of desks.
It has many colors and designs available for its desks.
Its desks are mostly stable and sturdy.
Its desks are kind of expensive.
Many of its desks are dual desks or curved desks. That can be a nuisance if you want a normal desk.
There you have it! These are the five best standing desk store brands of 2022.
Video ads for product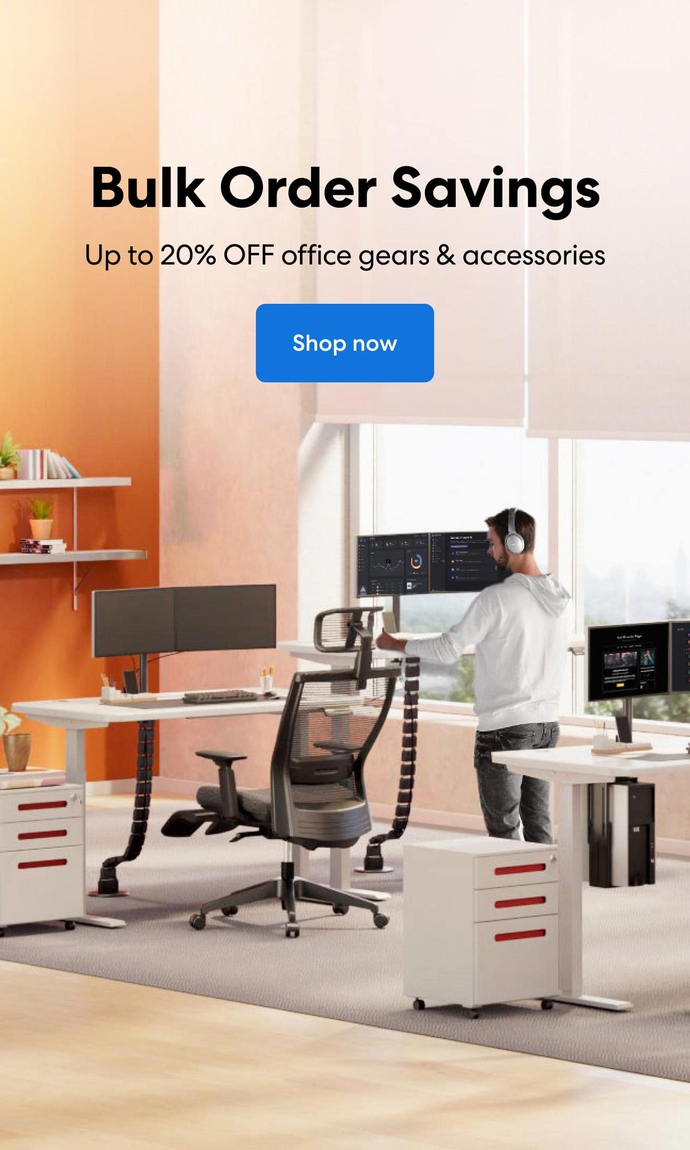 Subcribe newsletter and get $100 OFF.
Receive product updates, special offers, ergo tips, and inspiration form our team.