Smart Products
Know Everything About the 5 Best Student Chairs with Wheels

Autonomous
|
Aug 9, 2021
1,544 Views
Have you ever wondered why we need specialized items for everything? The answer is simple, with specialized items, work becomes much easier and more convenient. And when it comes to chairs, the right chair brings a lot of benefits for everyone. For example, you can't just use restaurant chairs for offices because we sit for an hour or two in restaurants, but we have prolonged work in offices. You have to spend hours continuously sitting and working on the same chair. The same rule applies to students. And student chairs with wheels are highly important for students. This article will tell you everything about the student chairs with wheal, their suitable types, and the few best chairs. And the details are provided in the following paragraphs.
Before moving towards the 5 best caster wheel chairs for students, let us first study a few other essential points. Before deciding which ergonomic chair you want, make sure to know about its types. You must know what type of wheel is most suitable for students. Once you become educated on this topic, you can easily get the best student chairs with casters for yourself.
What Type of Wheel is Suitable for Students?
To know which wheel is suitable for students, you must have a good grip on choosing the right caster. There are few points that every student must consider before purchasing student chairs with wheels. These are discussed in detail below.
Know about Caster Attachment
There are a lot of student computer chairs with wheels. However, two main types of casters are highly famous. These types are known as the post, also called stem and screw-on, which is famous as a plate. Both of its types have different attachment procedures. So, know which one is easier for you and then make your purchase accordingly.
Consider Weight and Type
Make sure to check the weight and type of caster or wheel before you finalize your selection. Wheels are designed to bear specific weight, and overburdening it with weight can damage the wheel, and I bet nobody wants that. Therefore, it is important to consider its weight and type and purchase a kid's ergonomic chair with wheels.
Flooring
The selection of your caster also depends on the type of floor. Wheels are manufactured by keeping a few specific types of floors in mind. Therefore, the caster becomes suitable for a student if it matches the floor type. Otherwise, it will be like an ordinary chair.  
Movement Type
Wheels have different types of movements. Students normally prefer the one that can move 360 degrees. But few other types of wheels also move forward and backward. You can also choose that if you like. It is hard to generalize a suitable type of movement because students have different choices. So, we suggest they choose accordingly.
Consider all of the above points to know which wheel is suitable for students. You may get many based on the preferences of students.
5 Best Student Chairs with Wheels
In the following paragraphs, we have listed the 5 best student chairs with wheels.  
1. ErgoChair Junior
The ErgoChair Junior by Autonomous makes a great chair for students. These chairs are equipped with wheels that make them move easily. Besides, it has an adjustable seat, footrest, back, height, and armrest. So, students can adjust it as per their choice. Furthermore, autonomous has designed this chair with seven easy ergonomic positions to offer higher comfort to students.
Moreover, the ErgoChair Junior has certified fire-resistant material to ensure the better safety of your kids. It can bear a weight of 275 lbs. These student chairs with wheels also have a 1-year warranty to save your investment.
2. ErgoChair Pro
Another production of Autonomous, the ErgoChair Pro, is available in a wide range of colors. These office chair wheels also have an adjustable structure that allows you to adjust the armrest, backrest, headrest, seat tilt, and height to whatever position you want. It contains a smooth recline and offers 5 different lockable positions to match your comfort level. This chair also contains flexible lumbar support. It can easily carry a weight of 300 lbs. Besides, it is made of eco-friendly products, which makes it great for the environment. ErgoChair Pro comes with a two-year warranty. So, if your product shows any fault, you can claim the warranty.
3. Sihoo M57 High Back Office Chair
Sihoo M57 is made of breathable material. It has a high back that makes a great student chair with casters. It contains a very comfortable and high-curved backrest that reduces pressure on the spine. While its adjustable height and depth design work great for the lower back. So, your kids can study for hours sitting on these student chairs with wheels.
4. Moby High Back Desk Chair
These Moby chairs have a high back design which is also evident from their name. It supports excellent rolling. These chairs have adjustable height and structure and are super comfortable to sit and study.
5. NOUHAUS Ergo3D Ergonomic Office Chair
NOUHAUS Ergo3D student chairs with wheels contain a fully adjustable armrest. The back portion of these chairs can tilt for around 135°. So, students can easily stretch their backs while studying. It also contains a lumbar system and super smooth seat lifting.
So, choose the above products to give your students a better way to study. And if you want a few deals, then you can also check the Autonomous back to school deal. It offers some excellent products.
Video ads for product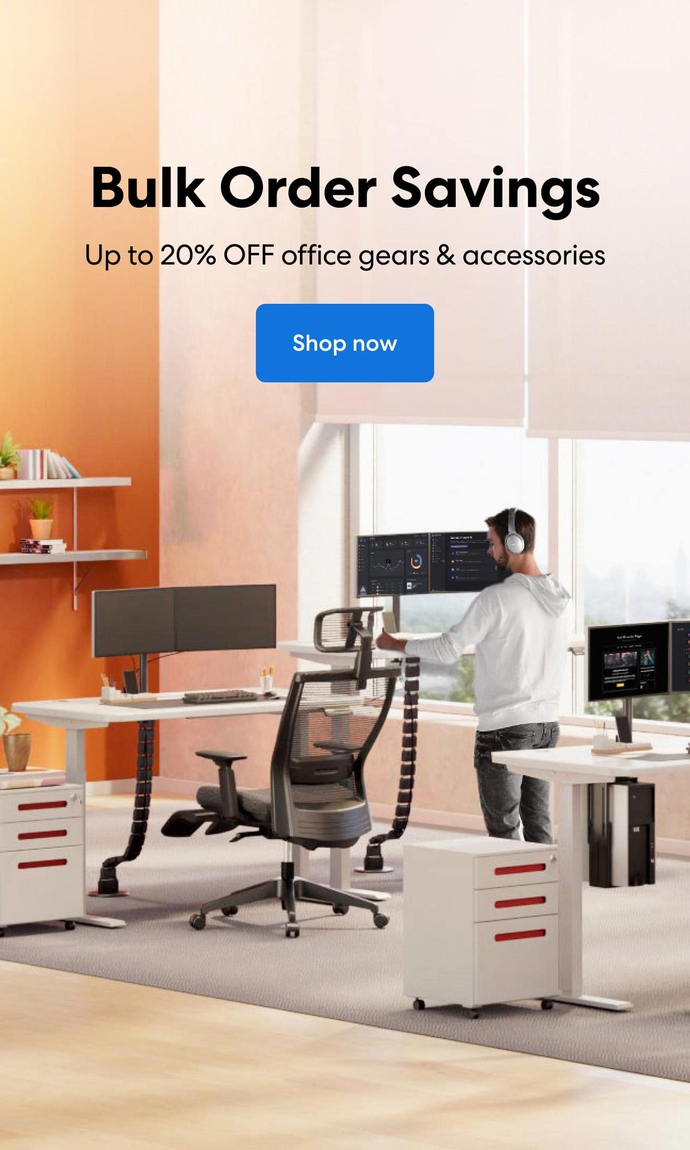 Subcribe newsletter and get $100 OFF.
Receive product updates, special offers, ergo tips, and inspiration form our team.