You get people who like anime, and then you get people who are die-hard fans! Serious fans commit a great deal of their time to this fanfiction. Die-hard fans are passionate about these shows, which means they are constantly looking for a way to incorporate their favorite shows into their daily life. This sounds like a nice escape from reality when the work environment becomes stressful, doesn't it?
Whether you prefer Naruto or something like Dragon Ball Z, there are things you can do to establish a desk setup for anime fan bases. You can create a vibrant workspace with your comics world. Keep reading to find out how to make your workspace an acceptable environment for the pages of manga.
What Should Your Desk Setup Consist Of?
While it is beyond exciting to think about the various ways you can showcase your love for anime in your office workspace, what basics are required for your setup? The following items are needed for a home office setup for anime fan bases:
Standing Desk
A standing desk is often the focal point of your office space to create a desk setup for anime fans; therefore, you must choose wisely. As an anime lover, you are most likely going to have a few figurines on your desk. You want to make sure that you choose a desk that has sufficient space for this. The Autonomous SmartDesk Core is an excellent option for you to experiment with.
Not only is a standing desk going to give you room for your anime accessories, but it also has various physical and mental health benefits. Increased physical activity and mental stimulation may help you to feel more like your favorite characters.  
The Autonomous SmartDesk Core
The SmartDesk Core offers smooth and resilient movement through its powerful dual-motor lifting function and the heavy-duty frame made out of steel. This desk moves with the click of a button, making it a convenient way to boost your productivity and energy levels.
Pros of the SmartDesk Core
A solid and durable desk frame.
Increased excitement – A standing desk that promotes enthusiasm combined with your favorite characters is a definite way to look forward to your office time.
A unique and customizable space – Standing desks promote your creativity levels, and anime is inspiring; hence, you have a winning combination over here.
Motorized height adjustment – This product offers four available height presets. Gliding and switching between positions have never been easier.
Freedom of choice – You can choose between a black, white, walnut, and white oak finish. This customizable feature means that the desk can perfectly fit any room setup for anime fan bases. 
Cons of the SmartDesk Core
It is an expensive product that you need to invest in.
It may not be suitable for people who are working in small spaces.
Ergonomic Chair
You can get creative for office setup for anime fans when it comes to your ergonomic chair. Firstly, you are getting all the health benefits, such as lumbar support and improved posture. However, you can also have fun when it comes to color. Perhaps the color of your chair could be inspired by your favorite Naruto character. When choosing an ergonomic chair, it is essential to ensure that it has all the necessary features such as adjustability, breathable materials, and adequate support.
Computer Monitor
The computer monitor you purchase also has a significant role with regard to your desk setup for anime fans. However, how can you add a touch of anime to this? You can set your background as a poster from one of your top shows, or if you have a specific character in mind, this could also be inspiring. This way you are reminded of your passion throughout the day.
You should also pay attention to the structural setup of the curved computer monitor for desk setup for anime fans. One needs to place their screen directly in front of them at an arm's length distance. It should also be placed at eye level so that you are not putting any strain on your neck.  
Keyboard and Mouse
Almost every person needs a keyboard and mouse in their workspace. Make sure that they are positioned in a way that does not place any staring on your arms, wrists, or shoulders. Each object should be positioned directly in front of each of your shoulders in office desk decor for anime fans.
Other Accessories  
This is where the fun part comes in; there is no limitation placed on your anime-inspired objects when it comes to desk accessories. You are free to decorate with posters, photo frames, action figures, famous quotes, and so much more. Keep in mind that you do not want to overcrowd your workspace as you still want this to be a place where you can focus and be productive.
5 Desk Setup Ideas for Anime Die-Hard Fans
You can incorporate the following desk setup ideas to have an anime-inspired workspace:
1. Dedicate a bookshelf to manga and anime books
Die-hard fans are bound to have a collection of these. Display them in your workspace so that you also have something calming to do during your breaks. Adding a DIY standing desk wood is also a good idea.
2. Have a dual-monitor system with your favorite anime shows on one screen 
This may not be for every room setup for anime fans, especially if you are easily distracted. Others may find it calming to have their favorite show on as background noise.
3. Hang up anime posters 
It is often encouraged to keep decorations or accessories to a minimum. Hence, if you make use of wall art, you are not adding unnecessary clutter to your space.
4. Use lighting to your advantage 
Try to set the tone of your favorite scenes from shows. This specific atmosphere may help to keep you calm and focused.
5. Invest in action figures
Figurines are one of the most popular types of office desk décor for anime fan bases or any fan bases. There is something about a 3D model that sparks so much joy in an individual.
The Bottom Line
Incorporating your love for anime into your workspace is a great idea to add your personal touch and spark a sense of creativity and motivation. With the right equipment, such as a DIY standing desk and ergonomic chair, you can incorporate various ideas until you are satisfied with the outcome of your desk setup for anime fans.
Video ads for product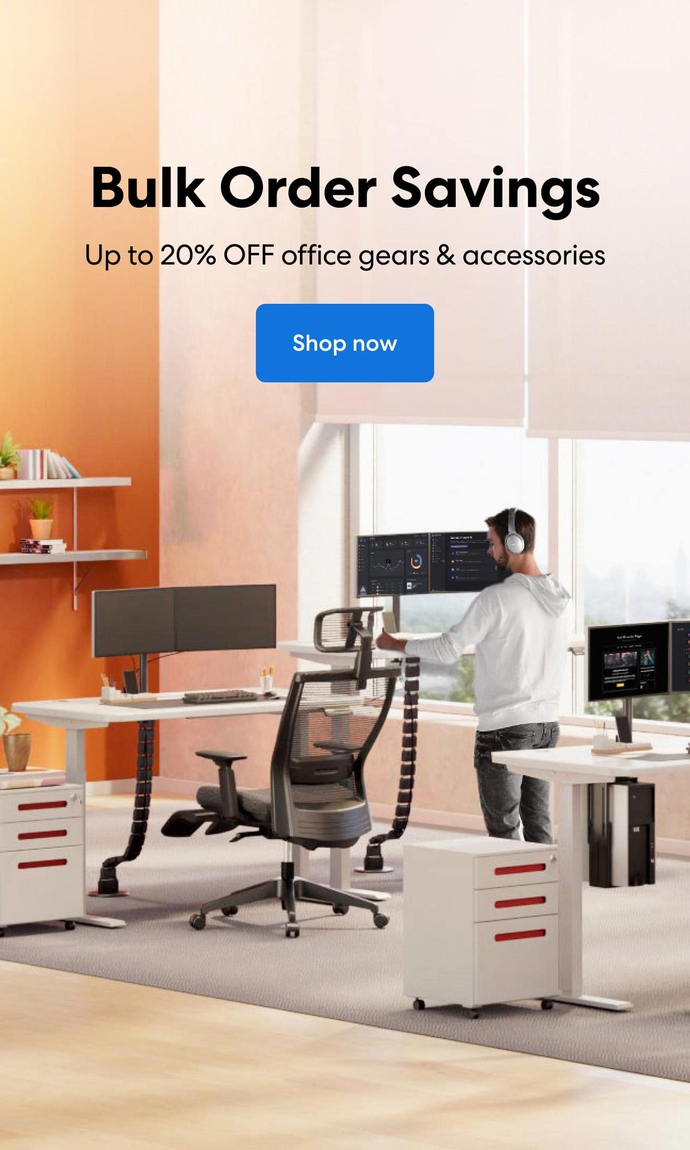 Subcribe newsletter and get $100 OFF.
Receive product updates, special offers, ergo tips, and inspiration form our team.