Backaches, spine trouble, frozen shoulders, or more? Nah, you don't want this as you work long hours! So your first lookout should be your health.  A healthy body can keep you productive. Have you considered an ergonomic office chair?
As you work using an office chair in the office or at a home office, your back takes all the pressure.  If the height of the seat is non-adjustable, tall-heighted people will be seen with their legs crossed or sprawled under the table. This is not the best for your health.  Similarly, short-heighted folks may find their feet hanging in the air rather than touching easily and resting comfortably on the floor.
What is Ergonomics?
Ergonomics, or the study of science related to a healthy life when interacting with various environments, has guidelines for your good health and well-being. Ergonomics could apply to chairs, tables, and various other furniture pieces, a laptop keyboard, a computer mouse, and more. Hence, ergonomically designed chairs offer salient features to manage your health.
Advantages of an Ergonomic Chair?
Ever wondered which is the best computer chair for long hours? The best ergonomic chair offers you a great advantage with a higher level of comfort and convenience. Unlike a regular office chair, these chairs have an adjustable backrest, armrests, neck and footrests, seat tilt pan, and height of the seat. In addition, ergonomics operates by recognizing that every human being has a unique body shape. Therefore, the need is to adjust the chair to give your body the best support and comfort.  Studies point to numerous benefits of an ergonomic chair. Benefits include increased energy levels, an increase in productivity, and enhanced physical and mental being.  
Please look at our good ergonomic chair review or read through our reviews for a fabric office chair.
5 Best Ergonomic Chairs for Workspace
Here are our reviews of the top ergonomic chair for your workspace. These best ergonomic chair brands offer you great comfort for all your workspace and body needs.
1. ErgoChair Plus
The ErgoChair Plus offers you the highest comfort levels and convenience to move around in your office space.  It makes you forget how the day rolls on as you sit in comfort, listening to a call, having meetings with your client, and more. Want to think deeply? Easy! Just push the seat's backrest to relax and think! Yes, you can recline to twenty-five degrees beyond the chair's upright position. Want to lock the recline position? Easy! You have eleven settings to manage your most favored recline positions.
With the all adjustable armrests, height, and seat tilt (forward/backward), you will find yourself revitalized to work tirelessly.
You have options to get the ErgoChair Plus's backrest with a fine mesh or a TPE material. While both offer great support for your back and shoulders, TPE flexes to suit the body and looks classy. In addition, you have a choice of six different and subtle colors for your executive office. Classic yet elegant, the ErgoChair Plus is your style statement.
2. ErgoChair Pro
Offering you great comfort, ErgoChair Pro is supported with a fine mesh backrest. This good ergonomic chair offers you breathability as you are docked in the entire day, shuttling between meetings and calls.  For your comfort, push the backrest to twenty-two degrees as you ponder on important matters! Decisions that impact much at stake depending upon your well-being and comfort.
Define the seat recline for all five positions and switch to them easily. No need to keep finding the right recline every time. Change it frequently at the flick of a lever.  The ErgoChair Pro is equipped for the best comfort as you adjust the armrest, seat pan tilt, height, and backrest.  It is available in six great colors. The chair can easily take a payload of three hundred pounds. Awesome, isn't it?
3. ErgoChair Recline
Want to offer your employees good health? Equip them with the ErgoChair Recline! Offering each employee great comfort, it has an adjustable height, armrest, headrest and leg rest, and seat tilt.  Even the seat offers great comfort with the high-quality foam. This high-quality foam supports your buttocks and back by distributing the body weight across the seat.  What About the lumbar support of this good ergonomic chair? Rest assured, the adjustable and reclining lumbar support is one of the finest this good ergonomic chair has. It takes 250 lbs of weight.
4. Herman Miller Aeron Chair
The Herman Miller Aeron's design now adapts itself to suit your convenience. Giving you a relaxing feeling, you have an automatic lumbar support setting.  The seat has an advanced mesh that has eight different tension zones. Why? To manage to relieve the stress of your back and buttocks as you sit for long hours.  Made in three different sizes to offer the best body fit to different users, the Aeron is one of the greenest chairs. It is made in a workplace that uses 100% green energy. Further, 91% of Aeron's chairs are recyclable to boot.
5. Steelcase Gesture Office Desk Chair with Headrest
This Steelcase chair comes with a headrest and adjustable lumbar support.  The manufacturers say that the design is influenced by the way human beings move naturally. This good ergonomic chair adapts comfort to people as they work, sit or move around from their chair. It offers a unique sitting experience as the chair is designed for a synchronized movement as you move in and out of your chair.
The armrests move in different ways as users normally turn them or twist them to rest their forearms. As a result, your body, including the shoulders and arms, are supported the best irrespective of your position.
Summary
Your health is the most important thing as you sit and work at a workplace!  Our recommendation goes to the ErgoChair series with their ErgoChair Plus, ErgoChair Pro, and ErgoChair Recline.
Video ads for product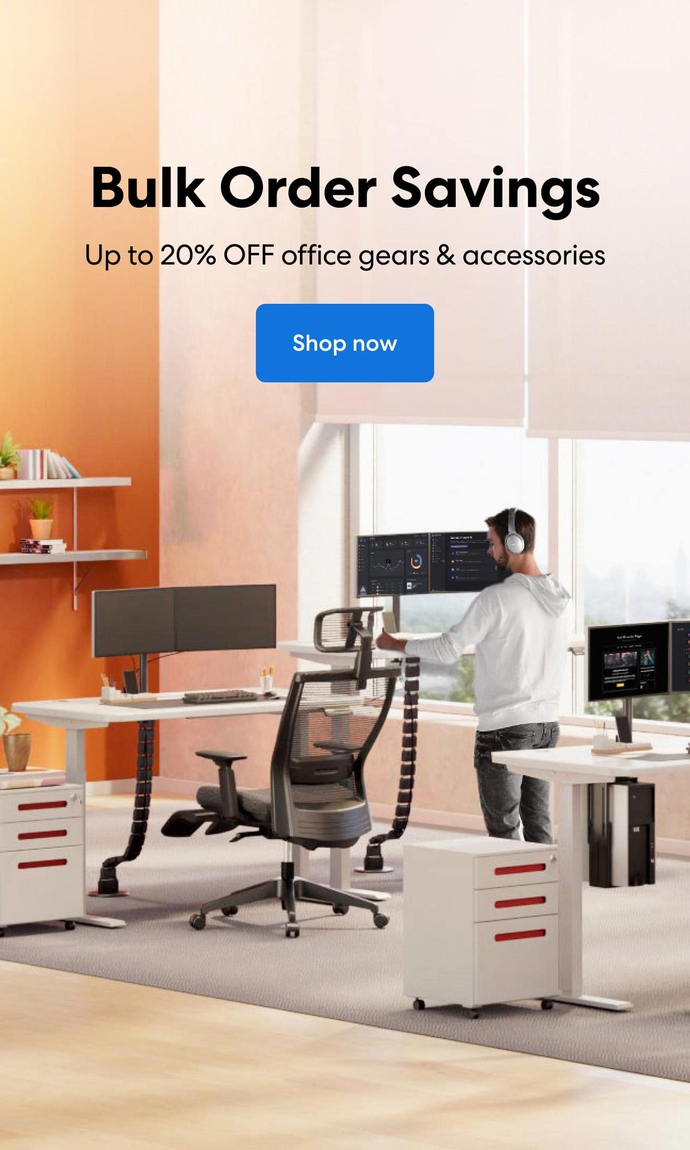 Subcribe newsletter and get $100 OFF.
Receive product updates, special offers, ergo tips, and inspiration form our team.