Smart Products
5 Must-Have Home Office Accessories for Productive Workplace

Autonomous
|
Feb 2, 2021
3,826 Views
The secret to a productive workplace is getting the right home office accessories. A computer, office desk, and office chair are basic equipment you use, but what about potential add-ons to enhance your experience? For example, what if you want to use multiple screens at once but lack the space to do so? You need to find yourself must have office accessories for your workstation.
What to Look For In The Best Home Office Accessories
Desk accessories should mainly focus on a clean environment that allows you to do multiple activities simultaneously. The more space you have, the more likely you can clear your mind and eliminate potential distractions. You can also use accessories to store items and set up an ergonomic work area. Some accessories are designed to reduce back pain, which is a major problem for several remote workers. As a result, consider getting your home office accessories for a cleaner and more relaxed atmosphere.

Below are five essential home office accessories every remote worker should own. Each of them is listed with detailed descriptions, alongside a pros and cons column. Without further ado, here are the best desk setup accessories you need to improve your work productivity.
1. Filing Cabinet
Autonomous offers a 3-Drawer Filing Cabinet for you to organize your documents. One of the more useful workspace accessories, this filing cabinet lets you put all your paperwork in one easy-to-find place. You have three drawers to manage your entire workload. It has four different color schemes to choose from - baby blue, evergreen, red apple, and cool gray.
Due to the minimalist design, you have plenty of space for your workstation. It's among several must have office accessories for this reason alone, since you need to find everything rather easily. Every remote worker relies on easily accessible storage for their workplace needs.
Filing Cabinet
Better organizes important documents and paperwork.
Minimalist design allows for greater space.
Good selection of color schemes.
Anti-rust steel is highly resilient.
Three drawers for smarter storage.
Affordable monthly payments.
It's a relatively basic product
2. Ultra Wide LED Desk Lamp
Lighting is among the more effective desk setup accessories. Your overall mood is important to your work productivity, so brighten up your area with this LED Desk Lamp from Autonomous. It uses an LED strip that is 31.5 inches long, put on a 35-inch stem. Depending on the time of day you work, you can alternate with any of the four different lighting temperatures. You can customize the light settings as you see fit. From bright levels to the coloration, you have complete control over how you want your work area to look.
Ultra Wide LED Desk Lamp
Four light temperatures for each time of day.
LED light allows for complete illumination.
Flexible stem enables you to move the lamp.
No glare within the 'flickerless' lamp setup.
Five brightness levels and 20 light settings.
Affordable price range.
Lack of color options for the lampstand.
3. Monitor Arm
Autonomous offers the Monitor Arm as one of their home office accessories. If you need multiple setups for your screens, this is a great accessory for your workstation. You can multitask between different computer screens using the monitor arm. It's fully adjustable with rotations, tilting, distance, height, and positioning. You can declutter your work environment due to the monitor arm, which allows better work productivity. It's also easy to set up.
Monitor Arm
Allows for multi-screen setups on your desk.
Fully adjustable to any fixed position.
Promotes focused productivity.
Slim design lacks bulkiness.
It saves you plenty of space.
Affordable price range.
It only allows for two separate monitors.
4. Cable Tray
A Cable Tray is one of the many desk setup accessories you could use. Autonomous offers this product to ensure you don't tangle your cables underneath your desk. The cable tray is simple but effective in its usage. You can install it quickly, so you don't have to worry about messy cables. If you want a clean work environment, consider the cable tray. It can make a positive impact on your mental health since clean space is important for remote workers.
Cable Tray
It lets you prevent tangled wiring.
Installation is quick and easy to do.
Steel material is relatively durable.
Allows for a cleaner workstation.
Light yet strong, nonetheless.
Only $25, which is considerably cheap.
Lacks color options.
5. Anti-Fatigue Mats
Autonomous offers workspace accessories as Anti-Fatigue Mats to reduce your back pain. In terms of comfort, these are some of the best home office accessories. You can massage your insteps while you stand, making it a perfect complement to a standing desk. The mats use materials such as PVC leather, along with an anti-slip layer of SBR. Your body can get the support it requires for long hours of work. Increase your energy levels with these anti-fatigue mats.
Anti-Fatigue Mats
Great synergy with standing desks.
Reduces back pain by letting you stand.
High-quality materials make it durable.
Lightweight and easy to pick up.
Comfortable for your feet.
Affordable price range.
Lack of color options.
Get Yourself The Best Home Office Accessories
Autonomous has you covered with some of the best home office accessories. Remorse workers rely on productive workplaces to complete their projects quickly. Otherwise, they might be prone to various distractions such as back pain and lack of focus. With these accessories, you can increase your concentration while you work. From the monitor arm to ultra-LED lamps, you can create yourself an efficient work area.
With the proper desk setup, you can work productively. The filing cabinet organizes your documents, while the cable tray untangles your wires. Use the ultra-LED lamp to illuminate your entire workstation, while the monitor arm allows for multi-screen setups. Last but not least, the anti-fatigue mats give you comfort. Go ahead and try it for yourself!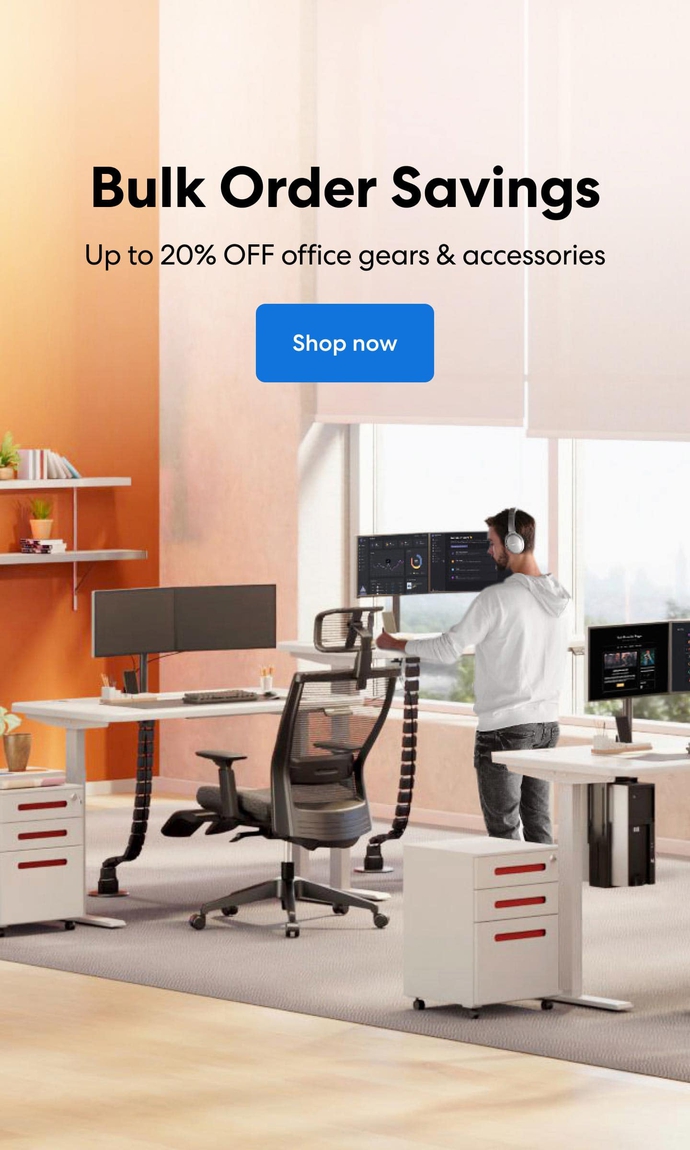 Subcribe newsletter and get $100 OFF.
Receive product updates, special offers, ergo tips, and inspiration form our team.