Workplace Inspiration
5 Office Huddle Room Ideas to Boost Collaboration and Productivity

Autonomous
|
Jun 27, 2023
279 Views
You may be wondering what a huddle room is. A huddle room is a compact space designed to encourage teamwork and collaboration within office spaces. It allows colleges to sit together, discuss matters of concern, and bond over shared interests related to work and otherwise. Huddle rooms can give you a sense of belonging at work as they prevent you from feeling isolated and give you an outlet to interact with your co-workers.
Huddle rooms exemplify modern work practices that can spark a sense of creativity and productivity among office workers. Working alone can get tedious and overwhelming at times, so huddle rooms offer the optimum solution.
Read this article about huddle room design ideas to create an effective huddle space to enhance working conditions.
Design Ideas for an Office Huddle Room
You can incorporate several ideas within your space to make a stimulating and wholesome office huddle room. These have been elaborated as follows:
Comfortable and Compact Furniture
When designing a space, one factor that holds a great amount of significance is the type of furniture you will use. Huddle rooms are meant to be compact spaces; hence, you should use small-sized huddle room furniture that offers the right amount of functionality and comfort. You can look into options such as foldable couches, adjustable desks, pull-out chairs, etc. These options can keep your space cozy and comfortable. You should avoid creating clutter or cramped space, which can feel suffocating.
Interactive Tools
The purpose of huddle rooms is to create a collaborative and interactive environment. You should incorporate elements that encourage interaction, whether in-person or virtual. Examples include having a round huddle room table where everyone can see each other, video-conferencing tools for remote interactions, projector screens for presentations, etc. It is important that your message is sent to everyone in the room and no one feels left out, as that defeats the purpose of a huddle room.
Bright Lighting
Lighting is another aspect that should be considered while designing a huddle room. Brighter lighting is likely to spark creativity as it encourages a fresher mood and prevents people from feeling lazy and unproductive. It would be ideal to have glass windows that allow natural light to enter the room. Brighter lighting can considerably impact your mood and make you feel better, which is an aspect that should be encouraged in huddle rooms, as you are likely to produce efficient results when you are in a fresh state of mind.
Aesthetic Décor
Making a space more aesthetic is always beneficial as visually appealing spaces are more likely to attract people and encourage them to spend time in them. Various office setup ideas can make your space come alive. For example, small planters, photo frames, creative wallpapers, cork boards, motivational quotes, etc. A visually appealing space is more likely to be stimulating, as your creativity can stagnate if you are constantly working in a monotonous space. Having such décor around you can make you feel more inspired and creative.
Cross Ventilation
When it comes to smaller spaces, a common issue that can arise is suffocation and overcrowding. To avoid this problem, it is recommended that you incorporate windows and air vents within your space. You can open up the doors and windows to allow some fresh air to circulate. Not only does this avoid feelings of congestion, but it is also good for your health. Cross ventilation can keep your space breezy and airy, which gives it a spacious and welcoming feel.
What Furniture Should be Added to a Huddle Room?
As mentioned earlier, you must choose the right furniture for your space to make it look better and experience the optimum level of utility. One of the best sites that offer incredible bulk furniture deals is Autonomous, where you can buy furniture for your huddle room. Here is a list of furniture options that you can include within your space.
Ergonomic Chairs
An ergonomic office chair is a very popular type of office furniture option. These office chairs wholesale are available on the autonomous site, and they can offer great utility to consumers. These chairs have high backs that are good for your posture, and the cushioning sustains your comfort level and allows you to sit for long hours without feeling tired.
Some suggestions
Small Desks
Autonomous also offers great deals on wholesale office desks that you can incorporate within your huddle room. It would be best if you went for smaller desks, such as standing desks, that don't take up too much room and can be adjusted based on the size of your space. There is a large range of desk options that you can choose from to enhance your space further.
Some suggestions
Compact Couches
Exploring options that offer comfort would be best because you can never work well in an uncomfortable space. Therefore, you should look into small couches that allow you to feel relaxed and comfortable. You are more likely to be stimulated in a homely environment than an intimidating one.
Some suggestions
Conclusion
To summarize, huddle rooms are a great way to encourage collaboration and productivity in the workspace. They allow employees to interact effectively, share ideas, work on different projects, etc. This article provides the ultimate guide on what ideas to incorporate within your huddle room to make it more stimulating and attractive for workers.
 It also specifies the kind of furniture that can go best in huddle rooms. You can design these rooms in a way that increases productivity levels and efficiency of co-workers through effective teamwork.
Video ads for product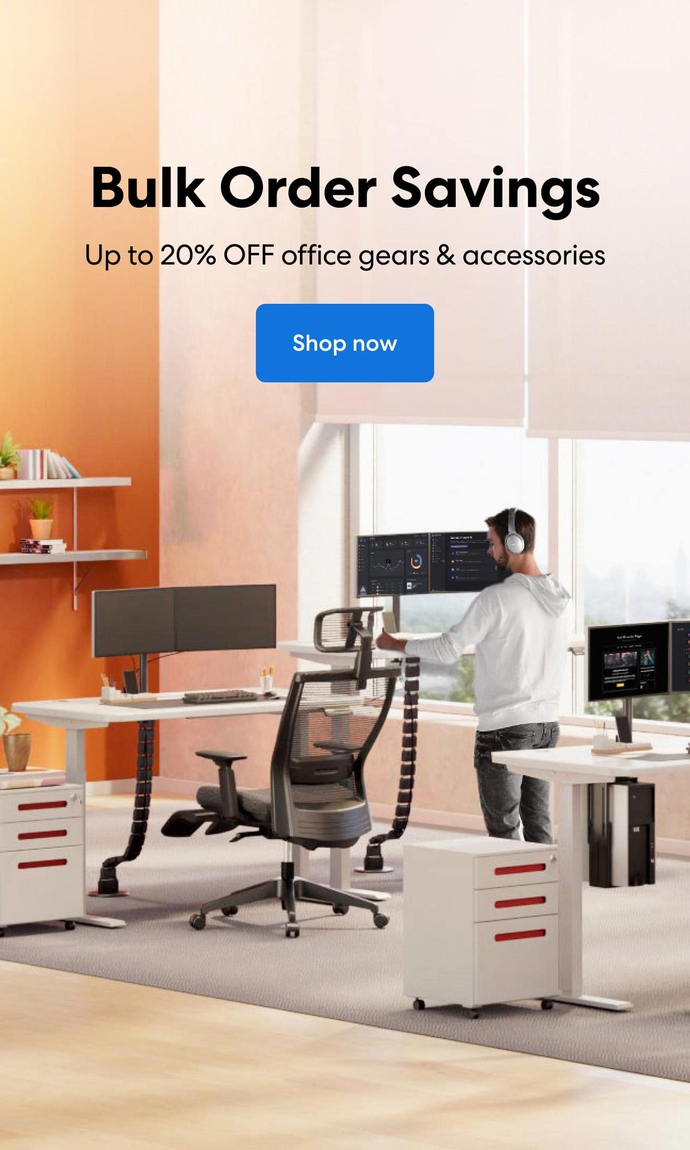 Subcribe newsletter and get $100 OFF.
Receive product updates, special offers, ergo tips, and inspiration form our team.