Smart Products
5 White Ergonomic Office Chairs in the UK You'll Love

Autonomous
|
Dec 19, 2020
4,487 Views
You have to consider many things if you want to improve your productivity and work performance, two of them being comfort and aesthetics. You can do many office investments to feel more comfortable while working and to improve your office's looks, and the most recommendable of them is getting a white ergonomic office chair in the UK.
The psychological effects of colors are sometimes underrated or ignored by skeptical people, but choosing the right color for your office items is essential to determine how comfortable and motivating your workplace is. We want you to have the best office chair you can ask for, so keep reading this article to know the five best white ergonomic chairs in the UK.
Why Choose White?
Choosing white items for your workplace not only improves your office's aesthetic but also provides you with psychological advantages that benefit your daily mood and prevent mental exhaustion by making you feel comfortable. We want you to acknowledge the psychological effects of purchasing a white ergonomic chair for white desk setup, so to help you understand this matter, here are the main advantages of going for a white aesthetic in your office:
Peaceful Environment
Purchasing white items like white ergonomic task chairs in the UK for your workplace gives your office a sense of peace that helps you reduce stress and anxiety, making office problems and setbacks less stressful and thus, improving productivity. Using strong colors such as red or yellow can make workers feel uncomfortable and nervous, making you feel anxious and making your brain less focused when working.
Accessibility
Office workers who like to have thematic offices with festive colors such as pink or green often have a hard time looking for ergonomic products since not every quality item is available in that kind of color. However, most ergonomic products and decorations have white, black, and gray as their primary color since those colors are popular for being elegant and formal.
That makes looking for an ergonomic chair easier for you, avoiding the nuisance of looking for an option available in the color you want to use.
Cleanliness
Having white-colored items in your workplace makes your office look more organized and formal. That's because white is often associated with order and cleanliness, requiring some effort to keep white items clean. Using white items in your office unconsciously makes you more careful and organized when working, which hack productivity, boosts focus and makes your workplace look professional and productive.
What Are the Pros and Cons of White Ergonomic Chairs in the UK?
Naturally, using white ergonomic desk chairs in the UK has advantages and disadvantages you must consider before getting one. Regardless of that, we assure you that there are no disadvantages that represent a setback to buying these products, but only things that could be a nuisance depending on the type of person you are and your pet peeves. Here are the pros and cons of white ergonomic office chairs in the UK for you to study before doing anything.
Pros and Cons of White Ergonomic Chairs
They boost productivity.
They make your office look clean and organized.
They improve your daily mood, reducing anxiety and stress.
They are accessible items with many affordable options.
They fit with almost every aesthetic you want for your office.
Ergonomic products are more expensive than standard office items due to the improved features and comfort they provide.
You have to make an extra effort to maintain white items clean, but that helps you keep your office clean and organized.
What to Look for in a White Ergonomic Office Chair in the UK?
Ergonomic chairs are useful for office and remote workers because of their features that prevent health issues such as preventing back and neck pain. Every ergonomic chair is different from the others and offers different things, but there are some features that every ergonomic chair should have, so here are the things you should look for in an ergonomic chair before you buy it:
Lumbar Support
Back supportt is what differentiates an ergonomic chair from a traditional chair, so you should look for a chair that supports your back properly. However, lumbar support is even more important among ergonomic chairs since it's essential to prevent several health problems and make sure you are comfortable regardless of how much time you sit on a chair.
Some chair designers and distributors ignore that feature and prefer to focus on improving other functions such as armrests or neck support, but we think lumbar support is something every ergonomic chair should offer. We highly recommend that you buy a chair that gives you the best lumbar support you can have since your health and comfort are a top priority when it comes to buying ergonomic products.
Adjustability
When buying clothes or other kinds of products, you have to worry about the size of the thing you bought and how it fits your body characteristics, but you don't have to worry about that when looking for ergonomic chairs. That's because most of these chairs allow their users to adjust them to their personal choice, customizing the chair to meet all their needs.
Some chairs have a greater range of adjustment than others, but there are some things that every ergonomic chair should allow you to customize, them being: seat height, lumbar support, neck support, armrests, and seat depth.
Affordability
Ergonomic chairs are not as inexpensive as traditional chairs are, but that doesn't mean you have to throw all your budget on an ergonomic chair when there are many budget-friendly alternatives on the market. Generally, these chairs cost more than others since they provide you with unique advantages that represent an excellent investment in the long run, but some chairs do that while being budget-friendly.
Take time to analyze the chairs shown in this article and choose the one that meets all your needs while staying on your budget. You must save money for other ergonomic products since combining your chair with other items optimizes its functions and boosts your productivity and work performance.
What Are the 5 Best White Ergonomic Office Chairs in the UK?
There are many decent white ergonomic office chairs in the UK on the market that are available in the UK, but we want you to have the best office items you can ask for. Buying an ergonomic product that is just good is not the same as acquiring a premium-quality option, so here the five best white ergonomic task chairs in the UK:
1. Autonomous ErgoChair Pro
If you tend to read articles or have read a top of the best white ergonomic office chair in the UK, you must know the Autonomous ErgoChair Pro. That's because this chair has made it to the top of most lists regarding ergonomic products due to its back support and top-tier posture correctness. This ergonomic chair is perfect for office and remote workers and is available in many colors for you to choose from, one of them being white.
Sitting for long periods is detrimental to your physical health since it forces you to be in a bad posture, causing several issues such as back pain, neck pain, and bad circulation in your legs and other parts of your body. However, the ErgoChair Pro addresses all those problems while allowing you to work for the time you need.
The ErgoChair Pro does that by correcting your posture and providing comfort at all times, so you get to work in a safe and comfortable position regardless of the time you sit on your chair. You can combine this white ergonomic desk chair in the UK with other ergonomic products such as the Autonomous SmartDesk 2, which is also available in the UK.
2. Autonomous ErgoChair Plus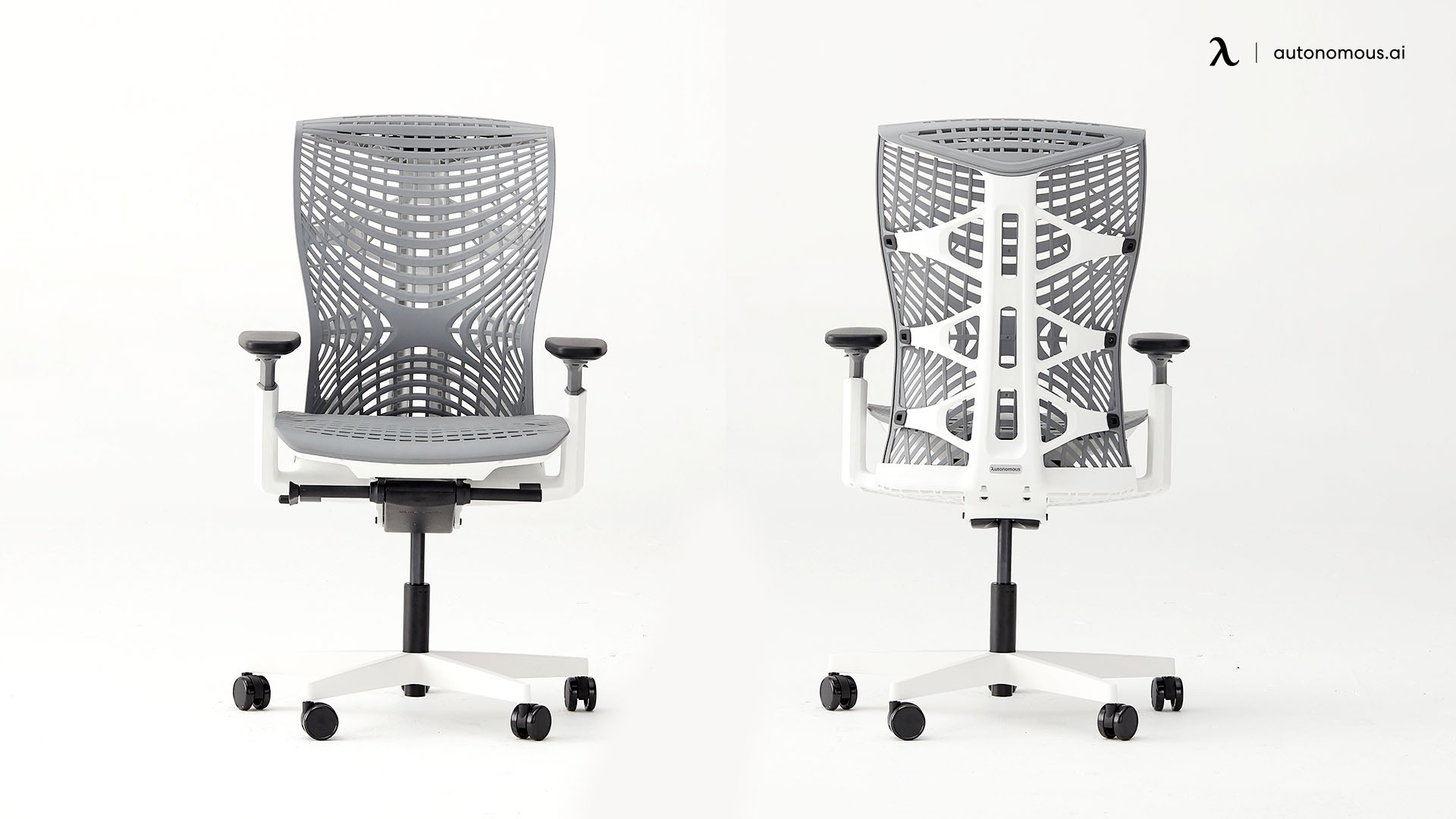 If you want a white ergonomic office chair in the UK with an innovative design that provides you with the best lumbar support you can ask for, the Autonomous ErgoChair Plus is the best option for you. The reason why this chair offers a top-tier level of lumbar support is because of its innovative fishbone design that adapts perfectly to your spinal cord's natural curvature, supporting your back regardless of the position you are in.
Lumbar support is an essential feature that every ergonomic chair should have to be considered useful since it's what makes you comfortable and prevents back and neck pain. Sitting on a chair that doesn't have a decent back support feature only jeopardizes your work quality by making you uncomfortable and causing several issues in the long run. Combining this chair with the best white office desks is obviously a good option.
The Autonomous ErgoChair Plus is made of the finest materials on the market, so you don't have to worry about the chair losing its quality or deteriorating after a short time. This white ergonomic desk chair in the UK is sturdy and has excellent longevity, so feel safe purchasing this chair since it allows you to work for long periods while giving you all sorts of advantages.
3. Hbada Reclining Office Desk Chair
Most chairs offer back support and boost productivity, but some of them do that while having other features that improve your comfort and make you work better. One of those white office chairs in the UK is the Hbada Reclining Office Desk Chair, a white ergonomic desk chair in the UK that has the primary functions of an ergonomic chair, but it's known for its outstanding reclining system that makes breaks and taking calls more comfortable than ever.
Some people take for granted this feature since it's not as common as other functions, but an excellent reclining system brings excellent benefits to the table that you didn't consider important before! Stretching is essential to improve your blood flow and prevent numbness in your legs, so being able to recline while working helps you stretch without having to stand up and allows you to work in more than one position.
This ergonomic product doesn't sacrifice its other features to offer a top-tier reclining system, providing a decent range of adjustments for its other functions. Like the other chairs in this list, the Hbada chair is available in white, and you can get it if you are currently working in the UK, so we highly recommend you to consider this chair for your workstation.
4. Herman Miller Aeron Chair
Herman Miller chairs are popular among office and remote workers because of the optimal back support they provide, giving you a unique sensation that boosts comfort like not many competitors do. It is such a good choice for your white ergonomic office chair in the UK. The Aeron chair is not the exception to that, being one of the best Herman Miller's designs on the market since it offers an innovative back support system that makes your back simulate a standing position while working.
Allowing your back to be in that position while working is priceless since that's the healthiest position you can sit on, preventing back pain, neck pain, and any health issue that you could have for sitting for a long time. The only setback of the Aeron chair and Herman Miller chairs is that they are highly expensive, so you should only buy them if that doesn't mean going over your budget.
5. IKEA JÄRVFJÄLLET
The final product in white ergonomic office chair in the UK list is from IKEA. IKEA is known for focusing more on utility than on aesthetics, but the JÄRVFJÄLLET chair gives you both for a reasonable price. While being a cost-effective chair that is perfect if you are working on a budget, the IKEA JÄRVFJÄLLET provides you with all the essential features an ergonomic chair should have.
Naturally, these chairs allow you to adjust them to fit your body shape and needs, letting you change the chair's height and position and thus allowing you to work in different positions throughout the day. However, what makes this white office chair in the UK shine is its mesh back that boosts comfort and keeps you cool during hot seasons.
Conclusion
As you could see, choosing the right color for your office items could completely change your workplace to a better and more productive work environment, so we recommend you choose white as the color you go for when buying ergonomic chairs.
There are many white office chairs in the UK that provide you excellent advantages and that you can get if you are in the UK, so take your time to analyze each one in the list and buy the chair that best suits your needs and that you know it's going to boost your productivity and well-being significantly.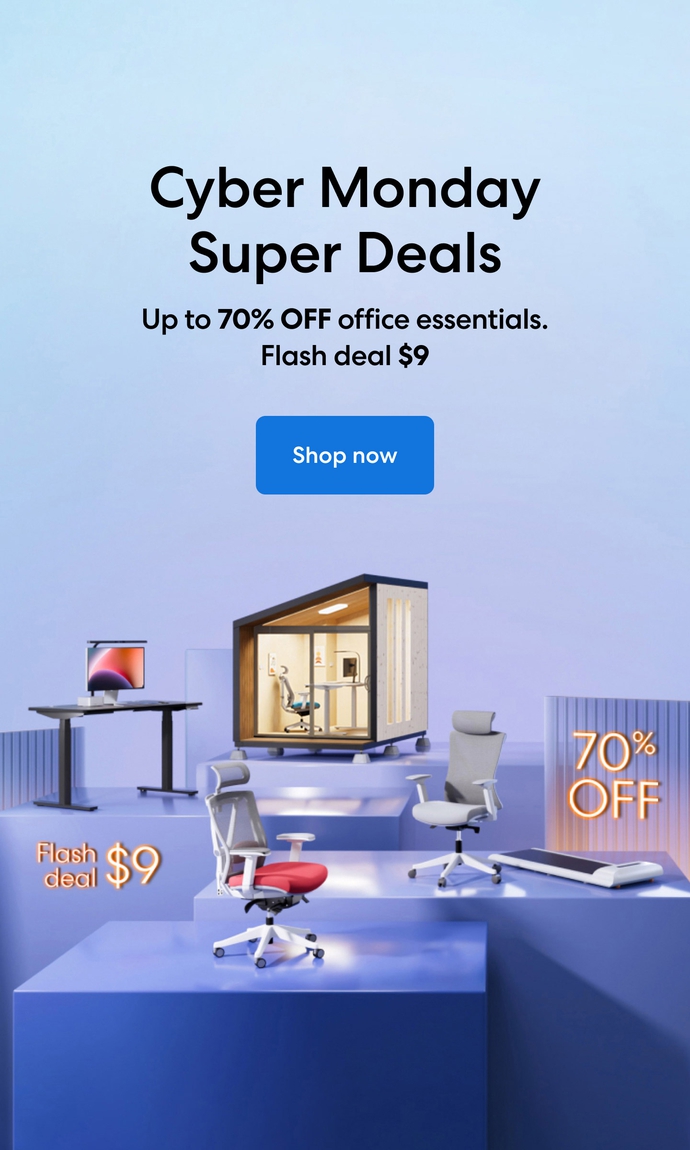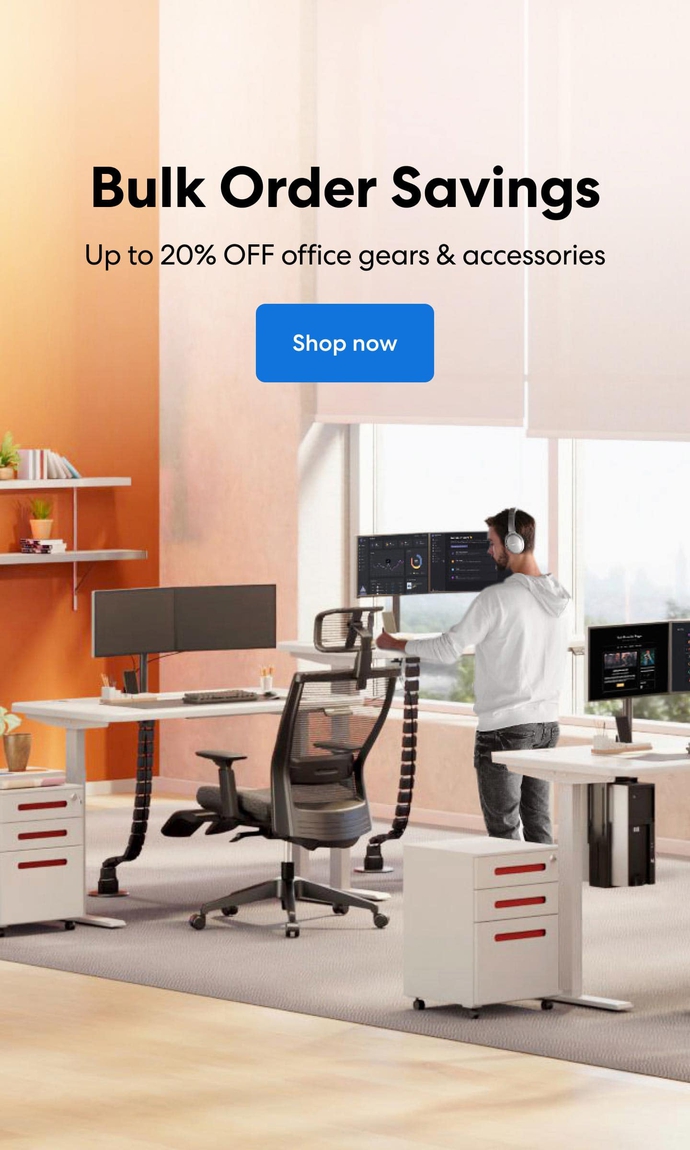 Subcribe newsletter and get $100 OFF.
Receive product updates, special offers, ergo tips, and inspiration form our team.