Smart Products
50+ Work From Home Essentials for Productivity in 2023

Autonomous
|
Dec 31, 2021
2,936 Views
When you are working from home, you don't have access to all the things that a traditional office space would give you. That's why it becomes very critical for you to understand what your work from home essentials are, allowing you to create the most comfortable and ergonomic workspace possible. 
You may view remote work as something on the less serious side of the spectrum. However, if you are going to continue to have it at your disposal, you should be able to at least demonstrate that the output quality is no different than it would be if you were in the typical office space. 
Therefore, the onus is on you to ensure that you have all the comforting elements you need to do the best you can consistently. These 51 work from home necessities are meant to supercharge your current working experience to take it to the next level. 
There may even be a few items here that you didn't even look at or think about before. So, why not browse the collection and see what piques your interest? There are numerous jobs from home that I must explore.
50+ Work From Home Essentials for Productivity Today
1. Autonomous ErgoChair
This is the first work from home essential in the list. The Autonomous ErgoChair is essentially the pinnacle of ergonomic chair design. It's available in four different variations, namely the ErgoChair Core, ErgoChair Recline, ErgoChair Pro, and ErgoChair Plus. 
Though not a part of the ErgoChair line, Autonomous also offers the AvoChair, which offers a budget ergonomic experience with a chair that is made from exclusively environmentally friendly materials. 
While some of the traditional ergonomic staples such as height adjustment, lumbar support, armrests, etc., are found across all the builds, you find that you get more premium features as you claim further up the ErgoChair ladder. 
By the time you get to the Autonomous ErgoChair Plus, you are dealing with a unit that has a frameless design, which is meant to allow you to move as much as you would like. If you have never experienced a chair that supports you while putting you in the right position and adjusting on the fly to your movements, this is where you get all of that. 
2. Autonomous SmartDesk
The final and arguably most important piece of the puzzle is your autonomous SmartDesk. Your office desk is your centerpiece, and it's not unlikely that you're going to be designing your entire office around whatever table you choose. Meet the Autonomous SmartDesk line, available in Core, Pro, and Corner variations.  
The SmartDesk Core and Pro designs are the more often used ones, being suited for home office and traditional office spaces, respectively. They offer generous height adjustment, memory presets, smooth and quiet dual-motor operation, as well as support for quite a bit of equipment. 
Feel free to order them in traditional or extra-large sizes, depending on the amount of tabletop real estate that you need. 
The SmartDesk Corner is an L-shaped unit designed to help you capitalize as much as possible on corner office space. The long and short sides are interchangeable, so you can place it just about wherever corner you may feel like. 
It uses a triple motor design to achieve efficient, smooth, and quick height changes. 
All these units are incredibly durable, featuring a steel frame complemented by a quality MDF wood tabletop. You have never experienced office standing desks like these.
3. Lexon Oblio Charger
This work from home essential is potentially one of the most tastefully designed products of this nature that you are ever going to lay your eyes on. It takes advantage of a beautiful tulip-shaped case that you can order in any one of three neutral colors. 
You had best believe that if you have company over, one or more conversations are going to be started purely because of this unit being on your desk. Not only does it help to charge your mobile device, but it also provides UV sanitation, discreetly killing any harmful bacteria or viruses that may be present. 
You are getting an Art Deco European design that is providing you with a 10 Watt wireless fast charge. The composition makes use of ABS plastic that is complemented by a rubber finish. Foreign object detection is also baked into the design for complete functionality. 
4. Autonomous Filing Cabinet
The Autonomous filing cabinet is next, and it fits expertly under your adjustable SmartDesk, making your workflow that's much smoother than you are used to. If you wish, you can get it in a neutral gray. However, if you want more of a niche look, feel free to order it in red apple, evergreen, or baby blue colors, which are just about perfectly suited to match those of the Autonomous ErgoChair Pro.  
The design features three drawers, customizable dividers, an anti-rust finish, and a perfect form factor design. Additionally, it's made from solid steel and its wheels and drawers are lockable. You get a weight capacity of 275 pounds here, which should go well beyond what you would ever need for such a unit. 
5. Autonomous Sustainable Cork Desk Pad
A cork desk pad is one of those work from home essentials that offer the quality of life improvements that you didn't know you needed until you experienced them for the first time. Responsibly harvested oak tree shavings are used to create this one. 
So, if you're on the environmental side of the spectrum, there is no need for you to be concerned about trees being harmed, as that was not the case. As you may know, the harvest is more likely to extend the tree's life than end it. 
The pad protects the desk's surface from any structures or damage that may come from normal use or accidents. Additionally, it's the perfect surface to allow your mouse to move around effectively, offering you easy and precise cursor manipulation. 
6. Autonomous Monitor Arm
Monitor arms are becoming quite the craze in today's office space, as people are starting to see the benefits of going for a suspended monitor layout, as opposed to the traditional standing one. It's one of many amazing accessories for working from home 
Note that autonomous offers this in a single and double-armed design, which you can tailor to the number of screens that you have. A premium alloy is used to create this unit, and it allows for 360-degree rotation. 
No matter the angle you choose while you work, your monitors remain completely secure, offering you the most flexible setup possible. So, if you want one of your screens to use portrait orientation instead of the traditional landscape one, feel free to get it effortlessly done. 
Some of the standout features of these work from home must haves include the aforementioned 360-degree rotation, a 20-inch vertical range, a weight capacity of 26 pounds per arm, support for screens between 18 inches and 28 inches, cable management integration, and very easy assembly. 
7. Desk Organizer
As you'd imagine, the desk organizer helps you compartmentalize and keep your space as neat as you possibly can. It's one of the best home office essentials.
8. Desk Lamp
Support the natural light around you with adjustable artificial lighting. You should have a LED desk lamp or floor lighting for your home office setup.
9. Under-desk Footrest
Your office chair may have a footrest, but how about one under your desk to rest the soles of your feet from time to time? 
10. USB Fast Charging Cable
This is one of the work from home must haves for a smart office. Get your mobile device and tablet charged up as quickly as possible, so it can get back into the fray.
11. Portable Bluetooth Speaker
The portable Bluetooth speaker offers you quality sound at your desk, but you can also pick it up and move around with it when necessary. 
12. Wearable Weight Set
Sedentary living is never a good thing. So, why not put on this wearable weight set and get in a little exercise as you move? 
13. Desk Plant
This home office essential is all about the aesthetic flair. Bring a sense of calm to your desk by putting a small potted plant atop it. 
14. Laptop Stand
If you have a laptop, this work from home product allows you to angle it perfectly for the best work experience. 
15. Scented Candle
A welcoming aroma is a great way to improve your level of comfort and productivity in your home office. 
16. Self-cleaning Water Bottle
Never forget to stay hydrated, and do it with a self-cleaning water bottle for the greatest efficiency. 
17. Smart Garden
You can look at these accessories for working from home as the next step up from the traditional potted plant, to give you a little bit of fun.
18. Posture Corrector
You are almost inclined to hunch forward as you work. Allow the posture corrector to fix that over time. 
19. Wall Art
A remote workspace needs personality to allow for maximum efficiency. 
20. Rug
The rug offers a thick layer and it traps dust and other particles that you may not want going anywhere else. 
21. Desk Sculpture
This is another attempt at adding some personality to your office space. These work from home must haves cannot be missed in your workspace.
22. Pen Set
You never know when you're going to need to write something down. This is needed even more if you are always writing things. 
24. Notepad
Well, you already have a pen set, so why not have a little something to write quick notes on? 
25. Roomba
If you're going to have a rug, you need to vacuum it. The Roomba takes care of these home office essentials for you without the need for manual intervention. 
26. White Noise Machine
This becomes incredibly useful in a noisy environment, replacing unwanted sounds with more soothing ones. 
27. Neck Massager
Everyone knows that you can build a lot of tension in your neck from your work, so why not allow the neck massager to release it all? 
28. Toaster Oven
Hey, there's nothing wrong with getting a quick snack on the job. Allow the toaster oven to jump in and help you. 
29. Planner Application
It's best to plan effectively to get things done in your Home Office. A planner application helps you do this in a pinch. 
30. Dedicated Microphone
This is a no-brainer if you are going to be having virtual meetings and you need quality sound in your corner. 
31. Laptop Phone Holder
Sometimes, it is that much more efficient to have your phone suspended off the side of your laptop. 
32. Over-ear Headphones
While the microphone helps you to output clear sound, this one helps you to listen well in your video meetings. You can even play some music too. 
33. Coffee and Espresso Maker
Do you need your morning coffee before you start getting the day's tasks done? If so, this one's for you. 
34. Seat Cushion
Depending on the chair you have, you may not need this one. However, if you do, you know where to find it.
35. Mug and Warmer Set
Warm and hot beverages are essential for many different reasons. Allow this dynamic duo to hold yours. 
36. Blue Light Glasses
The intense blue light emanated by screens is not the best thing for your eyes. Allow your glasses to protect you. 
37. Action Figures
If you are into action figures, it's just another way to add personality to your space. 
38. Printer
This work from home necessity is self-explanatory just in case you need to get some documents printed. This work from home essential is a must-have for some small businesses working at home.
39. Keyboard
These work from home products are essential for your desktop, and something you should investigate for your laptop. 
40. Fidget Spinner
You'd be surprised to know how much these accessories for working from home help you to think. 
41. Rubik's Cube
These work from home essentials are extremely interesting. Again, this is a thinking tool. There's no need for you to try to solve it unless you want to. 
42. Travel Bag
Whenever you need to be mobile, you should be able to throw your essentials into your travel bag. 
43. Webcam
This is another work from home product for your virtual meetings. Get a high-definition option for the best picture. 
44. Rolodex
While you don't see these so much anymore, they're very good for organizing your contacts. 
45. Blanket
This is one of the work from home essentials you should shop now. Your home office space gets cold sometimes and a blanket is a perfect thing to help you with that. 
46. Laptop Case
Protect your laptop when it's time to travel around with it by getting a laptop case. 
47. Desk Art
Why not keep some art on your desk for even more personality? 
48. Inflatable Chair
This is not your office chair, but it's a place for you to kick back and relax from time to time. 
49. Sweat Suit
If you want to help yourself select as you get incremental workouts during the day, here you go. This work from home essential may not disappoint your expectations.
50. Facial Humidifier
Keep your skin safe and moisturized with this work from home essentials. 
51. Selfie Light Ring
Bad lighting can ruin your video feed in your meetings, so this light ring compensates perfectly. 
Final Remarks
We know that it's quite a lot to take in. Are you planning on getting all this stuff? How much of it did you know existed? How many new items did you learn about? 
These home office essentials come together to make your workspace one of the most comfortable and productive on the planet. They were carefully selected based on the experiences that other workers have had with them, as well as the sheer quality and value that they can add to your lives. 
Hopefully, this list helped you to revolutionize your current workspace into something that you look forward to using with work from home products that boost your output daily.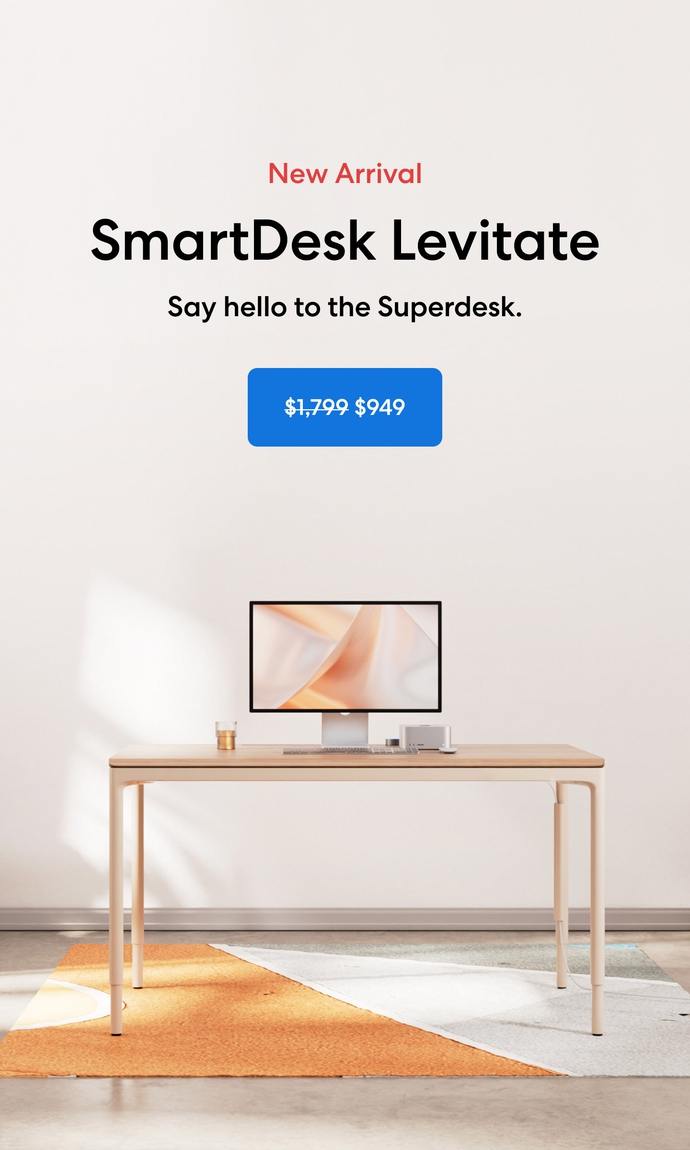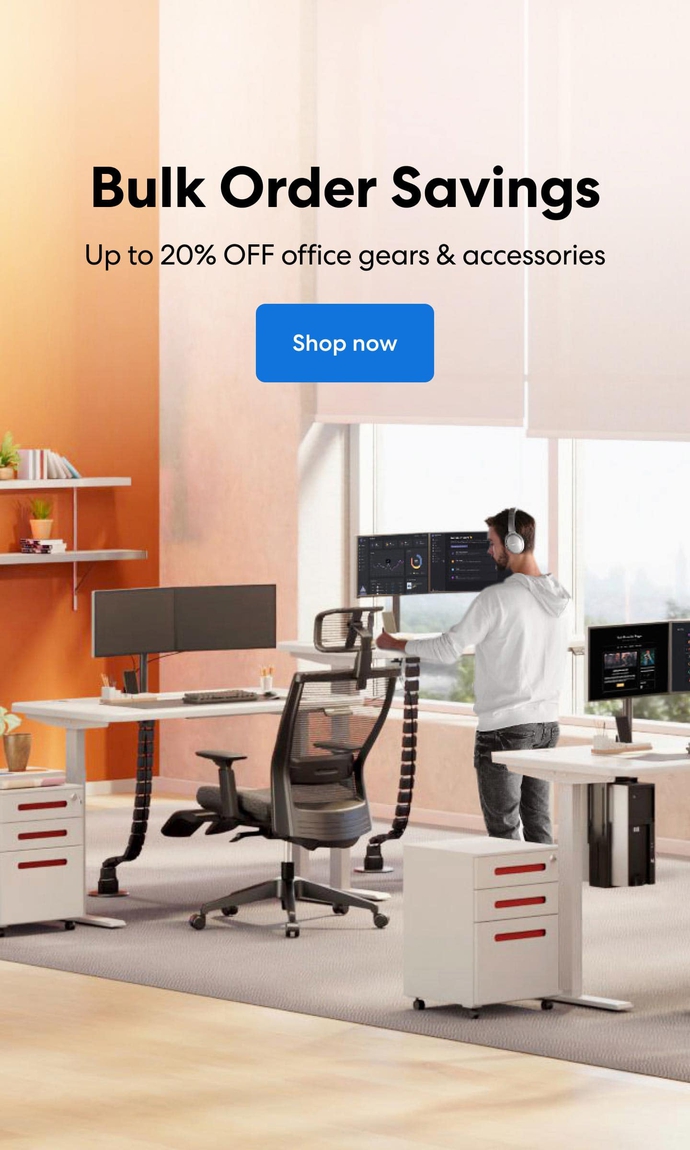 Subcribe newsletter and get $100 OFF.
Receive product updates, special offers, ergo tips, and inspiration form our team.