Smart Products
6 Best Active Standing Desk Mat for Ergonomic Workstation

Autonomous
|
Jun 23, 2021
1,840 Views
The idea of working while standing isn't new, but not many people are aboard with it. Few are afraid of discarding their old desk and purchasing a new one, while many aren't even convinced about the positive impacts of switching to standing instead of sitting. If you belong to the latter crowd, you must start by learning about the scientific research backing the benefits of standing instead of sitting.
Sure it seems tough imagining standing for 8 hours straight, but this is where height-adjustable desks and other standing desk accessories come into use. If you are making this wise transition or having a hard time adjusting to your new standing desk, you need a standing desk mat to make those feet rest and not lose the perfect and healthy posture for your body.
Benefits of Standing Desk Floor Mats
The benefits of an anti-fatigue mat for a standing desk are many considering they prevent your legs from extra load or constant pressure. They also encourage healthy micro-movements, which help improve the healthy blood flow to the vital organs. A Standing desk pad also allows the lower body to distribute pressure evenly, so no part of the feet remains under extra strain or pressure. There are many standing desk mat benefits rarely known.
Better Posture
Workplaces and bad posture is a tale popular since old times. People who spend eight or more hours working have a high probability of complaining about backache. Unhealthy sitting or standing habits in the workplace lead to poor posture, which is a problem that lasts long-term. With the help of anti-fatigue mat for standing desks, the stiffness in the body is reduced. Thus, minor movements are encouraged. This prevents the back from getting too stiff and also eliminates muscle tension.
Reduced Pressure
People who work while standing for a long time complain about pain in their lower back and heels. This pain from too much pressure on the feet results in the spine under stress. A standing desk mat is soft against your heels and toes, thus preventing pain from shooting up to your spine or lower back.
Prevents Headaches
This seems to be a long shot, but it is true. Using a standing desk mat takes off the load from the shoulders and neck, thus preventing headaches. In addition, the shoulder muscles are free to move, and they don't shrug or slouch because of the extra pressure.
Cold Floors
In places with extreme weather where you cannot work with shoes all day, standing mats protect your feet from the cold floor. They also form a barrier between your feet and floor, replacing the hard floor with something soft and pushy.
Best Standing Mats for Work
The amount of time you can work while standing isn't only defined by the brain's ability to remain fresh. According to many types of research, physical fatigue is the major reason for low productivity in the workplace. The right anti-fatigue mat or standing desk mat can increase your time working while standing by three folds.
Since searching for the perfect standing desk mat can be hard considering, they come in different sizes and offer different functionality.
Here are some of the top choices of standing desk mats for workplaces in 2021 based on the relevance of health and productivity.
1. Anti-Fatigue Mat
This anti-fatigue mat from Autonomous encourages micro-movements without pushing the user beyond the comfort zone. The tiny texture allows the feet to rest as well as prevent them from falling numb. The two-inch incline is ideal for both divided pressure and smooth feel against the feet. Moreover, the mat also has great tensile strength for years of durability.
2. Sky Solutions Anti-fatigue Mat
Would you love wearing shoes made of clouds? Well, that's how the users describe this mat. Made with a memory foam pillow and cushioned to the maximum, this mat is no less than a pillow for your feet. This doesn't mean it encourages you to sleep at work; rather, it maximizes the blood flow and encourages tiny healthy movements. Not too hard nor too soft, this mat is the right choice for anyone whose feet are tired of resting on the hard floor.
3. Featol Store Anti-fatigue Mat
The Featol store mat is different from its competitors because of its double layering. This anti-fatigue mat lives by its name since it is nothing less than a cloudy cushion for your feet, as stated by the users. This mat has two layers that make it ideal for hard floors. It allows the user to stand for many hours without ever feeling the need to sit down or rest their feet.
4. New-life Anti Fatigue Mat
Even though gel mats aren't so popular among users, this product has added new fame to gel mats. Thanks to its strong make, thoughtful design, and great quality. This mat remains fresh and new even after several washes, and many users claim it ideal for standing while working, gaming, doing chores, or even minor to major everyday tasks.
5. ComfiLife Anti-fatigue Mat
The comfilife anti-fatigue mat is a minimalist flat positioned mat for sit-stand desks that does more than it shows. The ComfiLife is the finest value for money when it comes to pressure-relieving support, comfort, and pricing. Its build quality isn't as good as other expensive options on the market. Still, if you vary between sitting and regularly standing, as you should, this is a cheap option to meet your comfort and ergonomic demands.
6. Ego driven Topo
Guaranteed to prevent your feet from getting bored, this standing mat is fun and comfortable all in one. This standing mat offers an elevated position as well as a neutral position. You can keep your foot or feet in either position, or the tiny movements will prevent any extra pressure on your lower back, legs, heels, and toes. It's also resistant to stains and punctures, and you can move it around with just one foot rather than bending down.
How to Choose the Best Standing Desk Mat?
The standing desk pad guide, also known as the anti-fatigue mat buying guide, helps you choose the best product for you according to various factors. However, a standing desk mat is important for anyone working while standing but for people with underlying health conditions such as back pain or any major to minor surgeries, having a comfortable cushion for their feet is mandatory.
Video ads for product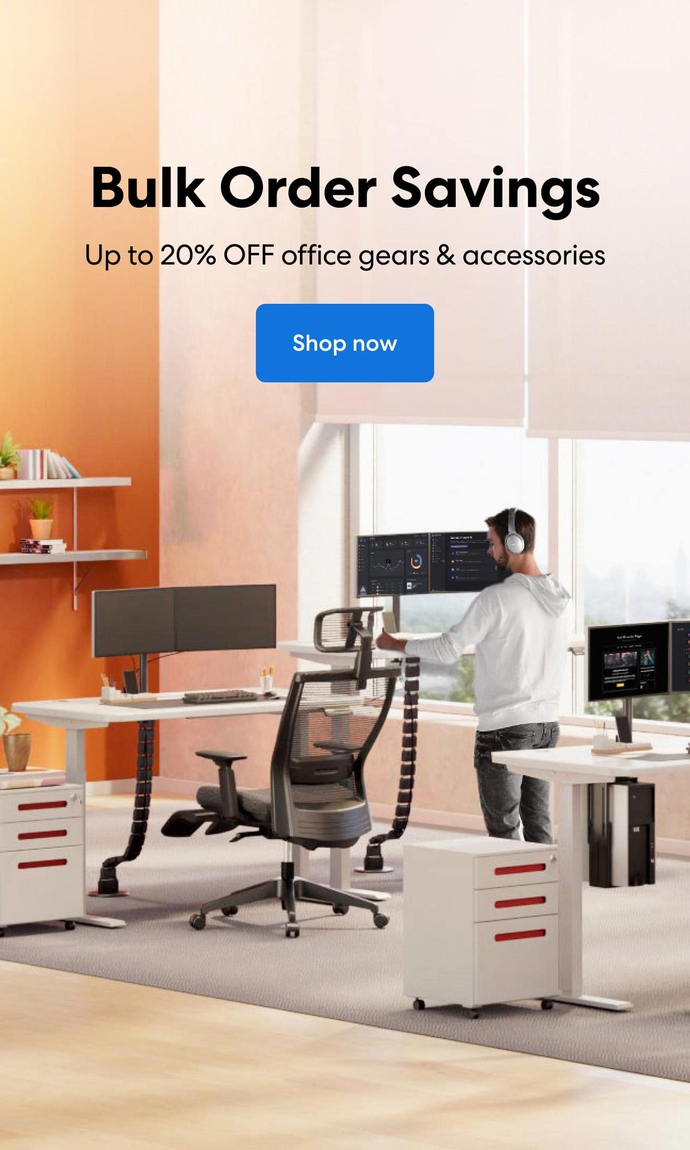 Subcribe newsletter and get $100 OFF.
Receive product updates, special offers, ergo tips, and inspiration form our team.