A standing desk is something that can give you a lot of health and productivity benefits. While it might seem less comfortable and more work than a typical sit-down desk, an excellent white standing desk more than makes up for it with everything it gives you and your work.
However, there are a lot of white standing desks out there. Even when you narrow your picks down to the website Autonomous, there are still a handful of Autonomous Smart Desk options that you can pick from. Thankfully, this article selects the top six desks and analyzes them for you, so you just need to choose the perfect white standing desk for your situation.
1. The SmartDesk 2 - Home Office
This first selection is one of the finest from our white SmartDesk 2 - Home Office collection. The SmartDesk 2 Home Office is one of the biggest and the best desks for your home office. The desk is very adjustable and can be silently raised and lowered with just one press of a button.
The white height adjustable standing desk is made from a robust frame, and it is perfect for both work and play. No matter what you place on this desk, you can count on the motorized frame to lift it. The desk can lift up to 300lb, which is way more than the weight of a typical office setup. Whether you have a computer, a stack of books, or everything but the kitchen sink on your desk, the motor can still allow you to raise and lower it.
The motor is also very silent, allowing you to fiddle with the height of your desk and make adjustments as needed throughout the workday. Plus, you can do it all without disturbing your neighbors.
Pros of SmartDesk 2 - Home Office
A silent motor that can move up and down with a touch of a button
The desk can hold and lift up to 300lbs
2. SmartDesk 2 - Business
If you love the idea of an Autonomous smart desk but need something personalized for the office, then look no further. The SmartDesk 2 - Business is designed to provide comfort and energy while remaining flexible. This white sit-stand desk can go from 26" to 52" with a button tap, and the silent motor should allow you to change the height without wrecking the sanctity of the office space.
The increased height does nothing to defeat the minimalist design, and it almost sits out of the way. This ensures that the white stand-up desk matches with any style.
Pros of SmartDesk 2 - Business
Vastly improved height
A premium smooth finish for that professional look
3. Art Desk
Not all white standing desks are for the office or the entrepreneur working at their home. Instead, some of our curved standing desks are designed for people with more creative pursuits in mind. A white stand up desk is one of the best tools for artists because it allows you to spread your items out across a wider area and lets you keep your focus for much longer. 
Art is a discipline that requires you to sit down, use your hands, and focus on whatever it is that you are doing. You need to keep this up for an extended period of time, and a white standing desk is one of the best ways to do that. A curved desk can provide support when you need it and a unique view of your art as you lay it all around you or up on the whiteboard standing desk.
Pros of Art Desk
Reduces strain on the wrists and hands due to bad posture
It can help artists keep the focus on their craft.
4. L-Shaped White SmartDesk
One of our white L-shaped standing desks might seem like a unique shape to pitch to you, but an L-shaped desk does have some advantages, even if it is a standing desk. The L shape allows you to spread your items out over a wider area. Rather than having everything in front of you, you can place all your unneeded items off to the side and turn to them when they are needed.
The design choice might seem a bit unorthodox, but it can fit neatly into any space. So many offices don't use their corners, or if they do, the corner desk can seem quite cramped. But the L-shaped smartdesk can fit anywhere, and with the standing design, you won't feel cooped up.
The L-shaped white sit stand desk provides space, flexibility in placement, and the same motor that we use in all of the other desks. It's three for three, and that's why we highly recommend it if you are looking for something different.
Pros of L-Shaped White SmartDesk
Provides more space 
It can be placed anywhere, even in corners
5. White DIY Desk Frame
While buying a premade desk works for most people, we know that not everyone has the same amount of office space or other necessities. But a white DIY desk frame makes everyone happy and gives you the perfect amount of control when it comes to designing your new desk. The edges are durable, and you can create your own white height adjustable standing desk workstation.
The DIY desk frame is designed to be simple to put together and is built to last. Once you put it together, nothing is taking it apart.
Pros of DIY Desk Frame
A lot of customizability
The same motor and lifting power as pre built desks
Cons of DIY Desk Frame
It can take some time to set up
6. Double Desk
Finally, if you are sharing your workspace with a friend or just need more space than a typical desk can provide, you can use the double desk. This white office standing desk is all about size, giving you double the space with two tiers of surfaces that you can move with ease. It's great for working on a team project or organizing all of your items.
Additionally, we know just how cluttered things can get around a group desk. That's why we built a PowerBeam into the side of the desk. This lets you put all your wires and chargers in one central location, making them easy to grab when needed.
Pros of Double Desk
Lots of Space
Both desks are independently controlled from one another
No matter what type of standing desk you buy, you should see some benefits with just the first use. Give it a go and see how a white standing desk improves the energy in your home or office!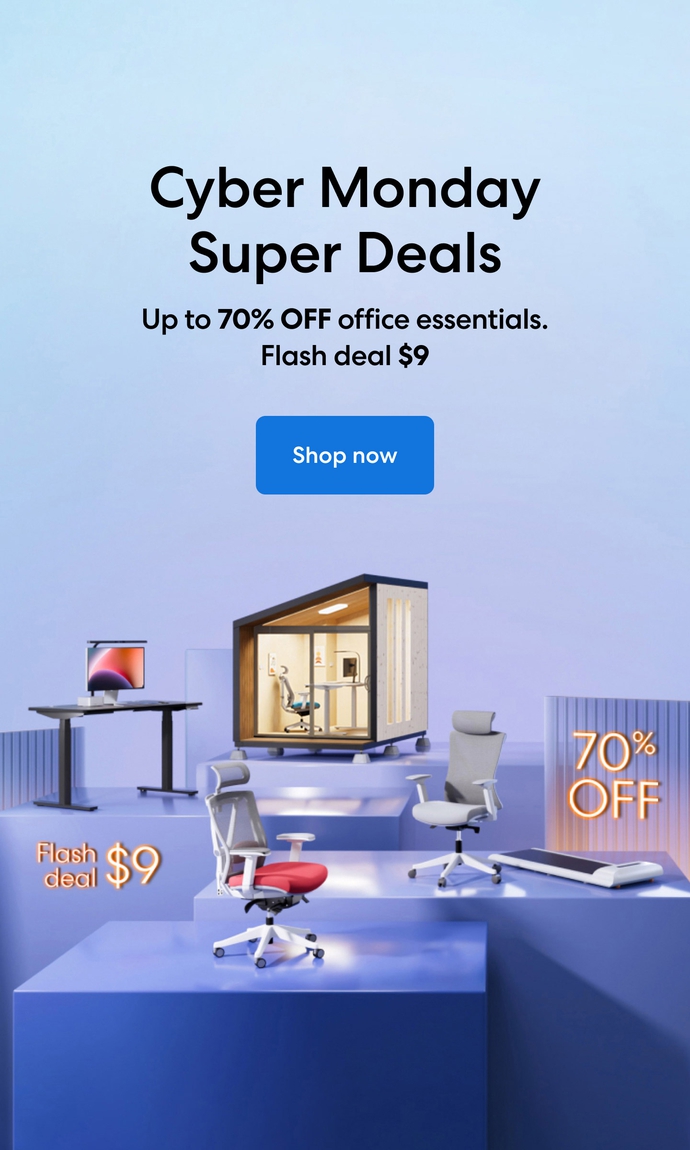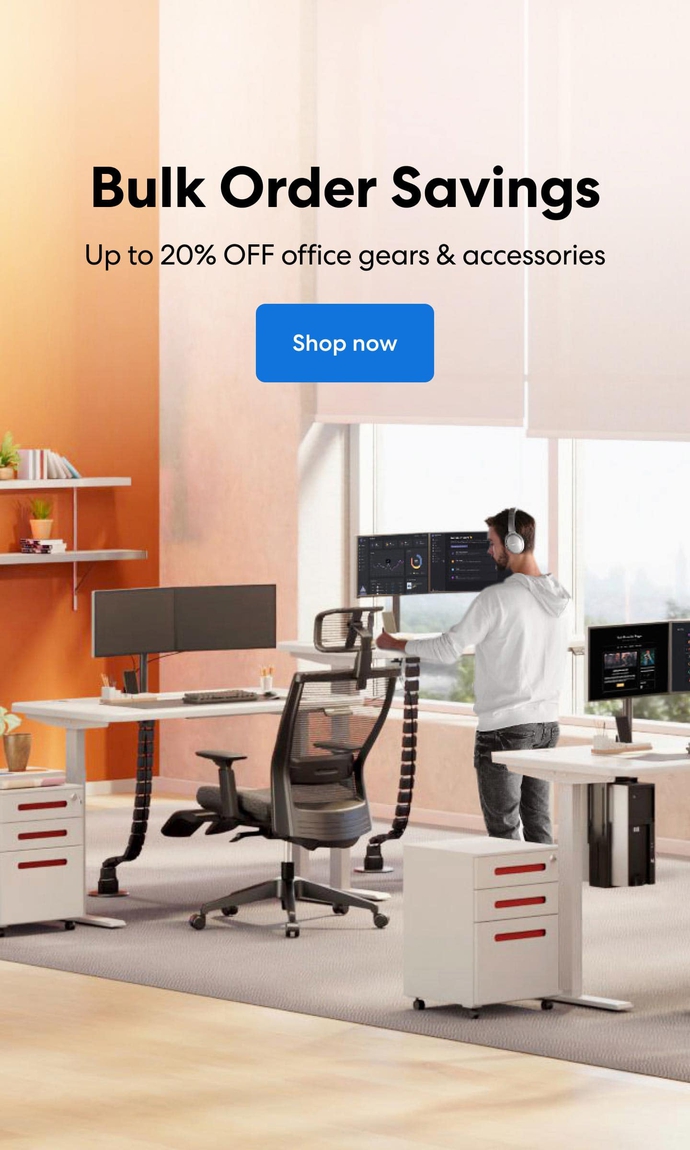 Subcribe newsletter and get $100 OFF.
Receive product updates, special offers, ergo tips, and inspiration form our team.