There is no better way to make you more productive and comfortable in your office than investing in the perfect desk. As so many people work in a sitting position and there is a much bigger consciousness regarding health risks of sitting that this can cause, there are a lot of options to pick from.
If you are looking for the choice of the best bamboo desks in Canada, you are in the right place. Here you can see the six best bamboo desks in Canada that you can choose from.
How to Pick the Best Adjustable Desk for Your Office
When it comes to choosing a perfect desk for your office, it is not an easy task. Each office is different. In the case of a small home office, the space is often converted from another room.
Many people work remotely and might have limited space to organize their working area. Limited space doesn't mean you have to resign from comfort. You just need to pick smart solutions.
Here are some of the most important things to think about before picking your desk:
How Much Space Can You Dedicate to Your Desk?
Before picking a desk, you have to think about how much space you want and can dedicate to this piece of office furniture. While purchasing one with a large top might be tempting for you, it might reduce your productivity. Having a cramped office often increases stress levels and makes you less productive.
If you have a small office space, reach for a smaller desk and think about some additional area. For example, you might consider options with an extra drawer, purchase a small filing cabinet that you can put under your desk, or hang some shelves above it.
What Color and Style to Pick
When it comes to design, the only limit is your own imagination and taste. Perhaps you have a very minimalistic interior and would like to add some outstanding detail. In that case, you can choose a desk modest in form but with a bold color that is going to add some personality to your room.
In case you have a more traditional office with a vintage design, adding a minimalistic desk can be a good idea to not interfere too much with the previous office design concept. Bamboo tops are a very good idea in this case. They also look well in more modest interiors. Natural wood is also a perfect addition to rooms filled with plants.
What Is Your Budget?
Let's be honest: a good, brand new desk is quite an expense. Remember that you are investing in your health and productivity. Very often, producers offer a long-lasting warranty, so you can be sure your money is well spent. Some of them, such as Autonomous, also offer a free trial, so you can have time to test and think if it's the right choice for you.
To make the task a bit easier, you can set a price range to have a better idea of what you are looking for. If you cannot afford this expense at the moment but need a desk, you can check out options to pay in parts.
Autonomous offers a "pay over time with Affirm" option, so you can benefit from a perfect bamboo electric desk in Canada as soon as possible.
What Are the Advantages of Using an Ergonomic Desk?
Nowadays, many people work in a sitting position. The human body is not constructed to do this for so many hours and that can cause serious health issues. This is why people look for smart solutions that can ease those negative effects and increase their comfort during work.
One of those solutions is switching a traditional desk for a standing desk. There are numerous benefits of having an ergonomic desk. One of them is freedom in changing position. With an ergonomic desk, you can stand or sit without stopping your work. The mechanism quickly moves your desk to the desired height.
If you work eight hours in your office and then additionally watch TV, you spend most of your day in a sitting position. That makes you exposed to various physical ailments that are connected with lack of activity. In the long run, they can lead to severe health problems.
With a standing desk, you can get out of your sitting routine more easily. Swapping between sitting and standing gives your body some necessary movement. It can also fix your posture and improve it.
When you sit for a prolonged amount of time, your muscles get tired. Then you tend to hunch over. This can lead to back and neck pain, which in the long run can ruin your posture.
If you don't feel discomfort, you are able to focus more on what you are doing. Moreover, swapping positions once in a while makes you more energetic and ready to work. That means you can be more productive if you have a comfortable working station, especially a sit-stand workstation.
The Best Bamboo Adjustable Desks in Canada
1. SmartDesk Pro
It's the newest option in the Autonomous store. It's one of the most advanced desks and one of the best bamboo electric desks in Canada you can pick. Thanks to the wide top, it's perfect for those who need a lot of space to work. You can choose from the classic top: 53" x 29", or choose an XL option to get a 70.5" x 30" top.
Whether you want to get it for a classical or modern interior, a universal, minimalistic design is going to suit your working room. You can choose various colors and materials. If you are interested in purchasing the SmartDesk Pro, you can pick from the dark and natural shade for your bamboo table top in Canda. To complete the look of your desk you can choose the frame's color: white, black, or green.
This bamboo standing desk in Canada is absolutely a perfect option for your office. For the full comfort of work, you can quickly change a sitting desk into a standing one. You just need to press the button and, with the speed of 2.3"/sec, you are going to get what you need. The dual motor is assembled in the frame and can lift up to 300 lbs.
If you are not sure if that option is for you, you can test it for free. You have 30-days to decide if you want to keep it or send it back. You can be sure it's a great investment, and you get a seven-year warranty for the frame, and a one-year for the top.
2. The Crank Adjustable Height Standing Desk
This bamboo standing desk in Canada has a simple, yet slightly clunky look. It might not suit all interiors because of the thick legs, but it is still a good choice for some.
It comes with a bamboo top and you can pick a white or black frame. You can also choose how much space you need to work: the top comes in 48" and 60" width. It's not an electric option as you have to lift the desk using a crank. The range of height is 32" - 48.5".
3. The Split Top Electric Stand Up Desk
This bamboo adjustable desk in Canada comes with a black frame and a bamboo top. It has only one size for the top: 48" x 30". That might not seem enough for people who need more space to work.
However, on the desk, a split top was added. An extra top can be used as a place to place documents or two computer screens.
Thanks to the ergonomic frame, the height of the desk can be changed within seconds. You can choose from 28" to 53", but thanks to the extra top you get an additional 5" - 7".
The desk has two caster wheels with brakes, so you can quickly and easily move the desk around your office space whenever you need it.
The powder finished frame and split top look very neat and stylish with a main bamboo top.
4. The ZHU CHUANG Electric Standing Desk
Whether you're looking for a bamboo desk in Canada for your home or office, this is a great choice for your bamboo electric desks in Canada. The top was executed in renewable and 100% natural solid bamboo.
You can lift it using a dual motor. To pick the best shape for you, the desk comes in a few options of rectangle or contour form. Thanks to this, you also can add a modern spark to your interior. A white painted steel frame adds to the minimalistic look of this desk.
You can also choose from four lengths: 42", 48", and 72" (for rectangular), and 60" (for contours). You can also adjust the height between 27.6"- 47.2" and once you find your perfect settings, you can add four preset memory options.
5. The FEZIBO Electric Height Adjustable Standing Desk
If you want a bamboo electric desk in Canada with some extra features, this is a great option for you. The desktop is 48" x 24", and it has an electric lift system that can adjust the desk's height from 28" to 46". You can save the preset memory for full comfort and save time.
The frame is heavy-duty and can lift up to 176 lbs. That makes it a perfect choice for people who have a lot on their workstation.
This bamboo desk in Canada has a bamboo table top in Canada and an additional drawer to keep it neat. In the price of the product, you also get a cable management tray and a hook on which you can place your headset or hang a bag.
If you don't want to commit without testing, you can ask for a 30-day trial option.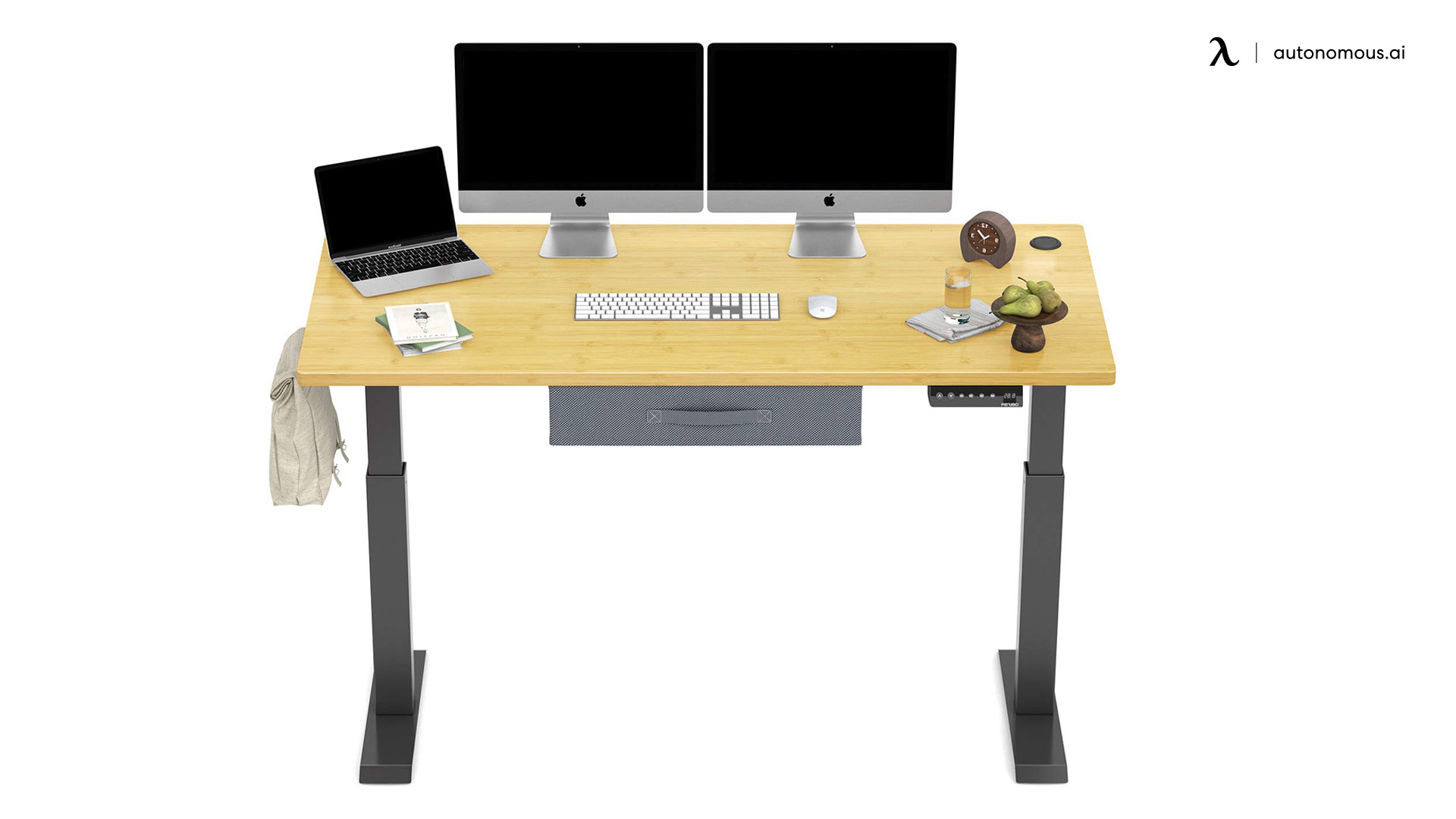 6. Sit-Stand Electric Portable Desk by Fräsch
If you don't need a lot of space to work comfortably or are looking for an option that can make your presentation go smoother, you should look at the option of a bamboo adjustable desk in Canada presented by Fräsch. It is one of the leading companies when it comes to smart furniture.
Thanks to the small size, you can use this desk even if you have limited space. It's highly recommended for people who work in the field.
If you want to sit down, you can quickly adjust the height of this piece of furniture. An elegant look is a perfect choice for any interior or when you want to look professional during work.
Add a Chair for Extra Comfort
Even if you have an ergonomic desk that you can adjust to a standing position, a comfortable chair is a must to keep you productive and comfortable for long hours.
There are many options on the market and chairs have numerous extra features that can provide you with even better comfort. If you are looking for the best ergonomic office chair in Canada, you can check the options on the Autonomous page.
Most of the chairs offer adjustable armrests. You can also regulate the height to keep your feet on the ground in the right position. Some of the options have an additional headrest to support your neck. With a tilt mechanism, you can quickly fix the angle to get some comfort or even to move a bit.
Conclusions
As you have probably noticed, the choice of best standing desks in Canada made of bamboo are unending. You have various models and brands to choose from. You can also pick from various sizes or reach for some bold shapes.
A bamboo top is a universal choice that brings a natural spark to every interior. As it is subtle, it works great in most offices, giving the space a homey vibe.
SmartDesk Pro is, without a doubt, the best bamboo standing desk in Canada. You can choose the perfect size for the top, without resigning from all the features. As the bamboo top comes in a bright and dark shade, you can easily pick the one that is going to suit your office's interior.
Remember that buying an ergonomic desk is an investment in your health, comfort, and productivity. There is no need to worry that you are not going to spend your money well. Test your desk for free, with no strings attached.
Once you decide it's the right choice for your bamboo desk in Canada, you can count on a seven-year warranty.
Video ads for product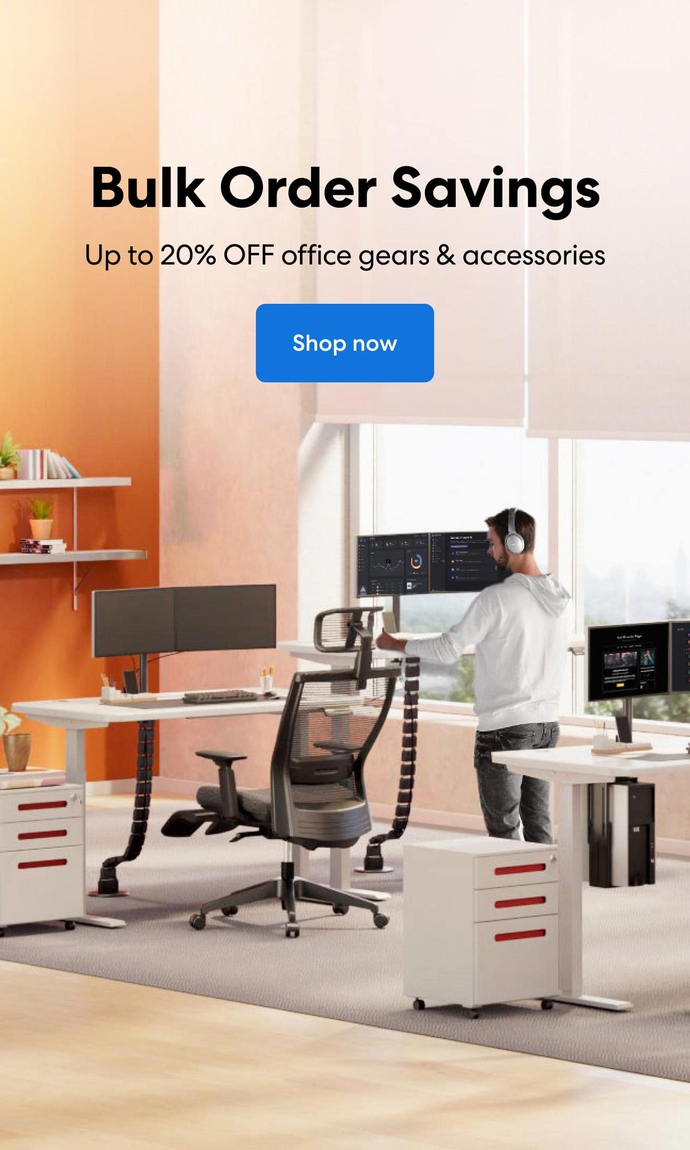 Subcribe newsletter and get $100 OFF.
Receive product updates, special offers, ergo tips, and inspiration form our team.