Smart Products
6 Best Black Adjustable Height Standing Desk for Minimalist People

Autonomous
|
Jul 10, 2021
1,723 Views
Standing desks have become popular nowadays because they increase our productivity. At the same time, a black adjustable height desk can make your workspace look sophisticated. In case you are a minimalist, you can try it out for your office. This is because a height adjustable desk will have an ergonomic design that will improve your health.
You can look for design quality, surface area, ease of adjustment, and warranty. These factors are important for determining the best black standing desk. Below, we have listed the best standing designs which will suit your style and function efficiently.
Best Black Standing Desk for Minimalist People
1. Autonomous SmartDesk Core
Autonomous SmartDesk Core is one of the best all-black standing desks. You can use this black standing office desk for your home office. It uses a state-of-the-art dual-motor system with an industrial heavy-duty black frame. Besides, the motor system can lift up to 265 lbs. 
In addition, this standing desk also has a good height range from 29.4 to 48 inches. There is a programmable keypad that enables you to set four height custom presets. Therefore, you glide easily with a single button. It does not even produce 45 decibels of sound.
Industrial manufacturers guarantee the long-lasting nature of this black adjustable height desk. Besides, it is the top black electric standing desk for minimalist people. It has a multiple number of finishes which makes it suitable for each working professional.
There are XL or regular desktop options that you can choose from. SmartDesk Core has a solid steel frame. 
This black standing desk has a dual electric motor. It also comes with a warranty of five years. Moreover, it has a 30-day return period. 
2. Autonomous SmartDesk Pro
The SmartDesk Pro is height adjustable between 26.2 to 52 inches. There are four types of programmable settings. The upgraded dual motor of the standing desk is electrical. It is much quieter at only 40 dB.
In addition, it had 310 lbs improved load capacity. Depending on your choice, you can go for XL or regular desktop options. It comes with classic and natural wood top finishes. 
SmartDesk Pro has a solid steel frame. Despite this, you get a warranty of seven years. So, you can easily trust the quality of the product.
3. iMovR Lander Desk with SteadyType
iMovR Lander is a black ergonomic standing desk. Its height range is 26 inches, and with its tabletop, it can reach 50.5 inches. This standing desk can travel 1.6 inches every second and weighs 360 lbs. Moreover, it has multiple features, such as an intuitive paddle control, including a high-resolution LCD and a Bluetooth-enabled app.
There is a SteadyType tray keyboard which gives the best experience of typing. It is a black adjustable height desk up to 85 degrees. Also, it enables a wrist and natural arm position during standing. In addition, it is more stable in comparison to a standard tray so that your monitor does not shake. 
The Lander Desk has a minimal design, and it is easy to use. It has a cable management kit, a caster set, and a mobile file cabinet. This enhances your black desk setup. 
4. Jarvis Full EcoTop Standing Desk
The Jarvis Standing Desk is a powder-coated, environmentally friendly MDF laptop. This makes it durable and water-resistant. Besides, its texture offers an organic, subtle feel. It is a black stand-up desk that provides a minimalistic look and becomes a suitable canvas for your workplace.
It is a budget standing desk that has a 350 lbs lift capacity and a low operating noise of 50 dB. Besides, the height range depends on whether you pick a three or two-stage low frame with 20 inches. The three-stage standard frame is 25.5 inches. 
Moreover, there are several accessories like grommets, cable trays, and storage cabinets. This enhances the minimalistic design of your office. And, it has a paddle handset that lowers or raises the height by pushing or pulling. Also, there is an OLED optional headset with four different programmable presets. 
5. Warm Wood Desk Setup
If you want a soft, minimalistic, and sophisticated desk setup, then this is the one for you. For this setup, you can use a DIY SmartDesk frame. It provides enough space for you to add some office desk plants.
A bright desk lamp can add a bright glow to your workspace. You can even add this to your Warm Wood Desk Setup to enhance your productivity. This way, you will not put any kind of optical strain on your eyes. And, it will make your files and documents more readable. 
6. Compact Wood Desk Setup
You can go for the Compact Wood Desk Setup to put all your desk accessories in one place. Moreover, it goes well with minimal spaces. So, you can opt for it to make up an aesthetic environment. This black adjustable height desk setup also gives you the freedom to attach some file cabinets and shelves to give a revolutionary look. 
You can make out the most of this compact wood setup with an L-shaped desk. Also, it will provide you with more room. And it will enhance the minimalistic look. 
Conclusion
If you need a healthy alternative to sitting, you can opt for a black adjustable height desk. It will allow you to increase your movement. You can use this furniture to add to your existing furniture. Lastly, it can lower the risk of obesity, heart disease, and diabetes.
Video ads for product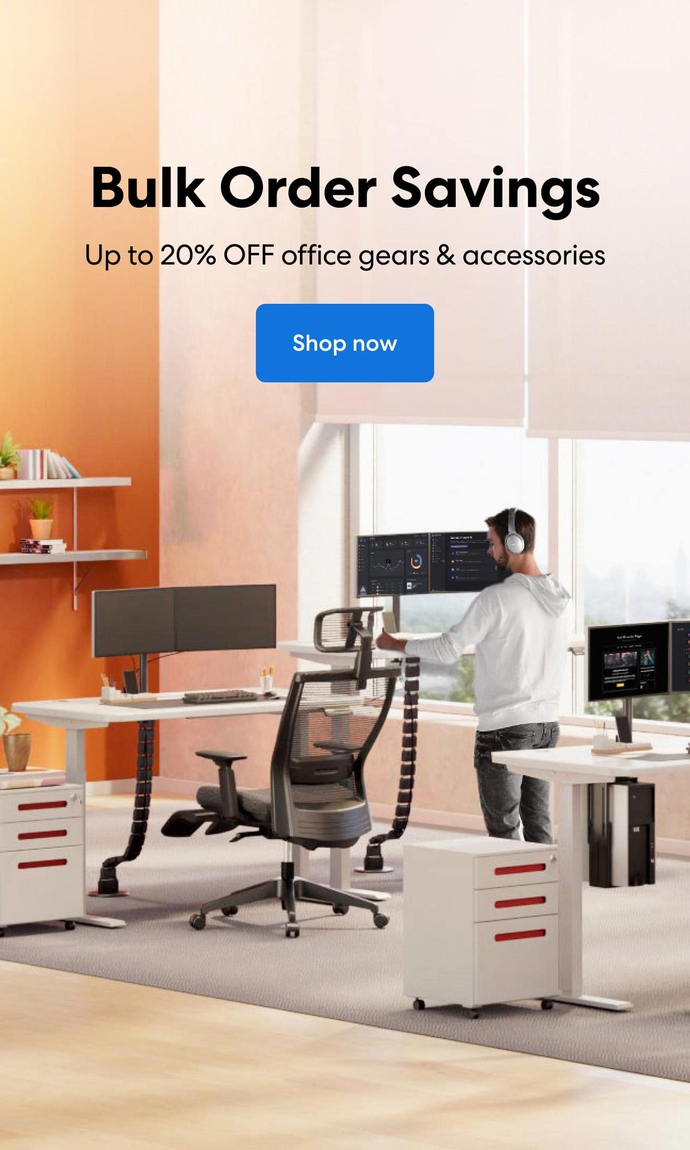 Subcribe newsletter and get $100 OFF.
Receive product updates, special offers, ergo tips, and inspiration form our team.