There is technically a spectrum of what would be considered "regular heights." Though most products are made to appeal to people who fall within this mold, such persons are not the only ones who are interested in the gaming industry. That's why you may be here looking for a gaming chair for a tall person. 
Gaming is quite the escape, so it's no surprise that it appeals to a host of different people. Some of these people happen to be taller than the norm, and there is no reason why they shouldn't be able to enjoy their pastime as comfortably as everyone else can. 
The good news is that there is certainly PC game furniture that appeals to these people. Unfortunately, in most cases, much like finding a gaming chair for a heavy person, the designs emphasize height support, while not putting as much focus as is necessary into the other quality of life elements. 
A gaming desk and chair combo can be one of the worst offenders to this end, as one element or the other is usually not up to scratch. Exceptions tend to show up in the form of standing desk combos, but these are not the most common things in the world. 
Note that even if you find a decent option as a tall person, if you don't know how to sit in a gaming chair, it's not going to be as comfortable as you think. Therefore, you want to make sure that you pay attention to learning this valuable skill before you get started. 
The overarching question now is, what are you doing here and what can you expect to gain? Well, it just so happens that a list of the best gaming chairs for tall guys has been compiled below. Also, you have some priceless information to guide you on how to choose a chair. 
Additionally, there is an overview of each to give you the insights that make the identified chairs so desirable. A host of research was put into this tall gaming chair identification exercise, so you can expect to see some very solid items ahead. By the time you're finished, making your choice should be barely an inconvenience. 
Average Height Supported by a Gaming Chair
Before diving into the actual chair options, here is a good question. What is the average height that is effectively supported by a gaming chair? Well, even with seat height adjustments factored into the mix, you find that today's average unit tends to support people that fall somewhere between 5 feet 2 inches and 5 feet 9 inches. 
The upper end of that spectrum is by no means considered short, but when people think about tall persons, they are thinking upwards of 6 feet. So, if you are 6 feet 2 inches or 6 feet 4 inches tall, for example, that's where you are going to have some trouble with the average design. 
The gaming chairs for a tall person listed here are specifically made to go above average measurements, usually in terms of both height and weight. 
How to Choose a Gaming Chair for a Tall Person
This point does not necessarily need to be belabored, as the chair selection routine for a tall person is much like any other chair selection in most aspects. For example, everyone would want to consider their budget, the kind of materials that make up the chair, its size footprint, its colors, and the like. 
So, remember all of these, but add a couple of decision-making factors specifically for tall people. First, there is the height support range of the chair. You want to ensure that it can comfortably accommodate those who exceed the 6-foot mark. 
Next, you want to pay attention to the ergonomic features that are included. If you can snag a tall gaming chair that is also designed to promote comfort, then you have one on two different fronts. 
With all that out of the way, why not jump into some of the high gaming chair options below?
6 Best Gaming Chairs for a Tall Person
1. Vertagear SL4000
The first chair to take the stage is the Vertagear SL4000. This is a motorsport-inspired design that brings together the gaming chair aesthetic you know and love with a series of ergonomic design choices to maintain your skeletal and muscular health. 
What's the best part? With a maximum height of 51.27 inches, it can easily support those who are over 6 feet tall. A beautiful black and white pattern design is used, meaning that you should have no trouble fitting it into your office space, nearly regardless of what the existing color code may be. 
It features a sturdy steel skeleton frame, complemented by an aluminum alloy five-star base, which makes for nothing short of incredible durability.  
As far as the comfort side of the fence goes, you are getting removable lumbar and neck support pads, an adjustable tilt tension system with an integrated lock, built-in lumbar support, highly adjustable armrests, and of course the industrial grade class four gas lift-based seat height adjustment mechanism. 
If you are on the heavier side, there's nothing to worry about, as this gaming chair for big guys can handle up to 330 pounds. If that wasn't enough, there is a whole 10-year warranty for you to enjoy just in case any factory faults may lead to any trouble down the line. 
2. Vertagear Special Edition
Vertagear is still front and center here. This time, the chair has a bit of a twist. Like the previous model, it's also fully adjustable and motorsport-inspired with ergonomic features to keep you comfortable. However, the difference lies in the material design and one optional aesthetic twist that takes this to the next level.  
How do you feel about an RGB gaming chair? While the RGB culture provides nothing beyond an aesthetic flair, it is a highly sought-after feature by gamers around the world. Even when they are doing their PC builds, they want cases with RGB fans, and they also want memory with RGB lighting. 
Of course, peripherals such as keyboards and mice are also often passed on when they don't have RGB lighting. Now, this list is all about people on the taller side of the spectrum, but just because they're tall, it doesn't mean they don't enjoy an RGB flare as well. 
Therefore, this Vertagear RGB chair allows you to embrace that creative side if you feel like it. It's completely optional, so you can always get a regular chair if you so desire. 
If you do decide to go their RGB route though, you're getting a synchronizing LED kit with technically over 16 million unique colors. The upgrade kit with its NXZT CAM allows you to mix and match your setup, using the colors, audio interactions, gaming modes, and even mood settings. 
Imagine taking advantage of the wireless connectivity and synchronization settings and having the lights react to what is happening in-game. It is a PC-controlled RGB system, after all, so you could say the possibilities are endless. 
On the less visual side of the spectrum, breathable material is used to keep things cool and battle odors effectively. There is also adjustable tilt tension, neck and lumbar support, a height range of up to 52.6 inches (supporting those up to 6 feet 4 inches tall), and a class four gas lift-based seat height mechanism. 
The warranty here of this gaming chair for a tall person is on the shorter end at two years, but that should still be more than enough for you to identify any factory faults. Presumably, the unknown variables introduced with the LED upgrade kit may have introduced the need for a shorter warranty. 
3. Karnox Suede Gaming Chair
This is one of the best gaming chairs for tall guys today that you can consider. Karnox takes over with its suede design, featuring PU leather, spliced with luxe, suede-feel fabric. The result is a plush feeling chair aimed at giving you a long-lasting, comfortable gaming experience.
Its black appearance is incredibly sleek and should fit seamlessly into your office space. It's a throne of sorts, providing you with neck and lumbar support pillows, which are, of course, removable. 
The seat is wide, the back is tall, and the side lumbar support pushes the seating experience to the next level. 
It's not easy to beat the Karnox Suede gaming chair with its combination of an incredible look, a luxurious feel, and ergonomic functionality. A couple of other features of note include its adjustable height, 4D armrest, class four gas piston, and recline functionality. 
There are three different warranty categories here. The seats and the back provide a two-year agreement, the frame has a lifetime warranty, while everything else has a 10-year warranty. 
4. Karnox Slate Gray Chair
The Karnox Slate Gray chair is next and allows you to choose between a lighter and darker variation. It features luxe gray Karnox Livorno Fabric, which is spliced with PU leather wraps around high density and contoured foam. The result is tremendous performance and a very sharp aesthetic.
One thing to note is that this design is among the most affordable on the list. It's almost unbelievable what the price point is, but that doesn't take away from the high-level composition that the unit brings. 
From a build quality standpoint, there is a five-star wheelbase combined with a standard steel skeleton frame within this gaming chair for big guys, meaning that durability is at an all-time high. 
On the ergonomic side, head and lumbar pillows are included, there is a class four gas piston adjustable height mechanism along with seat tilt, 4D armrests are present, and more. The warranty here is a 10-year agreement. 
Finally, it's certainly a gaming chair for a tall person, as its height adjustments run between 50.4 inches to 53.9 inches. 
5. Karnox Leather Gaming Chair
Here is Karnox yet again with a third chair design that happens to be a tall gaming chair too. Leather is often selected for the comfort factor that it brings into the gaming space. This one takes that to another level by effortlessly adapting to its users' sitting preferences.
The rich PU leather that wraps around high-density contoured foam, creates a beautiful and somewhat shimmering aesthetic for your gaming space. You get a bit of color wiggle room too since you can have it be all black, or have the leather strips be blue instead.  
Of course, there are ergonomic features galore in the form of the included head and lumbar pillows, adjustable height and seat tilt, 4D armrest, and reclining backrest. Your warranty agreement here spans ten years. 
There is no doubt that the Karnox leather gaming chair is quite the visual statement, and is likely going to be keeping you comfortable for those long gaming sessions where you keep saying "just one more go." 
6. Secretlab Titan Evo XL 2022 Series
The final gaming chair for a tall person comes from quite the reputable manufacturer where gaming chairs are concerned. Some would even go as far as saying that Secretlab is unbeatable in the industry. 
The focus here is the outstanding Secretlab Titan Evo XL 2022 series, which pretty much does it all. It accommodates tall people, wide people, heavy people, etc.
It also looks amazing, thanks to the logo and lettering providing a pristine gold highlight to the black unit. A class four lift is used for seat height adjustment, there is tilt support of up to 165 degrees, there are 4D adjustable armrests, there is lumbar support, there is memory foam with cooling gel, and even a removable magnetic head pillow. 
This high gaming chair can support you if you are 5 feet 11 inches tall. However, it can also support you just as effectively if you are 6 feet 9 inches tall. Of course, when you're that tall, you can weigh quite a lot, so the chair has a max weight load of 395 pounds to compensate for this. You should have absolutely no worries at all when using this one. 
Final Remarks
That's about it as far as finding a gaming chair for big guys goes. This could have been a very difficult process otherwise, but luckily you got all the insights you needed above to proceed with a purchase decision. 
No longer do you have to try to get yourself to fit into something that was designed for people who are shorter than you are. Alternatively, if you are seeking a chair for someone you know who is tall, then you stumbled upon the perfect list.
Video ads for product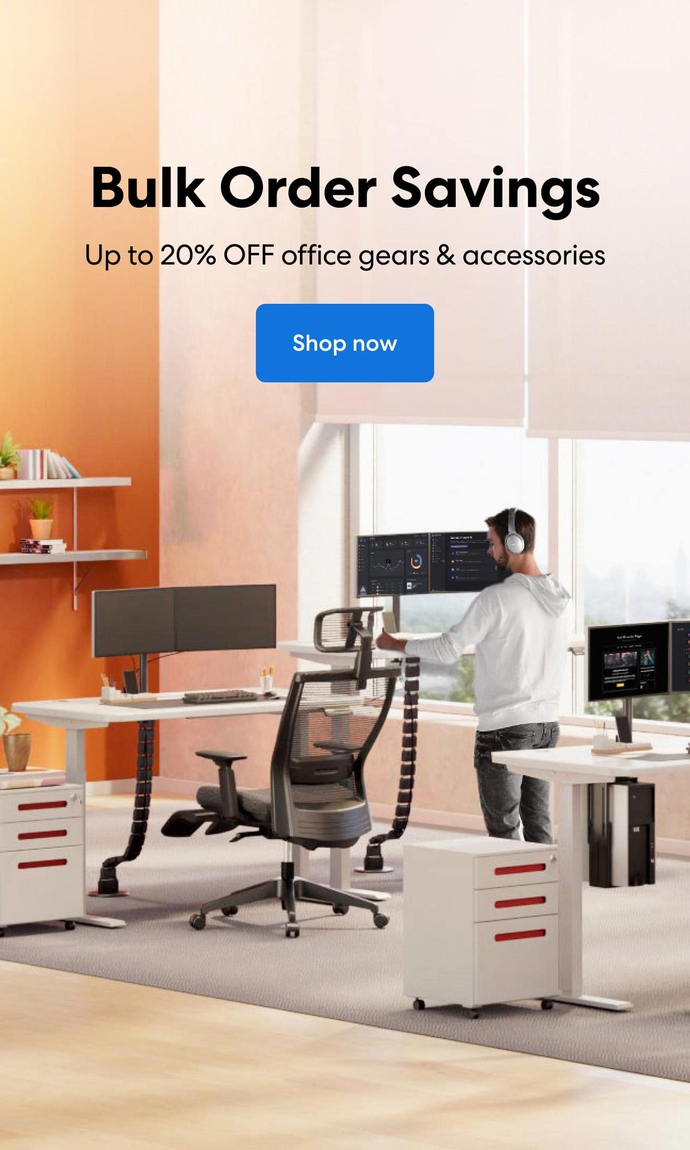 Subcribe newsletter and get $100 OFF.
Receive product updates, special offers, ergo tips, and inspiration form our team.