Smart Products
10+ Best Rated Under Desk Cable Trays for Organized Workspace in 2023
5,683 Views
When people have a complete work-from-home setup, they may have a couple of monitors, printers, and wires. These wires and cables can cause many headaches for people who want to have a tidy area because they can end up everywhere. Luckily, there are many different under desk cable management solutions that people can use for their situation. 
Also, it is helpful to have these organization features under your desk, opening up more space for any desk décor you might want to add. This list is composed of the best under the desk cable management that you can use to tidy up your space. 
1. Cable Tray by Autonomous
Keeping your cables tidy is the aim for most people because no one wants to see them displayed to the whole world. Luckily, the under desk cable tray is perfect for those who wish to be slick, affordable, and valuable. This is a cable tray made by Autonomous, and it has been designed to fit Autonomous' trademark office stand desk and any other desk that you may have.  
This cable tray is easy to install, and it can hold up to 35 lbs. You won't have any problems adding a power strip either because Autonomous has made sure to think of everything. Also, the anti-rust finish means that you will be able to install it and not worry about what happens to the tray afterward. It will last a lifetime!
2. Function101 Cable Blocks - 4 Packs: Magnetic cable management
3. Mount-It! Keyboard Tray: Clamp-On
4. Modernsolid Under Desk keyboard and Mouse Tray: Sliding
5. Mount-It! Under Desk Computer Keyboard and Mouse Tray
6. Uncaged Ergonomics KT1 Under-Desk Keyboard Tray
7. Under Desk Cable Tray by Monoprice
The under desk cable tray by Monoprice is another good option that people can use to get their cables in order. This is an excellent option for an L-shaped desk because it has a bottom that you can feed your cables through. However, you will need to be careful of your wires and cables as they exit from the tray with additional cable ties or sleeves. 
This means that you will still have a perfect product for your needs, but you might need to add a little more protection than the other options on this list. That also means it might not be the best option for a standing desk cable management option because you won't be able to hide your wires when your desk rises.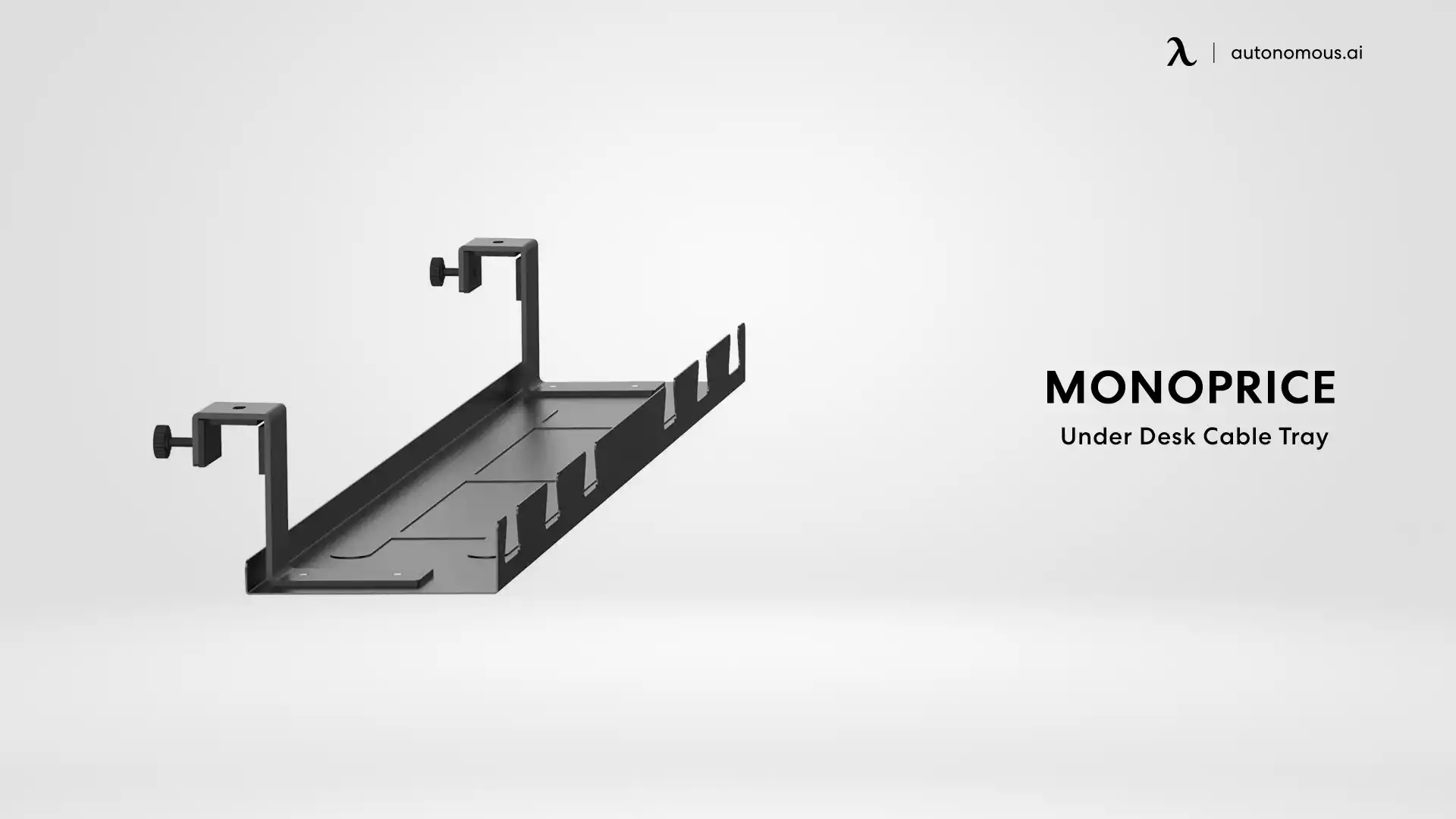 8. Under the Desk Cable Management Tray by Scandinavian Hub
The under the desk cable management tray by Scandinavian Hub is a desk cord organizer that looks like a basket. You will get two with your order, and they are 6.2 inches wide and 17-inches long. If you decide to place them beside each other, you will have up to 34 inches in length to easily hide all of your wires and cables. The basket is sturdy and hard-wearing, so you will be able to conceal your wires and any power supplies you may have. 
It is easy to install this tray because you can screw it in up to 18 screws that are all included. This makes it easier for anyone to put their tray where they want it because they don't need to think about whether they have enough screws or only use the fixed screw locations. You will be able to use this tray on any desk you have, except for IKEA desks. 
Also, the basket design brings a cute aesthetic to your cables, so you don't have to worry about them while you're working.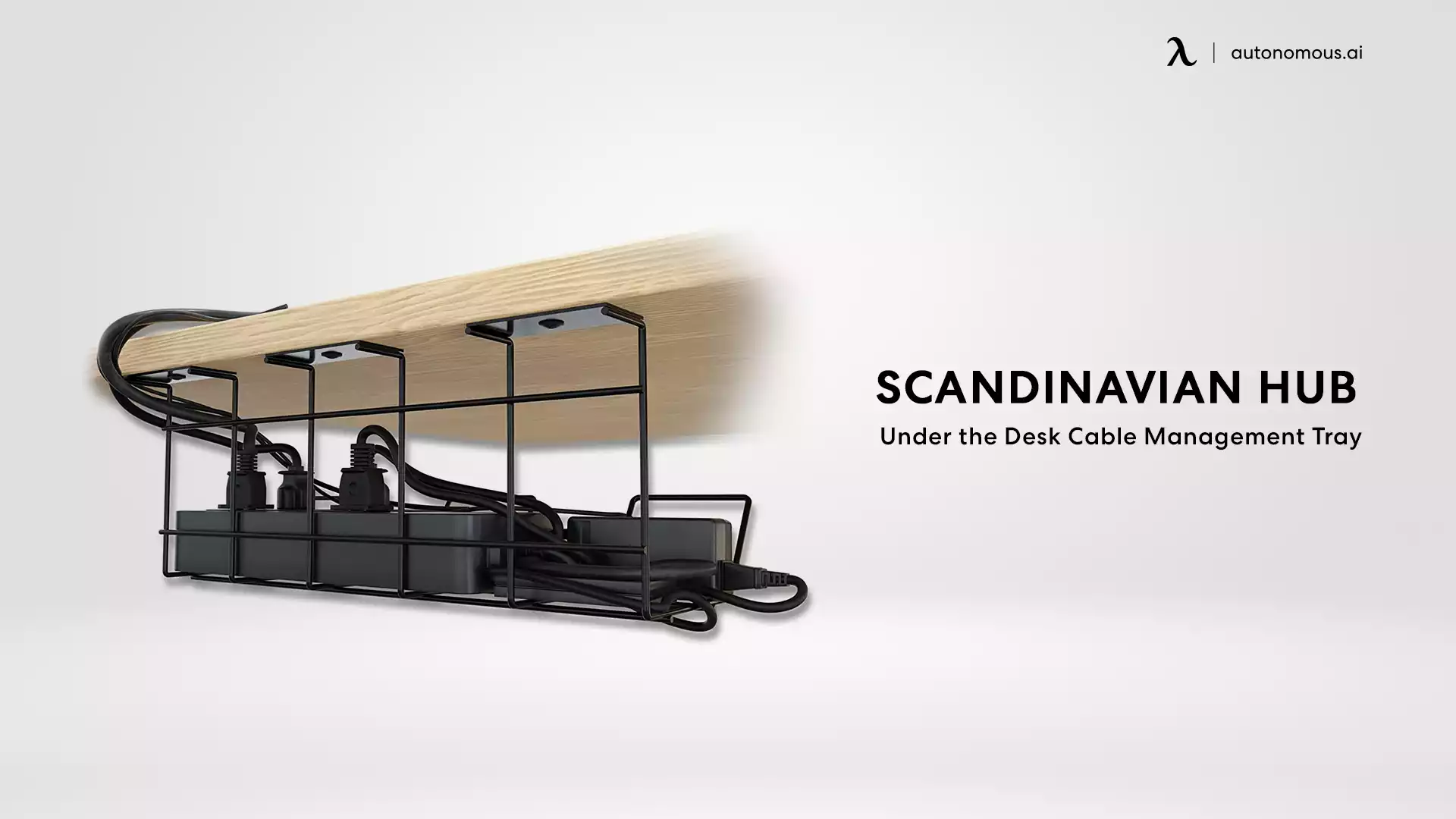 9. Under Desk Cable Management Tray by Baskiss
This under desk cord management system is perfect for companies that need to purchase desk organizers for their employees. Yes, it is helpful to hide all of your cables and wires when you're working from home, but more companies and businesses are beginning to find ways to hide their wires and cords in the office. No one wants a messy space, and the cable management tray by Baskiss is perfect for companies who want an affordable solution. 
There are two trays in each pack, which is excellent value. Also, you can pick from either black or white, which will match any aesthetic you have. It is made of thick and strong steel that will last for years to come. Also, the wire design with the trays is convenient for you to wire through your cables in the basket. However, you will want to watch how much you put in your tray and where because it has been known to sag if you don't distribute the weight properly.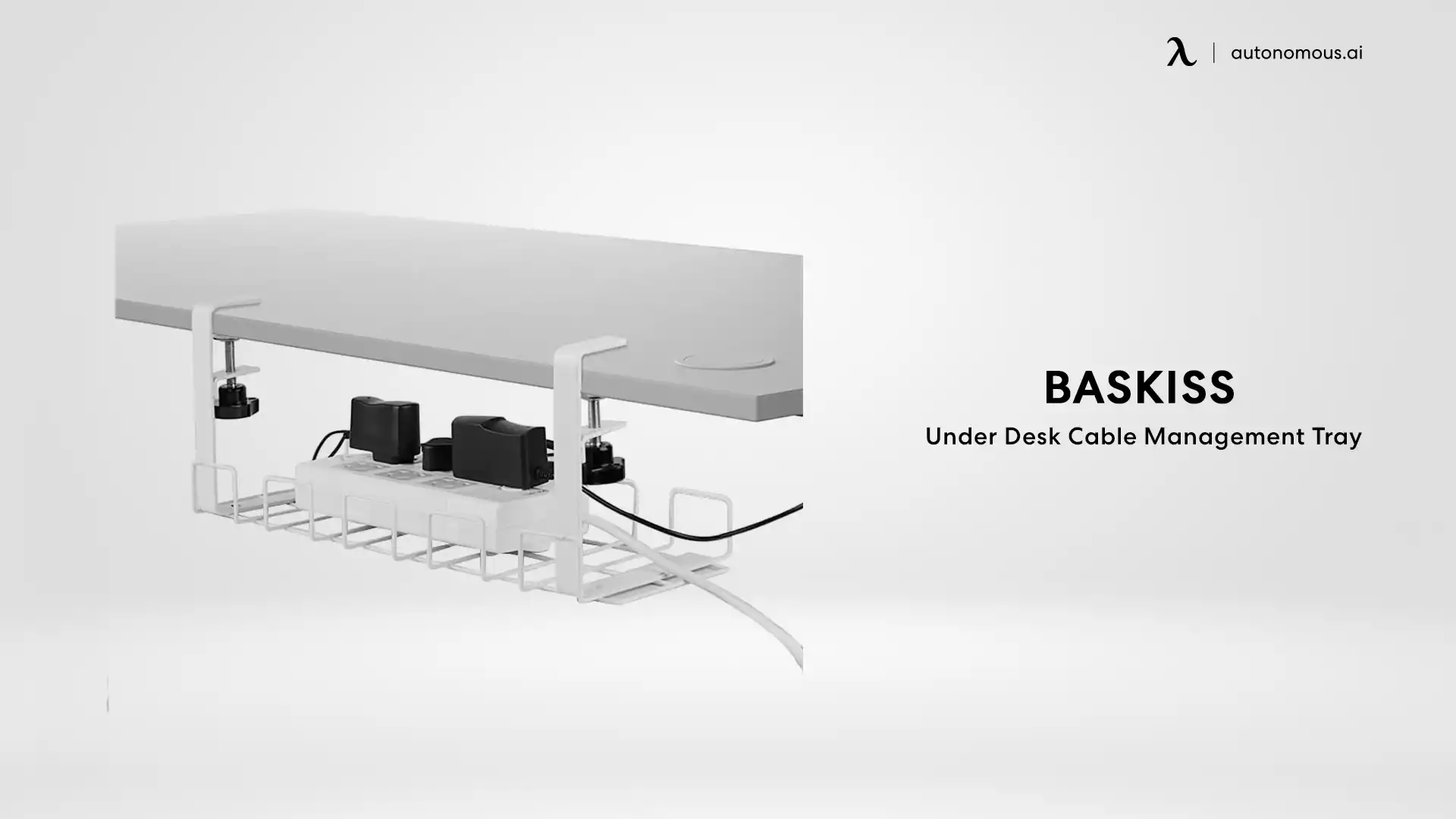 10. Cable Management Basket by IKEA
One under desk cable tray on this list isn't made for IKEA desks, but IKEA has its own under desk cord organizer that people can buy if they want. This basket is perfect for those who wish to store and hide all of their cables and power supplies while at home or in the office. Many people will be surprised when they see that the tray is more like a strip because it has been made for people to quickly wrap their cords in it while still having easy access. 
Since it has been made to help users, it is one that many people enjoy because it can hold up to 22 pounds. Even though the Autonomous option does hold more, this can still be a good one for those who want to stay with IKEA furnishings. Also, installing this piece of equipment is easy since it comes with all of your needed tools. 
However, you will need to double-check your package when you get it because many customers had reported that pieces were missing when they got theirs. Luckily, IKEA is a big enough company to get right on that issue and send you the replacement pieces you may need.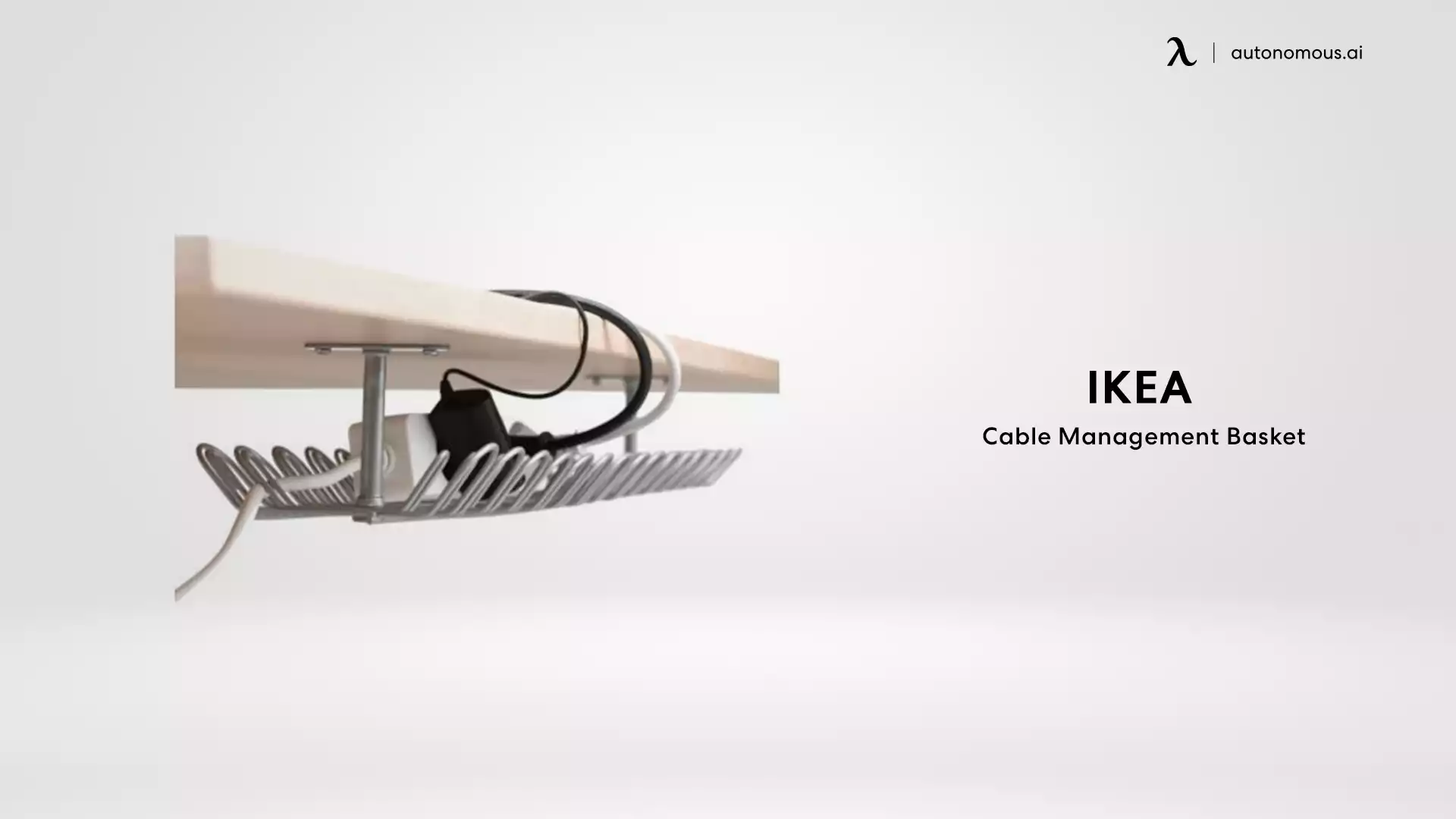 11. Cable Raceway Desk Cord Organizer by Yacaye
If you want something pretty fancy that will organize everything, then the cable raceway by Yacaye is an excellent option. It will organize all of your cords from the ground to your desktop. It comes with six organizers, which you can use to store all of your wires. The different components that come with the Yacaye under desk organizer will encourage you to hold your wires and cables horizontally and vertically, so they will fit with any space you're working with. 
There is a moveable lip at the top that you can use to locate the wires you need and take them out. Also, the same lip will make sure that any small or large cables are securely in place. If you're worried about space in the J-design cable holder, you shouldn't because you will easily fit ten power cord cables in there. This makes it one of the best options for storing your cables. 
However, there is more. The under desk wire management component is easy to work with as well. It comes with adhesive tape that you can apply to the bottom of the raceways and the tray to stick it to any surface. Except, there is one downside to this tape. Many customers have said that it isn't strong enough to hold all of the cables, so you will need to use some double-sided tape. 
Other than that, this is a great solution when it comes to organizing those pesky wires that are cluttering your desk.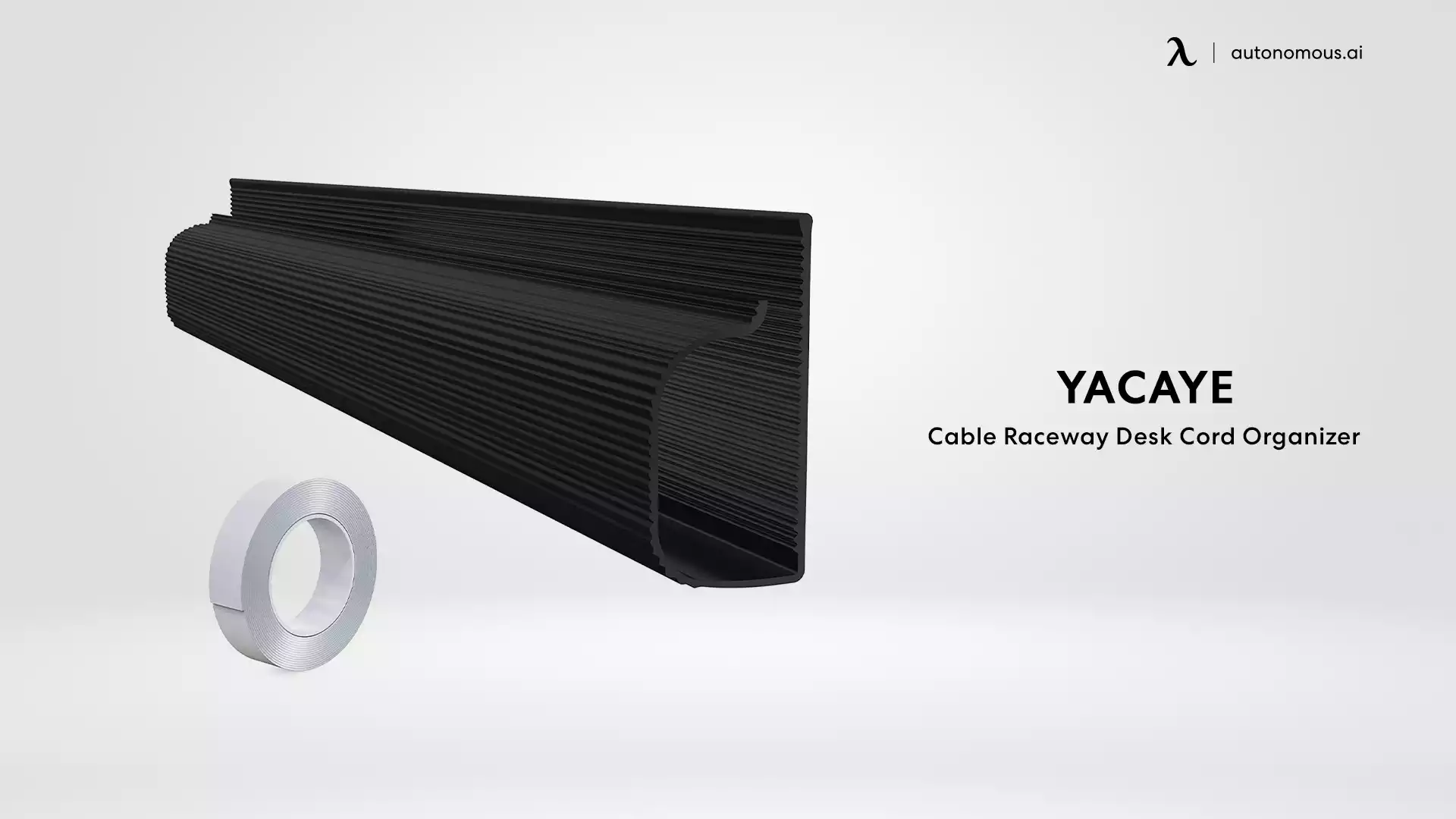 Don't Make These Mistakes!
These are some helpful tips and tricks you should keep in mind when you are organizing your cables: 
Do not overstuff your trays because this can cause your basket to fall, which can be dangerous to your cables.

Children and pets should not have access to any cables that you have left lying around. Make sure that you hide all of them away.

If you are using cable ties, do not over-tighten them because this can cause damage to your cables.

Pick the right under desk cable management solution for your desk. If you have a standing desk, you need to pick the right solution for that desk.

Do not buy any organizational products that are weak. Cables can be heavy, so you will want something that can hold up a good weight.

If your cables begin to tangle, untangle them! When you untangle your cables, you are prolonging their life.
FAQs
Why Should You Organize Your Cables?
There are many reasons why organizing the cables at your desk is needed. Poor cable organization could be hazardous to you because you can trip over them, and the wires can begin to wear and tear. When the protective outer layer begins to come off, your cables might be at risk of setting on fire. Also, you need to think about how these hazards may affect the other members of your household while you're working from home. 
Can Investing in Under Desk Cable Management Be Worth It?
Yes, investing in under desk wire management is worth it in the long run for many reasons. You will be prolonging your cable's life, which will save you money. Unorganized cables may cause them to wear and tear, which means you will need to buy new ones sooner than you need to. However, if you keep your cables organized, they are less likely to do so. 
Also, keeping your area organized is an investment in yourself and your workspace. Working in a disorganized area can cause a lot of unproductivity because you may spend more time trying to untangle your cables than just leaving them alone. However, if they are already neatly put away, you won't even need to think about it! 
Conclusion
When it comes to organizing space, you want to ensure that you have the perfect space for you and your needs. However, wires and cords can ruin the aesthetic of any workspace with their clutter and disorganization. That doesn't have to be you because we have listed the best under desk cable management solutions you could ask for. Every one of the under desk cable trays listed in this list is excellent for hiding away those wires. 
Additionally, Autonomous offers the employee purchase program, where employees can pick out what they want and charge the company. This is a great way to give employees the voice they want when it comes to their working space. Either way, organizing the cables under a desk will brighten anyone's day and the overall look of the space.
Keep up with Autonomous news
Stay informed, stay inspired with our new blogs.
WRITTEN BYAutonomous
We build office products to help you work smarter.